From 7 February to 21 May 2020, the award-winning Meet Vincent van Gogh Experience is on display on London's South Bank.
The Van Gogh Museum in Amsterdam has found a new approach with this touring 3D experience. The museum's collection is quite small and vulnerable so this idea makes art accessible to a wider audience.
It's an interactive and multi-sensory experience that follows in the footsteps of this world-famous and iconic artist. We're reminded that Van Gogh chose to paint ordinary, often poor, people so placing ourselves in the artworks isn't so far fetched. What that means is you can step into his famous artworks. And then take a selfie.
Installation view of Meet Vincent van Gogh. Image courtesy of Meet Vincent van Gogh.
Who Is This Aimed At?
I don't think this is about attracting the same art lovers who went to the Tate Britain Van Gogh and Britain exhibition last year. This is about extending the reach of the artwork from gallery walls to a new audience.
There is little to read as you go around as the audio guide gives you the information, although I thought the audio was more about a chronology of his life than about the art and the recreated settings.
I've never been one to enjoy selfies but I know that puts me into a minority these days. This Experience is for that audience to be close to the art they appreciate and get that 'perfect photo' to share.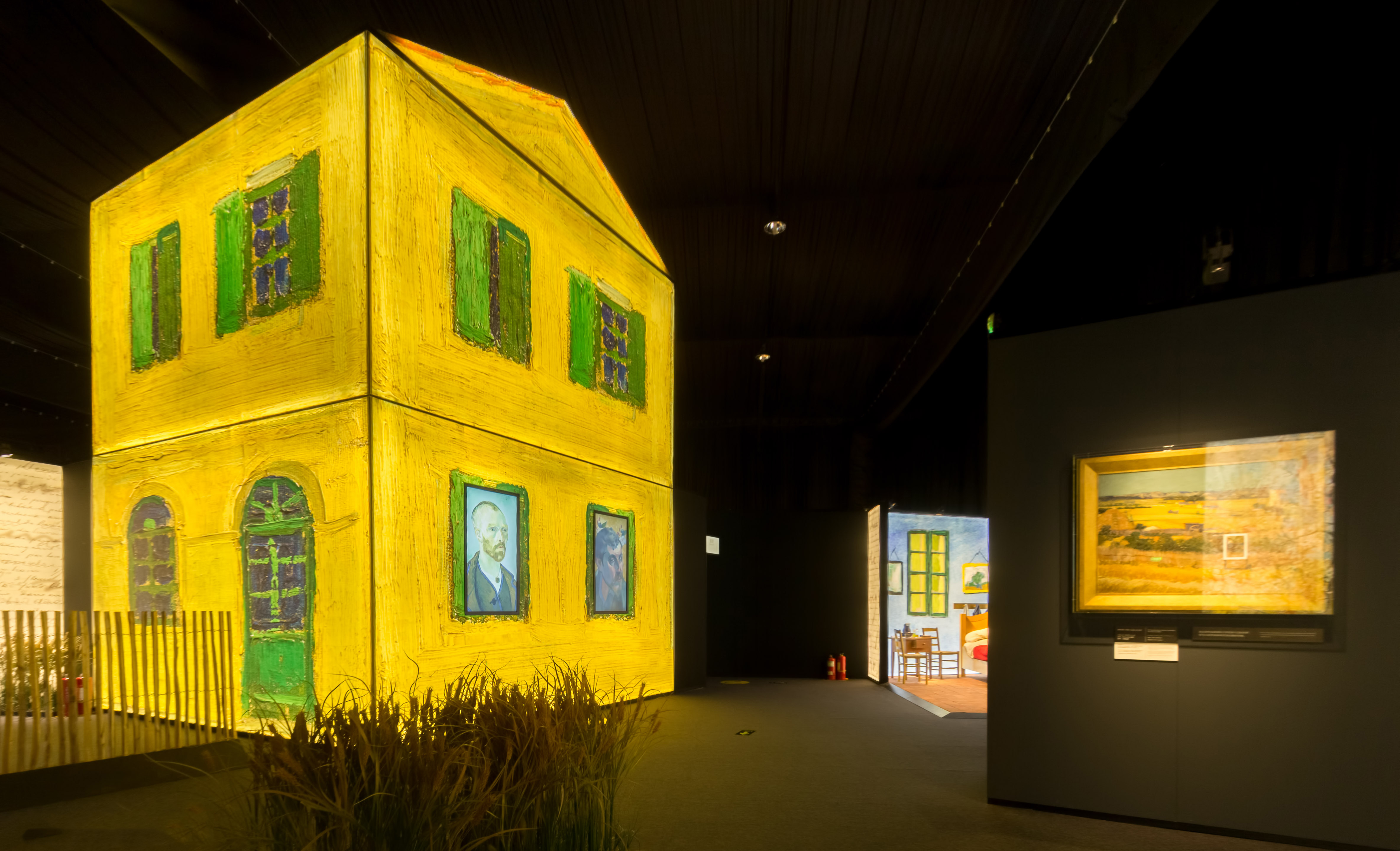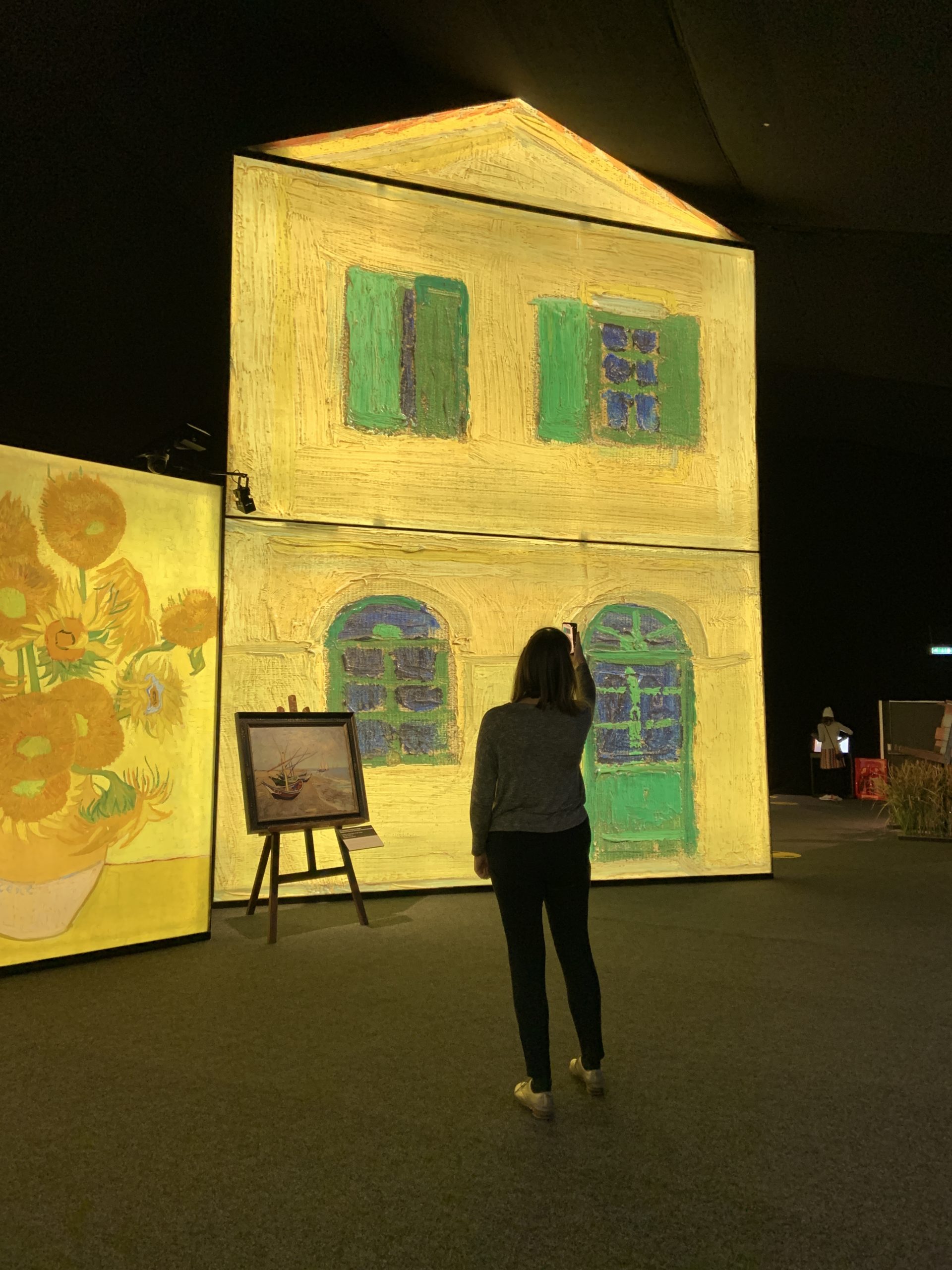 The Experience
The audio guide (available in many languages) uses location technology so you don't have to press anything. Where you stand determines what you hear.
The visitor journey takes you through the most important phases of Vincent's life: from his childhood in the Netherlands to the streets and studios of Paris, the golden countryside of Arles, his asylum in St. Rémy and the wheat field where he fatally wounded himself. The Experience also explores Vincent's legacy as an endless source of inspiration to artists and writers around the world.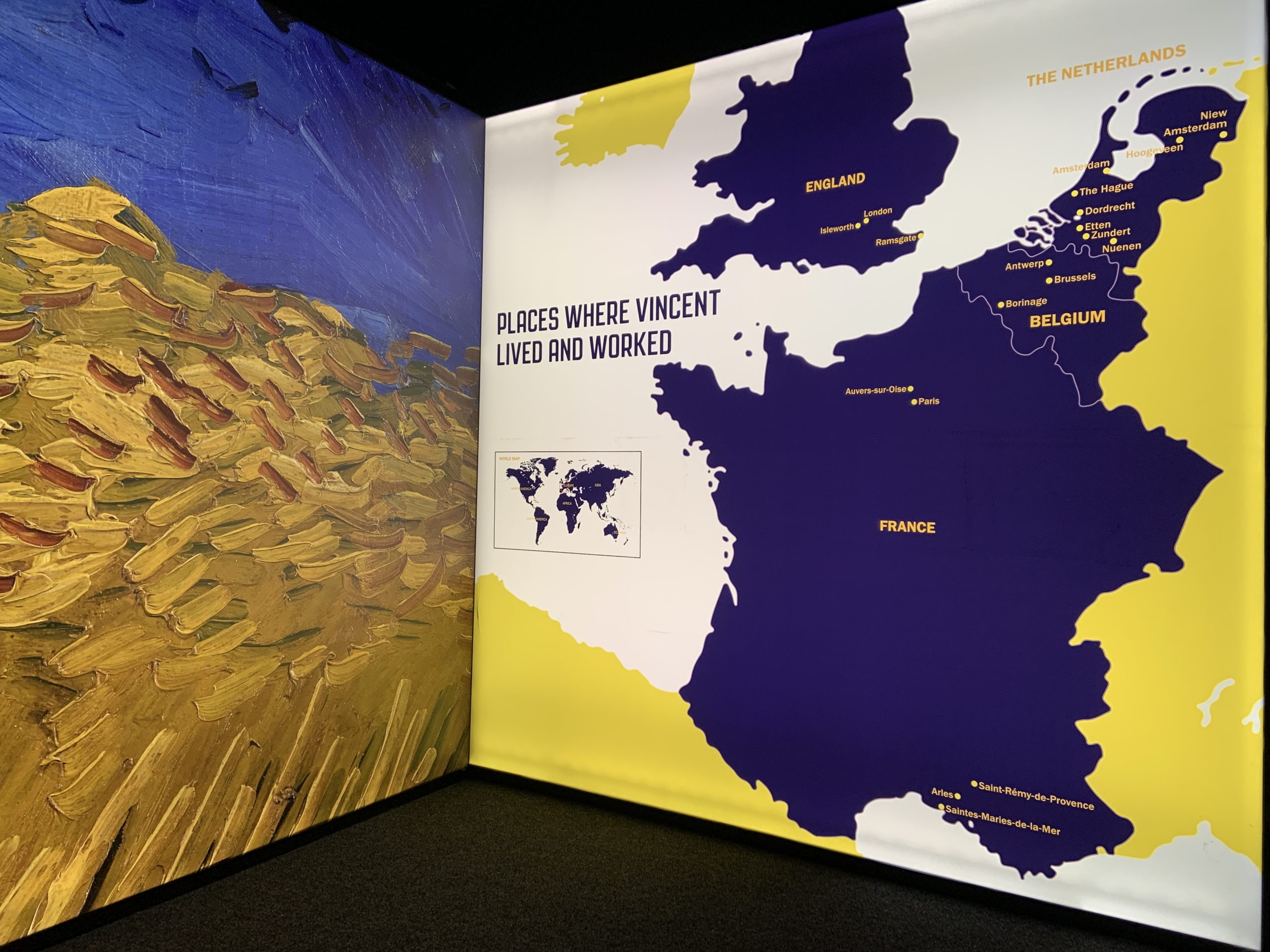 A timeline presents the stages of the experience starting with his Early Life (1853-1879), then Emerging Artist (1880-1885), Emerging Artist (1886-1887), In the South (1888), Illness & Creativity (1889-1890) and Success (1881-today).
In the introductory film, there is a nod to when the artist lived in London in 1873-1874. (You can visit Van Gogh's House for its monthly opening.)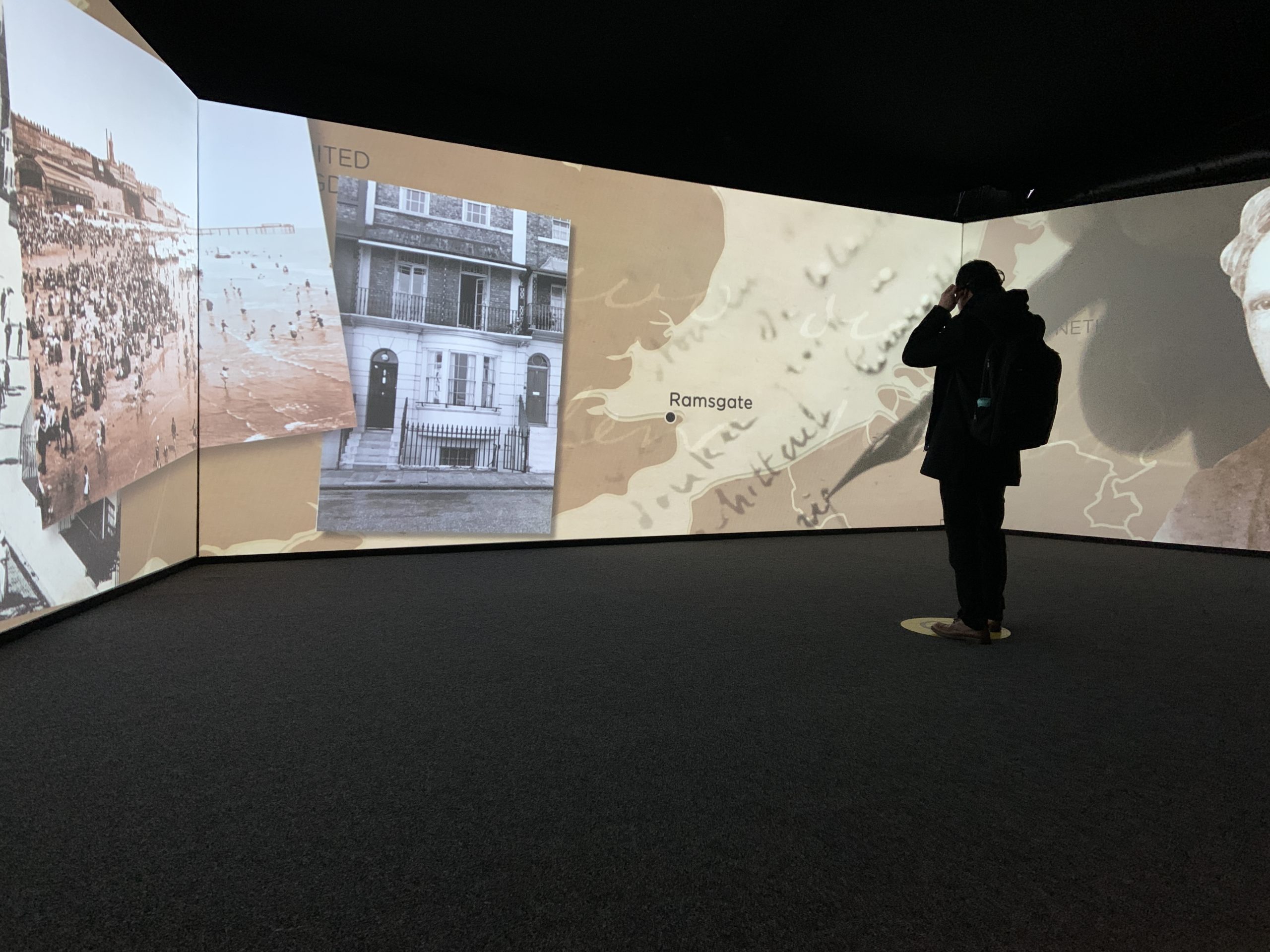 Take That Photo!
In contrast to visiting a gallery, photography is allowed and encouraged. And touching of everything is permitted to. While this is about a famous artist, there aren't any precious artworks here. If you were still feeling unsure about touching things, there is an enlarged section of a painting with the thick paint emphasised so you are urged to run your hands over it.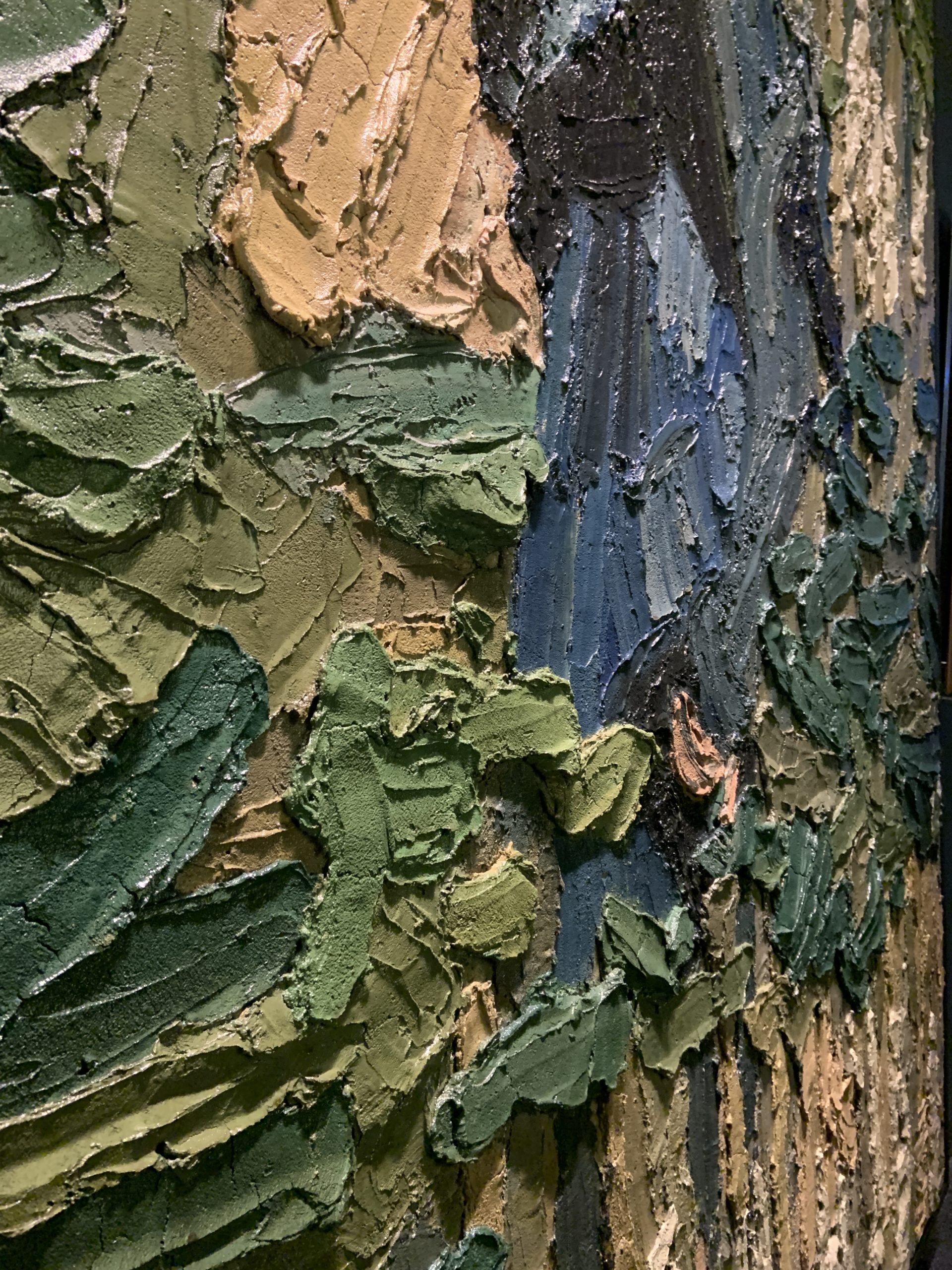 At the dining tables, you can pull out a chair and sit down to peruse the menus: Vincent & Love, Vincent & Inspiration or Vincent & Japanese Art.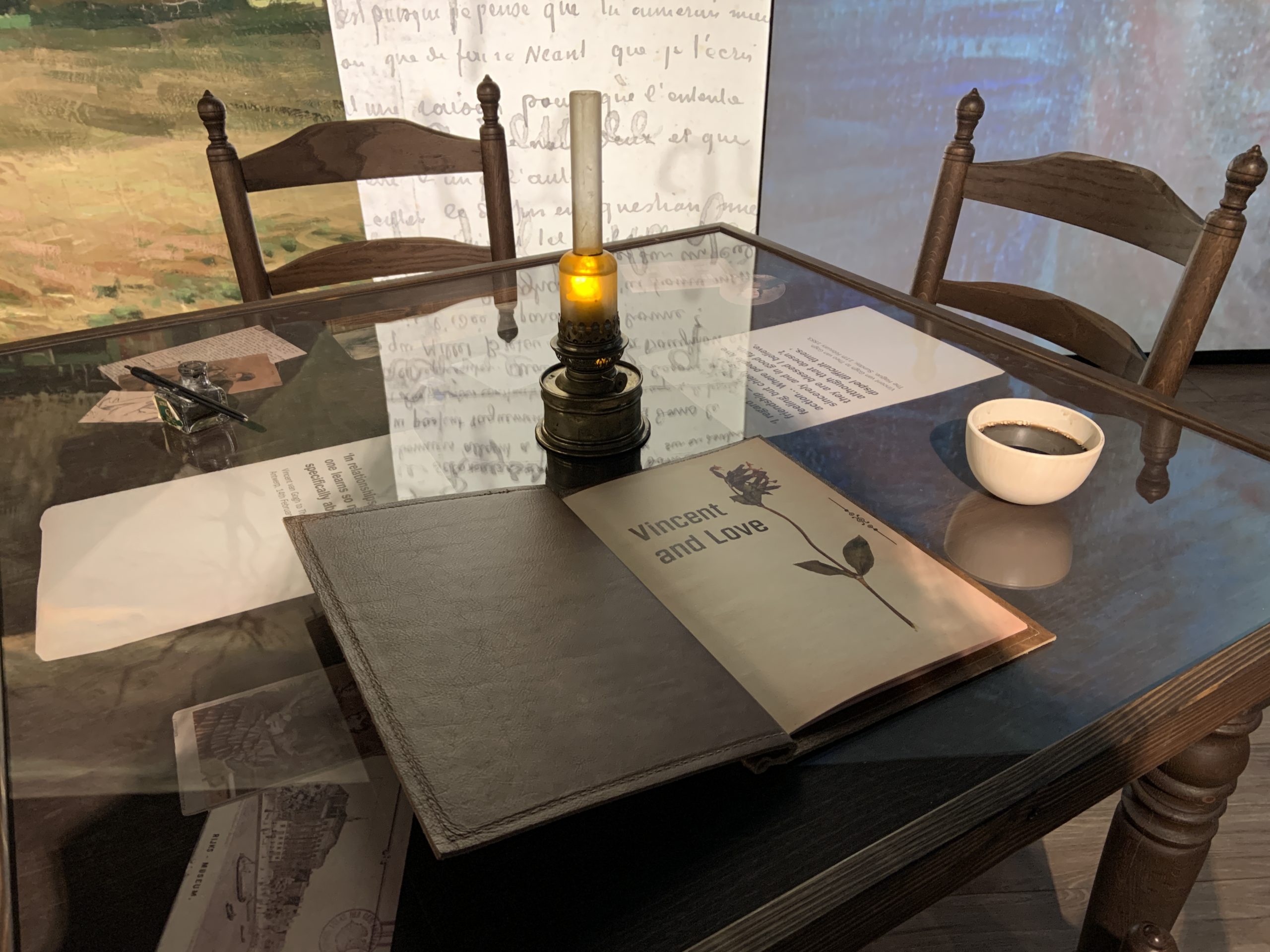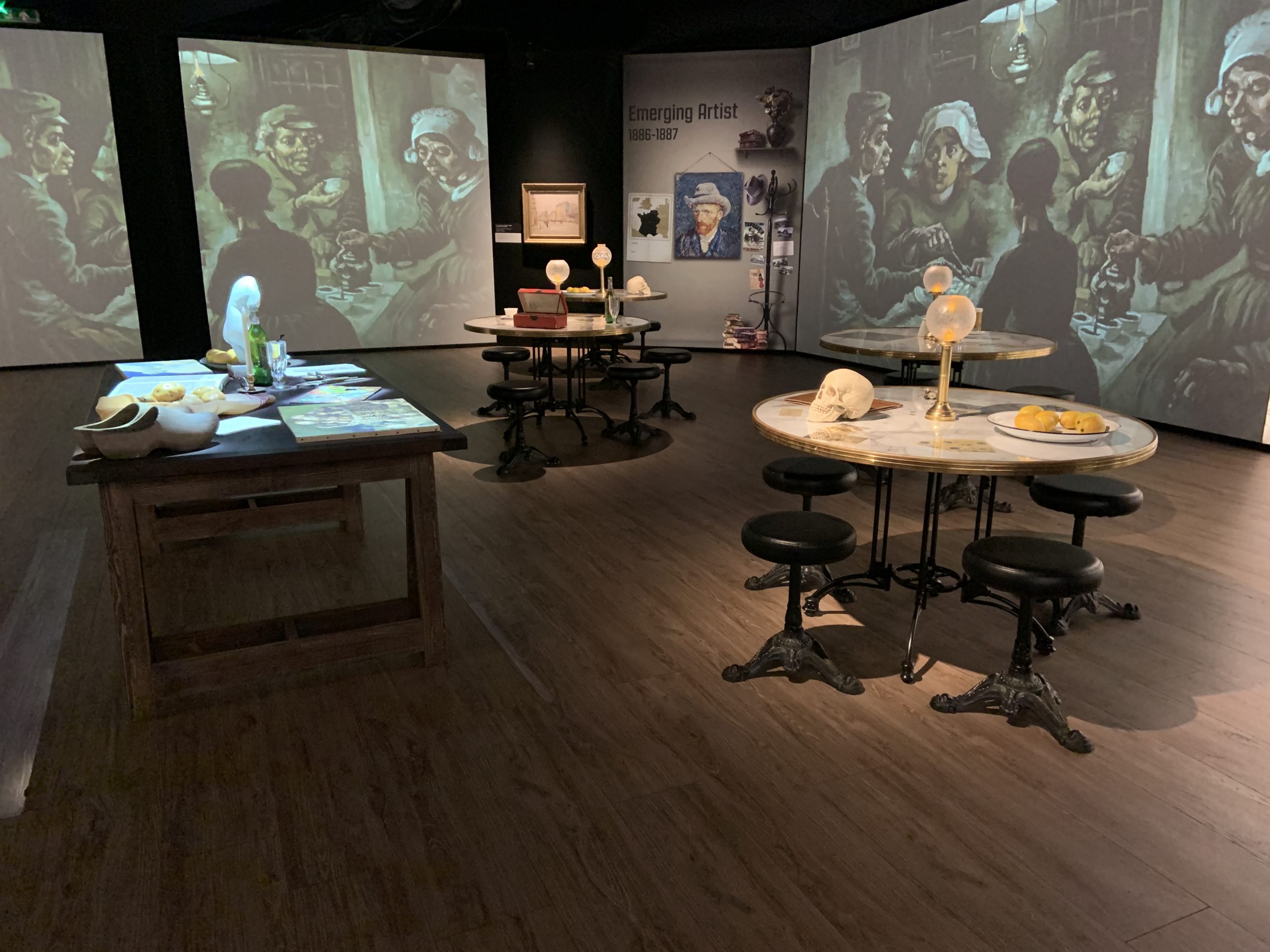 If the creative environment inspires you, you can sit down to draw.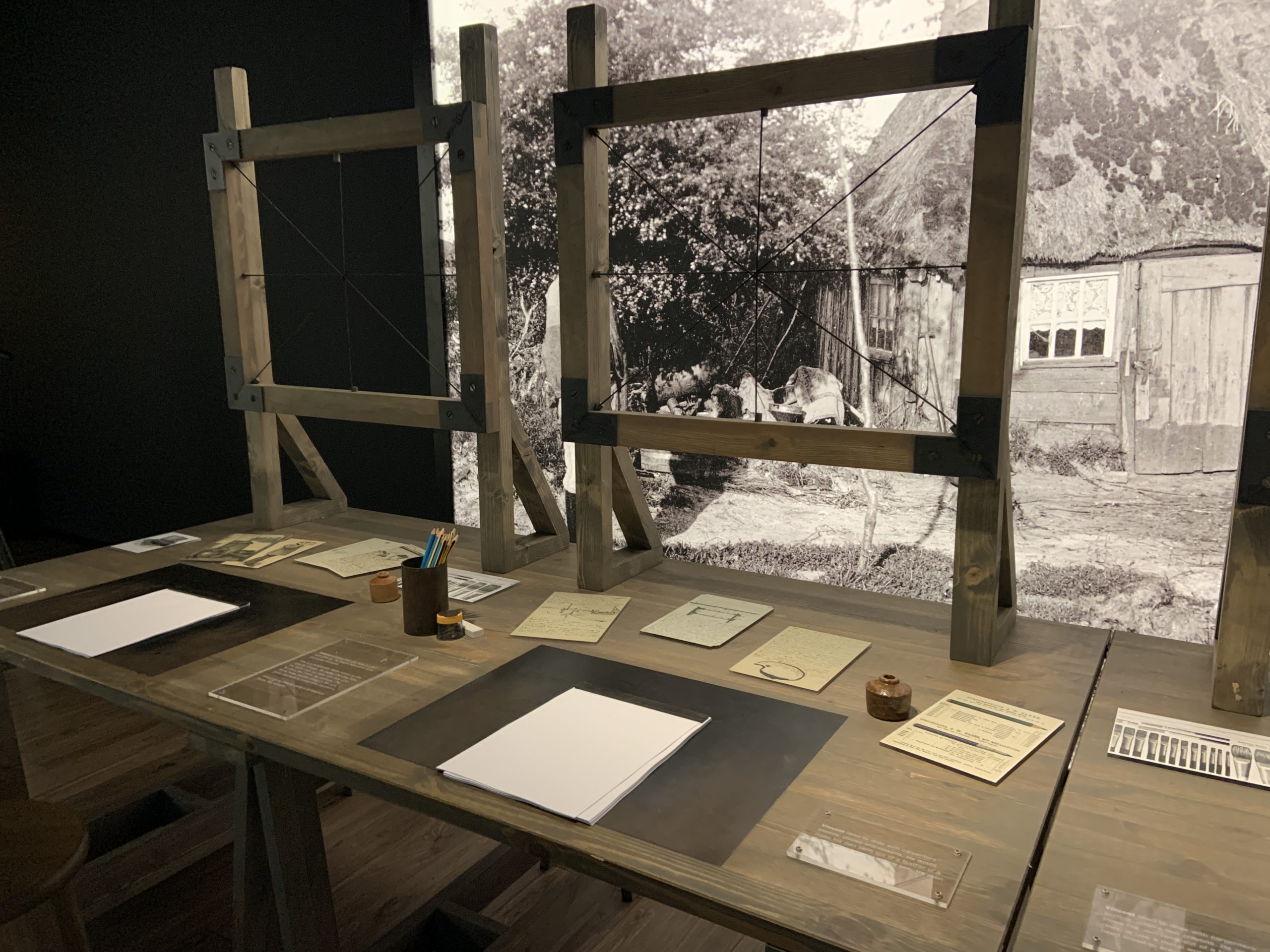 I discovered Van Gogh would use coloured wool to test different colour combinations before trying them out as paint was expensive. The interactive part here is that you can 'play' with different coloured wool to check the effects for yourself.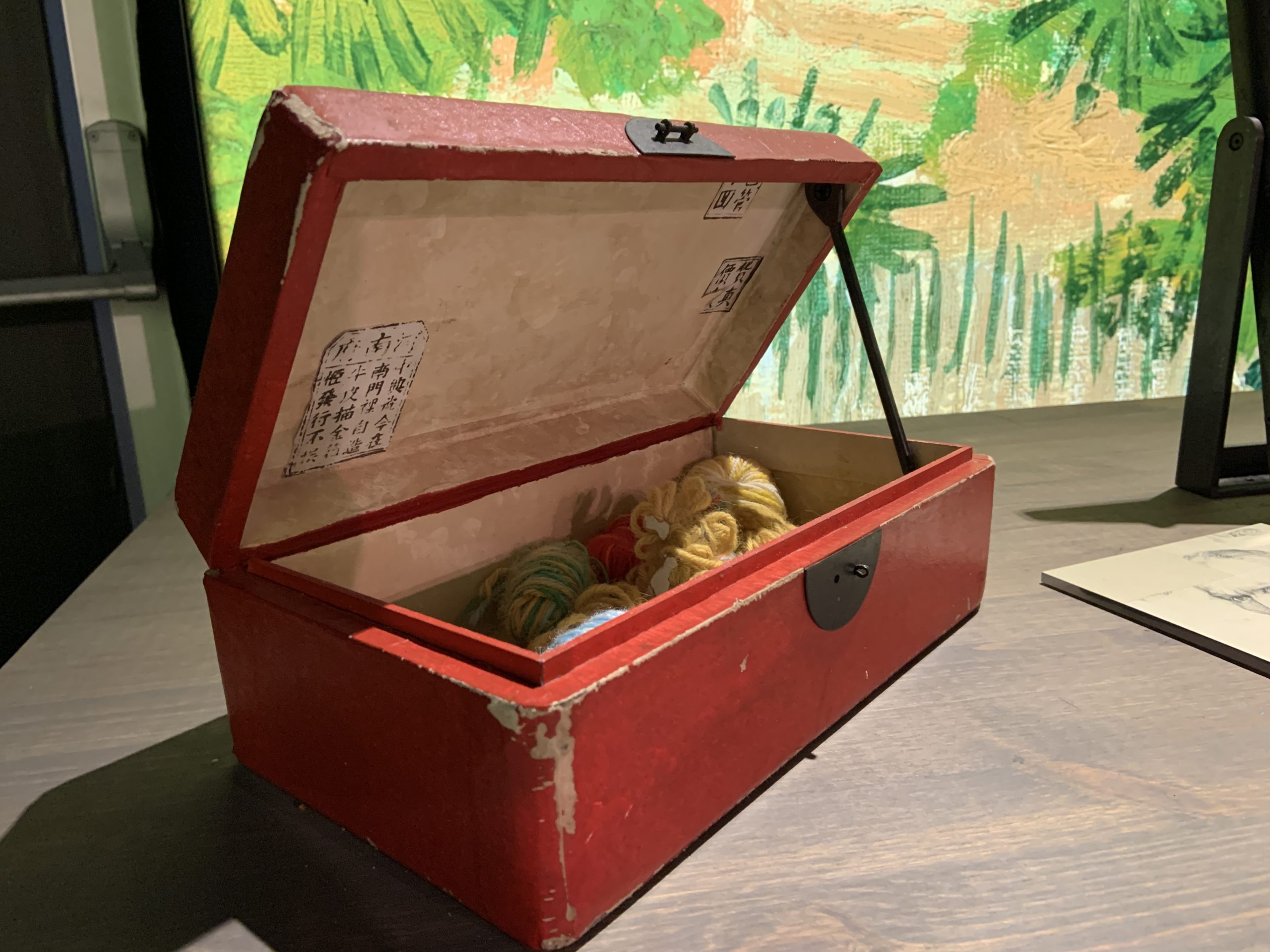 At 'Illness & Creativity', the idea is that you are walking along the corridors in the asylum in St. Rémy.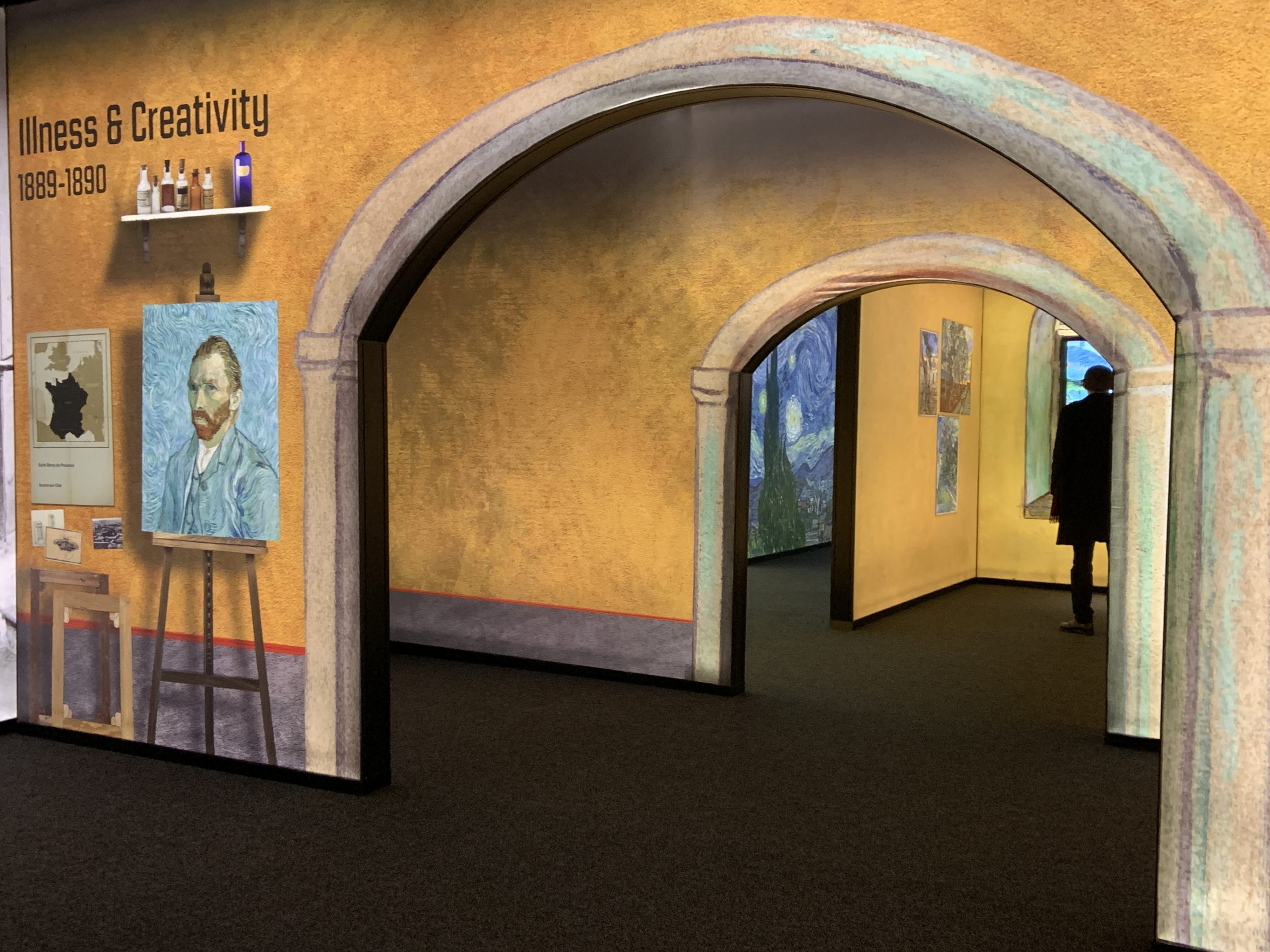 And you can sit at the window to imagine his view. (The scenery is digital so changes.)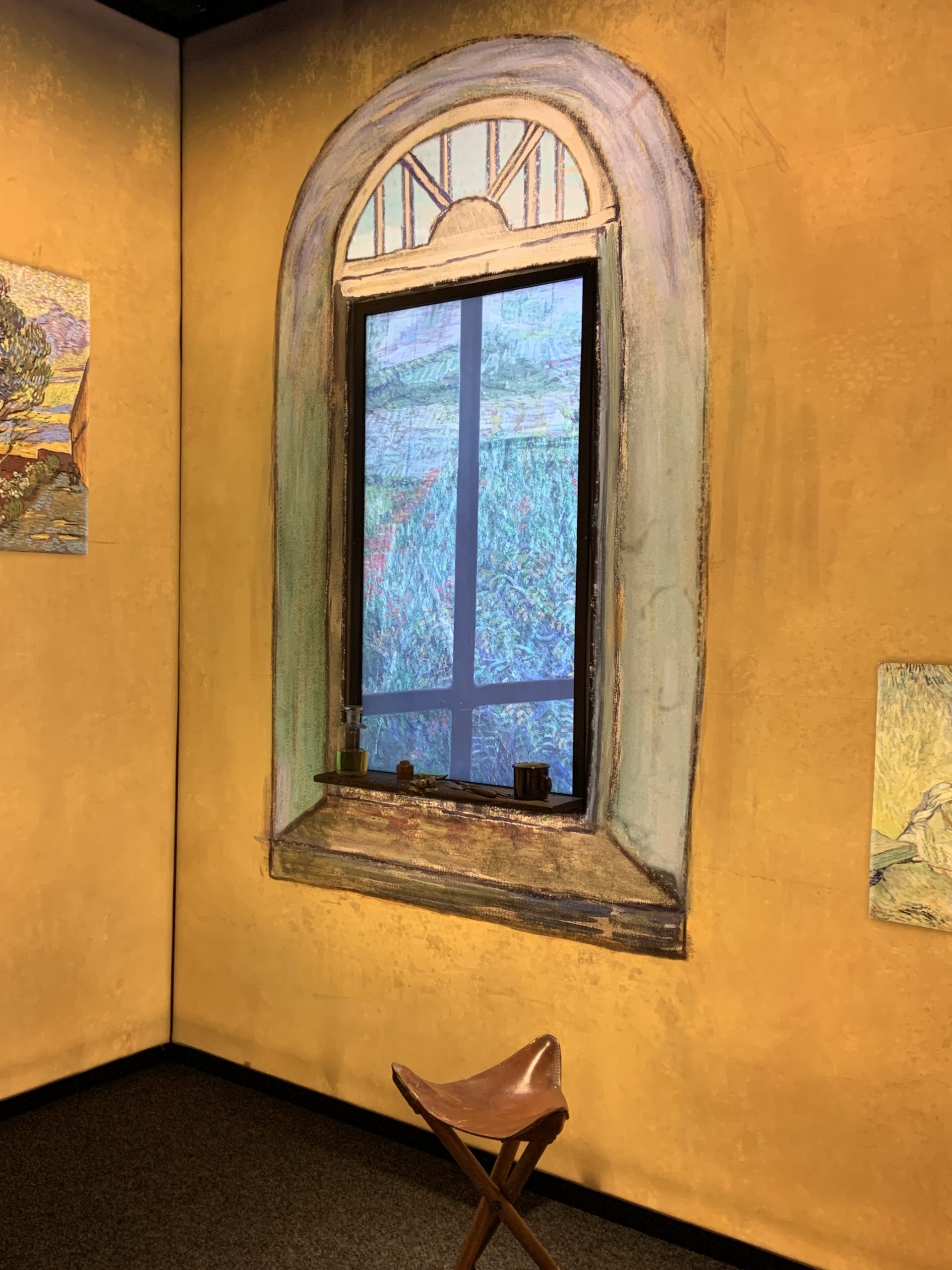 The journey ends with walls of images inspired by Van Gogh and you can use touch screens to find out more about them.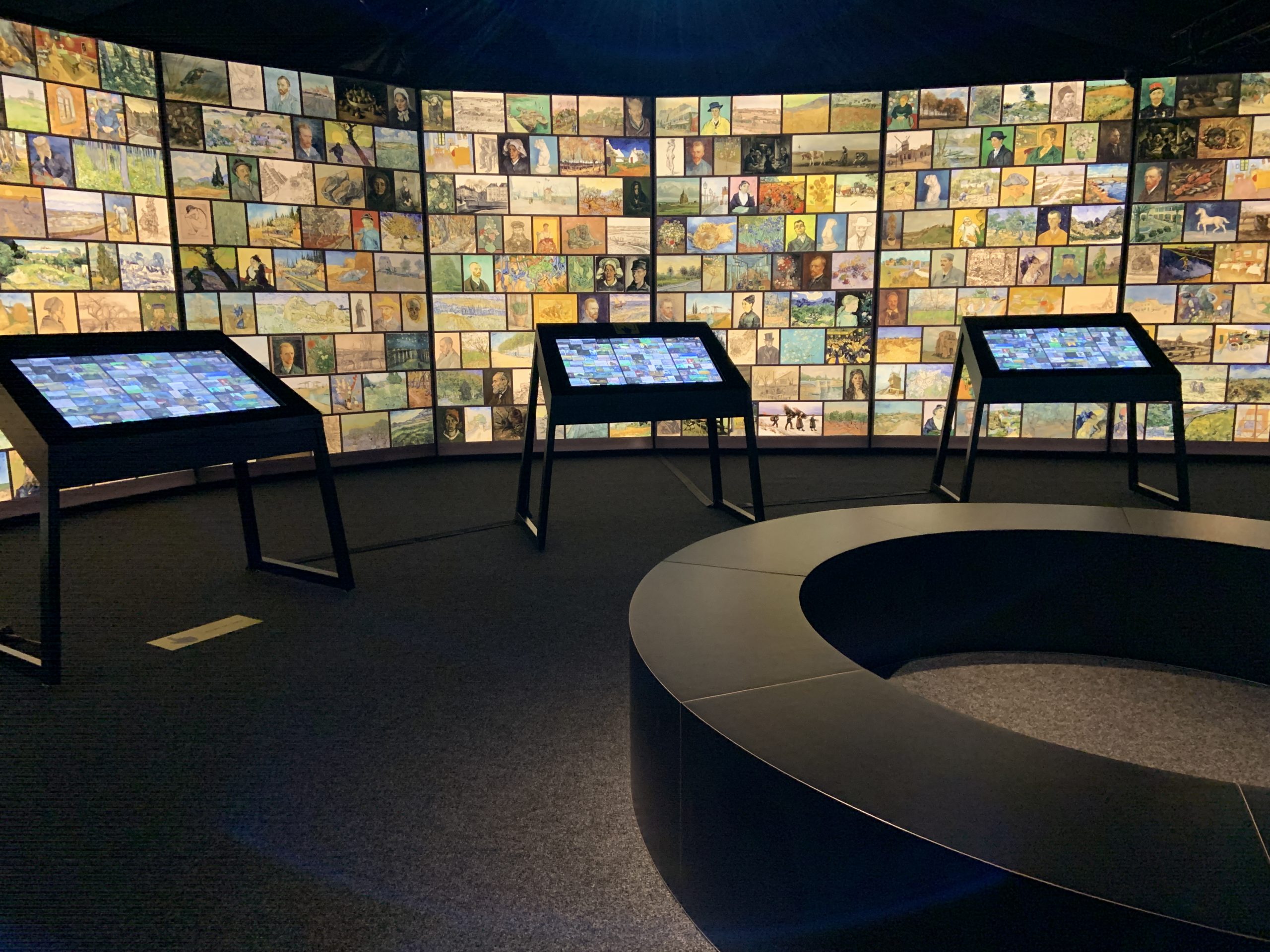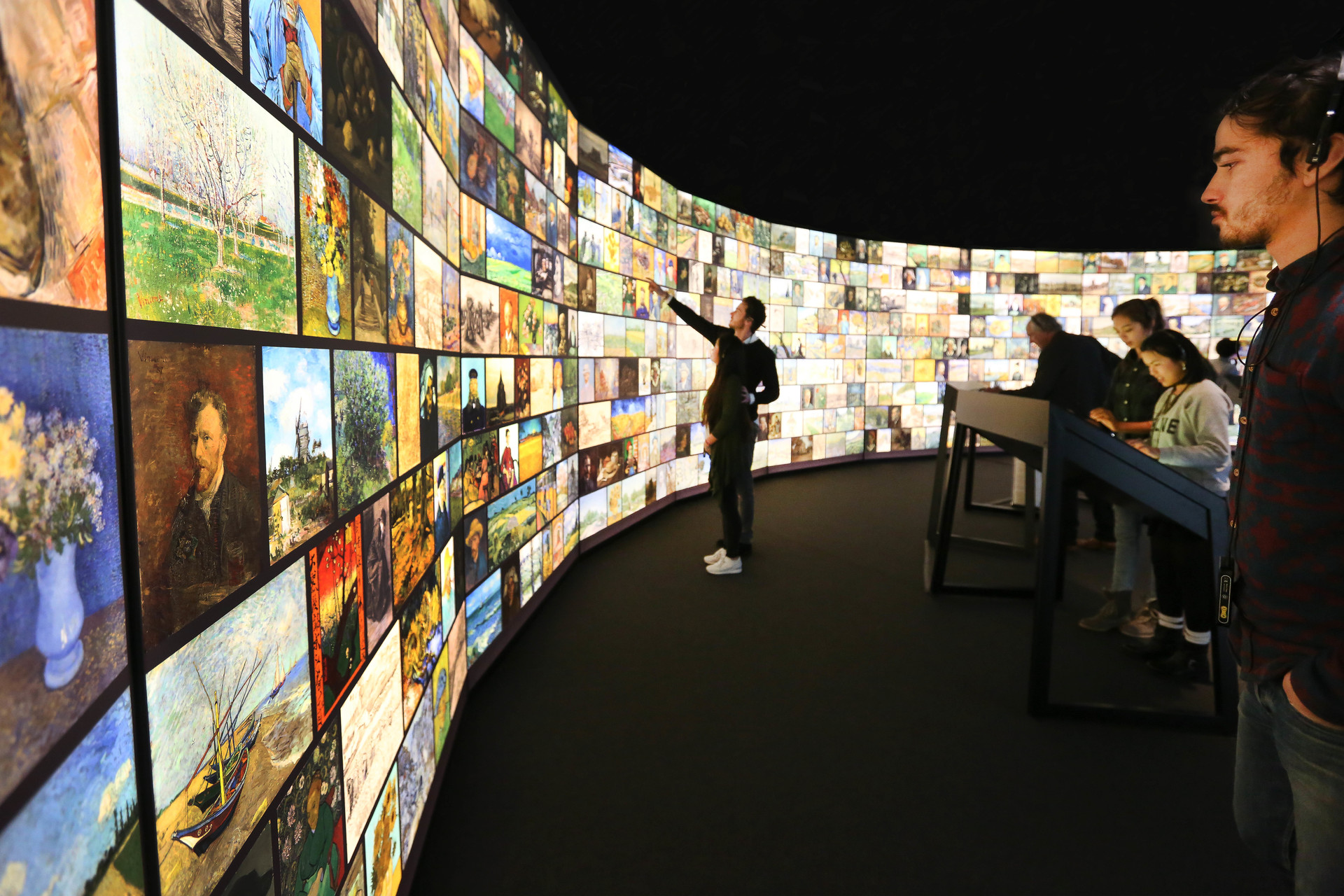 Meet Vincent van Gogh – On Tour
Meet Vincent van Gogh went to Seoul and Barcelona in 2019 attracting a combined total of 400,000 visitors. As well as London in 2020, the Experience will be in Lisbon, Portugal, from 28 February 2020.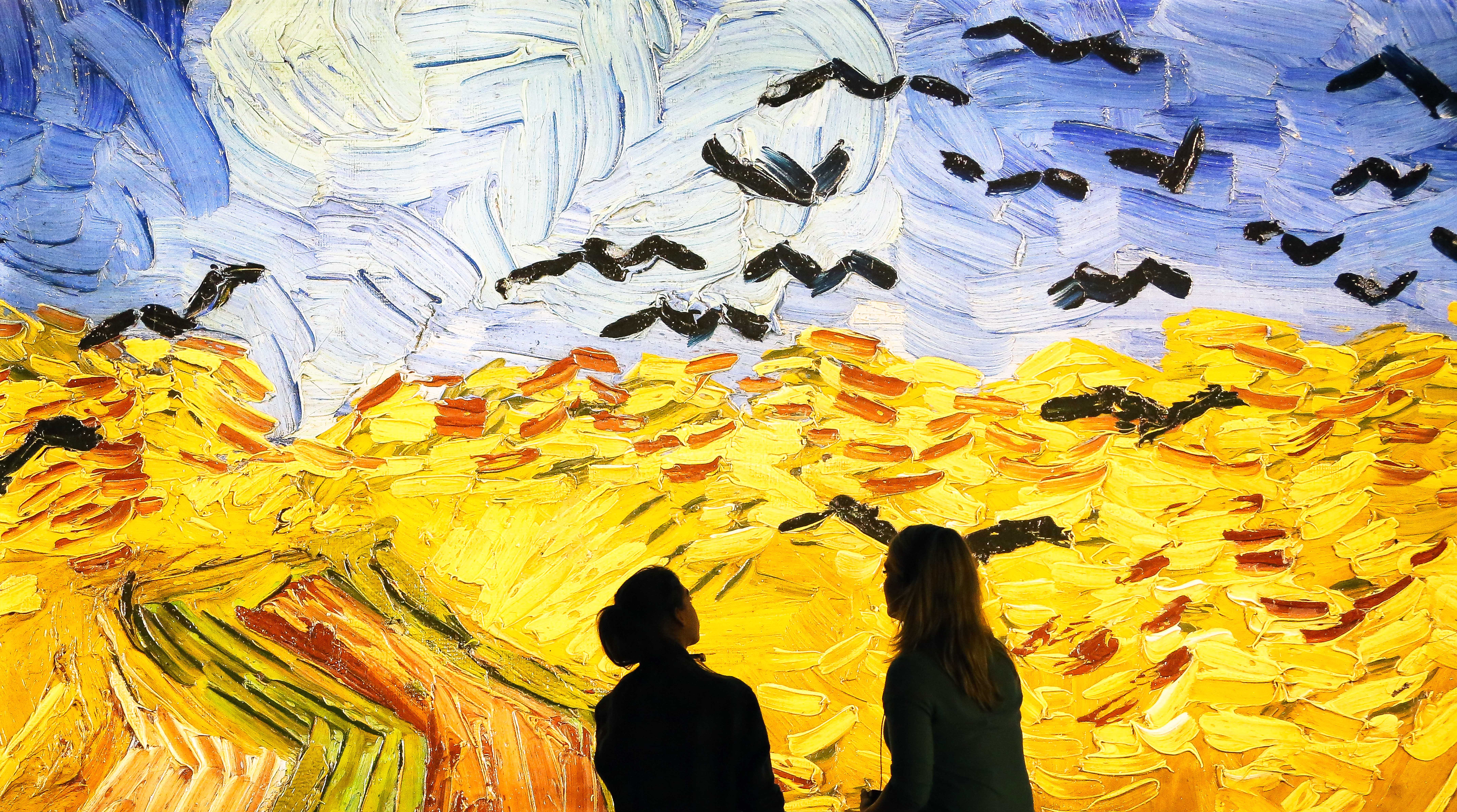 Conclusion
For the price of the tickets, I'm not sure if this was enough. It's a relatively short 'journey' so a visit will be under an hour.
The temporary structure (let's call it a tent) was really cold when I was there. There may be heating installed but as I stood there shivering (I went back to get my coat from the cloakroom), the air-conditioning was switched on and I was hit with an icy blast. If I was a paying visitor I would have found it too cold to really enjoy the Experience.
Maybe I'm just not the audience they are aiming at. While it was fun to get photos of friends sitting on the bed, I expect there will be queues to get your minute there when this is open to the public which may be frustrating.
On a positive note, I will say the book for Meet Vincent Van Gogh looked just right. Enough detail to be informative but more images than words. I hope it sells well (£16.95). Meet Vincent van Gogh
Dates: 7 February 2020 – 21 May 2020
Opening Times: Sunday – Wednesday 10am – 6pm, Thursday – Saturday 10am – 10pm
Prices:
Standard admission, booked at box office (inclusive of a £1.50 booking fee)
£19 Monday – Friday
£21 Saturday – Sunday
Book in advance, online (inclusive of a £1.50 booking fee)
£18 Monday – Friday
£20 Saturday – Sunday
Concessions are available for students (with valid ID), children (2-12 years), elderly (65+ years) and infants (under 2) go free.
Address: 99 Upper Ground, London SE1 9PP
Do note, the Meet Vincent Van Gogh is in a large tent/temporary structure behind the National Theatre.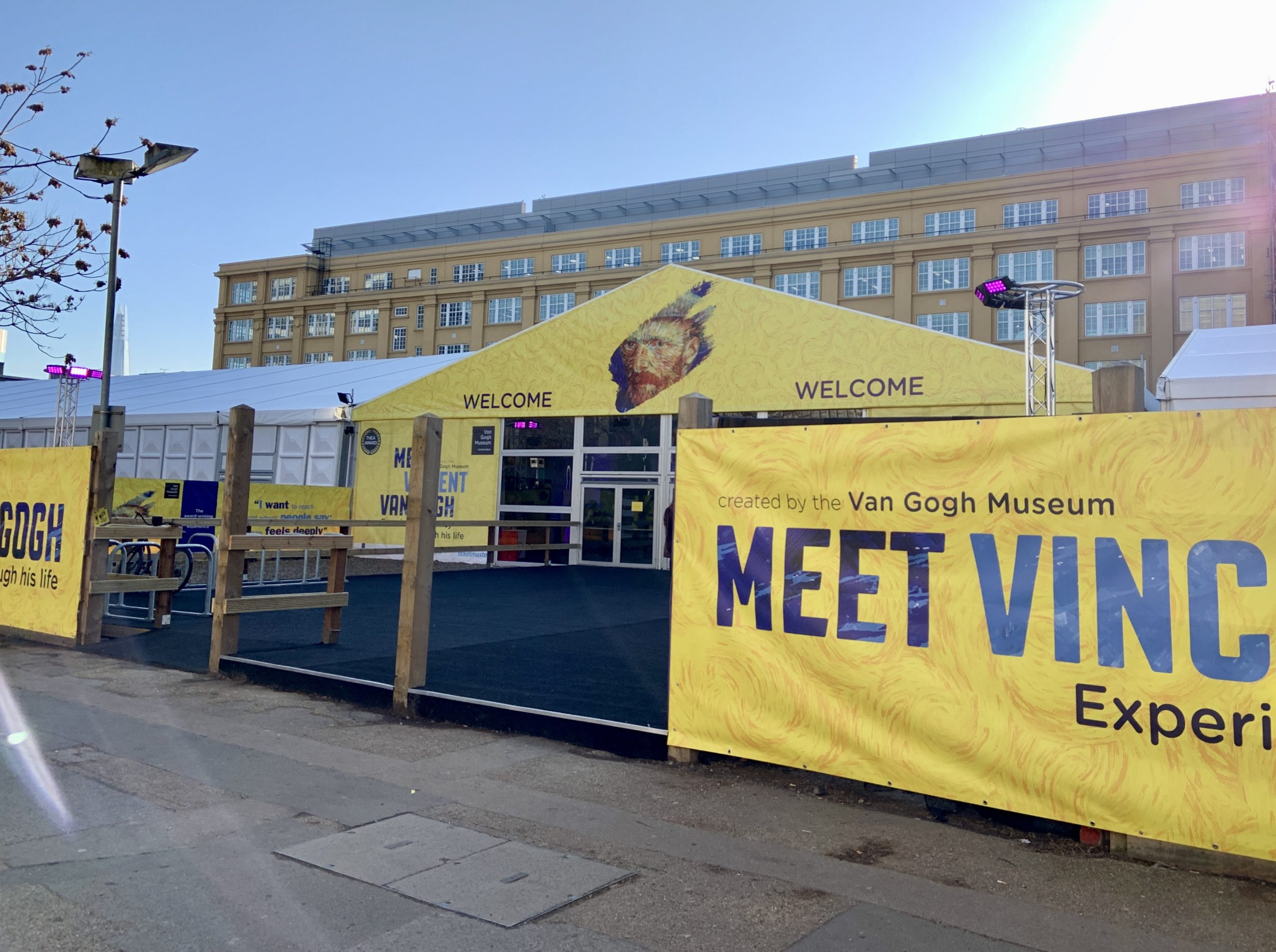 Official Website: meetvincent.co.uk