Editor's Note: This article originally appeared in the 2018 London Annual. Pre-orders are now open for the 2019 London Annual – your guide to London in 2018. Reserve yours here. 
In the 2017 London Annual, we wrote an article about the tourist traps that visitors to London should avoid. We got a good response from the article, but everyone wondered, what were some of the things we recommend that visitors SHOULD do when they visit London? Here are our definitive top 10 things to do on a trip to London. Whether it's your first trip to London or your 10th, there's something on this list for everyone.
Trafalgar Square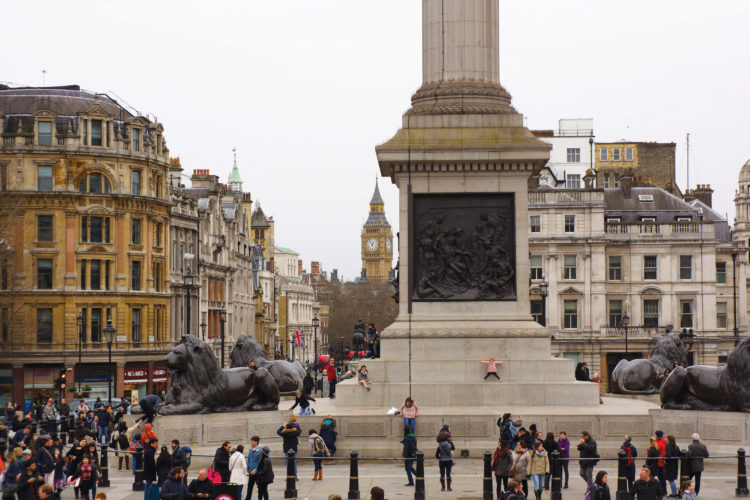 You can consider Trafalgar Square London's front porch. It was pedestrianised in the early 2000's so that traffic was routed around the square, connecting it by foot to the National Gallery. This has created a wonderful space for people to visit and enjoy views of London. It's also become a gathering place for London – it's now the location of concerts, events, film premieres and much more. London comes to celebrate major milestones in Trafalgar Square. On a quiet day though, it's a wonderful place to sit with a sandwich and watch London go by and then pop into the National Gallery and look at some of the best artwork in the world. No trip to London is complete without paying respect to Admiral Horatio Nelson, the victor of the Battle of Trafalgar.
National Gallery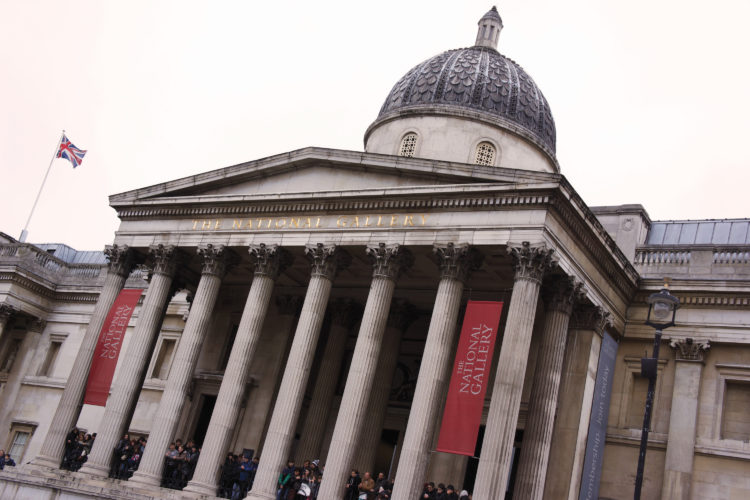 Even if you don't want to visit Trafalgar Square, a visit to the National Gallery is a must for anyone who appreciates art. They have a collection spanning the entire gamut of art history with a focus on British Masters. This is the place to see some of JMW Turner finest paintings or John Constables 'The Hay Wain' – arguably the most famous painting of an English idyll. But there's more than Turner and Constable at the National Gallery. This world-class institution is free to the public, and you could spend several days browsing the entire collection. If you have the time, check out the National Portrait Gallery, which is just around the back of the National Gallery. It's a separate museum with a separate mission, but visiting the two in the same day are complimentary.
British Museum
It's often joked that the British Museum is filled with the spoils that were stolen from elsewhere in the world. You won't find much 'British' stuff there (though there is plenty). Instead, you'll find important artifacts from human history. Most notable are the Elgin Marbles (which Greece would very much like back), the Rosetta Stone (which helped us decipher Egyptian hieroglyphics) and the Colossal Granite Head of Amenhotep III. Set aside as much time as you can to explore this museum; it's a warren of rooms and themes. You will discover something new on every visit. The British Museum is also free.
Sunday Roast in a Pub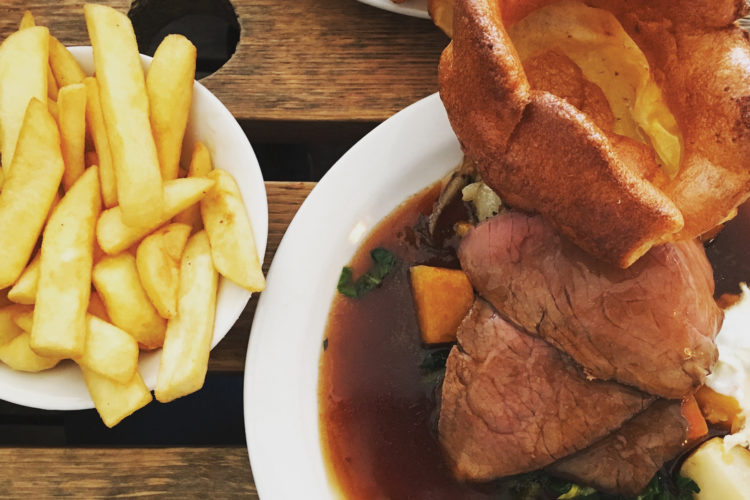 If you want to live like a local while you're visiting London, then you must visit a pub for Sunday Roast Lunch. Sunday Lunch is a venerable British Tradition, and many families will go out to a local pub for a hearty roast meal (usually beef, lamb or chicken). It's British cooking at its finest. London has hundreds of beautiful and historic pubs, and more of them will do a reliably good Sunday Roast. It's a great way to spend a couple of hours in an atmospheric pub and mingle with locals. Don't be afraid to go off the beaten path to find a pub. Also, be sure to call ahead and reserve a table as most pubs will fill up for Sunday Roast and you'll struggle to find a table without a wait. Reserving in advance solves this problem. Two places we can personally recommend are the Mayflower Pub in Rotherhithe (which has American connections) and the Res Whistler Restaurant at the Tate Britain (not really a pub but their Sunday Roast is amazing).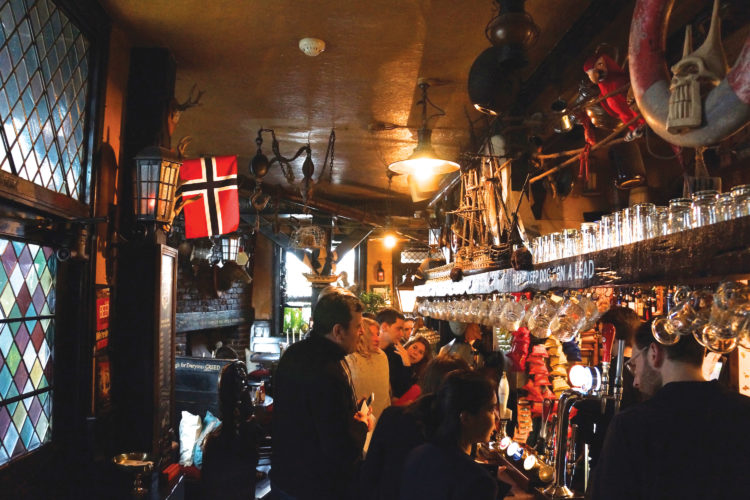 Bookshops
If you like to read, then you MUST visit at least one bookshop on your trip to London. There are hundreds of bookshops in London, but there are several that are always worth popping into. Hatchard's in Piccadilly is the oldest bookshop in London (founded in 1797) and has a great genteel feel to it – there are ample wood paneling and helpful booksellers. If you want something a bit more modern, then pop into Foyle's on Charing Cross Road which recently opened a massive new store in a former design college. If sci-fi is more your thing then definitely stop at Forbidden Planet which is a comic book, collectibles and noted sci-fi and horror bookstore. If you want more bookshop recommendations – check our top 10 London bookshops on page 118.
Take in a Show
London is home to some of the finest theatres in the world – many several hundred years old. There's a constant turnover of plays in the West End so it's hard to recommend a specific play, only that you should see what's playing while you're there and go. Most restaurants in the West End will do a special pre-show dinner so you can have a nice meal and then go right to the theater. Many famous British actors and actresses (and some American) will do a turn on the West End stage, so there's always something new to see. At the TKTS booth in Leicester Square, you can often get half off tickets on the day of the show. You can also get a good deal on advance tickets on line. Beware of ticket scams, however! There are plenty of scalpers who prey on tourists. If you're an Agatha Christie fan, then definitely to see "The Mousetrap" which is the longest-running play in the world. "Harry Potter and the Cursed Child" is also very popular, but it's very hard to get tickets to, and you have to plan 9-12 months in advance to get tickets.
Walking Tour
London is best seen by foot. There are tons of great walking tours that will take you around central London and show you all the historic sites. We've found that walking tours are often the most rewarding part of a trip because you get that personal connection with a knowledgeable local. Need some ideas on where to start? Check out Walks.co.uk, which has a great listing system for tons of great walks. You can also find ample walks through the various tour operators like Brit Movie Tours, Small Car Big City among others. If you're going on a walking tour, it's a good idea to think about London Nannybag luggage storage.
London Eye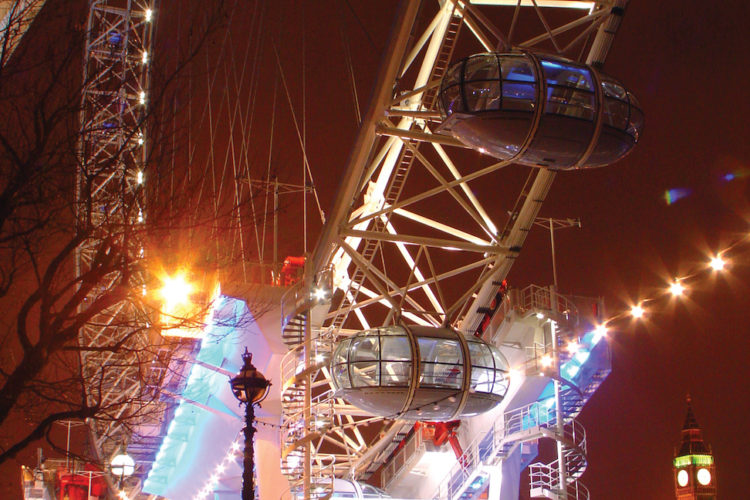 This is probably the most 'touristy' thing on our list. And really, it is a bit of an expensive tourist trap. But if you plan ahead and book your tickets in advance, you are reward with amazing views of London. If you have a clear day, you can see all around, and it's beautiful. Also, a popular option is doing an evening Champagne 'flight' where you can watch the lights come on during London's twilight and enjoy drinks with a loved one. We also adore the Southbank, and there's so much to do around the London Eye.
Maritime Greenwich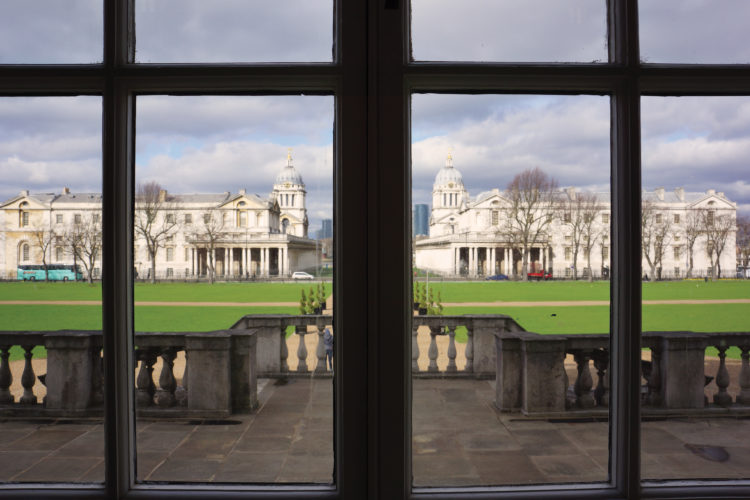 Greenwich is a bit of a trek outside of central London, but you won't regret it. There's so much to see here. We recommend taking an early boat from Westminster Pier and arriving in Greenwich by boat. Your first 'port of call' should be the Painted Hall followed by the Cutty Sark (and everything is very close together – within walking distance). After that, you must stop at the National Maritime Museum which celebrates Britain's sea heritage. If you still have some steam left after all this, then climb up the hill to the Historic Royal Observatory and pay a visit to the Prime Meridian (and stand in two hemispheres). You can also learn the history of why the meridian was so important and how it helped Britain conquer the world.
Churchill Cabinet War Rooms
Britain's War History is a very important part of Britain's heritage. It was a key moment in history that changed the country forever. The Churchill Cabinet War Rooms are but one of many monuments to the war in London but there the most atmospheric. These rooms, located beneath government buildings in Whitehall are where Churchill and his cabinet sheltered during the Blitz. He made many of his most famous speeches from there. He slept there. He won the war there. It's been left very much as it was when the war ended, like a time capsule. Also, recently a museum dedicated entirely to Churchill was added providing a great look at his life and times. For anyone interested in World War II or Winston Churchill, this is a must stop.