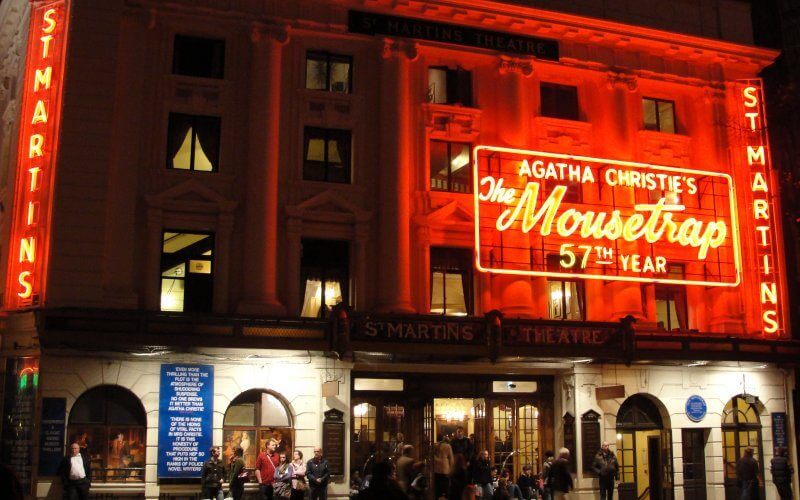 One of the most prolific mystery writers of all time, Agatha Christie wrote as many as 75 works over her career and created such well-know characters as Miss Marple and Hercule Poirot.  Many of her stories featuring both characters and other literary sleuths she created largely take place in London.  These works rely on places familiar to most readers as well as locales that were important to the author.  When you find yourself in London, you might want to follow the clues to your own mystery walk, retracing the steps of Agatha Christie and her fictional sleuths.  If we leave out any important spots below or if you want to tell us your favorite Christie stories, let us know in the comments.
St. Martin's Theater – The Mousetrap
Any fan of Agatha Christie is going to want to book a performance of her play The Mousetrap at St. Martin's Theater.  Christie wrote it as a radio play for Queen Mary in 1947, but it gained eternal fame when it opened as a stage production in the West End in 1952 and became the longest-running play until the COVID pandemic shut down live theater performances in March 2020.
London Homes
While Christie spent most of her life in her native Devon, she had at least a couple townhomes in London that today are marked with blue plaques.  Cresswell Place was her home in the 1920s when she was still married to her first husband.  58 Sheffield Terrace is arguably the more famous residence considering she wrote at least sixteen of her novels there, including the notorious Death on the Nile featuring Hercule Poirot.
Poirot's Flat
If you want to see the outside of the famed Belgian detective's flat in London, you should check out Florin Court in Clerkenwell, the exterior of which was used as Poirot's own Whitehaven Mansions.  You wouldn't be able to go inside, of course, considering that very nonfictional people live there.
An Illuminating Memorial
London has no shortage of monuments and memorials, including ones to Britain's greatest authors.  Christie has a memorial at St. Martin's Cross in Covent Garden.  The memorial was unveiled in 2012 after The Mousetrap hit 25,000 performances and 60 years on stage.  It features a book with a profile of Agatha Christie's face sculpted in the center with a mousetrap above and both Miss Marple and Hercule Poirot on the other side.
At Brown's Hotel
When she wasn't a permanent resident of London, Agatha Christie liked to stay at Brown's Hotel in Mayfair.  The hotel opened in 1837 and has rented rooms not only to Ms. Christie but also authors Rudyard Kipling and Stephen King.  It is said to have been the inspiration for her mystery novel At Bertram's Hotel, though other sources dispute this and claim the inspiration was Fleming's Hotel, also in Mayfair.
Eltham Palace
For filming locations in TV and movie adaptations of Christie's works, the location scouts always favored places with that distinct 1930s Art Deco style.  While Eltham Palace may not seem like that on the surface, having been constructed originally in the early 14th Century, the manor house was entirely redone in the 1930s with an Art Deco interior and keeping the Great Hall of centuries past.  It was here that part of the "Death on the Nile" episode of Poirot from 2004 was filmed as well as the episode "Three Act Tragedy".  It also featured in the Miss Marple episode "What Mrs. McGillicuddy Saw" in 2004.
Drinking with Brilliance
Many of London's pubs can claim a famous person or two who was once a patron.  The Cross Keys Pub in Chelsea is one such place and even has a blue plaque proudly proclaiming some of its former patrons, including Agatha Christie.  The pub is the oldest in Chelsea, having opened in 1708 and was saved from redevelopment by locals in the 21st Century.