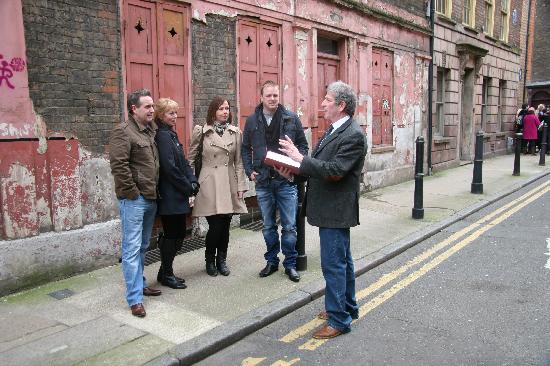 It's nice to go out for a good walk, especially when that means a chance to explore a new place.  In a city such as London, there are plenty of guided walking tours that will not only help you explore the city, but cater to many different interests.  There are walks for history, film, food, ghosts, television, literature, and more. What's more, depending on how you book your tour, you may be able to find yourself a good deal through a travel agency, London Pass, or from the tours themselves.  Lastly, be sure to make sure you have some comfortable shoes and attire as well as a bottle of water on hand, since some tours can last a couple of hours.  What are some of your favourite walking tours?  Let us know in the comments.
The Original London Ghost Walk
A city as old as London is full of ghosts, haunting pubs, alleys, and castles alike.  The original London Ghost Walk has been around since 1982 and offers one of the best chances to see the scariest places in the city.  One of the things that makes this walk the best is tour guide Richard Jones, a paranormal author who has been researching and writing about the ghosts of Great Britain and Ireland for over thirty years.  Jones claims to have investigated over 3,000 haunted locations in Britain and his books are often used by other ghost tours.  Fittingly, each of Jones's tours begin at night and he offers three to choose from on Friday, Saturday, or Sunday.
http://www.london-ghost-walk.co.uk/
Brit Movie Tours
For the film and television lover, Brit Movie Tours offers all manner of tours whether broadly encompassing many programmes and movies, or specific ones such as Downton Abbey, Harry Potter, Game of Thrones, and James Bond.  If you're in London, our advice would be to take the London Film Location Tour.  The London Film Locations Walk or the London Movie Locations Tour are probably your best bets for seeing the most shooting locations, but there are also ones that specifically target Romantic Comedies as well as specific films such as Notting Hill, Paddington, and The Da Vinci Code.
London Liars' Tours
There are some less scrupulous tour guides out there who well tell you some made up facts simply because it sounds like a good story.  Well, London Street tours offers a few interesting "Liars" tours that will help you learn to tell the difference.  On these walking tours to various parts of the City, you'll have two tour guides:  one who tells you the truth and another one who lies.  It is up to the walkers to discern which is which and the tour guides offer prizes if you can guess correctly.
http://www.londonstreettours.co.uk/?p=1
Walk Eat Talk Eat
English food gets something of a bad rap, even though it's produced superstar chefs such as Gordon Ramsay and Jamie Oliver.  Well, there are plenty of walking tours to let you sample the culinary delights of Britain's capital, but few with as interesting options as Walk Eat Talk Eat.  WETE specialises in taking you to out-of-the-way spots where you can sample not only traditional favourites, but also newer tastes that are taking modern London by storm.  What's more, if you want something to drink while you eat, they occasionally offer a gin tour of the city and will soon have a tour of the underground bars and speakeasies that pepper London.
http://www.walkeattalkeat.com/
London Walks
London Walks is one of the largest walking tour groups in the City and offers a range of available walks either around the boroughs or of specific historical locations.  Being one of the largest, you can take a specific tour of the Beatles' London, Harry Potter, Jack the Ripper, Westminster Abbey.  While some walks may be only on certain days or especially on weekends, London Walks offers one tour or another every day of the week.  For a more intimate tour, you can also hire guides for private walks.  Honestly, it would be difficult to list everything they offer here, so feel free to peruse their website for yourself.