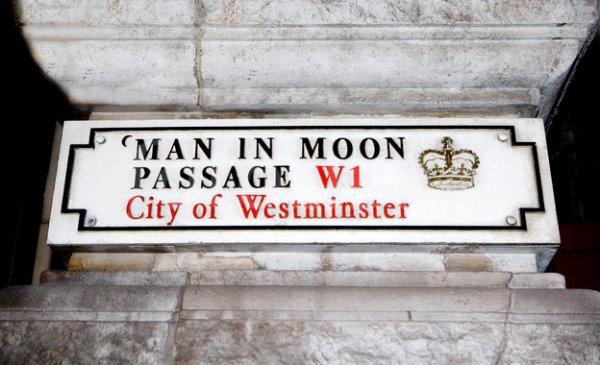 Street names can be funny things.  Most often the name originates from long ago and the original meaning behind the name was lost.  People forget the person it was named for, or the trade that was located there has since moved on.  Still, the names remain and their meaning often becomes something new and hilarious.  Enjoy these twenty-five London streets with funny names and let us know some of your favorites.
Upper Butts
Upper Butts is a street located in Hounslow and the origin of Butts is thought to be related to archery targets, which once upon a time were also referred to as butts.  The Butts surname is thought to come from people who lived near these targets.
Man in Moon Passage
Thought to come from an inn or pub that used to be in this location.  Pubs with this name often depict the moon with a face and has a bundle of sticks, a lantern, or a dog.
Love Lane
The origin of this street name is not as romantic as it may seem.  In the Middle Ages, "Love Lane" was a place you could go if you were willing to pay for a "good time" with a lady.
Hanging Sword Alley
Possibly named after a sword fighting or fencing school that used to be here, but more than likely for the Tudor home known by its sign of the hanging sword.  Its colorful nickname was "Blood Bowl Alley" as it existed in an area exempt from city laws after the Reformation, which meant it was quite the criminal hangout.
Rotten Row
This place was anything but rotten, as its original name was "Route de Roi", which is "The King's Road" in French.  King William III built it to travel to and from Kensington Palace and it became quite a fashionable route later on.
Back Lane
A "back lane" is a smaller street that ran behind the main street, much like an alleyway that runs behind homes in some neighborhoods.
Birdcage Walk
This street name comes from King James I's love of exotic birds and how he used to keep them nearby.
Cockpit Steps
This street used to be the site of royal cockfights.  The Royal Cockpit was there during the 1700s, but all that remains today are the steps.
Sherborne Lane
This street really used to smell back in the day when it was known as "Shiteburne Lane" and was known as home to public toilets.
Swallow Street
The first section of the street was built in 1671 and named after Thomas Swallow, a 16th Century tenant of the area.
Wardrobe Place
The street was once home to a building that the monarchy used to store clothes for state visits.
Friday Street
This was more likely named for a fish market that operated on Fridays.  Other nearby streets are also related to products such as Milk Street and Wood Street.
Mincing Lane
The street used to be home to nuns from the Church of St. Helens Bishopgate and the medieval name for nuns was "mynchen".
Trump Street
Not named for the American President, like its neighbors Milk Street and Bread Street, it was related to a particular item that was sold there.  In this case, that business was making Trumpets.
Mount Pleasant
The street is actually the opposite of how it sounds, as it was actually a medieval dumping ground.  It's cleaned up a lot since then.
Cripplesgate Street
It's said that when Edmund the Martyr's body was brought through the city gate here in 1010, several cripples were miraculous cured, though it's also likely that it was named after a "crepul" or a covered tunnel that was built for sentries.
Flask Walk
This street is somewhat related to what you imagine, as it was home to quite a lot of pubs in the 17th and 18th Centuries, but its origins actually come from the fact that those taverns used to sell flasks of water from a nearby medicinal spring.
Pudding Lane
Not as sweet as you might think, "pudding" was an ancient term for animal guts, which would be pushed down the street into the Thames waste removal system from all the butchers' shops.  Interestingly enough, this is where the Great Fire of London began in 1666.
Old Jewry
After William I became king, he invited Jews to come live in London, and many of them settled in this area in what became the city's Jewish quarter.
Ha-Ha Road
A "ha-ha" is actually a sunken ditch that serves as a boundary marker for a property, which was preferred by some landowners instead of a wall that might block their view.
Crutched Friars
A "crutch" or "crouch is another name for a Latin crucifix and this street was the site of the Convent of the Courched Friars, which formed in 1298.
Vine Street
Not home to a lot of plants, it was actually named for a pub known as The Vine, which operated here in the 18th Century.
Cock Lane
You might think this was named for a rooster, but it actually has some dirty connotations, as the street was home to many a brothel in olden days.  It was the only place where brothels could operate legally and the Cock Lane Ghost later became a sensation for the street in the 18th Century.
French Ordinary Court
A French restaurant used to operate here in the 17th Century that served fixed price meals, which were referred to as "ordinaries".
Knightrider Street
Not related to David Hasselhoff, this was once a much longer street that knights would take on their way to Smithfield for jousting tournaments during the 14th and 15th Centuries.