Everybody loves a good pub, especially if you're an author. Some writers tend to like them a little too much, but sometimes it takes a pint or two to really get the creative juices flowing. From Marlowe to Virginia Woolf, there are plenty of pubs in London that are tied to some of the greatest novelists, playwrights, and poets in British literature. There's even a London Literary Pub Crawl that will lead you on a drinking tour to share pints with Charles Dickens or Woolf (in-character tour guides) in the very places they haunted in life. Here's a look at ten of London's pubs where you can step back into literary history.
The Dog and Duck – Soho
All pubs are equal, but some pubs are more equal than others. The Dog and Duck in Soho was once frequented by Animal Farm and 1984 author George Orwell. Though owned by Nicholson's Pubs, the D&D still boasts a great Victorian interior (in fact, it's Grade II listed) from its 1897 construction. There's a great selection of ales from Fullers to Orkney, so open up your copy of an Orwellian dystopia and have a red ale out of irony.
The George Inn – Southwark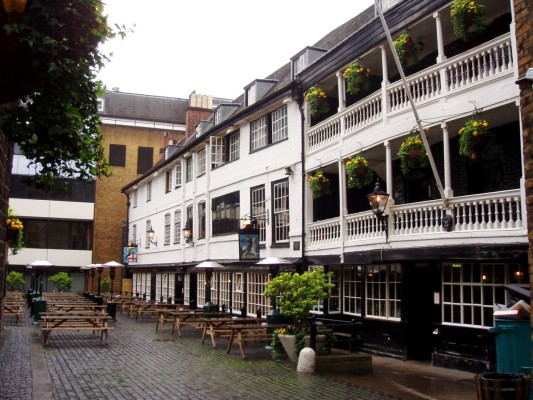 The George Inn is the last coaching inn still in service today, though they don't stable horses anymore. It's been in operation in Southwark since the 16th Century, so it's had its fair share of visits from literature's greats. During the late 16th Century and early 17th Century, William Shakespeare was a frequent visitor. Charles Dickens also "knew the hospitality of the inn" and even mentioned it in Little Dorrit. Today, the inn is owned by the National Trust.
Duke of York – Fitzrovia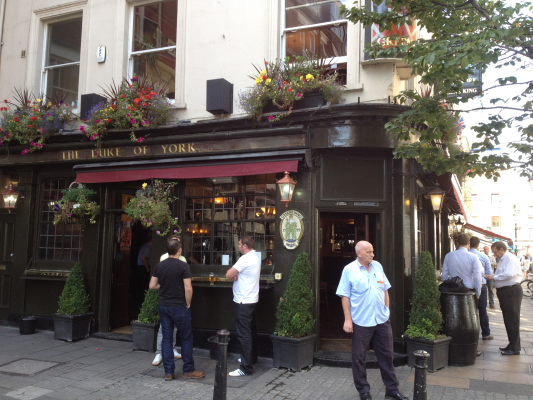 The Duke of York is real horror show, which translates as pretty awesome if you speak the strange slang of the characters Anthony Burgess' novel A Clockwork Orange. In 1943, the author and his wife witnessed a razor gang's invasion of the pub. Their violence is said to have inspired A Clockwork Orange. In 2014, Prince Andrew, the present Duke of York, gave his consent to the pub to use his image on its sign.
Pillars of Hercules – Soho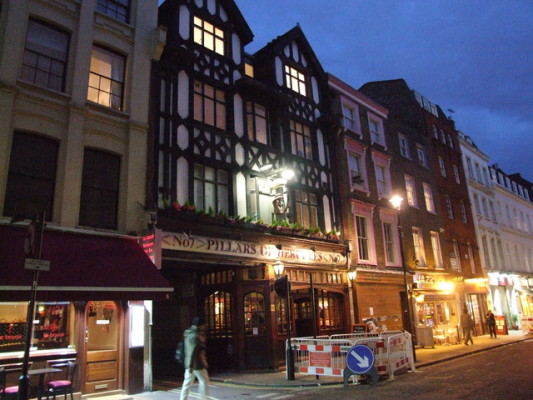 Another pub frequented by Dickens, he named-dropped it into A Tale of Two Cities. The pub was apparently so touched by the reference that the side street next to the bar was renamed Manette Street in honour of Doctor Manette from the novel. The Pillars of Hercules has the attention of more recent writers as well, being visited by the likes of Martin Amis, Julian Barnes, and Ian McEwan. Critic Clive James allegedly wrote many of his essays in the pub, which could explain why he named a collection after it.
The Fitzroy Tavern – Fitzrovia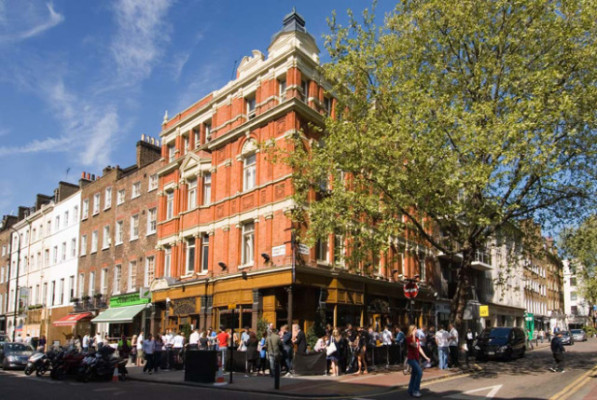 Like Dickens and Shakespeare, it's not unusual for an author to have had more than one local, and the Fitzroy Tavern was another pub where George Orwell was a regular customer. In addition to the Big Brother creator, poet Dylan Thomas was another regular. Not too surprising for a place that has a Writers and Artists Bar downstairs, which includes portraits of both writers.
The Marquis of Granby – Westminster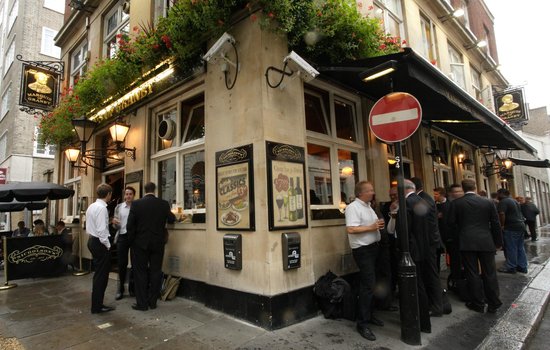 Named for the 18th Century war hero who would reward his troops from his own fortune, the pub was a favourite of poet and playwright T.S. Eliot as well as another favourite of Dylan Thomas. Thomas allegedly would come to the pub to meet guardsmen who might be cruising for gay partners, then start fights with said guardsmen. As with the Dog & Duck, it's also owned by Nicholson's and boasts a similar lineup of ales.
The French House – Soho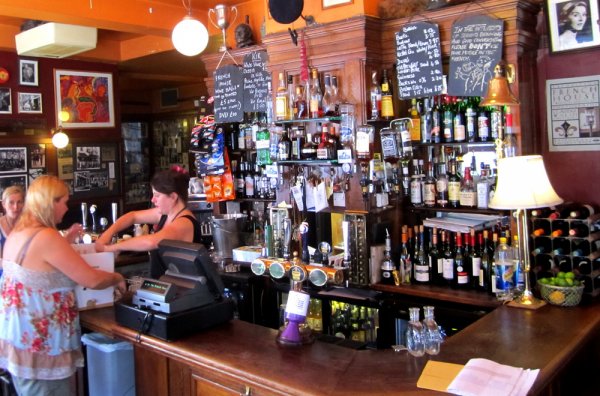 Yet another spot for Dylan Thomas, he wasn't the only alcoholic author to visit this pub. Playwright, poet, and notorious drinker Brendan Behan also frequented the French House on Dean Street. Aside from drinking, Behan wrote much of The Quare Fellow here and Thomas once apparently left a copy of his manuscript for the radio play Under Milk Wood under his chair. Allegedly, another famous work was authored here by someone not known as a writer when exiled French General (and future president) Charles De Gaulle penned his "Á tour les Français" speech.
Ye Olde Cheshire Cheese – City of London
On every list of historic London pubs, Ye Olde Cheshire Cheese has had a pub on site since 1538 and the current building was constructed after the Great Fire of 1666. This building is Grade II listed and is on the Campaign for Real Ale's National Inventory of Historic Pub Interiors. Ye Olde Cheshire Cheese is also a treasure trove of literary greats who were customers, including: Mark Twain, Alfred, Lord Tennyson, G.K. Chesterton, Arthur Conan Doyle, Samuel Johnson, Charles Dickens, Oliver Goldsmith, and P.G. Wodehouse, amongst others. Owned by brewery Samuel Smiths, the selection may be limited, but the history certainly is not.
The Grapes – Limehouse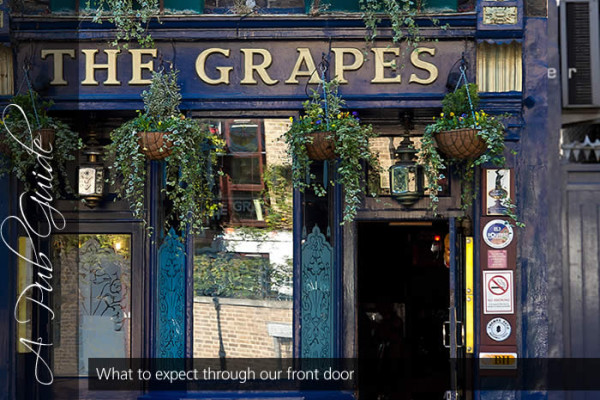 A spot frequented by Charles Dickens (shocking, I know), the Grapes in Limehouse was also visited by renowned diary author Samuel Pepys. Okay, it's a stretch, since Pepys' diary actually mentions him going to the lime kilns nearby and the building where the pub is wasn't built until 1720. Another "six degrees of separation" literary connection the Grapes has is in one of its owners, Sir Ian McKellan, who in his laundry list of great roles played J.R.R. Tolkien's famous wizard, Gandalf. As with most of his favourites, Dickens mentioned the pub in "Our Mutual Friend", while Oscar Wilde mentions it in "The Picture of Dorian Gray", Arthur Conan Doyle does in his Sherlock Holmes stories, and Peter Ackroyd in Dan Leno and the Limehouse Golem.
The Flask – Highgate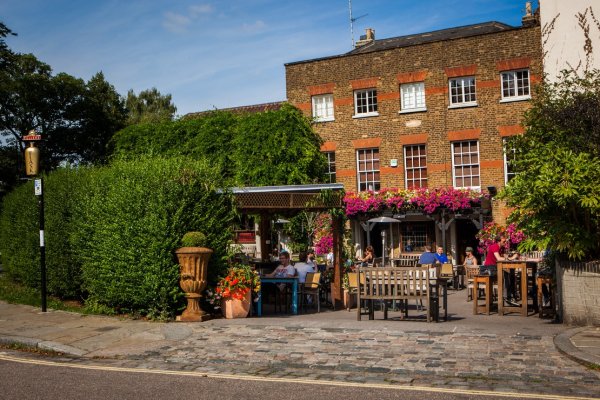 This North London bar was a particular favourite of Romantic poets, including Lord Byron, Percy Bysshe Shelley, and John Keats. Artist and political cartoonist William Hogarth also frequented the pub, as did Das Kapital and Communist Manifesto writer Karl Marx. Owned by Fuller's, it's another pub with a limited selection, but is one of the few that still engages in the old ceremony of "The Swearing on the Horns", though it's mostly for charity.