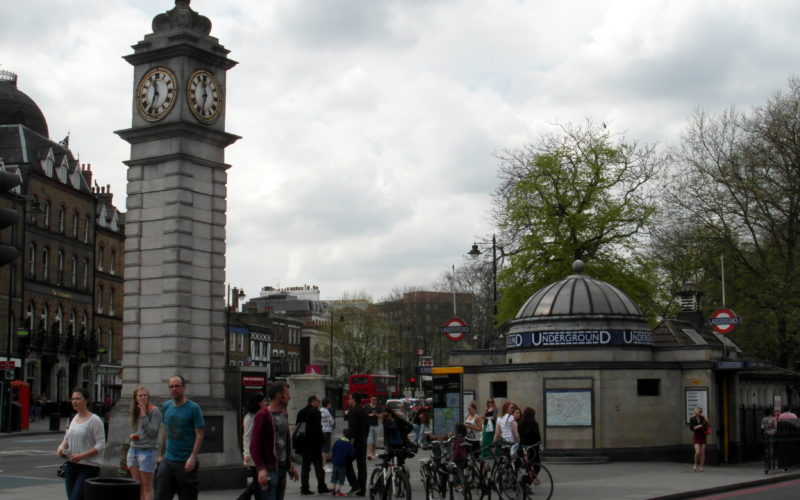 Nestled in the Borough of Lambeth, Clapham has lived many different lives over the centuries.  First home to a Roman military road, that gave way to farmland, country houses, and then the sprawling metropolis that is Greater London.  Today, Clapham is almost in the very heart of the city and has a vast array of places to visit, things to do, and events to attend.  Whether you're in the mood for a movie, a concert, a pint, or maybe just a nice place to eat, Clapham has it all.  We've identified our top ten favorite things to do in this district of London, and you can let us know your own experiences in the comments.
Brewdog Clapham Junction
The mad brewers at Brewdog have a string of their bars throughout the UK and Clapham has one to call its very own.  It's a smaller, more intimate space than other Brewdog bars, but it still has the same great Scottish beers from Juggernaut to Radio Zombie Phone-In.  If you're a bit puckish, the kitchen will whip up something from its menu to complement your pint.
Vintage and charity shops
American rapper Macklemore glorified the charity store in his song "Thrift Shop," and Clapham has enough that you could build an entire wardrobe from what you'll find in them.  The district has old standards like the Save the Children shop as well as hip stores such as Wandsworth Oasis.  There are so many here that people will sometimes go on a charity shop crawl looking for that perfect item to complete their outfit.
Clapham Clock Tower
While it might be a small monument, the Clapham Clock Tower has been a fixture of the Clapham High Street since 1906.  It was donated by the Mayor of Wandsworth, Alexander Glegg, and had to be taken down and rebuilt when a new booking hall was constructed for Clapham Common Underground Station, which sits directly below the clock.
Venn Street Market
One of the best places for food in Clapham, the Venn Street Market is both a fresh ingredients market as well as a street food bonanza. The market is hosted in Clapham Common (more on that later) every Saturday from 10 AM to 4 PM.  Regular vendors include Ted's Veg, Bad Brownie, and Pate Moi, amongst others.  The Market also has its very own Fat Gay Vegan section to show off the best street food veganism has to offer.
The Breakfast Club
Another chain place in Clapham, The Breakfast Club brings its fine menu to Battersea Rise (and Shine) of breakfast and lunch options to the area.  No matter what you're in the mood for or even if you can't decide, The Breakfast Club has such a large menu you're bound to find something you'll like.  The charmingly eclectic atmosphere makes it almost look like you're having breakfast in your own kitchen.
SW4 Festival
Hosted over two nights in August every year, the South West Four Festival is one of the biggest music events South London has to offer.  From up-and-coming artists to stadium veterans, SW4 knows how to give you a fantastic music experience.  This year's lineup is currently being set and includes acts such as Alison Wonderland, Basement Jaxx, Wretch 32, and The Prodigy.
Clapham Picturehouse
Of course, maybe you're more of a movie person.  In that case, you'll want to check out the Clapham Picturehouse, an independent cinema with all the modern conveniences.  From the big seats to the cinema bar, Clapham Picturehouse will treat you well regardless of whether you're seeing a local filmmaker's project or a big Hollywood production.
Brixton Market
Just a little walk over to Brixton will treat you to one of the finest markets in South London.  Whereas Venn Street Market is all about food, Brixton Market is all about the goods.  Flowers, medicine, antiques, and gifts can all be found here and among the shops are dotted restaurants and cafes so you can enjoy something to eat and drink while you shop.
Battersea Arts Center
One of the finest examples of a Grade II listed building in Clapham, the Battersea Arts Centre is also the leading stage theater for the district.  It was once the Battersea Town Hall before being transformed into a performance venue and now hosts so many theaters shows some of them are practically on top of one another.  The Great Hall in which the performances take place is a marvel unto itself and worth checking out.
Clapham Common
The piece de resistance of Clapham, Clapham Common is the center of life for the area.  Already home to the Venn Street Market and SW4 Festival mentioned prior, the common is Clapham's largest park at 220 acres.  Rare for a park, it's open 24 hours a day and features three ponds as well as a Victorian bandstand.  If you stand in the center of the common, you may be able to take in the many Georgian and Victorian homes that surround the park's perimeter.