The Fashion and Textile Museum, near London Bridge, has a new exhibition about 'Swinging London' for spring 2019. It looks at a truly innovative era in London's history, exploring the origins of Pop culture and how fashion, music and art were used to demand and effect societal change in the years that followed.
London-born designers, Mary Quant and Terence Conran are now in their 80s but they have certainly left their mark on the design world.
The Pop Revolution
Between the 1940s and the mid-1960s, a cultural and lifestyle revolution swept through Britain. Following the two world wars, the young wanted more fun in their life. The 'Pop' revolution, as it became known, was initially led by the Chelsea Set. This group of radical young designers, photographers, musicians, fashion models and artists redefined the concept of youth and challenged the established order in 1950s London. At the forefront of this group of young revolutionaries were Mary Quant and Terence Conran.
Mary Quant
A young fashion designer, Mary Quant (b.1934) was a fashion icon by the 1960s. While she was credited with inventing the miniskirt and hotpants, the exhibition hasn't focussed on those and instead has some of her PVC coats, OP Art and space-age dresses, as well as make-up and accessories.
She met entrepreneur Alexander Plunket Greene (1932-1990) in 1953 and they were married in 1957. They became business partners and opened Quant's rebellious London boutique Bazaar in 1955. On the corner of Markham Square and King's Road in Chelsea (see the location on Google maps), her store promoted a new way of shopping and living. With Bazaar, Quant irreversibly altered the traditional approach to fashion design and retailing and outraged the all-powerful French fashion establishment.
Mary Quant outside her shop Bazaar on the Kings Road, 1960s. Vintage publicity photograph, courtesy of a private collection.
Early designs by Quant for Bazaar were plain, unadorned and unstructured; simple pinafores with dropped waistlines often worn with coloured stockings. Also on display is a remarkable cotton, red and white Broderie Anglaise lounging ensemble by Quant (1955/56).
In the mid-1960s, Mary Quant became increasingly interested in aspects of fashion other than clothes, especially makeup. She saw the difference in the looks of the professional models and the average young woman so she brought out a makeup range to bridge the gap. There are some untouched makeup palettes on display and some makeup merchandising like the lipstick radio.
Quant's fascination for the implications of the 'space age' and the newly developed plastics resulted in her involvement with the work-boot manufacturer G.B. Britton of Bristol to produce inexpensive moulded plastic footwear. These weren't really practical though as they were cold in the winter and sweaty in the summer.
But the shortened skirt lengths allowed Quant to introduce a range of tights in bright colours and patterns.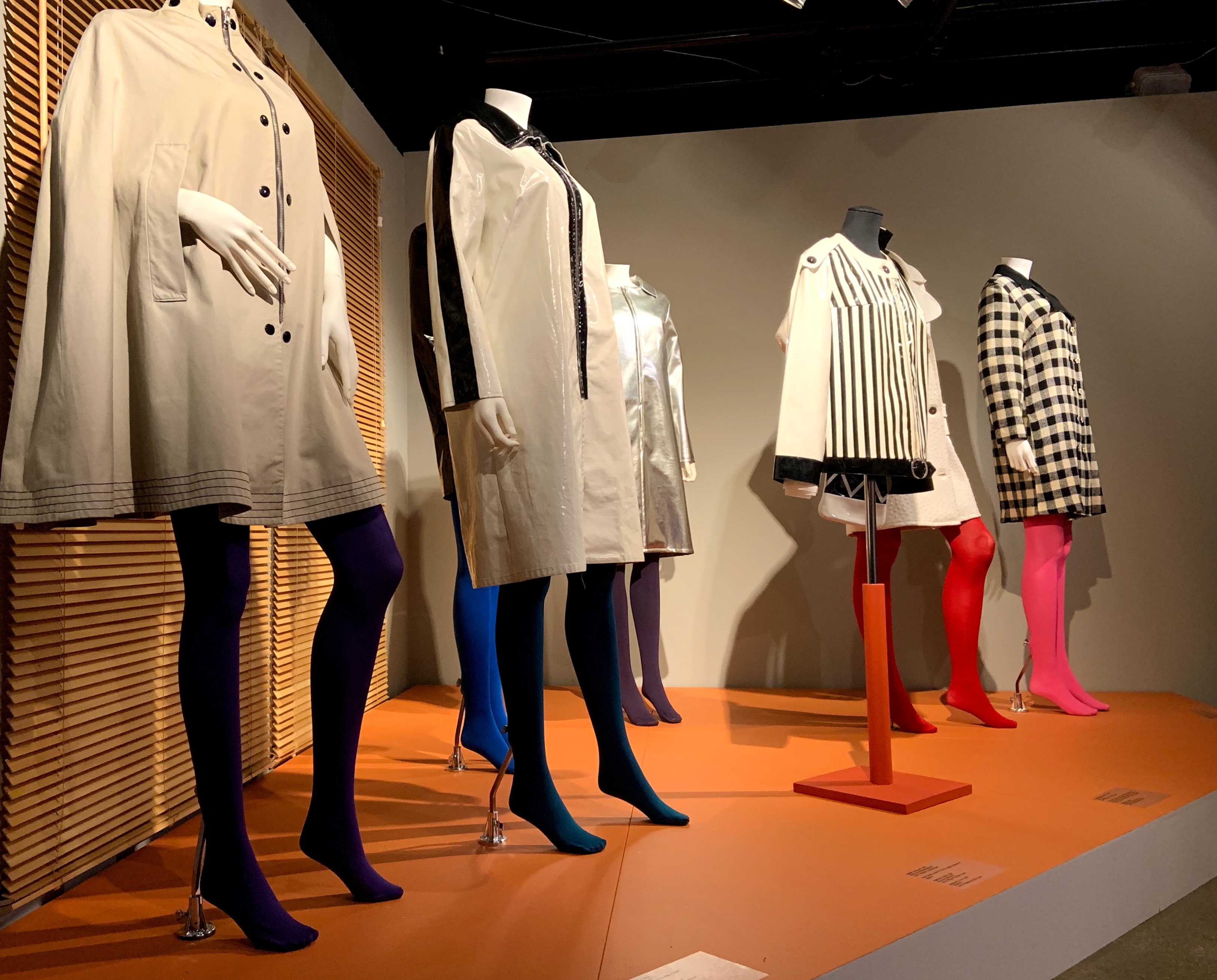 The psychedelia section of the exhibition includes Liberty of London Art-Nouveau-inspired textiles as part of Quant's summer 1965 collection. Paul McCartney's then girlfriend, the actor Jane Asher, was photographed in July 1965 wearing a Quant jacket for the promotion of the classic 1966 film Alfie starring Michael Caine. And in 1967, the leading psychedelic Pop boutique on the King's Road in Chelsea, Granny Takes a Trip, subsequently used the same Liberty fabric in a range of clothing that has since become inextricably linked with psychedelic Pop.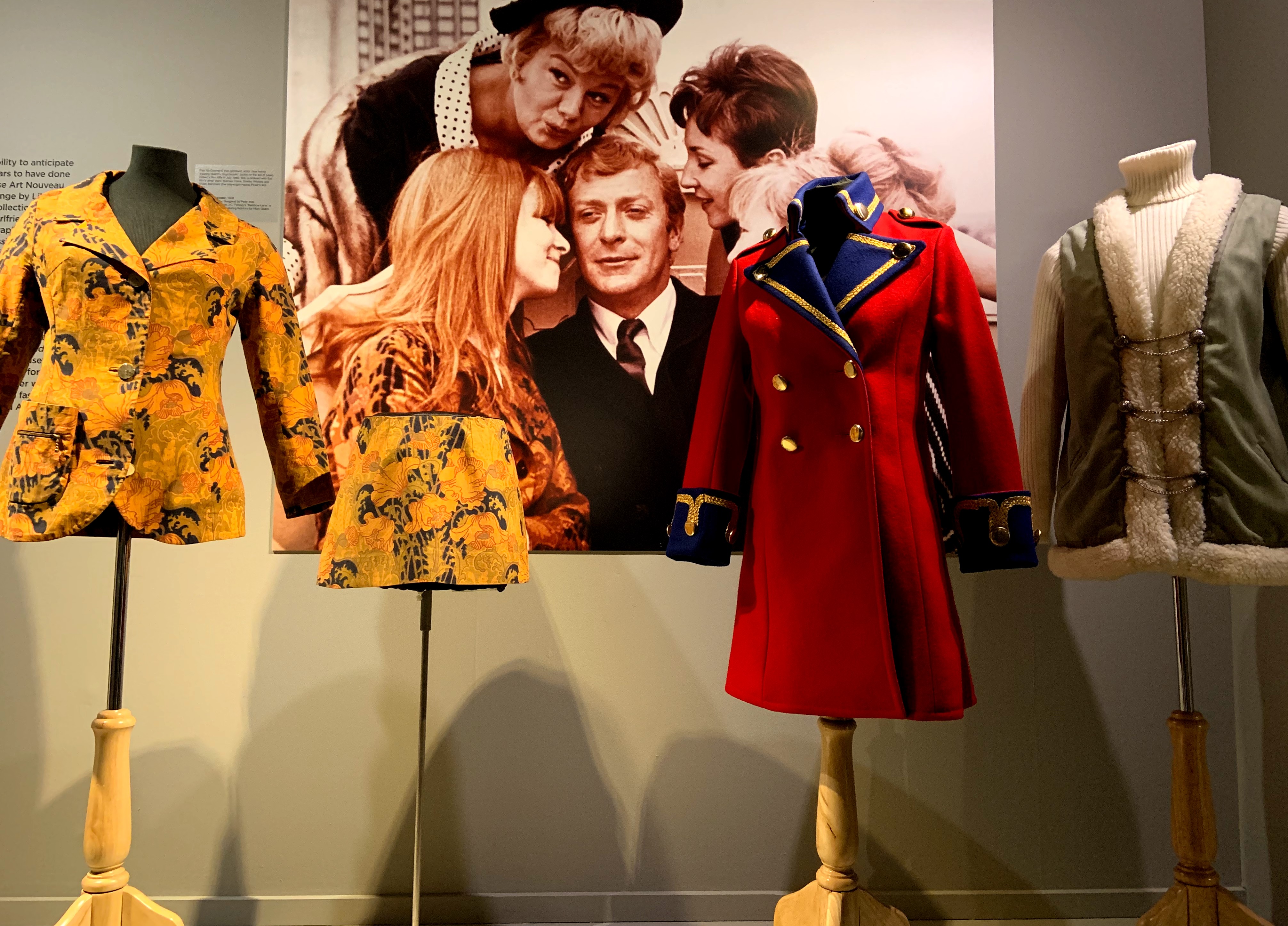 Terence Conran
Born in 1931, Sir Terence Conran went to school with Mary Quant's husband and they remained good friends. It was actually Conran who designed the second Bazaar boutique on Brompton Road in Knightsbridge in 1957.
He opened the Habitat store that's still on Tottenham Court Road (see location on Google maps) in 1964 as a new type of 'lifestyle' store. With Habitat, he created a retail environment that was a total work of art; 'a Gesamntkunstwerk', combining the theatre of The Chelsea Set's London, with the relatively new phenomenon of 'serve yourself', supermarket-style shopping.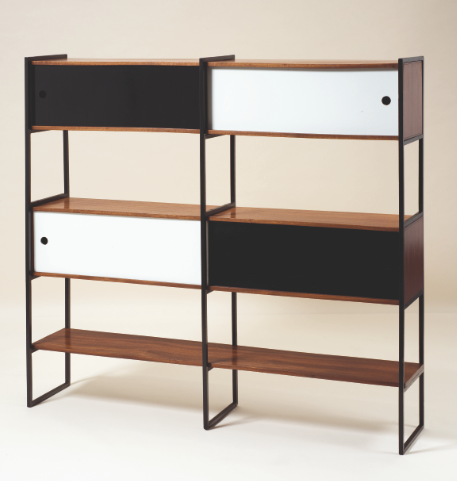 Conran was influenced by his first visit to France in 1953. He used light and bright styling and piled the merchandise high in his Habitat store, reminiscent of the hustle and bustle of a colourful street market.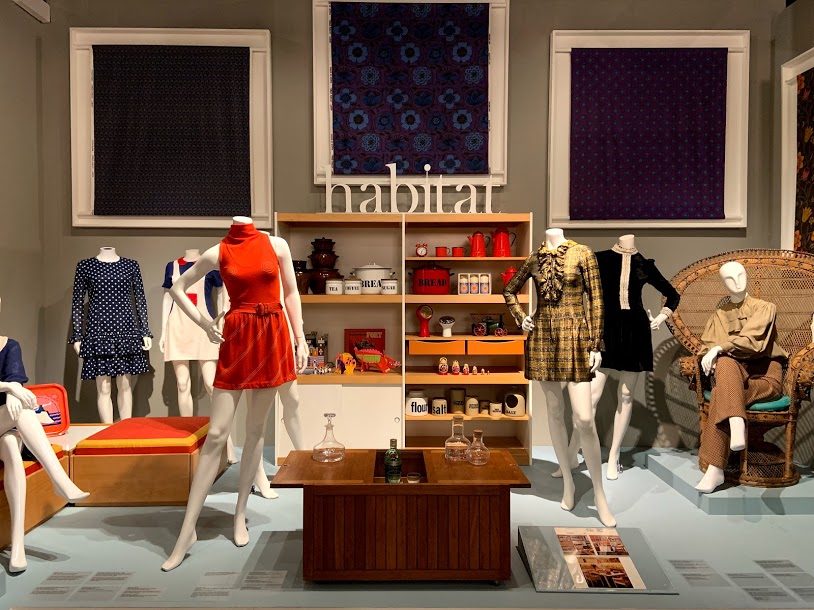 Bernard and Laura Ashley
The talented Chelsea-based design duo Bernard (1926-2009) and Laura Ashley (1925-1985) also emerged at this time and achieved international fame in the 1960s and 1970s.
The exhibition calls their style 'urban ruralism' which I thought was an excellent term. Before they became known for the iconic floral prints, Bernard Ashley's textile design, Jazz Players, was probably the first example of a 'Pop' textile. And Laura's simple hard-wearing striped smocks, aprons and the easy to wear 'basic dress' would go on to become design classics.
The tops below on the left would sell well today in John Lewis (especially in the Seasalt Cornwall or Joules departments).
J.C. Penny and Butterick Paper Patterns
In 1961, Mary Quant was asked by J.C. Penny – then the biggest department store chain in the US with over 1,700 branches – to create ranges of "zestful" youthful clothing for its stores. This collaboration was so successful she worked with the chain for 11 years.
She was initially seen as part of the so-called 'British invasion', ranking alongside pop groups such as the Beatles and the Rolling Stones.
She went on to work with the American-owned Butterick Paper Patterns Company from 1964 until the mid-1970s. The spread of her designs internationally by Butterick helped to consolidate her position as one of the world's leading fashion designers of the 1960s.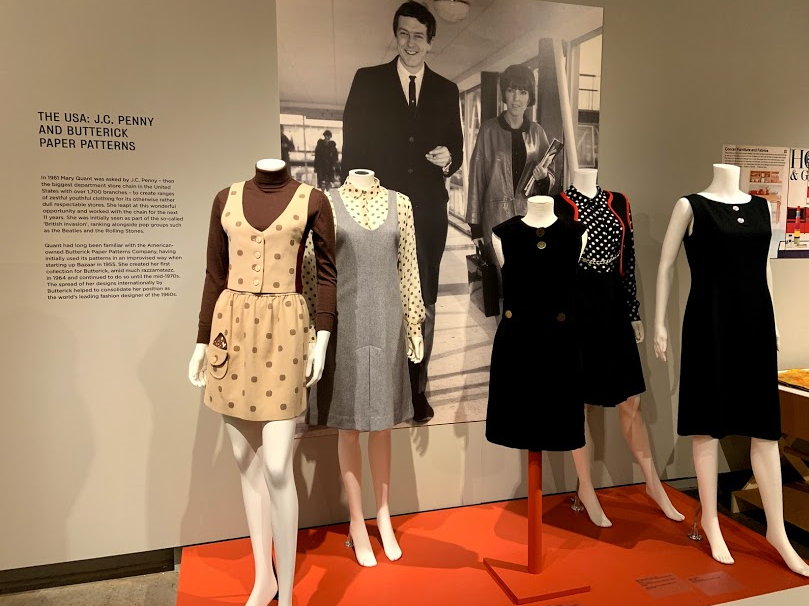 And More
The exhibition looks at the fashion, textiles, furniture, lighting, homewares, ceramics and ephemera from 1952 to 1977. It explores not only the style but the socioeconomic importance of this transformative period of time.
There's also work by Conran's mentor and teacher, sculptor Eduardo Paolozzi, and Paolozzi's associates from the Independent Group such as artist and photographer Nigel Henderson. Together they created innovative designs under their company, Hammer Prints, set up in 1954.
Elizabeth David's cookery books are included to show her influence on the nation's eating habits at the time. Although I didn't think this was explained as well as it could be in the exhibition.
More Photos
Exhibition Information
Title: Swinging London: A Lifestyle Revolution
Dates: 8 February to 2 June 2019
Address: The Fashion and Textile Museum, 83 Bermondsey Street, London SE1 3XF
Ticket prices: £9.90 adults*, £8.80* concessions, £7 students and free entry for under 12s
(*including Gift Aid)
Book: The exhibition is accompanied by the book Conran/Quant: Swinging London: A Lifestyle Revolution, written by Geoffrey Rayner and Richard Chamberlain and published by ACC Art Books. The book is available in hardback from the Fashion and Textile Museum shop, retailing at £40.00.
About FTM: The Fashion and Textile Museum is the only museum in the UK solely dedicated to showcasing developments in contemporary fashion, as well as providing inspiration, support and training for those working in the industry. Founded by iconic British designer Zandra Rhodes in 2003, the museum is part of Newham College London – one of Europe's largest further education colleges.
It's also always worth visiting the FTM shop as it has a really good range of gift ideas.
And if you like the look of this, you'll also be interested to know that the V&A has a Mary Quant exhibition opening on 6 April 2019.