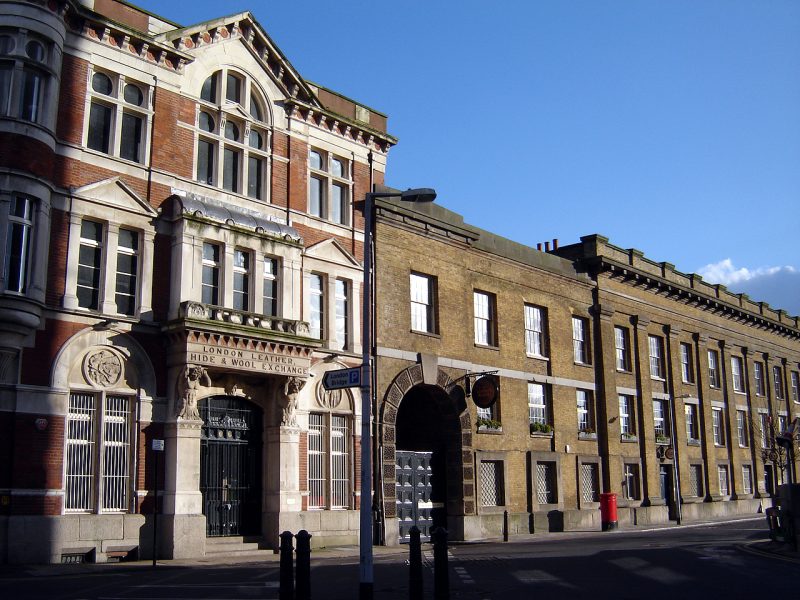 Part of the Borough of Southwark, Bermondsey is an area of London that for centuries did not have a large population or many homes, save for land owned by the Church or the Crown.  This began to change following the Great Fire of London when many of London's well-to-do citizens moved here.  The population increased further beginning after this though the area became more impoverished as slums popped up in the 19th Century.  As the Docklands' business waned in the 20th Century, redevelopment saw Bermondsey became as much a place of green beauty as of arts and culture.  To that extent, if you should find yourself wandering the streets of Bermondsey on your trip to London, we hope you'll consider stopping at one of the ten places below.
Lassco Ropewalk
Lassco Ropewalk in Bermondsey is a very eclectic antique store that is worth your time.  It's one of the best places to find vintage furniture, but you'll also find pieces of art, collectibles, and various bric-a-brac throughout the store.  While you might be expecting expensive prices, many of the smaller items are pretty affordable, making excellent gifts to take home.
Kino Cinema Bermondsey
Formerly Shortwave Cinema, it became part of the Kino group of arthouse cinemas in the city.  Showing primarily classic and independent films, Kino Cinema is a 50-seat theater that offers an intimate experience as well as excellent sound.  A café and bar is also present on-site for food and drink before, during, or after the movie.
Tibetan Buddhist Meditation Center
Known officially as Kagyu Samye Dzong Tibetan Buddhist Center for World Peace and Health, the center took over from the library that was here in Bermondsey that opened in 1892 and was one of the city's first public libraries.  Today it is still a place of learning, where the monks offer opportunities not only to find peace but to learn more about Tibetan Buddhism.
Bermondsey Antiques Market
While Lassco might be a trendier place to visit for your antiques, the best place to go for a deal is the Bermondsey Market.  Found in Bermondsey Square, the market follows the ancient rules for markets and opens at 6 AM and closes at 2 PM and only operates on Fridays.  In addition to a number of antique and vintage items found here, the market also offers up some great street food for breakfast, brunch, or lunch.
Bermondsey Spa Gardens
The gardens are named for the Bermondsey Spa that existed nearby in the 18th Century though this green space was established in 1654 and then refurbished in 2006.  Some of the features include a 333-meter running track, a playground, a plaza, and a café.  As a bonus, it borders up right next to the Tibetan Buddhist Center mentioned above, so you can easily visit both.
Bermondsey Beer Mile
Bermondsey might have the most craft breweries per square mile of any part of London.  The Bermondsey Beer Mile touches on most of them stretching for 1.5 miles down the railroad arches and streets from Southwark Brewing Co. to Fourpure Brewing Co.  Samping the fifteen-plus breweries, cideries, and bottle shops is a good way to spend your Saturday, just be sure to fill up on food at the various cafes and restaurants along the way.
White Cube
If you're looking to engage in some contemporary art, the White Cube in Bermondsey is certainly a place worth a visit.  The Bermondsey location is one of two in the city and opened in 2011 after converting a 1970s warehouse into a 58,000 square foot commercial art gallery, also making it the largest in Europe.  The exhibits are always changing, so you may not seem the same thing in two separate visits.
Maltby Street Market
Found in the Ropewalk, the Maltby Street Market is comprised of stalls and shops set up under the railway arches.  Growing from 9 original traders to over 30, it is mostly a food and provisions market, though there are also cafes, bars, and other shops.  It's enough to make sure you enjoy yourself for hours even though the alley isn't very long.
Fashion and Textile Museum
Fashion designer Zandra Rhodes founded the Fashion and Textile Museum as a place not only dedicated to the fashion industry's history but also its creativity.  As such, exhibits vary widely from period fashion to the types of clothing that have been made from certain types of textiles.  Additionally, the museum also hosts talks, workshops, and even computer design courses for those who want to expand their knowledge.
Southwark Park
On the edge of the district, Southwark Park is the largest public green space in the borough at 63 acres.  It was one of the first parks opened by the Metropolitan Board of Works in 1869 and today features a 19th Century bandstand, tennis courts, football pitches, playgrounds, cafes, and plenty of paths for peaceful walks.  If you visit anywhere in Bermondsey, you should stop here first and travel through it on your way to the rest of the area.