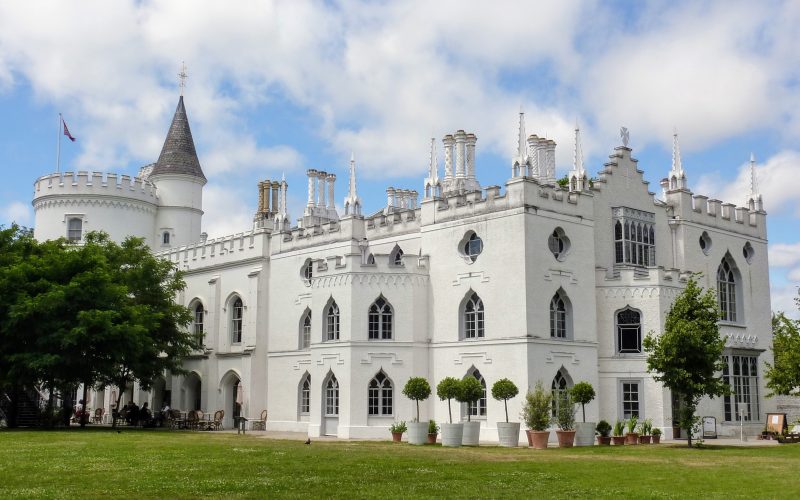 Created by Horace Walpole as his summer retreat riverside villa, Strawberry Hill House is Britain's finest example of Georgian Gothic Revival architecture. After a £10 million repair and restoration programme, twenty rooms now appear as Walpole left them when he died at the end of the eighteenth century.
Throughout his 50 years at Strawberry Hill, between 1747 and 1797, Horace Walpole transformed the villa into a castle-cathedral. He developed his love of irregularity, surprise, and mystery, and the house's eccentric, fairy tale confection pioneered the Neo-Gothic style in England. While there is no classic symmetry, Strawberry Hill House is an architectural gem.
Horace Walpole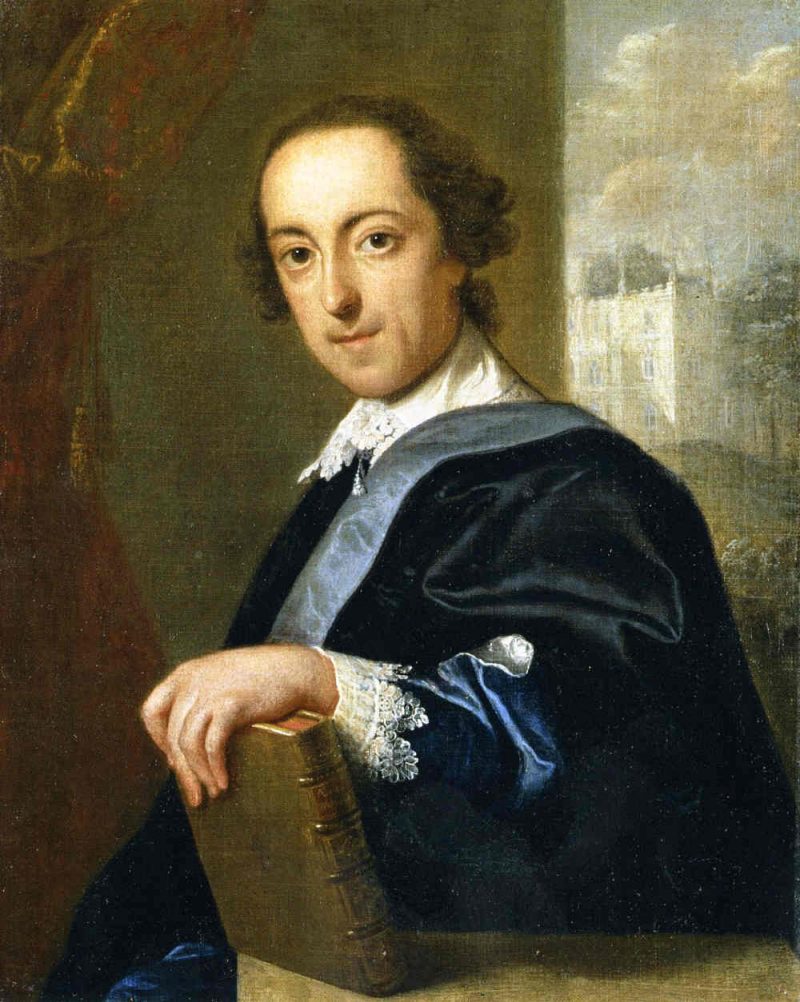 So who was the man who had this vision?
Born in 1717, he was the third and youngest son of Sir Robert Walpole, Britain's first Prime Minister, and his first wife, Catherine Shorter. He had a gentleman's education at Eton and Cambridge before embarking on a Grand Tour to Italy in 1739-41.
He was an avid writer, leaving many works including some 4,000 letters with his spiky comments to his correspondents and to posterity. You can visit Walpole's private study where many of these letters were written. During his time there were 141 paintings in this small room and two marble kittens. The hand-flocked replica wallpaper was made at £600 per meter.
Walpole founded the Strawberry Hill Press in 1757 (in a garden room) as part of his vision of Strawberry Hill as an academy of the arts. It was the most famous early private press in England. He was the first historian of English art and wrote the first book on art history, Anecdotes of Painting.
Inspired by a nightmare he had at Strawberry Hill House, he wrote The Castle of Otranto, widely considered to be the first and most influential Gothic novel. Walpole initially published under the pseudonym of William Marshall with a creative but false Preface although when it was well-received, he did admit he was the author. The novel led the way for Mary Shelley's Frankenstein and Bram Stoker's Dracula as well as horror movies of today.
A diminutive set of armor now to be seen on the landing features in this gothic classic, as did other items in his collection. Walpole was a compulsive collector and filled the house with his artistic and eccentric finds.
His flair for interior design and the fact he never married, raise questions about Walpole's sexuality. His close friends Chute and Gray were, like him, also urbane and effeminate.
Creating a Gothic Castle
In 1747, at 30 years old, Horace Walpole bought Chopp'd Straw Hall on the banks of the Thames in fashionable Twickenham. The house's later name is not a fruit reference but from this local name for the pair of small attached cottages. Built in 1698 by the Earl of Bradford's coachman, it was said he could only afford it by selling off good hay and giving inferior 'chopped straw' to the Earl's horses.
Just as Lord Burlington has pioneered the neo-Palladian style with Chiswick House, so Walpole wrote, 'I give myself a Burlington-air, and say, that as Chiswick is a model of Grecian architecture, Strawberry Hill is to be so of Gothic.' Adding pinnacles, battlements and a round tower he transformed the cottages into a 'little Gothic castle.
'One has a satisfaction in imprinting the gloomth of abbeys and cathedrals on one's house.'
Walpole decided to build the house of his ancestors; a kind of unique folly. For The Great Parlour, he sent a man to Flanders to buy painted glass for the window and the Renaissance glass is older than the house.
When a passerby asked one of Walpole's farmers if Strawberry Hill House was an old building he replied, 'Yes, but my Master designs to build one much older next year.'
Walpole created a new word to explain the sense of theatre he wanted to create: gloomth – the Gothic gloom and darkness that he could use for dramatic effect. This was most evident in the shadowy castle-like Entrance Hall opening onto the light staircase, based on the library staircase at Rouen Cathedral. The 'caged' antelopes on the staircase are heraldic beasts (cages only added to protect them from visitors).
'The most particular and chief beauty of the Castle.'
The stone-colored trompe l'oeil tracery on the walls is a design copied from the tomb of Prince Arthur in Worcester Cathedral, and it has been painstakingly hand-painted.
The House's amazing chimneypieces were probably so well preserved as conservators think the fireplaces were never actually lit. It must have been cold here during the winter months, especially being so close to the river Thames, but as Horace Walpole lived in central London (on Arlington Street in Mayfair), this wouldn't have affected him. But it must have irked his builders each year.
'I begin to be ashamed of my own magnificence.'
The crowning glory of Walpole's house is the crimson Gallery with its (papier-mâché) gilded, fan-vaulted ceiling. Based on the side aisle of  Henry VII's Chapel at Westminster Abbey, Walpole's friend Thomas Gray thought it somewhat excessive being 'all Gothicism and gold and crimson and looking glass.'
Walpole considered this and replied, 'I begin to be ashamed of my own magnificence.'
The Great North Bedchamber also has crimson silk damask on the walls, as does The Round Drawing Room. The fireplace is made of white Carrara marble and based on Edward the Confessor's tomb at Westminster Abbey. But as Walpole stated, it was 'improved' by Robert Adam – the last architect to work on Walpole's house.
When describing his home, Walpole coined the word 'serendipity' – being able to make delightful discoveries purely by accident.
Committee of Taste
Strawberry Hill House was largely designed by Walpole and his friends, otherwise known as the 'Committee of Taste.' The group comprised of John Chute (who he met on the Grand Tour) and Richard Bentley.
The men were amateur enthusiasts and used medieval churches as the design sources, more often from illustrations in architecture books than from visiting.
House Tours
Walpole's aristocratic friends wanted to visit the house not just for the novelty but because of his famous collection (see below).
It became quite the tourist attraction in his time, so he allowed his housekeeper to conduct tours of up to four visitors a day with strict rules (no children allowed). He commented that he would be a rich husband if he married his housekeeper as she did so well with tips.
The Collection
Walpole devoted most of his life to amassing a vast collection of art, antiquities, and curiosities of every period that he displayed at Strawberry Hill House.
This gentleman amateur curator's ceramic collection comprised over 1,200 pieces ranging from ancient Greek pots, Renaissance maiolica to modern porcelain.
Walpole also harbored a particular interest in the collection of historical oddities such as a limewood cravat carved by Grinling Gibbons, King William III's spurs worn to the Battle of the Boyne, Cardinal Wolsey's hat and a lock of Edward IV's hair.
The Tribune, named after the room in the Uffizi Palace in Florence where the best treasures were contained, was used to display Walpole's favorite small objet d'art: coins, medals, miniature paintings, and enamels. The room had the first fitted carpet in England with a central star reflecting the star in the ceiling.
He wrote and printed A Description of the Villa of Mr. Horace Walpole… With An Inventory of The Furniture, Pictures, Curiosities first in 1774 and then again in 1784 as a comprehensive record of the contents of Strawberry Hill House. This, along with the many sets of drawings and paintings he commissioned to record the building work, was invaluable to the restoration team.
The Waldegrave Years: Part 1
Famous for marrying four times and saving Strawberry Hill House from ruin, Lady Waldegrave was as empowered as she was eccentric – a worthy successor to Horace Walpole's legacy.
What Walpole started, Lady Waldegrave continued.
Following Walpole's death in 1797, the House passed to his cousin's daughter Anne Seymour Damer for her life. Mrs. Damer found the house too expensive to keep so relinquished it to her eventual heir in 1811, Walpole's great-niece, Elizabeth Waldegrave.
Her grandson, John Waldegrave, inherited the house next. He married the 18-year-old Frances Braham in 1839, but he died within a year of the marriage. After a few months, Frances married his brother, George, the Seventh Earl of Waldegrave, thereby maintaining her link with the House and title of Countess Waldegrave.
George, a drunk and a gambler, was sent to prison for 'riotous behavior' (assault). Short of money and embittered about his imprisonment, he took against Twickenham vowed to let the House fall into ruin and arranged the Great Sale of Walpole's collection.
The Great Sale
The sale of the house contents in 1842 was perhaps the most celebrated auction of the century with 6,000 artworks and artifacts. It took place in a specially-erected temporary wooden auction hall on the lawn and lasted for 32 days. A steamer service brought passengers up the Thames to the sale twice a day.
The total sales' proceeds were £33,450.11s, 9d including £577.10s paid for The Ladies Waldegrave by Joshua Reynolds (now owned by the National Galleries of Scotland).
Unbeknown to her husband, Lady Waldegrave bought this back along with other Waldegrave portraits by Reynolds.
The collection is scattered across the world and now in public museums and private collections.
The Waldegrave Years: Part 2
After George's death in 1846, Lady Frances Waldegrave was left a substantial income. She married Granville Harcourt, her third husband and 36 years her senior, in 1856 and put her ambitions to secure Strawberry Hill's future into action.
She set about restoring adapting, expanding and embellishing Walpole's gothic castle. She built a new wing, raised the Round Tower another story and added Strawberry Hill's signature 'Tudor' chimney pots in the style of Hampton Court. The road used to come right past the front door, but Lady Waldegrave moved it back, so there was a grand horseshoe front driveway for the carriages of her guests at her frequent parties.
In 1863 she married her fourth husband Liberal Minister Chichester Samuel Parkinson Fortescue (afterward Lord Carlingford) – a man of her own age who had been besotted with her for years.
She became a renowned hostess and established Strawberry Hill as a social hub for the Liberal Party. Guests are her parties included the Prince of Wales as well as artists such as Edward Lear.
Three years before she died, Lady Waldegrave complained that Walpole, the creator of a mere 'lath and plaster' house will get the credit for her additions to Strawberry Hill: 'Strawberry is more like a fairy palace than ever. This sounds like boasting of my handiwork, but I feel inclined to do so, as I now constantly find young people thinking Horace Walpole made all my pet creations'. She died in 1879.
De Stern Family
Strawberry Hill was purchased by Herman, Baron de Stern (a member of the European merchant banking family, a Portuguese baron and the 13th richest man in Britain) in the 1880s.
He died a few years later and his son, Herbert (Lord Michelham), used the house and garden to host lavish social events.
Lord Michelham filled Strawberry Hill House with fine furniture and an impressive collection of art. Now all that remains from his time is a tented ceiling of embroidered leather panels and blue velvet – made using one of the first sewing machines – in the Blue Breakfast Room (then called the Turkish Boudoir).
After the death of Lord Michelham, the house was sold to the Catholic Education Council in 1923 as a new home for St Mary's Catholic Teacher Training College (now St Mary's University College).
Educational Use
The College was run by the Vincentian Fathers, and this was their home and teaching quarters from 1925 until the early 1990s. The marvelous Library was their Common Room. The pierced gothic arches of the bookcases were inspired by the choir stalls at the Old St Paul's Cathedral. (The books here now have been loaned and are not part of Horace's collection.)
St Mary's University College still occupies the whole of the Waldegrave Wing. (The demarcation is seen outside as it is not painted in the limewash white.) In 2007 the Strawberry Hill Trust took out a long lease on the house and most of the grounds.
Fakery
It is incredible that the building has been saved as the Victorians generally didn't like this type of 'fakery.'
Although Walpole's Gothic style was disapproved of by Augustus Pugin and his Victorian contemporaries, it is nevertheless the likely inspiration for such buildings as St Pancras station and the Houses of Parliament (designed by Pugin in the Gothic Revival style).
In The Blue Bedroom, where there is a copy of Robert Walpole's four-poster bed with a hand-quilted bedspread made by the in-house 'Sewing Bee', based on one in the V&A, look closely at the painting as Strawberry Hill House Trust have found a 3D printing company, Factum Arte, who can reproduce paintings to show the brushstrokes and blemishes in the artwork. Even the ornate gilded frame is actually a vinyl 3D printed copy! This is true verisimilitude.
The Holbein Chamber, a room that originally housed a number of Holbein copies (that were actually copies of copies), has a ceiling based on the Queen's Dressing Room at Windsor Castle. When that was destroyed by fire in 1992, the restorers came to see this room. But along the imitation drawings, not everything is what it seems as the ceiling is papier-mâché and not plaster. And the 'stone' screen is actually carved wood, so there are a lot of illusions here.
Tea and Scones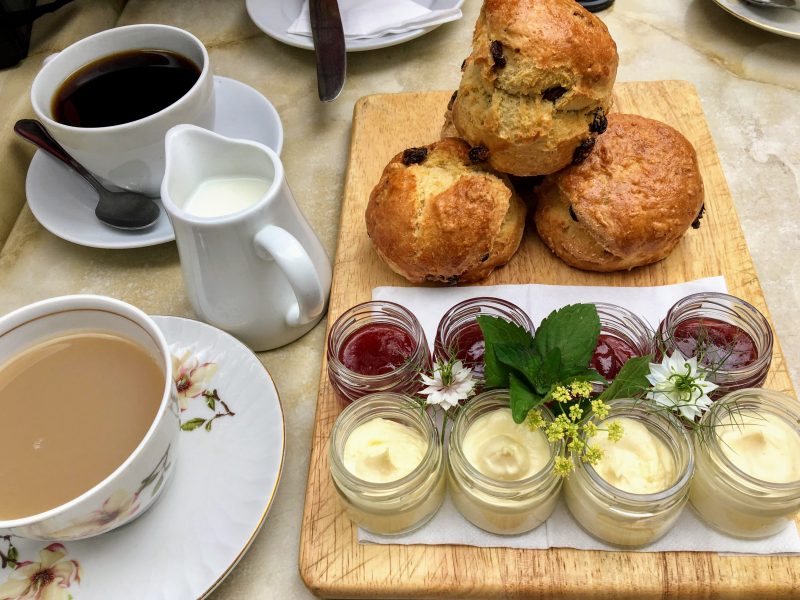 Do stop at the café on your way out where there's a well-priced cream tea available. Do note, the gardens and café are open to the public without ticketed entry to the house.
Address: Strawberry Hill House, 268 Waldegrave Road, Twickenham TW1 4ST
Nearest Station: Strawberry Hill
Website: www.strawberryhillhouse.org.uk