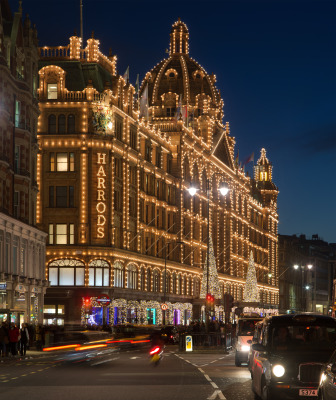 One of the most well-known shopping districts in London and possibly the world, Brompton Road sits smack in the middle of Knightsbridge, an exclusive residential and retail district in central London. The road runs from the Knightsbridge tube station all the way to Brompton Cross, where it turns into Fulham Road which leads to the stadium of Chelsea Football Club. In addition to major shops and five-star hotels, some of the most expensive homes in the city can be found here. So what sort of facts can we find about one of the most well-known and expensive parts of the city?
Abandoned, but Not Forgotten
There are a great number of abandoned tube stations in London, and one of them is on Brompton Road. It opened in 1906 and was on the Piccadilly Line. During World War II, it was sold to the War Office and became the Royal Artillary's Anti-Aircraft Operations room. It kept being used by the military after the war and never reopened as a tube station. In 2013, it was sold to a private developer for £53 million with an idea to transform it into a residential building.
Eclectic Mix
If you're running around Kensington, done with Harrods, and don't know where to go next, fancy a stop at the Troubadour on Old Brompton Road near Earl's Court. There you can find a café, a wine bar, a wine shop, an art gallery, and even a club with live music.
High Cost of Living
If you want to live on Brompton Road, it can get pretty expensive. A two-bedroom house can easily go for over £1 million, while a five-bedroom home can be over £3 million. Renting a place can range from a one-bedroom flat for £1,909 per month to a five-bedroom house for £10,855.
Dying to Get In
Brompton Cemetery is just a bit further down on Fulham Road. It is one of the Magnificent Seven cemeteries, established by an act of Parliament as a private cemetery to help alleviate the pressure on local churches. Managed by the Royal Parks, the cemetery itself is Grade II listed as are five of its monuments. At least 289 service personnel from World War I are buried there along with another 79 from World War II. It is thought that Beatrix Potter, who lived nearby, took some of her character's names from the tombstones.
Brompton's Most Famous Resident
Harrods Department Store, which began as a little tea and grocery shop, moved to Knightsbridge in 1849. With the Great Exhibition at the Crystal Palace in 1851, Knightsbridge became an extremely popular area and the store expanded to meet the demand. It now covers five acres with seven floors and 1,000,000 square feet of retail space.
To the Stars
Panther Books, which was a publisher of paperback novels, was founded at 108 Brompton Road in 1966. Amongst the novels it published included Ray Bradbury's The Golden Apples of the Sun and Isaac Asimov's Trilogy.
Victoria & Albert
A little further past Brompton Cross is the Victoria and Albert Museum, which is the world's largest museum of decorated art and design. Queen Victoria had originally wanted it to be named The Albert Museum. At one time, it shared space with the National Gallery after the latter had run out of space at its location in Trafalgar Square, and demanded a separate entrance for its patrons.
Feeling Blue
There is a blue plaque maintained by English Heritage at 189 Old Brompton Road that is dedicated to Jenny Lind, a Swedish opera singer who was also known as "The Swedish Nightingale" and went by Madam Goldschmit after marrying her husband, Johan. She was so successful that she was able to retire from opera at the age of twenty-nine.
International Locale
Kensington has several embassies in the area, one of which is located at 150 Brompton Road. This building belongs to Uruguay and, as is the case for embassies, is actually the sovereign soil of that nation and not part of the United Kingdom.
Oratorical History
The Church of the Immaculate Heart of Mary, also known as the Oratory, is a Roman Catholic Church located near Brompton Cross and the Victoria and Albert Museum. It was the first Roman Catholic church constructed after Henry VIII created the Church of England. It was designed in an Italian Baroque style and was consecrated in 1884. It name comes from the oratory, or house of prayer, having been constructed first before the church.