Berry Bros & Rudd is one of the oldest wine merchants in the world and is the oldest wine and spirit merchant in the UK. Even after more than 300 years, it is still a family-owned and family-run business. And yes, this is where the Queen gets her wine.
As a business, it started off as a coffee merchant, went into wine 100 years after that, and, in its second century, it was mostly based around spirits. Now it has gone back to its foundation being much more about wine.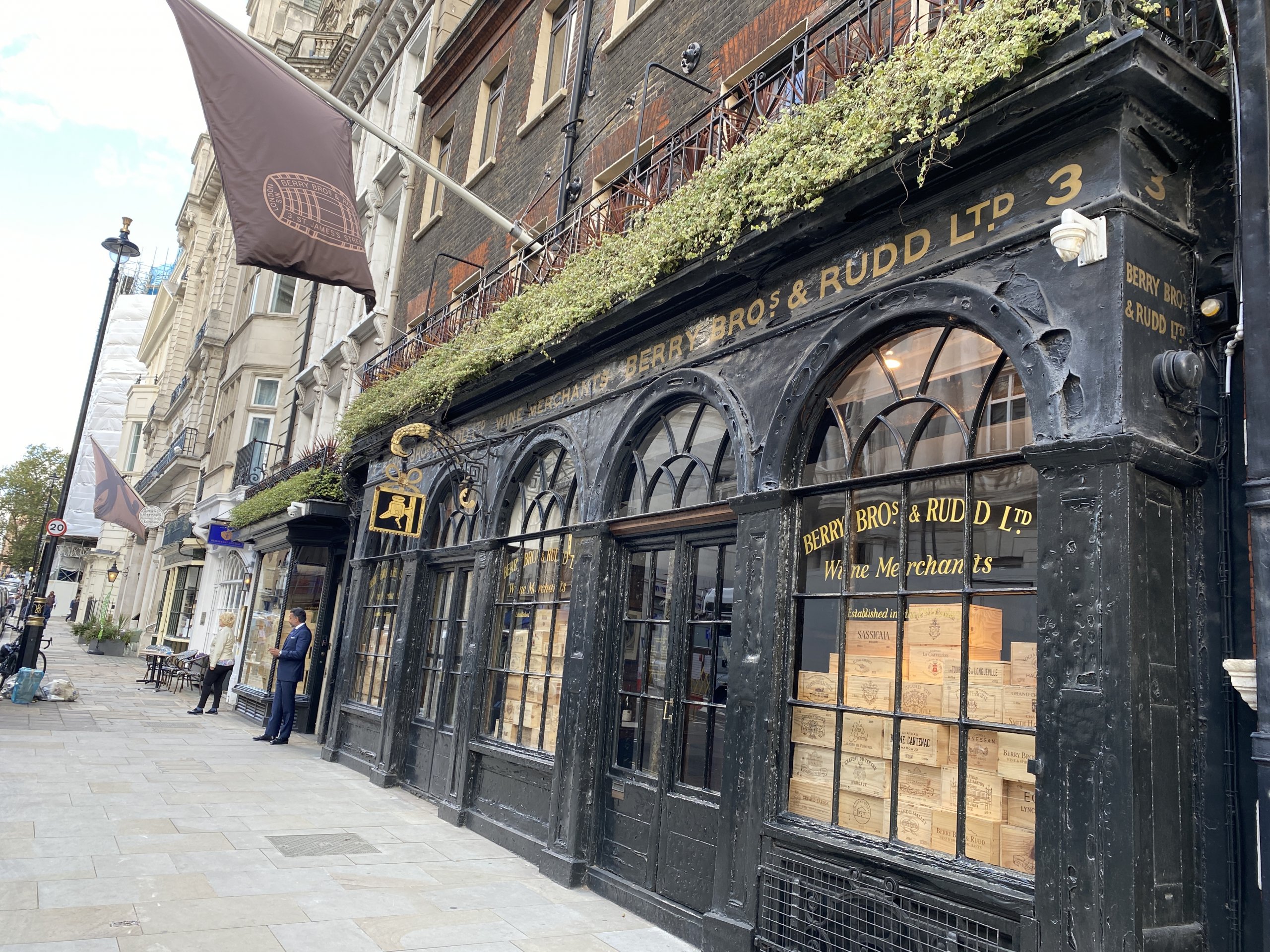 Coffee
Berry Bros & Rudd began selling coffee in 1698 from no.3 St James's Street, and they are still at the same address. The timing was fortuitous for the business as this was the year of the great fire at Whitehall Palace when St James's Palace became the official principal residence of the monarch. St James's Street became the most prestigious street in London, and the store is opposite St. James's Palace.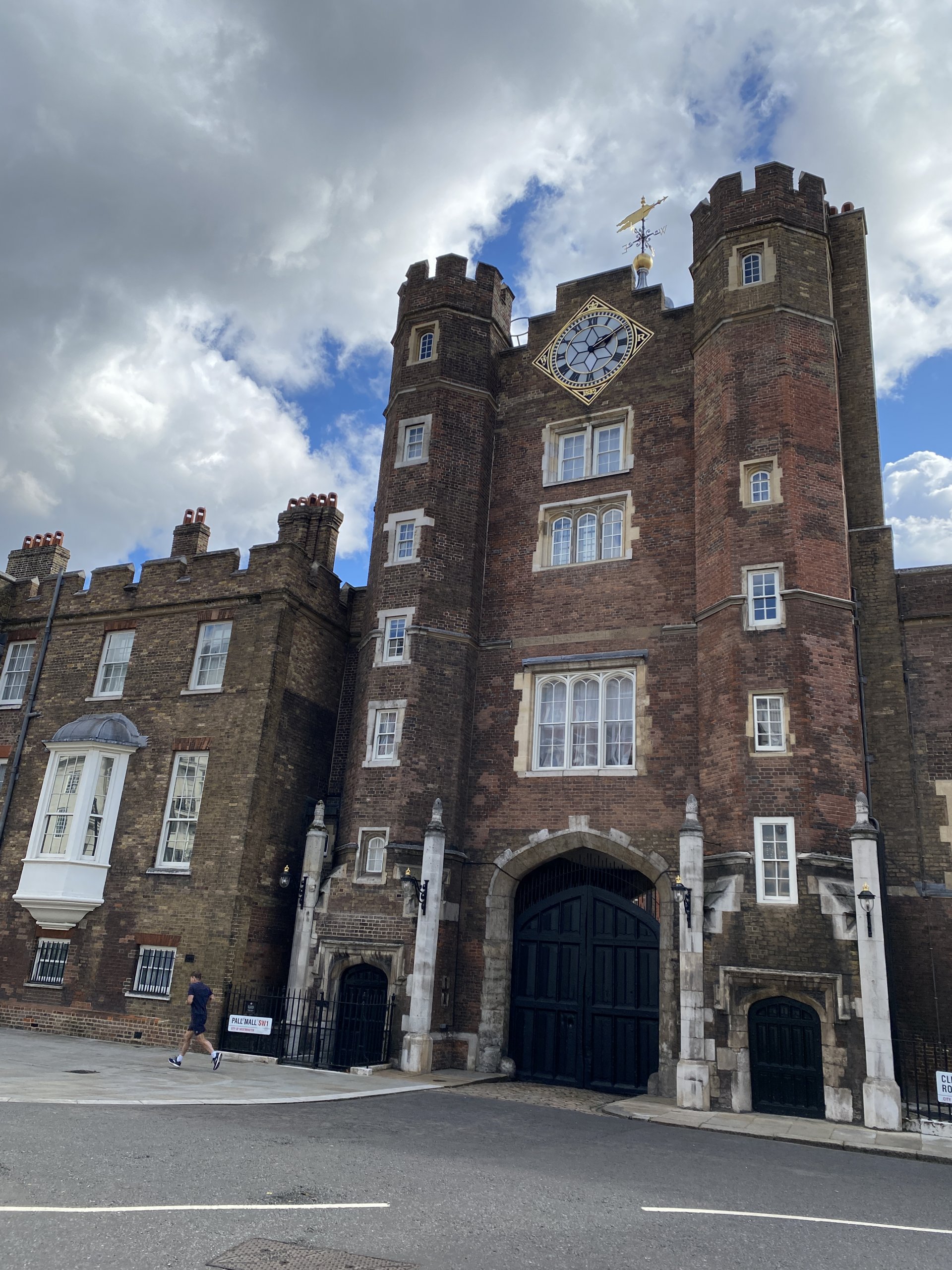 It was initially an "Italian Grocer," which was a generic term for all grocer's stores and had nothing to do with nationality. The business supplied the local coffee houses. The company diversified into selling cocoa, tea, snuff, spices, dried fruit, and other exotic goods and quickly becoming one of London's most fashionable grocers. At this time, a pound of tea could cost £10, and when an annual salary may only be £15, it soon becomes clear this was an exclusive product.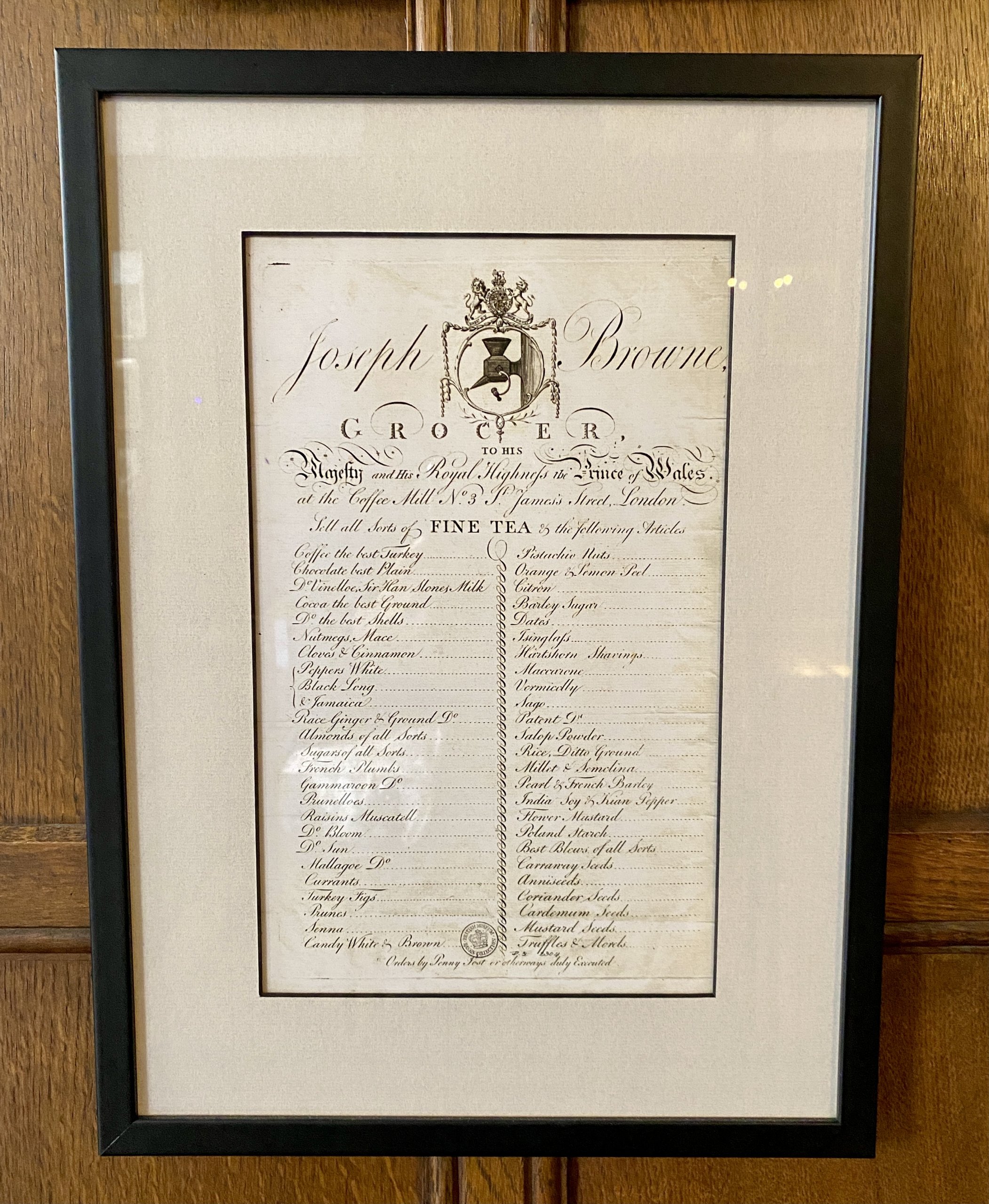 For a long time, it was known as the "Sign of the Coffee Mill," and even though they have been a wine merchant for much longer, the shop sign outside still displays a coffee grinder.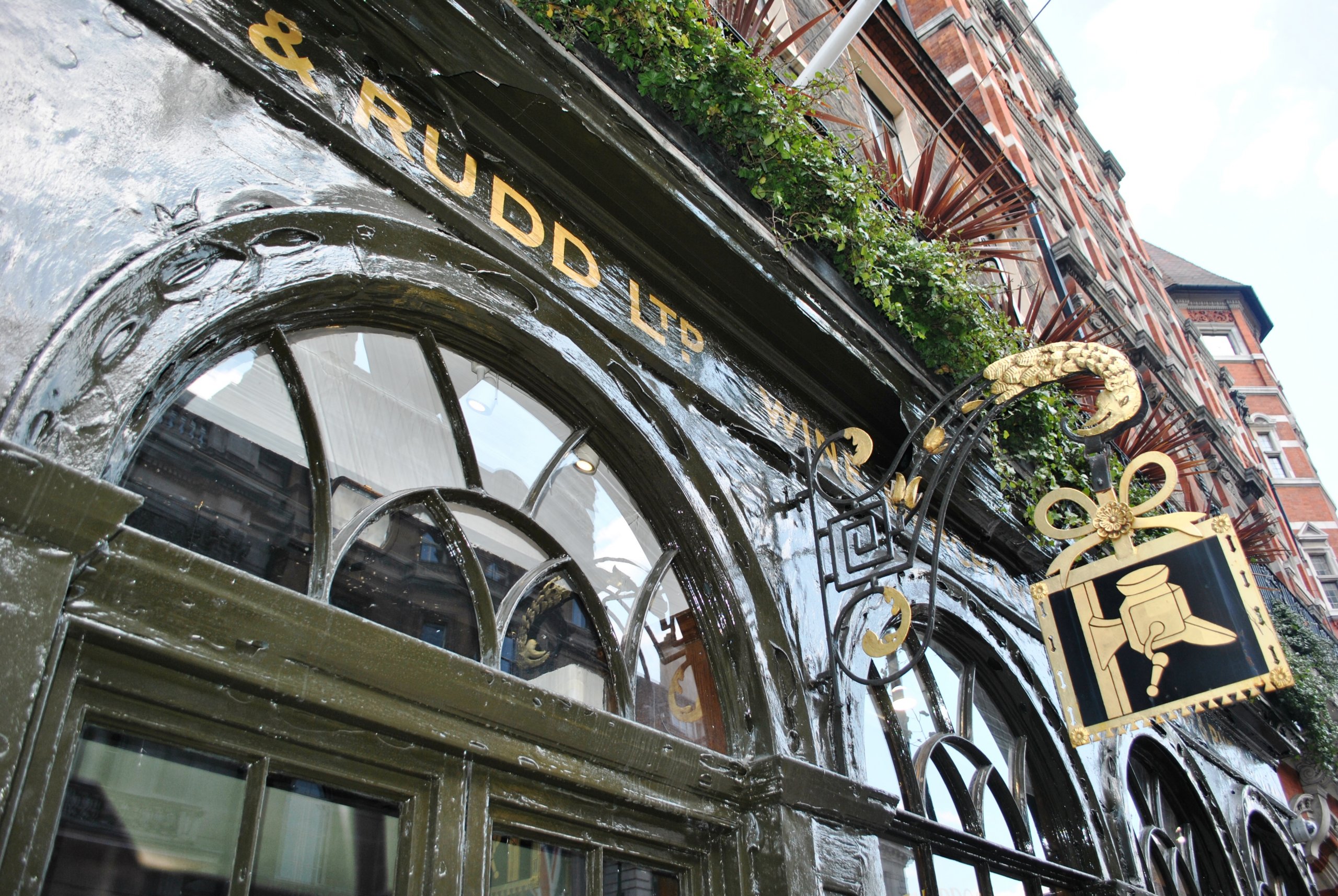 The original owner was a widow and a mother with at least two daughters. Only her last name is known, and she is often referred to as Widow Bourne. The business was inherited by her daughter Elizabeth who married William Pickering. It was during this time that both 3 St James's Street and Pickering Place (previously Stroud's Court) were rebuilt by the Pickerings, reflecting the family's success. No.3, as it is affectionately referred to, is now a Grade II* listed building and still used as the company's headquarters.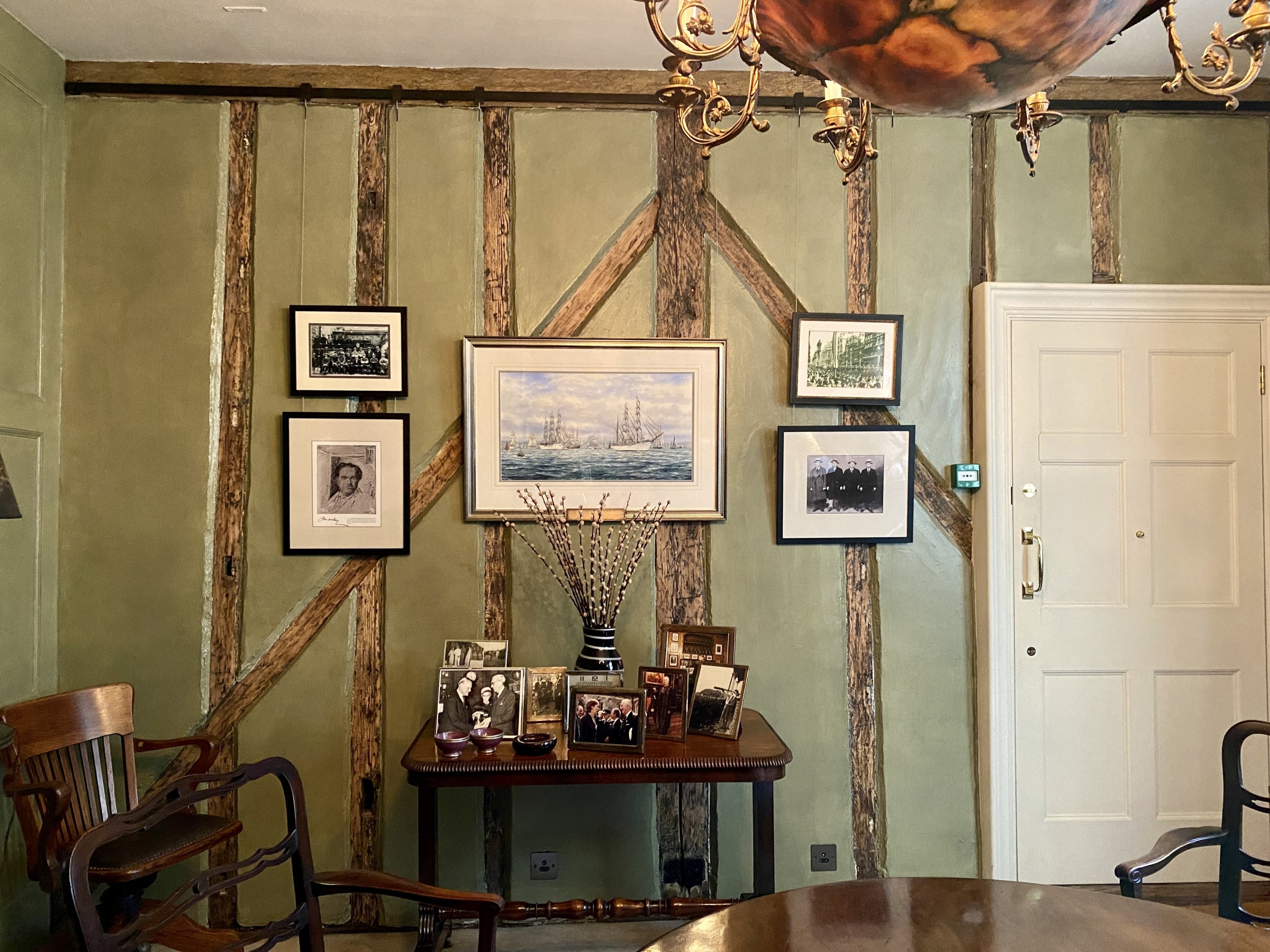 Scales
Elizabeth's sons ran the business next, but when John Pickering died in 1754, his brother William Jr brought in a relation, John Clarke, to be his partner. These were the chaps who started using the famous grocer's weighing scales in 1765. They installed a seat and offered the service to weigh their customers.
At this time, you needed to pay to see a doctor, and there was an additional fee to be weighed. The connection between weight and health and was only just starting to be understood. Berry Bros offered the personal weighing service for free to their customers, and the scales are still on display in the store today.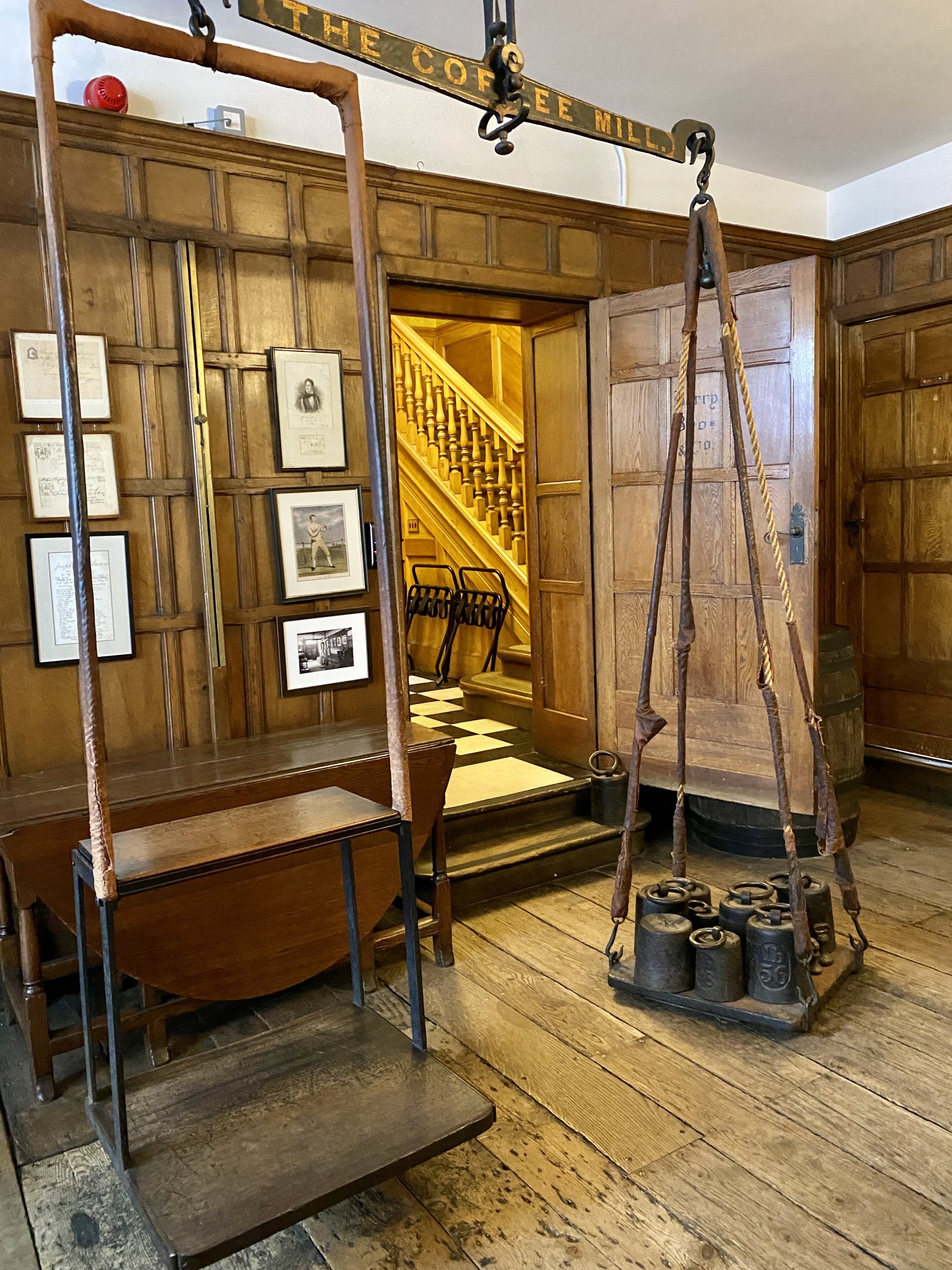 Famous figures who were weighed include royal princes, Lord Byron, Beau Brummel, William Pitt the Younger, Bond girls, a Sumo wrestler, and the Aga Khan. The record books are still stored in a safe in the shop.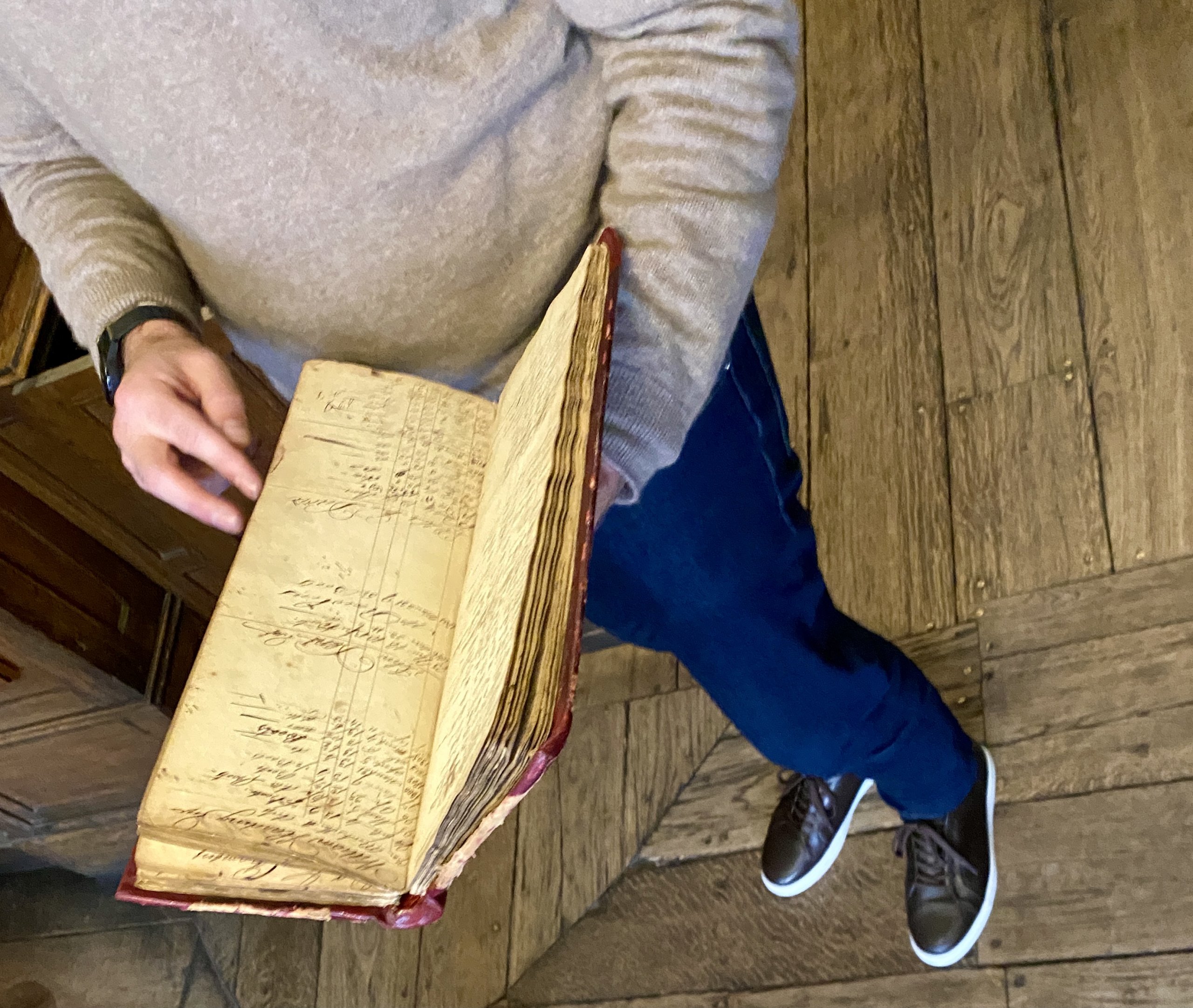 George Berry
George Berry, John Clarke's grandson, was only 16 when he made the two-day journey from Exeter in 1803. By 1810, his name was stretched above the facade of No. 3 St James's Street, and he made the decision to focus on wine.
In 1838 as the Chartist riots spread through England, George Berry signed up as a special constable. Accompanying him was his friend, the future Napoleon III. In exile in London, Napoleon used No. 3's cellars to hold secret meetings, so there is now a 'Napoleon Cellar' named after him.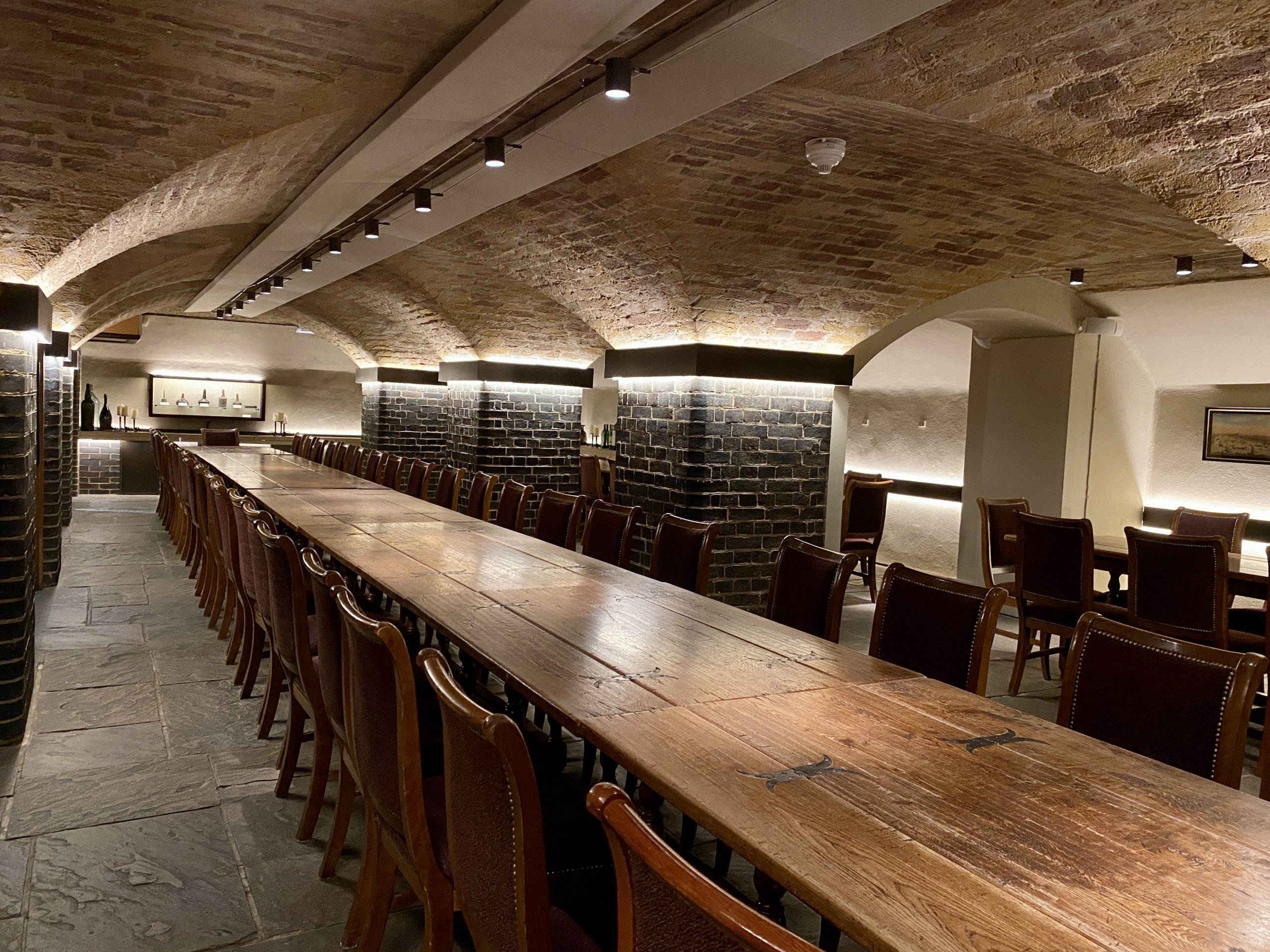 Berry Brothers
Two of George's sons, George Jr. and Henry, took over the business in 1845. Today, the shop still bears the name of these original "Berry Brothers." George Jr and Henry passed on the business to their sons, cousins Henry Berry and Henry Percival Berry. A member from each branch of the family continued to run the business as partners until the last of Henry Berry's descendants retired in 1941.
Titanic
At No.3, there is a telegram on display, dated 16 April 1912, that informs them of the sinking of the Titanic and the loss of 69 cases of wine. There is no mention of the enormous loss of lives.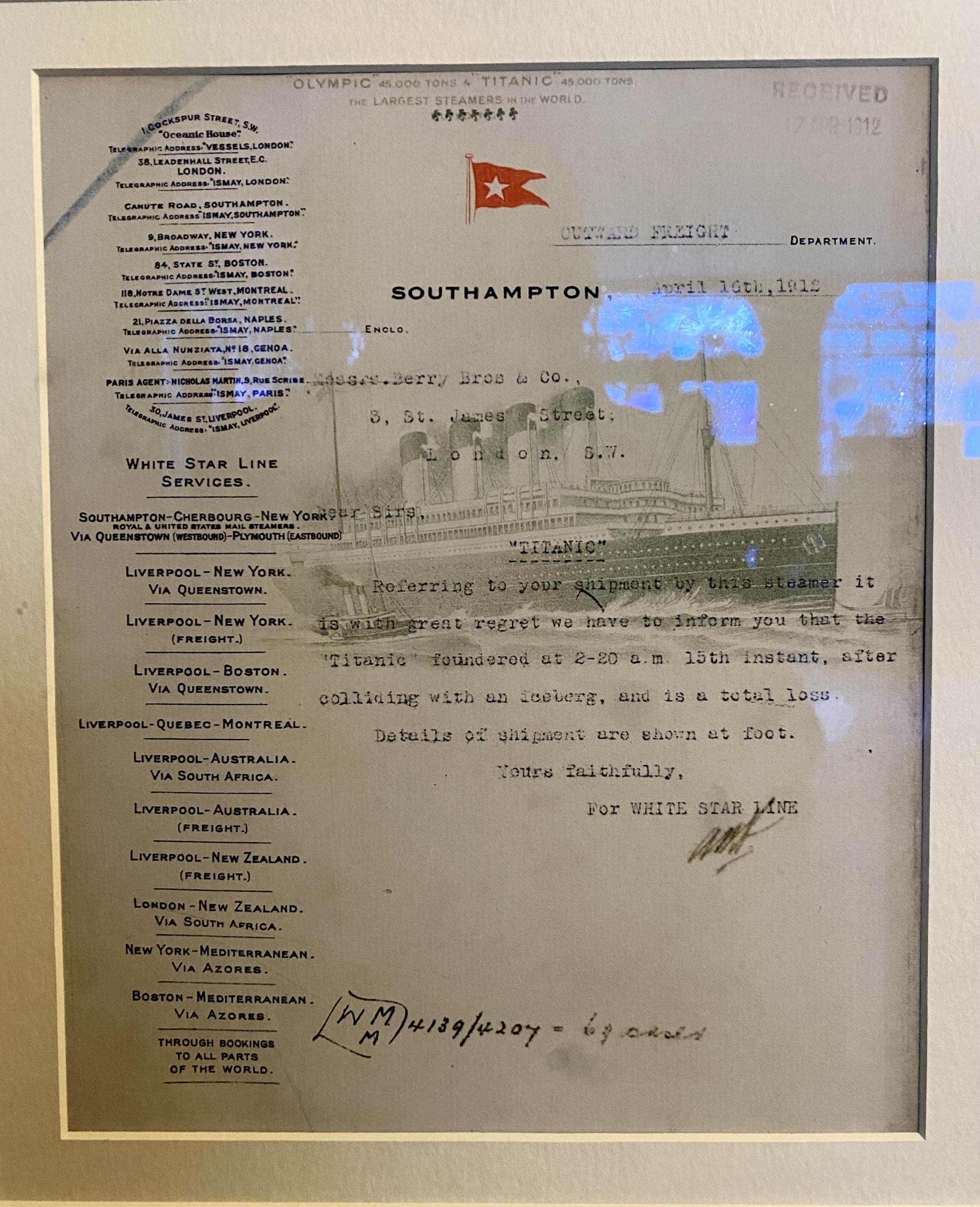 Hugh Rudd
Hugh Rudd came from a family of wine merchants in Norwich, established by his grandfather in 1851. Before the First World War, he worked for the family business and abroad, partnering a great love of Bordeaux with a deep knowledge of German wines. When he returned from fighting, Norwich had ceased to be an active center for the wine trade, and he moved to London. Hugh Rudd joined Berry Bros. in 1920, his partnership with the two Berrys giving the firm unrivaled wine expertise.
Queen Mary's Dolls House
In the 1920s, Berry Bros & Rudd was commissioned to create a wine cellar for Queen Mary's Doll's House. Chosen by Francis Berry, over twelve hundred bottles of the finest champagnes, wines, and spirits, and beers were donated. Produced to scale, miniatures were filled, capsuled, and correctly labeled with genuine samples of the right wine or spirit in each bottle. The doll's house is on display at Windsor Castle. It also includes a library of miniature books written by famous authors such as Arthur Conan-Doyle and JM Barrie.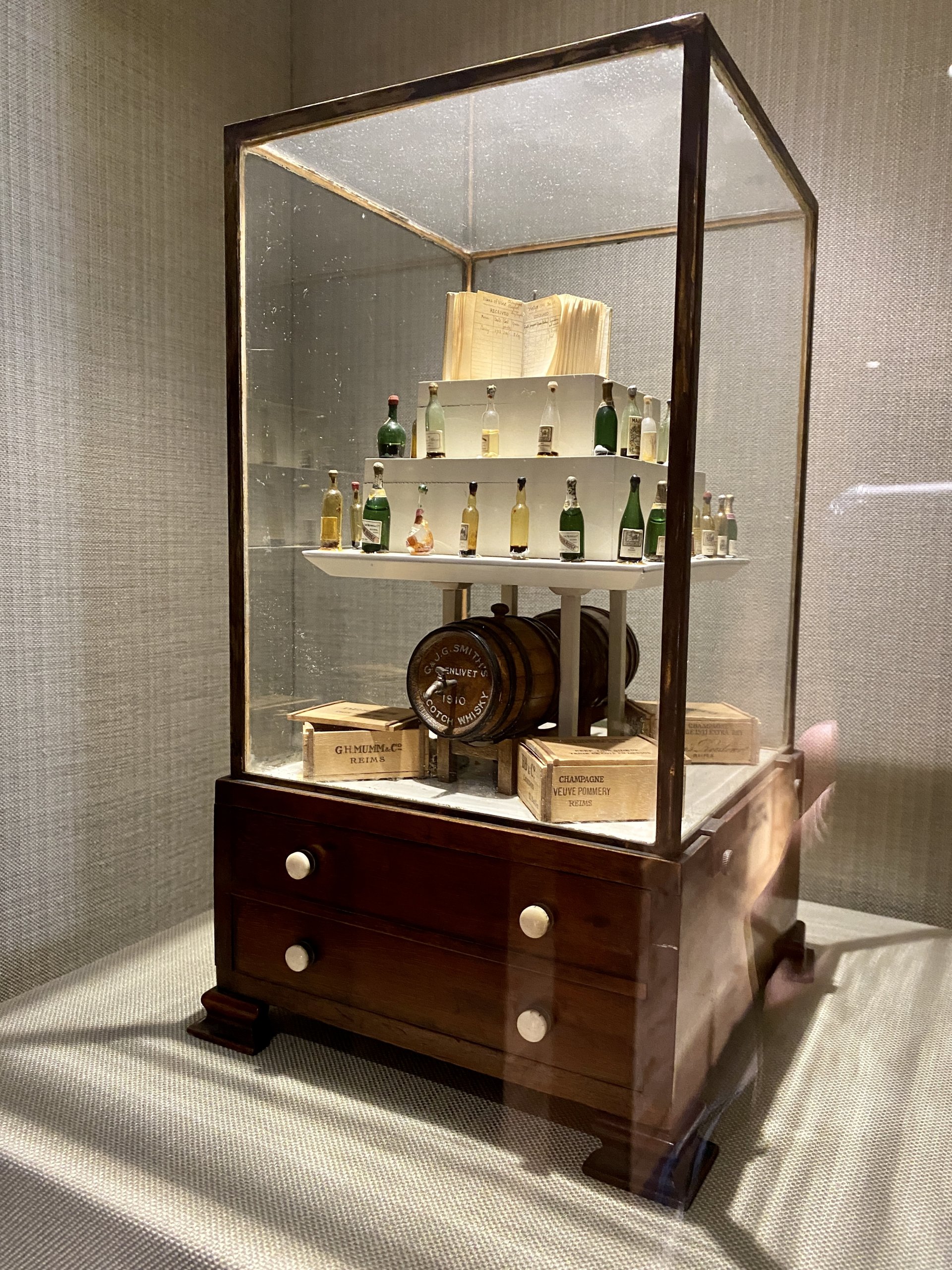 Prohibition
When Prohibition was established in America, Berry Bros. products became in great demand in the Bahamas, a popular stop for smugglers. Cutty Sark Scotch Whisky was invented in 1923, with an iconic label designed by Scottish artist James McBey. This whisky became hugely popular in the American market and was to be one of the company's most successful products. Today, to sell 100,000 cases of spirit would be considered good yet, during Prohibition, the company was sending 1,000,000 cases of Cutty Sark to the US.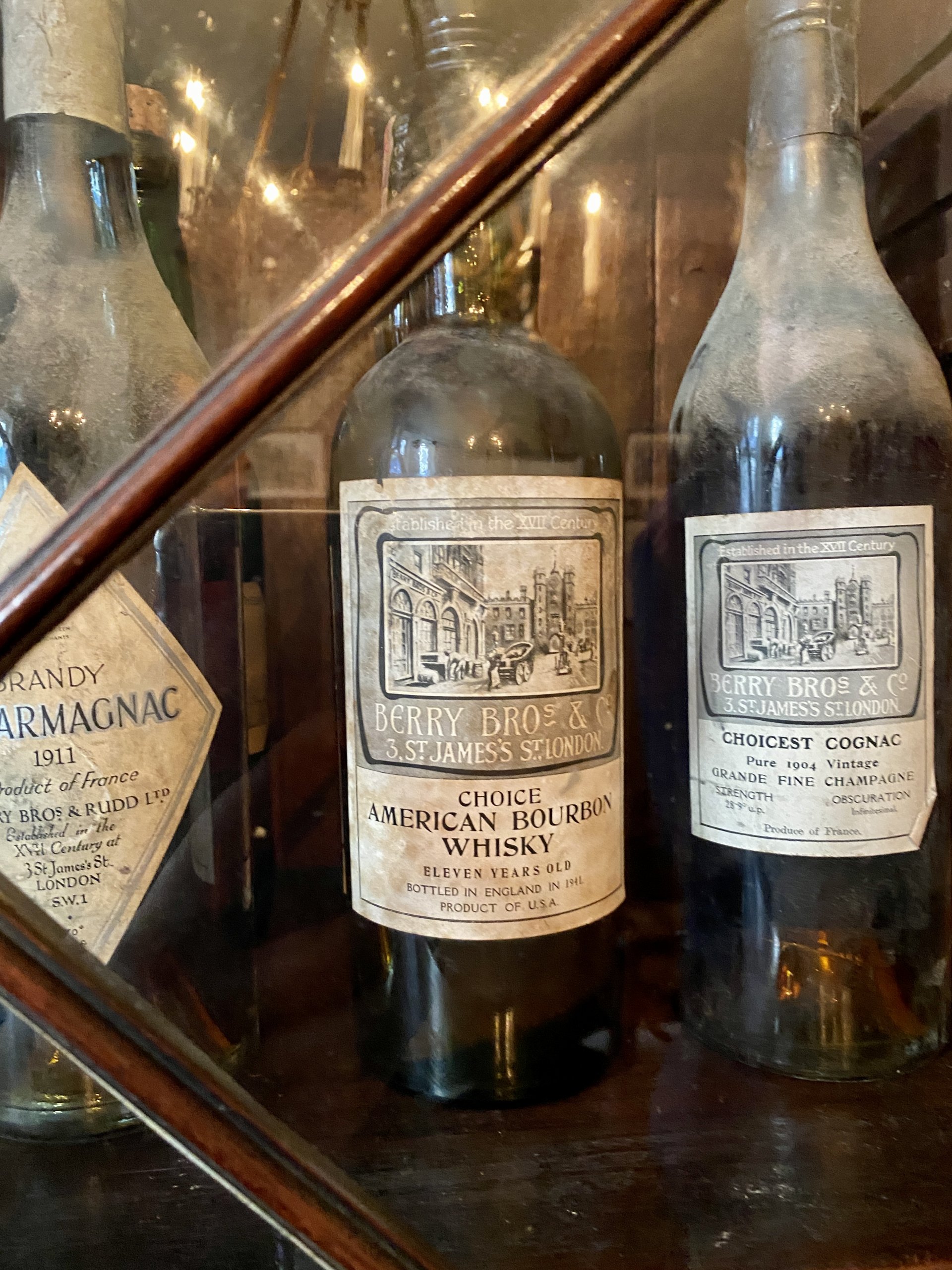 Limited Company
In the 1940s, Berry Bros. & Co became a limited company to become known as Berry Bros. & Rudd Ltd.
Second World War
During the Second World War, the ancient furniture from No. 3 was stored in Walter Berry's house in the countryside to protect it from the bombing. No.3 escaped total destruction, but the top floors suffered fire damage. The front of the building was shaken by nearby impacts but survived largely because of the old wooden shutters that protected the shop front. These shutters still line the passageway to Pickering Place and were last used during the London riots of 2011.
During World War Two, two partners lost sons in the war, which led to Francis Berry's younger son, Anthony, becoming a partner unexpectedly. Hugh Rudd's widow, Ethel Rudd, took over as Non-Executive Chairman from 1949 until 1965, when Anthony Berry was appointed Chairman.
During the years after the war, the first non-family Directors were appointed, a precedent that has continued to bring valuable experts into the business.
Berry Bros. & Rudd continued to bottle wine themselves until the 1960s, with the last bottle of Sherry bottled at Basingstoke in the 1990s.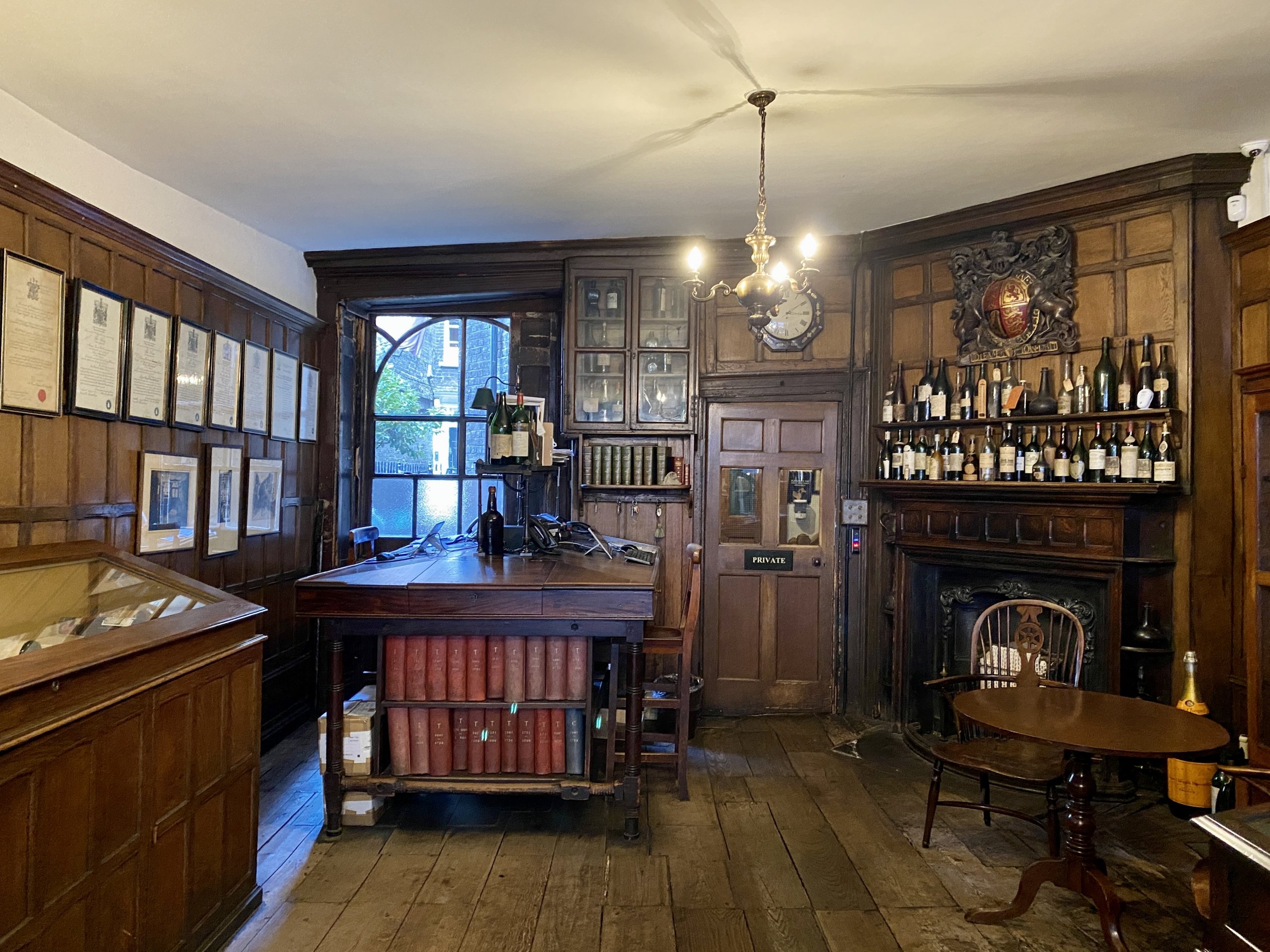 Basingstoke
In 1967, Berry Bros. & Rudd broke with tradition and became the first independent wine merchant to build temperature-controlled wine cellars, which were established in Basingstoke, Hampshire. Nowadays, these cellars hold 10 million bottles of wine worth millions of pounds. At least half of that is a storage facility for customers' wine. How wine is stored is vital to its provenance, as while you could buy the best wine of the day directly from a vineyard, if you store it incorrectly, it could become undrinkable. The storage facility in Hampshire is rather like a temperature-controlled bank vault or a "cathedral to wine."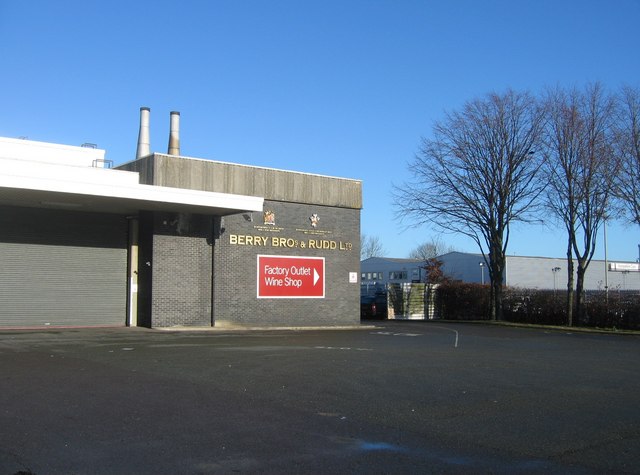 Berry Bros. & Rudd's Broking Exchange (BBX)
Berry Bros. & Rudd was the first wine merchant to open an online shop back in 1994 – it was the first wine merchant's website. Today it also has an online wine trading platform called BBX (Berry Bros. & Rudd's Broking Exchange). It enables customers to sell and trade their own wines if they are stored in the company's bonded warehouses. Today BBX is the world's most extensive online fine wine trading platform.
Expansion
As well as expanding electronically, the 1990s also saw Berry Bros. & Rudd expand the physical presence of the business. A series of Duty-Free wine shops opened at Heathrow Airport, followed by the establishment of the company's first presence in Asia, the Hong Kong Wine Club. In 1998 the first overseas shop opened in Harry Street, Dublin, in the year they celebrated 300 years in business. The run-up to the 300th-anniversary celebrations was marked in 1997 with the award of Berry Bros. & Rudd's second Royal Warrant by HRH. The Prince of Wales.
In 2013 Berry Bros. & Rudd became the first major UK retailer to give the wines from China a permanent place on its shelves. And in 2019, Berry Bros. & Rudd announced it was focussing on its private client business and developing spirits brands, both areas where the business has an established history and a wealth of experience and expertise. And in 2020, it announced it would be representing "a smaller portfolio of the world's most prestigious fine wine producers." Burgundy will continue to be a focus region as well as representing "outstanding wines from established and promising producers across several key wine regions."
Renovated Cellars
The wine cellars beneath the buildings cover the area of two football pitches. (That's an area of 100 yards by 50 yards times two.) It includes a fabulous collection of dusty bottles, and one is worth £25,000 (I won't tell you which it is!)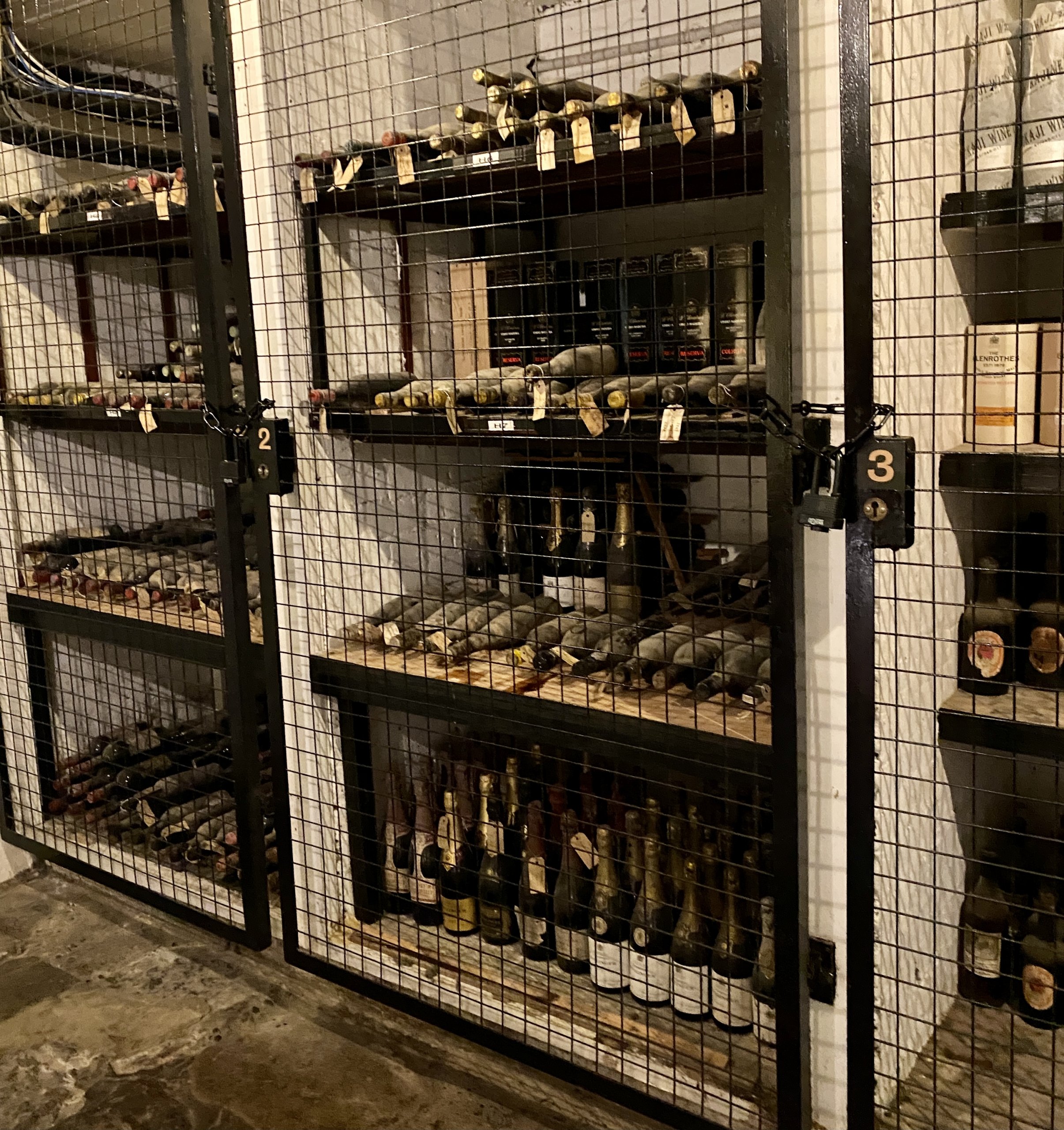 The historic cellars below the shop and rooms in Pickering Place have been gradually renovated to facilitate private wine events and the highly-respected Wine School.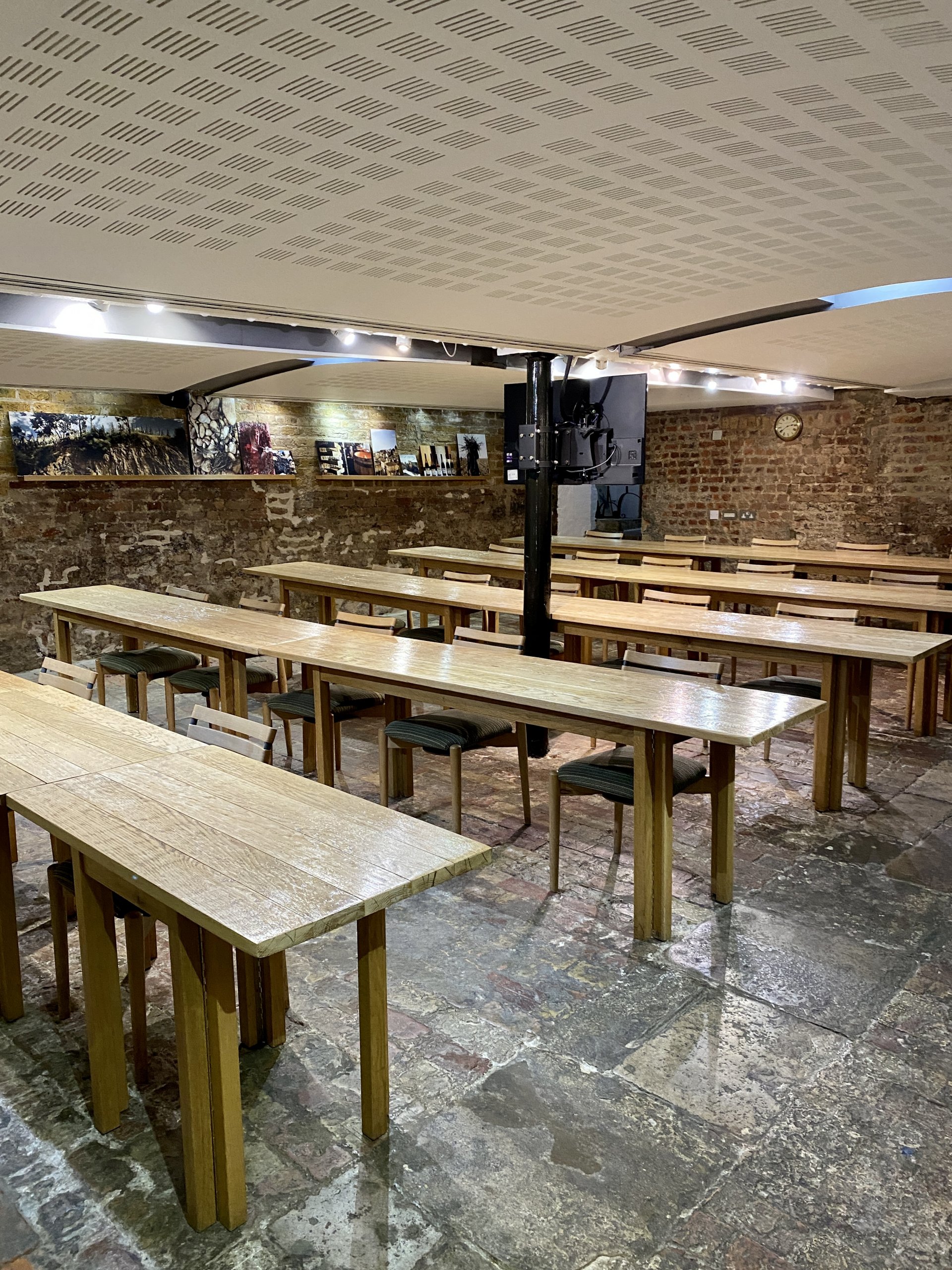 I had a quick lesson here and learned that a "Butler" was a "Bottler" who bottled your wine from the barrel. And the shape of a wine bottle is about the "shoulders" to catch the sediment (easier to picture if you imagine a Burgundy and Bordeaux bottle side by side).
As well as the Napoleon Cellar located directly underneath the historic wine shop, there is The Bourne room under no.4 St James's Street was named after the company founder.
Upstairs
While you might expect there to be wine cellars, there are also many floors above the shop. The areas downstairs can be booked, but upstairs is by invitation only. I was shown around the rabbit warren building by Geordie Willis, 8th generation Berry family member. We went up to see the Director's Dining Room with its Cuban mahogany ceiling, William Morris wallpaper, and William De Morgan fireplace tiles.
This was the site of the Texas Legation in the 1840s and has more recently hosted many well-known names, including royalty. I won't be so indiscreet as to tell you who has danced on the table and who enjoyed a long lunch before performing on a West End stage. Records are kept of every occasion held here but rather than who sat next to who, the records note what each person had to drink.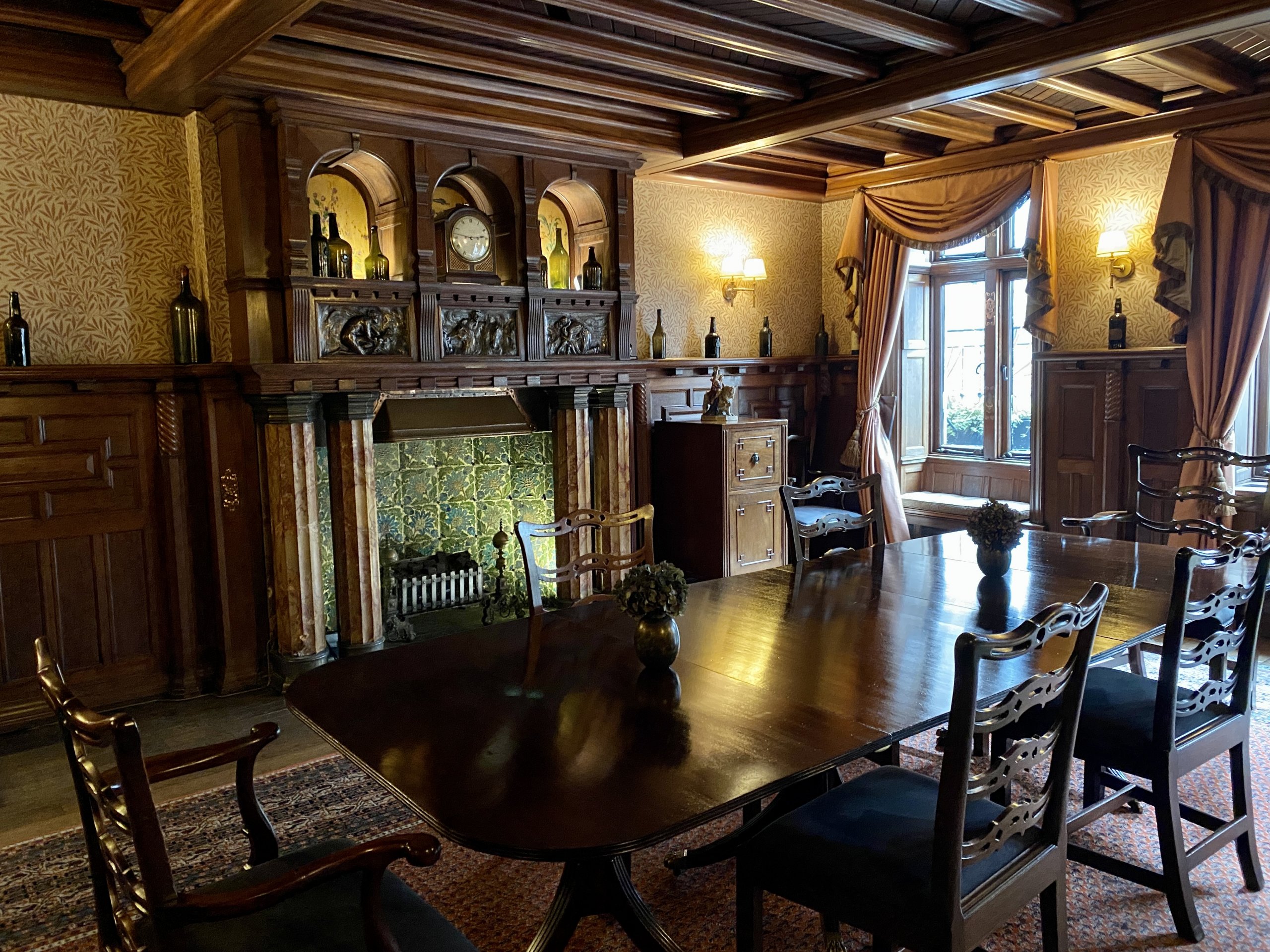 Royal Warrants
In 1760, the company first supplied the British Royal Family under George III but only received its first Royal Warrant of Appointment in 1903 from King Edward VII. In 1903 they formulated a ginger liqueur to revivify Edward VII from cold car journeys, still purveyed as The King's Ginger. (It was initially described as a "driving liqueur." How times have changed, eh?)
Queen Elizabeth II granted the company her royal warrant in 1952, while Charles, Prince of Wales, granted it his in 1997.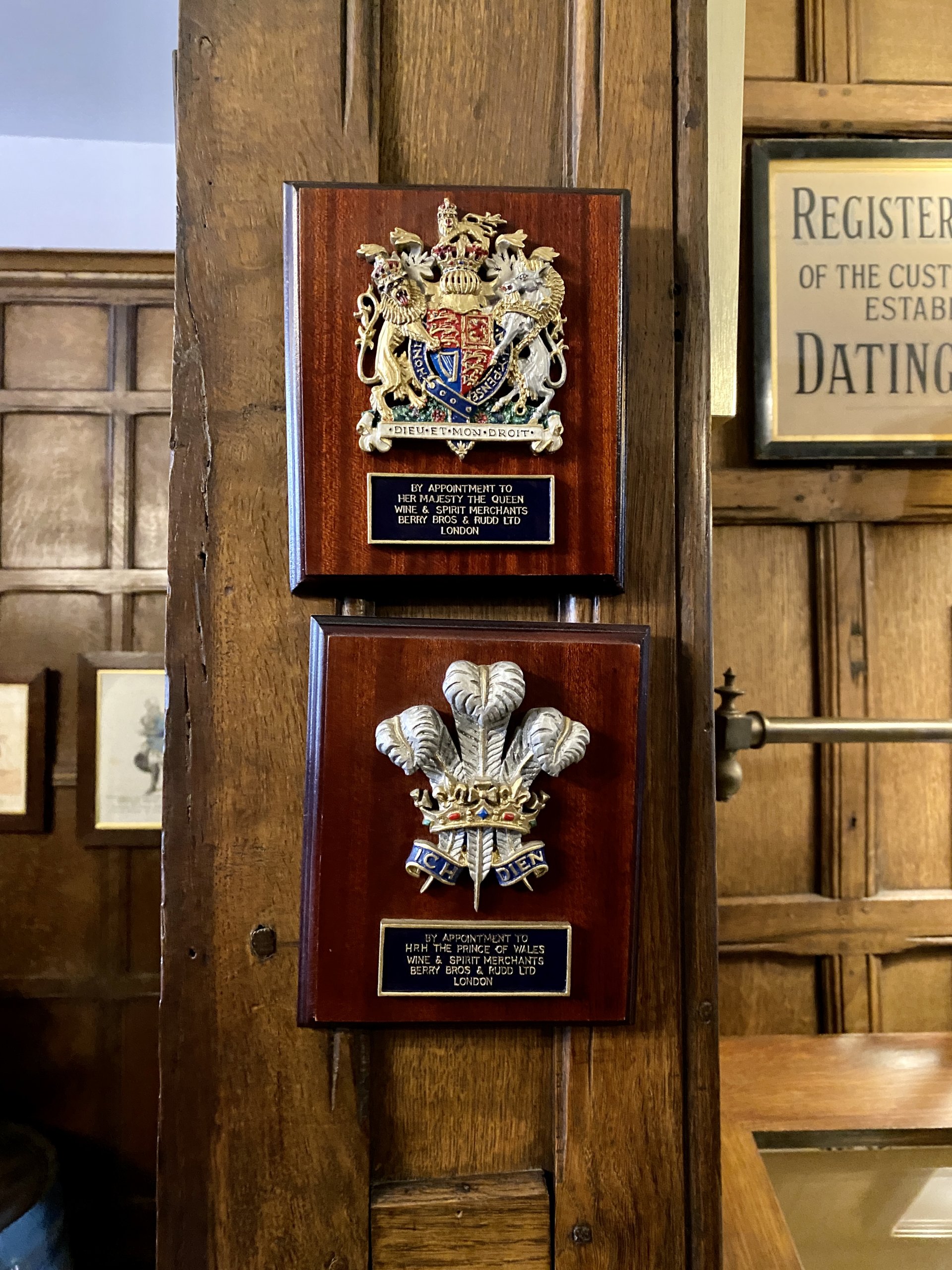 63 Pall Mall
No.3 is still the historic home, but the company moved around the corner to a purpose-built shop at 63 Pall Mall in 2017. This shop offers wines and spirits from £10 to £10,000 a bottle. There are Enomatic machines for tasting too. While the firm embraces progress, traditions are also valued. Staff wear a shirt and tie with a brown calico grocer's apron with the company name embossed.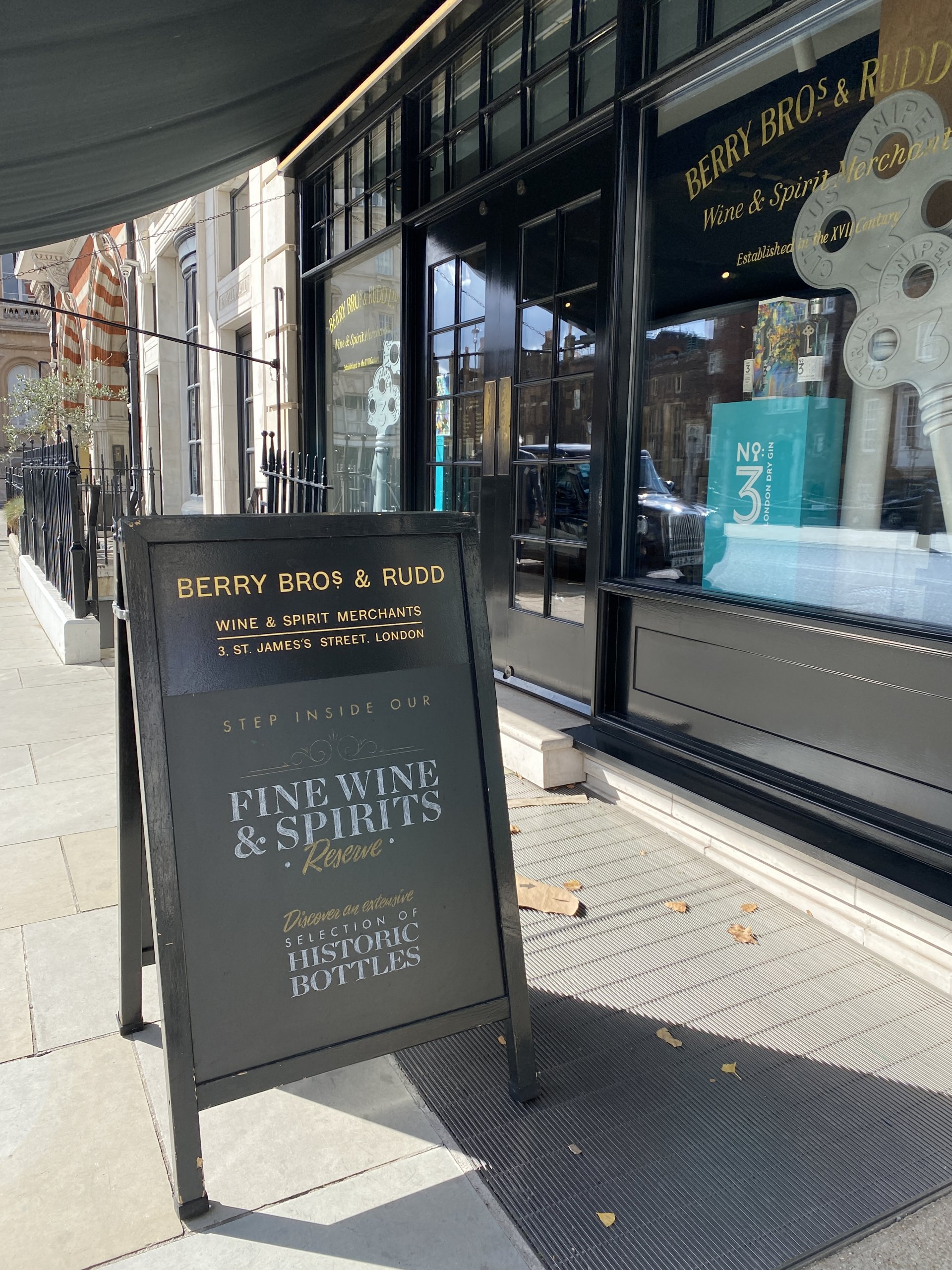 The ceiling is lined with 100-year-old barrels, and it's a much less intimidating shopping experience compared to No.3, where nothing is on display, and you had to approach staff for assistance. Here, there is a wall of wine recommendations with tasting notes and color-coding to help you make a selection.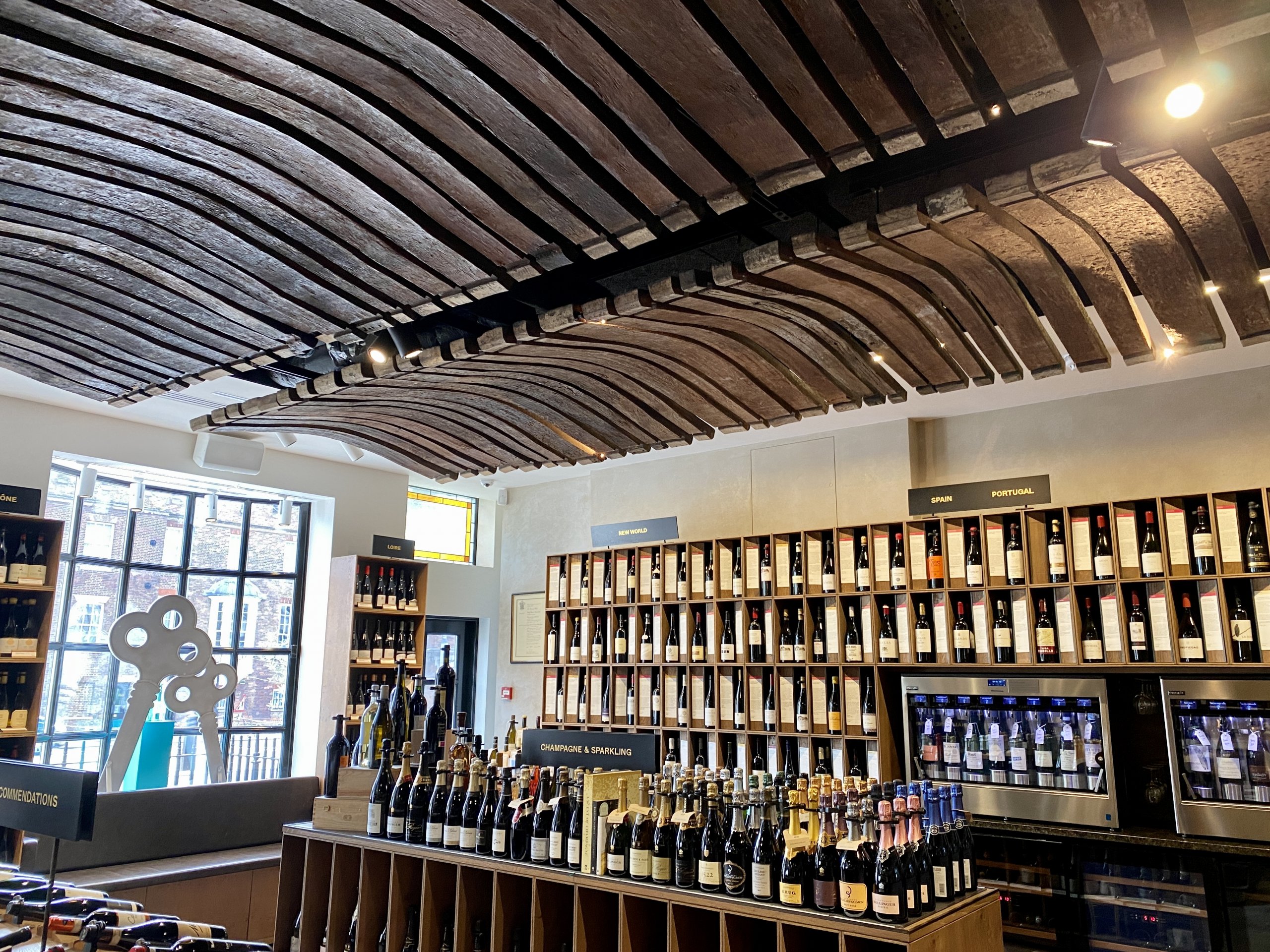 Address: 3 St James's Street, London SW1A 1EG
Official website: www.bbr.com