Red House is a significant Arts and Craft house in southeast London that was designed for William Morris. A lavishly decorated and thoughtfully designed villa, it is now a National Trust visitor attraction.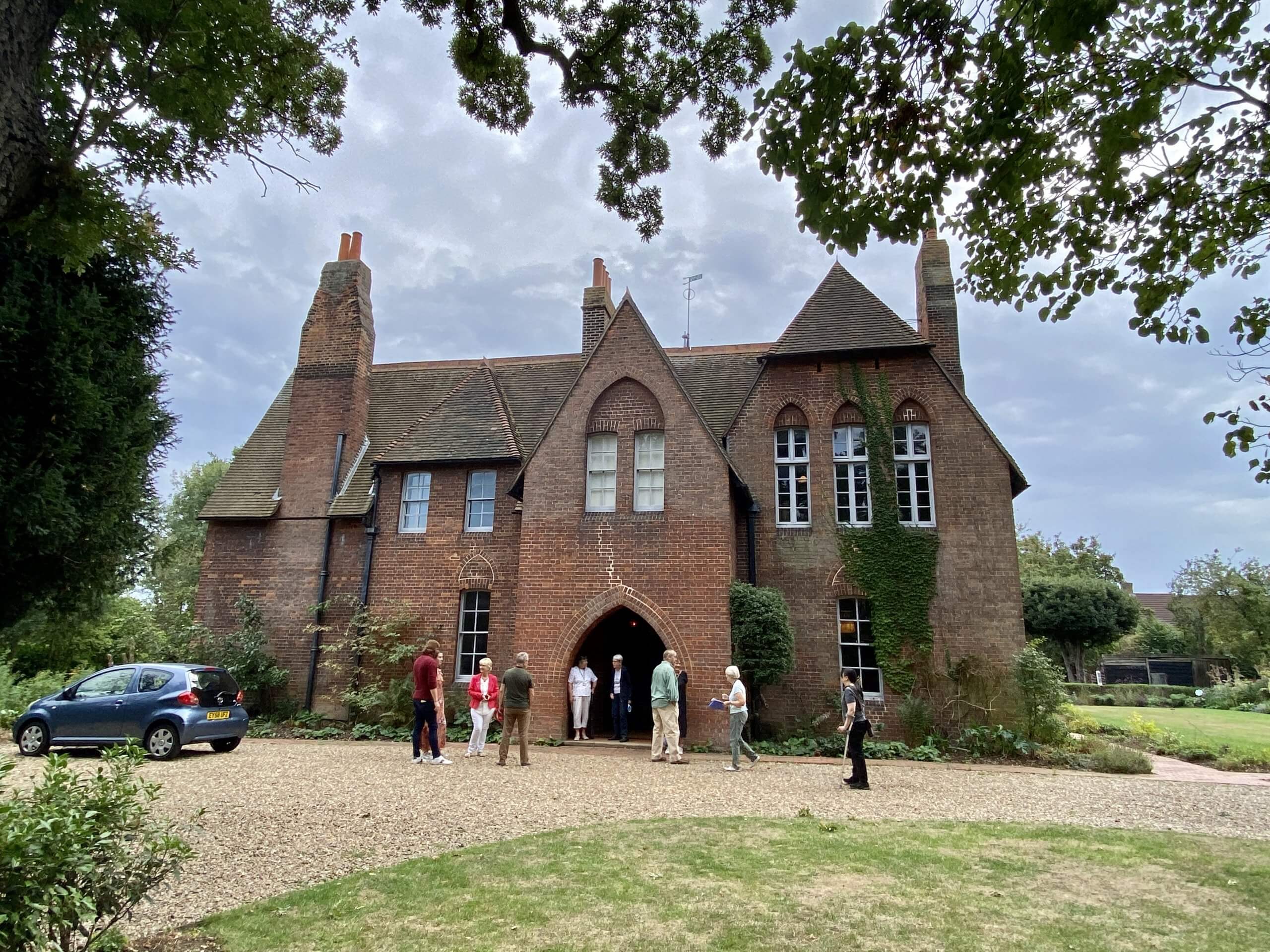 Red House lay along the ancient pilgrims' route to Canterbury and Morris cast himself in the role of genial Chaucerian host. He encouraged a stream of artistic guests to join in the process, creating the ultimate Arts and Crafts collective.
I enjoyed researching William Morris and his London Connections earlier this year, so it was about time I went to visit this National Trust property.
Going Rural
Morris decided to construct a rural house for himself and his new wife, Jane Morris, within a commuting distance of central London. He purchased a plot of land in 1858 in what at the time was the village of Upton in Kent. The plot was ten miles by road to London and three miles from the nearest railway station. The land was an orchard and a meadow as he wanted his home to be surrounded by an apple and cherry orchard.
As well as the pilgrim route, it was also about three miles away from the ruins of Lesnes Abbey. (Note, I've written a feature about Lesnes Abbey for the London Annual 2023.)
Arts & Crafts Movement
In 1859, Morris commissioned his friend Philip Webb to help him design and construct the house. Webb and Morris met while working together for the architect G. E. Street. Webb would go on to be one of the major architects of the Gothic Revival movement in England. Morris and Webb went on to be lifelong friends. Morris described Webb as 'the best man he had ever known.'
Red House was Webb's first project as an independent architect and the only house that Morris ever built. Webb's aim was to realize Morris's ambition for a house 'in the style of the thirteenth century' but also his own vision. It needed to be a harmonious combination of a functional family home where Morris could work and enact his ideal of living. The actual construction was given to a contractor and the structure took a year to build. It cost Morris approximately £4,000 – five times his annual income at the time.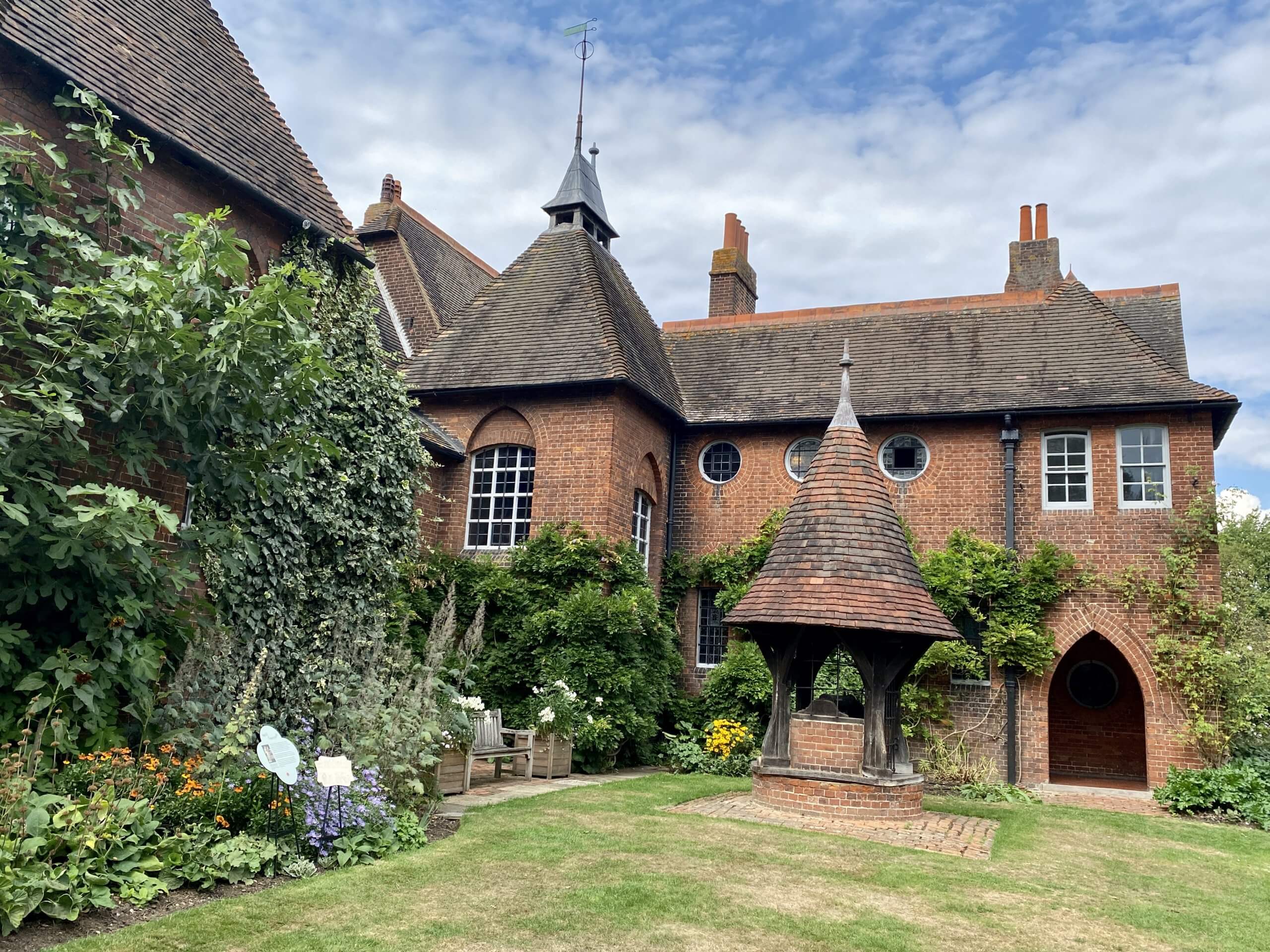 Morris was deeply influenced by Medievalism and Medieval-inspired Neo-Gothic styles are reflected throughout the building's design. It was constructed using Morris' ethos of craftsmanship and artisan skills and is an early example of what came to be known as the Arts and Crafts movement. Morris saw Red House as not just a family home but wanted the house to be a place that reflected his ideals and celebrated art, craftsmanship and community. Red House is filled with collaborative works of art by his closest friends who were a group of talented artists.
William and Jane Morris moved into Red House at the end of the summer of 1860.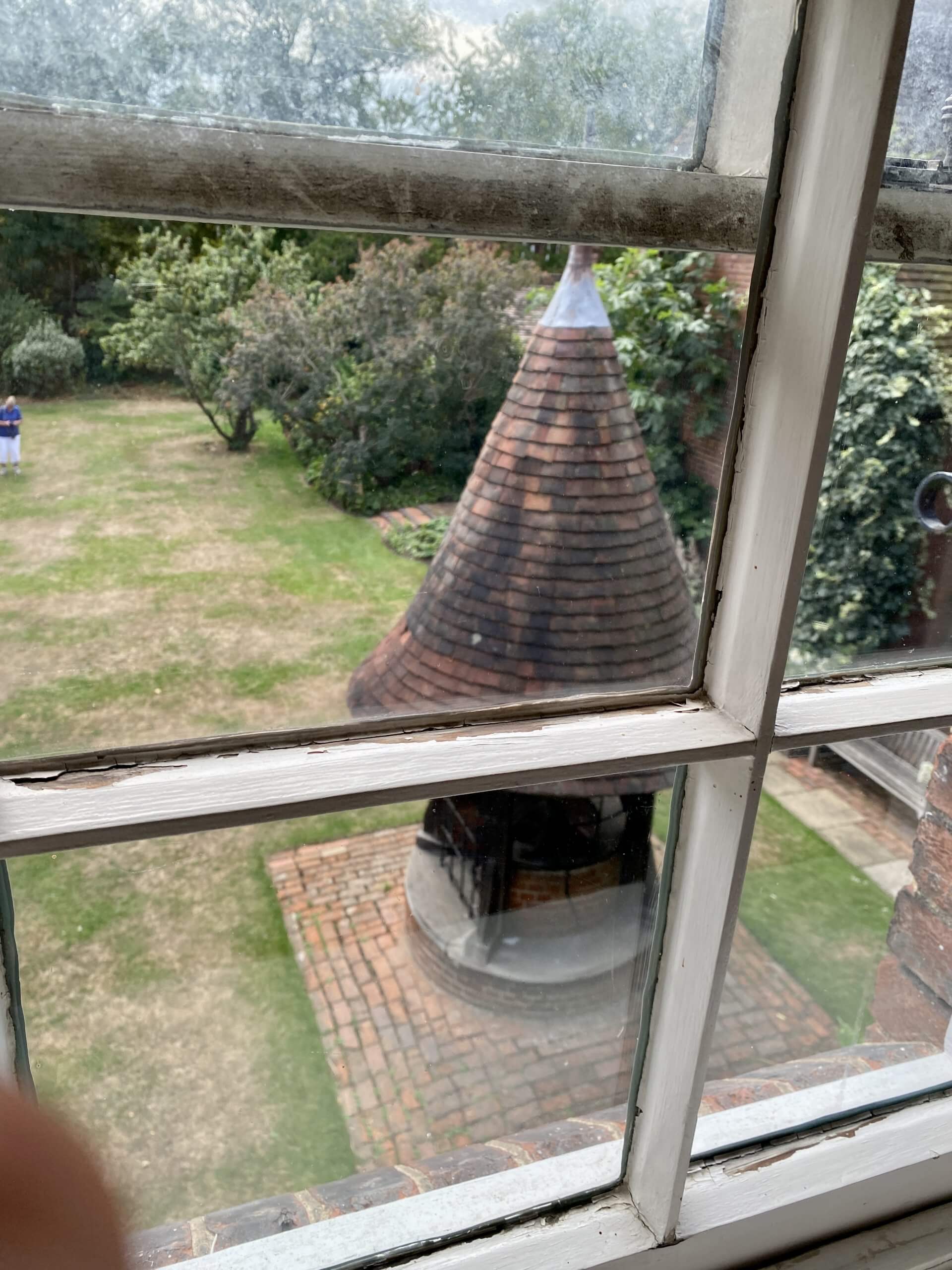 Architectural Design
This Arts and Crafts building with constructed using local materials and modeled on an English cottage. Red House reflects Webb's admiration for medieval and vernacular architecture and the modest red brick schools and parsonages being built by G.E. Street and William Butterfield in the 1850s.
Most fashionable villas of the period were finished in stucco but Morris's new home was built of exposed brick that inspired its name 'Red House.' Morris and Webb valued the specific beauty of natural materials, which they saw as far superior to and healthier than industrially-produced products.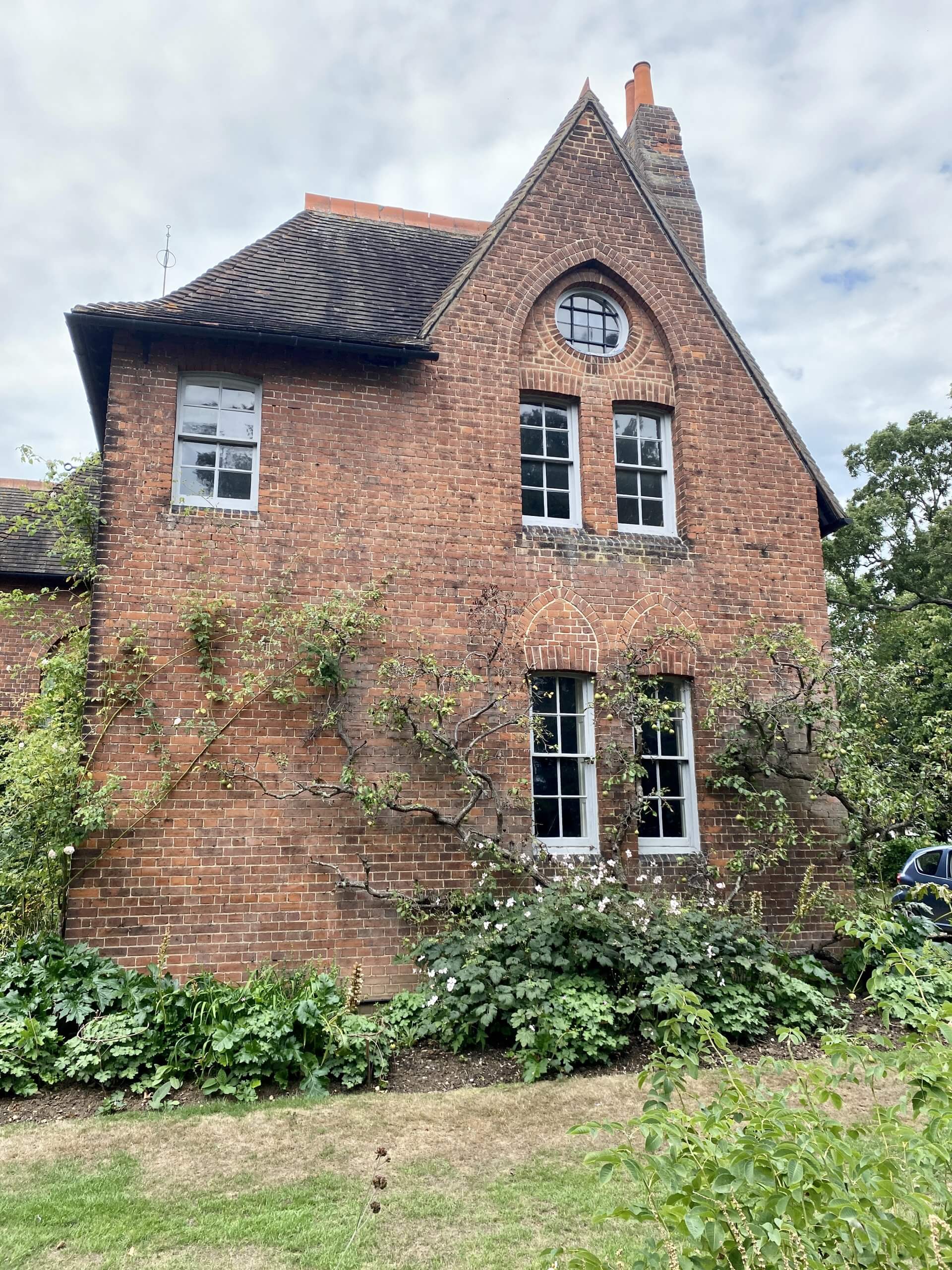 Red House was designed to an L-shaped plan, with two stories and a high-pitched red tile roof and tall chimneys. The shape was to preserve as many of the fruit trees on the orchard site as possible. The servants' quarters at the back of the house were larger than in most contemporary buildings, reflecting Morris's ongoing desire to improve conditions for the working class.
The exterior has no ornamentation which was quite radical during the Victorian years when twiddly extras were adored. Instead, it was inspired by styles of British design from the thirteenth century, and Morris described the building as being "very medieval in spirit." His friend Dante Gabriel Rossetti described it as the "Towers of Topsy" (Topsy was the affectionate nickname Morris's friends used for him).
The windows were positioned to suit the design of the rooms rather than to fit an external symmetry. This means there are a variety of different window types present including tall casements, hipped dormers, round-headed sash windows, and bull's eye windows.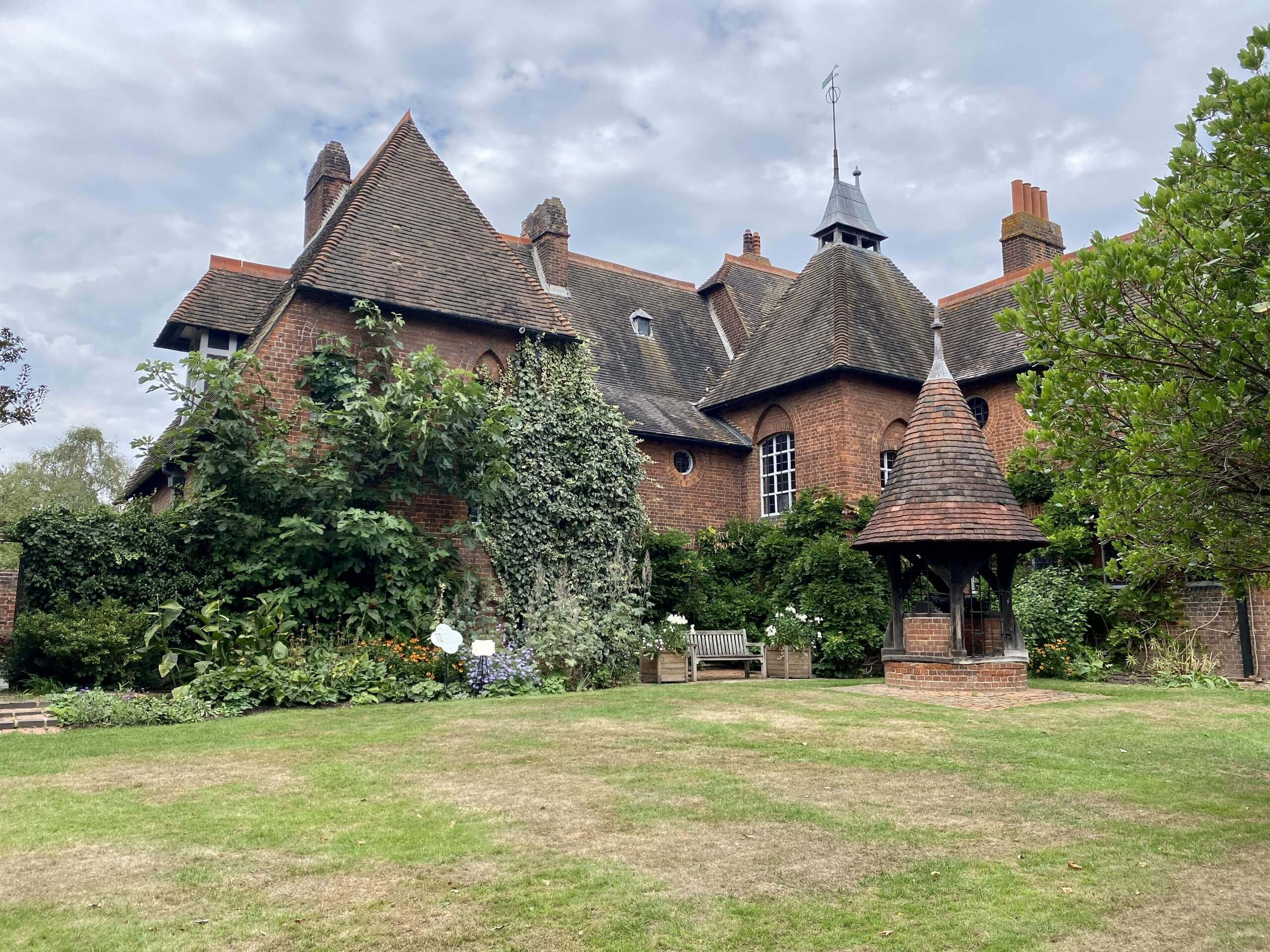 Above the house is the weathervane with an engraving of the letters W & J entwined with M for William & Jane Morris, '1859' (the year the building of the house began) and a horse's head with three horseshoes which was the Morris family emblem.
Not Perfect
Certain features reveal the relative inexperience of its designers. Being north-facing, the interior of the house was uncomfortably cold even in summer, which aggravated Morris' various medical conditions. The fireplaces were not only too small to compensate but smoked so badly that the chimneys had to be heightened in 1861.
The kitchen position meant it was warm in the afternoon when house staff were preparing for afternoon tea and dinner. Next to the kitchen, the larders were also prone to overheating – a serious flaw in a space designated for food storage. The cellar, which only occupied the space under the stairs instead of the majority of the house as was customary, was insufficient to compensate.
And the house's isolated location made it difficult for doctors to visit. The three-mile commute by carriage from the house to Abbey Wood railway station, over an exposed and windy plateau, further aggravated Morris. Plus his daily commute from Abbey Wood to work in Bloomsbury took three to four hours a day.
Pre-Raphaelite
Red House was not just a home. It was a place where pre-Raphaelite artists and Arts and Crafts founders created their rural retreat. Together they designed and created spectacular works. It was a social hub with a creative focus for the lively artistic circles of which Morris and Webb were part.
Only a few pieces of decor were purchased as ready-made items such as the Persian carpets. Inside the house, it was Philip Webb who designed most of the furniture, while Morris, Jane and his friend/painter Edward Burne-Jones designed furnishings including windows, wallpaper and tiles. This was where Morris embarked on his earliest wallpaper designs.
Morris, Marshall, Faulkner & Co.
As Morris couldn't get the furniture that he wanted for the house he decided to commission a lot which led to him setting up the design company Morris, Marshall, Faulkner & Co. in April 1861.
The decorative arts company had six other partners: Burne-Jones, Rossetti, Webb, Ford Madox Brown, Charles Faulkner and Peter Paul Marshall. They referred to themselves as "the Firm" and were intent on adopting Ruskin's ideas of reforming British attitudes to production. They hoped to reinstate decoration as one of the fine arts and adopted an ethos of affordability and anti-elitism.
Although working within the Neo-Gothic school of design, they differed from Neo-Gothic architects such as Gilbert Scott who simply included certain Gothic features in modern styles of building. Instead, they sought to return completely to Medieval Gothic methods of craftsmanship.
The Firm created painted furniture, mural decoration, metalware and glass, embroidery and hangings, jewelry and hand-painted tiles although it was soon clear that stained glass for new and restored churches was to be the lynchpin of their work in the early years.
Family
It was at Red House that William and Jane Morris's two daughters – Jenny and May – were born. Jane Alice Morris, known to all as Jenny, was born in January 1861 and Mary "May" Morris was born in March 1862.
The Pre-Raphaelites' bohemian lifestyle led to fluid relationships. Jane Morris became close to Rossetti who often painted her.
Not The Forever Home
Although initially intending to live there for the rest of his life, William Morris found that the house proved too expensive to run and did not suit his lifestyle. After five years, he moved his family to a flat in Queen Square, Bloomsbury in the autumn of 1865.
There had been discussions on building a second wing of Red House for the Burne-Jones family and moving the Firm's workshops to the village but neither happened.
Morris never returned to Red House commenting that the sight of it would be too emotional for him. Red House was put up for sale and he waited for a purchaser.
After Morris Left
Red House remained a private residence from 1866 until 2002, during which period various alterations were made to the interior design.
When William Morris couldn't find a buyer for Red House, he agreed to let it for £95 per annum to James Arnold Heathcote (a retired commander in the Indian Navy) who moved into the house in the spring of 1866. After Heathcote's death, Morris was able to sell Red House to Edmund Charlesworth (a wealthy stockbroker) who lived there with his family from 1879 to 1889. The Charlesworth family decorated the house's studio with Morris's Daisy wallpaper, which remains in place today.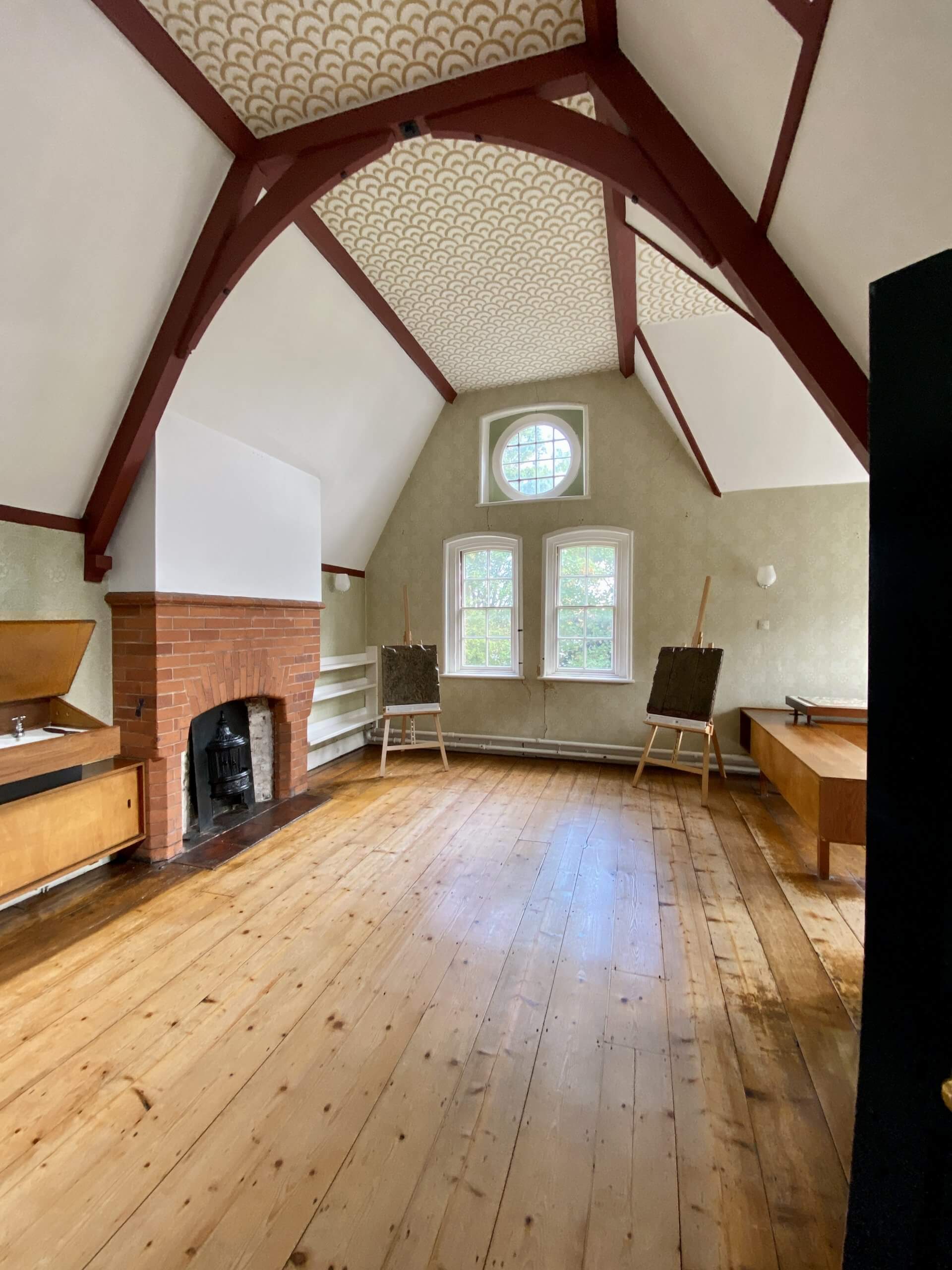 In 1889 Charlesworth sold Red House for £2,900 to Charles Holme who was the owner until 1903. Holme encouraged visitors to scratch their signatures into the window panes on the screen dividing the entrance hall from the gallery with either a diamond ring or glass-scratching implement. He collected over one hundred signatures here, from family members, friends, and visitors. Notable names include May Morris and Georgina Burne-Jones on their visit in 1897, plus the names of Japanese visitors who were in London to collect a battleship docked on the River Thames; among the latter was the future Japanese Prime Minister Saitō Makoto. This glass visitors' book tradition was continued by some of the other residents, with the latest engraving dating to 1952.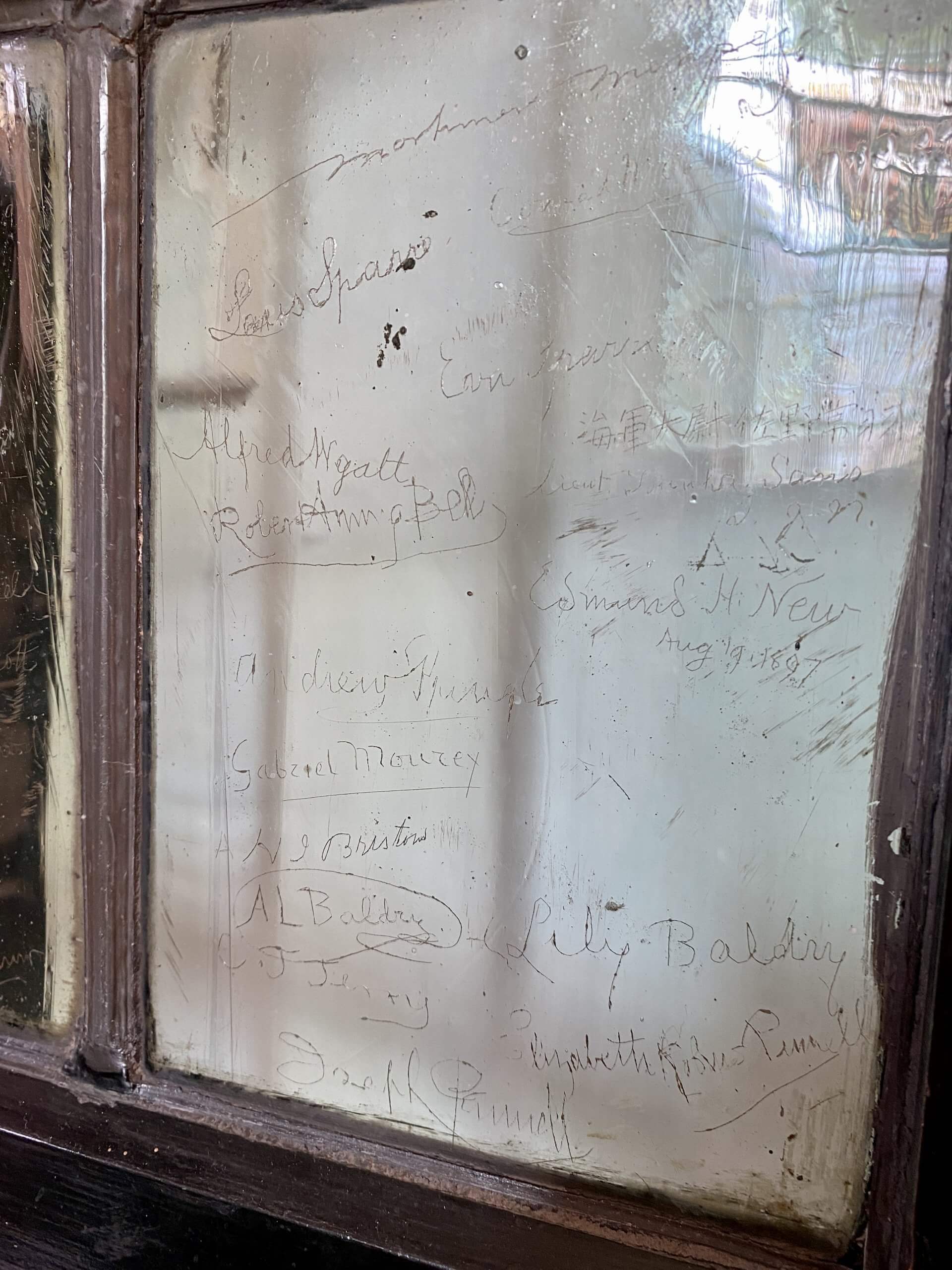 In 1950 Red House was designated a Grade I listed building by English Heritage. From 1952 to 1999 the architect Edward Hollamby lived at the House. In 1953, the newly founded William Morris Society held its inaugural meeting at Red House, subsequently holding a garden party there in 1960 to commemorate its centenary.
After his retirement in 1985, Hollamby decided to open Red House to visitors offering guided tours on one Sunday per month. As the number of visitors grew, especially in the 1996 centenary of Morris's death, Hollamby began to search for a way of securing future public access. In 1998 he helped to establish the Friends of Red House – a group of individuals who were largely members of the Bexley Civic Society. Hollamby died in 1999, and his wife left Red House to move to a care home in 2002.
The National Trust
In 2003, the National Trust purchased the property and now maintains it as a visitor attraction. The Trust has performed further restoration and research to restore the house as much as possible to its original condition.
It's Time to Visit
Red House, as it stands now, is, undeniably, a shadow of what it was in its glory days when Rossetti described it as "a real wonder of the age" and "more a poem than a house". Much of the original decoration has been lost, and many important items of furniture now live elsewhere (notably at Kelmscott Manor, Morris's Oxfordshire home). But it is still an absolute joy to visit.
Entrance Hall
Larger than the average entrance hall, but still not huge, this space was used for entertaining. There's even a Bishop mitre-style brick fireplace which certainly wasn't a standard inclusion in Victorian homes. Notice how the bricks taper down. They would have been fired in the top of the kiln to make them a bit softer so they could then be filed down.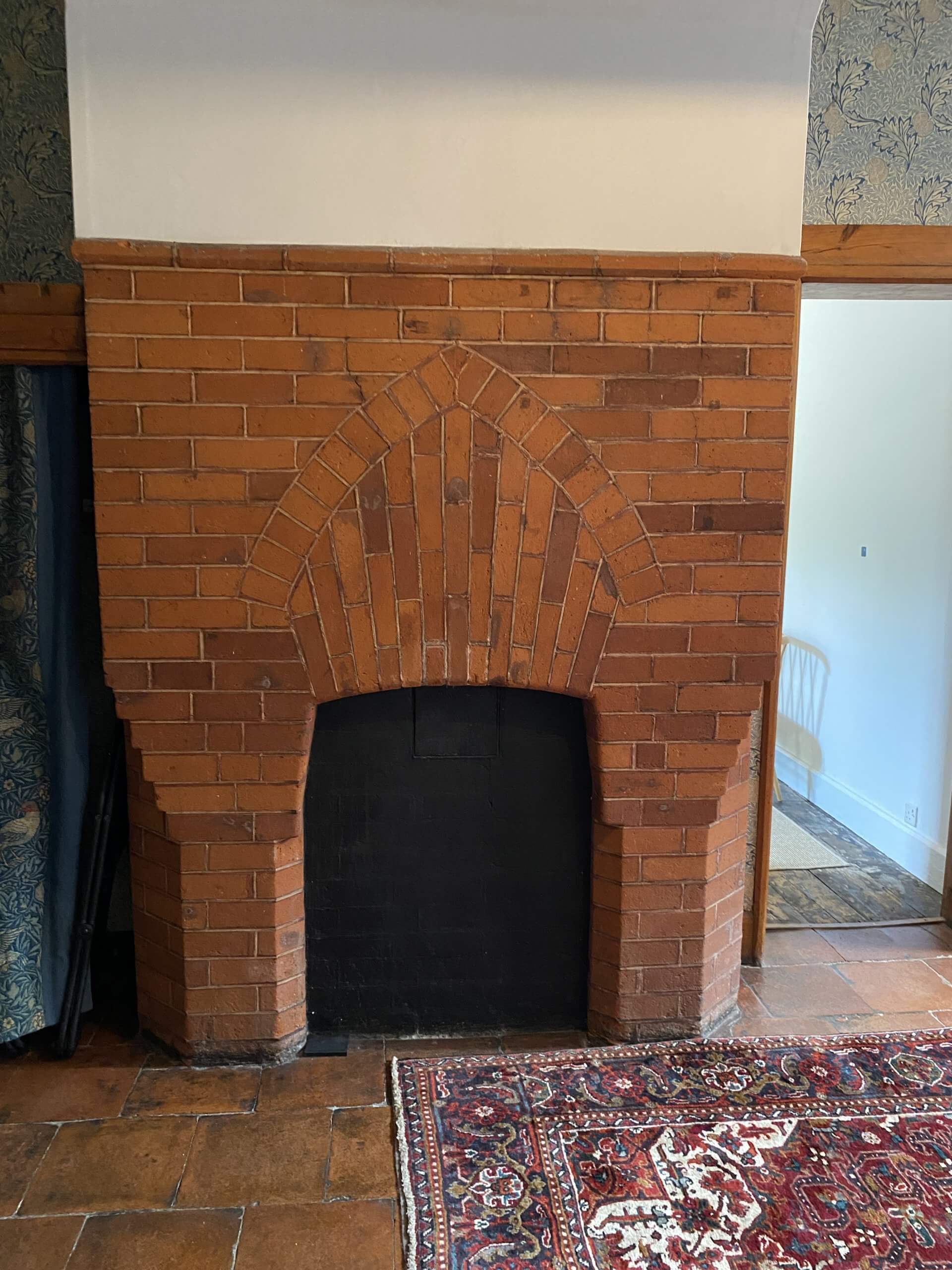 The front door has four mosaic windows representing the four seasons. These are easier to admire from the inside. Do note, that the zigzag stencil painting on the inside of the door was done by a later resident of the house. And look down at the 12″x12″ floor tiles as there are a few with W or M on them.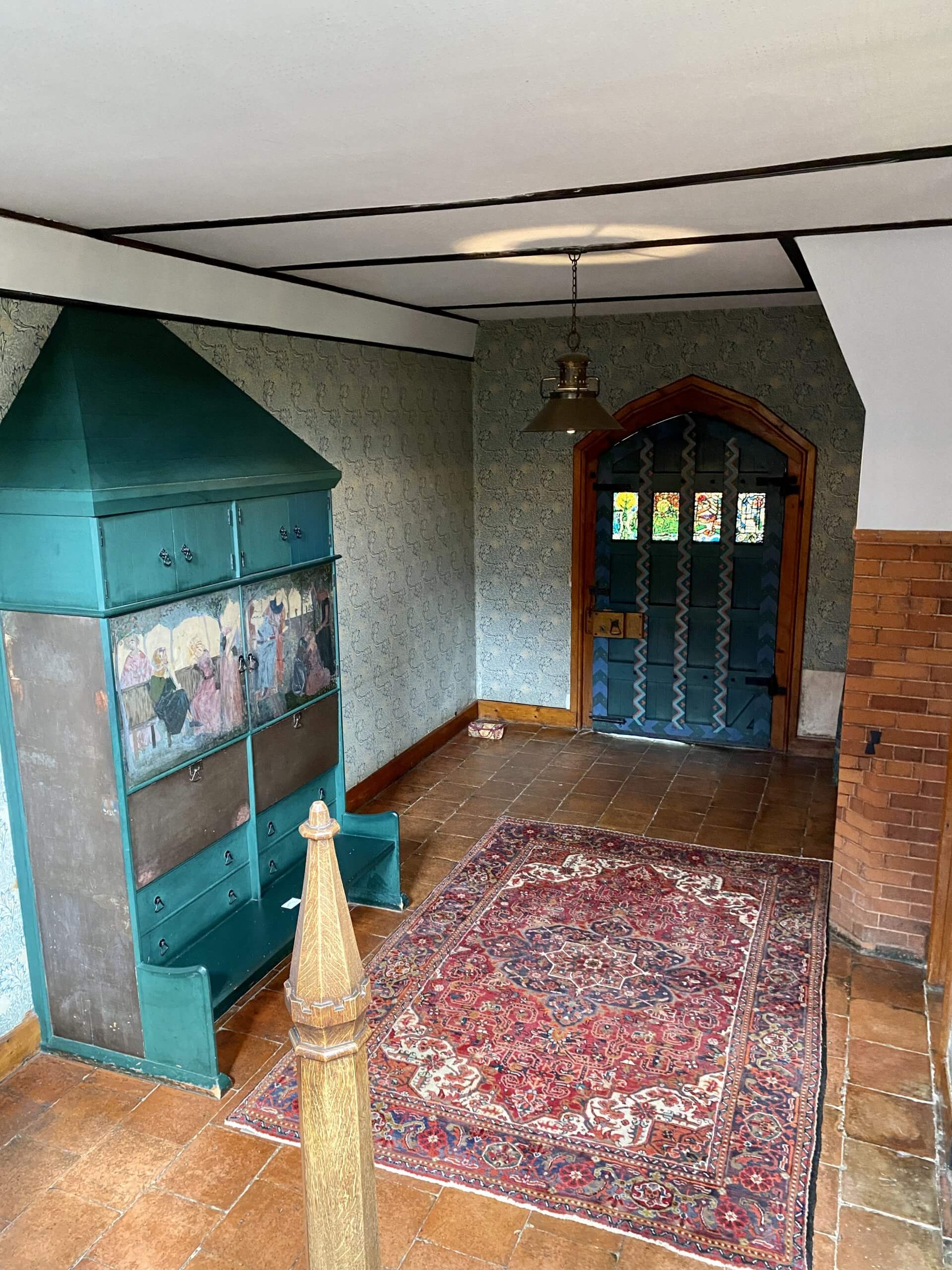 There are three original pieces of furniture at Red House and one is the settle in the Entrance Hall. It has an unfinished painting of William Morris and his friends. They are seated inside a medieval garden scene dressed in costume. (It is a scene from Malory's Morte d'Arthur, showing 'Sir Lancelot bringing Sir Tristram and the Belle Iseult to Joyous Gard'.) It represents those medieval paintings and manuscripts which inspired the Pre-Raphaelite artwork.
The painting was started by William Morris and was continued by Rossetti but, unfortunately, it was never finished. It is likely that Morris did a lot of the painting but he was never confident with faces, hands and feet so would have left that for another to complete.
It is believed to be a partial representation of the Red House garden. They are seated beneath apple trees and you can see the wattle fencing that was in the garden too. You may think this was an imagined scene but this bohemian group of young artists often dressed in medieval-style clothes during their time at Red House.
There are differences of opinion but our Guide told us from left to right, you can see Mary Nicholson, Charles Faulkner, Jane Morris, then three bodies with blank faces, Edward Burne-Jones, Georgina Burne-Jones and Elizabeth Siddal standing on the right.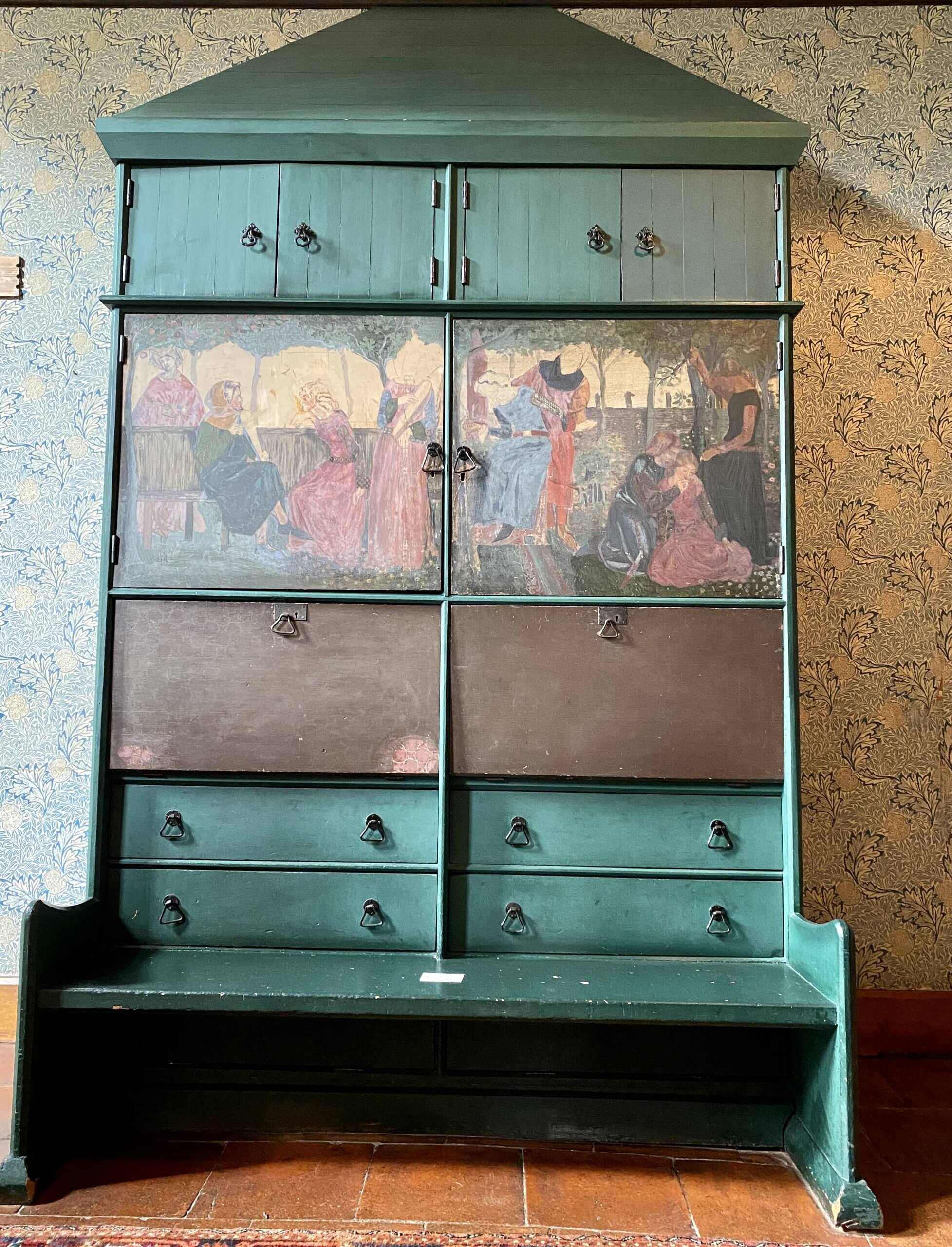 Dining Room
In the dining room, Morris planned to decorate the walls with a series of embroidered female heroines, based on Geoffrey Chaucer's The Legend of Good Women. Produced by Jane and her sister Bessie, only seven or eight were completed. The unfinished Aphrodite is on display here; three others can be seen at Kelmscott Manor and three more at Castle Howard.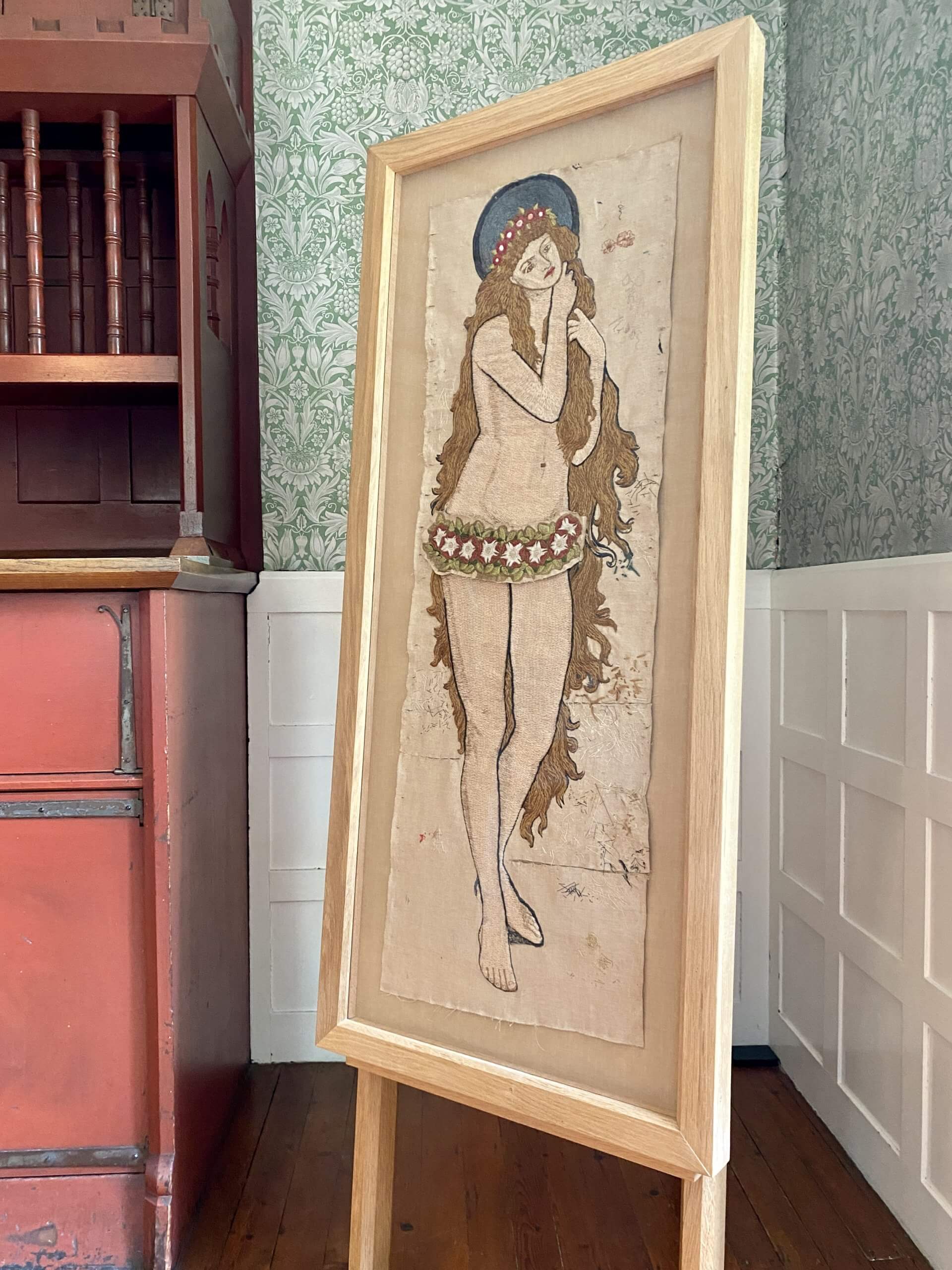 The large settle, another Webb-designed piece, is lacquered in a striking 'dragon's blood' red and topped by a decidedly Gothic-looking three-gabled canopy.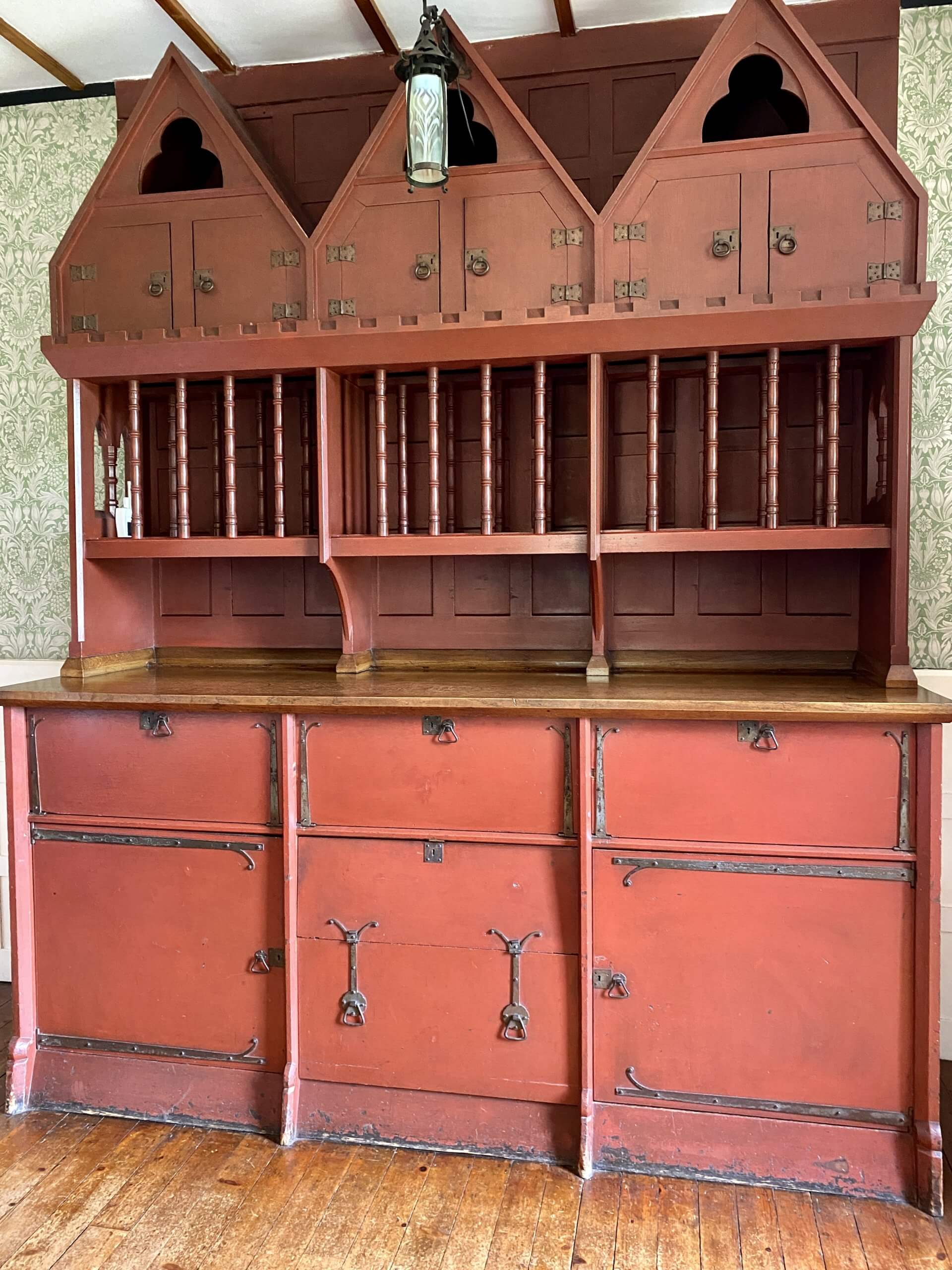 The long dining table and the Sussex chairs are not original but are well-chosen furniture for this room. Even the table legs have castle-like crenulations.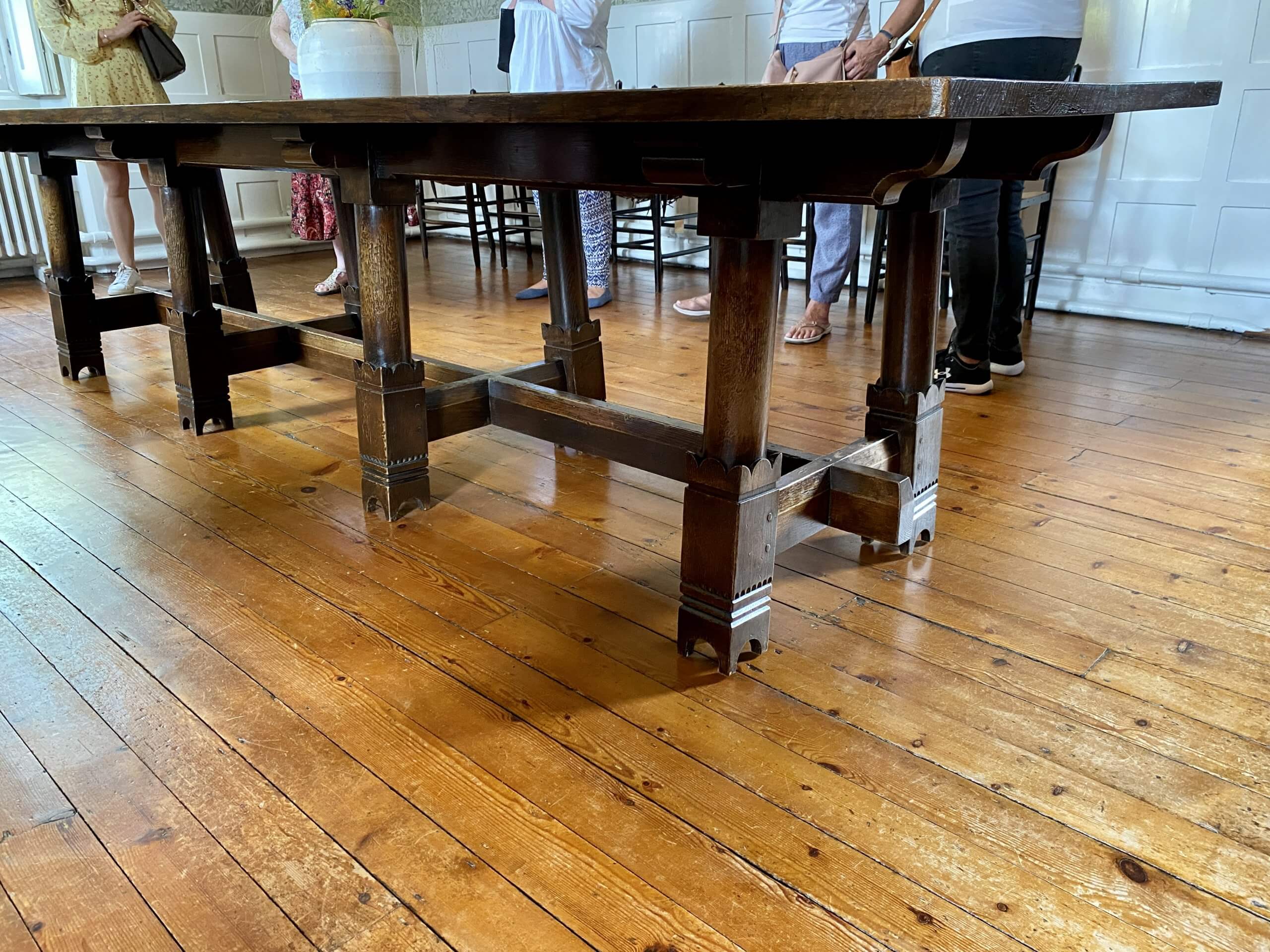 The walls now have a sunflower wallpaper added by a later resident. It's not a Morris design but it is similar. During Morris's time, the walls in the dining room were terracotta and the wall paneling was green and red. These young designers never shied away from color!
Stairs and Above
As you head upstairs, do admire the staircase's Bishop miter-type newel posts.
The ceiling above the stairs was one of the first parts of the house to be decorated as the builders left internal scaffolding in place for three months to allow Morris and his fellow Pre-Raphaelites to complete the painting. The beautiful Byzantine-inspired design was achieved with a pattern template created by a board studded with pins pushed into damp plaster. (You can still see the prick holes on other ceilings that have been whitewashed.)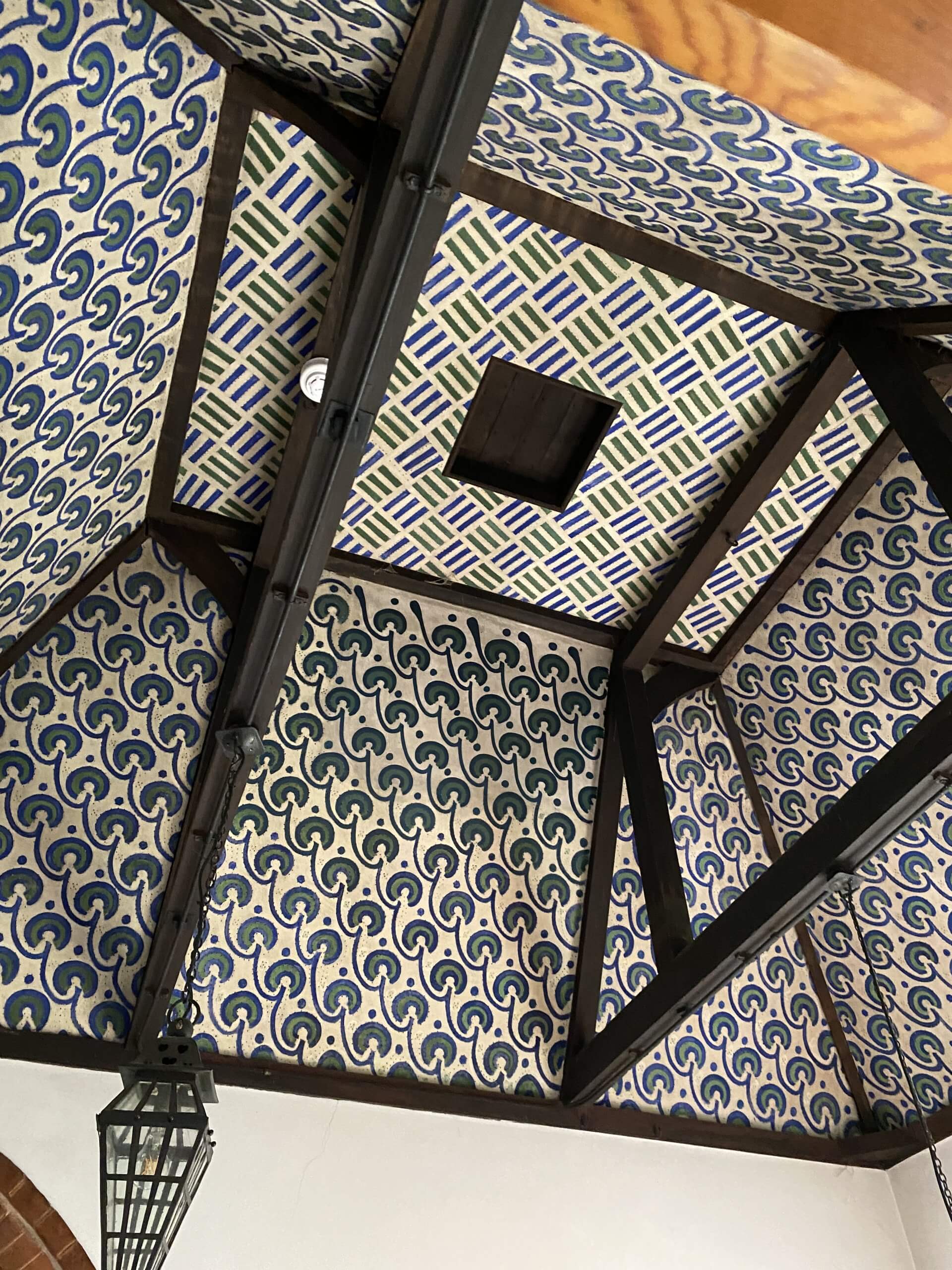 Morris and his closest friends worked together to contribute to the ambitious decorative schemes. The playful nature of these young artists shines through with a smiley face that replaces part of the repeating pattern in the very corner of the ceiling. The National Trust uncovered it during conservation.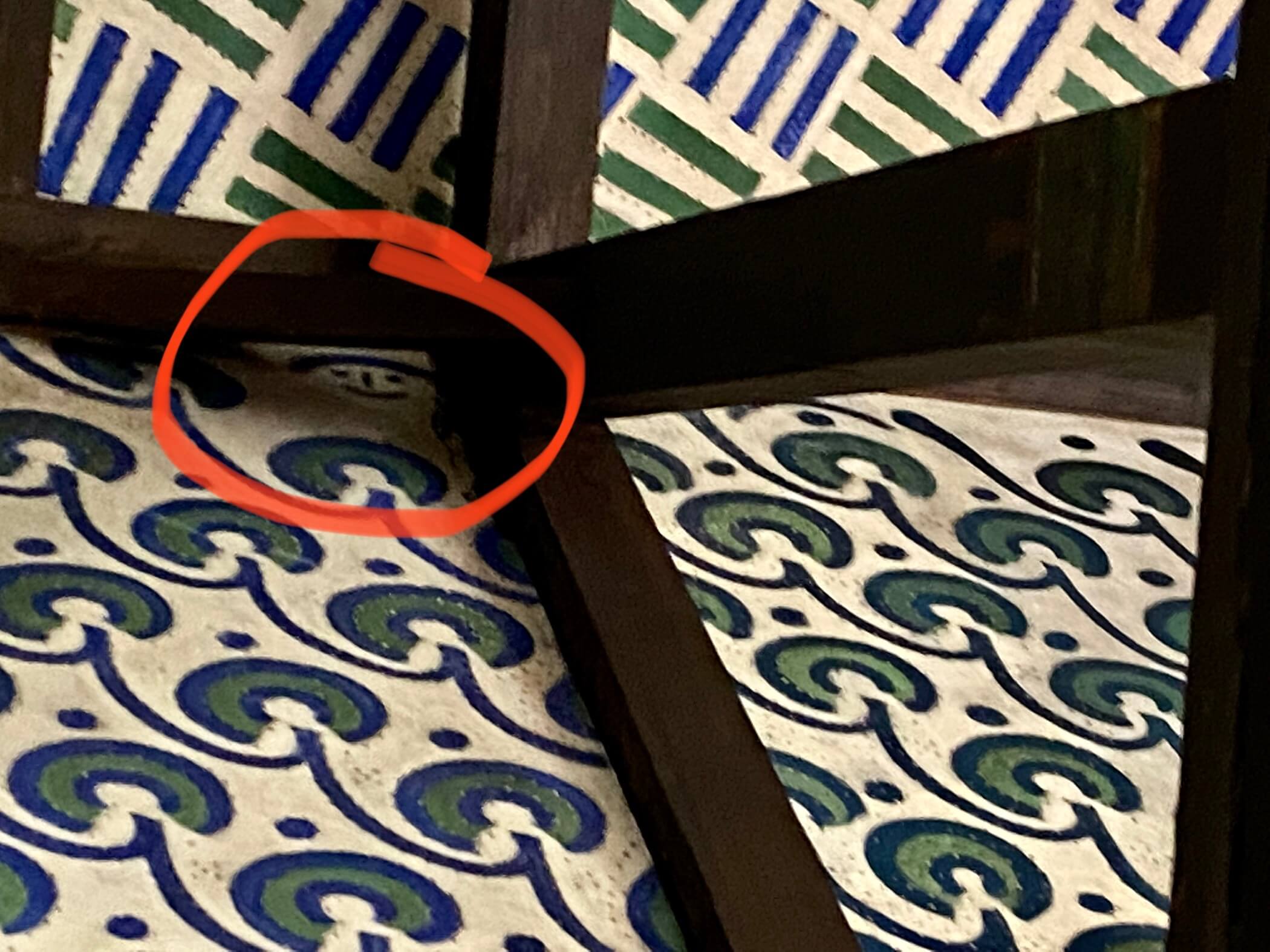 A similar pattern, in different colours, is on the landing ceiling.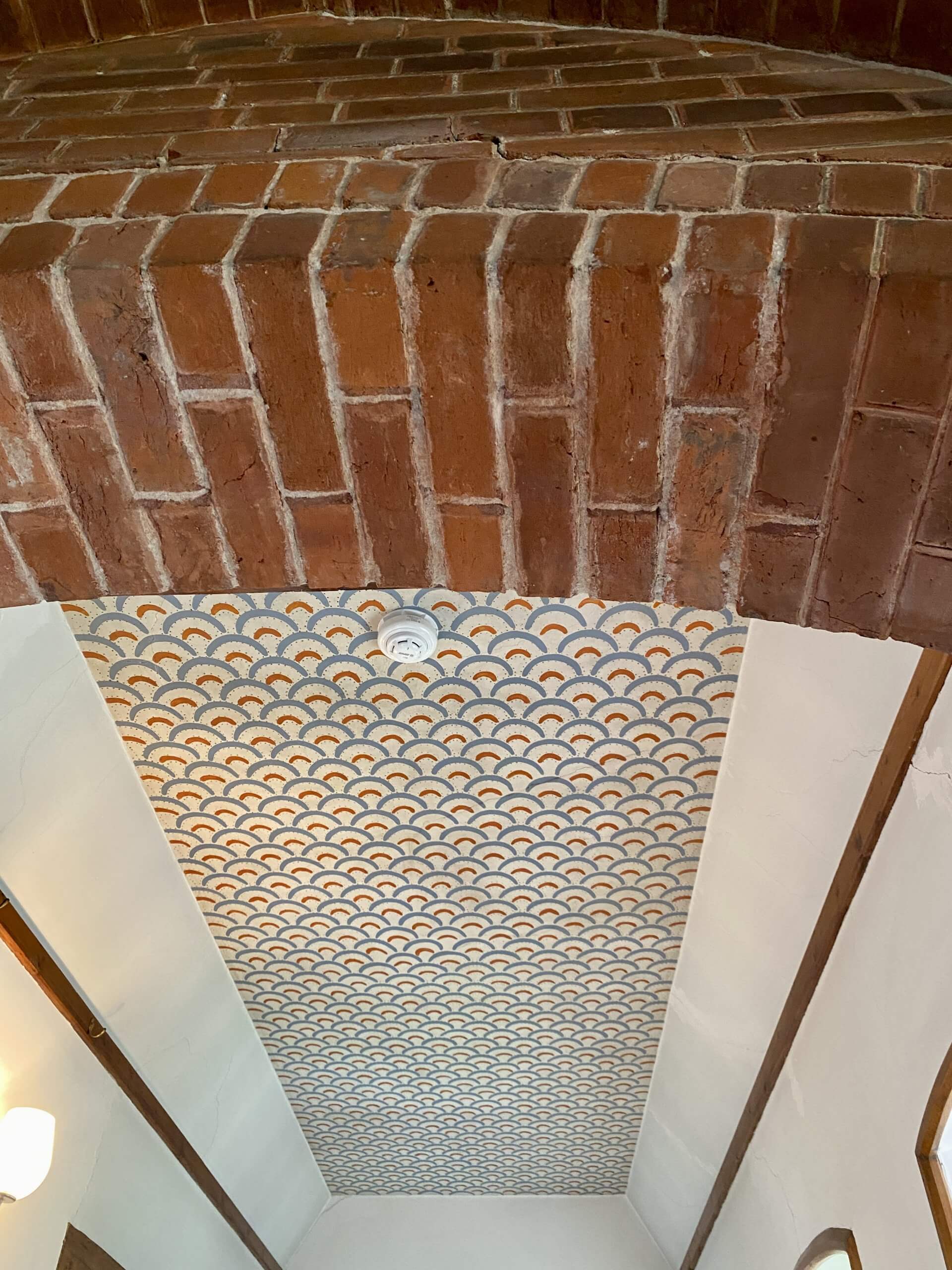 On the landing, there are painted glass panelled windows designed by Morris. He adopted his motto 'Si Je Puis' (meaning 'If I can') from the fifteenth-century Flemish painter Jan Van Eyck, who he admired.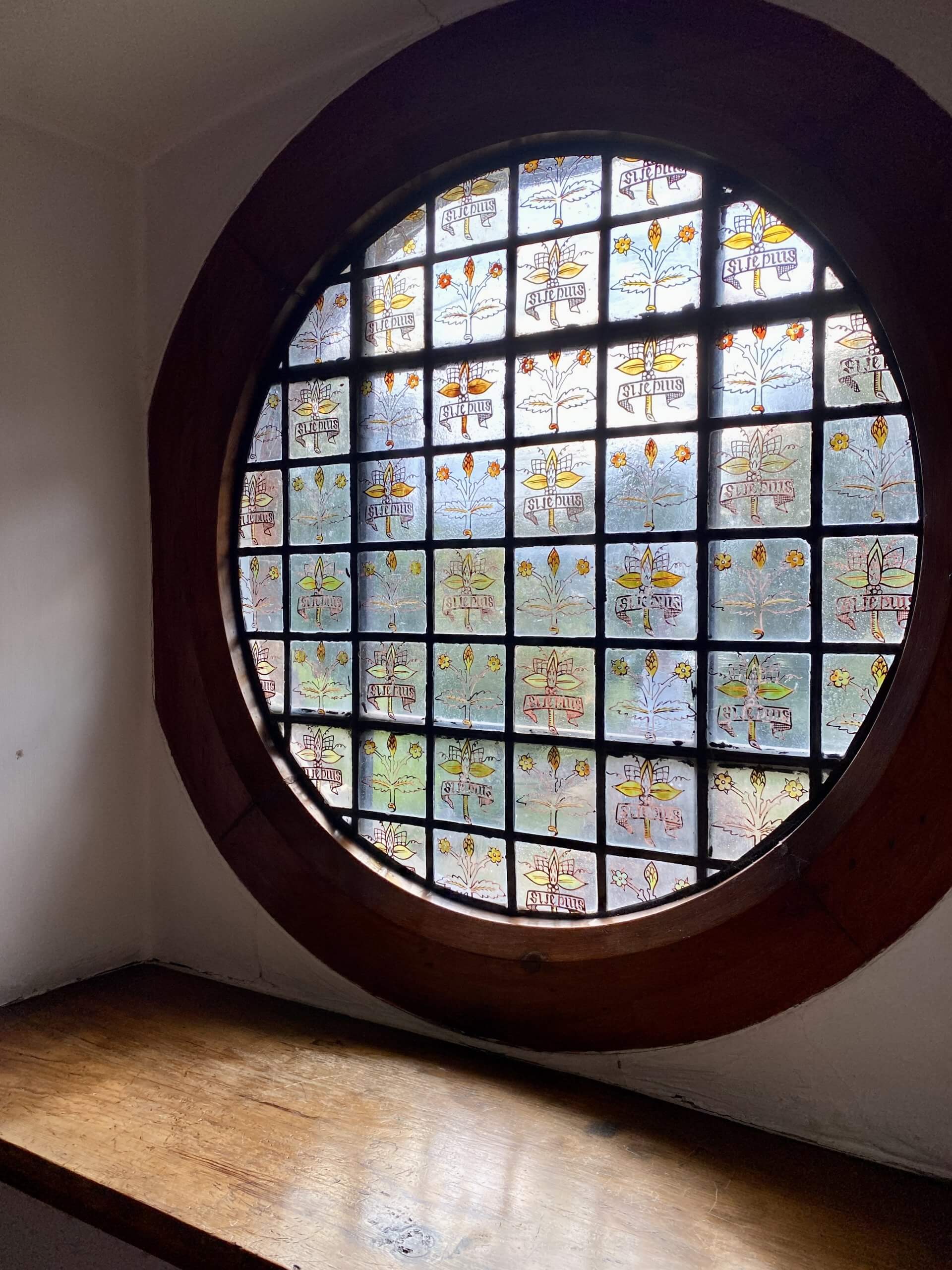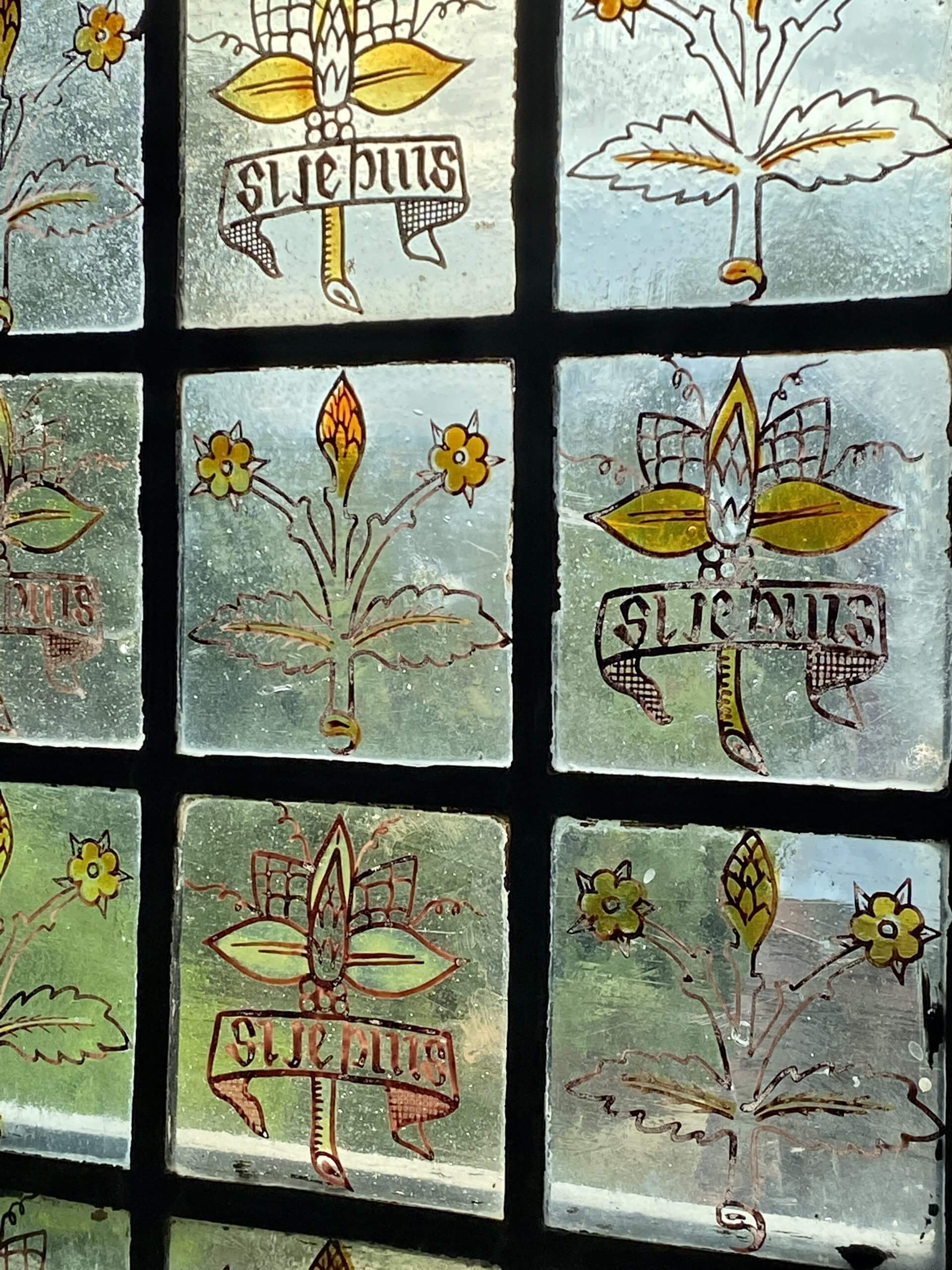 Studio
The studio is the brightest room in the house. This was Morris's creative space, although I think it's safe to say he didn't limit himself to one room. 
It has eight different windows in three different directions so is always full of natural light. This is where William Morris worked to create the patterns we now know. The first three of those patterns – Trellis, Fruit and Daisy – were designed in this room. They were inspired by nature and the view of the garden and the countryside that William Morris saw outside of these windows.
The studio walls have the Morris-designed Marigold wallpaper. There are some sample printing blocks on display.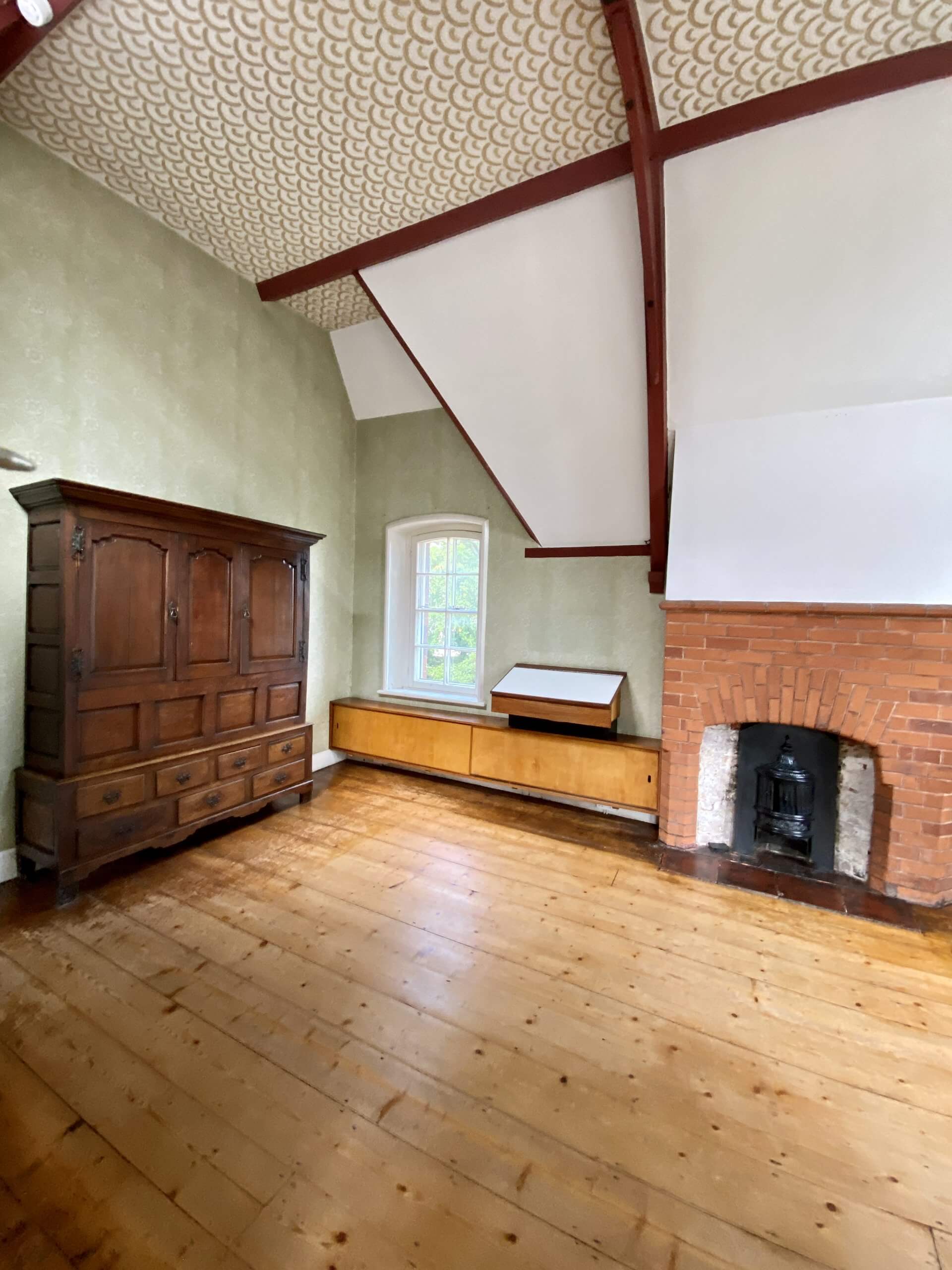 William and Jane Morris's Bedroom
This room is empty and kept dark as the focal point is a wall mural that was uncovered by the National Trust in 2013. I was surprised by how small the master bedroom was as my modest Victorian home has larger bedrooms.
The mural depicts biblical characters from the book of Genesis. It was uncovered behind a wardrobe and has taken an amazing conservation effort to bring it to the standard so that visitors can now appreciate it.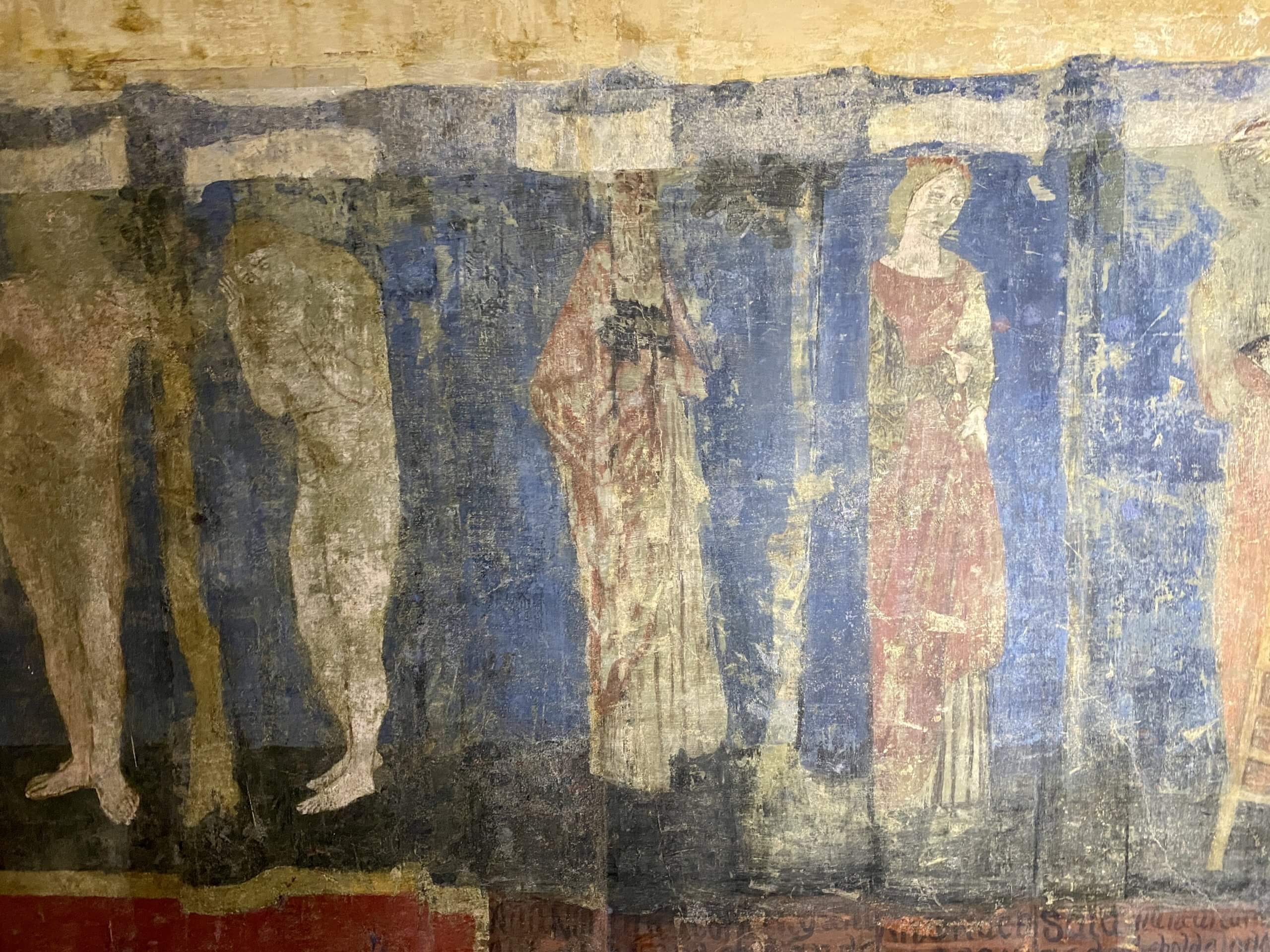 It is thought that the two figures on the right are the work of Elizabeth Siddal as there is a letter in the archives that she wrote to Rossetti asking for his help. It is, therefore, thought the two figures on the left (Adam and Eve) are by Rosetti. Ford Maddox-Brown probably did the central figure.
When Hollamby lived here he had discovered some of the mural. He fitted a false wardrobe to the left so when he was taking visitors around the house he could have a big reveal when he opened the doors.
The National Trust conservators have been working in this room so there are squares of paint or paper missing on the ceiling and walls to uncover earlier decoration.
Do also see the daisy crewel wall hanging. This is a replica of a piece designed by William Morris for Red House, worked by William and Jane Morris. Jane brought home some blue serge cloth and Morris wanted to make something beautiful out of something ordinary. Kelmscott Manor has the original.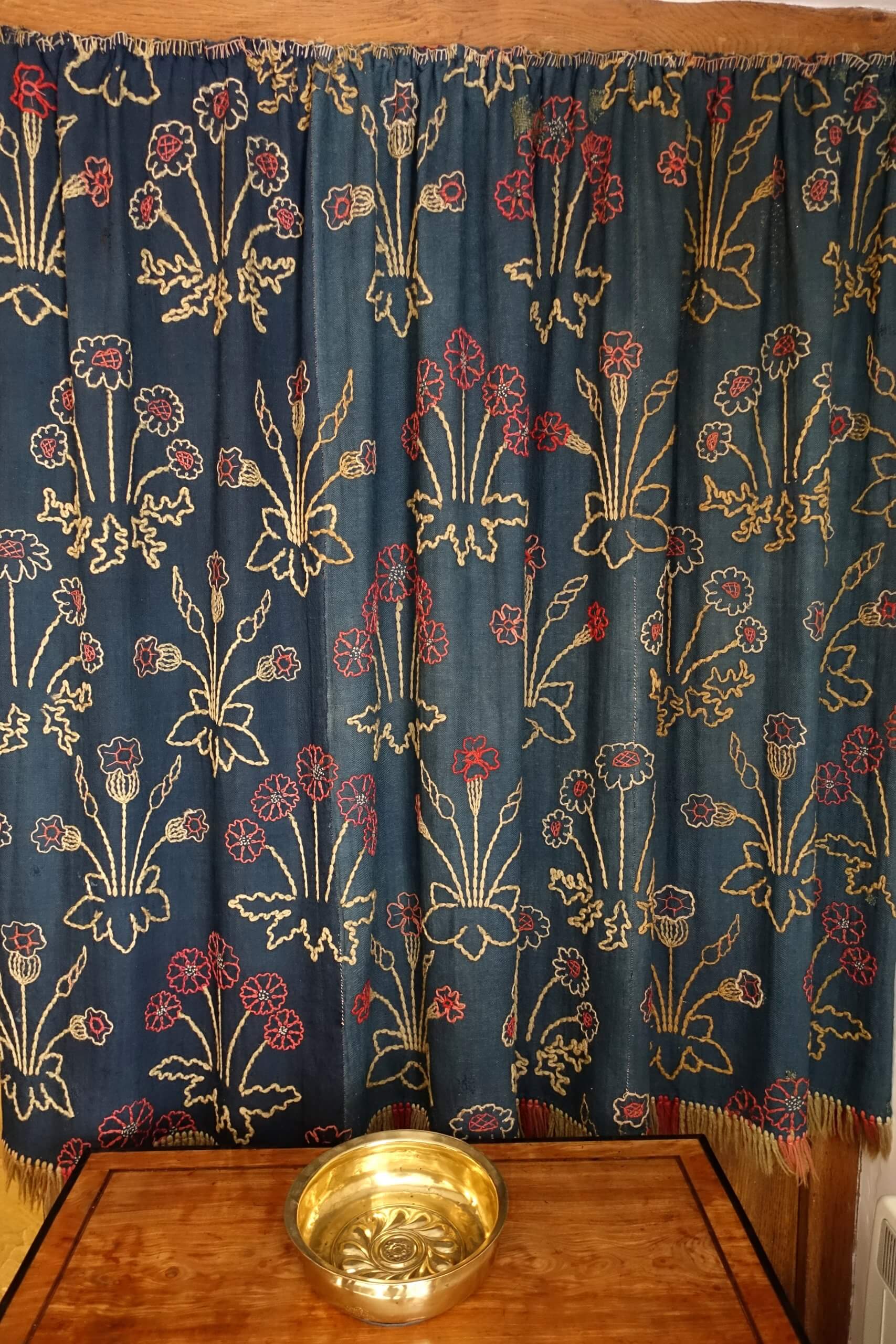 Drawing Room
This was the most used room at Red House. On the drawing room walls, Morris had wanted a mural featuring a series of scenes from the fifteenth-century Middle English romance Tale of Sir Degrevant.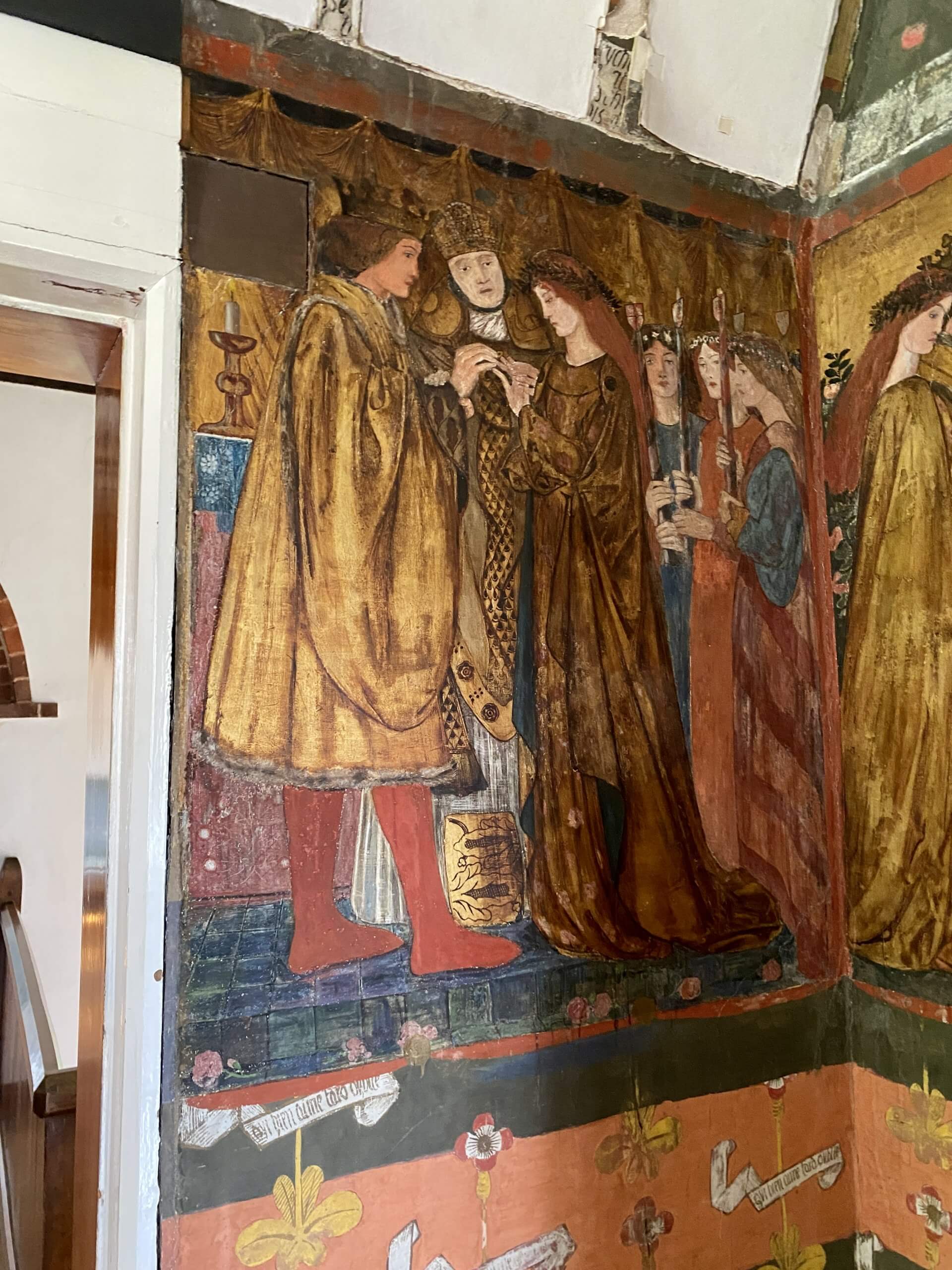 The mural was painted by Edward Burne-Jones as a wedding present to William and Jane Morris. The faces of the husband and wife in the wedding ceremony are based on William and Jane.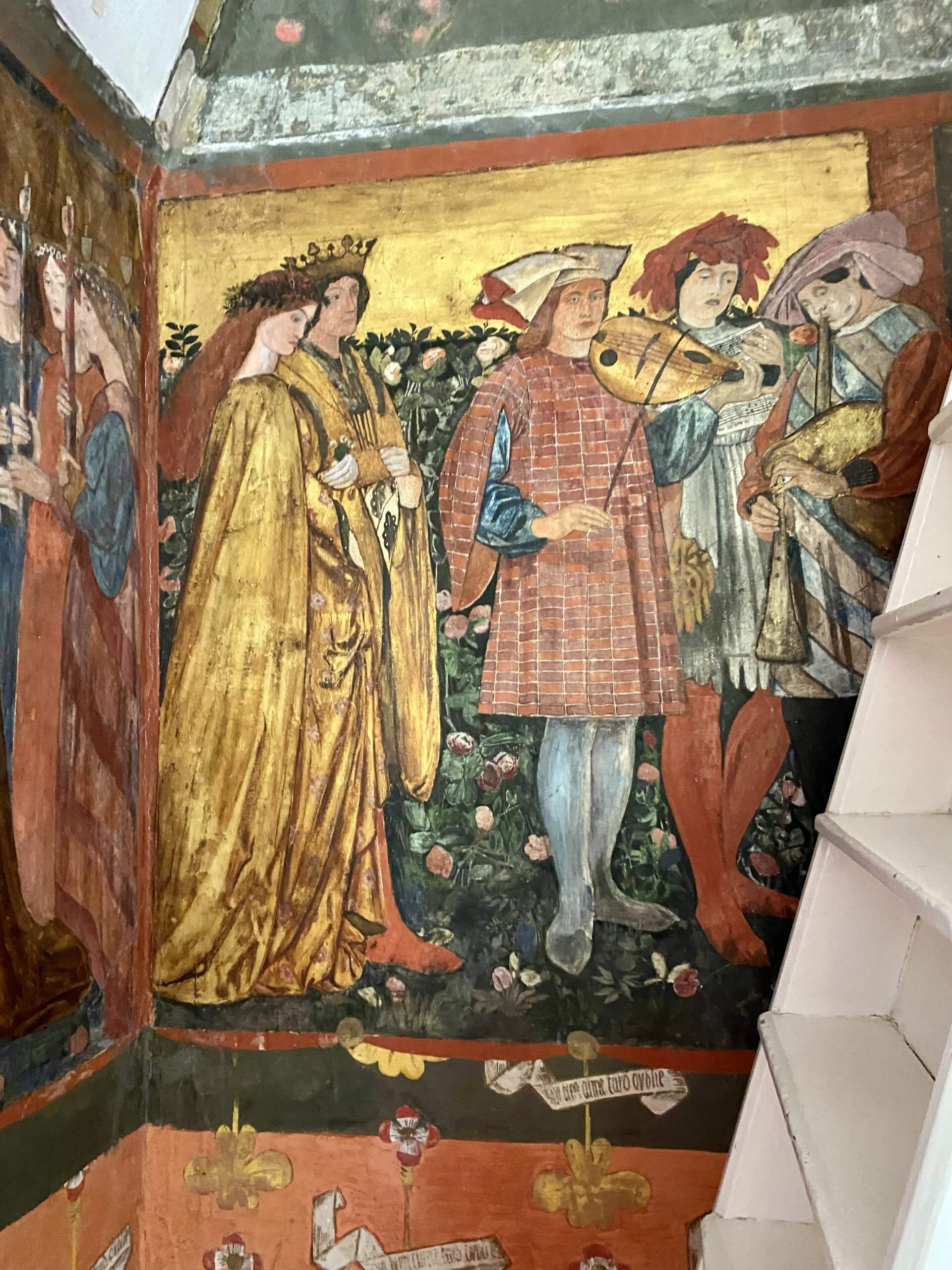 There are several quirky features to look out for – the group were obsessed with wombats and Burne Jones added one under the chair.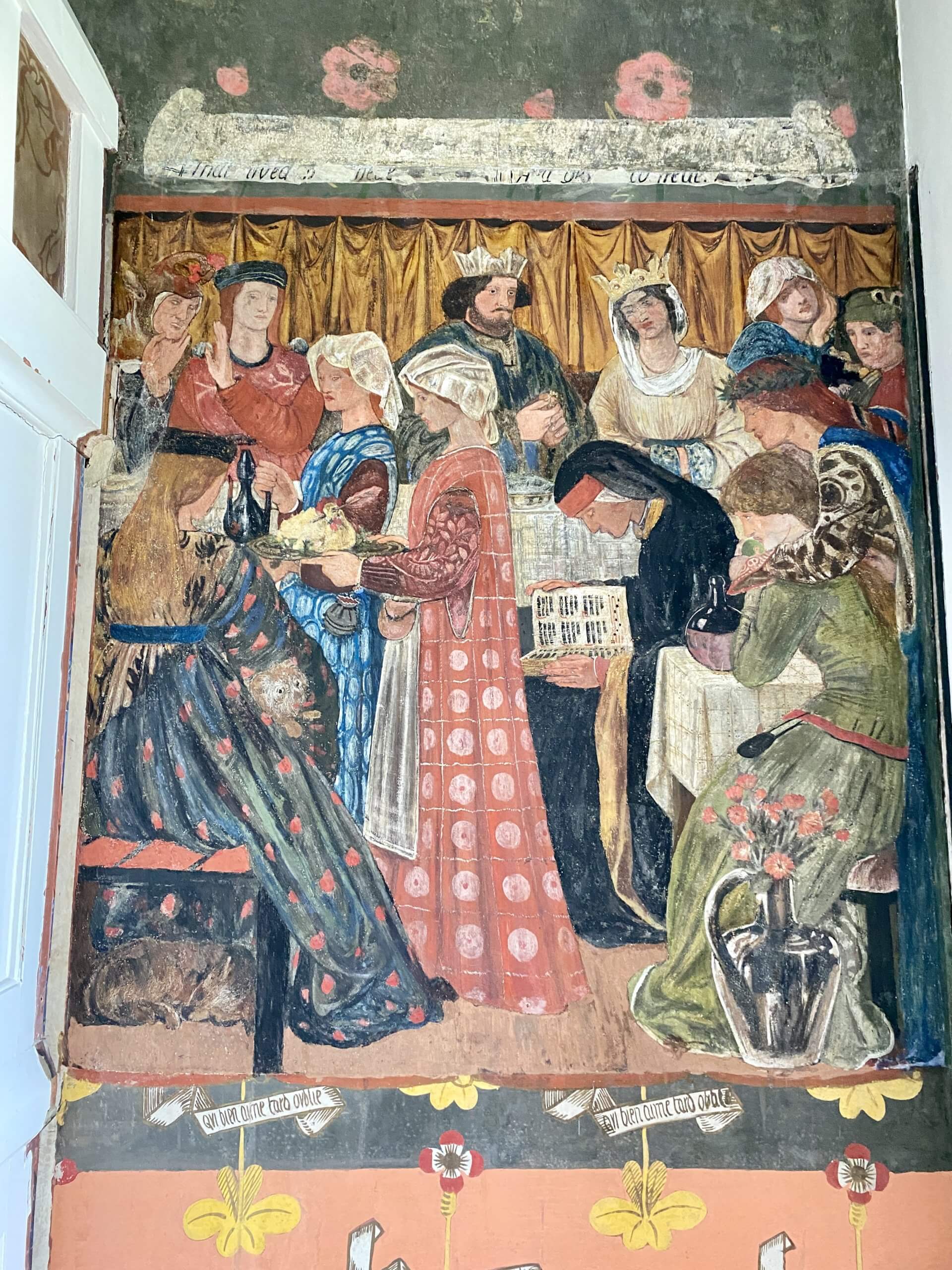 In 1856–59, Morris lived with Edward Burne-Jones at 17 Red Lion Square, WC1. A large settle designed by Morris for Red Lion Square was dismantled and brought to Red House for the drawing room. A ladder was added so they could reach the apple store above.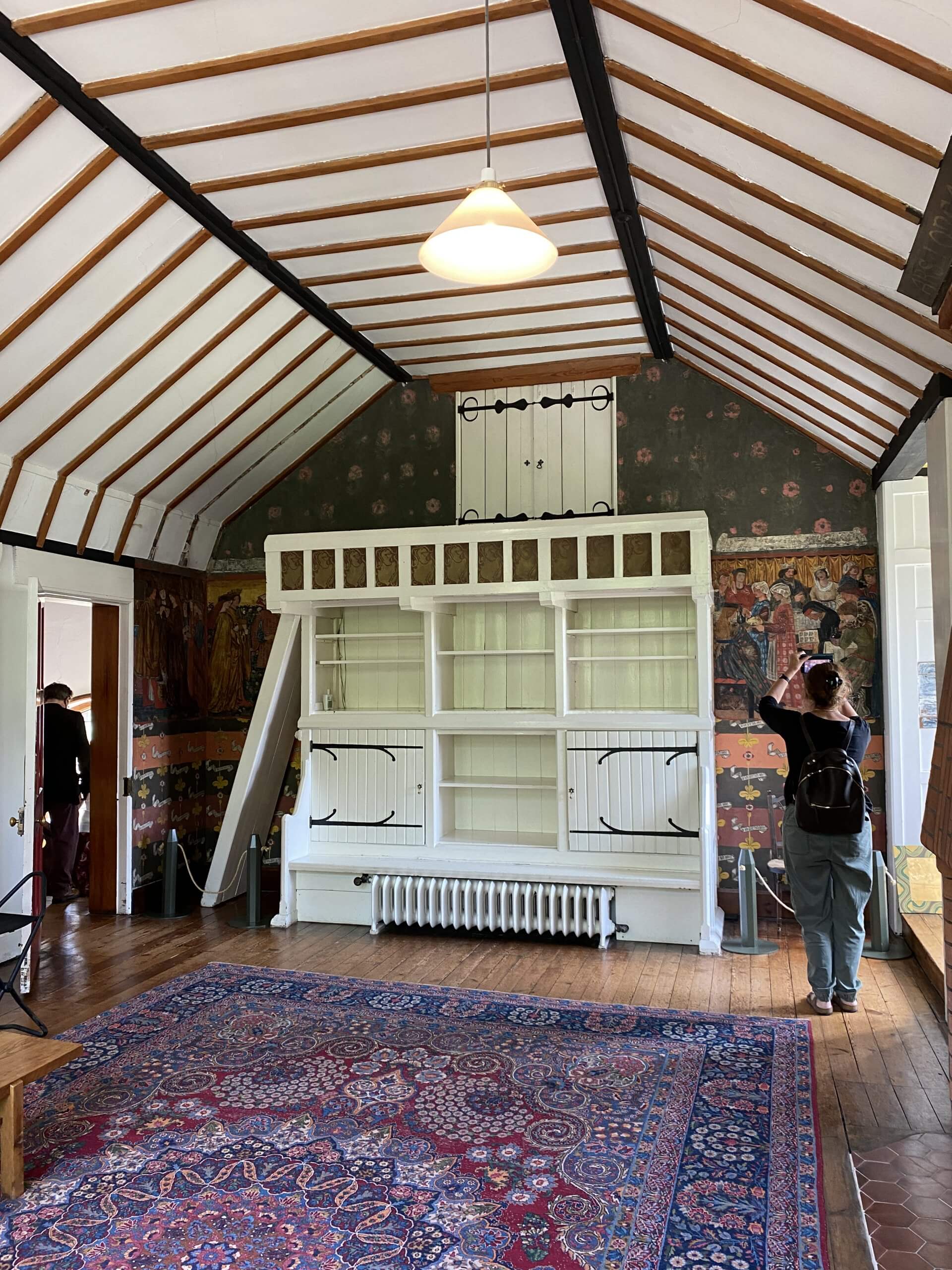 Above the mural, you can see the first floral repeating pattern of pink flowers by William Morris. Those pink flowers appear again in Trellis – his first wallpaper design.
Commenting on the decoration being introduced by his friend, in February 1862 Burne-Jones wrote that "Top [William Morris's nickname] is slowly making Red House the beautifullest place on Earth."
This was another room that looks calm now, as it has been whitewashed, but was very busy with color and pattern when Morris lived here. The pianoforte in this room did belong to Ford Maddox-Brown but was added later by Charles Holme. There's a lovely window alcove which was used by Jane Morris and Georgina Burne-Jones for embroidery when indoors. And over the fireplace – the largest in the house – there is the Latin motto, 'Ars longa vita brevis' meaning 'Life is short, but art endures'.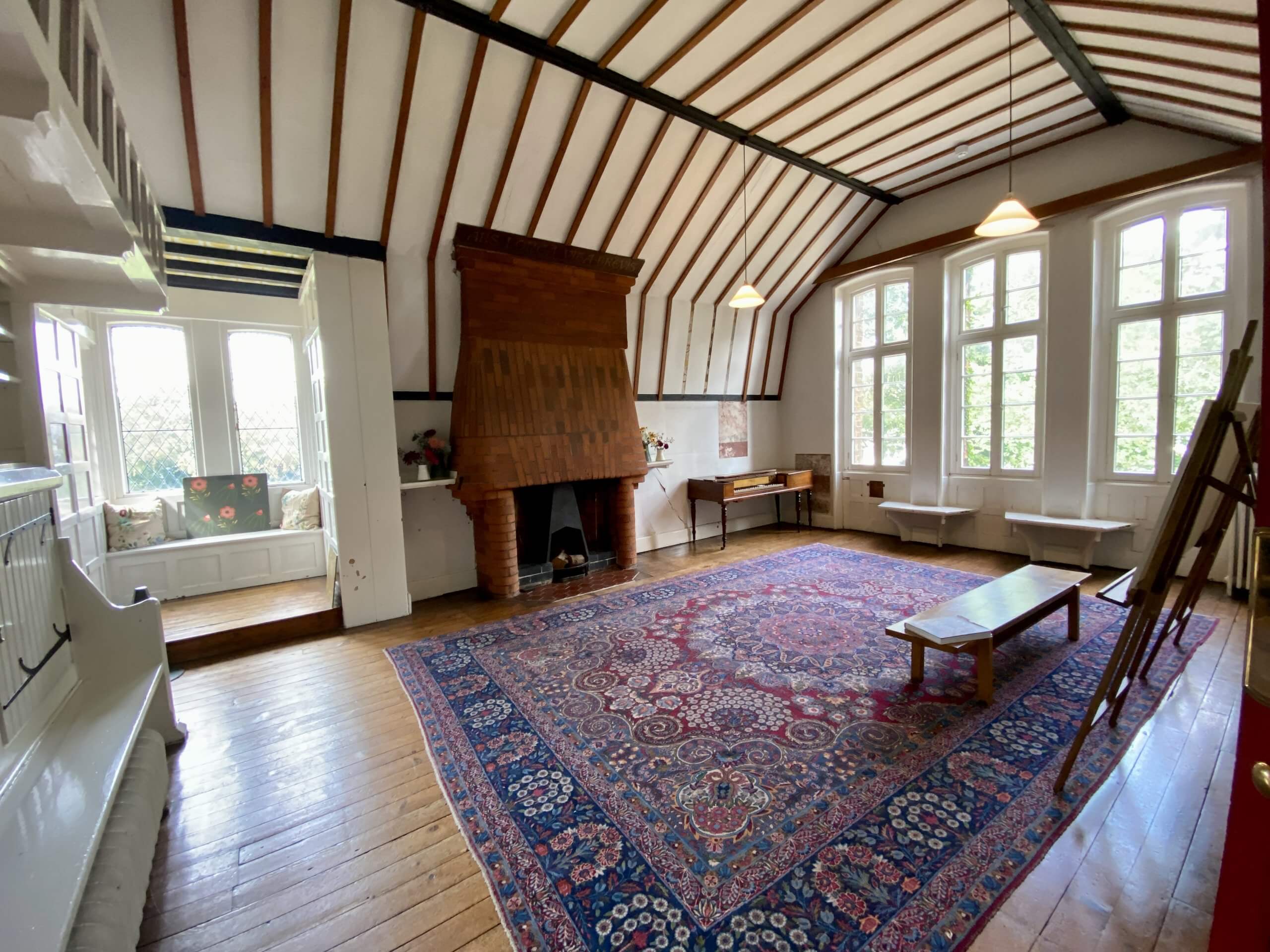 Pilgrim's Passage
In reference to the route taken by Medieval pilgrims headed to Canterbury, Morris termed the corridor which connects the entrance hall to the house's rear entrance, The Pilgrim's Passage.
The painted glass panels remind us how young William Morris and his friends were when they came here. In their mid-20s, their art and design was often about being playful and fun. William Morris himself designed and painted the flowers on these panels that looked out onto the well courtyard. He didn't feel confident enough in his artistic skills to do the birds so he asked his friend and architect Philip Webb to paint them.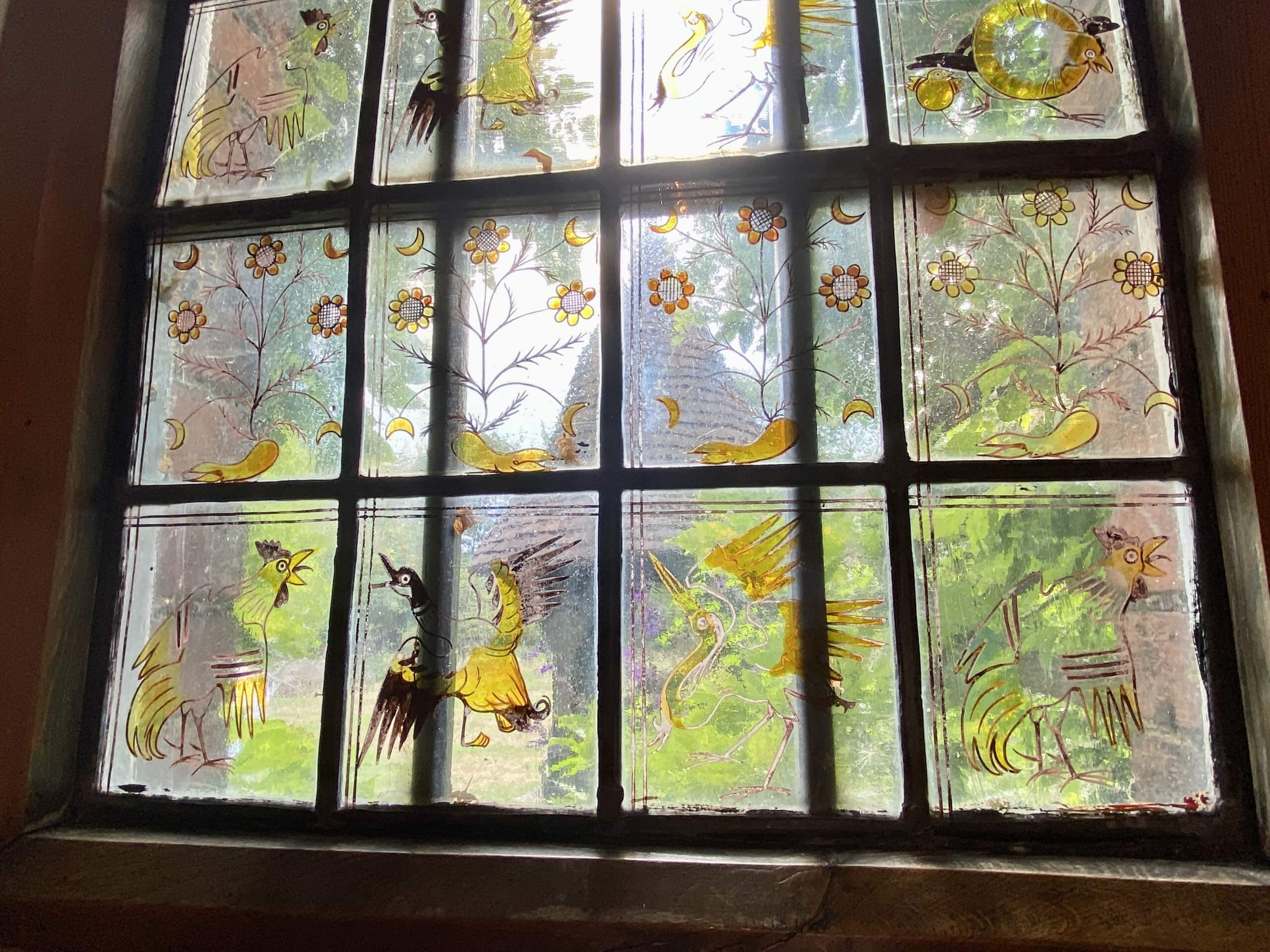 These paintings emphasized the connection between the house and the garden that they were striving for. The two stained glass panels are by Edward Burne-Jones.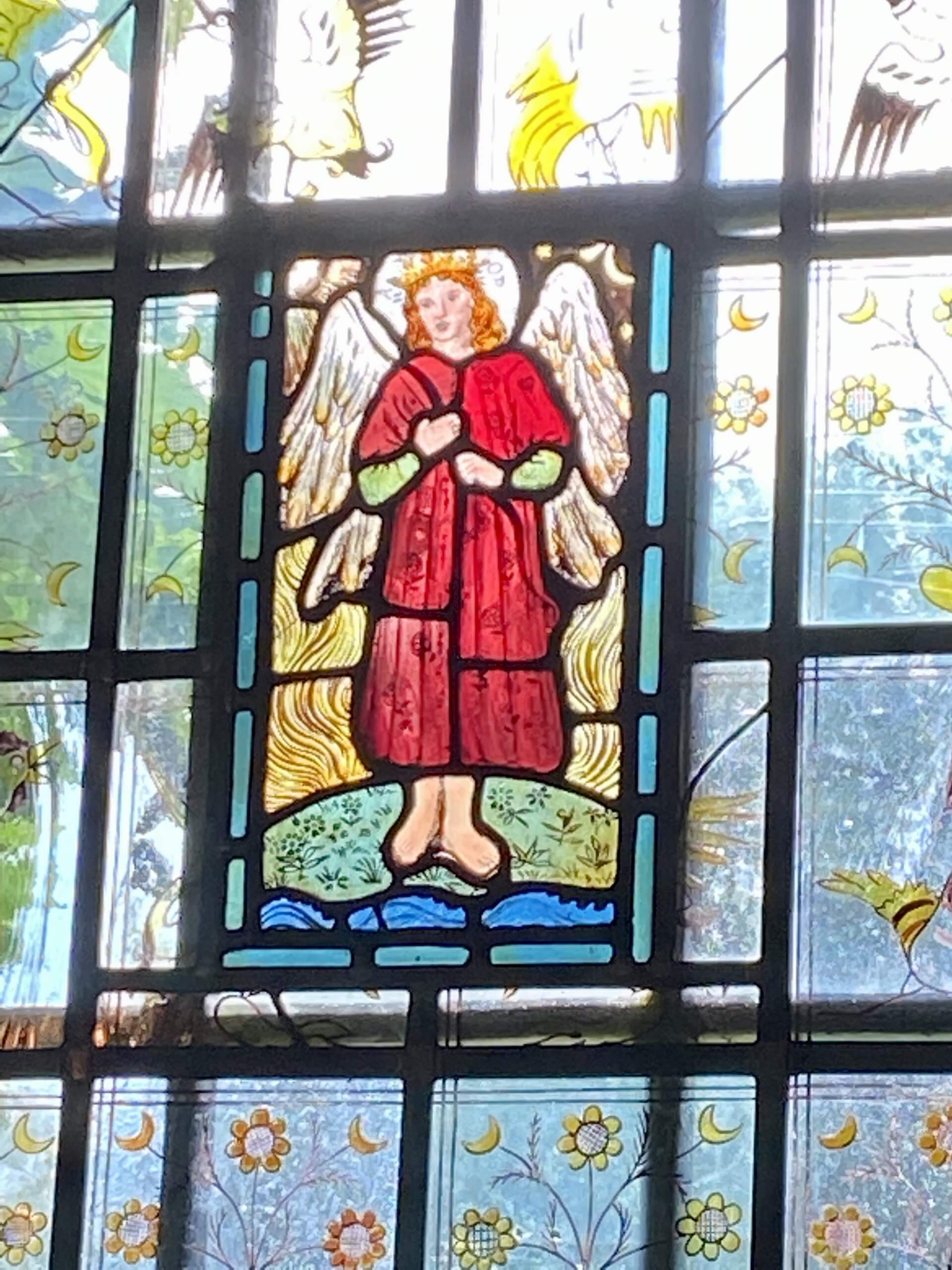 As an aside, the well was quite a feature at the time as London did not have good, clean drinking water.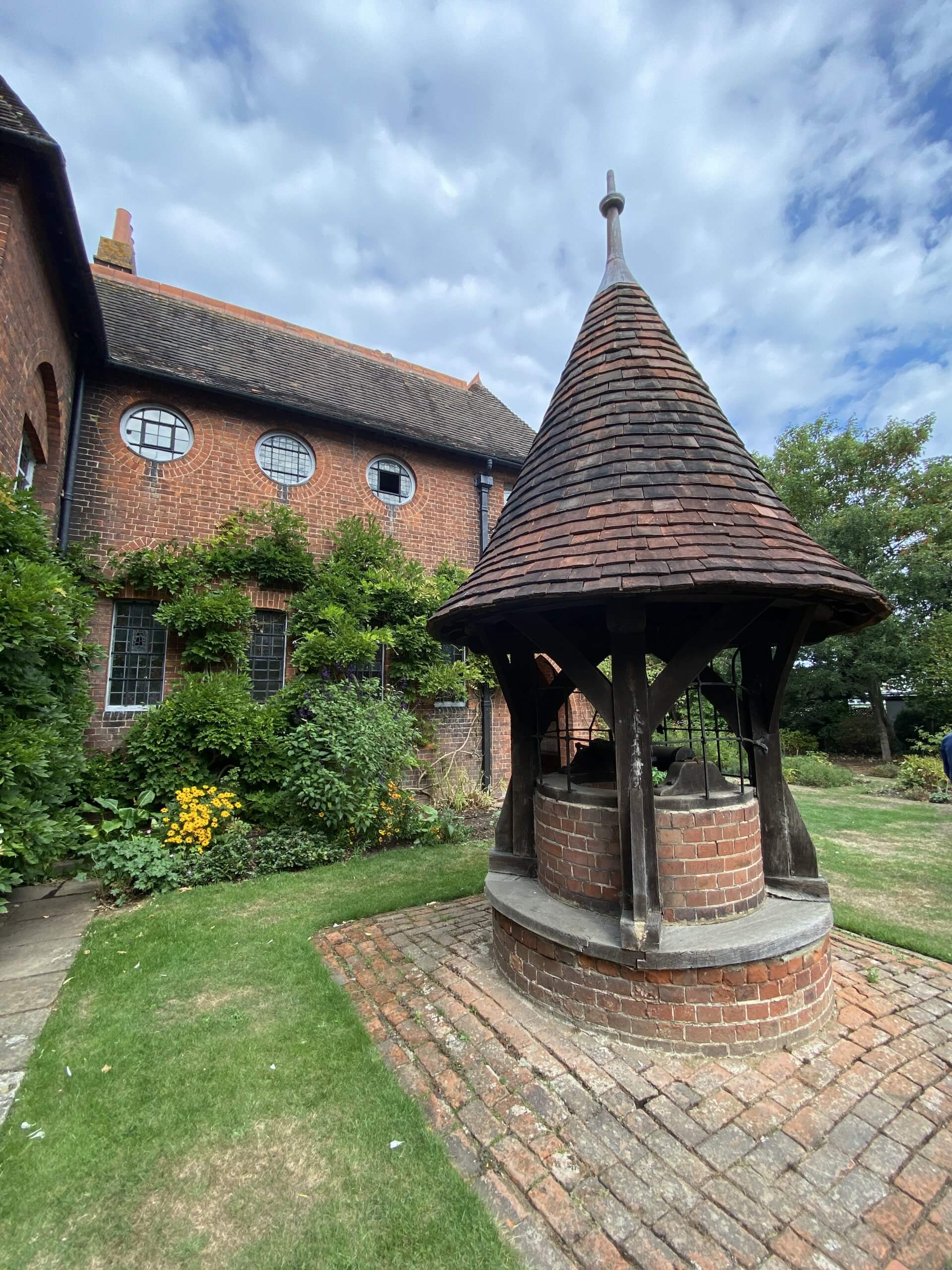 Batchelors' Bedroom
There is a permanent exhibition in a ground floor room known as the bachelors' bedroom during Morris's time. Above the fireplace is the only inscription in English in the house. It reads 'our content is our best having' which is from Shakespeare's Henry VIII.
The Garden
When Philip Webb designed Red House, the garden was considered an extension of the design plan. The four small enclosures to the north and east of the house were known as garden rooms. Morris's insistence on designing the house and garden together, in the historian Fiona McCarthy's opinion, helped to inspire the Arts and Crafts Garden Movement of the 1890s and 1900s.
These 'rooms' were lined with trellis which was planted with a plethora of native and traditional flowers such as white jasmine, honeysuckle and wild roses.
On the west side of the house, the Bowling Green is bordered by a fragrant rosemary hedge. The Bowling Green was part of the original Morris garden. The family's daughters Jenny and May would play here with pets and visiting friends.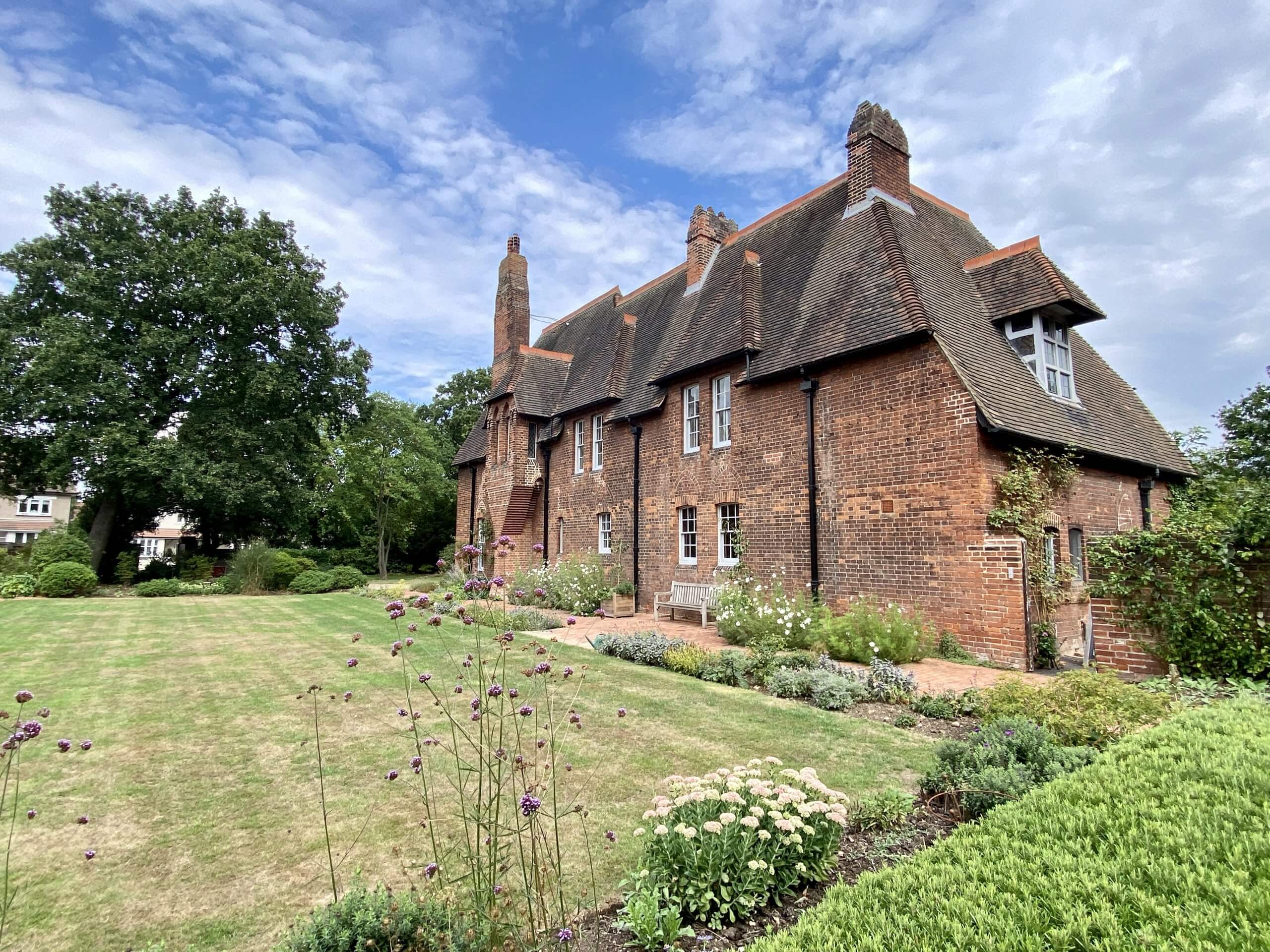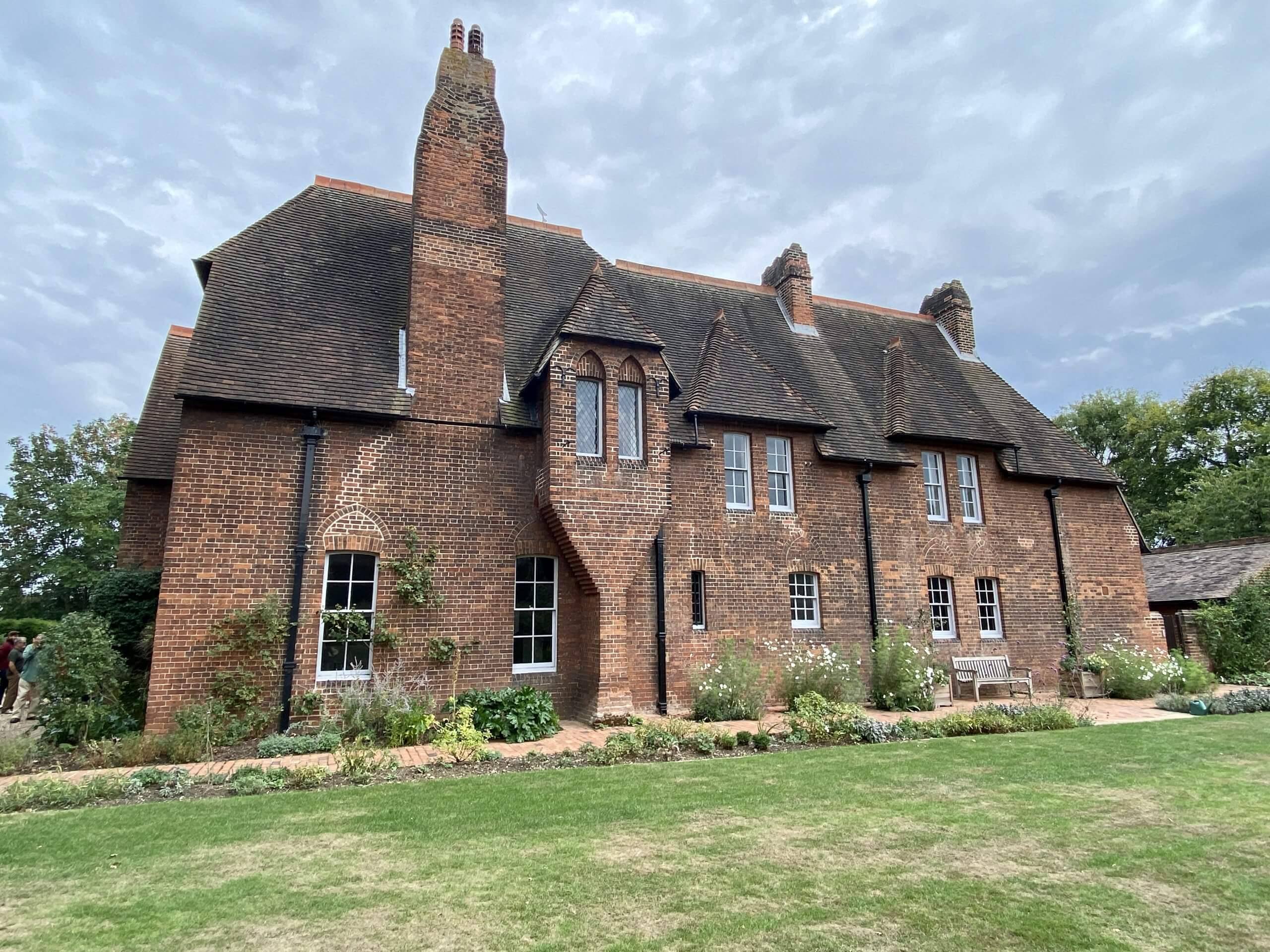 A rose arch marks the divide between the original Morris garden and the Orchard, which was added later.
Gift Shop
The gift shop is in the former coach house. It's mostly a National Trust secondhand bookshop with a few Morris print items for sale.
Visitor Information
The house is open to the public a few days a week. Do note, most National Trust properties are closed for the winter season and reopen in March/April. Your visit is a guided tour on a circular route so do take photos as you go as you can't return to the rooms. All visits must be booked in advance. There is no on-site tea room and it is in a suburban residential area.
Address: Red House, Red House Lane, Bexleyheath, London DA6 8JF
Nearest station: Bexleyheath and then a 15-minute walk.
Red House does not have a car park. The closest public car park is about a 15-minute stroll to Red House.
Official Website: www.nationaltrust.org.uk/red-house