Everyone loves a good romantic film.  We like the idea of two people living happily ever after, and the City of London has many such stories.  In every corner of the city over the last few decades, there have been stories of people falling madly in love, often through trying (and sometimes hilarious) circumstances.  What's more, some films show many different kinds of love and romances that don't always have a happy ending.  You, the reader, may not understand how difficult it was to populate this list with movies *not* involving Richard Curtis, but we managed to find a few.  Let us know some of your favourite London romance films in the comments.
Notting Hill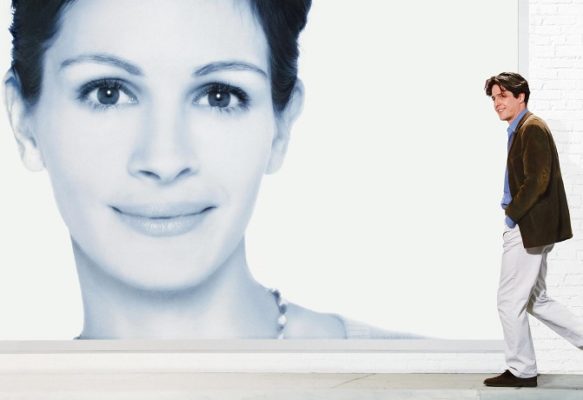 Seems appropriate to kick of this list with a film written by Richard Curtis.  The 1999 film sees Notting Hill bookshop owner Will Thacker (Hugh Grant) begin an improbable relationship with Hollywood star Anna Scott (Julia Roberts).  The relationship goes swimmingly until the press finds out, then reality sets in as Will and Anna try to make it work.  In addition to Grant and Roberts, the film features some great performances from Rhys Ifans, Emma Chambers, and Dylan Moran.
Sliding Doors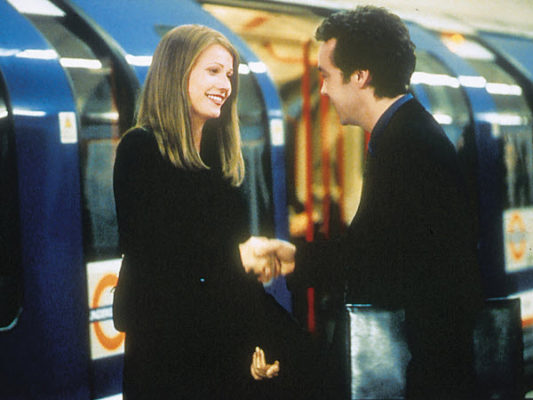 One of those "what if" films that shows two separate results of one moment in time, Helen (Gwyneth Paltrow) just got fired from her PR job and is trying to catch the Tube.  In one timeline, she manages to catch the train, but in the other, she misses it.  The rest of the film follows the events that result from both possibilities.  When Helen catches the train, she meets James (John Hannah), discovers her boyfriend Gerry's infidelity, and decides to start a new life for herself with James.  When Helen misses the train, she never meets James or discovers Gerry's misbehavior and has two take two part-time jobs.  In both timelines, the story's ending is bittersweet, but opens to the promise of a new love with James.
Run Fatboy Run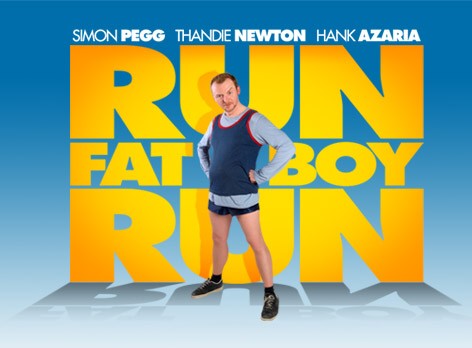 This romantic comedy featuring Simon Pegg as Dennis Doyle is a story about trying to win your love back.  In the past, Dennis got cold feet on the day of his wedding to Libby (Thandie Newton) and left her at the altar.  Five years later, Libby is with a new man, Whit (Hank Azaria), who is going to run the London Marathon.  Dennis figures that if he can do it too, he has the chance of winning her back and proving he can commit.  The race shows both Dennis's and Whit's true colours and reaches its ultimate happy ending despite troubles for Dennis.
About Time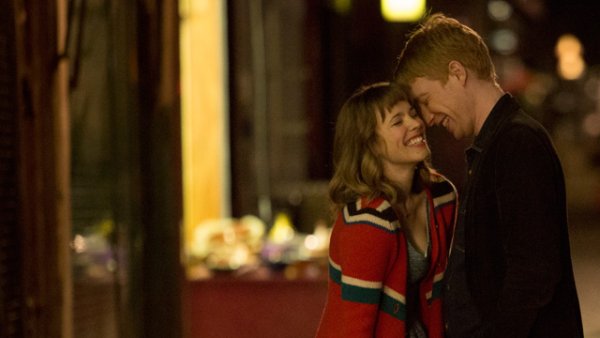 Our second Richard Curtis film to make the list, it's a big like Sliding Doors, except Domhnall Gleeson plays Tim Lake, who belongs to a family where the men have the ability to travel within their own timeline.  Tim has to come to fully understand his power while pursuing Mary (Rachel McAdams) and dealing with his father's death.  Ultimately, Tim comes to realize that not all life's problems can be fixed by changing the past and he and Mary work instead to change the present and enjoy life together.
Indiscreet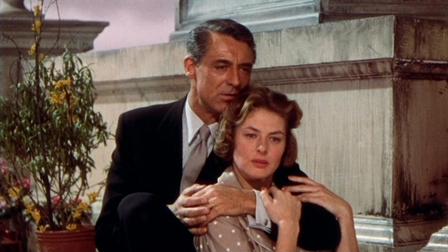 A classic romantic film, 1958's Indiscreet features Ingrid Bergman as London actress Anna Kalman, who's given up on finding the man of her dreams until she meets Phillip Adams (Cary Grant).  Unfortunately, Phillip is married…or so it appears.  The black-and-white film harkens back to the classic Hollywood era of cinema and with two magnificent leads, Indiscreet is sure to keep your attention to the very end.
Shakespeare in Love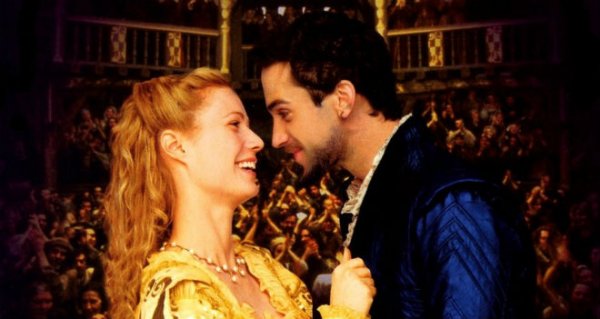 Turning back time to the Elizabethan era, this 1998 films sees a fictional relationship between William Shakespeare (Joseph Fiennes) and Lady Viola de Lesseps (Gwyneth Paltrow) become the inspiration for Romeo and Juliet.  While Shakespeare suffers from writer's block, he meets Viola who is attempting to start an acting career by pretending to be a man (women weren't permitted to be actors at the time).  While the film plays fast and loose with history, it includes any number of people connected to Shakespeare's life, including Richard Burbage (Martin Clunes), Phillip Henslowe (Geoffrey Rush), Ned Alleyn (Ben Affleck), William Kemp (Patrick Barlow), Queen Elizabeth I (Judi Dench), and more.
About a Boy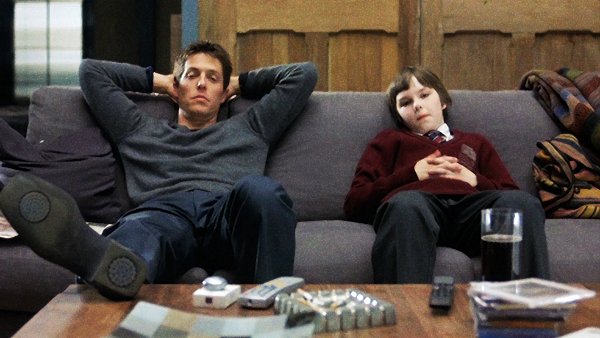 Based on the novel by Nick Hornby, Hugh Grant (the poster boy for British romantic leads) plays Will Freeman, a bored womanizer who lives off the royalties from a Christmas song written by his father.  Will decides to start picking up women by going to a single parents support group, but has to invent a child when he meets Suzie.  His date with Suzie brings him to encounter Marcus, a young boy from a troubled single-parent home and they strike up an improbable friendship, with both ultimately benefitting as Marcus becomes more sure of himself at school and Will begins a relationship with career woman Rachel (Rachel Weisz).  Not a romantic film in the traditional sense as the romantic relationships aren't the focus of the film, but it presents an important lesson that having a support network is essential to making a romantic relationship work.
The Importance of Being Earnest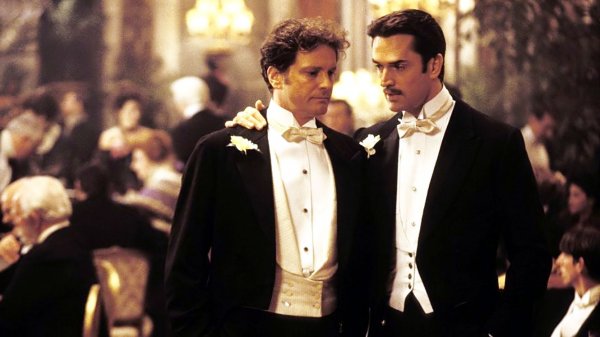 Another adaptation, this 2002 version of Oscar Wilde's play sees Rupert Everett as Algy Moncrieff and Colin Firth as Jack Worthing and satirizes Victorian values and marriage.  Both Algy and Jack use the name Ernest to pursue Cecily Cardew (Reese Witherspoon) and Gwendolyn Fairfax (Frances O'Connor), respectively.  Predictably, mass, hilarious confusion ensues ultimately coming to a happy ending for all.  This adaptation tends to be love-it-or-hate-it depending on the person watching it, but the casting choices are quite well done.
One Day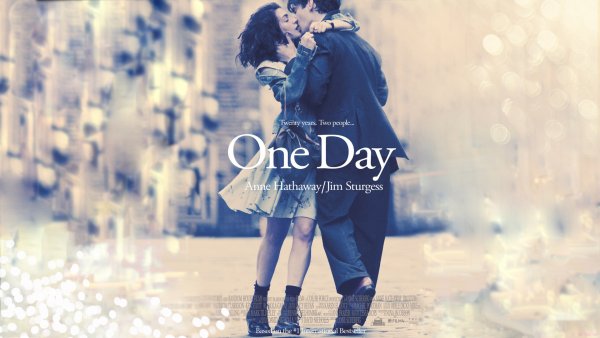 Emma (Anne Hathaway) and Dexter (Jim Sturgess) meet on St. Swithun's Day (15 July) every year since they graduated from the University of Edinburgh in 1988.  Deciding to stay friends despite deeper romantic feelings, the film follows them both as they go through the ups and downs of life before finally getting together.  The film's ending is also bittersweet, but serves as an excellent reminder of how true love can change people for the better. It's also just best to ignore Anne Hathaway's attempt at a Northern English accent.
Love Actually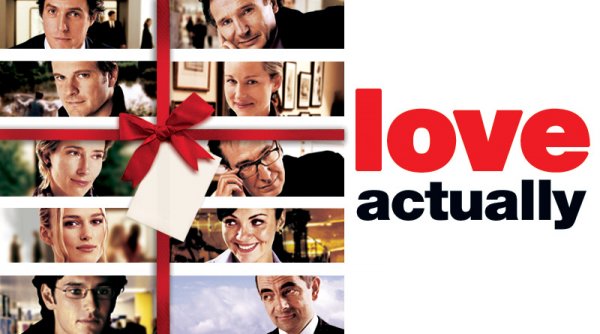 Here at Londontopia we definitely have a love for Love Actually and write about it often enough.  Of course, that's certainly with good reason.  Richard Curtis's directorial debut is a star-studded event that juggles multiple types of love and stories in a way that no other film has really been able to duplicate.  Whether Jamie's (Colin Firth) and Aurelia's (Sienna Guillory) love despite a language barrier, Billy Mack's (Bill Nighy) platonic love for his manager Joe (Gregor Fisher), Mark (Andrew Lincoln) moving past his love for married Juliet (Kiera Knightly), and the other great stories, Curtis presents a full picture of love in its many forms with no one story really suffering from the attention given to the others.  While also a Christmas film, it's really good just about any time of the year.
Which one is your favourite? Let us know in the comments!