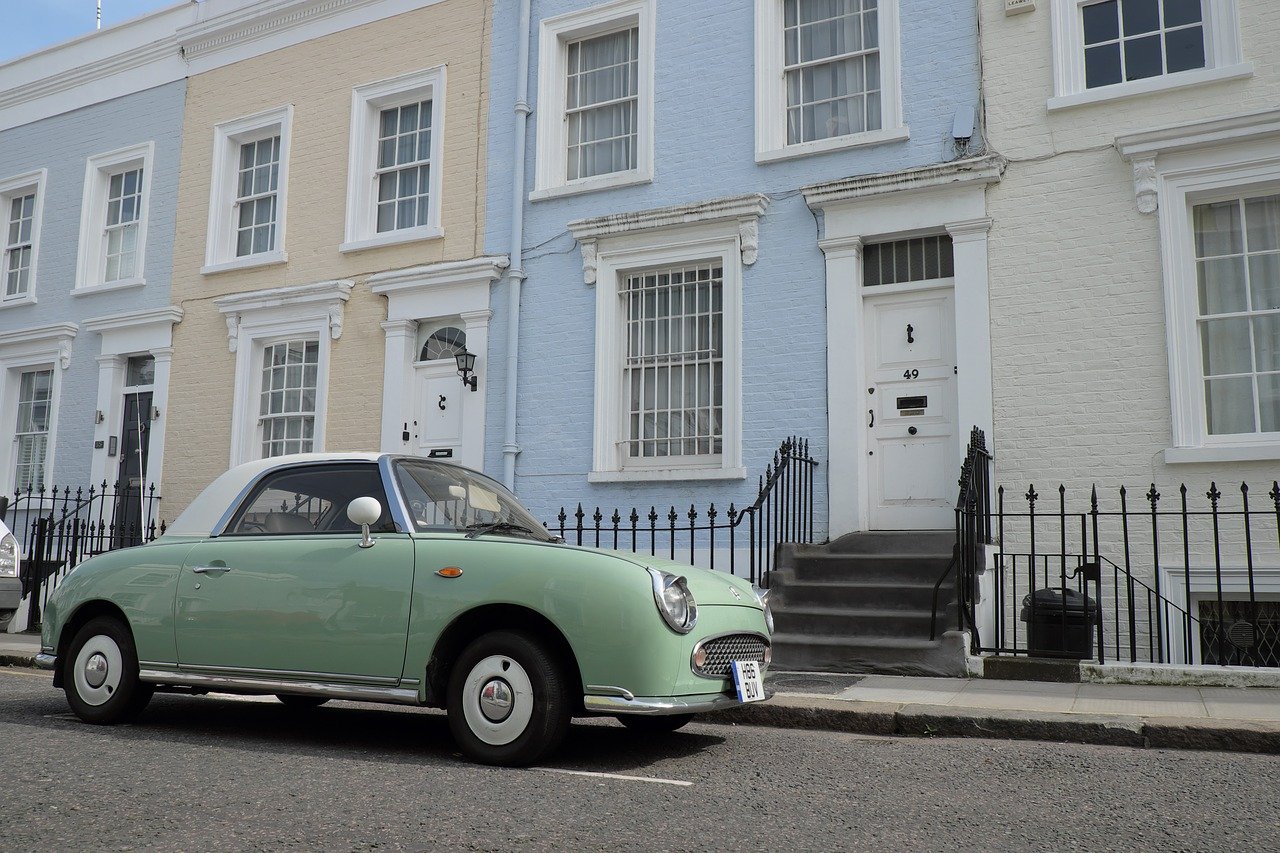 Everyone loves a good Romantic Comedy, or Rom-Com, as it were.  The United Kingdom has certain produced its fair share over the years, including a few not actually written and/or directed by Richard Curtis.  Of course, whether it's a film by Curtis or someone else, the odds are good that the movie is going to take place in London.  London might not seem as romantic a city as, say, Paris, but it certainly has its moments.  Many of these have played out in romantic comedy films, and you can visit them for yourself to find a bit of their magic.   If you think we left out a spot that Rom-Com fans should visit, let us know in the comments.
The Blue Door – Notting Hill
Okay, yes, we're starting off with a Richard Curtis film (buckle up because a few of them are on here), but it's quite possibly the most iconic location in any of his movies.  280 Westbourne Park Road in Notting Hill served as the exterior of Hugh Grant's flat in the movie and gained quite a following as a result.  The then-owners got a little tired of the attention and painted the door another color, but the current owners love their door's fame and painted it back.
Great Hall of Middle Temple – Shakespeare in Love
You might expect the Globe to be on this list, but it doesn't actually appear in the film as the Lord Chamberlain's Men were using the Rose Theater at the time (which does appear but is a studio set).  However, you can visit the Great Hall of Middle Temple in Whitehall, where the Lord Chamberlain's Men perform Two Gentlemen of Verona for Queen Elizabeth I (itself a stand-in for the Great Banqueting Hall of the Palace of Whitehall).
Royal Courts of Justice – Bridget Jones's Diary
While the courts may not seem like a romantic location, the Royal Courts of Justice do provide the location of a pivotal moment in Bridget's relationship with Mark Darcy.  While Bridget is meant to be covering an important story for her news program, she runs across the street to buy cigarettes only to discover she missed her moment to interview the star-crossed lovers at the heart of the case.  However, Mark comes in right after her and provides an opportunity that no other reporter gets, which helps to change her opinion of him for the better.
Waterloo Station – Sliding Doors
The crux of the film is two timelines caused by the same event that effect Gwyneth Paltrow's character, Helen.  That event is whether she catches a train at Waterloo Station and meets John Hannah's James, which ends up drastically affecting the course of her life.  Waterloo Station, of course, is an easy place to visit and you can imagine what would happen if you board the right Tube train.
Old Royal Naval College Chapel – Four Weddings and a Funeral
Out of the four weddings in the movie, the only one that goes through and takes place in London occurs between Bernard and Lydia (who met at Wedding No. 1).  The place for their nuptials is "St. Mary of the Fields" in the movie, but it was filmed at the Old Royal Naval College Chapel.  Wedding No. 4, when Charles decides he won't marry Henrietta and professes his feelings for Carrie, takes place at St. Bartholomew the Great, which was also used for a scene in Shakespeare in Love.
St. Paul's Cathedral – Run Fatboy Run
Run Fatboy Run features Simon Pegg as a man who's so afraid of commitment he ran away from his pregnant bride (Thandie Newton) on their wedding day.  In an attempt to win her back, Pegg's Dennis decides to compete in the London Marathon against her new boyfriend Whit (Hank Azaria).  St. Paul's Cathedral is the finish line for the race, in which Dennis gets some much-needed encouragement and the happy ending he's sought all the while.
29 St. Stephens Gardens – Alfie (1966)
Going back to the original 1966 film with Michael Caine, Alfie is about the title character sleeping around with any number of single and married women before finding the love of his life.  Anyone who wants to visit the location used for Alfie's flat in the movie need only visit 29 St. Stephens Garden in Notting Hill, which looks much the same as it did in the 1960s.
The Queen's Walk – Man Up
Another Simon Pegg romantic comedy, in this one Pegg's Jack, mistakes Lake Bell's Nancy for a woman he had a blind date with, and they end up hitting it off.  After they leave Waterloo Station (there it is again), they take a stroll down the Queen's Walk by South Bank Centre, where they get to know each other better.  You can even spot some of the chain restaurants that are outside of the Royal Festival Hall.
1 Newburgh St – About Time
A bit of an odd duck amongst Richard Curtis's films, this one features Domhnall Gleason as a man who discovers the males in his family have the ability to travel in time.  He uses this ability to engineer his relationship with Rachel McAdams's Mary and discovers that just because you can change time doesn't mean you should.  Tim and Mary meet as part of a blind date at a Dan's Le Noir restaurant location, though while the real restaurant is 30-31 Clerkenwell Green, the exterior for the movie is 1 Newburgh St. in Soho.
Heathrow Airport – Love Actually
Okay, last Richard Curtis movie (because it's the last entry).  Heathrow Airport may not seem like a romantic location, but it is central to the plot of the film for the movie's host of characters.  From the opening narration that describes the joy of meeting your loved ones at the airport's arrivals gate to Thomas Sangster evading airport security to tell his crush how he feels to the final scene where most of our main characters greet one another, Heathrow shows us that love actually is all around.