Back in 2015, I redecorated my dining room to include a feature wall section with a London Theatreland map from 1915. (This is the wallpaper – as an aside, I got the self-adhesive version so it was really easy to hang.)
One hundred years after the map was published for London Underground, I got to admire it in large-scale at home.
For a less permanent version, you can get different size posters of the map from the London Transport Museum shop or a folded sheet map from Stanfords.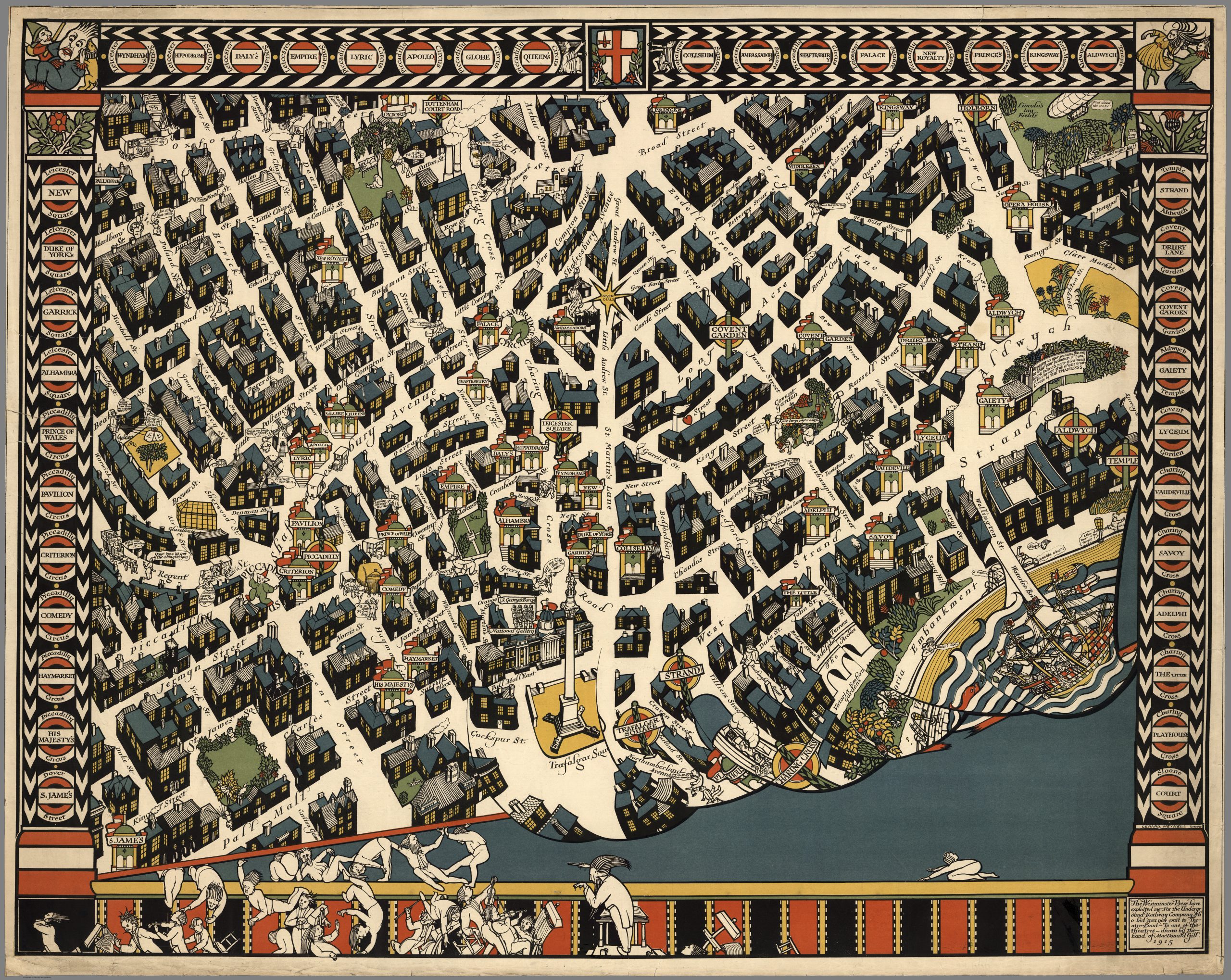 What Is It?
Most theatres stayed open throughout WWI using light-hearted entertainment to distract and boost morale. London Theatreland is a central London map that is more of a comic entertainment illustration than a wayfinder. It has playful cartoon characters with witty cartoon-bubble style annotations offering quips that would have made the commuters of a century ago chuckle and miss their train. (There were newspaper reports of this actually happening.) There are plenty of in-jokes that seem confusing now but the sense of fun is delightful.
Using an illustrative approach harking back to seventeenth-century cartography, the Theatreland map is a beautiful representation of London's theatre district in the early years of the First World War.
Covent Garden's Seven Dials and Trafalgar Square are down the middle of the map with the Palladium theatre in Soho (near Oxford Circus station) in the top left and the S. Jame's (as named on the map) on Pall Mall at the bottom left. The top right is Lincoln's Inn Fields near the old London Opera House on Kingsway (now LSE's Peacock Theatre), and the bottom right moves into The Thames near Waterloo Bridge.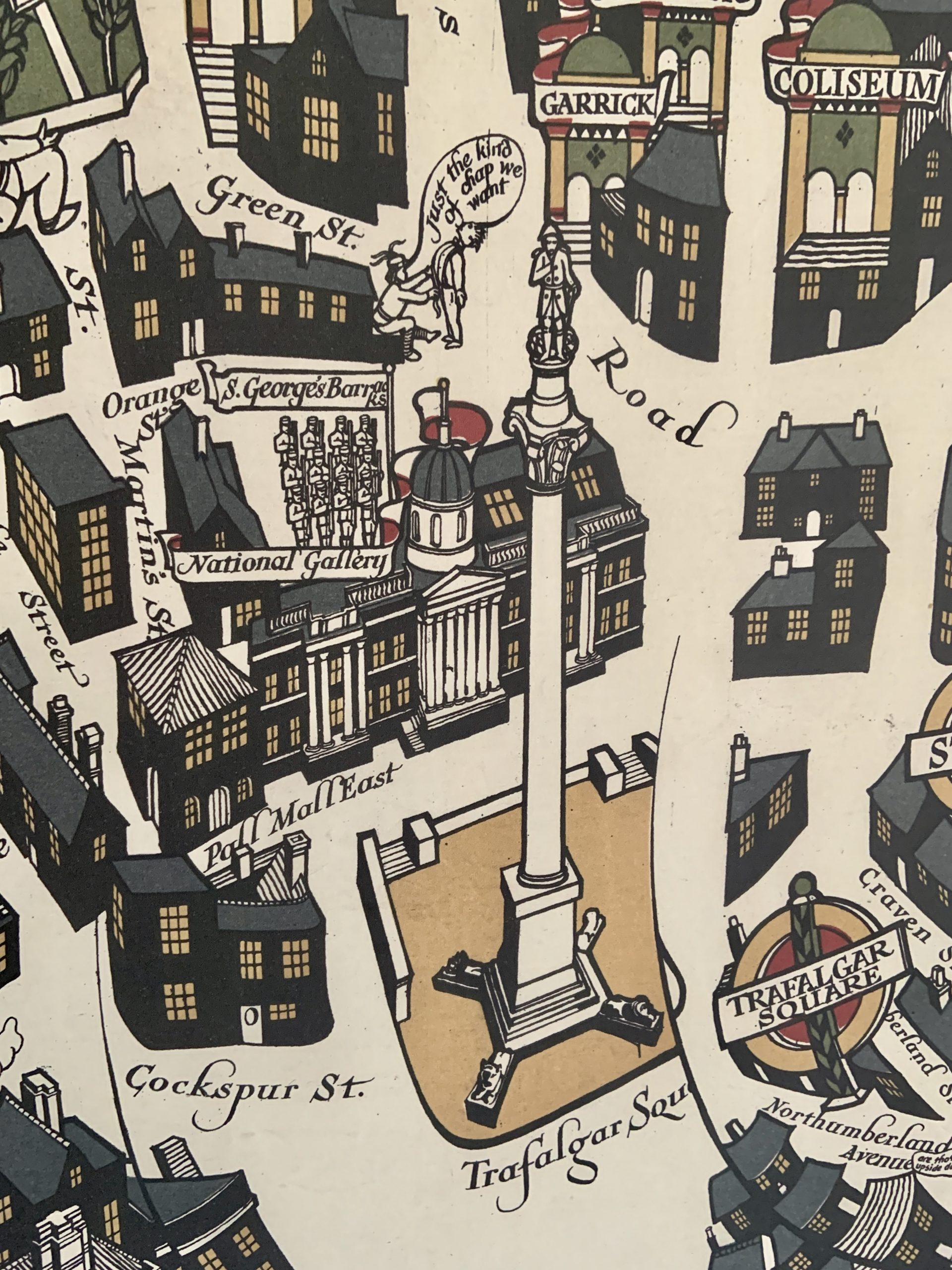 The decorative border on three sides shows the theatre names in London Underground-style roundels with the name of the nearest tube station. It's a wonderful reminder of how popular theatres were in the early twentieth century. We can see which names have survived and which are no longer with us, such as the Oxford Theatre near Tottenham Court Road station.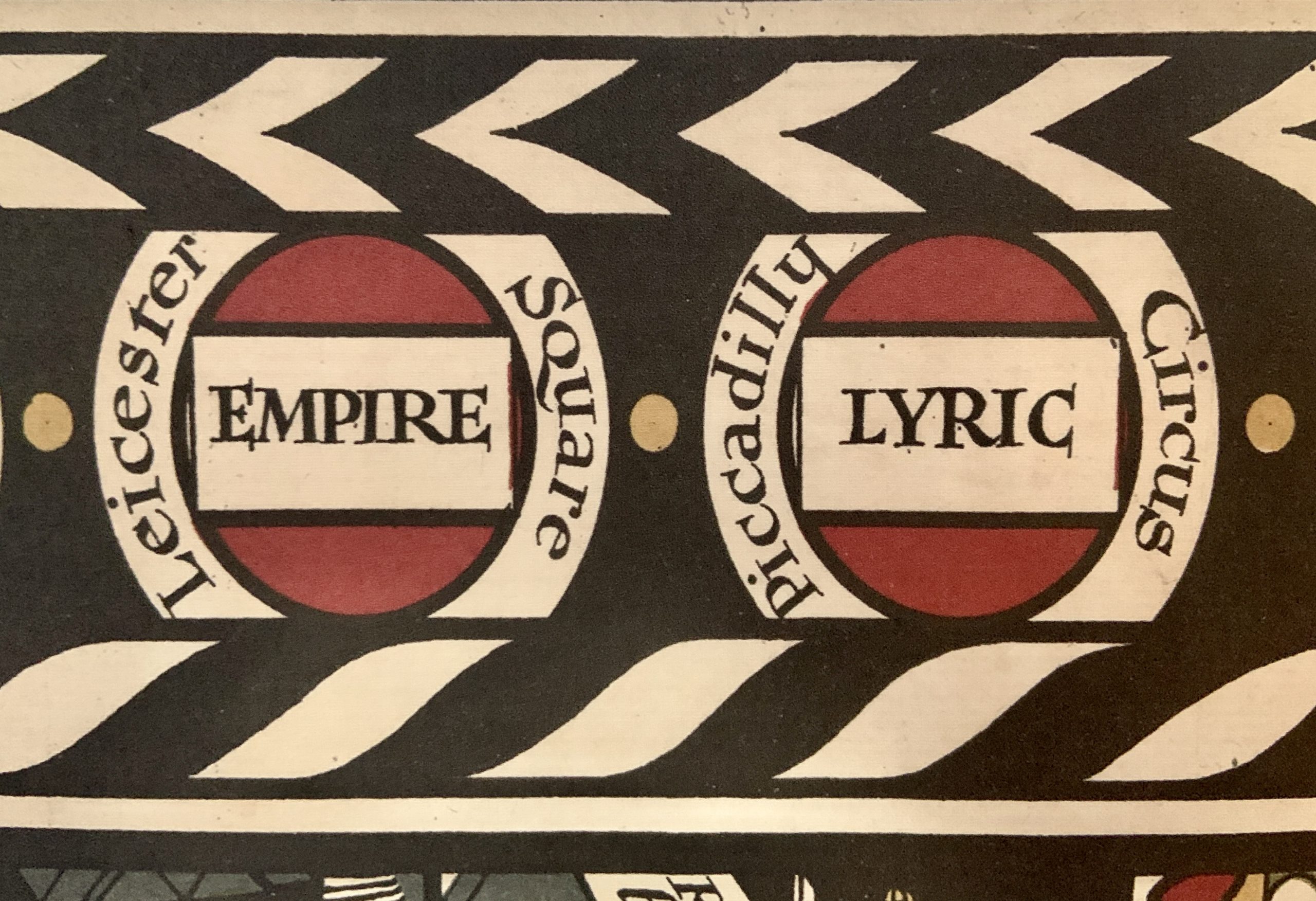 Who Draw It?
London Theatreland is drawn by Leslie MacDonald 'Max' Gill (1884–1947). Max was the younger brother of the sculptor and letterer Eric Gill. (See below for more about Max.)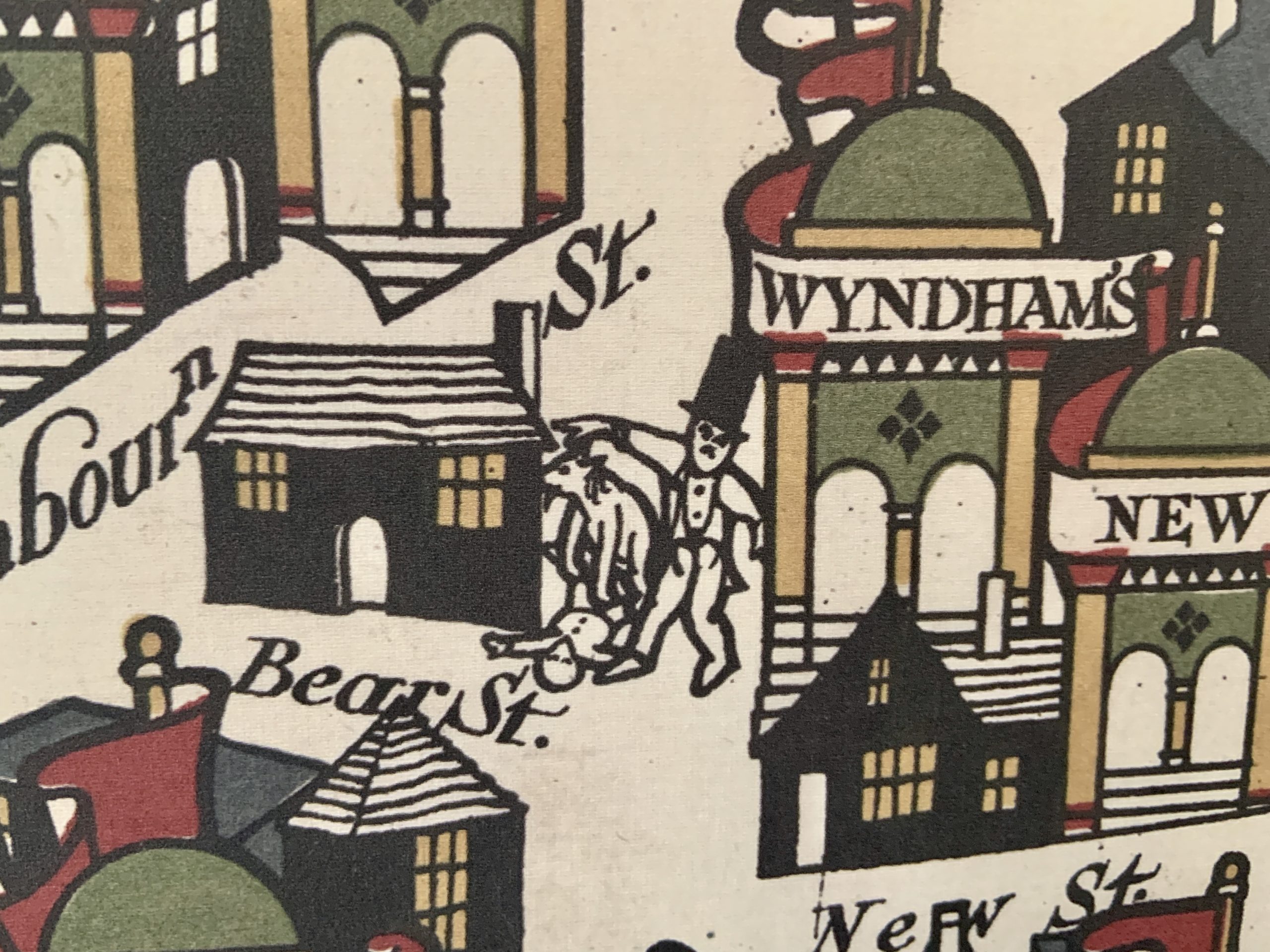 Not Like Other Maps
Theatreland depicts London's West End at night as that would be when a trip to the theatre would be most relevant. In contrast to the bright colours on Max Gill's London Wonderground map published in 1914 (more below), Theatreland has all of the buildings in black and greys with only dark red, mustard yellow and green for colouring.
It is supposed to seem as if you are looking at a theatre stage viewed from the auditorium with the map printed on the stage curtain. To add to the silliness, the curtain is falling down to be caught by actors at the bottom who end up tumbling into the orchestra pit.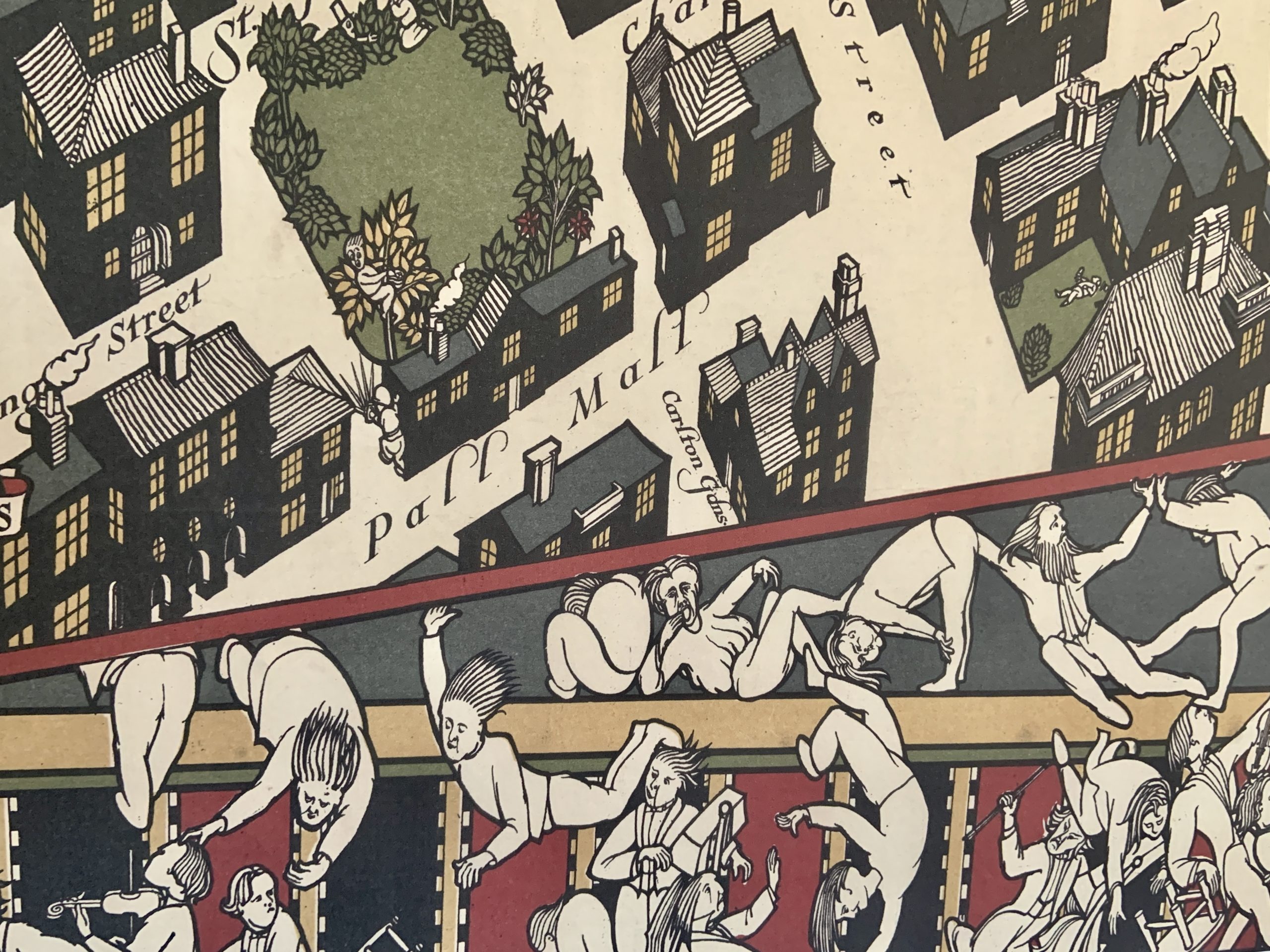 There are some wonderful verbal puns and visual double-entendres such as Rathbone Place (Rathbone and a vignette of a flat fish = plaice, Wells Street (a man climbing into one of three wells) and Newman Street (you guessed it, a 'new' man).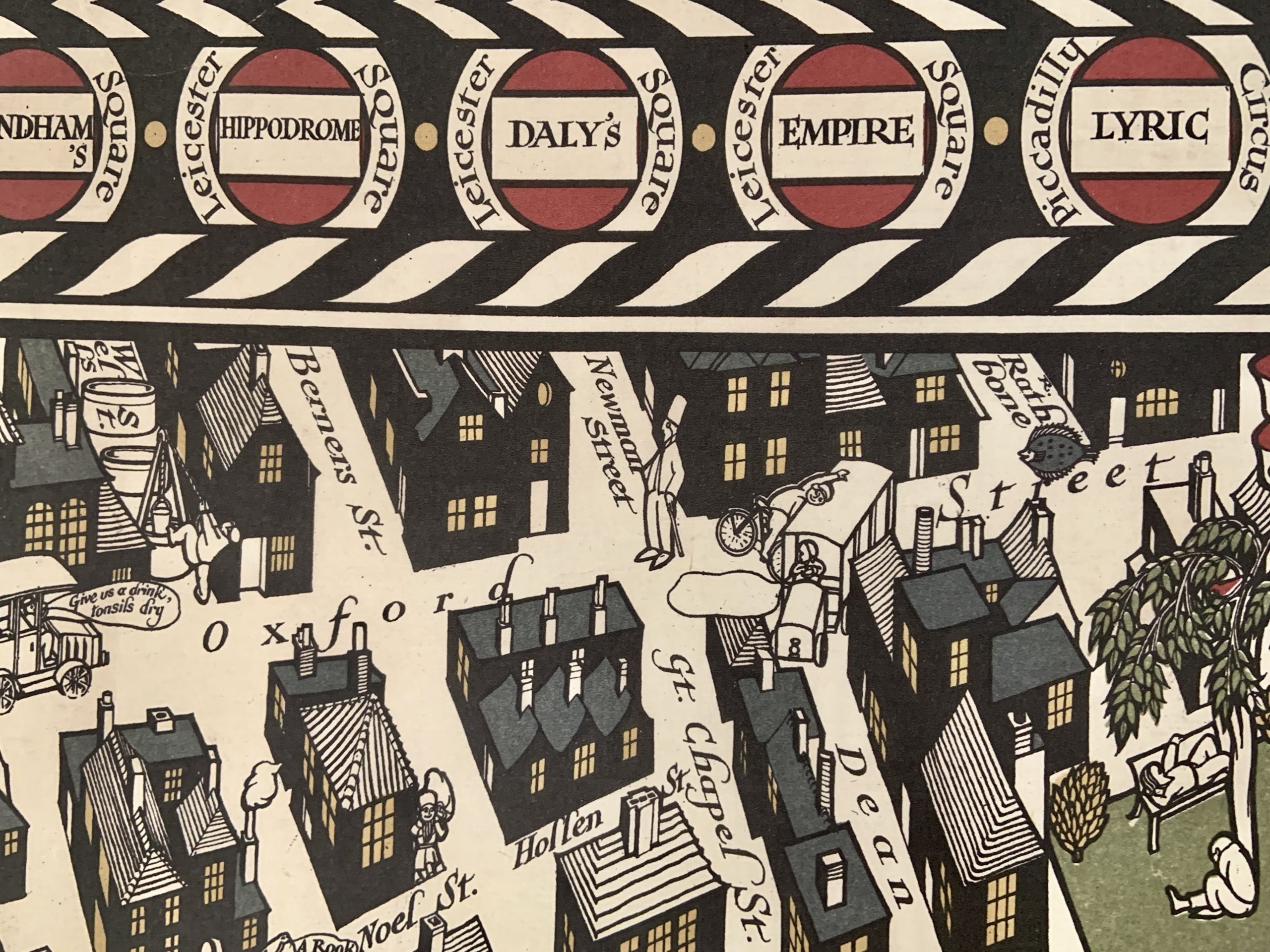 Max Gill liked to include people he knew in his illustrations. The orchestra's conductor is based on the printer Gerard Meynell (1877–1942) who published Gill's maps.
Meynell and his wife, Esther, were neighbours of Gill's brother Eric and calligrapher Edward Johnston in Ditchling village in East Sussex.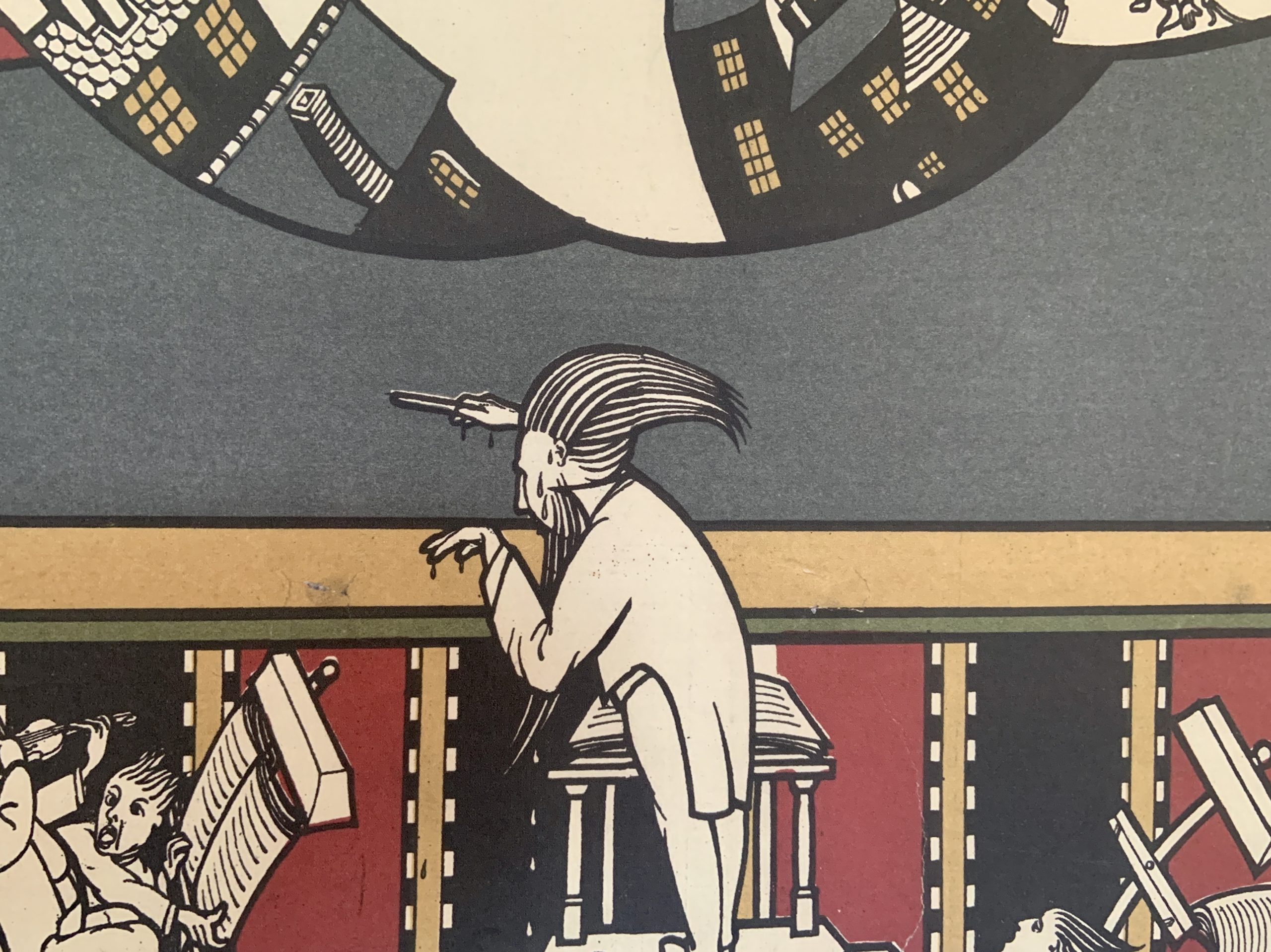 Meynell's printing company – Westminster Press (London) – was at 11 Henrietta Street in Covent Garden so gets included as well. The "G.M." clearly refers to Gerard Meynell but I'm not sure who "Joanna" is on Maiden Lane.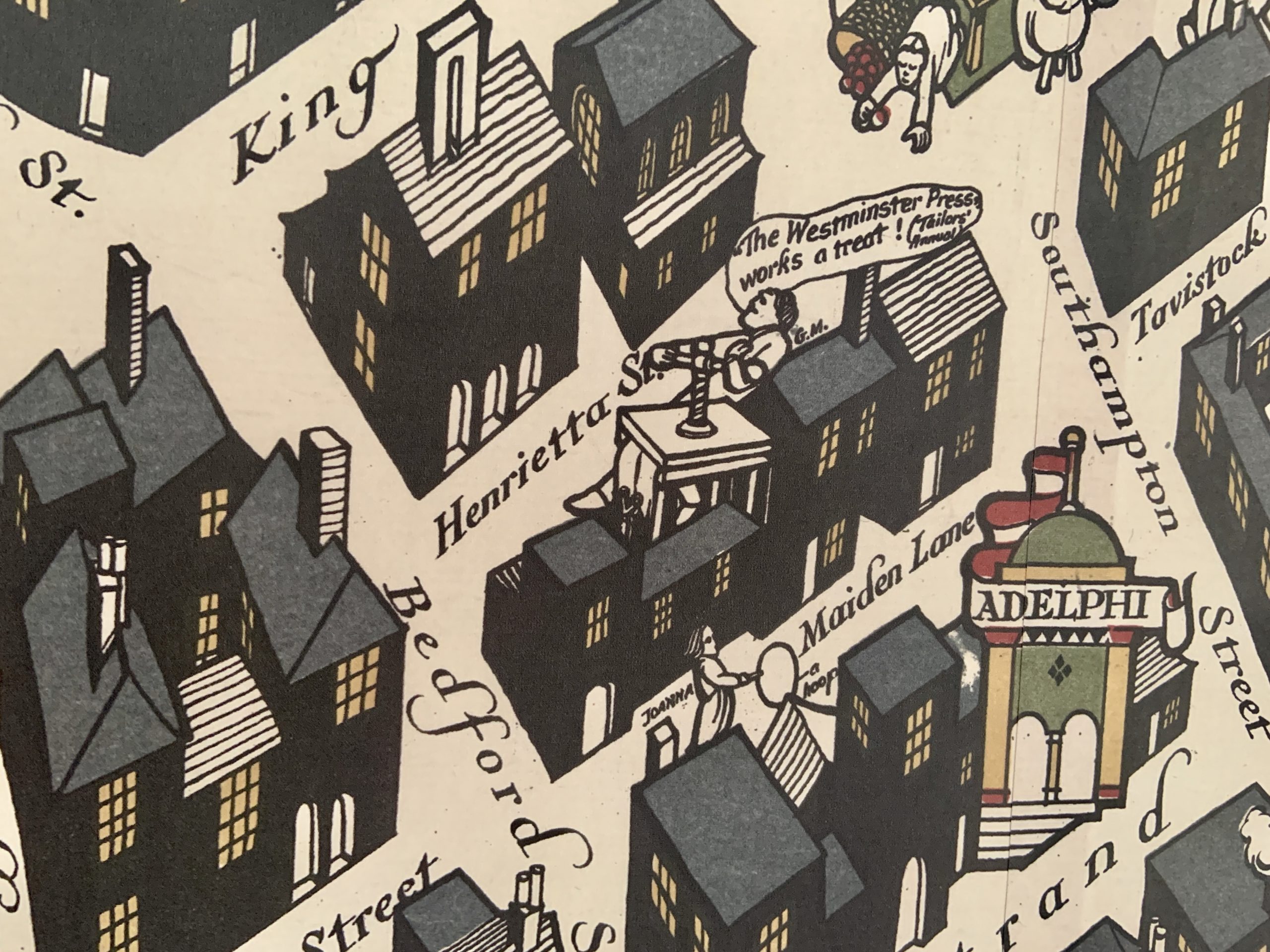 There is a self-portrait of Max on the extreme right next to Temple station where he is trying to corner an evasive hare – a reference to his studio at 1 Hare Court in the grounds of the Temple with the caption "1 hare almost court in the Temple". Max can also be seen in the top right corner dancing his new wife, Muriel Bennett. They married on 21 August 1915 while he working on the map. (Sadly, I don't have this section of the map as the wall I have it displayed on is slightly smaller so cuts off on the left and the right edges.)
Why Was It Made?
The Theatreland map was commissioned by Frank Pick for the London Underground Electric Railways Company in January 1915. It was published in late 1915 to entice a reluctant public to return to the West End which would, of course, also boost travel for London Underground.
Frank Pick believed good design was good for business. He was also the man who commissioned a typeface for the network from Edward Johnston and modern station designs from Charles Holden. He also commissioned the iconic Harry Beck's diagrammatic London underground map in 1931.
While World War One had started in 1914, Frank Pick could not have known that by 1915 there would be German zeppelin attacks over London. The first over central London happened in May 1915. As MacDonald Gill was completing the map, the 'Theatreland Raid' on 13 October 1915 struck the Lyceum Theatre and theatregoers enjoying an interval drink in a local pub were killed. Max incorporated this zeppelin into the Theatreland map in the top right-hand corner. He also added his brother, Eric Gill, warming his hands over the flames of a fire-bomb exclaiming, "Such a cold night too!"
Here are more photos ff this wonderful London map.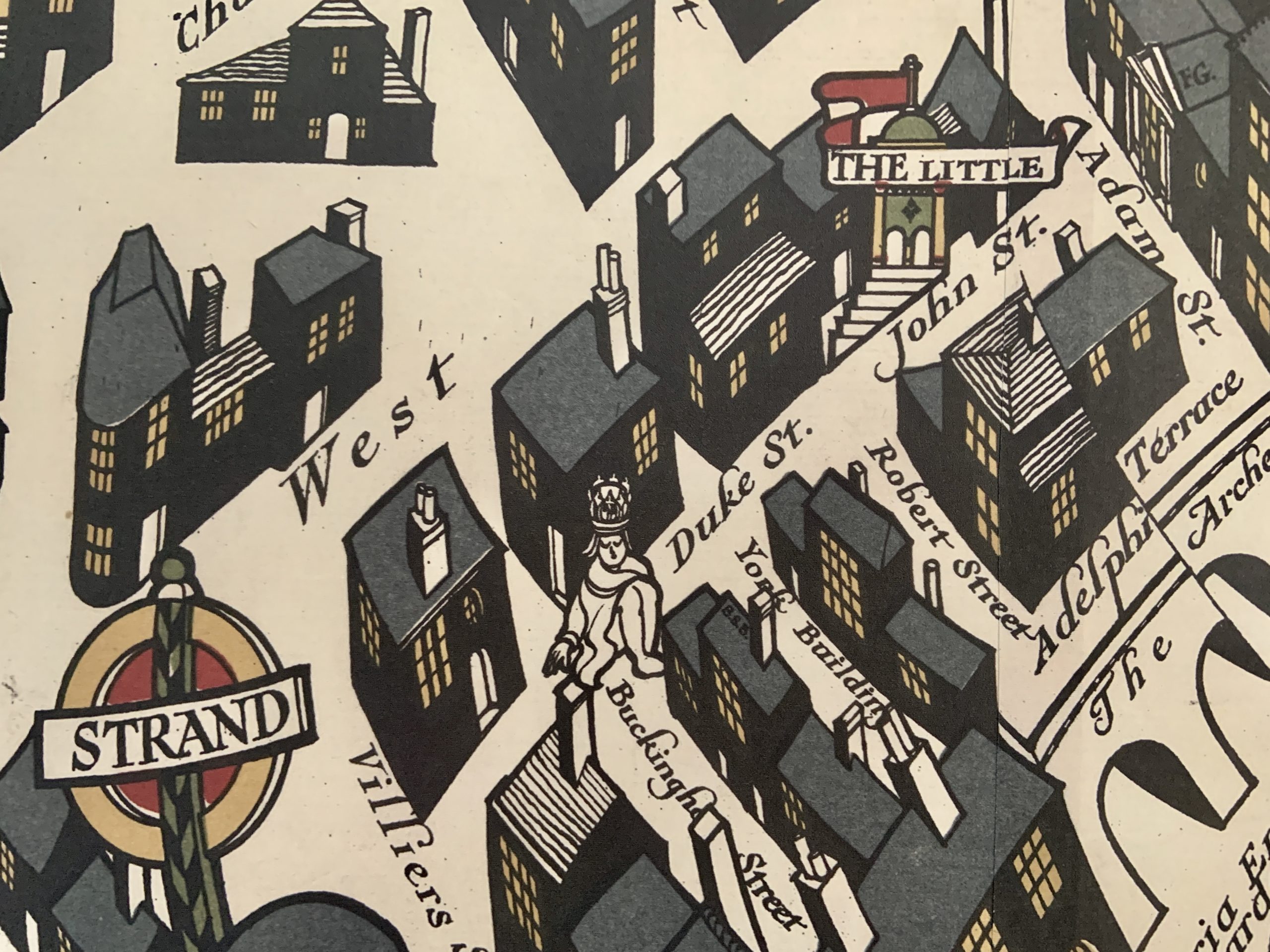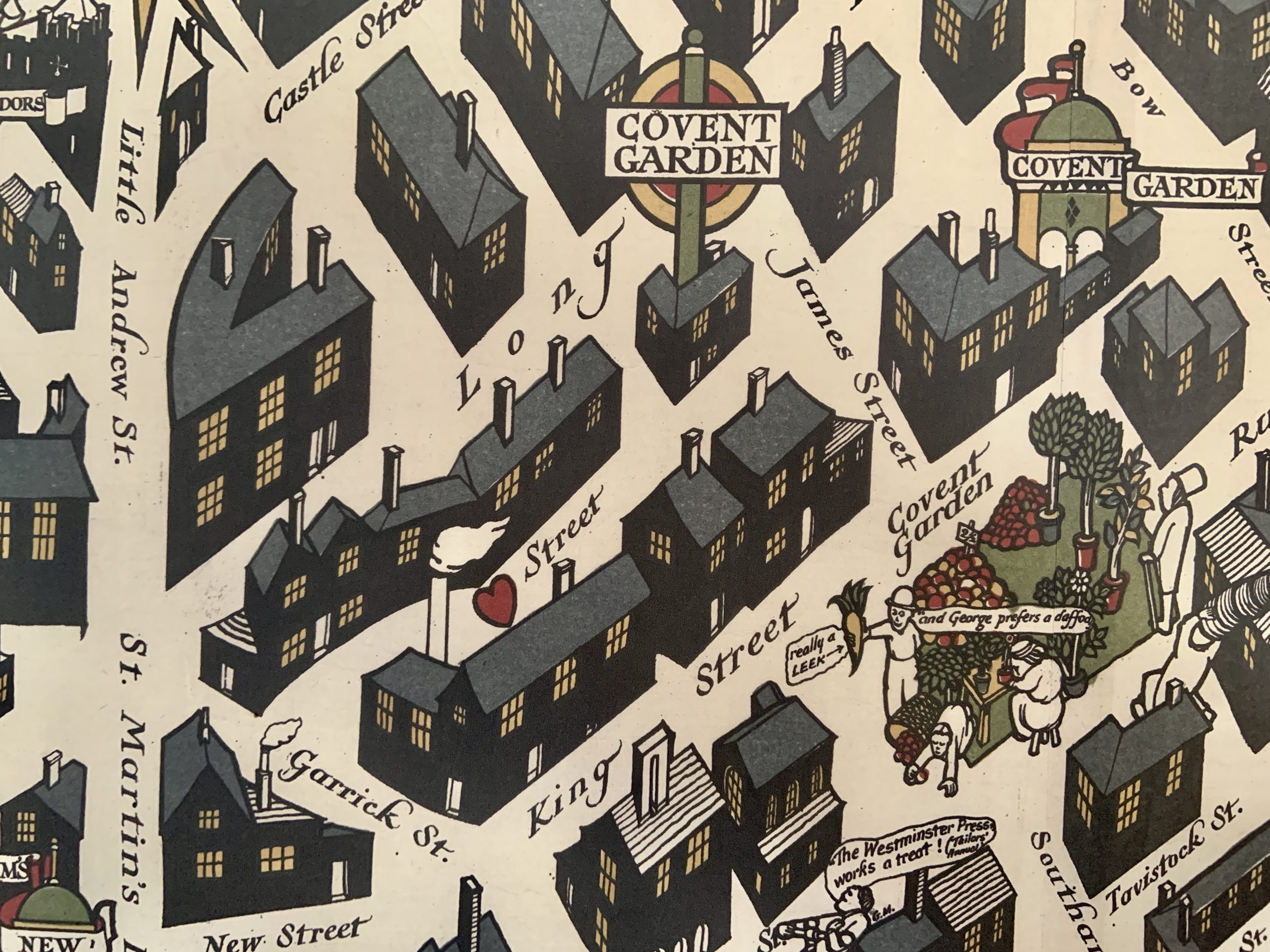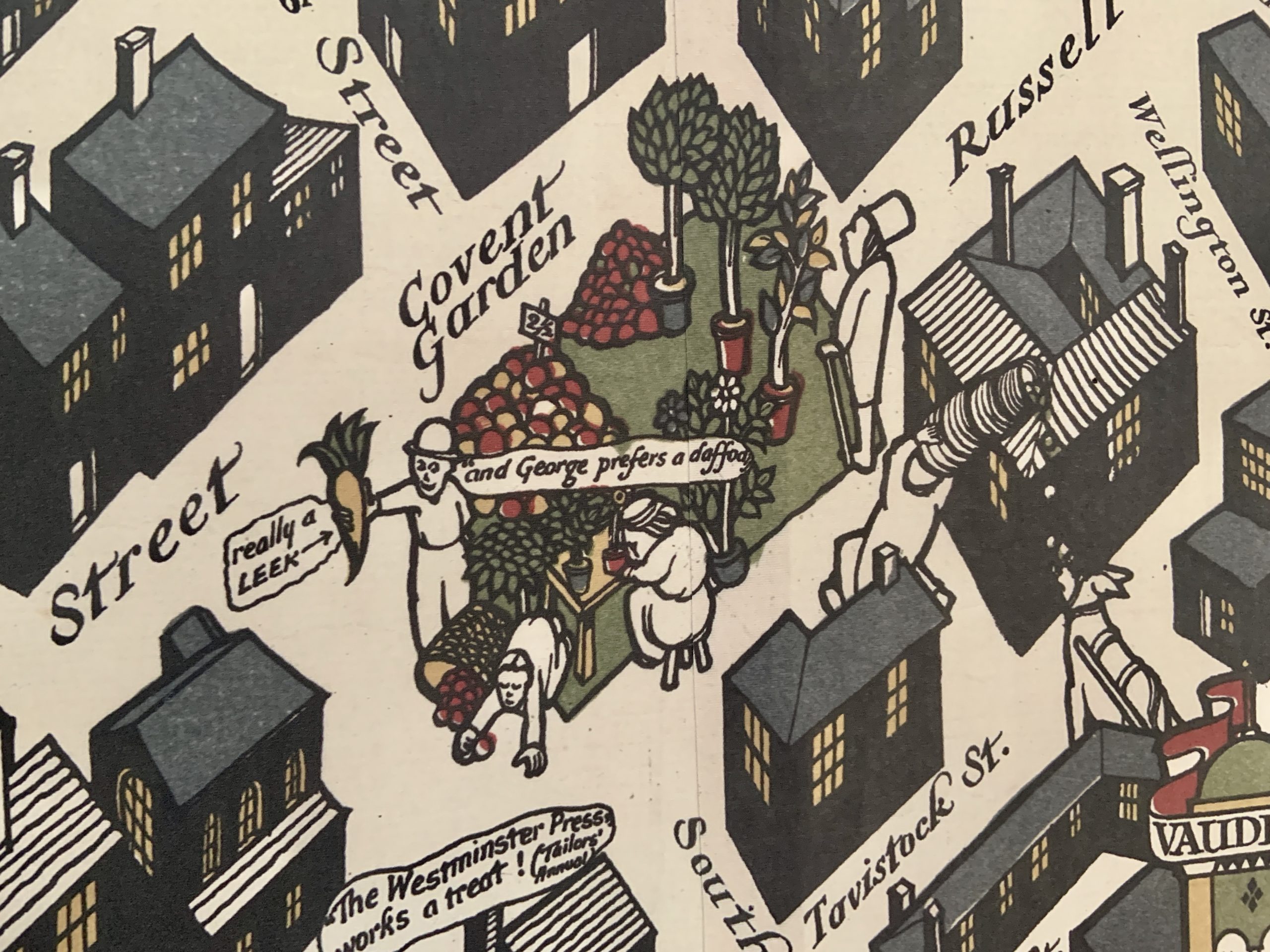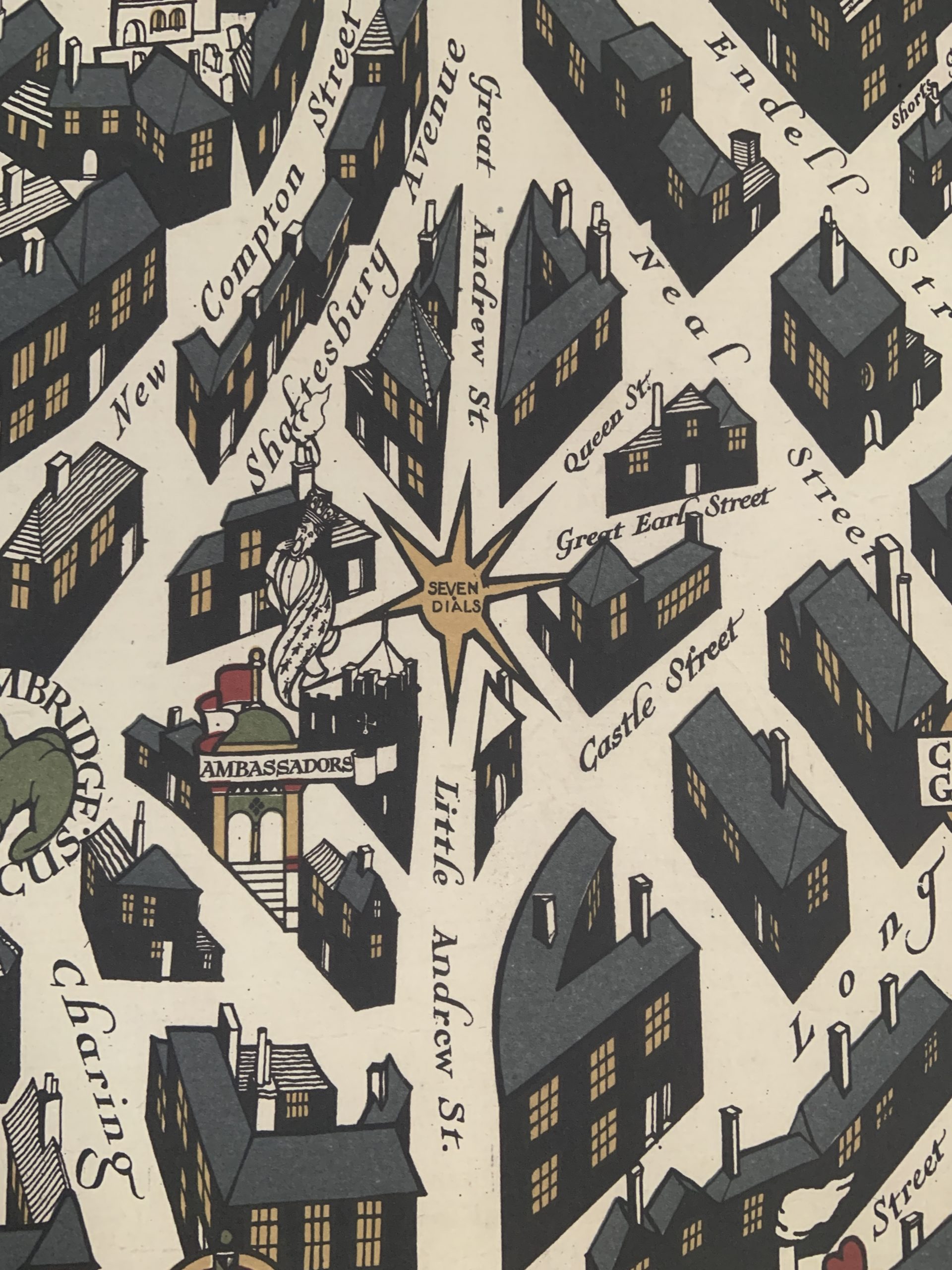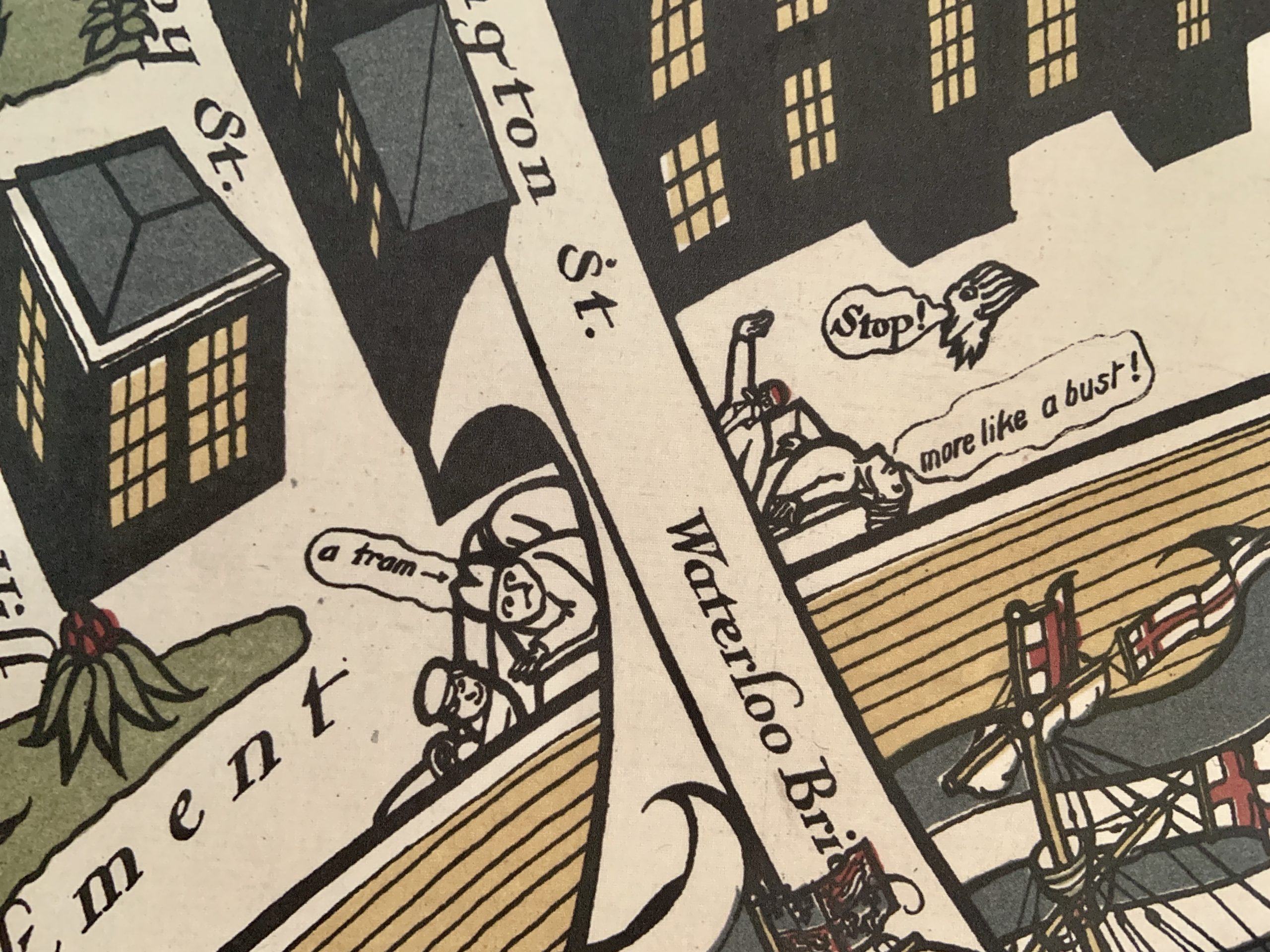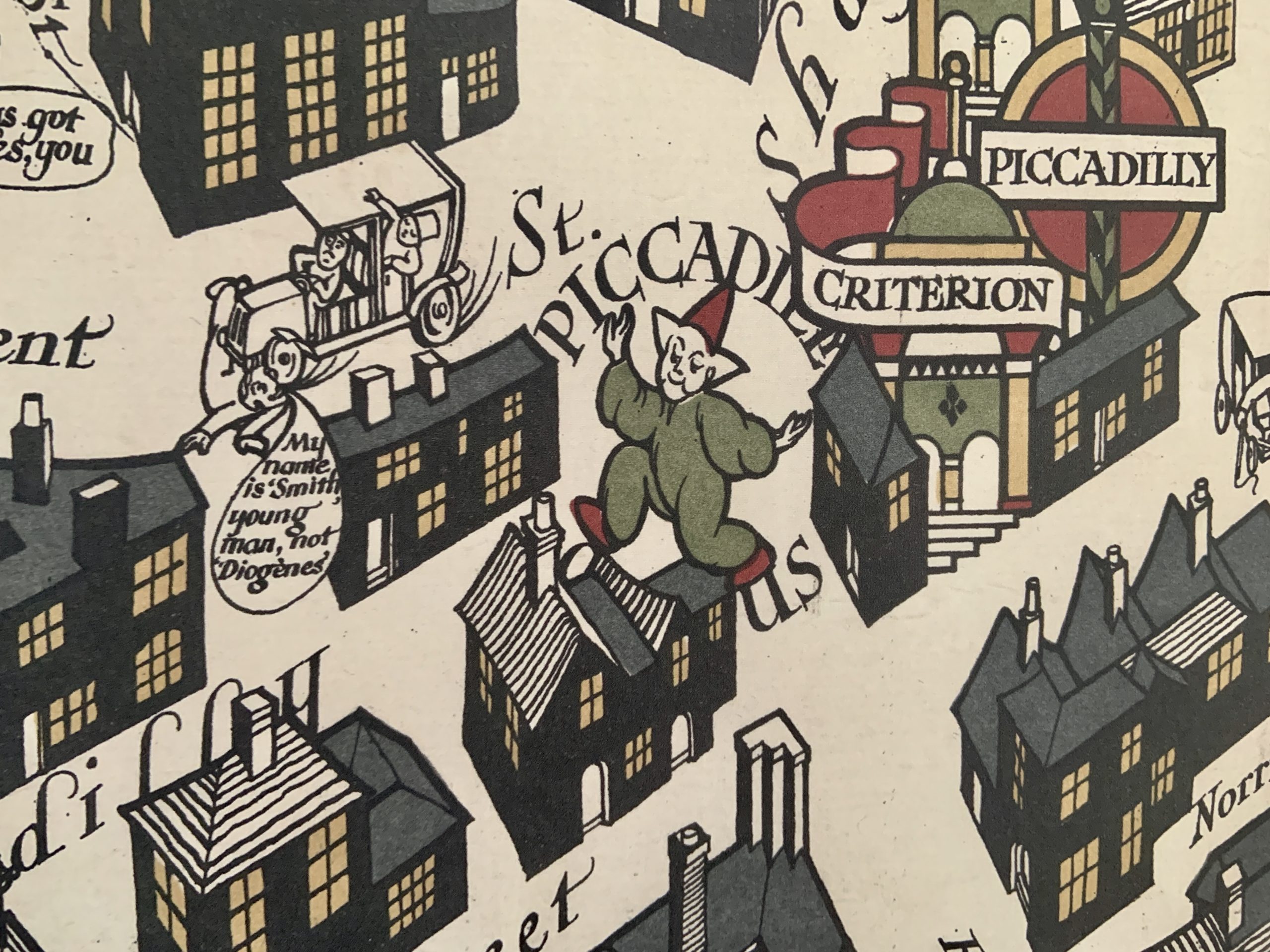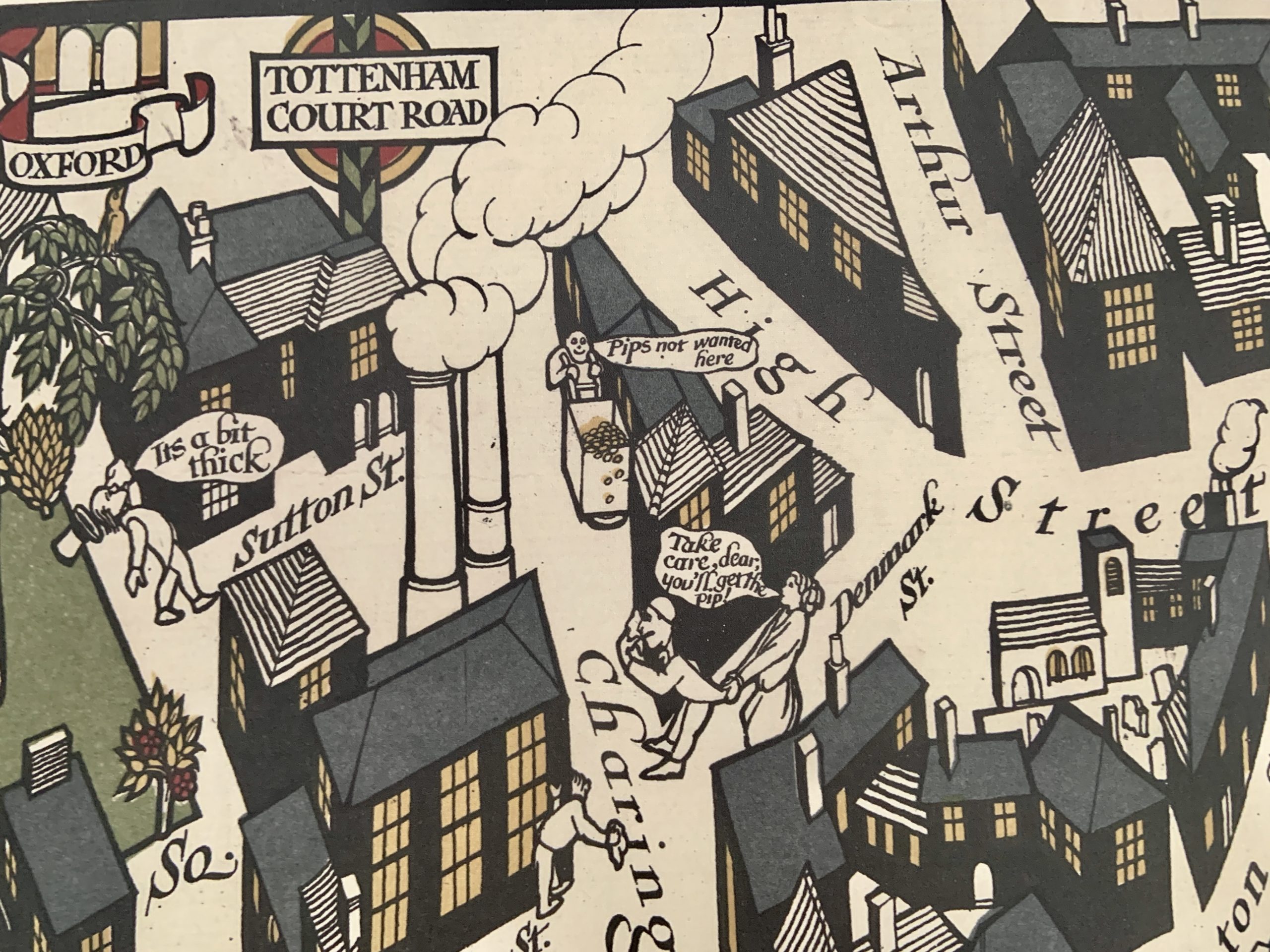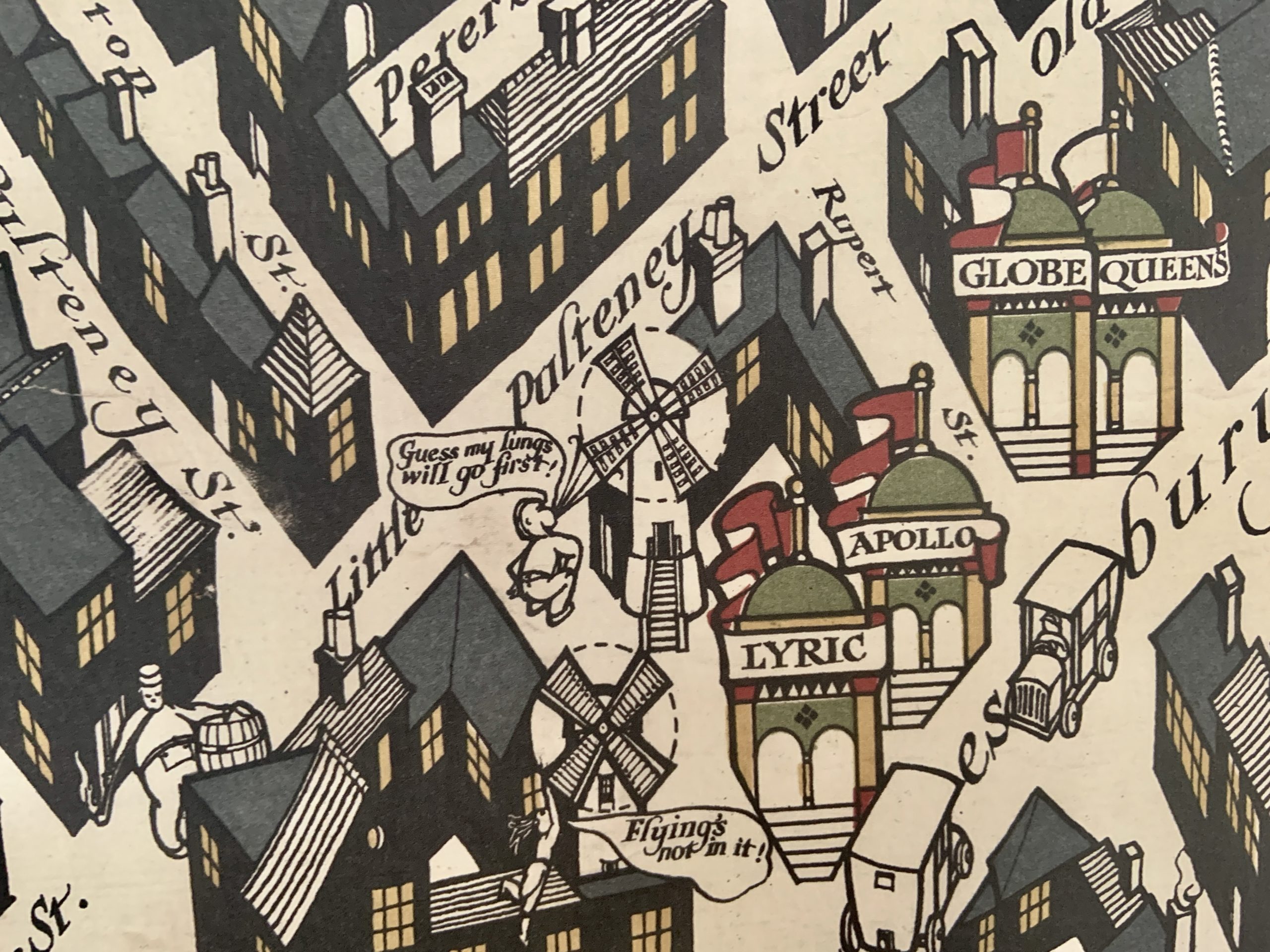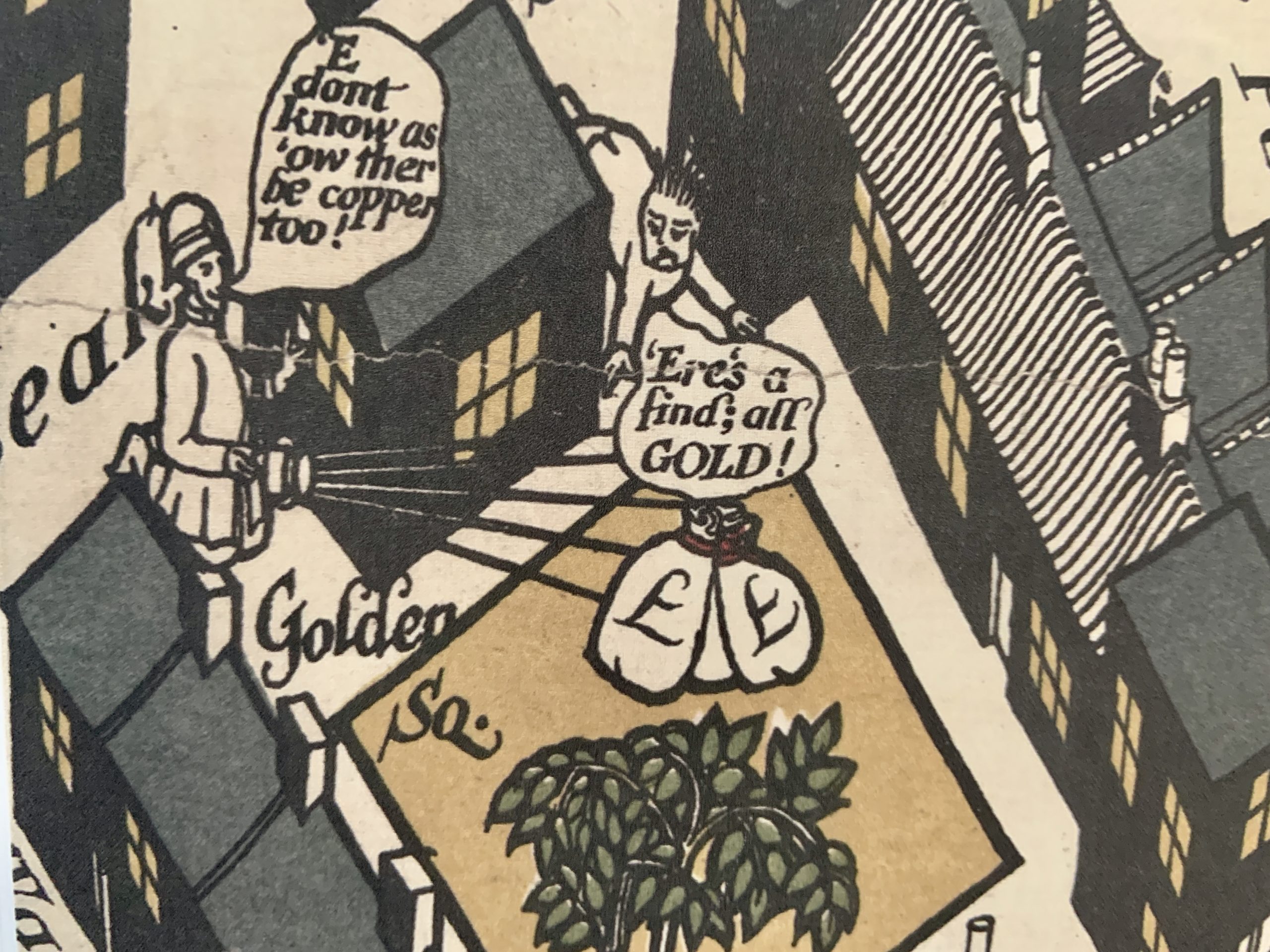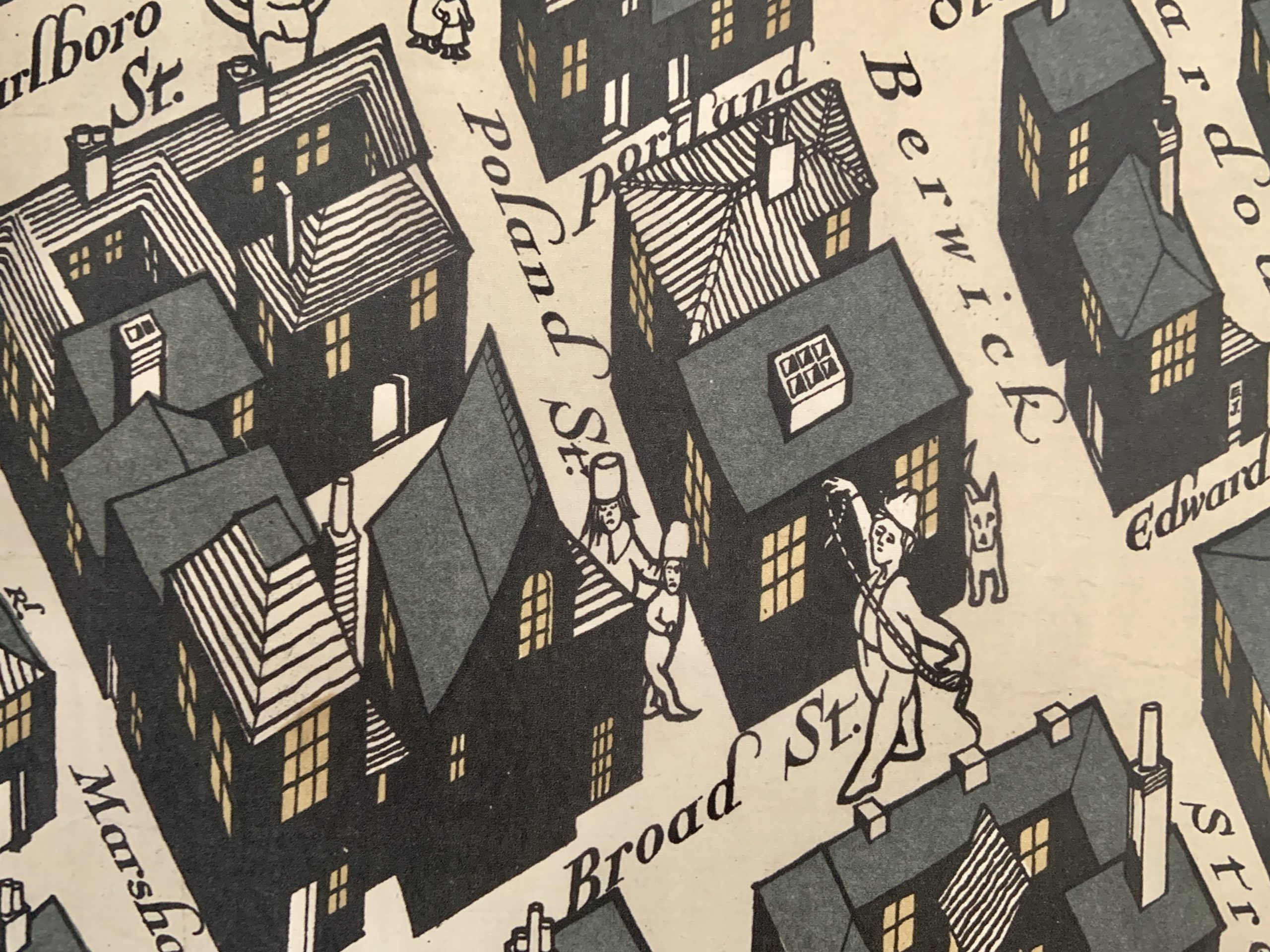 More About MacDonald 'Max' Gill
MacDonald 'Max' Gill (1884-1947) was a prolific architect, designer, illustrator and typographer whose work between the world wars included buildings designed in the Arts and Crafts style and decorative work on a number of Edwin Lutyens' projects. However, he became better known for his illustrative work and typography on projects as diverse as posters, book covers and maps.
Max Gill's first experience of architecture came in 1900 when, at the age of 16, he was taken on as an apprentice to a local architect in Bognor (now Bognor Regis).
After two years, Max and his brother, Eric, moved to London. Both trained with (different) ecclesiastical architects and they took evening classes in calligraphy from Edward Johnston at the Central School of Arts and Crafts (which inspired Max's passion for Roman lettering). The brothers collaborated professionally on projects and even lived together.
From 1903, Max worked as an assistant to Charles Nicholson and Hubert Corlette in Lincoln's Inn – architects who worked in the Arts and Crafts tradition who specialised in ecclesiastical buildings and war memorials. He worked for Nicholson Corlette for five years.
In 1908, with his reputation as an architect and lettering artist now established, Gill set up his own practice and, a year later, he began his lifelong collaboration with Edwin Lutyens.
In 1914, Gill became architect-in-residence at the Dorset estate of Ernest Debenham (owner of the famous department store) and helped to create a model farm and village in the Arts and Crafts style.
Gill's career took a new direction in 1913 when Gerard Meynell of the Westminster Press introduced him to Frank Pick, Commercial Manager of the Underground Electric Railways of London (later London Underground) to discuss a pictorial poster map to entertain passengers as they waited for their trains on the gloomy station platforms. The Wonderground Map of London Town was rather like a 'Where's Wally?' for the time. It mixed a Medieval-inspired border with cartoon-like images of London buildings which was immediately popular with the public when it appeared on London Underground platforms.
You can see more of MacDonald Gill's work for London Underground on the London Transport Museum website.
Between the wars, Gill worked on a number of Arts and Crafts-style cottages and decorative works in Sussex, as well as graphic design projects which included emblems and logos for the General Post Office, Rolls Royce and the Suffolk Regiment; book jackets, decorations for the Coronation of George VI and murals for the Paris exhibition of 1937 and the Glasgow Exhibition of 1938.
The success of Max's London maps led to numerous other map commissions for cruise ships and companies keen to emphasise their international reach. In 1940, Gill completed Tea Revives the World – a map designed to 'cheer' people during the Second World War. It's full of figures and trivia about national tea habits such as that 'The famous Dr. Johnson would drink 16 or more cups of tea at a sitting'. I'm a tea addict but wonder if I could manage that quantity. I feel confident the teacups of Johnson's time were much smaller than the average mug!
Gill's last work was a painting of the North Atlantic for the Cunard liner Queen Elizabeth completed in August 1946. He died in January 1947.
Max Gill's great-niece, Caroline Walker, can be thanked for the revival in knowledge and therefore enjoyment of his work. She has researched and written the macdonaldgill.com website with lots more information about him. And the University of Brighton has a useful digital resource too.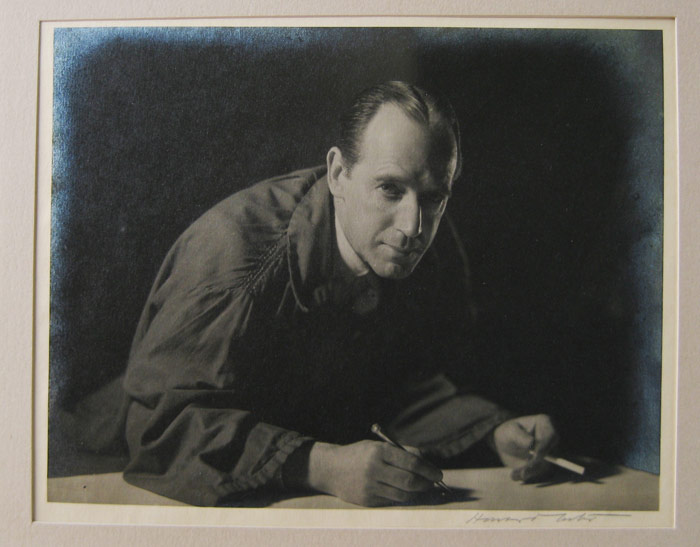 War Graves
During the First World War, the Imperial War Graves Commission formed a committee of three British architects (Edwin Lutyens, Herbert Baker and Reginald Blomfield) to design cemeteries and memorials to the war dead. They, in turn, appointed a committee of three people including Max Gill, to design the headstones. Gill was responsible for the lettering and regimental badges which appeared in 1918 and which have been used on war memorials and headstones since.
The contrast between his playful and light-hearted London maps and MacDonald Gill's work for the Imperial War Graves Commission could not be greater. Temporary wooden crosses were being planted for the resting place of lost servicemen but something more was needed. The 1917 brief given to Max Gill was simple: headstone inscriptions must be clearly legible from an angle of 45 degrees, from six feet away. Moreover, the commanding officer and the squaddie were equal in death – the lettering, in upper case only, was the final leveller.
1.1 million military headstones with his lettering design have been used across the world by the Commonwealth War Graves Commission to mark fallen British and Commonwealth forces from both world wars. His lettering was also used on the Cenotaph war memorial in Whitehall. (Interestingly, the clean, restrained alphabet MacDonald Gill designed is not dissimilar to Victor Lardent's Times New Roman, which was not designed until 1931.)
In a war where killing was mechanised and on a scale never before seen, these letters were designed to be machine-cut in vast numbers, rather than individually by a mason. As his brother Eric was a sculptor, this infuriated him. In 1919 Eric raged against "the evils resulting from modern industrial methods" at the expense of the local mason's yard. While his animosity towards mass production fitted the Arts and Crafts ethos, it would have taken decades for the huge number of headstones could be completed by masons.
I'm writing a column for Anglotopia about A Church in Wales that is being converted into a family home. These are the war graves in the graveyard there.



Eric Gill
I've left the information about Max's older brother until the end as while his design work is a fine legacy his personal life was shameful. Eric Gill (1882–1940) created the Gill Sans typeface in 1927–30, based on the sans-serif lettering originally designed for the London Underground. (Gill had collaborated with Edward Johnston in the early design of the Underground typeface, but dropped out of the project before it was completed.) The Gill Sans font adorned the covers of Penguin books in the 1940s so is very recognisable.
Eric Gill was commissioned by Frank Pick and his sculptures decorated the Charles Holden-designed London Transport headquarters over St James's Park Station. And he carved the figures of Prospero and Ariel above the entrance to the BBC's Broadcasting House. But while he appeared to hold strong religious beliefs, he also thought it acceptable to have extramarital affairs, including sexual relationships with his two eldest daughters, his sisters and his dog. It's best we don't focus on him in this article, eh?