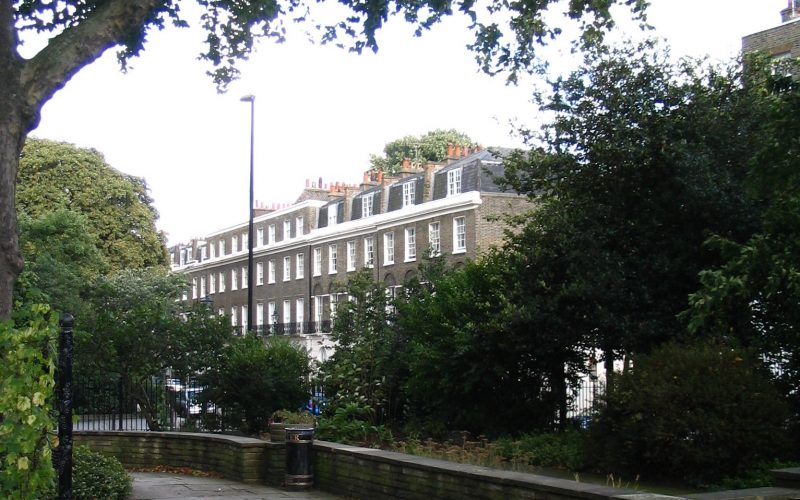 A residential area of London since the early 19th Century, Canonbury can be a bit hard to define.  It's never had its own council or other administrative unit, but just about always folded into Islington.  With that in mind, you might think it would be hard to find something to do in this neighborhood, but there's always something to see in any part of London.  As a residential area, it's been home to many famous persons from George Orwell to Keira Knightly have lived here at one point.  We found ten things in the area we think you should check out and if we missed anything, let us know in the comments.
Canonbury Tower
Canonbury Tower was once a manor home for the area and one of the city's first skyscrapers.  Built between 1509 and 1532, the Tudor building was associated with St. Bartholomew's Priory until the Dissolution of the Monasteries.  Since the 17th Century, it has been the property of the Marquess of Northampton.  It has an utterly fascinating history with famous residents as Thomas Cromwell and even a Rapunzel-like love story.
Arlington Square Gardens
Once voted one of the best garden squares in the United Kingdom, Arlington Square Gardens is certainly worth the trip.  It was once part of a corporate estate built by the Clothworkers' Company for their employees.  Once a private garden for the nearby residents, it has been open to the public since the Islington Council took it over in 1953.
Canonbury Square
As mentioned in the intro, Canonbury became a suburb of London in the early 19th Century, which means it's full of Regency-era homes.  Perfect examples of this type of architecture are all around Canonbury Square, a ring road that features Canonbury Square Gardens at its core.  It was also a popular area for residents in the arts, like George Orwell, Samuel Phelps, and Evelyn Waugh all lived here.
New River Walk
For an excellent spot to walk, the path running along the New River from Canonbury Road to St. Paul's Road is certainly worth your time.  During the warmer months, you can walk down beside the lush greenery of the trees and flowers while Georgian buildings tower on either side.  If you're going to pass through Canonbury, this is the best path to use.
Union Chapel
Union Chapel is a Grade I listed church built in the Gothic Revival style from 1874 to 1877.  While still a working church, it also serves as a homeless mission and a live performance venue.  Time Out voted it one of the best performance venues in 2002, 2012, and 2014, and with such a gorgeous interior and acoustics, it's not hard to see why.
Canonbury Tavern
Certainly, the top pub to visit in Canonbury, the Canonbury Tavern is yet another gorgeous example of Georgian architecture in the area.  Run by Young's, it offers several of their beers as well as beers from the local rotating breweries and a great variety of spirits.  You'll definitely want to have a pint in their large beer garden, where George Orwell once wrote part of 1984 while sitting under a tree.
The Bill Murray
The place or comedy in Canonbury, the Bill Murray is one of Angel Comedy's venues and has featured a stellar array of Britain's funniest comedians for years.  Since it might cause some legal problems, the pub is actually named for Charles I's whipping boy, William Murray.  The Bill Murray is also the site of Angel Comedy's courses in improv, standup, and comedy writing.
Rosemary Gardens
Unquestionably the best greenspace in Canonbury, Rosemary Gardens is a large public park with a number of great amenities.  Besides the football pitch and tennis courts, the gardens offer playgrounds, basketball hoops, and a tennis wall.  Of course, the best reason to go here is the beauty of the meadows, trees, and the chance to sit back and relax amongst the greenery.
St. Mary's Church
A church has existed on this site since the 12th Century, and St. Mary's Church is the latest incarnation, constructed in 1754 and is now a Grade II listed structure.  It has a great history from rebellious priests to being a victim of the London Blitz.  As it is a working church, you'll need to be mindful of when you visit, though you're welcome to attend services with the locals.
Estorick Collection
The best place to see is the Estorick Collection, an art gallery full of modern Italian art.  It is the only gallery in the UK dedicated to this art style, so it's worth it to see the new stuff after visiting all of the classic works at the British Museum or the National Gallery.  Another great example of the Georgian architecture that abounds in Canonbury, the gallery is Grade II listed.