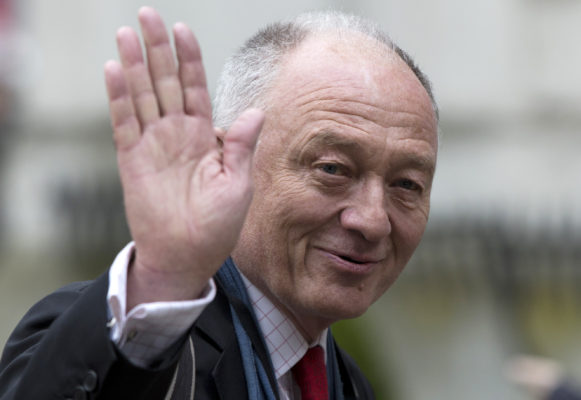 Ken Livingstone has arguably been one of the most influential London mayors in the City's history and at the very least, one of the biggest figures in London's government in the past century.  Often a controversial figure in his own Labour Party as well as with the Conservatives, he shepherded London's destiny for several decades as Leader of the Greater London Council and as the first Mayor of Greater London.  Regardless of his policies or recent public flubs, Ken Livingstone has certainly been an important historical person for the city and continues to influence it even after leaving office.
Livingstone was born 17 June 1945 at his grandmother's house in Lambeth, one of the city's inner boroughs and part of South London.  His childhood was certain an interesting one.  The family was working class, with his father working as a ship's master in the Merchant Navy and his mother was an acrobatic dancer at a music hall in Workington.  After the war, the family lived for a time with Livingstone's grandmother, whom he described as tyrannical.  The family then moved to a Tulse Hill council estate.  While Livingstone once stated that his parents were "working-class Tories," their more progressive views on race and homosexuality helped shape his own attitudes.
As a student, Livingstone had a teacher that encouraged his class to debate current events, which increased his interest in politics.  He also had an interest in animals, which after school, led to him working as a technician looking after animals at the Chester Beatty Cancer research lab in Fulham.  It was this work that led him into greater activism to fight corporate redundancy.  During this time, he also joined the Labour Party, which was not terribly popular with the left due to its support of the United States in the Vietnam War, cuts to the NHS budget, restrictions on trade unions, and other more centrist policies.  Livingstone chose to join Labour because he felt that grassroots efforts of the 1960s were not proving effective and the best way to enact a progressive platform was from within the party.
Ken Livingstone won his first contest in 1971 when he was elected to the Lambeth Borough Council, a position that lead to a seat in the Greater London Council in 1973.  Throughout his tenure in the GLC and especially when the body was still controlled by the Tories, Livingstone championed the left wing of Labour and even challenged moderate Labour leader Andrew McIntosh.  Despite the fact that McIntosh had led Labour to a GLC majority, Livingstone defeated him 30 to 20 to take control of the body.  Livingstone opened the GLC building to the public to hold their own meetings, earning it the nickname "The People's Palace" and pushed for a number of progressive, left-wing policies.  These efforts earned him nicknames like "Red Ken" and "Ken Leninspart", but it also gained a lot of media attention, to the point where some saw him as more of an opposition to Margaret Thatcher's government than Labour leader Michael Foot.
It may have been this attention and the left-leaning control of the GLC that led Thatcher's government to abolish the GLC in 1986, citing taxpayer expense and preferring to give the local boroughs greater control.  Despite this blow, Livingstone did not fade from politics, but instead moved over to Westminster when he won the right to represent Brent East in 1987.  Throughout his time there, he continued to clash with his own party as well as Thatcher's Conservatives.  He made an attempt at the leadership a couple of times, but never succeeded in gaining support from the more centrist members of the Labour Party.
With the election of Tony Blair's "New Labour" government in 1997, the party's election manifesto promise of a new government for Greater London was put into action.  The plan instituted a municipal form of government which resembled that of American cities, with a mayor that would be directly elected by the people.  Livingstone put his name in to be the Labour candidate but was rejected over Frank Dobson, as Prime Minister Tony Blair was not a fan of Livingstone.  He then decided to leave Labour and stand as an independent, winning a resounding victory.
Ken Livingstone's two terms in office from 2000-2008 were as full of controversy as the rest of his political career.  His first term saw the institution of the "congestion charge", a tax meant to help reduce vehicle traffic through central London.  While many bemoaned it as another tax, businesses and other groups applauded the increased commercial activity and reduced traffic.  He rejoined Labour in 2012 and was largely praised, even by his critics, for helping secure London as the site of the 2012 Summer Olympics.  Ultimately, he would lose his attempt at a third term to Conservative Boris Johnson, but even today, Livingstone manages to make headlines and remain a major, controversial figure in London.