24 May 2019 is the 200th anniversary of Queen Victoria's birth at Kensington Palace. To mark the bicentenary of this historic event there is a new visitor route, Victoria: A Royal Childhood, through the suite of rooms she would have known well. And over in the Palace's Pigott Gallery, there is a new temporary exhibition, Victoria: Woman and Crown, that considers the private woman behind the public monarch and re-examines her later life and legacy.
'Her Majesty The Queen, Empress of India', P & D Colnaghi & Co, 1900, Engraving of a portrait of Queen Victoria (1837-1901) published on her 81st birthday, 24 May 1900. © Historic Royal Palaces
Princess Victoria
Princess Alexandrina Victoria was born at Kensington Palace, the London home of her parents the Duke and Duchess of Kent. The only daughter of Edward, Duke of Kent (the fourth son of George III), her father's early death in 1820 meant she was raised by her mother and governess Baroness Louise Lehzen.
Her protective mother knew there was a chance Victoria might become Queen but I doubt anyone knew she would one day rule over the largest empire the world had ever known.
Victoria: A Royal Childhood
Offering a chance to uncover history right where it happened, visitors can see a new re-presentation of the suite of rooms Victoria and her mother occupied now reimagined in an evocative and family-friendly exploration of royal childhood. It charts how an indulged young princess blossomed into the independent and iconic monarch we remember today.
The Duke and Duchess of Kent had been living happily by the seaside with their baby daughter. Out walking one day, the Duke got soaked and caught a chill. Within days he was dead and his stunned wife and daughter returned to Kensington Palace in 1820.
There have been informed decisions about the decor of each room as a full inventory allowed detailed research. This first room has a sumptuous squishy carpet with a pattern from 1820-30 that has been digitally printed, as has the curtains.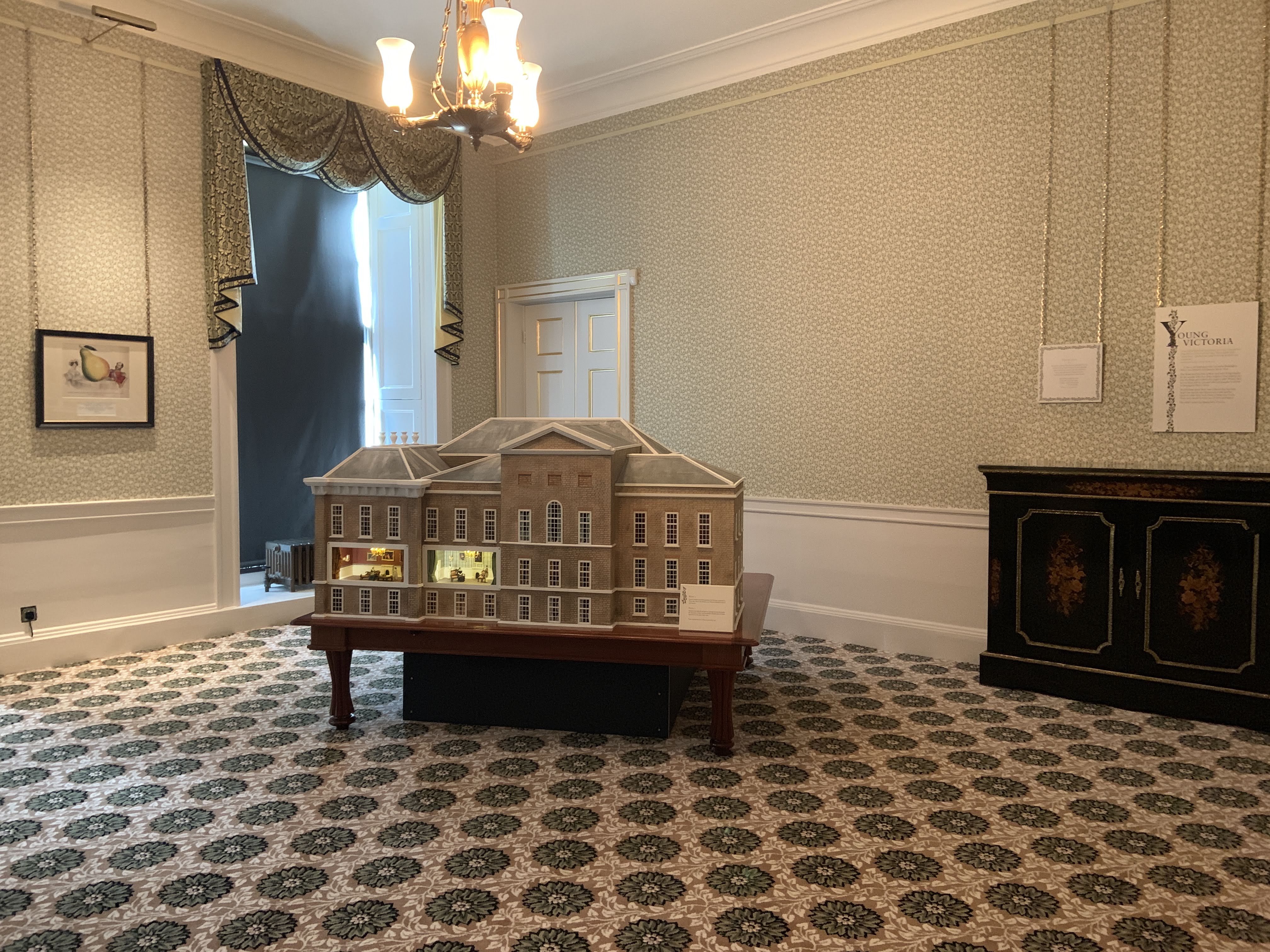 There is a large dollhouse of Kensington Palace that you can walk around. Look into the rooms to see tiny models introducing the characters in Victoria's life story.
John Conroy is the villain of the story. He had worked for Victoria's father, and following the Duke's death, he became secretary to the widowed Duchess of Kent. He saw his position as the Duchess's closest advisor as a way of gaining influence in the royal household. By the time Victoria was a teenager, Conroy controlled every aspect of the household. To Victoria, he was 'a monster and demon incarnate'.
Baroness Louise Lehzen was not just Victoria's governess but also her dearest friend. Lehzen was the daughter of a German village pastor. She first came to England in 1819 to care for Victoria's older half-sister, Feodore. It was most likely Lehzen who encouraged Victoria's strong personality, declaring that she could 'pardon wickedness in a Queen, but not weakness'.
Princess at Play
Family visitors will enjoy the toys in this room that they can play with.
At 5 years old, a happy and imaginative Victoria was placed in the care of Governess Louise Lehzen. She was strict but devoted to Victoria. She brought structure and discipline to Victoria's life. They enjoyed making costumes for Victoria's dolls together.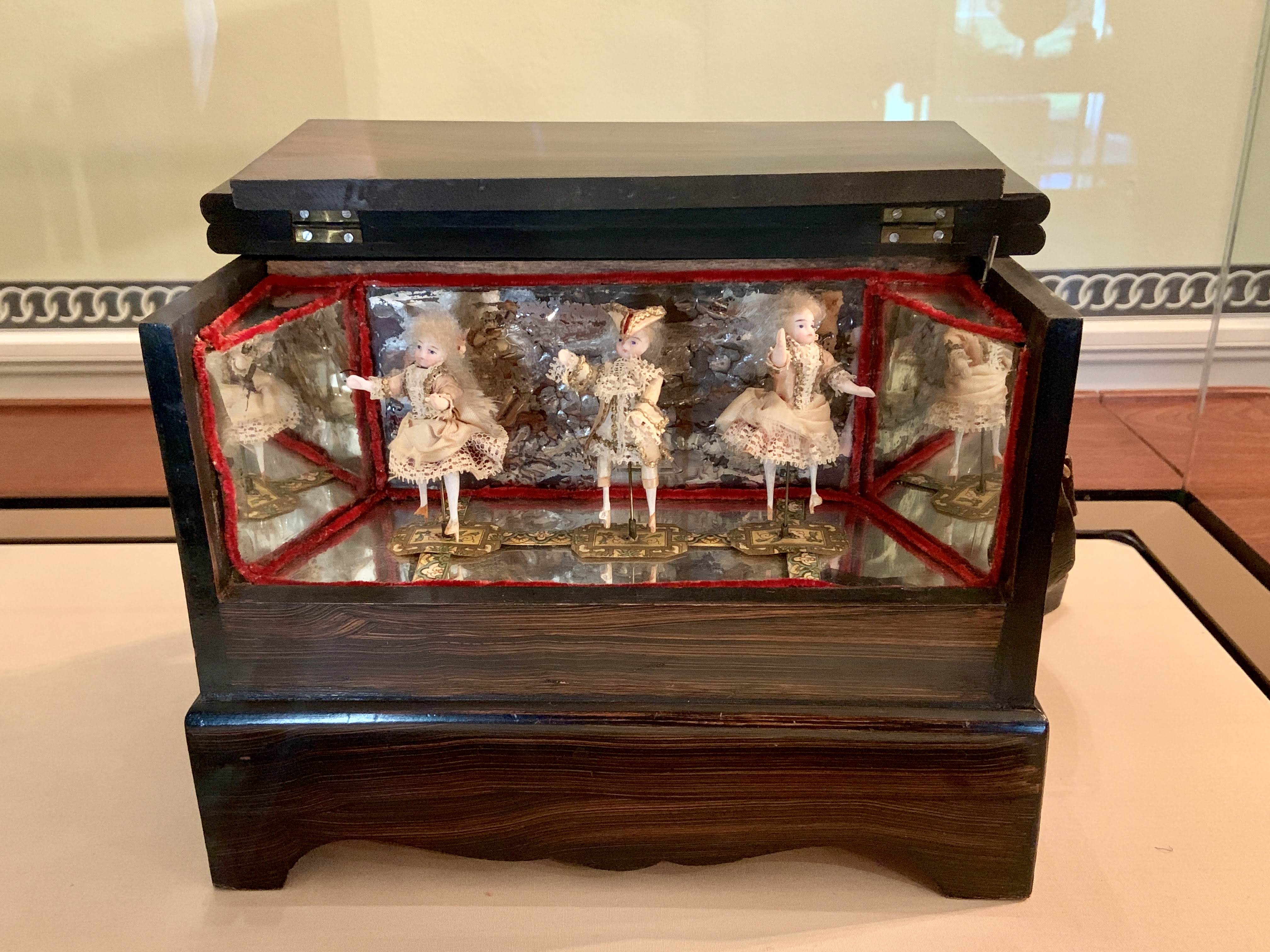 The exhibits bring new light to the mother-daughter relationship here as while we have been led to believe her mother was domineering and that they didn't get on it seems that wasn't necessarily the case. As a child, Victoria was well loved by her mother. Unusually for upper class women, the Duchess breast-fed Victoria herself. The Duchess left affectionate notes under her daughter's pillow and filled Victoria's days with simple routines. On the surface, it seems a gentle and privileged start in life. It seems the problems came more when she was an adolescent.
While Victoria's mother was mourning, isolated from her family and burdened by debt, she turned to John Conroy, a handsome and ambitious army officer, for support.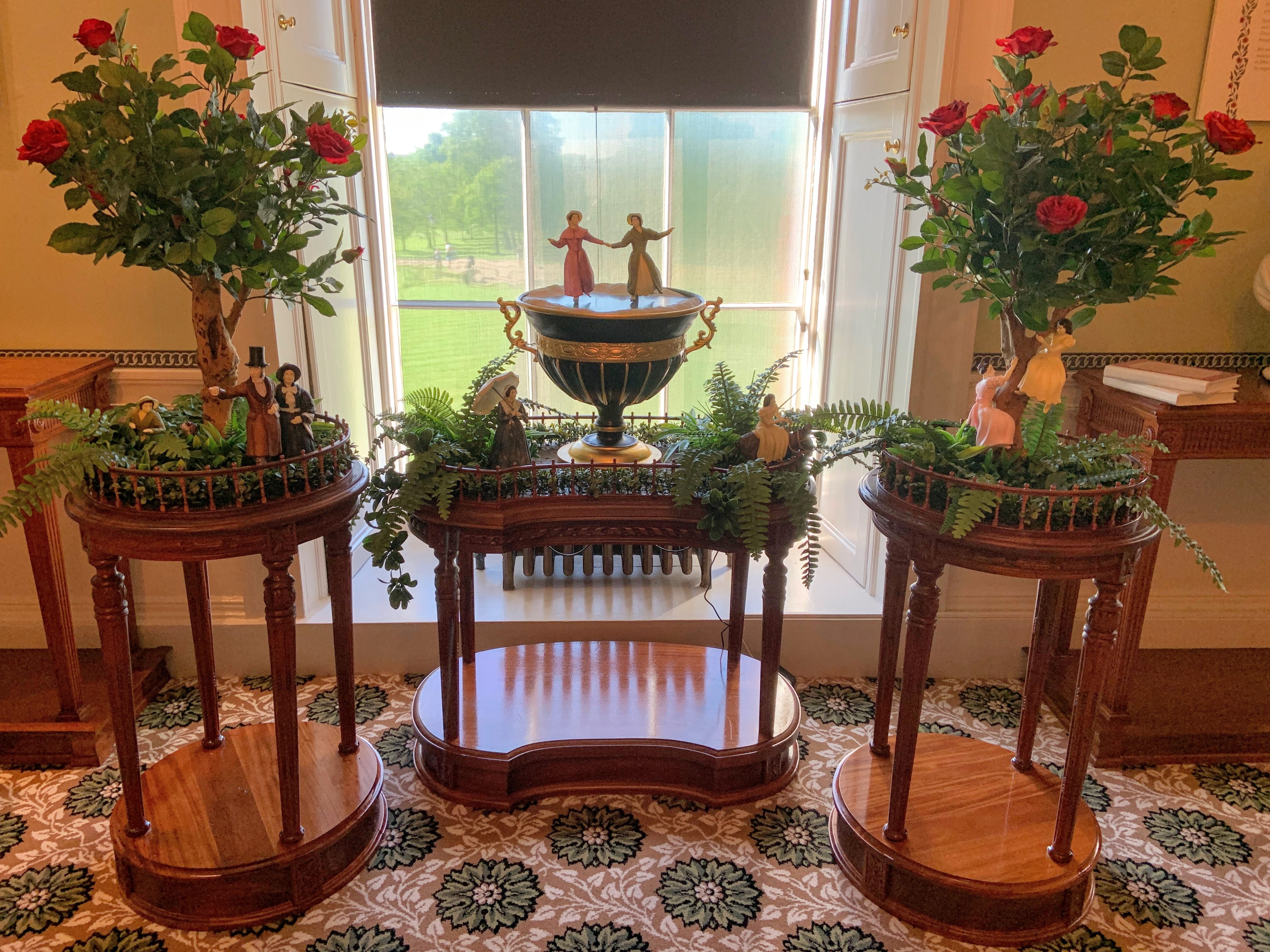 Educating Victoria
This is the room where her schooling took place. Her mother appointed Reverend George Days to manage a demanding timetable of studies, Governess Lehzen took charge of taming unruly behaviour and Victoria's uncle Leopold became a much-loved advisor. When George IV refused to increase the Duchess's income for Victoria's education Uncle Leopold picked up the bill.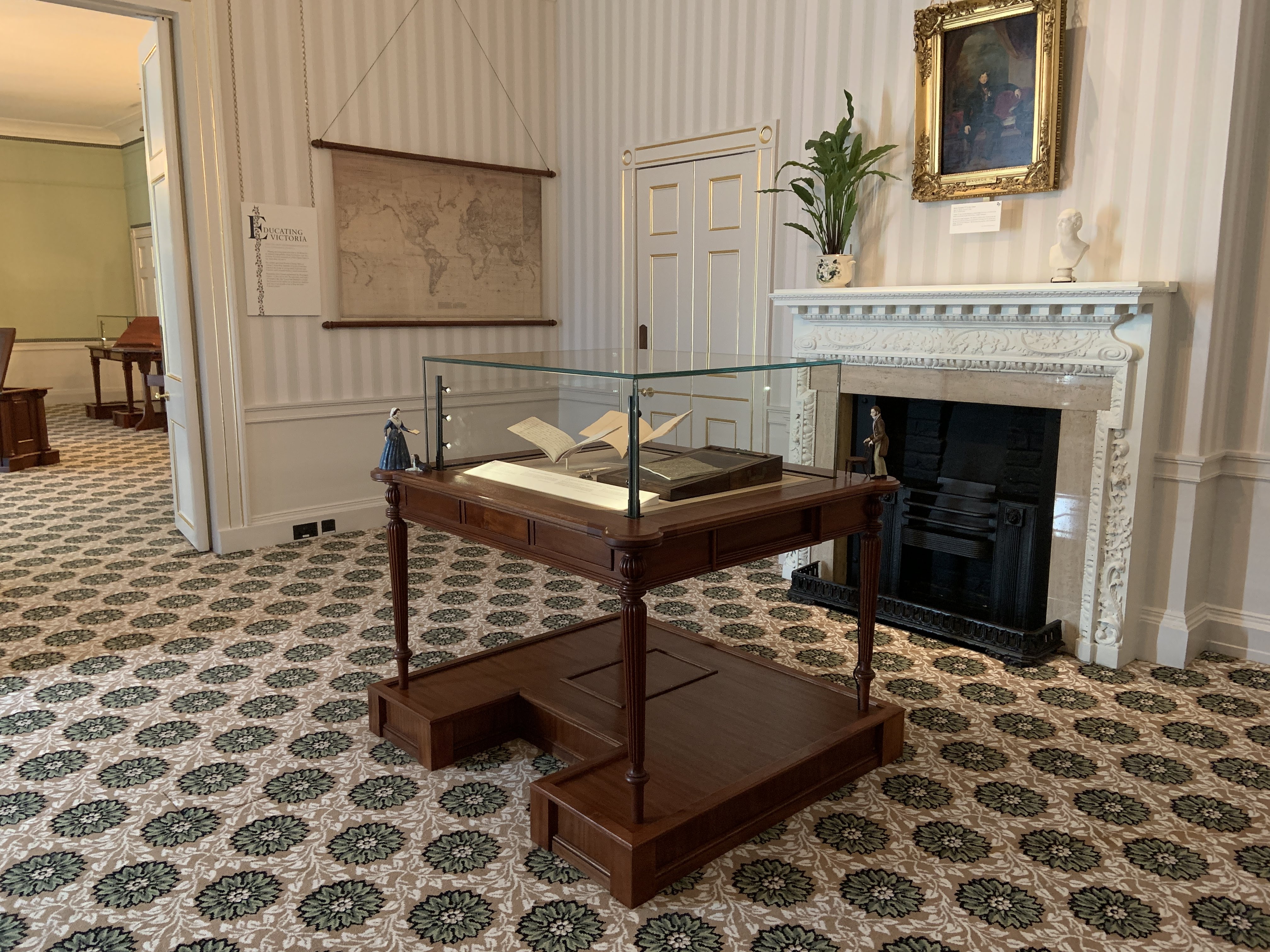 You can see Victoria's exercise books for her school work and her behaviour book. This was something introduced by Lehzen who asked Victoria at the end of each day how she thought she had behaved. Victoria then had to write in the book her verdict on herself.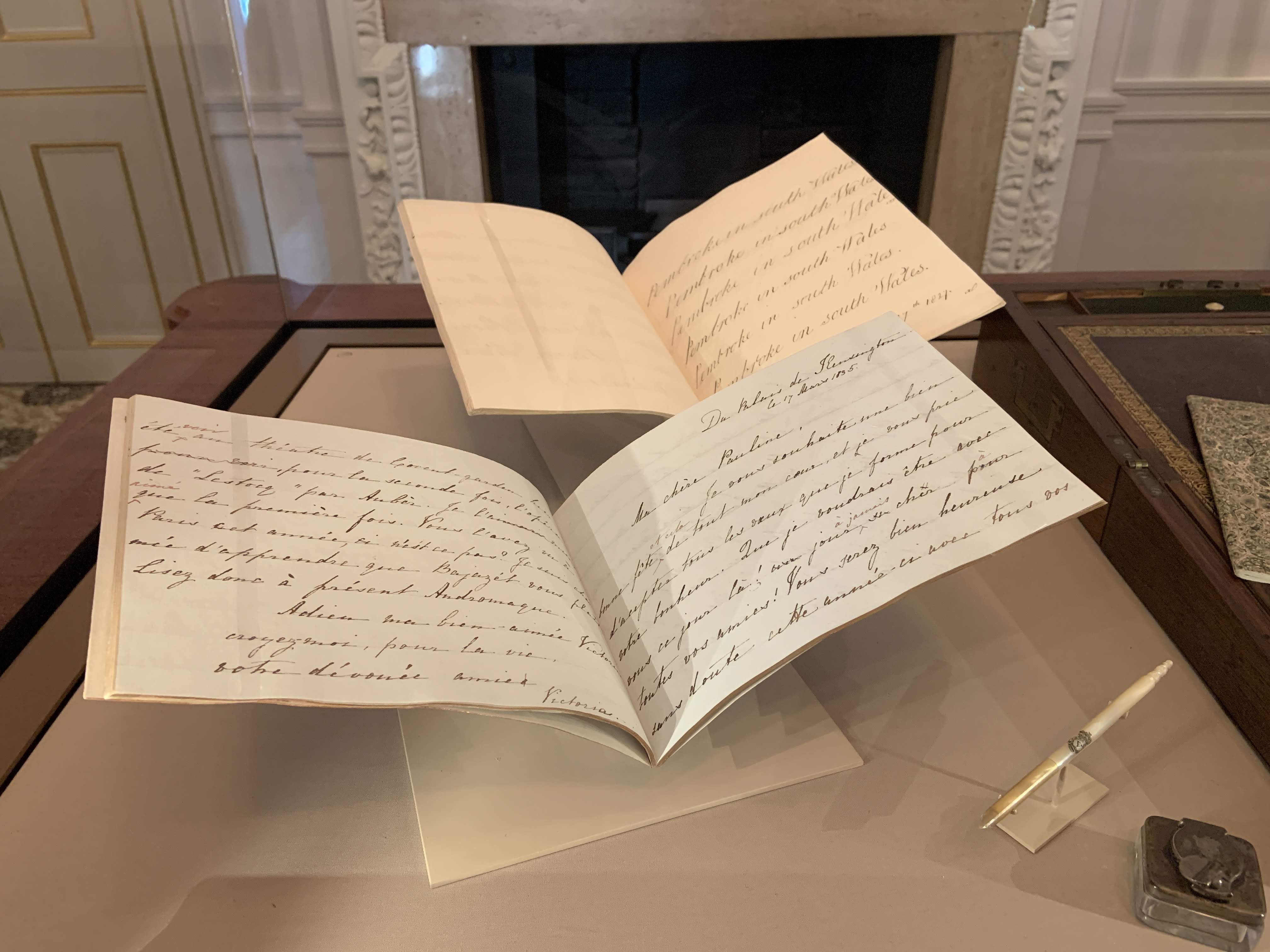 Meanwhile, John Conroy implemented the 'Kensington System' – strict rules that governed Victoria's life. While the 'System' was supposed to prepare her for when she would be Queen, there were three reasons for the rules. Protection and so she could later emerge were two but the third was to break her spirit.
One of the rules was that she could never walk down the stairs unaccompanied in case she might fall which meant someone had to hold her hand every time she wanted to go down. She also had to share a bedroom with her mother so had very little independence.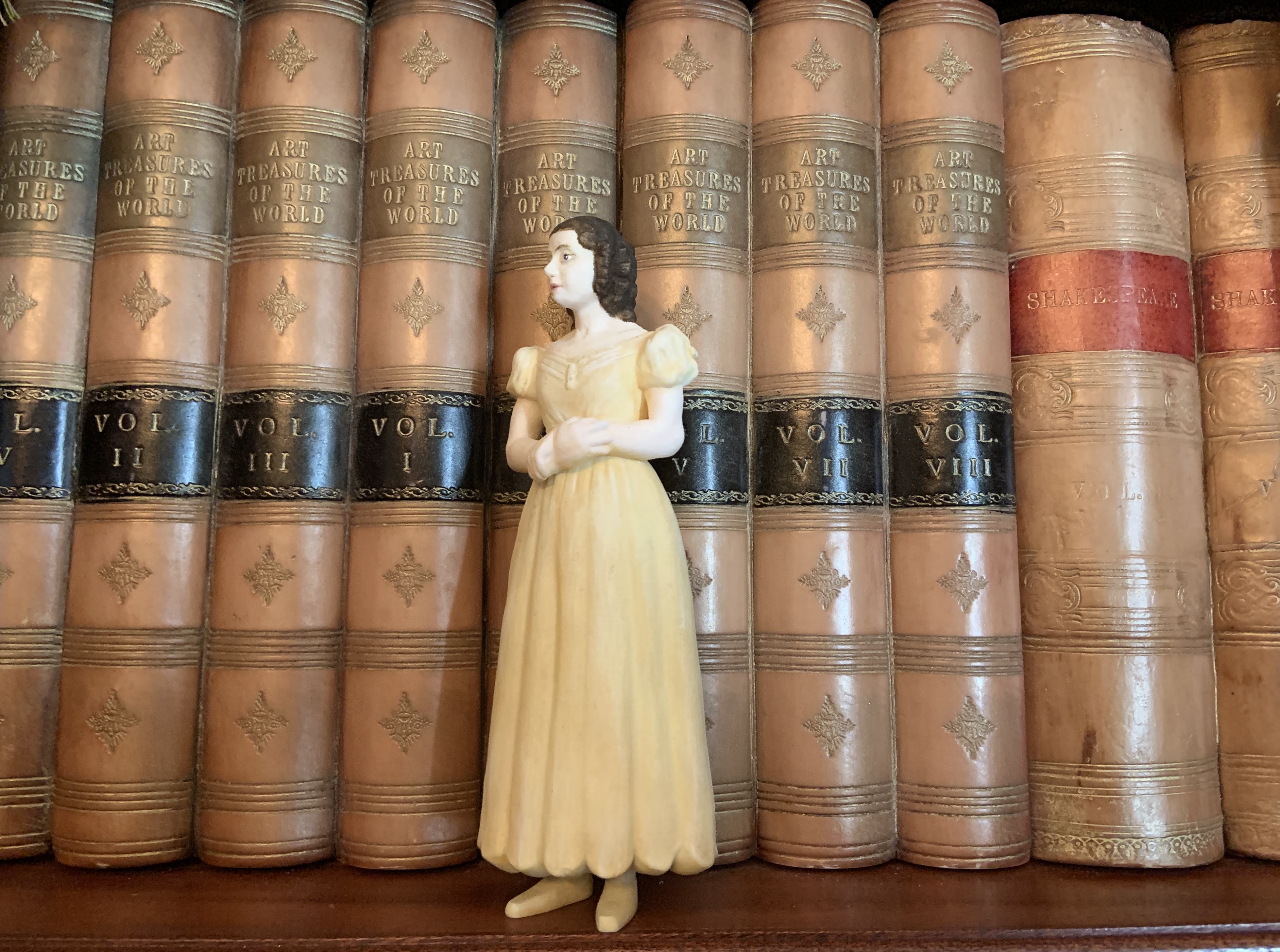 A Royal Performance
This very red room has a large animatronic puppet theatre and seats for visitors to watch the action.
Victoria loved dancing, singing and music and enjoyed frequent trips to the theatre, ballet and opera. After each performance Victoria attended, she wrote detailed reviews of the singers and dancers in her diary, noting if someone had 'danced beautifully!' or 'seemed tired'. And her sketchbooks are full of the scenes and characters that captured her imagination.
Family Feud
Victoria's teenage years brought conflict. The death of George IV and the coronation of the elderly King Willian IV in 1830 meant Victoria was now officially heir.
She was sent on tours of England and Wales to firmly establish the Princess and her mother in the public eye. She caught typhoid fever in Kent when she was 16. Using this moment of weakness, Conroy who went too and, the Duchess, tried to seize power but Victoria and Lehzen stood firm against them.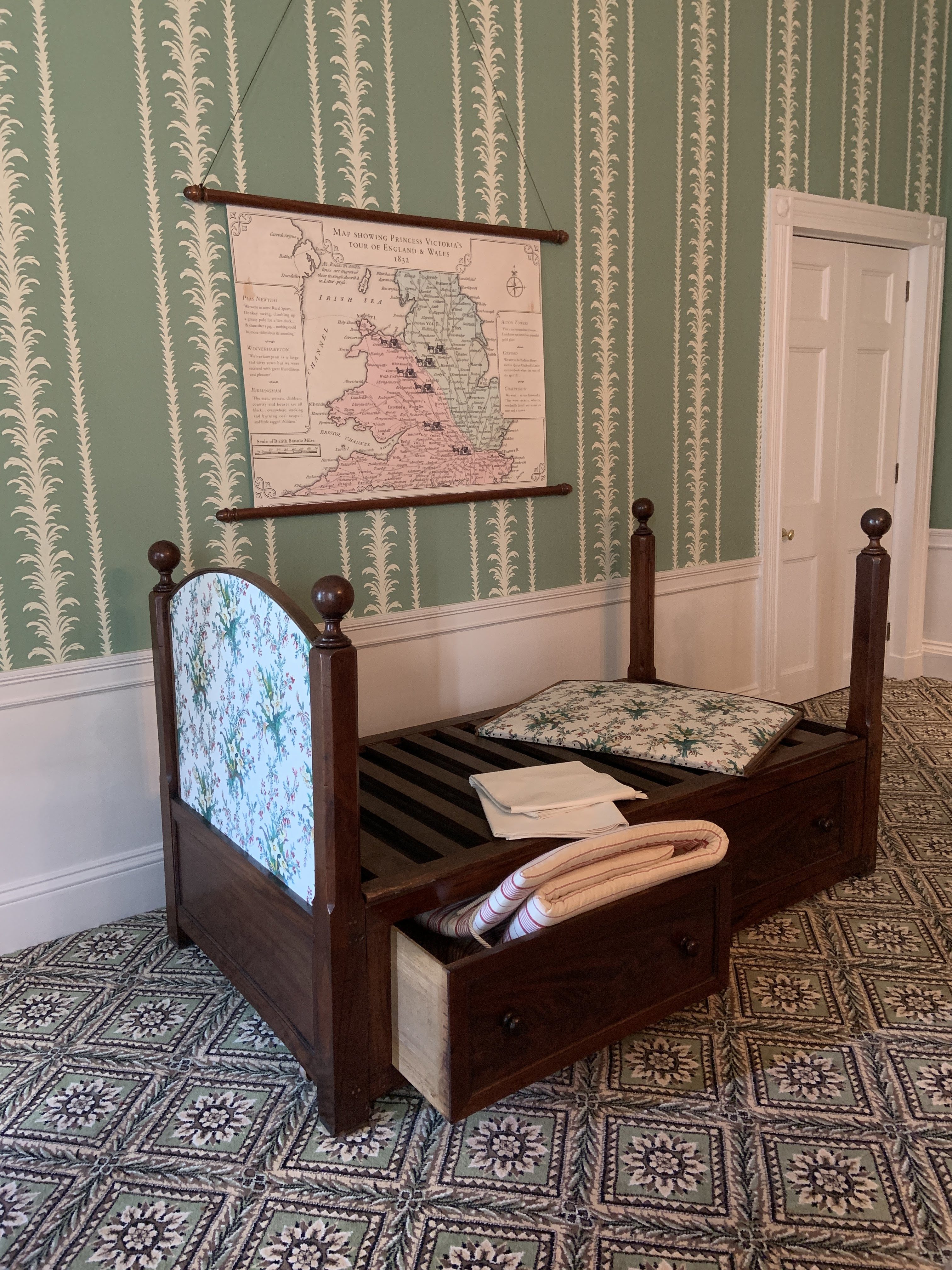 13 year old Victoria began writing a daily diary in 1832. It was read by the Duchess and Lehzen every day so was written with them in mind. She quickly learned self-censorship.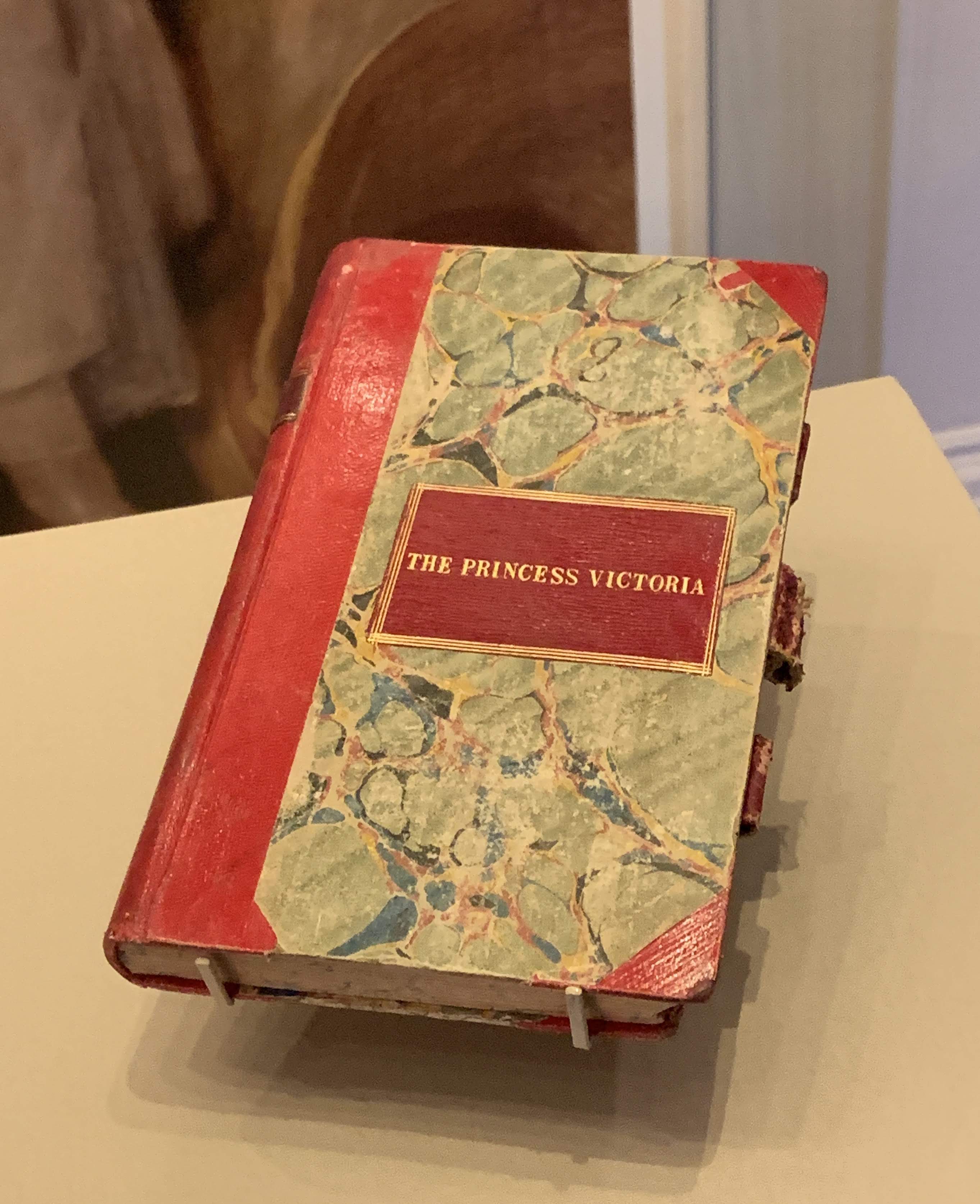 There's a chaise longue here that you can drape yourself over for a photo opportunity.
Victoria was only 5ft 1in but the public was always told she was 1 inch taller as being so small could suggest the Duchess and Conroy were not feeding her properly.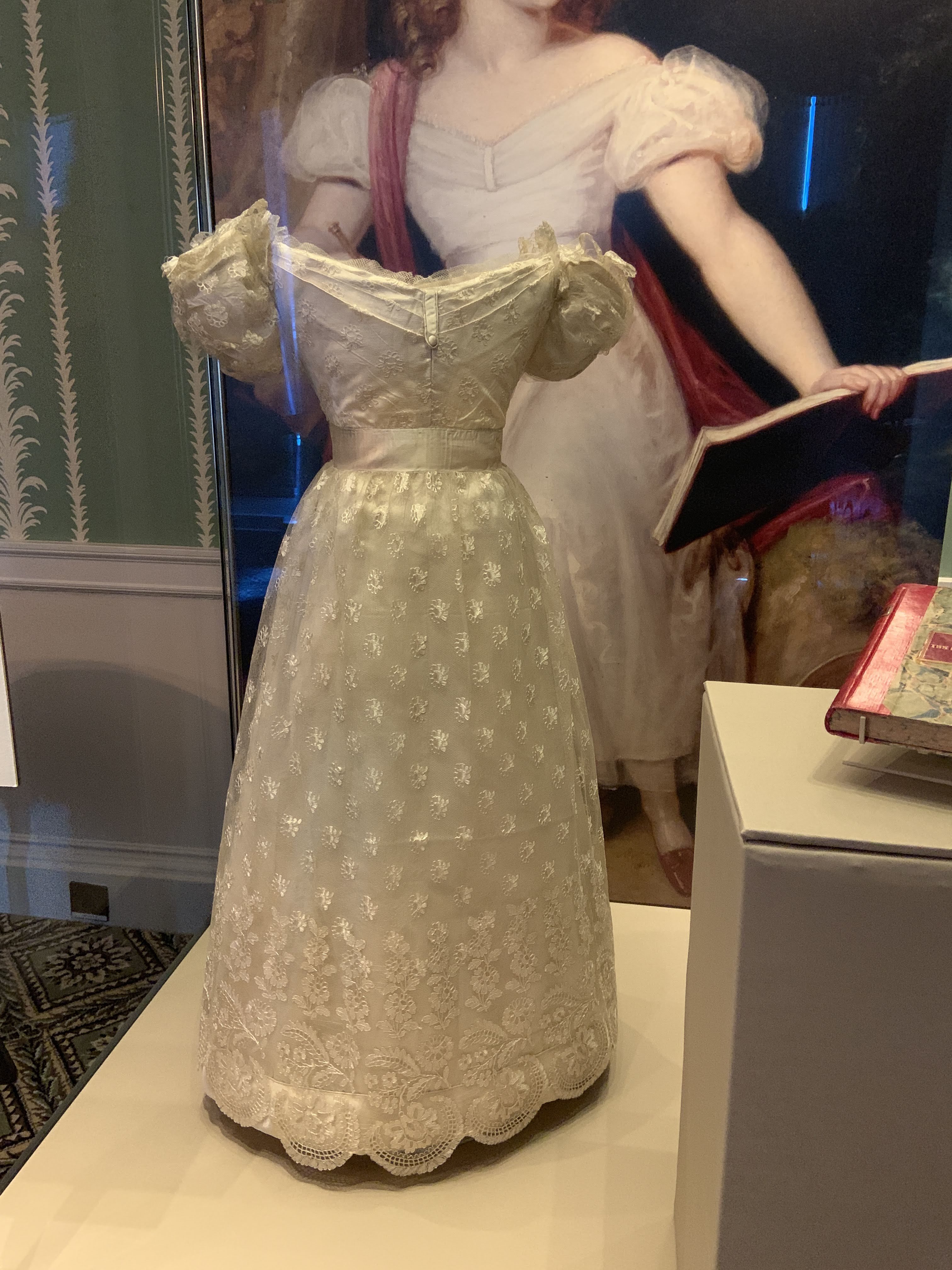 The Birthday Ball
On 24 May 1836 Victoria turned 17 and her mother held a lavish ball. The question of who Victoria would marry had been hotly debated since she was 11 years old. Now a young woman, several potential husbands were invited to the ball.
The King had a politically advantageous match in mind – a prince from the Netherlands. But Victoria's German family had other plans. Her first cousin, Albert, was their preference. From the moment they met, Victoria and Albert made a lasting impression on each other. (When he later returned in 1839, they fell in love and wed in 1840. They were married for 21 years.)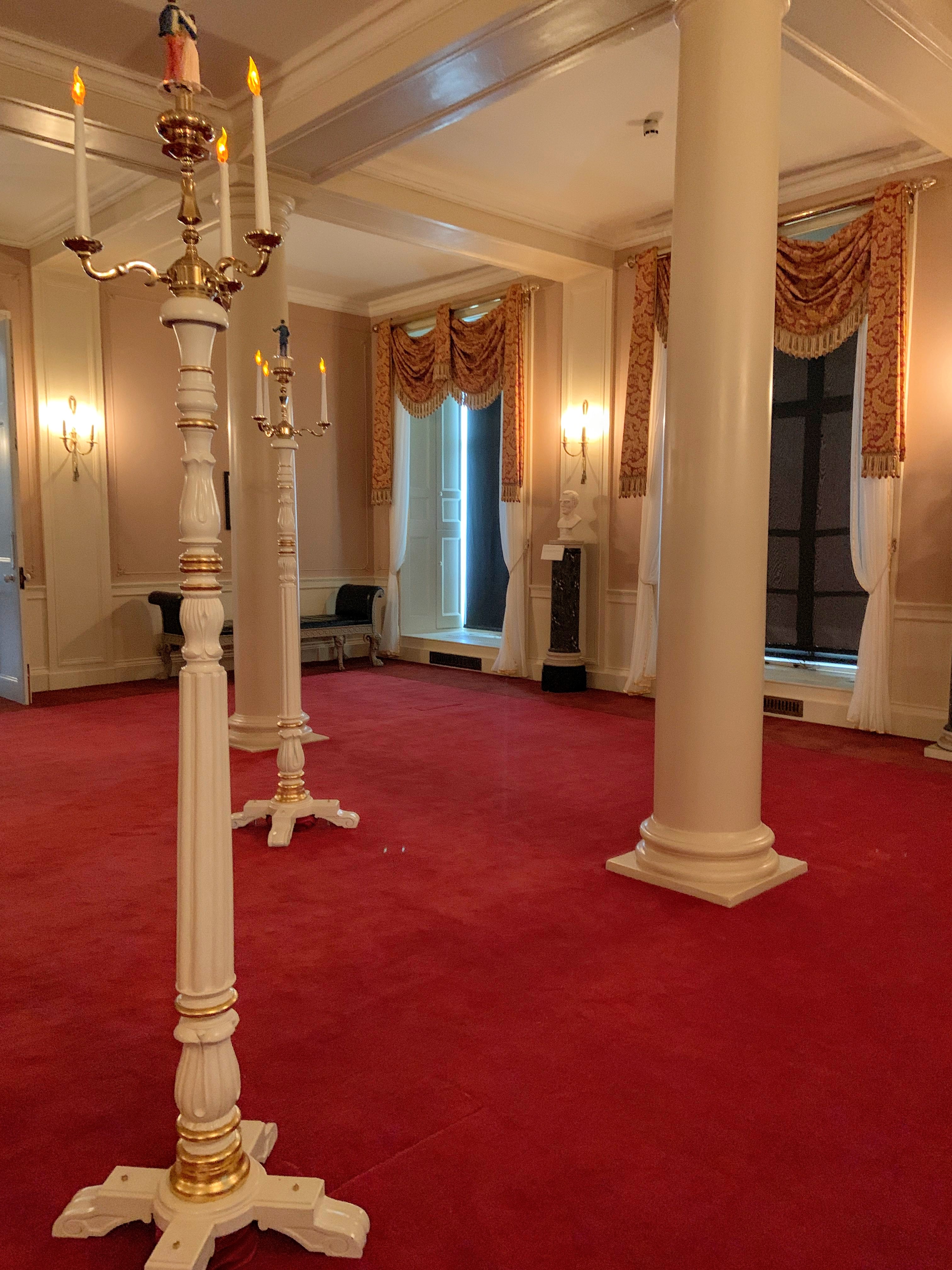 For her 17th birthday, there was a ball in this room although I will point out it's not that big. But there are lovely candelabras with dancing couples on the top.
Bedroom
This is the room where Victoria was born. It is her bed that is on display and possibly her cradle. (We know the cradle has been at the palace for 200 years.)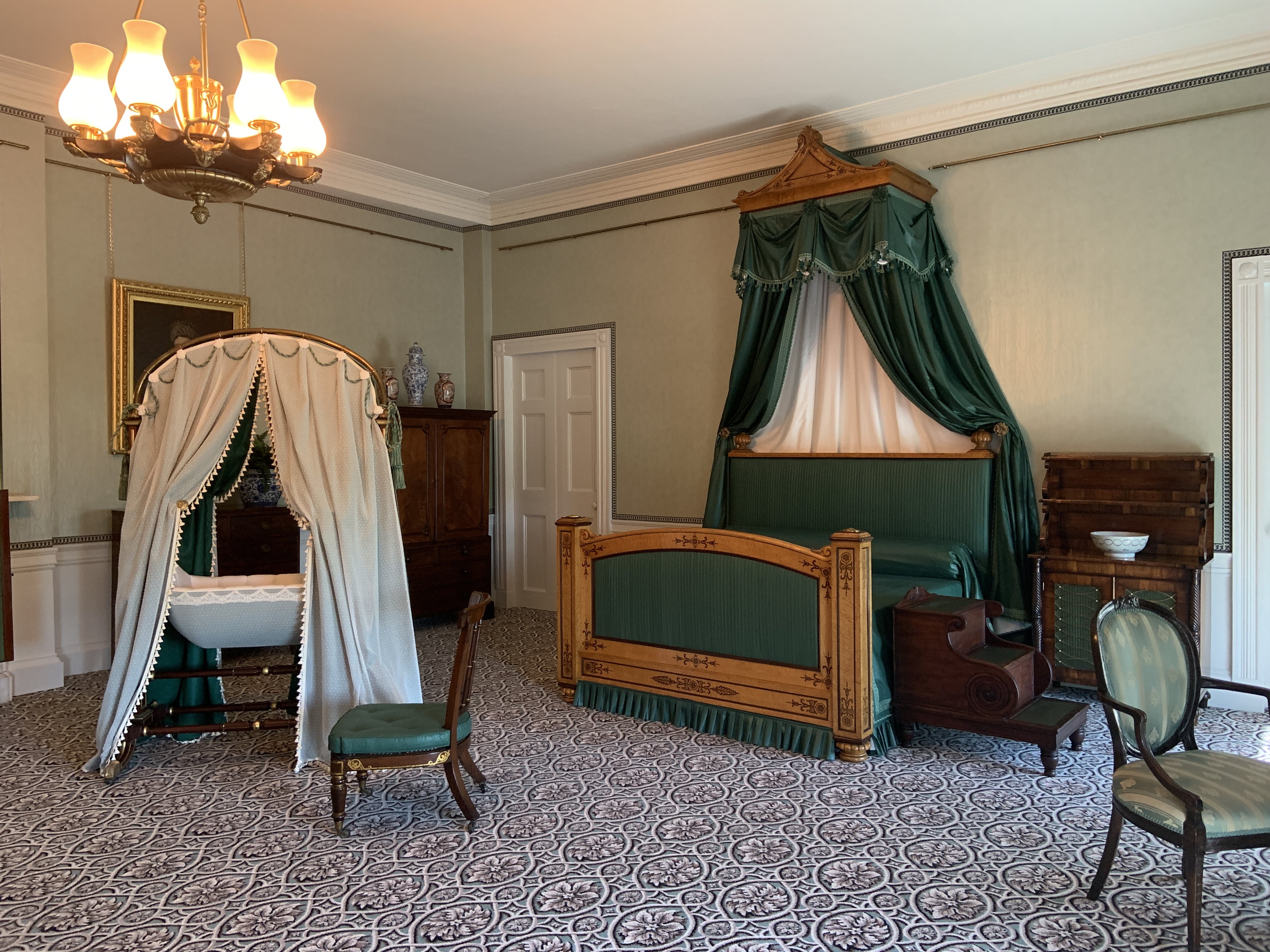 Her mother and father rushed back from Germany so Victoria could be born in England. The Duke was anxious – childbirth being so dangerous – so remained by the Duchess's side throughout.
The room had been a dining room but it was decided it was the best room for the Duchess to give birth as the kitchens were directly underneath for supplies of hot water and officials could gather next door to witness the birth. On the day she was born, Victoria was fifth in line to the throne.
Two doctors managed the birth, including, rather unusually, Germany's first female gynaecologist Charlotte Heidenreich von Siebold, who had travelled to London with the Duchess. (Three months later, Siebold delivered another royal baby – Victoria's cousin, and future husband, Albert.)
Red Saloon
This is where she made her first public appearance as Queen. Victoria's Coronation Dalmatica is on display that she wore on 28 June 1838 for the ceremony at Westminster Abbey.
As dawn broke on 20 June 1837, The Lord Chamberlain and Archbishop of Canterbury arrived at Kensington Palace to break the news that the King was dead. This meant Victoria was now Queen. Who would have known she would go on to be the first British monarch to celebrate a Diamond Jubilee and complete a 63 year reign?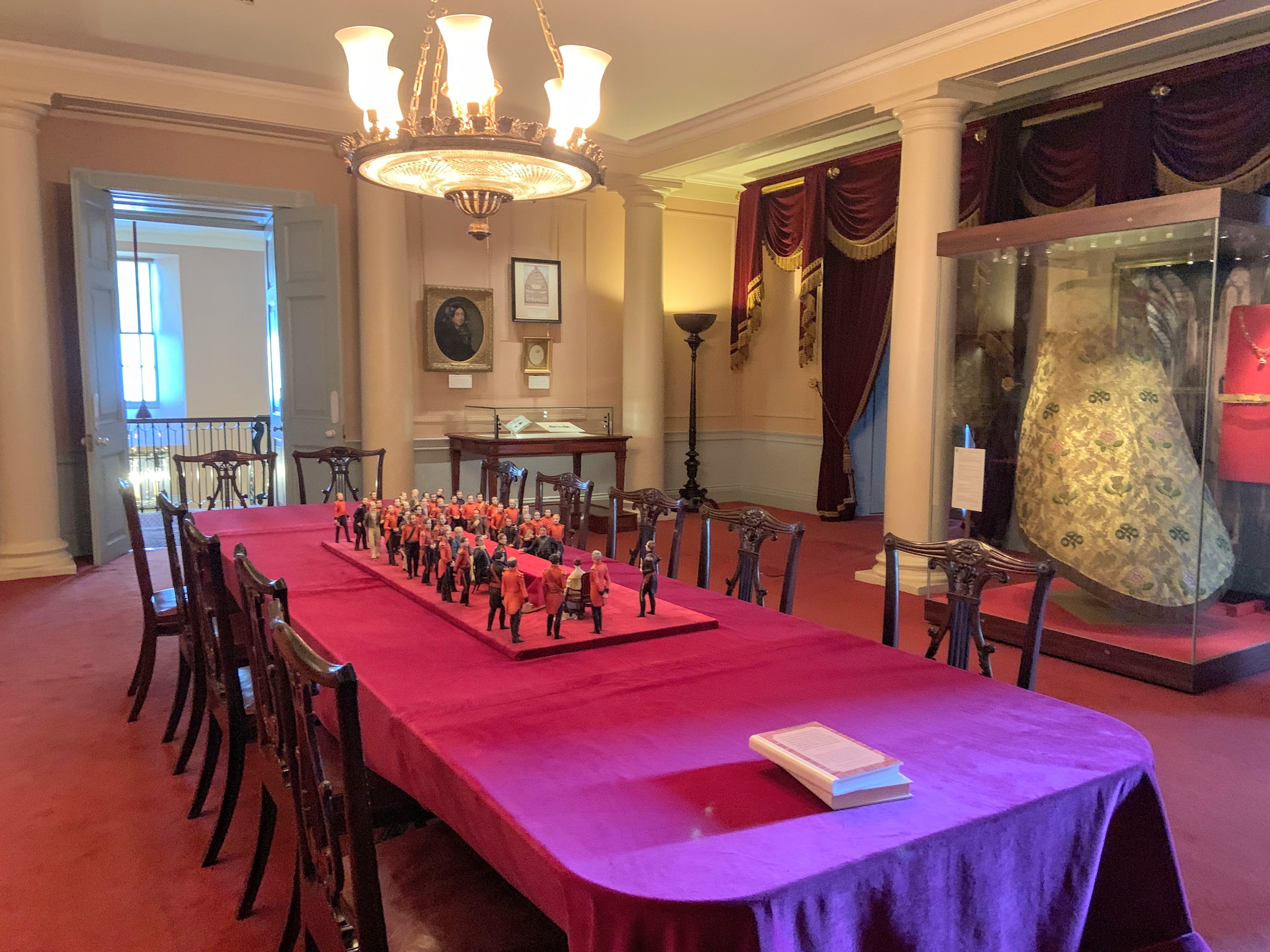 At 11.30am, 97 curious Privy Councillors gathered in this room to witness the signing of the Protestant oath and the start of a new reign.
Victoria left out her first name, Alexandrina, in favour of the name she had used since childhood. This was the first document she signed as Queen Victoria.
As Victoria was now 18 she could rule alone, dashing her mother's plan to be Regent. She relished her new independence and within 13 days, she left Kensington to finally have her own bedroom in Buckingham Palace. She dismissed Conroy, banished her mother to the opposite side of the palace and appointed Lehzen as her Lady Assistant.
Lehzen loved Victoria like a mother but also feared her at times. She kept a memorial scrapbook with locks of Victoria's hair as well as photos which is on display here for the first time. Lehzen was dismissed in 1842 after more than 20 years of devoted service as she was no match for Prince Albert in the Queen's affection.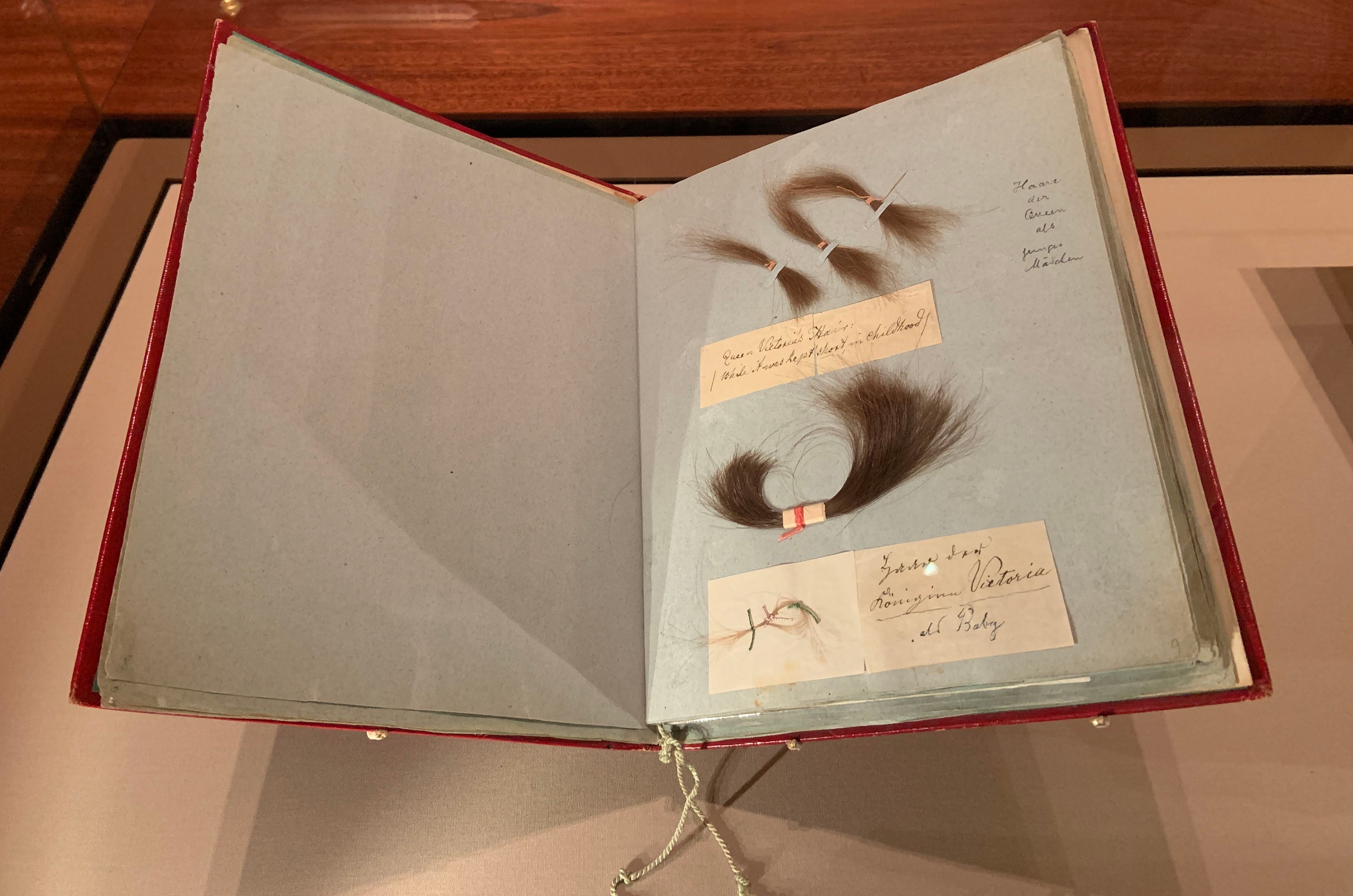 Victoria: Woman and Crown
This new temporary exhibition explores Queen Victoria's private life behind her carefully-managed public image. It also re-examines how Victoria balanced her role as a wife and mother with that of Queen of an expanding empire.
It starts with Queen Victoria's pure white petticoat which represents the new hope she offered to the nation.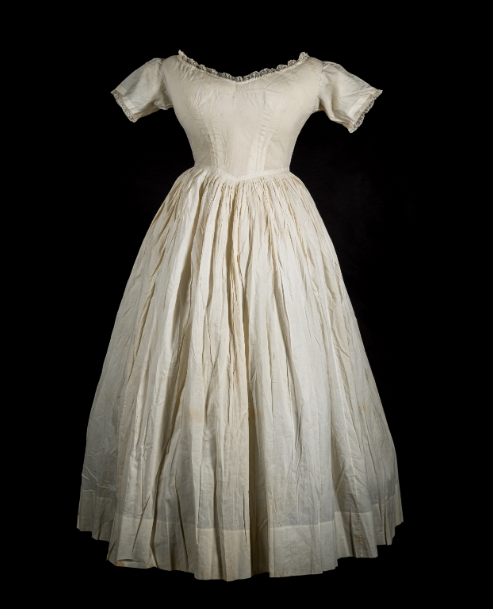 The information panels throughout the exhibition have interesting 'peepholes' and quotes from her diary.
Wife
Victoria fell totally and utterly in love with Albert. He became, in her words, 'an angel whose brightness shall illuminate my life'.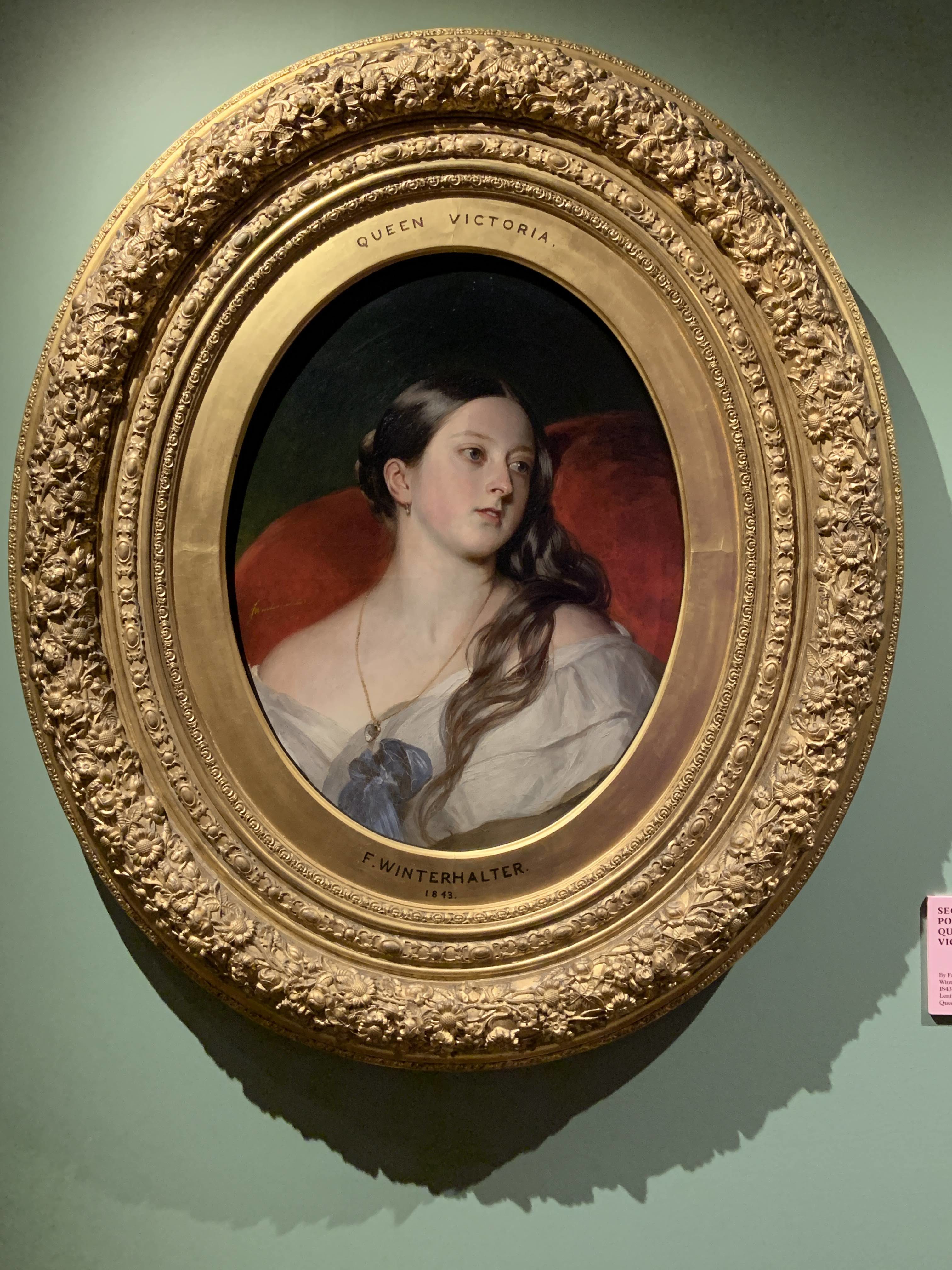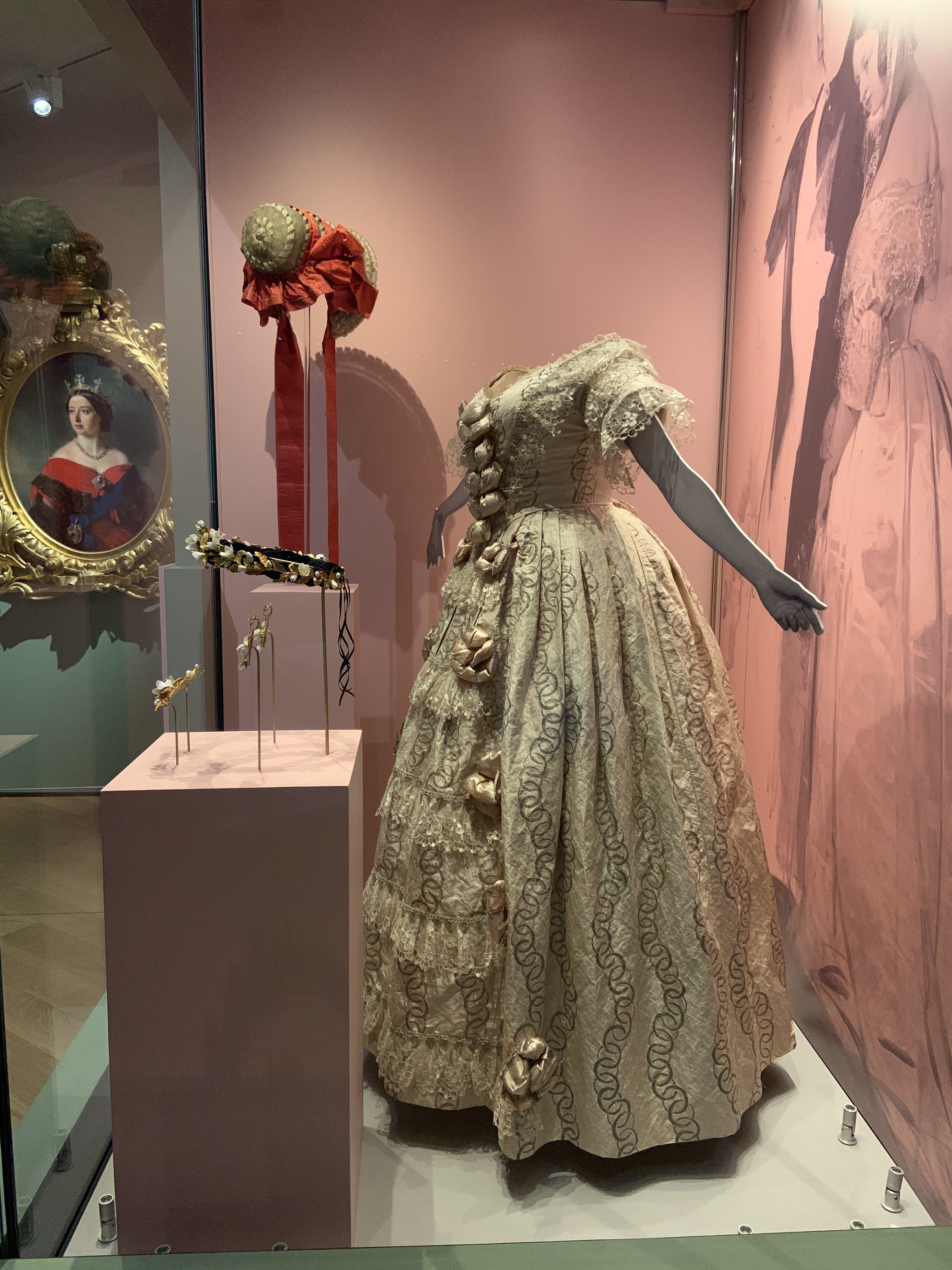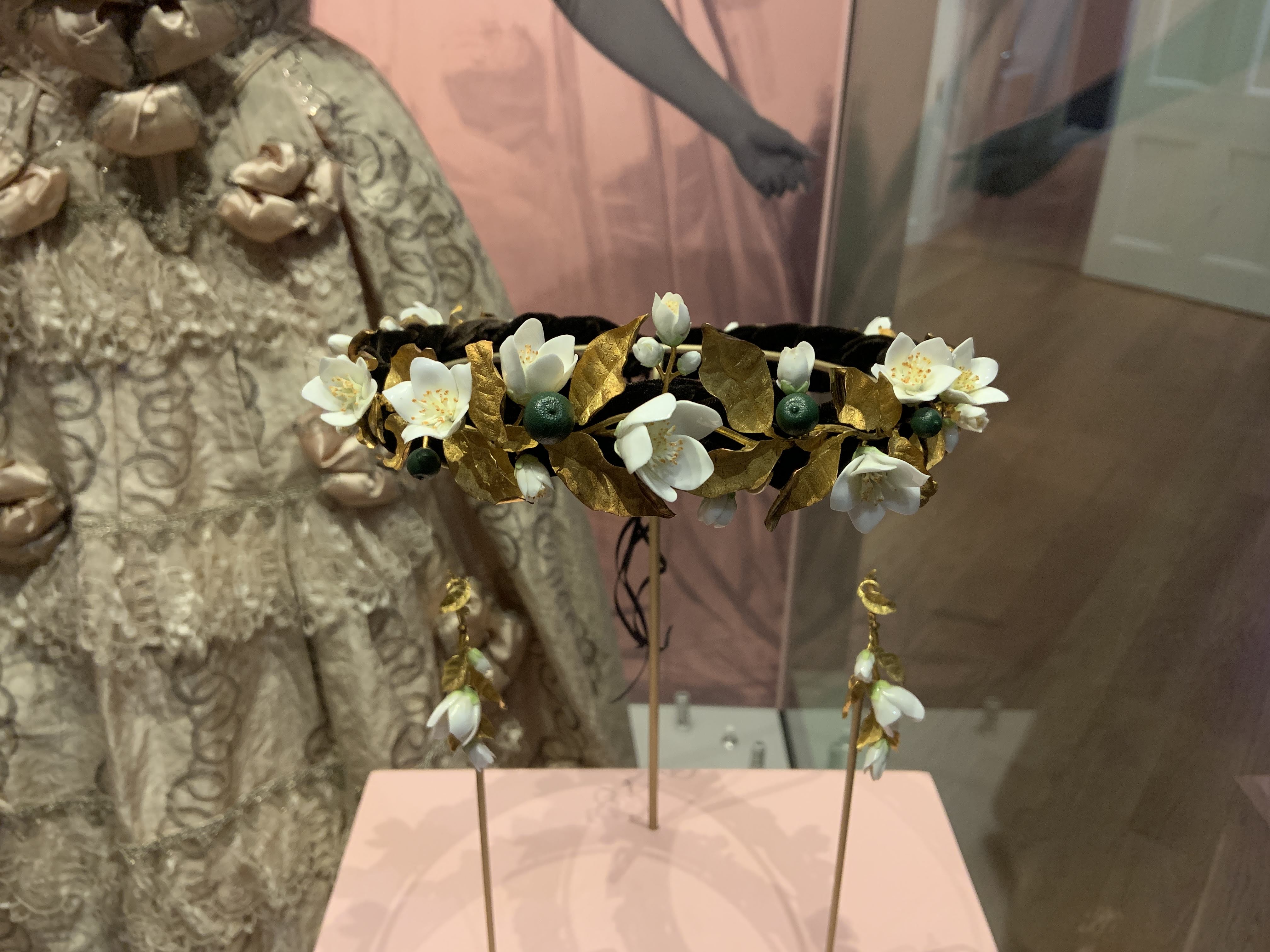 Mother
Queen Victoria had mixed feelings about motherhood. She became pregnant within two months of marrying Albert and didn't enjoy being pregnant. She felt her duty as a mother conflicted with her role as Queen.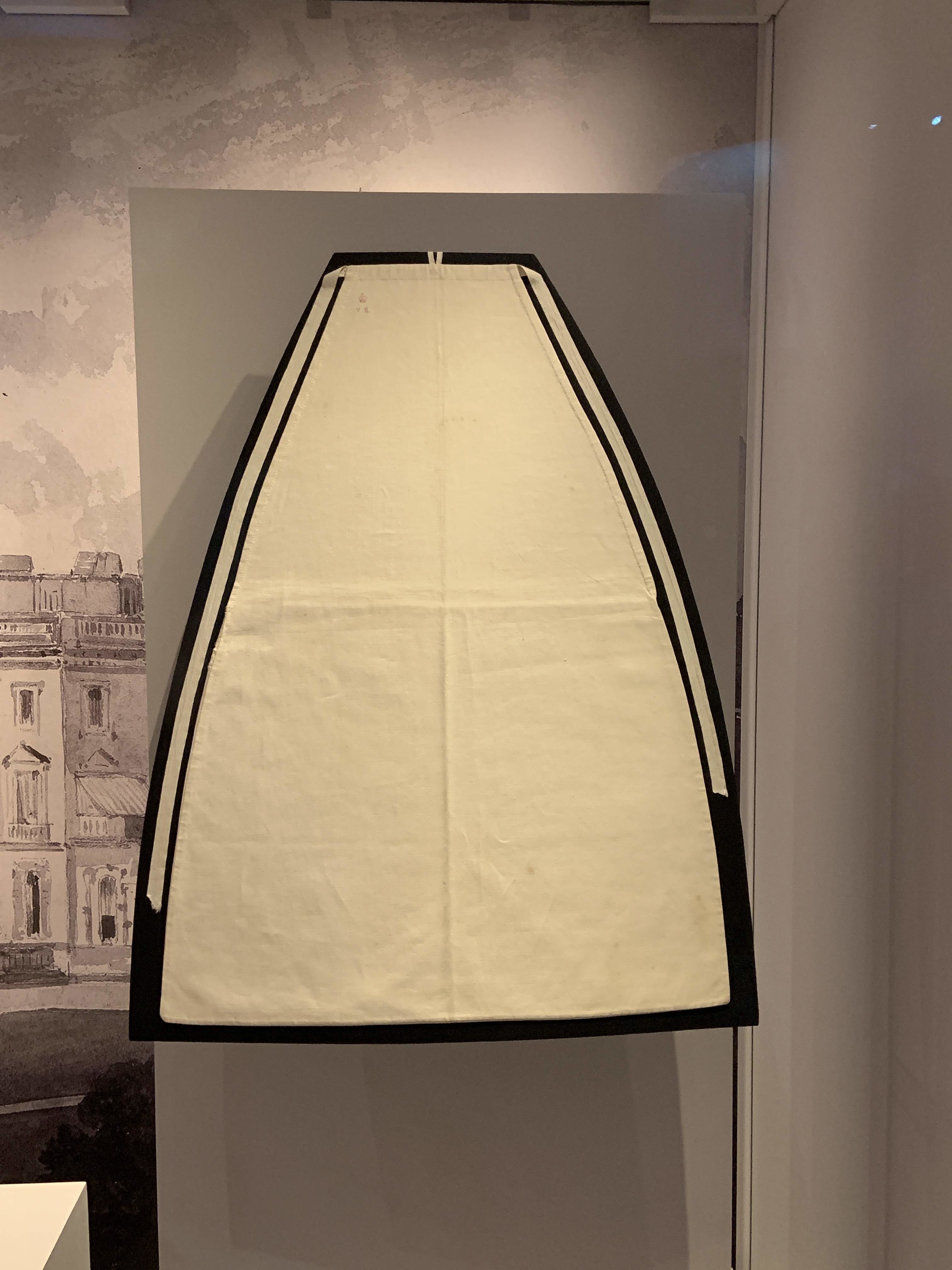 Yet, while the media now likes to portray her as uncaring towards her nine children, her diaries and sketches show her devotion to them.
Widow
For Queen Victoria, 1861 was a year of grief and loss. In March, her mother died. Then in December, Albert died unexpectantly from suspected typhoid. She sank into a deep depression and refused to make official public appearances for many years afterwards.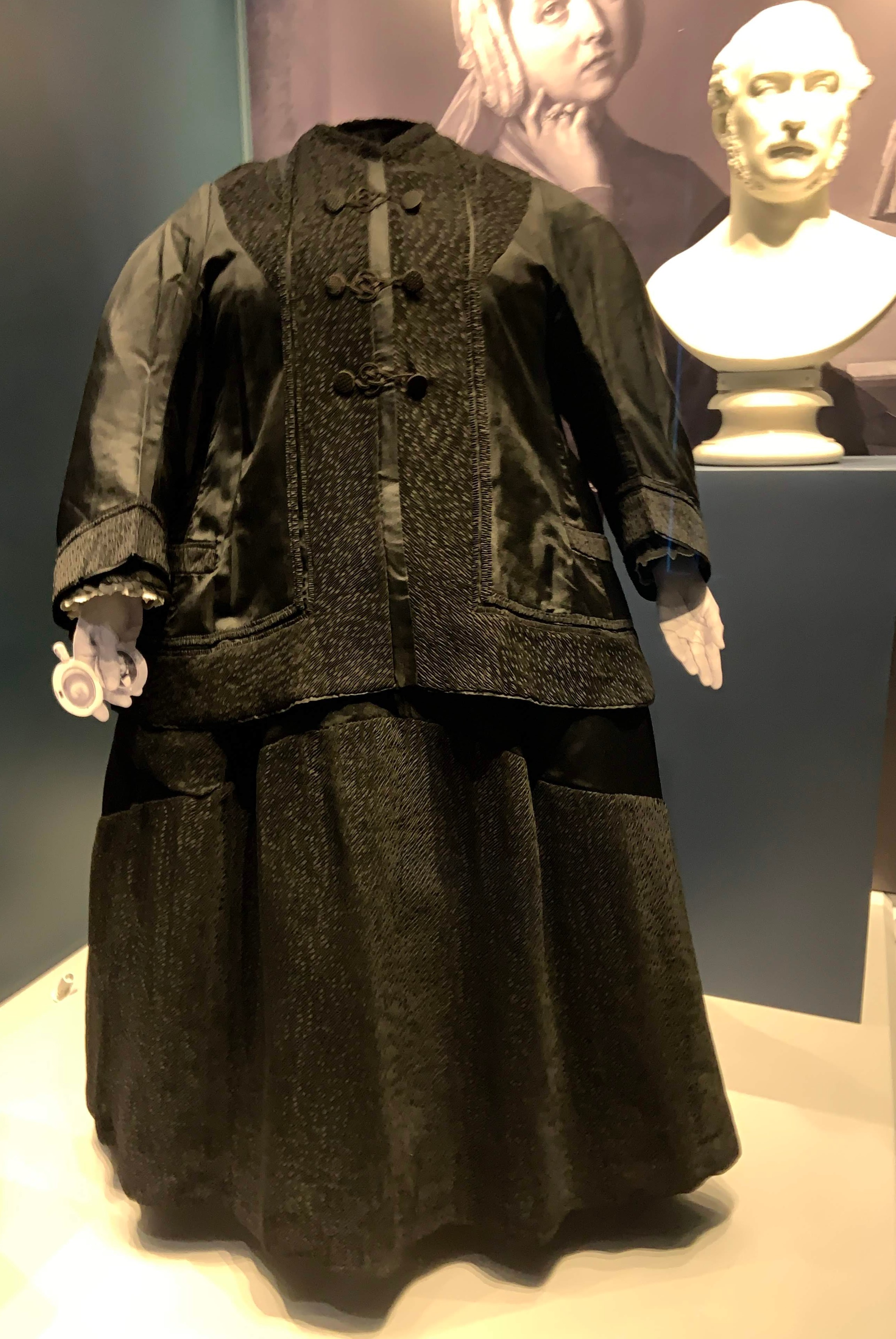 Victoria had always sought approval from Albert on everything she wore in public. Without him by her side, she wore black for the rest of her life. She also insisted that all servants and family wore black armbands for eight years after Albert died.
As she was the most famous women in the world at the dawn of the photographic age, her standard black outfits, though born out of sadness, were easy to recognise and did remain a constant in a rapidly changing world. She wore a widow's cap every day for the rest of her life. She even had a crown especially made to fit around it. She certainly curated her own public image.
It's not only black clothes on display as a fashionable pair of silver boots recently acquired by Historic Royal Palaces provide a stark contrast to the exquisitely made, black satin gowns she was so famous for wearing.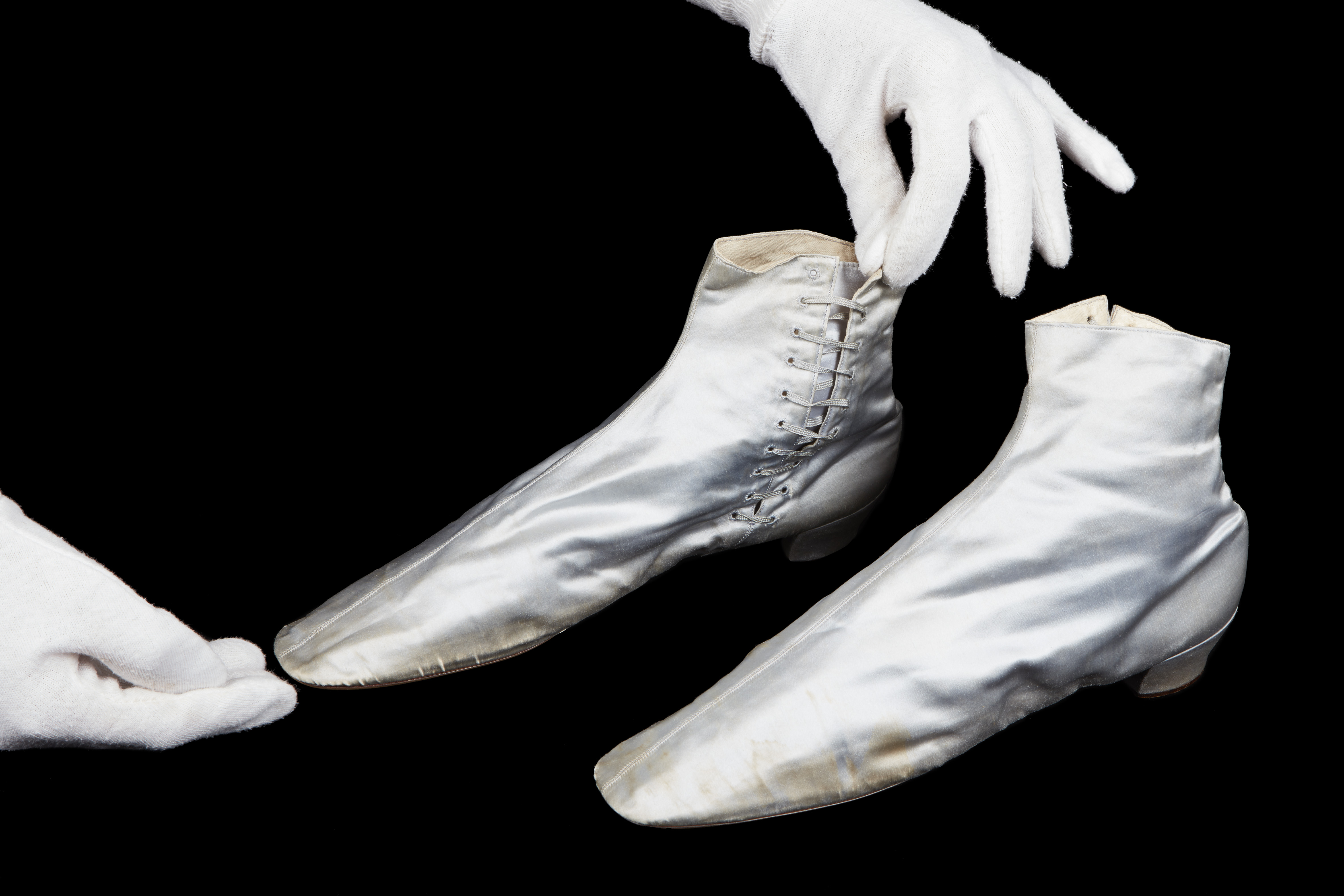 The exhibition includes an art installation room on the idea of death and loss in Victorian times. There are flowers (for the Instagram selfies) and there's even a scent added to the room for your senses to be stimulated. While there seems to be an interesting story about this small room, there was nothing there to explain it so I'm not sure many visitors will fully understand.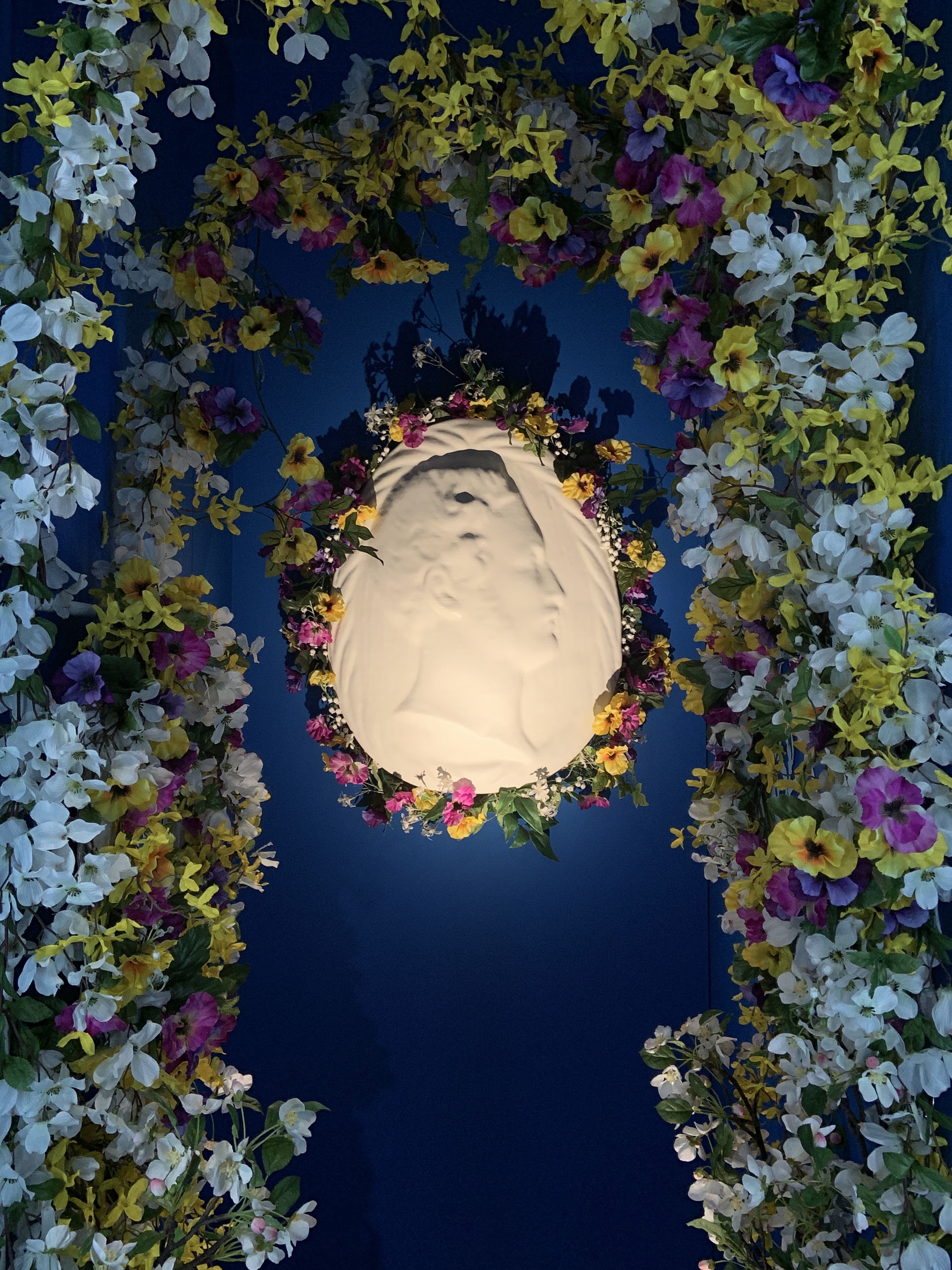 Scotland
It took conservators some time to unknot the fringing on the Balmoral Tartan Shawl but it is now looking good and on display.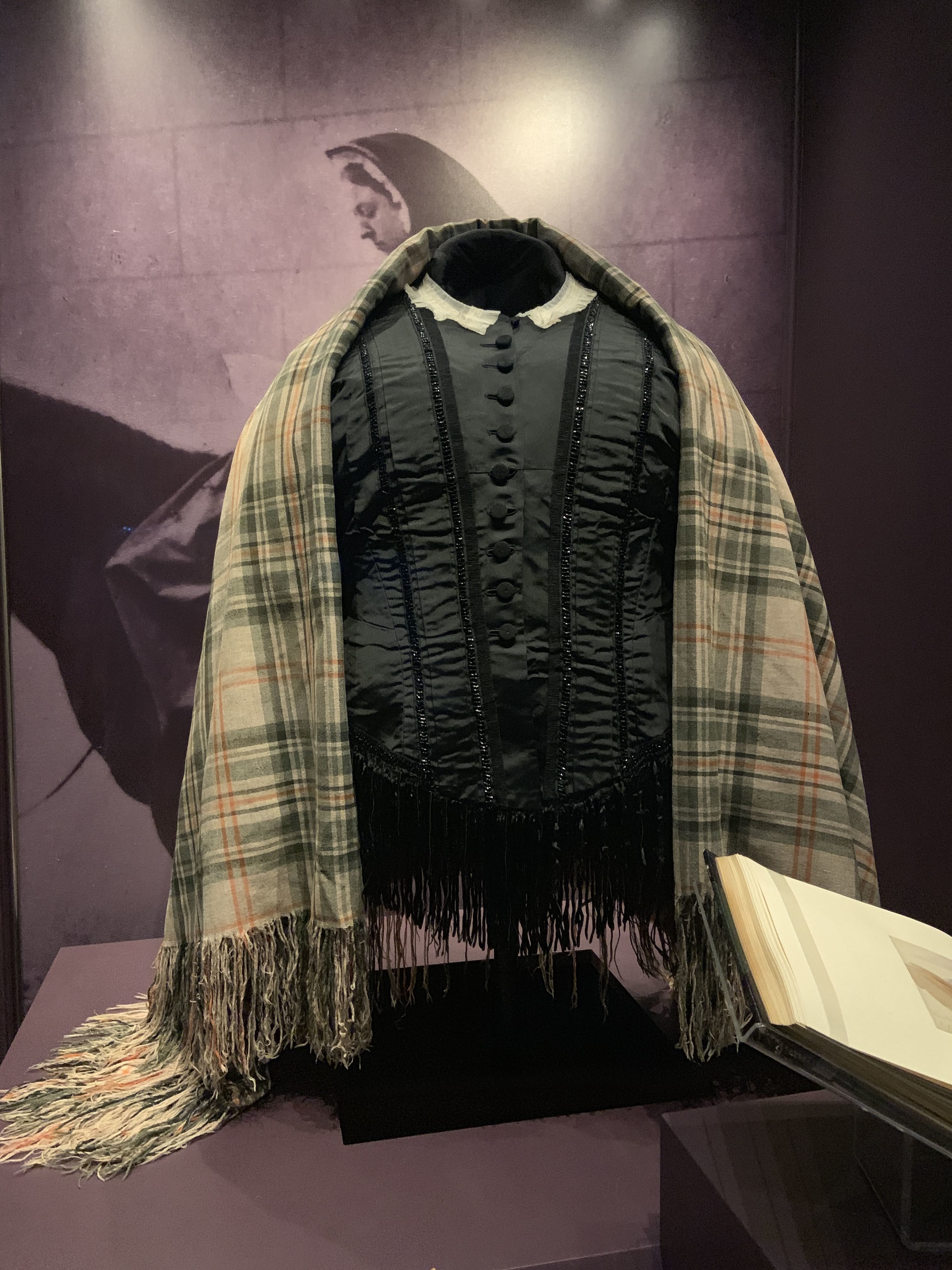 John Brown had been selected by Prince Albert to be Victoria's personal servant in Scotland. He appeared to have been of considerable comfort to the grieving Queen after Albert's death, and inevitably rumours of the nature of the relationship between the two began to surface.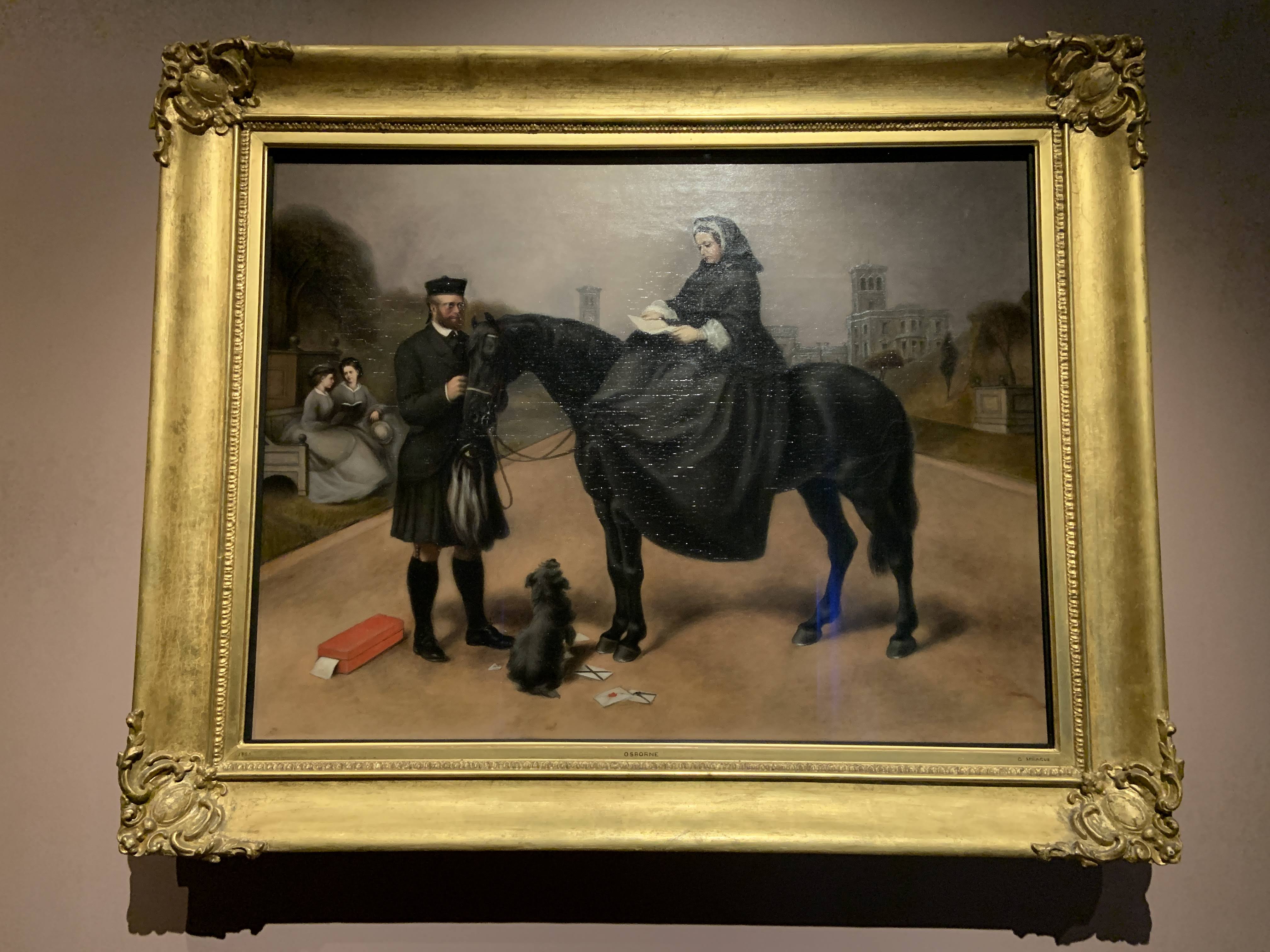 This 1867 painting was supposed to show the nation she was working and that John Brown was her servant. But instead, it came across that she was likely having an affair with him and the papers on the floor suggested she was neglecting her duties.
Grandmother of Europe
Albert believed that he and Victoria could maintain peace across Europe by marrying their children into continental royal families. As a result, their children and grandchildren were scattered across 20 royal families. By the time of her Golden Jubilee in 1887, Victoria was the most senior royal in Europe.
It was a hopeful plan but not successful. Three of Victoria's grandchildren, Tsar Nicholas II of Russia, Kaiser Willhelm II of Germany and King George V of Great Britain fought against each other in the First World War. Willhelm II exclaimed, "To think that George and Nicky should have played me false! If my grandmother had been alive, she would never have allowed it."
Queen Victoria had nine children and forty-two grandchildren. In old age, she enjoyed having the family gathered around and she like to have these occasions photographed.
Empires of India
In 1876 Queen Victoria was crowned Empress of India. It was in effect a personal gift from Prime Minister Disraeli to his beloved Queen.
She began to read and write Urdu in 1887 when she was almost 70 years old. She learned from her servant Abdul Karim who she called "Munshi" meaning "teacher". By 1889 he was providing regular lessons on Hindustani and Indian religion and culture. And by 1894 he had been promoted to her private secretary.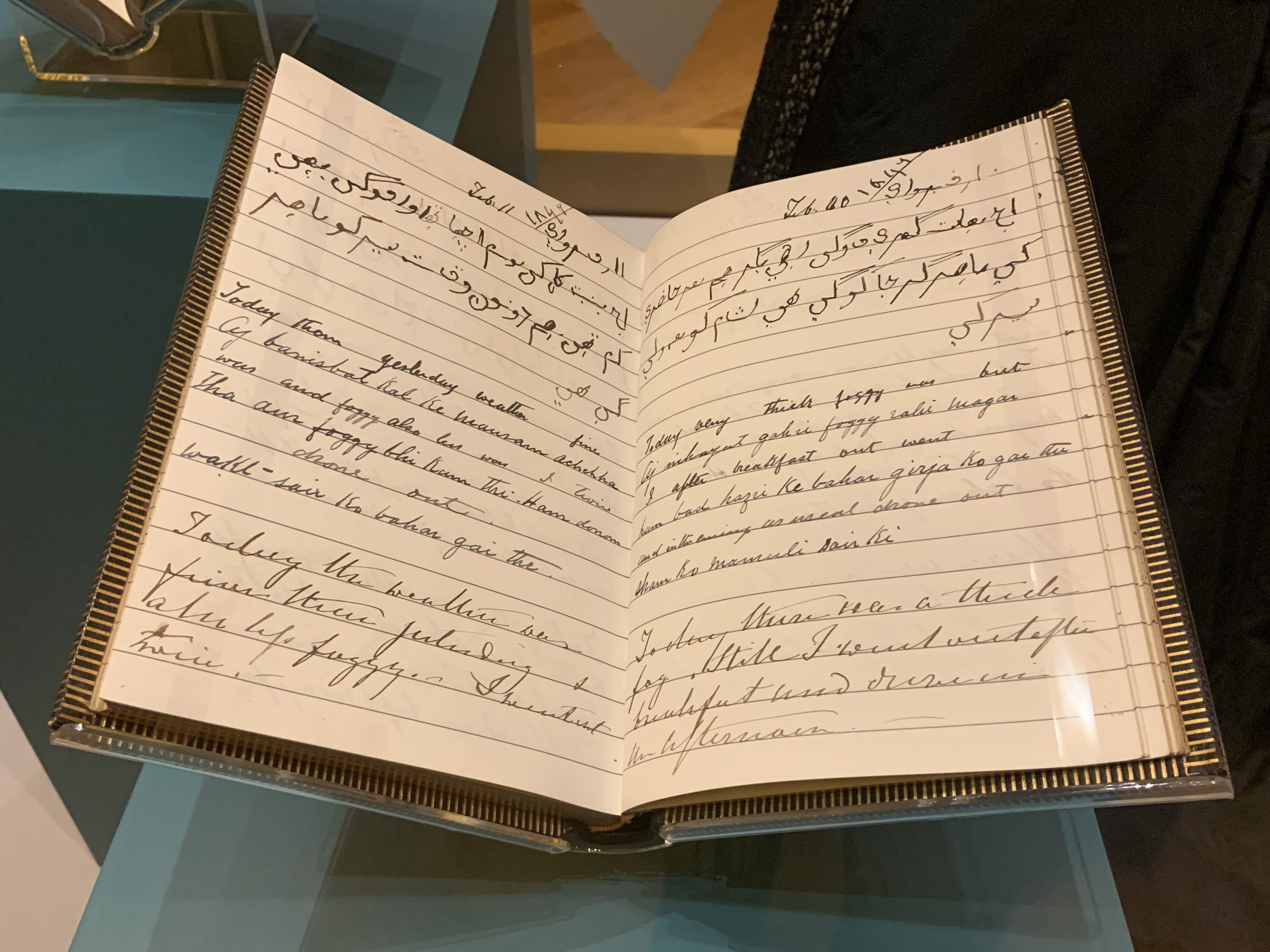 Jubilee
The exhibition ends on a lighter note looking at her Diamond Jubilee. Victoria was Queen for 63 years, from the age of 18 until her death at 82 years old.
By the time of Queen Victoria's death in 1901, around 400 million people and 20% of the earth's land mass made up the British Empire.
Visiting Information
Both Victoria: Woman and Crown and Victoria: A Royal Childhood are open to visitors from 24 May 2019. Both are included in standard admission.
Admission: Adult online tickets from £17.50
Opening Hours: Monday to Sunday: 10am to 6pm
Kensington Palace is open all year round.
Address: Kensington Palace, Kensington Gardens, London W8 4PX