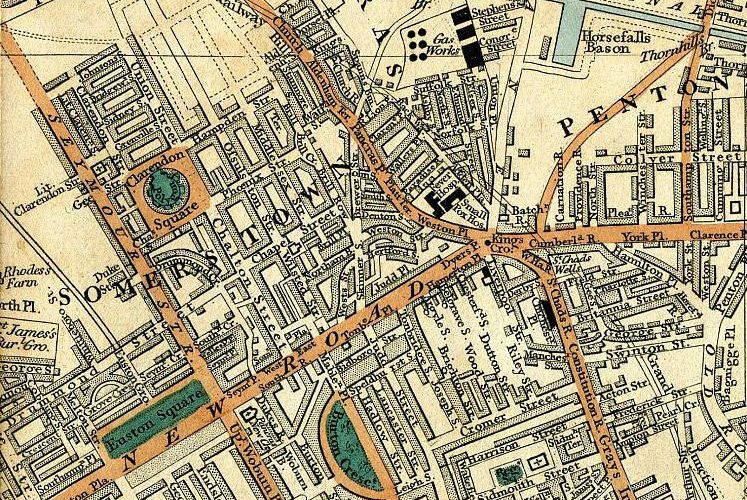 One of the smallest districts in London, Somers Town nonetheless is a bustling area of activity, in part due to being close to the transport hubs of Euston, St. Pancras, and Kings Cross.  Somers Town had been for years a part of St. Pancras until the creation of the Great London Area in 1965, at which point it became part of the Borough of Camden.  Should you find yourself with some time between trains, you'll certainly want to explore this district of London and everything it has to offer.  More than just railway and Tube stations, Somers Town has a life of its own that's worth looking into and touches on many other interesting locations.
Roti King
If you like Malaysian food or are willing to try something new, Roti King is a Somers Town restaurant you need to visit.  Roti is actually really inexpensive with a menu that offers a varied selection from the sweet bread to some of the top curries you'll find in the area.  The best time to go is during lunch for some of their great two-course meal deals.
Somers Town Coffee House
From lunch to supper, Somers Town Coffee House doesn't serve primarily caffeinated beverages anymore, but it is a great pub for ales and its well-known supper club.  The Ssshh Supper Club is the name for the four differing dining rooms, each with its own unique theme.  What's more, heading down to the basement will introduce you to the establishment's speakeasy cocktail club.
P21 Gallery
P21 Gallery on Charlton Street is an art gallery dedicated to exploring and celebrating Middle Eastern culture.  The not-for-profit puts on regular exhibits including Sudan, Palestinian Tapestries, and issues surrounding cultural exploitation for gas.  The gallery also puts on talks and is always looking for new artists to contribute.
Royal College of Physicians
The oldest medical college in England, the Royal College of Physicians was founded with a charter from King Henry VIII in 1518.  The college takes visitors on tours that cover its five-hundred-plus-year history Monday to Friday from 10 AM to 5 PM, though the tours are only open to groups of at least six people.  However, tours on Wednesdays starting at 1:30 PM are open to anyone without having to book in advance.
New Diorama Theater
The New Diorama Theater is one of the city's smaller performance venues at eighty seats, but it's a place where you're guaranteed to see some of the most experimental works.  Proudly billing itself as a fringe theater, the NDT is the place to go for London's up-and-coming talent putting on some of the strangest and funniest plays you'll see.
Camley Street Natural Park
Even in the midst of the urban sprawl that is London, you can still find a slice of raw nature at the Camley Street Natural Park.  Run by the London Wildlife Trust, Camley Street is two acres of nature preserved on the banks of Regents Canal and features an array of flora and fauna.  Wetlands, meadow, and woodland provide visitors with many habitats to observe in a small space.  The park is closed for 2019 for the construction of a new visitors center and learning center, but should reopen in early 2020.
St Pancras Old Church
St. Pancras Old Church is believed to be one of the oldest sites of Christian worship in the United Kingdom.  While there isn't much evidence to suggest exactly when it was founded, its thought to date back to the 4th Century.  The current church was largely rebuilt during the Victorian era and is a very intimate venue which is perfect for the concerts is hosts regularly.
King's Cross
It's not often that a train station is a tourist destination, but King's Cross is an important historical and cultural institution.  The station was constructed as the terminus of the Great Northern Railway and is a gorgeous example of Victorian railway architecture.  And, of course, if you happen to be a fan of Harry Potter, it's worth taking your picture at Platform 9 ¾ and visiting the Harry Potter store.
Regent's Park
The western border of Somers Town butts right up against Regent's Park, a beautiful 410-acre public park with a lot to offer.  From the peaceful greens to the boating lake to the rose garden, it's another wonderful spot to enjoy nature in the city.  Some special attractions to see in the park include the London Mosque, the Open Air Thearer, and ZSL London Zoo.
The British Library
The British Library was born out of the British Museum in 1973 and is believed to be the largest national library in the world with 150-200 million cataloged items.  Some of the top things to see here include Jane Austen's notebook, handwritten Beatles lyrics, and the Magna Carta.  With so many books, periodicals, and video to pour over, you could spend hours here, and it's hands down the number one place to visit in Somers Town.