During Prohibition-era America, the only way to get a good drink was to find some secret hold-in-the-wall joint and whisper the password to a thick-necked man guarding the door. While this was never a part of British history, the mystery and allure of the speakeasy brings modern Londoners a chance to try a bar scene that's a little bit different, giving them not only tasty cocktails, but a taste of the forbidden. While Londontopia has featured bars like Evans and Peel Detective Agency and Mayor of Scardy Cat Town, here are five more speakeasies with an interesting twist to wet your whistle when you're in Britain's capitol. More than simply a cocktail bar trying to relive the American 1920s, these places have interest drinks, décor, and unique ways of entering them.
1. Portside Parlour – London Fields
Perhaps one of the more usual entrances of any bar on this list, you have to head to the toilets at Off Broadway. Head into the stall that only has a sink and a cistern, then pull the chain for the door to swing open and reveal the bar hiding behind it. Covered in dark leather couches and fine wood, the bar and its bartenders present a range of classic and exciting cocktails made from sugar cane hooch. If there's a drink that's a particular favourite, you can buy a bottle and they'll put your name on it and tuck it under the bar. Worth a look at least, and you may find that you never want to leave.
2. Mizuwari – Soho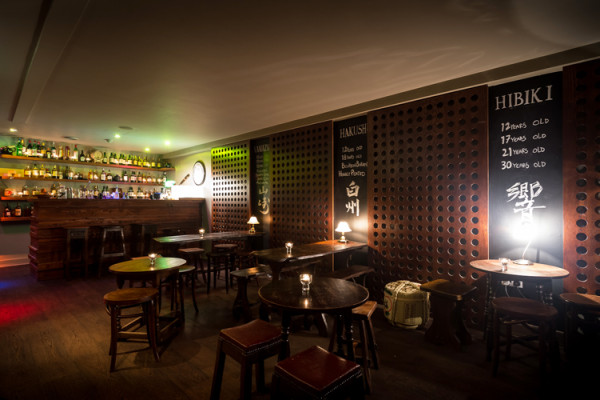 Shinjiro Torii built Japan's first whiskey distillery in Yamazaki, and Mizuwari seeks to honour his legacy. Inside Japanese restaurant Izakaya, you move past the main floor and down a dark stairway into the basement where the whiskey bar awaits. Its name means "mix with water", but the bartenders there will mix the whiskey and other liquors with more than H2O. The interesting mix of ingredients that can include vanilla pods, orange blossom water, and citrus zests will give you new thoughts about whiskey. You better be ready when you go down those stairs.
3. UnderDog – Shoreditch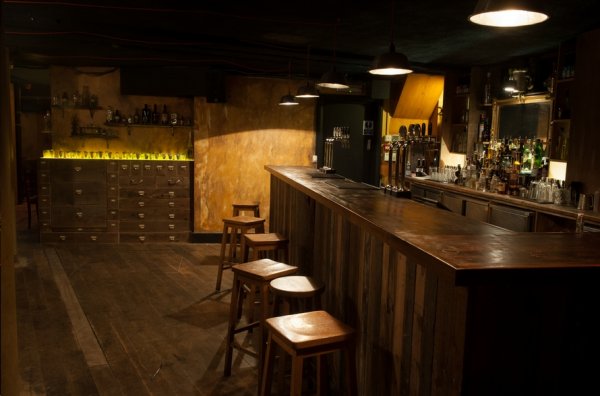 I have been a fan of BrewDog beers for a long time, even secretly scoring a bottle of Tokyo when it couldn't really be sold where I lived (and at 18.2% Alcohol-by-Volume, you can believe I didn't have anything else that day). Tell me that BrewDog has their pubs and I'm there. Tell me there's a secret bar within the bar where you can taste BrewDog craft beer cocktails, and I will beat down the door. To get in, you need to ask the bartender in the Shoreditch BrewDog pub to take you "downstairs". He'll guide you to a bar filled with dark wood and a New Orleans dirty blues sound. A craft beer cocktail typically involves mixing craft beer with liquor and cocktail ingredients to create something spectacular, and BrewDogs concoctions are no exception. Unlike other speakeasies that might require a reservation, Underdog's open-door policy says "the more the merrier". The cry goes out from far and near for this bar.
4. Jub Jub (Inside Calooh Calley) – Shoreditch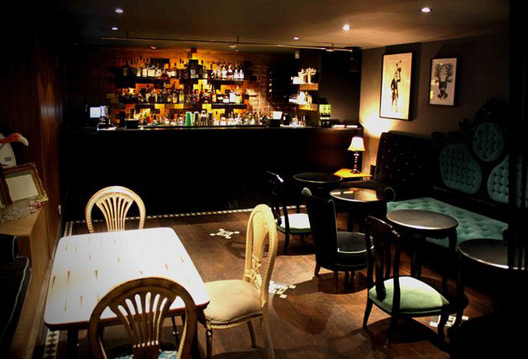 The bar within a bar within a bar. Barception. Much as you get to Portside Parlour by going through the Off-Broadway bar, you go through the Lewis Carroll-themed bar and, just like a trip to Narnia, go through a wardrobe to enter a different kind of wonderland. One of the more unique things about this bar is that it regularly has a pop-up theme, a special premise that is only temporary. One time it was a "candy shop" theme complete with edible menus and another time it was a Parisian absinthe house for International Absinthe Day.
5. Barts – Chelsea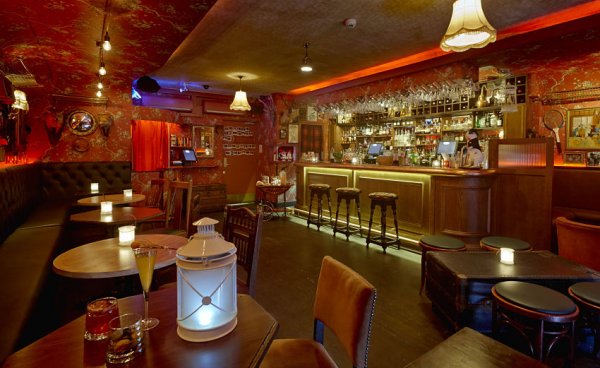 In Chelsea, there's a building that looks like a typical block of flats in the Chelsea Cloisters. Look for some Mickey Mouse wallpaper and ring the buzzer for a man to look through a peephole and see if you're worth of entry. There's definitely an eclectic décor inside that looks like it was purchased at a car boot sale. In addition to the cocktails expected of most speakeasies, Barts is also known for its stein-filled Oktoberfest celebration. With a mix of decorations that match its mix of beer and cocktails, Barts is worth a look or two…or three.