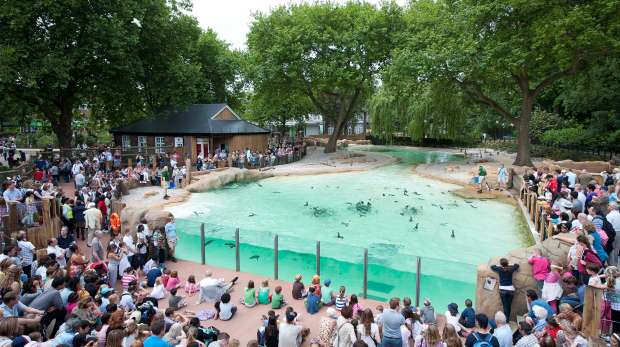 Everyone loves to go to the zoo and see animals we only read about in books or see in a David Attenborough-narrated documentary.  The London Zoo is one of the standard-bearers for what a zoo should be.  Located on the edge of Regent's Park, it has been managed by the Zoological Society of London since the zoo's establishment in 1828.  But what lies inside the zoo and its enclosures besides the animals?  What curious new facts can we find in this metropolitan menagerie?  There's more to ZSL London Zoo than you may realise, so read on.
Oldest in the World
The Zoological Society of London was founded in 1826 with the purpose of establishing the London Zoo in order to keep animals for scientific study.  It was built by Sir Stamford Raffles, Sir Humphry Davy, and Henry Petty-Fitzmaurice, Third Marquess of Landsowne, opening in 1828.  This makes it the oldest scientific zoo in the world, but until 1847, it was only open to members of the ZSL.
A First
Brumas was the first polar bear bred successfully at the zoo in 1949.  His birth caused zoo attendance in 1950 to jump to 3 million–a figure that has yet to be topped.
Funding
The London Zoo receives no public funding.  In addition to admission charges and donations there are "Patrons" and "Fellowes" memberships available.  While anyone can become a zoo Patron, being a Fellowe requires a ZSL membership of at least three years.
Not the Doctor's
London Zoo's age means that there are plenty of listed buildings inside of it, but perhaps one of the most interesting is an old phone box.  At Penguin Beach, there is a classic telephone box that is Grade I listed.  It is a K3 box designed by Giles Gilbert Scott in 1929 and the successor of more well-known K2.  Unlike its predecessor, the boxes were painted white with red window lattices.  The one at London Zoo is one of only two remaining in Britain, the other one is in Scotland.
International Cooperation
"Caroline", an Arabian oryx, was lent to the Phoenix, Arizona zoo for the world's first international cooperative breeding programme in 1962.
A Huge Collection
How huge, you ask?  ZSL London Zoo has more than 750 different species and 17,480 individual animals.  All of these animals are spread out over 36 acres.  If you're wondering where the larger animals are, you'll have to check out ZSL Whipsnade Zoo, which has 600 acres to give the elephants, rhinos, and others more room to roam.
I'm Not Your Buddy, Guy
Guy the western lowland gorilla arrived at the London Zoo on November 5, 1947 from the Paris Zoo.  His arrival on Guy Fawkes Night is responsible for his name, and he quickly became on of the zoo's top attractions.  While his species is known for being quite large, Guy was well-known for his gentleness, cradling birds who had flown into his enclosure before setting them free again.  He lived at the zoo until his death in 1978, attracting thousands of visitors over thirty years.  Guy was given a mate in 1969, but though they got along well, they never produced any offspring.  He was commemorated with a bronze statue in Barclay Court in 1982.
Dictionary Defining
Jumbo was an African bull elephant who came to live at London Zoo in 1865 and is the actual inspiration for the word meaning "very large".
Inspiring Story
Did you know one of the world's most famous children's characters came from ZSL London Zoo?  Winnie the Pooh was originally a black bear named Winnie that a Canadian army regiment brought with them to London before arriving in France to fight World War I.  Winnie lived at the zoo from 1914 to 1934 and, unlike most wild animals, was quite tame and loved being handled.  During her time there, she inspired author Alan Alexander Milne to write the Pooh stories after visiting her with his son, Christopher Robin.
Still Standing
The giraffe house is the oldest building at the London Zoo and still houses the majestic creatures.  It is Grade II listed.