One of London's most famous landmarks, it is possibly Sir Christopher Wren's most recognized work. It's featured in countless films and television programmes, from Doctor Who to V for Vendetta. But what don't you know about the city of London's second-most famous church? What mysteries lurk in its nave and pews?
Origins
Sir Christopher Wren was officially commissioned to design and build St Paul's Cathedral in 1669 after rebuilding many churches lost in the Great Fire. The design and construction wouldn't be completed until 1711, forty-two years later. However, it was consecrated in 1697 and began to be used for services.
Way Way Back
Despite St Paul's being the most famous church on this site, it is by no means the first. Even before Old St Paul's was built, three other cathedrals were located on the site. The first was built in 604 A.D. for Mellitus, Bishop of the East Saxons. It burned down in 674 A.D. The second cathedral was built in 684 A.D. and was destroyed by the Vikings in 962 A.D. Old St Paul's was then built out of stone and completed in 1240. That was then lost in the Great Fire of 1666, but the fourth one stayed up!
Memorials
There are 200 memorials in St Paul's Cathedral, with the first one being Sir Christopher himself in 1723. Besides him, you can also find Admiral Nelson, the Duke of Wellington, and Sir Alexander Fleming, one of the scientists credited with discovering penicillin.
The Bells! The Bells!
The two largest bells in St Paul's are named Great Tom and Great Paul. Great Paul has not rung in several years due to a broken chiming mechanism. Great Tom is sounded for the death of a member of the royal family, the Bishop of London, or the Lord Mayor of London. An exception was made once for U.S. President James Garfield and the last time it rang was for the death of Queen Elizabeth, the Queen Mother in 2002.
Taller than Tall
St Paul's was the tallest structure in London until 1962, when the BT Tower (or as it was known, the Post Office Tower) was built.
Fancy a game of telephone?
The Whispering Gallery is one of the cathedral's best-known features. Whispering on one side of the wall can be heard on the other side—112 feet away. Getting there is a bit of a climb, though, with 257 steps leading up to the Gallery.
Tales from the Crypt
St Paul's crypt is the largest in Western Europe, though most of the space is dedicated to supports that hold up the cathedral. The largest monument in the crypt is for the Duke of Wellington and depicts him and his horse, Copenhagen. Objections to having a horse in the cathedral prevented the statue's installation until 1912.
The Blitz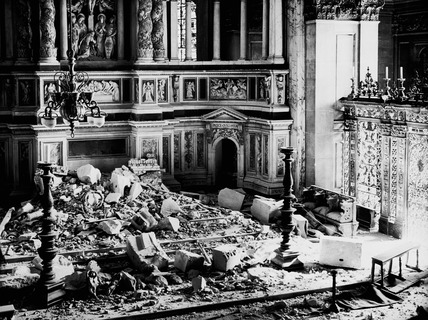 During World War II, St Paul's Cathedral was hit twice by German bombs, on 10 October 1940 and 17 April 1941. A time-delayed bomb struck the cathedral on 12 September 1940, but was defused by a bomb squad in time. Had it exploded, it would have completely destroyed St Paul's. Prior to that, suffragettes planted a bomb there in 1913 to bring attention to their cause, but it was also diffused before it could explode.
Dr. Martin Luther King, Jr.
The most famous American pastor to preach in St Paul's, Dr. Martin Luther King, Jr. delivered a sermon there in 1964 while spending three days in London meeting with peace movement leaders.
Weddings and Funerals
The most famous wedding in the past century here was that of Prince Charles and Diana in 1981. The most famous funeral in the last one hundred years was Sir Winston Churchill in 1965 and was the first to be broadcast on radio and television.
Visiting St Paul's Cathedral
St Paul's Cathedral is open to tourists Monday through Saturday from 8.30am to 4.00pm. Admission charges vary. The cathedral is open for worship on Sundays, though sightseeing is not permitted. The nearest tube station is St Paul's, Central Line, about a two minute walk to the cathedral. Other nearby stations are Mansion House, Cannon Street, and Blackfriars.