Traveling with children in a large city can be both exciting and daunting when mealtime rolls around.  When it comes to finding quality family fare, London is brimming with restaurants that cater to families with children of any age.  Whether you have picky or adventurous eaters, the following establishments offer something for everyone.
1.  Bella Italia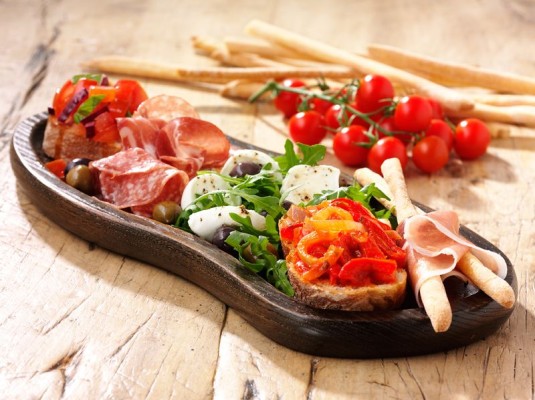 This restaurant chain has locations all around London as well as other cities in the UK.  The food is Italian, hearty and authentic enough to please any taste.  In addition to delicious appetizers like wings, prawns and antipasto, there are enticing mains for the picky eater such as the  "create your own" pizza menu and a variety of calzones.  Pastas, stews, cutlets and grills including chicken, fish and steak are also on the menu in addition to lighter choices such as entrée salads.  Children's meals include drinks, veggies and dip and pizza or pasta with choice of sauce and dessert.  For those with special dietary needs, a gluten free menu is available upon request.  The dessert menu features specialty sundaes to share or a few light cakes and tarts to choose from.
Location:  61-63 Shaftsbury Avenue, London.  W1D 6LG.  Bookings are available online at www.bellaitalia.co.uk
Expect to spend: around £ 8-12 for most adult meals and around £6 for children
Nearest tube stop:  Leicester Square
2.  Wahaca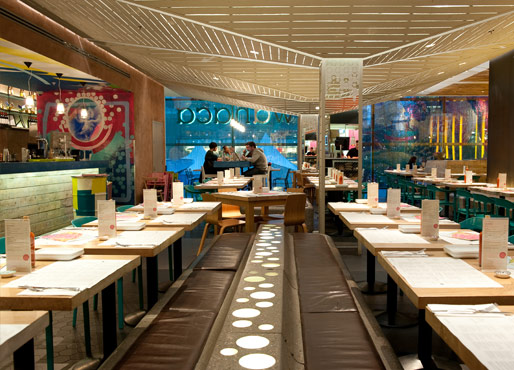 Because Wahaca has a very charismatic, bustling atmosphere, it is a great place to bring little ones and teens alike for Mexican cuisine. The kid's menu features a colouring sheet, mild items such as quesadillas, burritos, rice and beans as well as special drinks and dessert options at a minimal cost.  The open kitchen features freshly made items that do not disappoint for the grown ups such as salads, sharing platters, grills of steak and fish, burritos and tacos.
Location:  68-69 Upper Street, Islington, London.  N1 ONY.  Wahaca does not accept bookings.
Expect to spend: around£10 for adult meals and £5 for children (£1.20 for  ice cream).
Nearest Tube Stop:  Highbury & Islington.
3.  Pizza Express – Charing Cross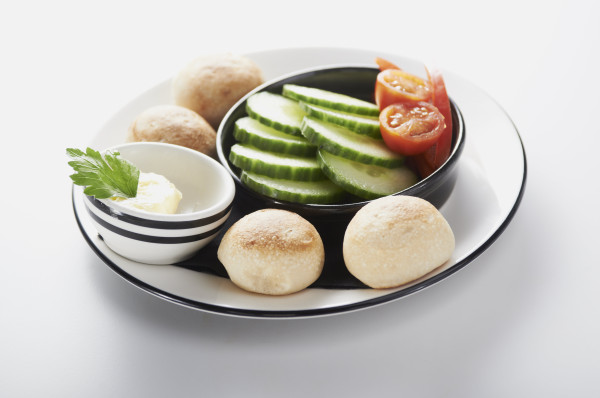 From outstanding Pizzas, main course salads and fun drinks to a Piccolo kid's meal that includes buttery garlic dough balls, pizza or pasta, side salad and ice cream sundae, Pizza Express manages to keep everybody happy.  Alternatively, children may choose a "bambinoccino" for dessert, a gently warmed milk sprinkled with a dusting of good cocoa that lets them feel just like the grown-ups after their meal.  Served in a darling little cup and saucer, don't be surprised if you end up buying a milk frother  in an attempt to recreate this sweet little nightcap at home.  Gluten free options also available.
Location:  450 Strand, Charing Cross, London WC2R 0RG
Expect to Spend:  Adults £12-15,  kids meals around £5
Nearest Tube Stop:  Charing Cross
4.  The Golden Hind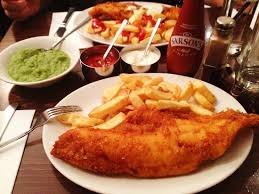 This small shop offers 5-6 different kinds of fish, chips and various sides like mushy peas.  Many claim it is the best London has to offer; nice crispy batter and thick cut chips, no frills and great service.  While lunch and dinnertime may have long lines, the queues tend to go fairly fast.  With children, a late lunch or early supper may be an option.  A note to the adults:  BYOB as alcohol is not served.  Take away is also available.   Close to Marylebone hotel and Regent's park.  Hours are:  M-F noon-3pm & 6:00 to 10 pm.  Closed Sundays.
Location:  73 Marylebone Lane, London W1U 2PN
Expect to spend:  £5 for small, £6.50 for large and £1.70  for chips or around £10 for fish, chips and a side of mushy peas.
Nearest Tube Stop:  Bond Street
5.  Wagamama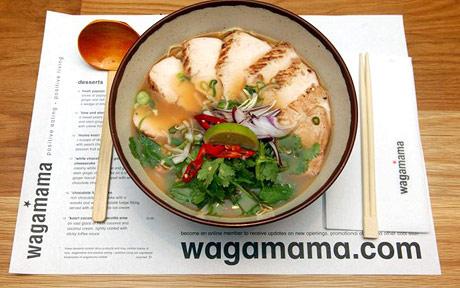 Sometimes keeping it simple can be the best choice when traveling family style.  This Japanese inspired restaurant offers many kid friendly meals like noodle options and smoothies for kids while the adults have a wide array of more sophisticated choices such as salads, curries, chili dishes and various ramens.  Inside seating is open, communal style.
Location:  1 Clink Street, London, SE1 9BU (opposite vinopolis).
Expect to Spend:  Adults  £9-12  , kids meals around £4.25
Nearest Tube Stop:  London Bridge- Borough high street exit
6.  Union Jacks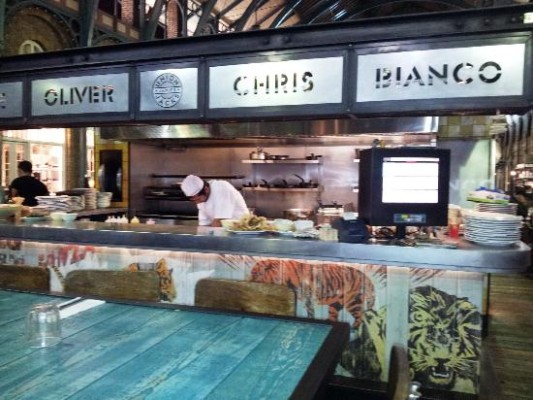 This centrally located restaurant in Covent Garden belongs to chef Jamie Oliver who has created an updated version of many British classics such as lamb steak, roasted pork belly or free range chicken.  In addition there are pizzas and salads. The area is vibrant and friendly due to the market stalls surrounding it.  This is a place teenagers love and while Union Jacks doesn't take reservations, they do tend to seat people quite quickly.  In the summertime, the outdoor atmosphere is delightful and in chillier months, they have warming posts around the tables so you can still enjoy an outside dining experience.  A special recommendation would be the meringue with winter fruits for dessert.  Kid's meals are also available.  Open daily from 12 noon-11pm
Location:  5 North Hall, Covent Garden Piazza, London, WC2E 8RA
Expect to Spend: Adults  £14, kids around £6
Nearest Tube Stop:  Covent Garden
7.  Steak & Co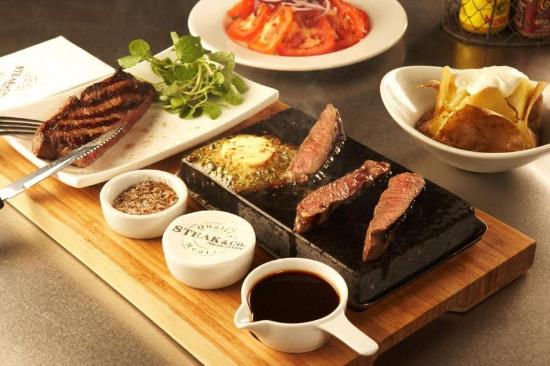 Sometimes after walking all day, a steak can really hit the spot.  Steak & Co. not only offers amazing starters but also a special express lunch and pre-theatre lunch menu served from 12 noon- 5pm for around £8.  Steaks are offered on personal sized sizzling platters direct to your table.  Ribs are also a specialty and staff is accommodating for families with choices of sandwiches, burgers, small steaks, salmon or mac & cheese for kids.  Bookings are available for families by phone 0207 839 8100
Location:  Irving Street, just off Leicester Square, London
Expect to spend:  Express menu £8,  £15 dinner,  children's prices upon request
Nearest Tube Stop:  Leicester Square
8.  Five Guys Burgers and Fries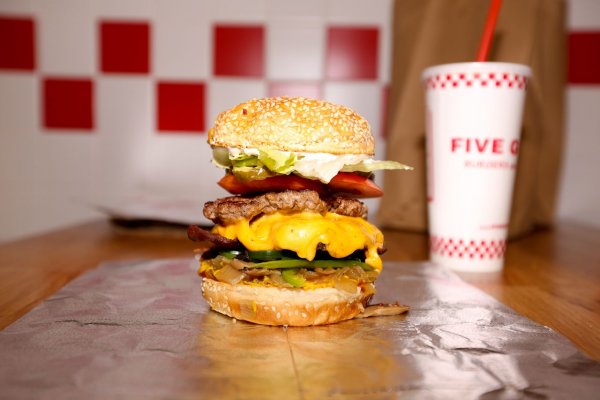 It's hard to beat a classic hamburger and this place really nails it.  Coined "heaven in a brown paper bag" these burgers are made fresh in front of you to your specifications. With hand cut fries and fountain drinks, this is simplicity at its best.  By dinnertime, there is usually a line out the door but by avoiding the busy hours there is seating in the back for families and a minimal wait since orders are placed at the front and ready when your number is called.  Alternatively, order online and skip the queue completely at www.fiveguys.co.uk.  Hours M-TH 11am-11:30 pm, Fri-Sat 11am- midnight, Sunday 12 noon-10:30pm.
Location: 1-3 Long acre, London WC2E 9LH
Expect to spend: £6-8 per burger,  or around £10 with drink and fries
Nearest Tube Stop:  Covent Garden
9.  Indian Express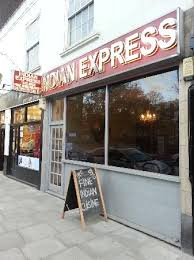 London is a great place to experience Indian food.  This family run hidden gem in West Kensington boasts amazing Indian food and excellent service.  Top choices include garlic green chicken shashlik, King Prawn Puri and almond coconut butter chicken among many others.  If you're not sure what to order, the staff makes friendly suggestions and describes dishes in details to help you with your selections.  Hours are 5:30pm-11:30 pm daily.  Reservations are recommended and may be placed by calling:  020 7610 1777 / 020 7603 7571 or at:  info@indian-express.net
Location:  3 North End Parade, West Kensington, W14 OSJ
Expect to Spend:  Entrees starting at £6, average meal £8-11
Nearest tube stop:  Kensington
10.  The Lancaster Hotel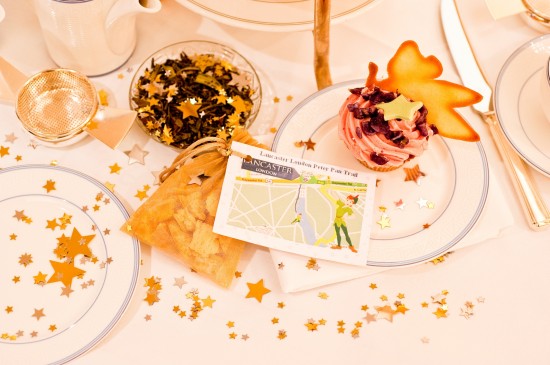 While Hyde Park is home to a statue of Peter Pan, The Lancaster Hotel is home to the Peter Pan Afternoon Tea.  For visitors, this offers a chance to enjoy a British tradition in a child-friendly spacious room where little bodies are free to roam around if needed, with a map directing you through the park afterwards with a bag of breadcrumbs to feed the ducks.  Menu items include choices like Lost Boys cucumber sandwiches, Mrs. Darling's scones with clotted cream and jam as well as assorted teas and bakery items to choose from.  Afternoon tea runs from 3-5:30 pm in the first floor lounge.  Given the pricing, it may be a splurge for some families. Or a "one time" special occasion,  however in comparison to most other afternoon teas offered by  London hotels, it is about half the cost.   Bookings are taken online at:  hello@afternoonteaonline.com
Location:  Lancaster Terrace, London W2 2TY
Expect to spend:  £22 per person
Nearest Tube Stop:  Lancaster Gate
Have you eaten in a kid friendly restaurant in London? Let us know your favorites in the comments!
About the Author: Lorelei Bachman is Canadian freelance writer/composer who is also a mother, an avid traveler and lover of all things British.  She travels to Europe often, and loves sharing her food and travel experiences with friends and family.