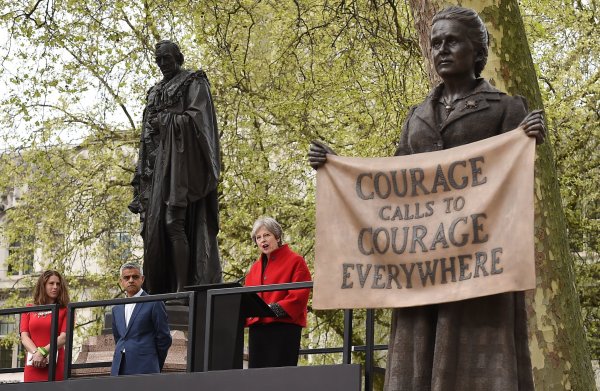 History was made today in Parliament Square, located directly across from the Palace of Westminster. For 200-years great leaders have been honoured with a statue in front of the Houses of Parliament. Lincoln, Churchill, Gandhi, Mandela are just a few of the names. But one thing all those names had in common was that they were men despite the many important women in Britain's history. Today, that changed with the unveiling of a new statue dedicated to Suffragist leader Millicent Fawcett.
Following a petition campaign by Caroline Criado Perez, the Mayor of London commissioned Turner Prize-winning artist Gillian Wearing OBE to create the statue. It is funded through the Government's £5 million Centenary Fund and is the first-ever monument of a woman, and the first created by a woman, to stand within the square.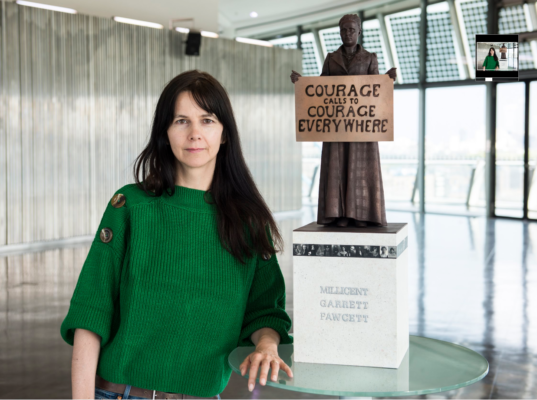 About the Statue:
Millicent Fawcett is aged 50 in the statue, the age at which she became president of the National Union of Women's Suffrage Societies.

Wearing wanted to acknowledge the fact that women wore tailored or hand-made clothes at the beginning of the twentieth century, and so selected a BAFTA award winning costume designer to undertake the design and making of a day suit. The clothes were made to fit a model of a similar type of body to Millicent, who herself worked at the Props Studio in MGM Studios, North Greenwich – the location at which the statue was first printed using 3D printing technology.

Wearing wanted the statue to be a real reflection of Millicent and the items she wore in everyday life. The statue therefore includes a brooch owned by Millicent, that was presented to Millicent in 1913 by the National Union of Women's Suffrage Societies when she was the president. The original was loaned by the Fawcett society. It was then scanned and cast in bronze and is clearly visible on the lapel of Millicent's jacket.

Artist Gillian Wearing wanted to commemorate many of those people who supported and were instrumental in the pursuit of universal suffrage, representing the movement as well as a key individual within it, and so she chose to have a band of black granite encircle the four corners of the plinth. The 59 portraits of women and men were photographically machine etched into this frieze. There is one blank space where no photographic record could be located. Wearing sought academic advice on who to include in this list from feminist librarians, curators and historians.
Marking 100 years since some women won the right to vote, the statue was unveiled by three generations of women – Jennifer Loehnis, a descendant of Millicent Fawcett; campaigner and activist Caroline Criado Perez; Deputy Mayor for Culture and Creative Industries, Justine Simons; and two schoolgirls, from Millbank Academy in Westminster, and Platanos College, Lambeth.
Prime Minister, Theresa May, said: 
"I would not be here today as Prime Minister, no female MPs would have taken their seats in Parliament, none of us would have the rights and protections we now enjoy, were it not for Dame Millicent Garrett Fawcett. The struggle to achieve votes for women was long and arduous and Dame Millicent was there from the beginning. For decade after decade, in the face of often fierce opposition, she travelled the country and the world, campaigning not just for the vote but on a whole range of issues. I want to thank Gillian Wearing for creating a beautiful and fitting tribute to Dame Millicent and to everyone involved in making this happen. For generations to come, this statue will serve not just as a reminder of Dame Millicent's extraordinary life and legacy, but as inspiration to all of us who wish to follow in her footsteps."
Mayor of London, Sadiq Khan, said:
"Today is an historic day. Finally, Parliament Square is no longer a male-only zone for statues. From the very first week of my Mayoralty, I supported Caroline Criado Perez's campaign to put up a statue of a woman in Parliament Square, and I'm so proud that the day of its unveiling is now upon us. This statue of Millicent Fawcett, the great suffragist leader, will stand near Mahatma Gandhi and Nelson Mandela – two other heroic leaders who campaigned for change and equality. There couldn't be a better place to mark the achievements of Millicent Fawcett, in the heart of UK democracy in Parliament Square. I hope this statue sparks further change across society – driving forward gender equality and inspiring women and girls across the capital and the UK. My huge thanks to Caroline, for her passionate campaigning and to Gillian Wearing – who has brought Millicent Fawcett and her legacy to life through this magnificent work."
Artist, Gillian Wearing OBE, said:
"I want to take this opportunity to thank everyone who has worked on this sculpture and plinth. It was so heart-warming to see the care and attention that went into the work. I can only say I am truly grateful. I hope those viewing the work will be able to appreciate this along with being able to celebrate Millicent Fawcett along with all the other suffrage supporters and activists also honoured."
An amazing achievement and let us hope that Millicent is not the last. I can't wait to get a photograph of it next time I pass through Parliament Square.