Tate Britain is presenting a major exhibition charting the romance and radicalism of the Rossetti generation. It showcases works by Dante Gabriel, as well as his sister Christina Rossetti and his wife Elizabeth (neé Siddal), and looks at their revolutionary approach to life, love and art.
Moving through and beyond the Pre-Raphaelite years, the exhibition features 150 paintings and drawings as well as photography, design, poetry and more.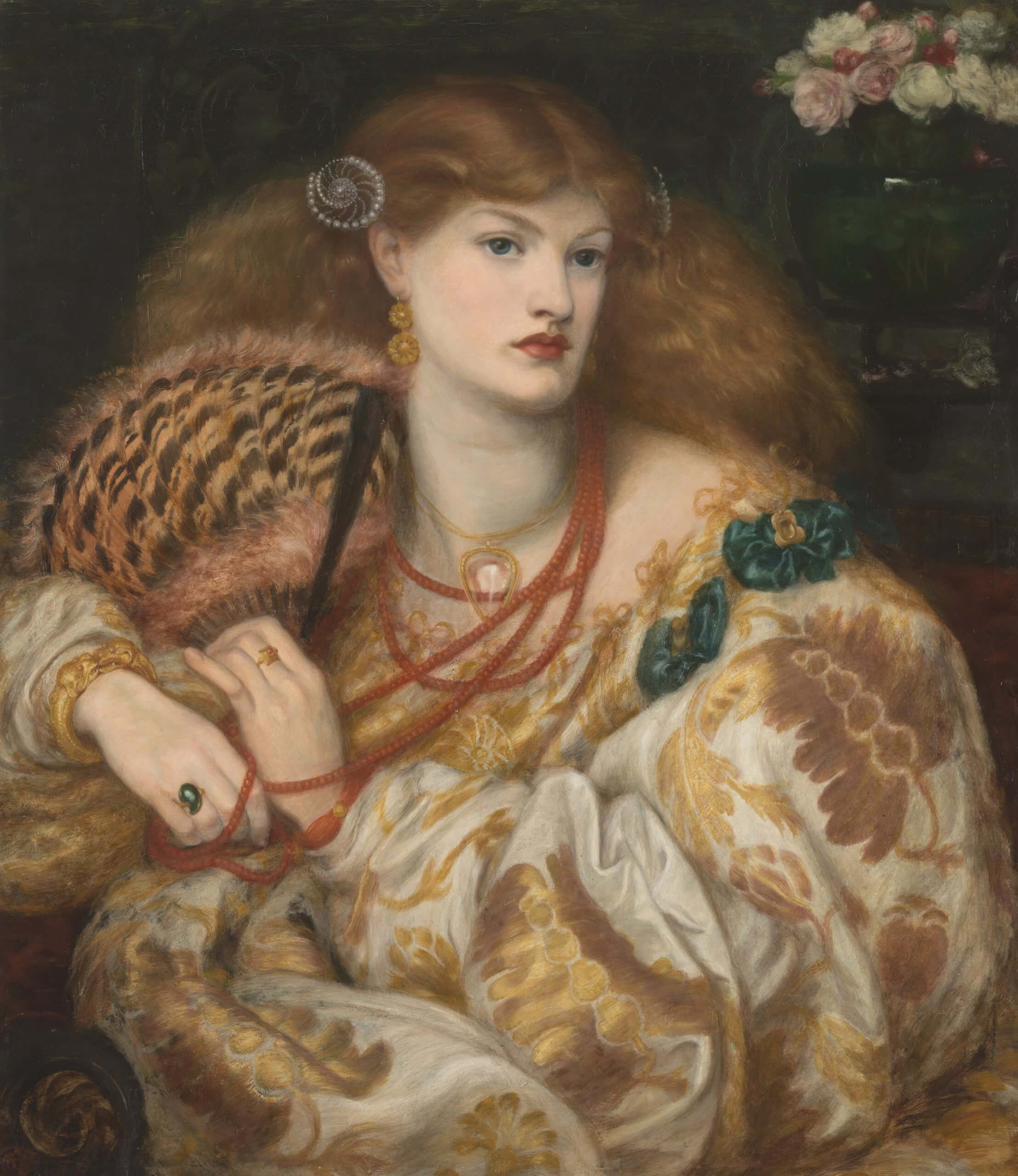 This is the first retrospective of Dante Gabriel Rossetti at Tate and the largest exhibition of his iconic pictures in two decades. It is also the first full retrospective of Elizabeth Siddal for 30 years, featuring her rare surviving watercolours and drawings.
Christina and Dante Gabriel's poetry is interwoven with the artworks.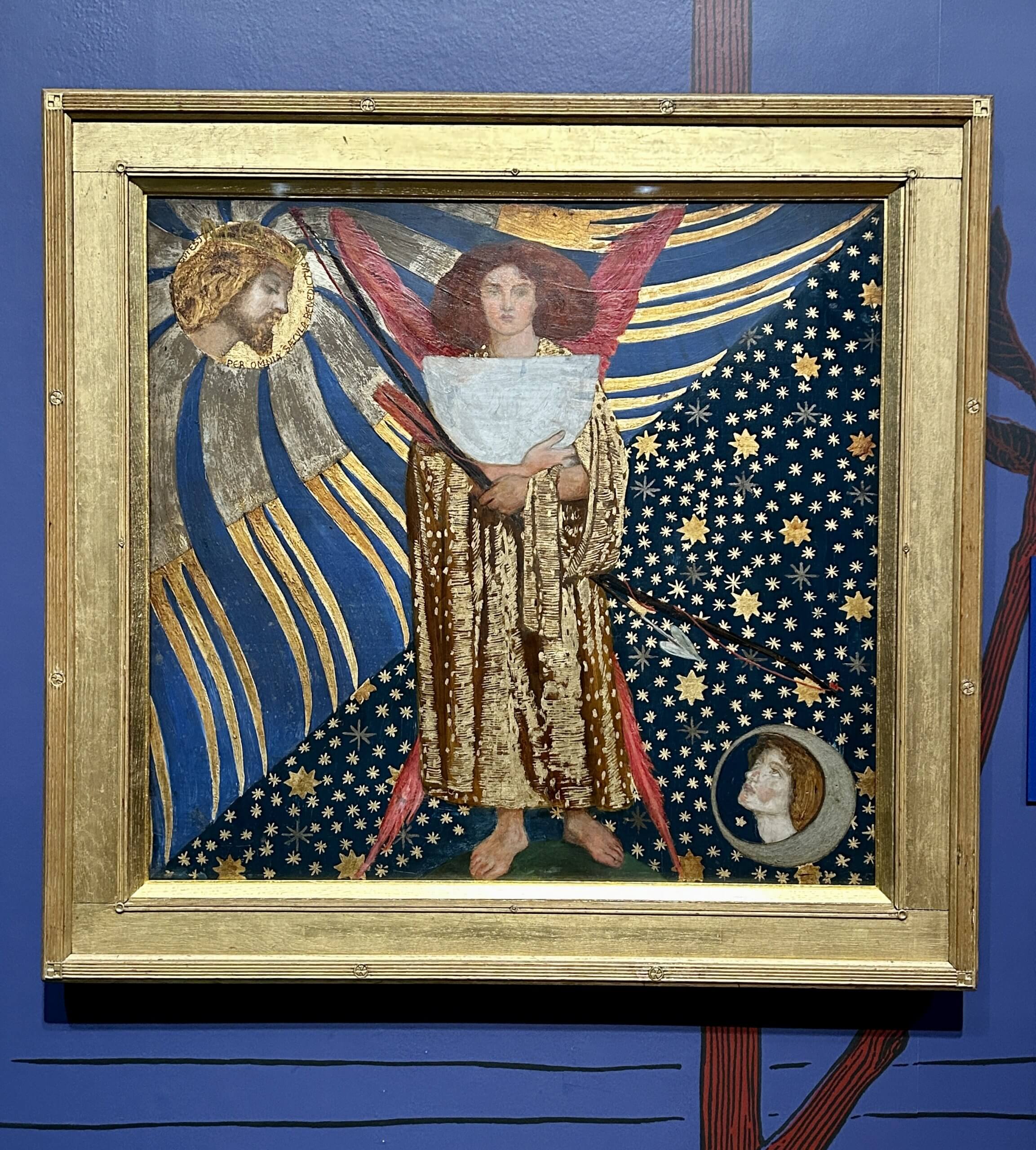 A Little About The Rossettis
The Rossettis led a progressive counterculture, blending past and present to reinvent art and life for a fast-changing modern world. The children of an Italian revolutionary exile, Gabriel and his siblings grew up in London in a scholarly family and they began their artistic careers as teenagers.
There were four siblings in the Rossetti family: Maria (1827–1876), Gabriel (1828–1882) William (1829–1919) and Christina (1830–1894). Close in age, they were teenagers in mid-19th century London. Their parents encouraged their children's creativity. Gabriel went to art school and he and Christina published poems when they were just 15 and 16 years old. The young siblings also worked as carers, teachers and clerks.
Dante Gabriel Rossetti founded the Pre-Raphaelite Brotherhood in 1848 with William Holman Hunt and John Everett Millais. He inspired the next generation of artists and writers, William Morris and Edward Burne-Jones in particular.
He married Elizabeth Siddal in 1860 but she, sadly, committed suicide two years later. He went on to have a long-term relationship with Jane Morris, William Morris's wife. (See also The Red House.)
Young Talent
The exhibition opens with Dante Gabriel's Ecce Ancilla Domine (The Annunciation) 1850. His sister Christina and brother William Michael posed for the stark and evocative painting.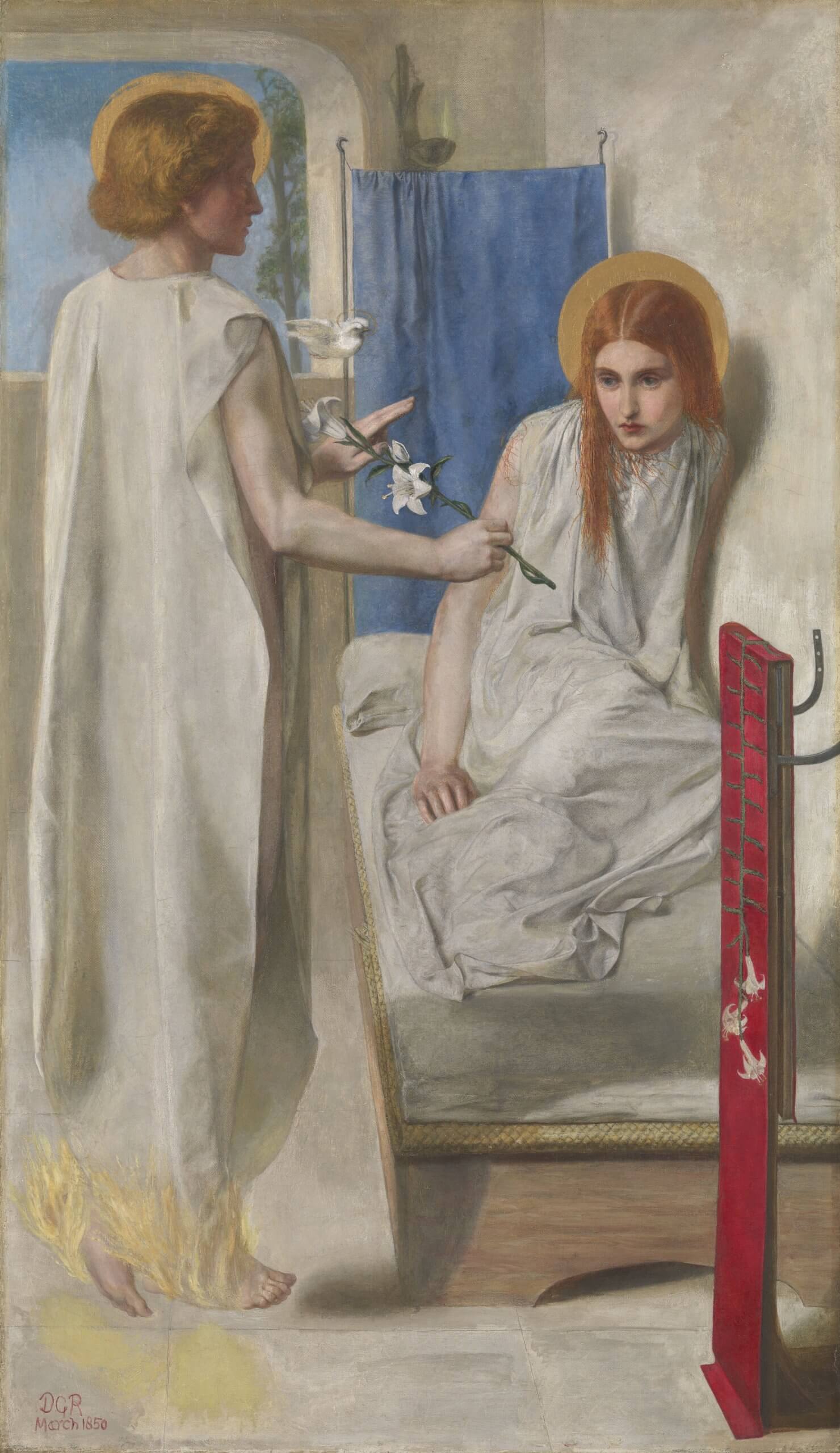 This is shown with an immersive installation of Christina's poetry. As you walk around the gallery there are whispering voices and poems written on the walls. Christina published 900 poems and, we're told, her work is still more widely known than that of her brothers. Tate is clearly trying its best to include more female artists as this is a constant complaint of major exhibitions in London.
Below is Gabriel's first Pre-Raphaelite painting and his first 'double work of art' pairing a poem and picture of the same name. It casts Christina and their mother, Frances, as Mary and St Anne. Mary's hair is painted in strands of gold.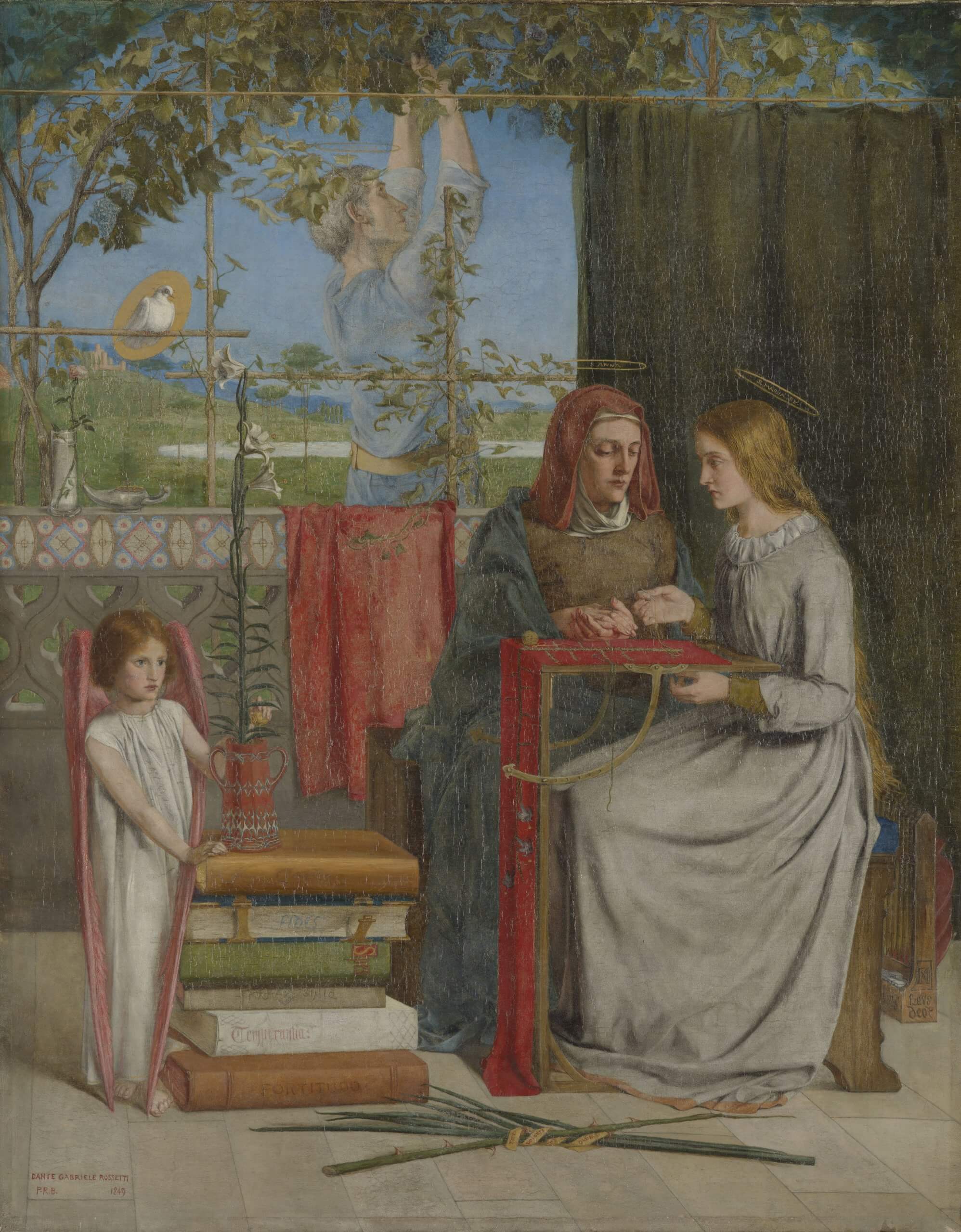 Gabriel was an atheist, unlike his sisters, but the Pre-Raphaelites appreciated the spiritual and visual force of religious art, symbols and ideas. Christian themes occur often in their art but so does the legend of King Arthur.
Teenager
As a teenager, Gabriel wasn't sure whether to become a poet or a painter as he had a flare for both. He particularly admired artists outside the establishment such as British artist and writer William Blake (1757–1827) and the satirical commentator of French modern life, Paul Gavarni (1804–1866), as well as new tales of horror by North American writer Edgar Allan Poe (1809–1849). We're told, Gabriel was the first artist to illustrate Edgar Allan Poe, making four drawings of his most famous poem 'The Raven'.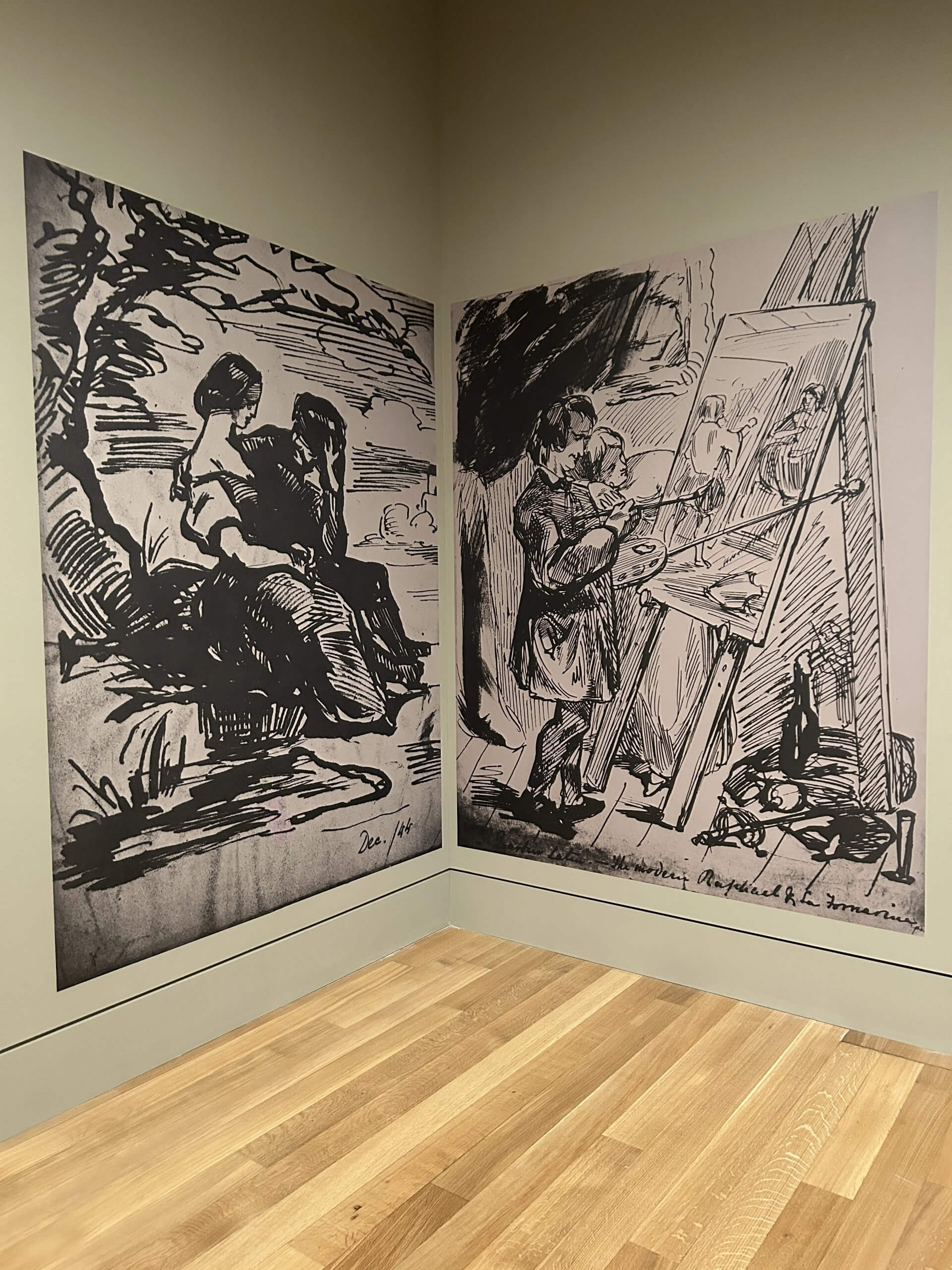 Pre-Raphaelite Revolutionaries
Sisters Christina and Maria explored social justice through their writing and involvement with the Anglican Church. Brothers Gabriel and William championed revolution through art. Their father, Gabriele, was an Italian revolutionary forced to flee his homeland and the London household was often full of visiting activists.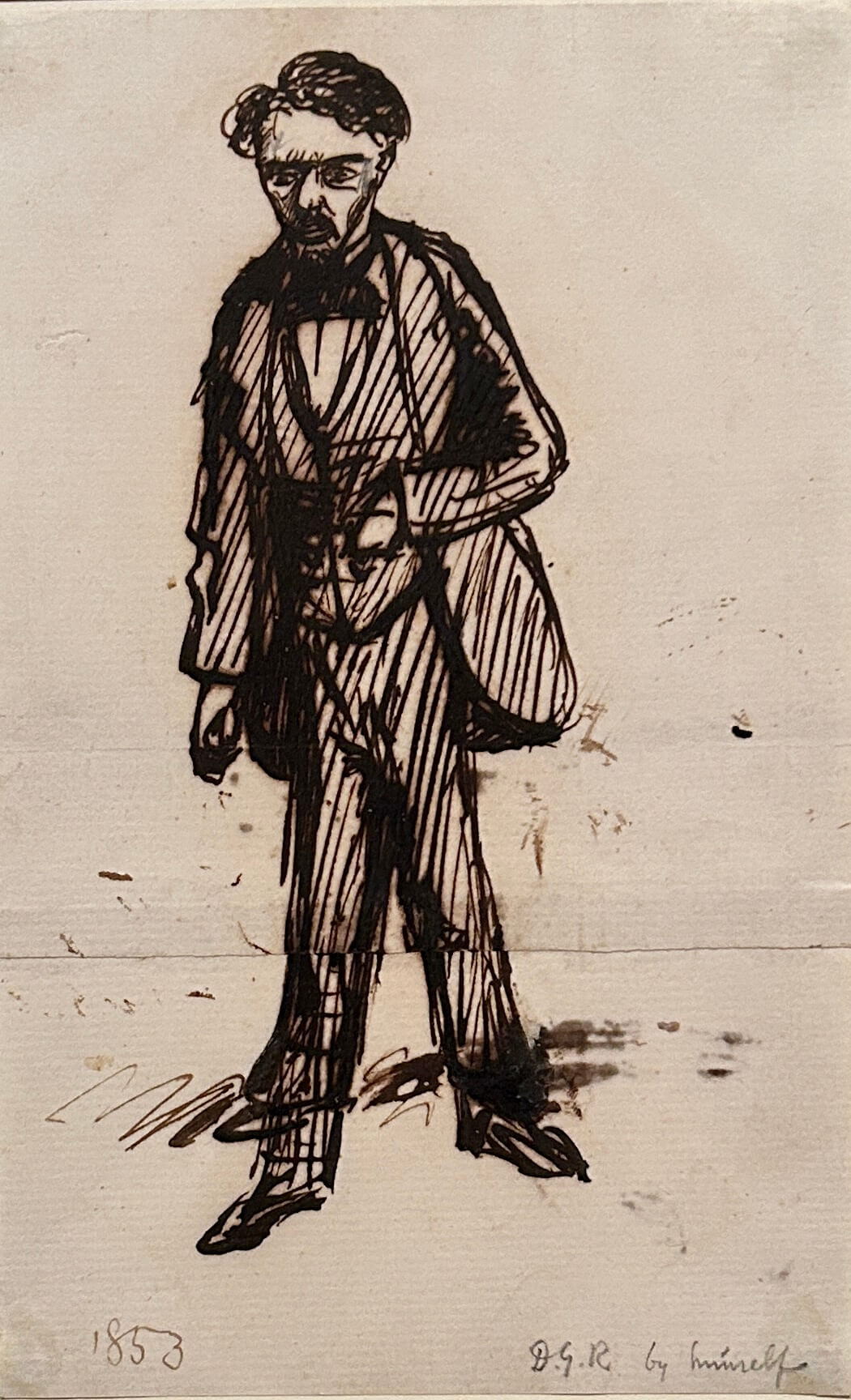 In 1848, Gabriel, William and five fellow art students founded the Pre-Raphaelite Brotherhood (1848–53). They wanted to create modern art that challenged the 'soulless self-reflections' of the state-sponsored Royal Academy and its reliance on 'old master' styles and subjects.
Gabriel and his fellow art students at the Royal Academy mocked its founder, the artist Joshua Reynolds (1723–1792). The 'slosh' in this caricature of William Holman Hunt refers to their low opinion of the conventional Academy style and their nickname for Reynolds, 'Sir Sloshua'.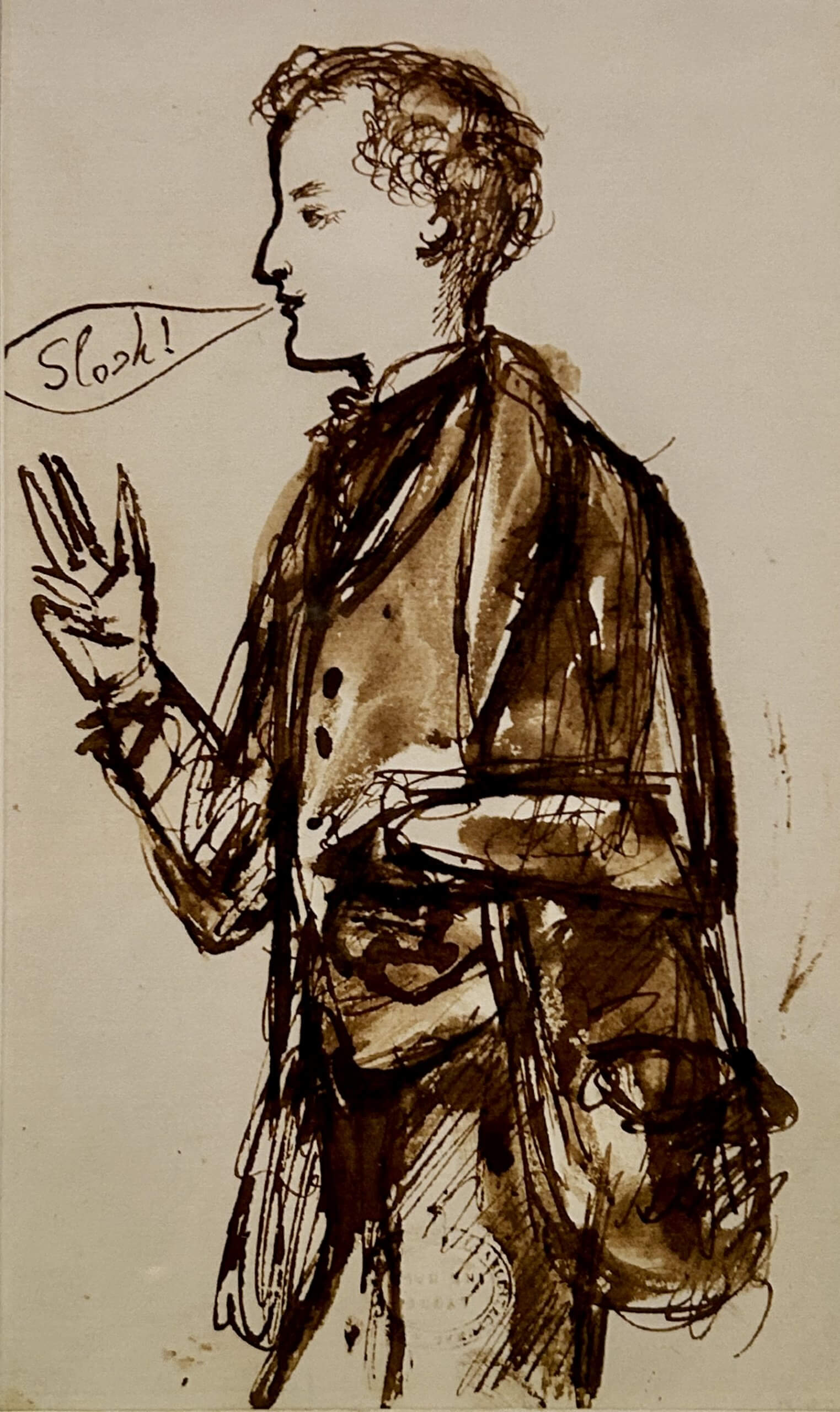 I noticed a slightly 'shoe-horned in' comment here about men and women being in this circle. But as it was called a 'Brotherhood' and the comment was accompanied by a drawing of only men I'm unsure if it is correct. There were certainly female models but whether their artistic merit was considered at this time, I don't know. What is a fact though is that Gabriel drew Elizabeth Siddal, who was studying with him, as a medieval artist painting her self-portrait.
Elizabeth Siddal (1829–1862) was a working-class woman who wanted to paint and write poetry. She met the Pre-Raphaelite circle when she worked in a hat shop near Leicester Square. Her boyish looks made her a suitable model for Viola, in Walter Deverell's (1827–1854) Shakespearean painting Twelfth Night. She sat for several Pre-Raphaelite works, most famously Ophelia by John Everett Millais. And she went on to be Gabriel's wife in 1860.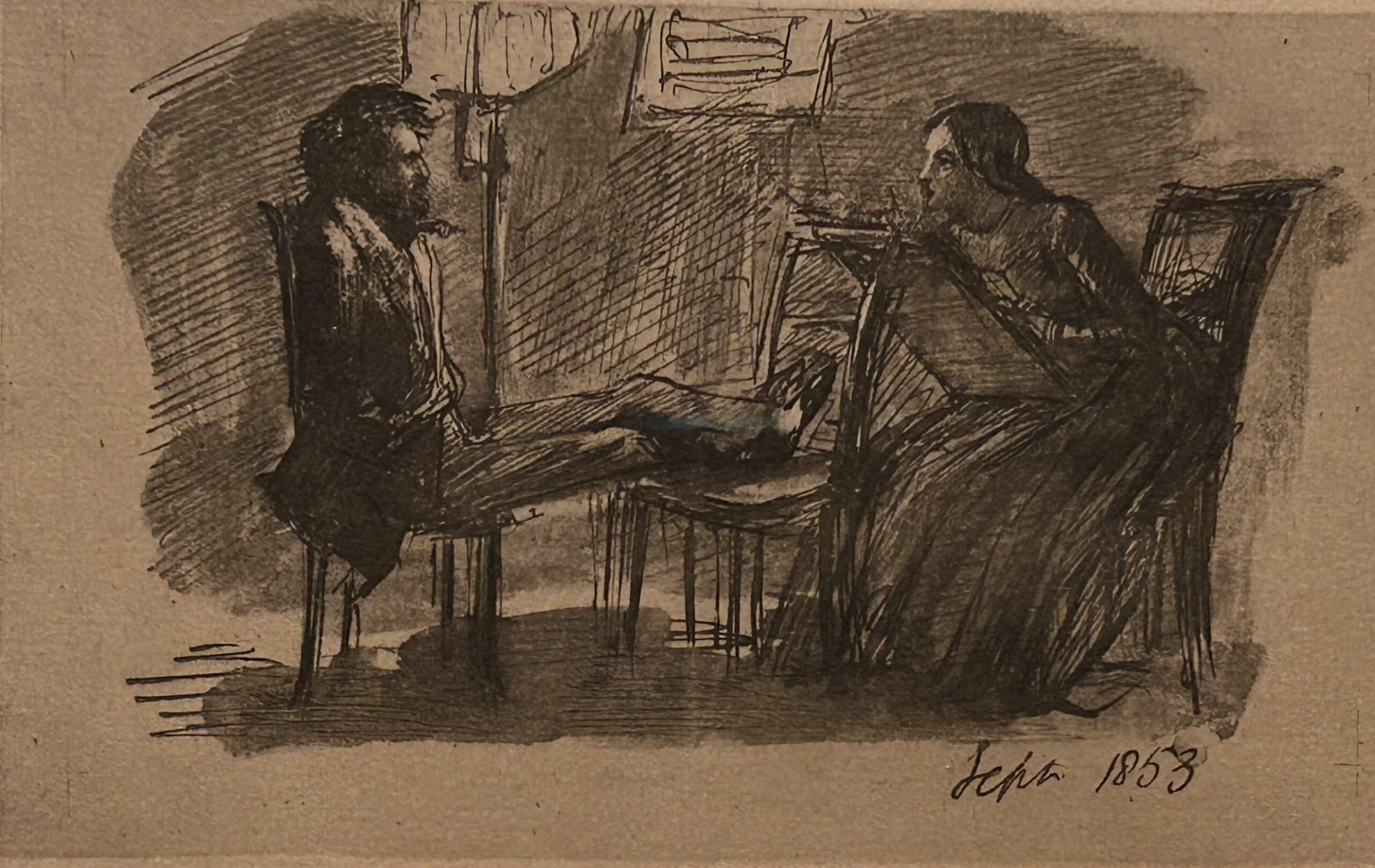 The Goblin Market
The Rossettis questioned Victorian attitudes towards women dismissed by society as 'fallen'. Christina worked for 10 years at the St Mary Magdalene Penitentiary, Highgate, a religious refuge caring for women who had sold sex. Her famous poem The Goblin Market (1859) shows how they questioned love in an unequal and materialist world through the love of two sisters.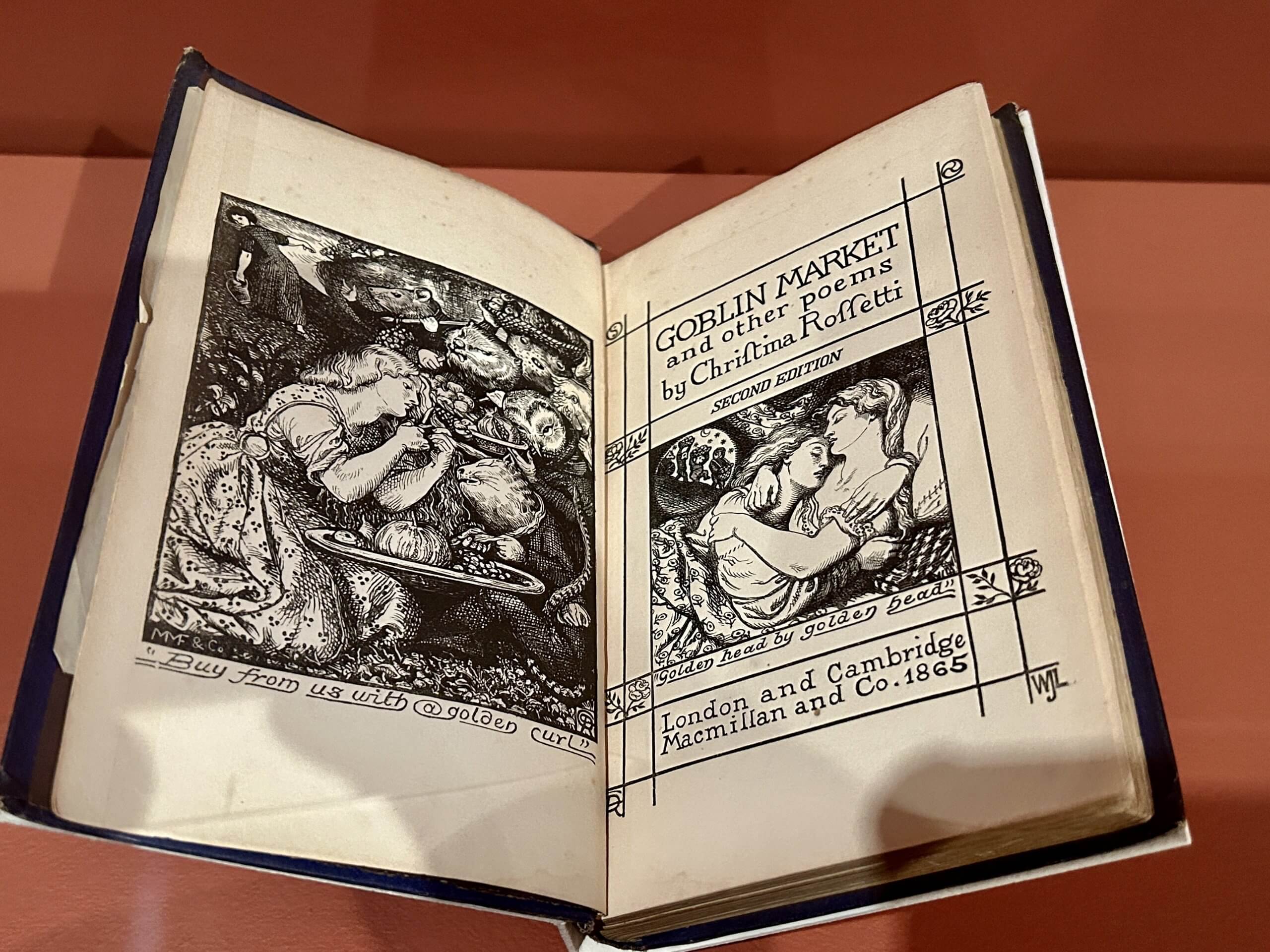 Found
Gabriel painted various versions of Found. It's based on William Bell Scott's poem, Rosabell. A woman on the streets of the city unexpectedly meets her former sweetheart. He is a farmer, coming to the city with his calf, netted and trapped behind him. Will she continue with her life, or choose salvation at the hands of her childhood sweetheart?
Gabriel made slow progress. After three years, in 1856, he met Fanny Cornforth who became his model, mistress and muse.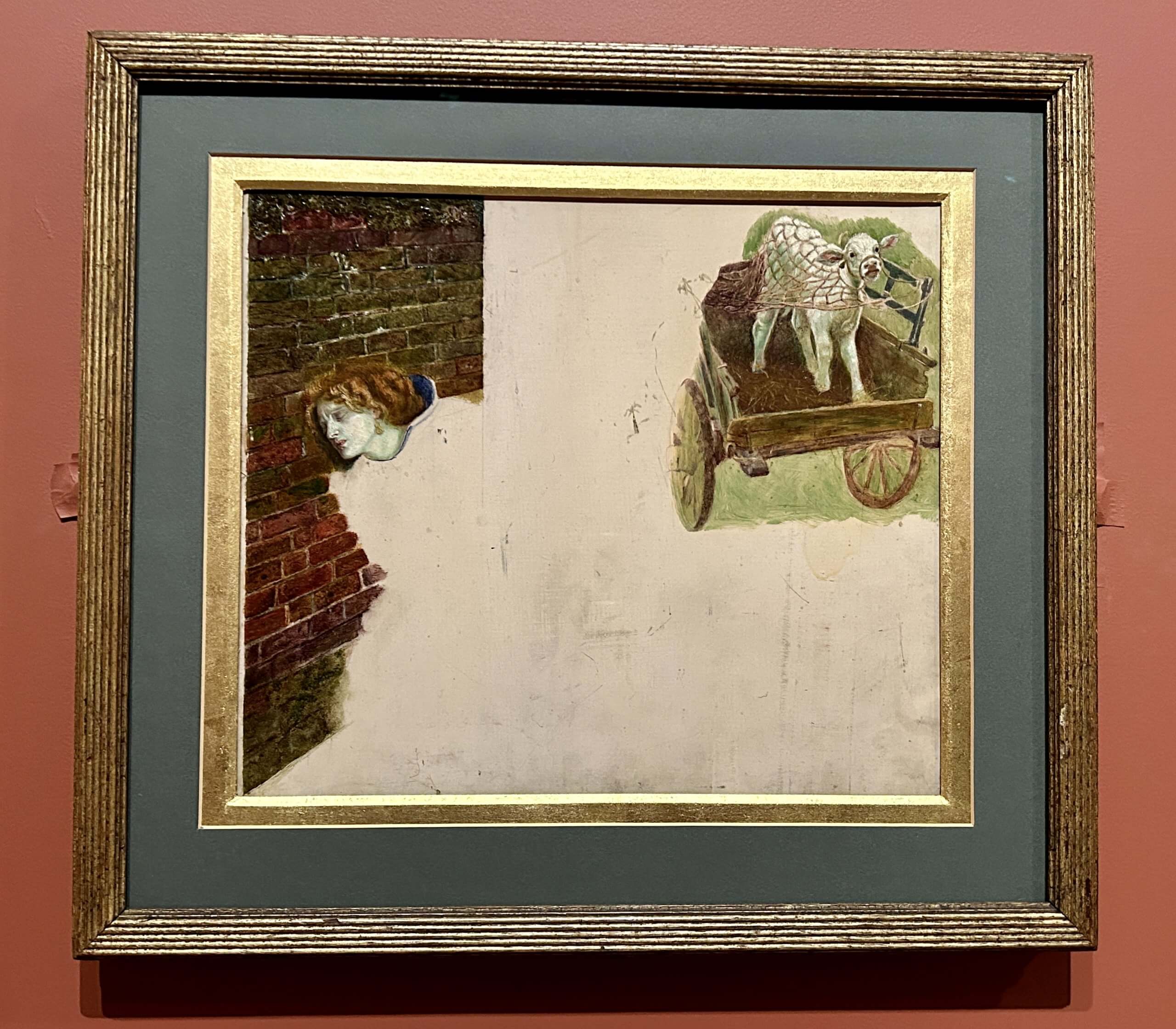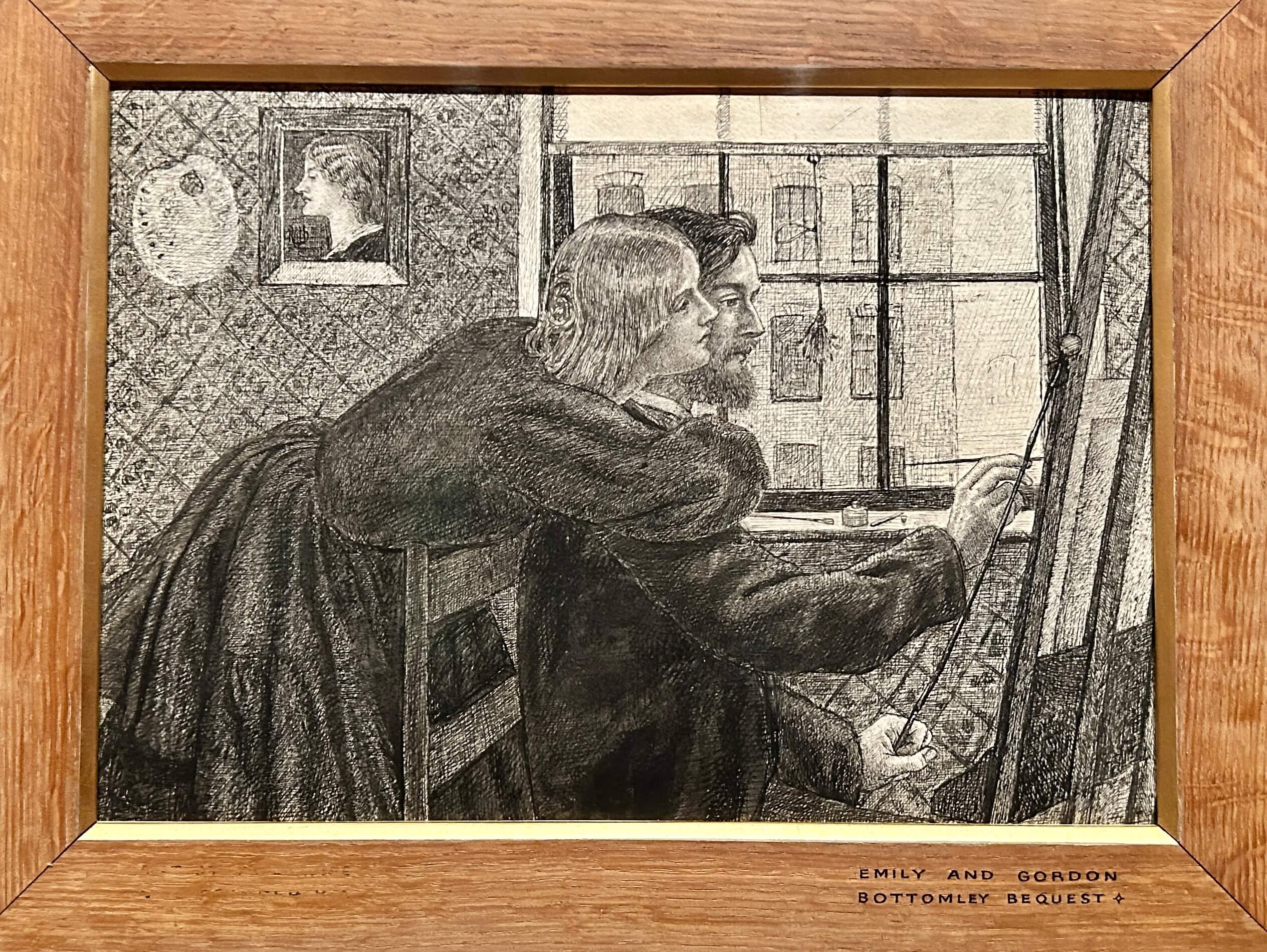 Found is set by Blackfriars Bridge, near the studio Gabriel shared with Elizabeth. His assistant, Henry Treffry Dunn (1838–1899), produced this study for the background of the painting.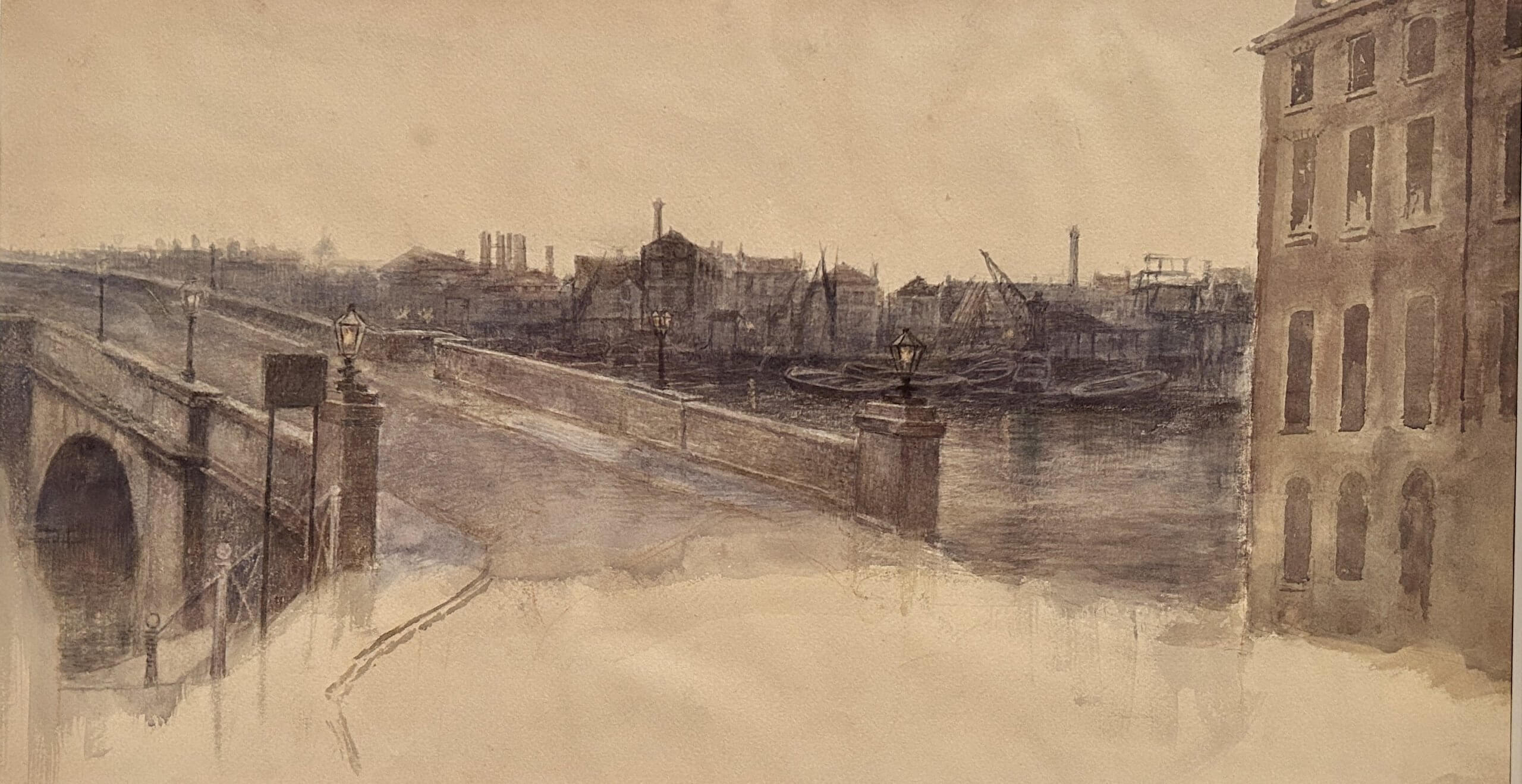 Medieval Moderns
During their mid-20s, Gabriel and Elizabeth influenced each other as they worked together in his studio. Using themselves as models, they created medieval fantasies of love and temptation, loyalty and betrayal. In 1857, Gabriel and Elizabeth showed work together in an exhibition of Pre-Raphaelite art held in London and New York.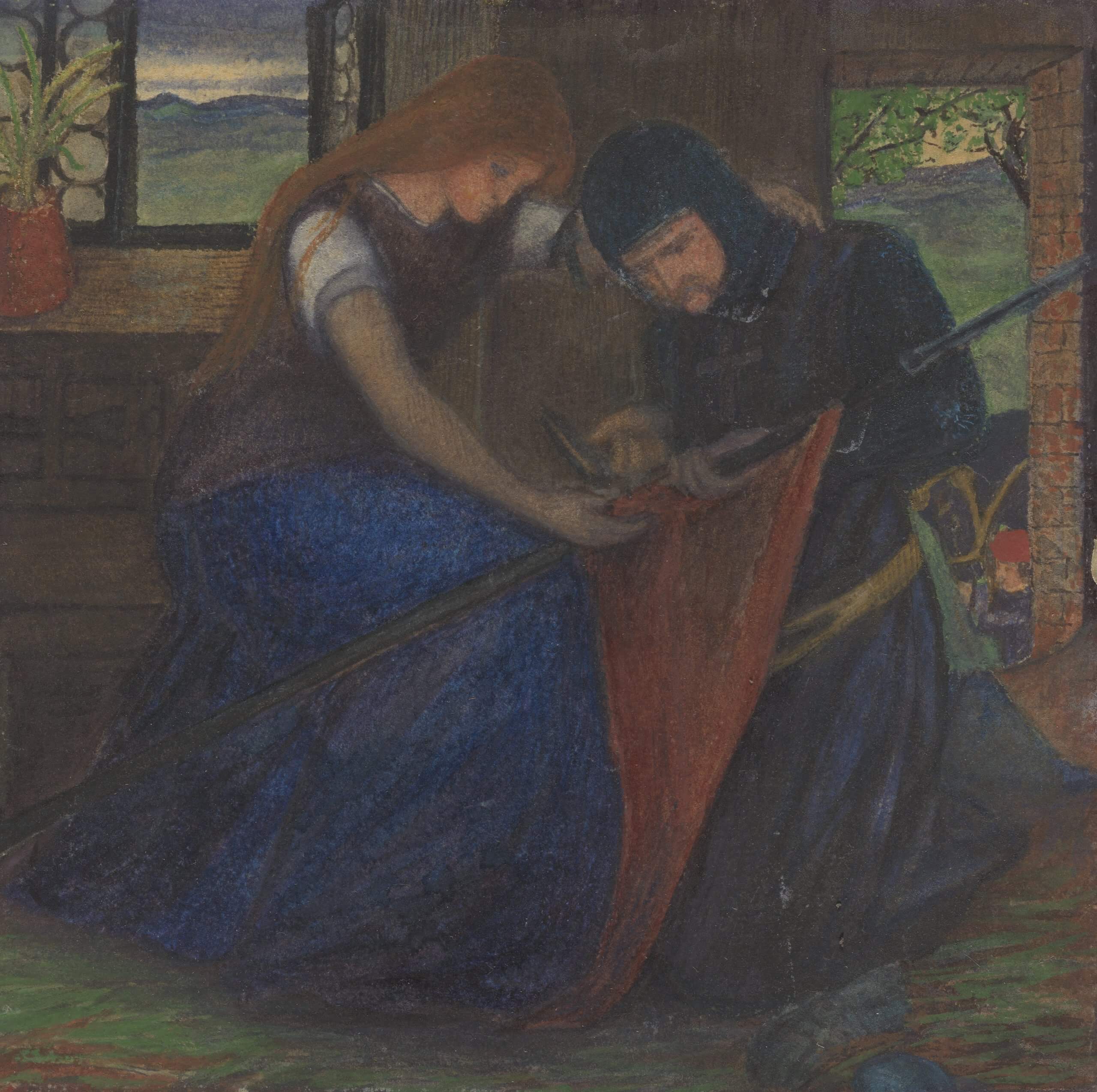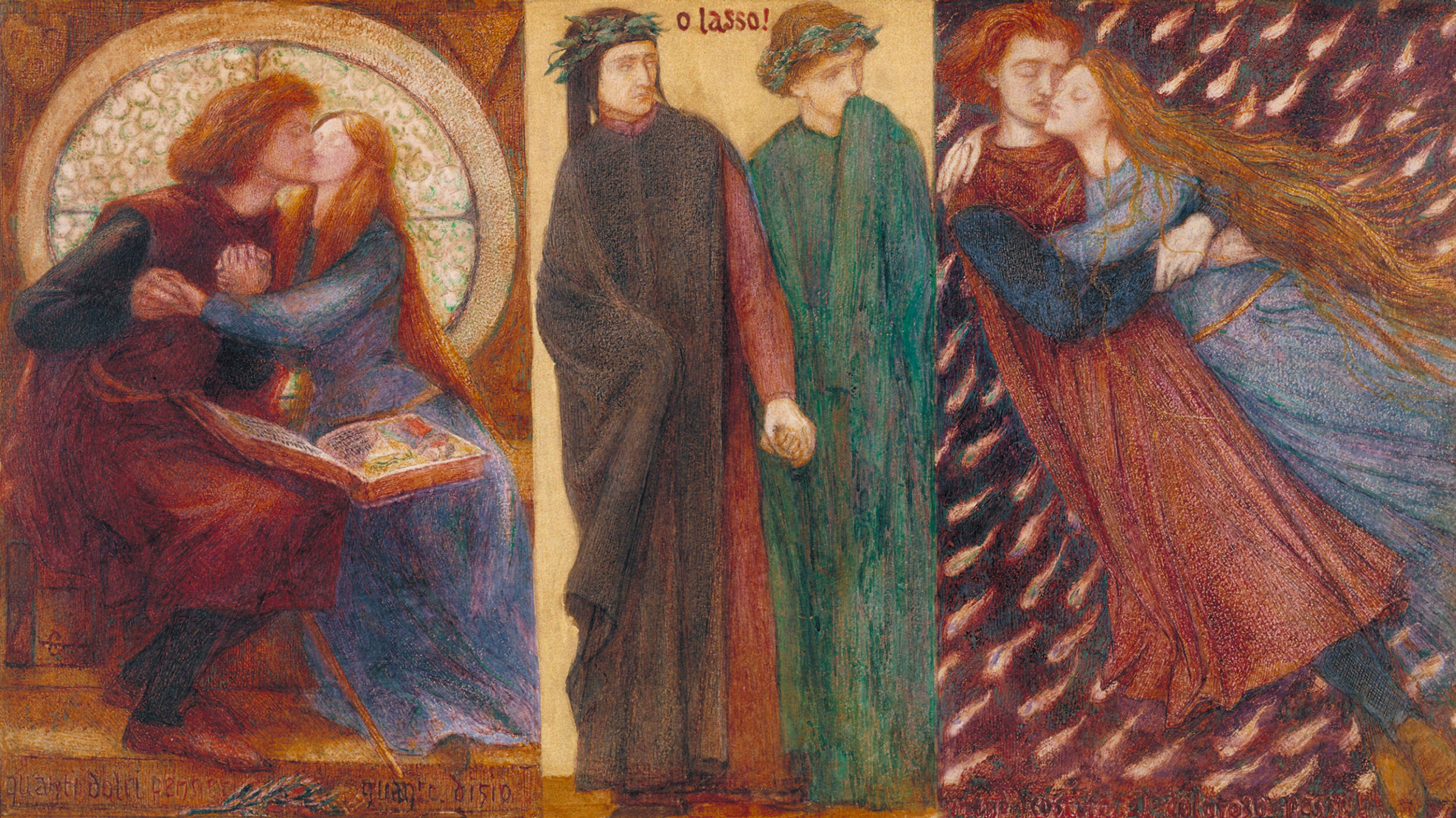 As a working-class artist who was largely self-taught, Siddal's work was highly original and inventive. But this has often been overshadowed by her mythologisation as a muse and her tragic early death in 1862. Like many Victorians, she had a dependency on laudanum (a mix of opium and alcohol). Opiates were cheap and freely available due to lucrative poppy cultivation and trade encouraged by the British Empire. Addiction was poorly understood and laudanum drops were overprescribed.
Gabriel preserved Elizabeth's drawings and continued to use them for inspiration. It would be 130 years before an exhibition was devoted to her work alone.
Gabriel paralleled Dante Alighieri's despair at the death of Beatrice with his own feelings after Elizabeth died. Beata Beatrix imagines Elizabeth as Beatrice and her death as a 'spiritual transfiguration'. A bird brings her an opium poppy as a 'messenger of death' and the sundial symbolises time.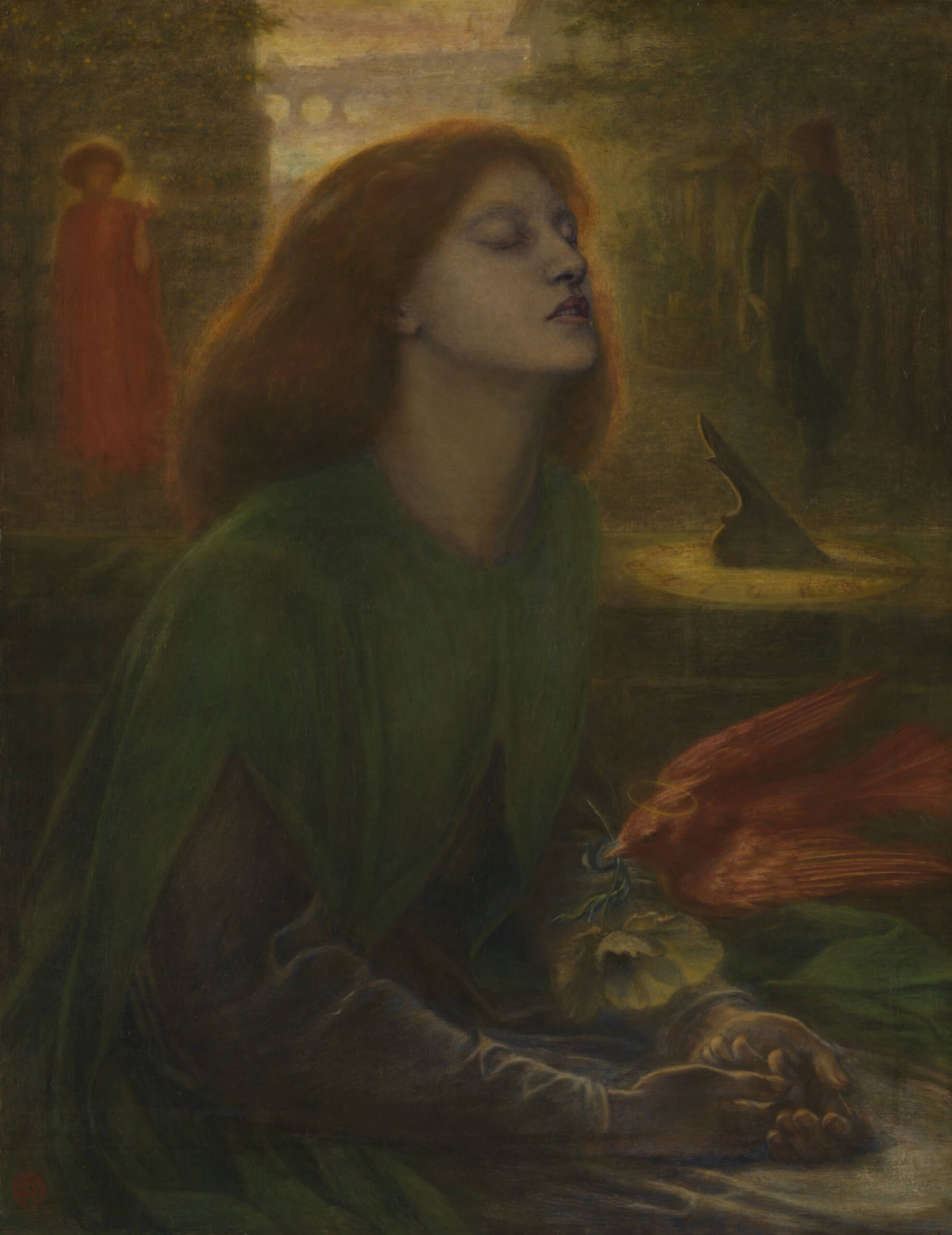 Making Home
While Gabriel and Elizabeth's marriage lasted only two years before she died, they did set up home together. Like several other couples in their group, they came from different social classes which was unusual for the times. These unconventional households inspired new art, dress and designs for living.
The wallpaper he designed for their drawing room wasn't completed but has been created here for the first time.
From 1861, Gabriel was a founding partner in Morris, Marshall, Faulkner & Co which made and marketed designs such as the Rossetti Chair. He contributed 'Music' and 'Gardening' panels for the King Rene's Honeymoon Cabinet, exhibited at London's International Exhibition in 1862.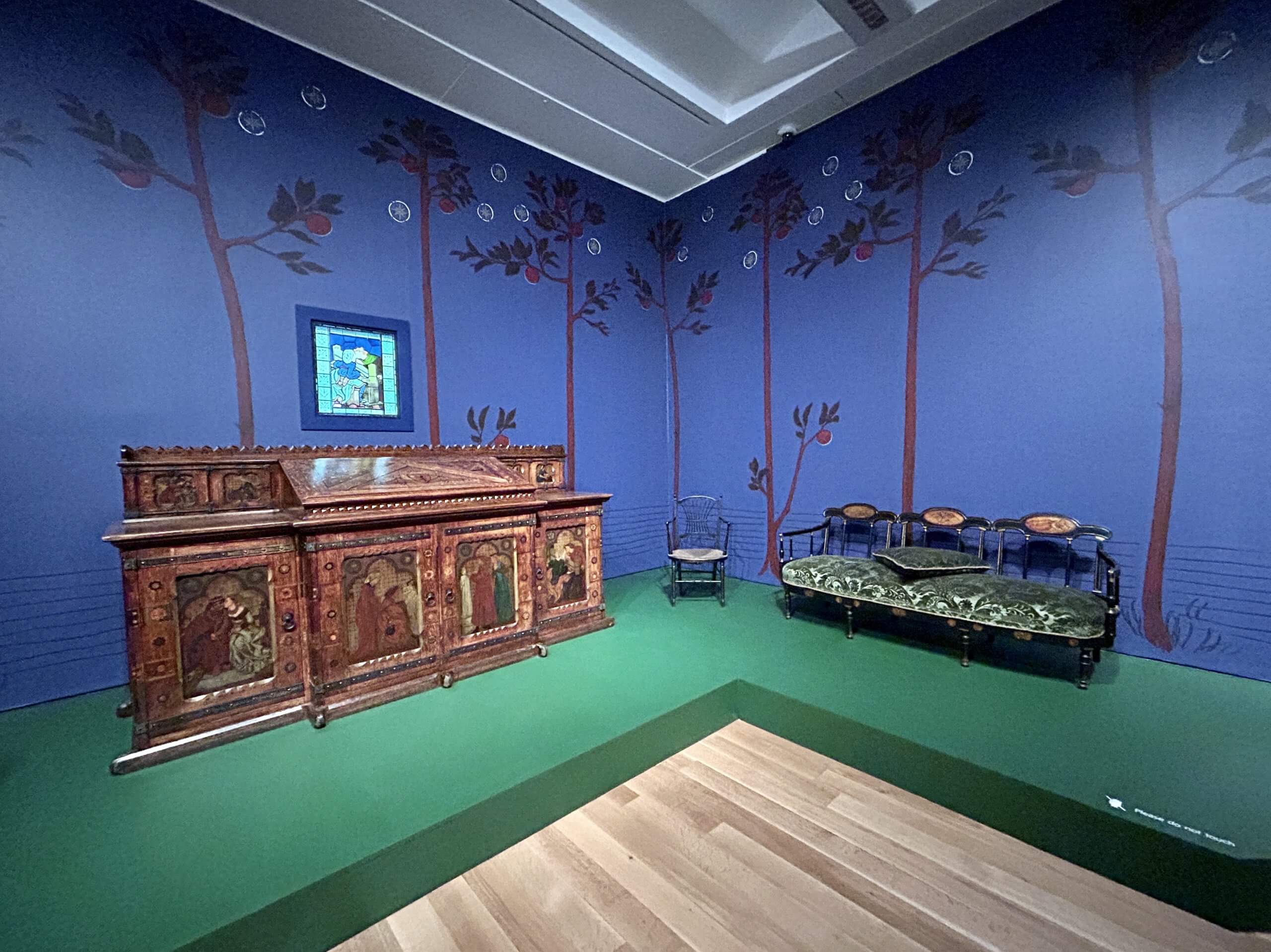 The Beloved
The photo below shows Gabriel's working process for The Beloved and gives a glimpse of the models' sittings. While the girl would have played the role of one of the bride's attendants, Gabriel seems to have cast the boy as the representative of the king.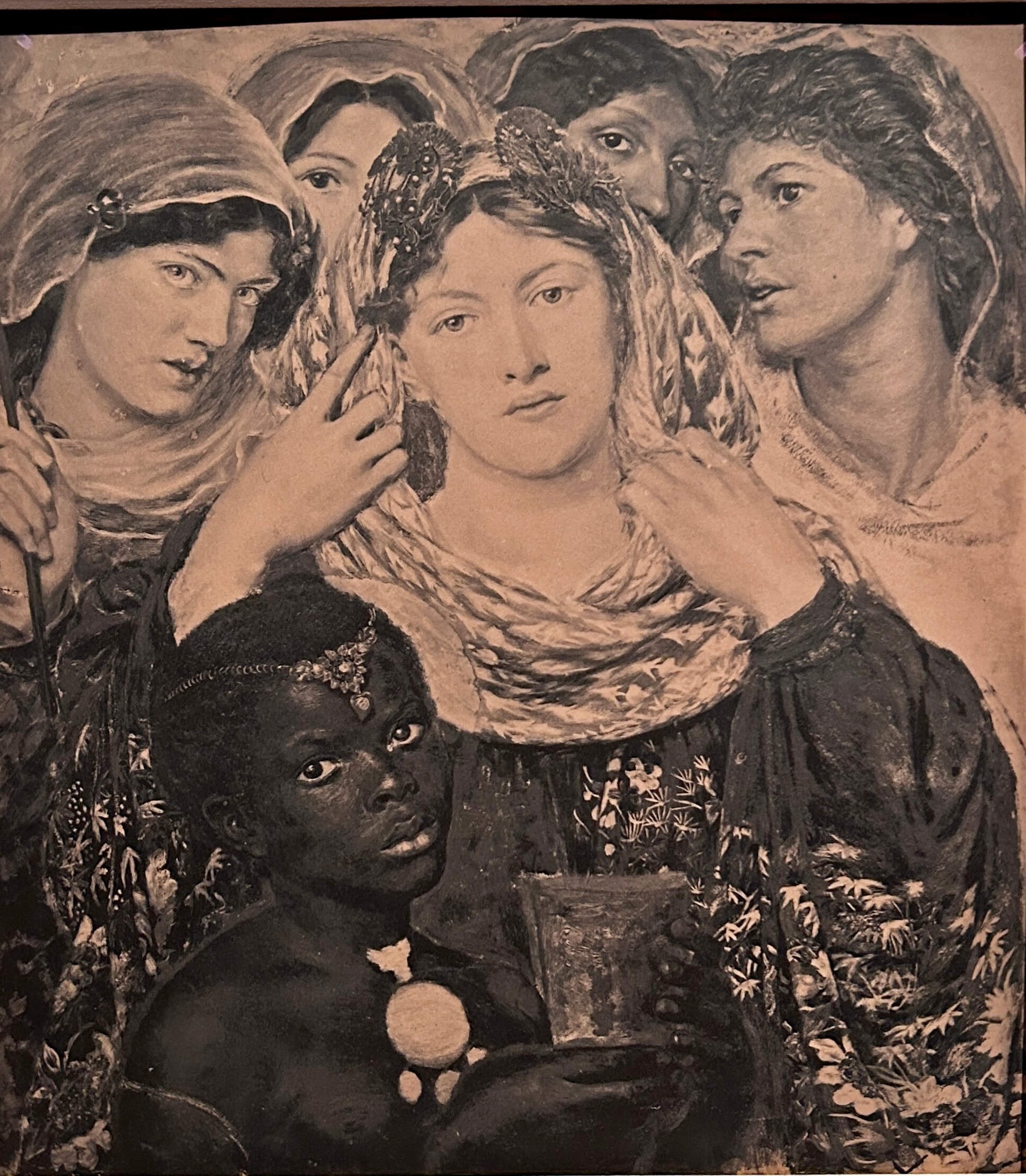 Based on a biblical story, The Beloved was created for George Rae, a wealthy banker. It seems Gabriel was trying to show 'universal beauty' with the bride in a Japanese kimono and the boy's headdress is made from a Danish necklace and his pendant is North African. But you could look at it now as placing a white European woman as the central object of affection. I don't know. I try not to be offended by beautiful artwork.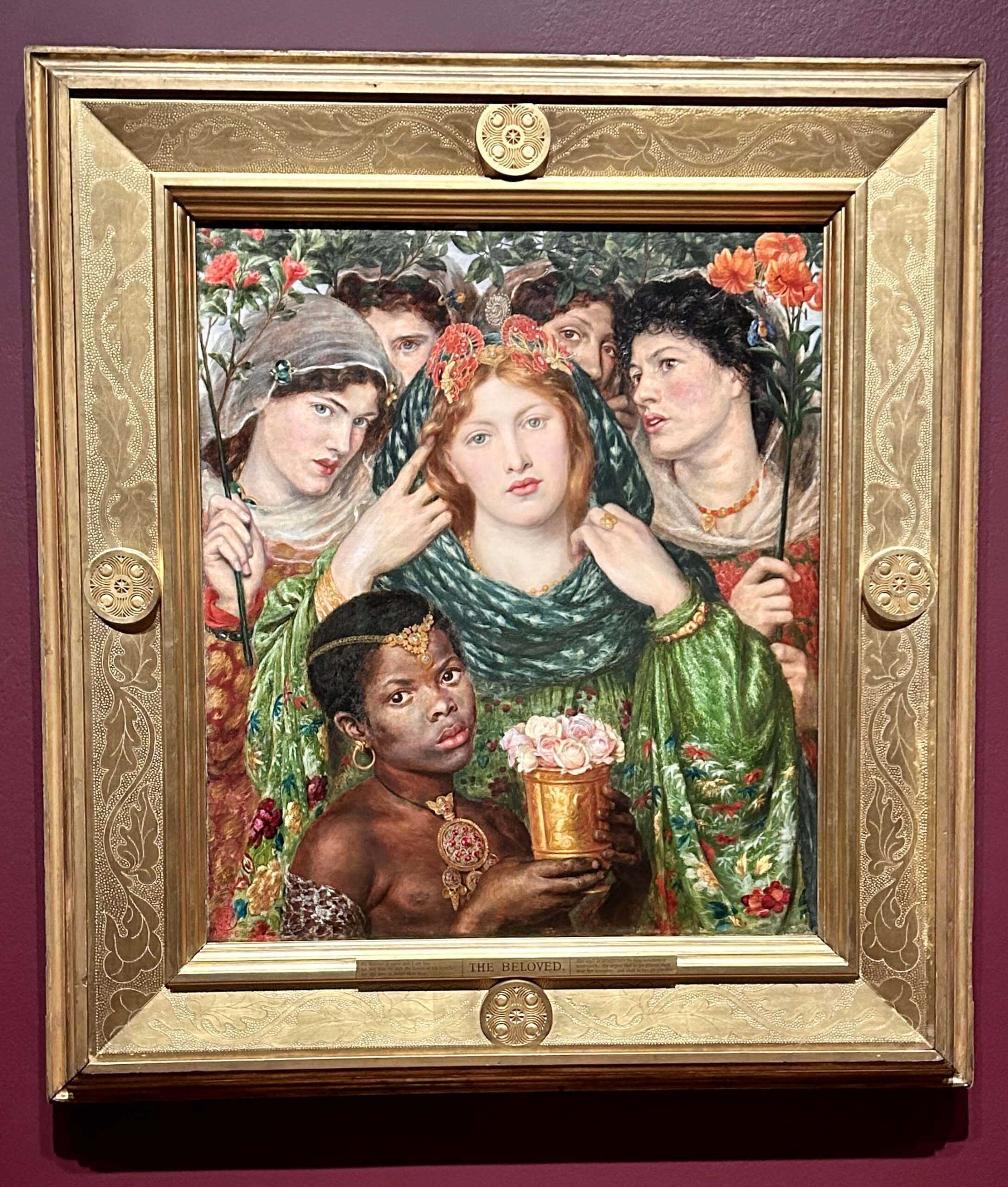 Poetic Portraits
Gabriel's portraits reflected the aesthetic movement's ideals of 'art for art's sake'. He adapted the likenesses of working-class women of unconventional appearance into fantasies of femininity inspired by Renaissance portraiture and mythological texts. The portraits were paired with poems for 'double works of art'.
These three works were hung in the drawing room of Gabriel's patron Frederick Leyland and are shown here together for the first time since. Painted in the last decade of Gabriel's life, they present three likenesses of Jane Morris.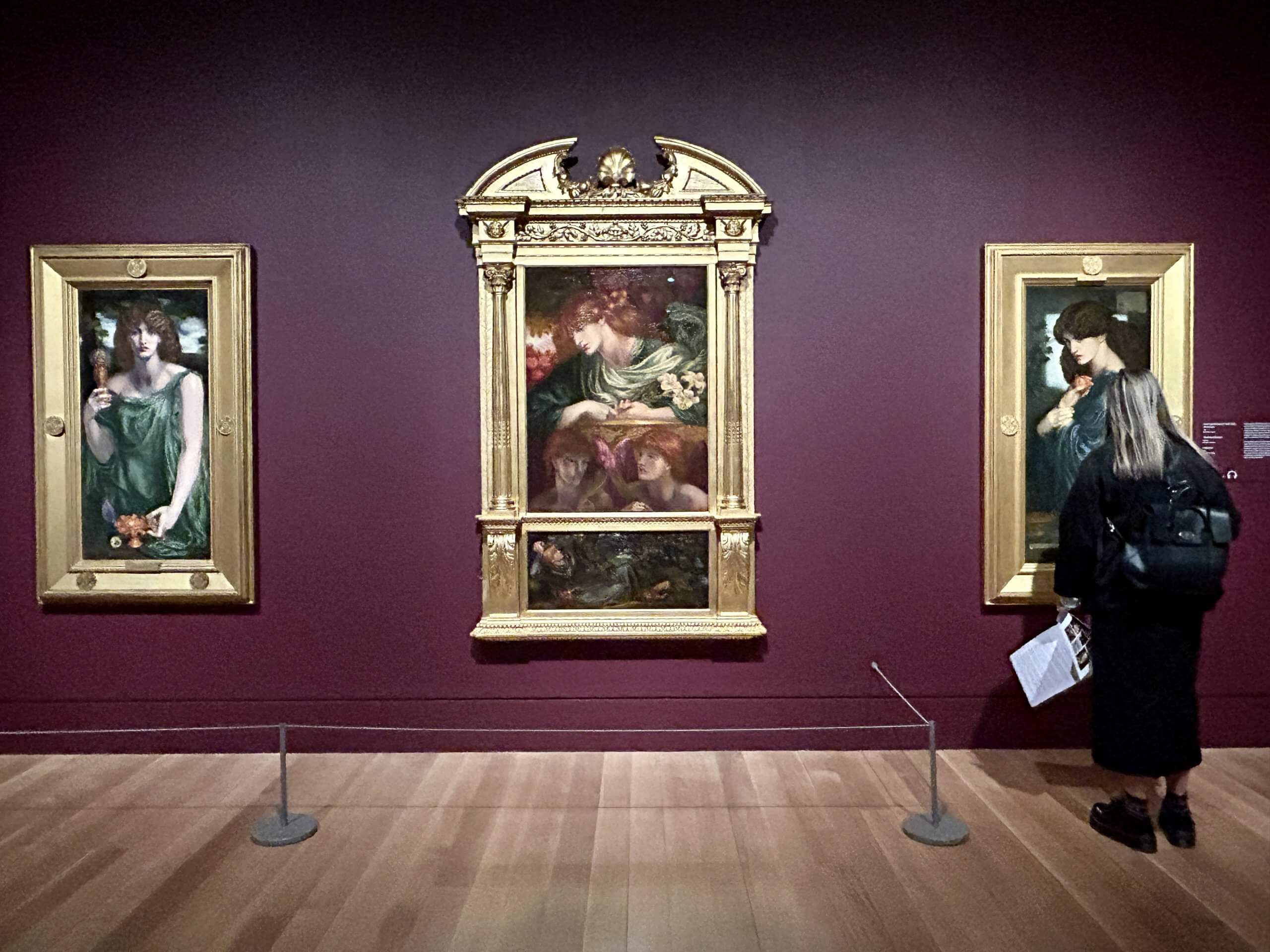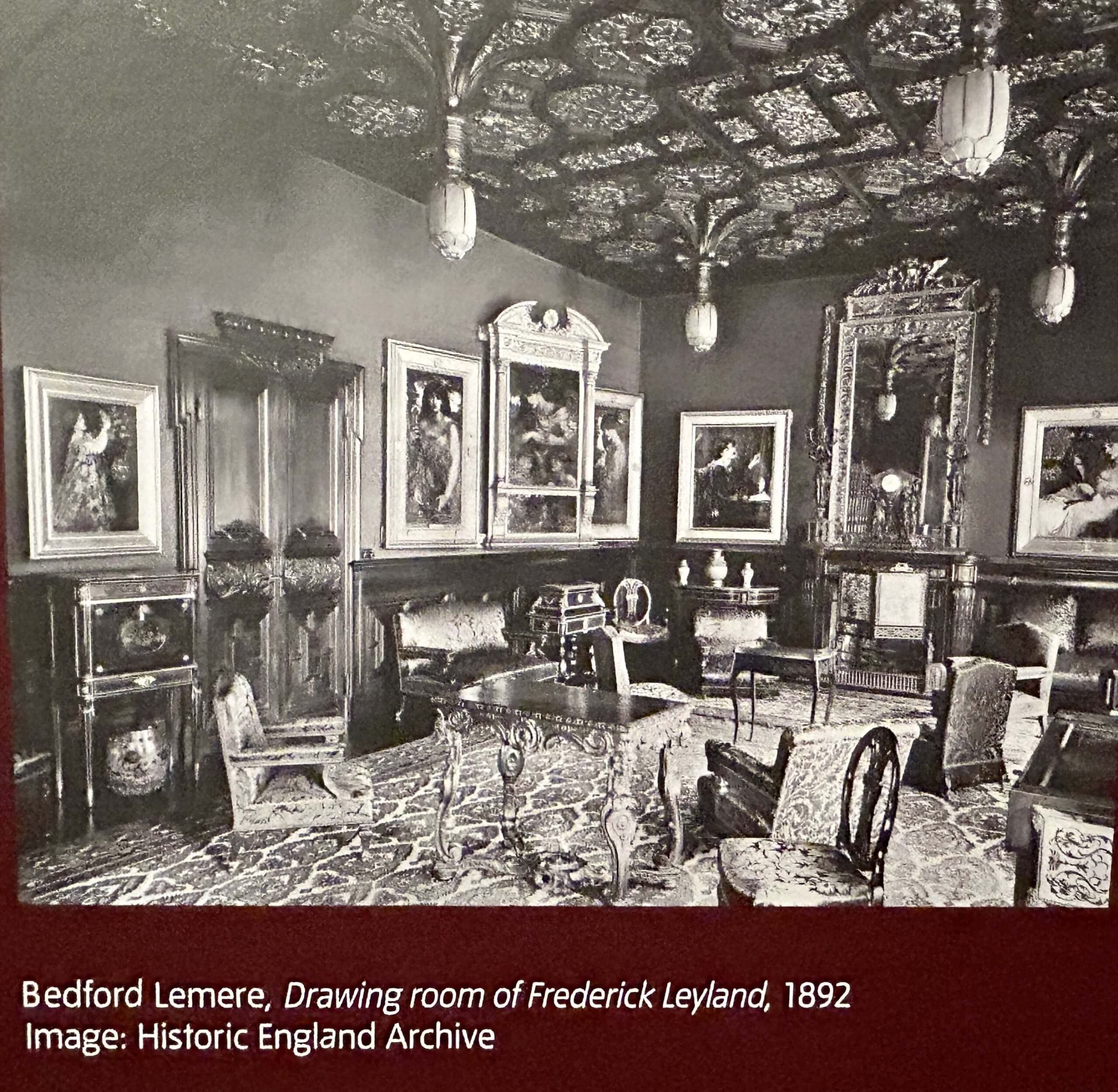 I've liked seeing La Ghirlandata at the Guildhall Art Gallery for years. The angels were modelled by Jane and William Morris's young daughter May.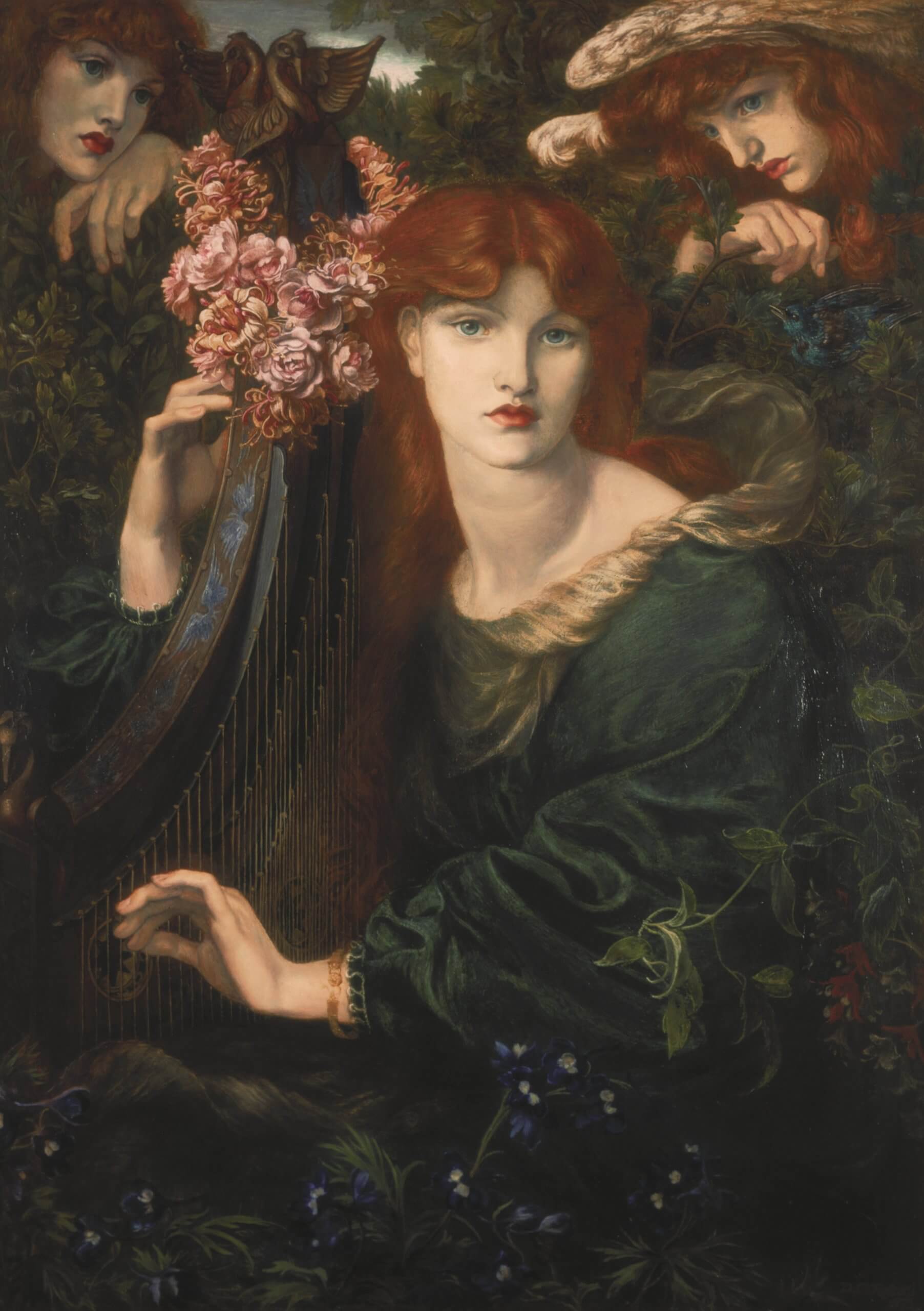 Obsession
Gabriel's final years were dominated by his love and friendship with Jane Morris (born Jane Burden) (1839–1914).
Jane was 18 years old and a domestic worker in Oxford when Gabriel met her outside a theatre and asked her to pose as Queen Guinevere. His team, including artist and designer William Morris (1834–1896), were painting murals based on the legends of King Arthur in the Oxford University Union. Shortly afterwards, Jane and William Morris married. Their home (the Red House, in Bexleyheath) became a creative hub where men and women in the circle experimented with designs for living.
When Jane became involved in a relationship with Gabriel, he and William Morris took on the lease of a house at Kelmscott in Oxfordshire, providing a refuge for Jane and the two children, and a place where she and Rossetti could be together away from the public gaze. Fluid relationships and plenty of understanding and acceptance, eh?
On display are a collection of 13 photographs taken by John Parsons (1826–1909) of Jane Morris posed by Gabriel in his garden at 16 Cheyne Walk, Chelsea in 1865. I particularly liked these shots.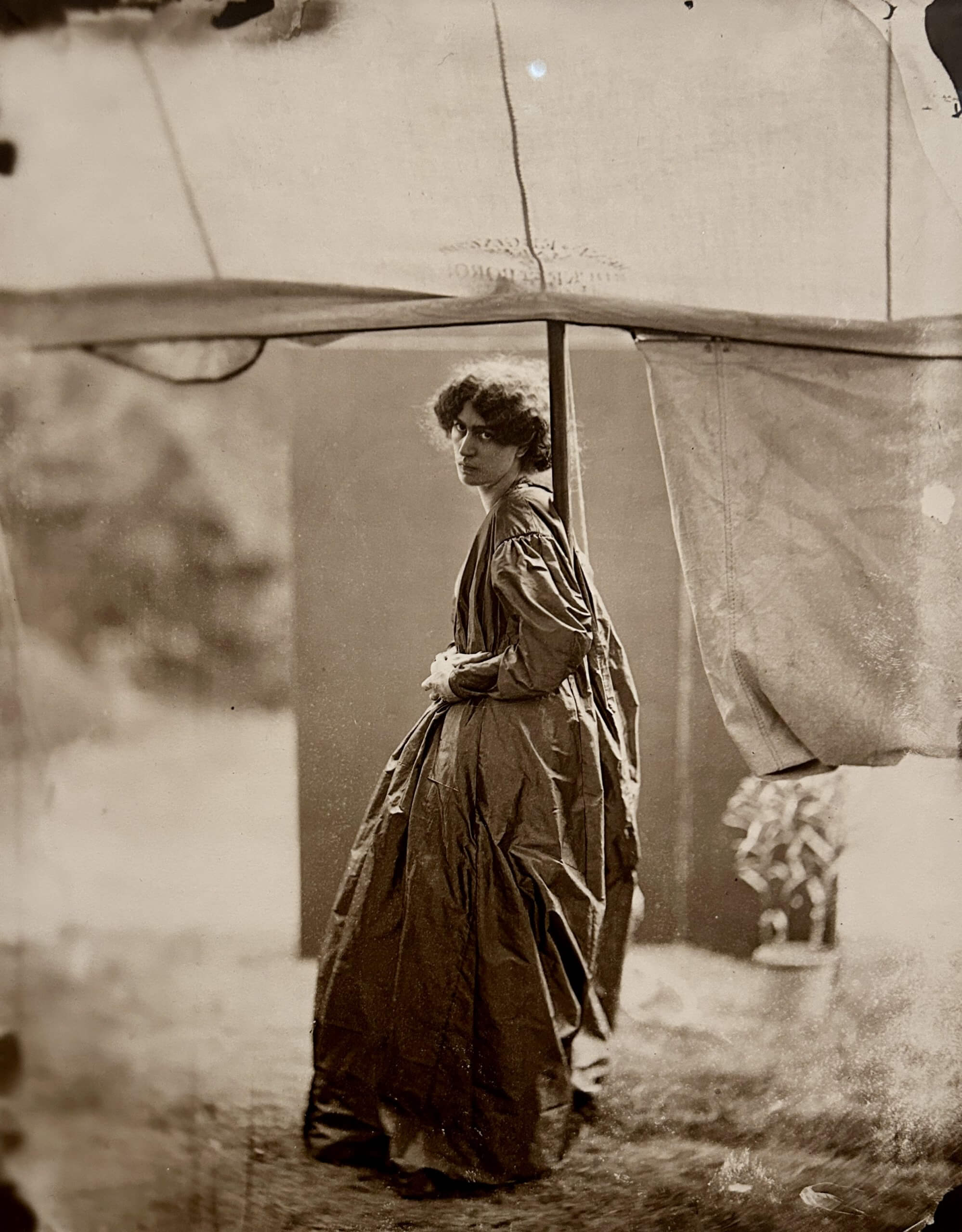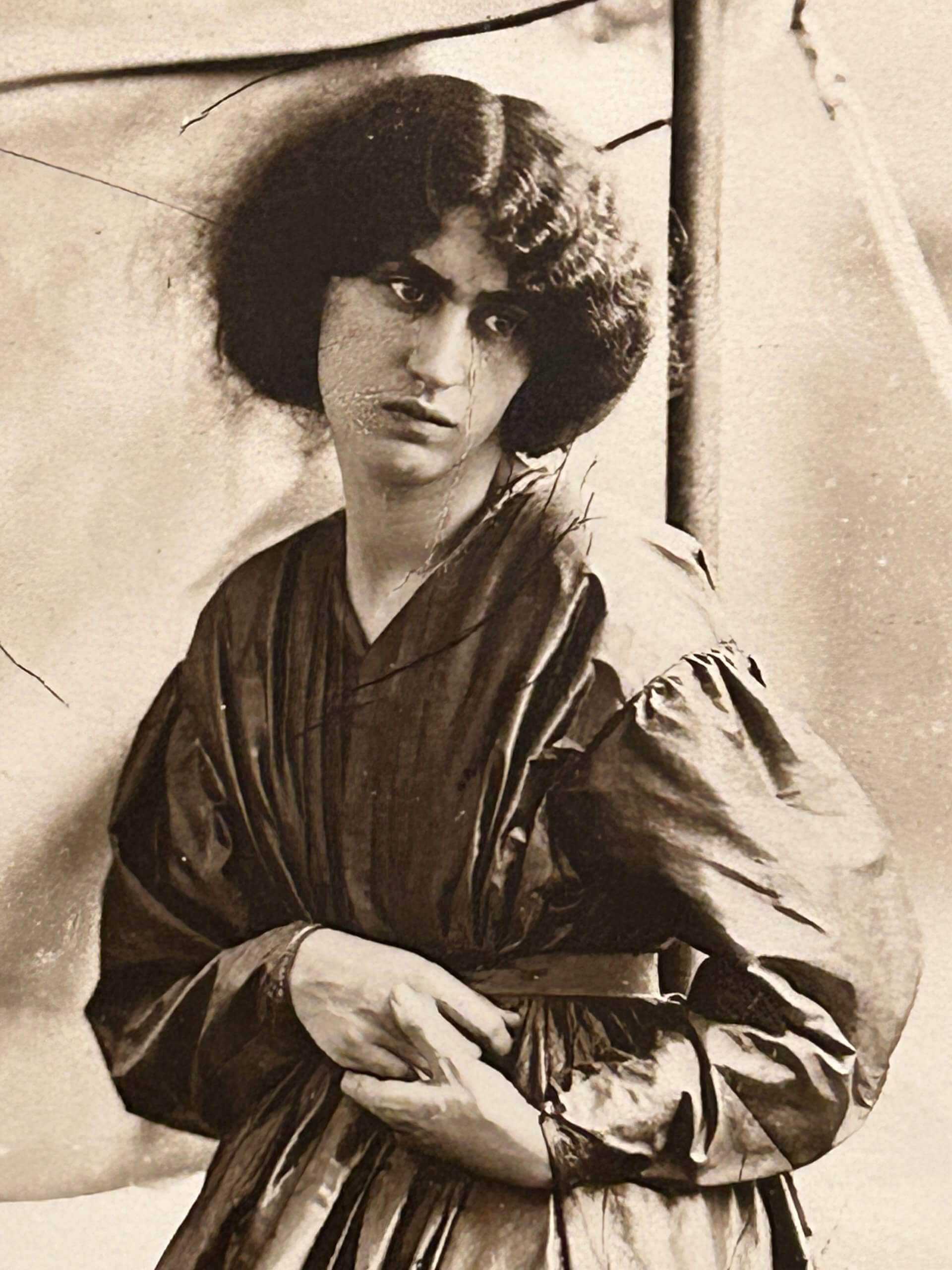 Inspired The Next Generation
The exhibition concludes by showing how the Rossettis inspired the next generation. This section felt like the exhibition fizzled out rather than ending with a boom.
There's a large screen showing an extract of Ken Russell's (1927–2011) 1967 film Dante's Inferno: The Private Life of Dante Gabriel Rossetti, Poet and Painter. But the room still felt lacking.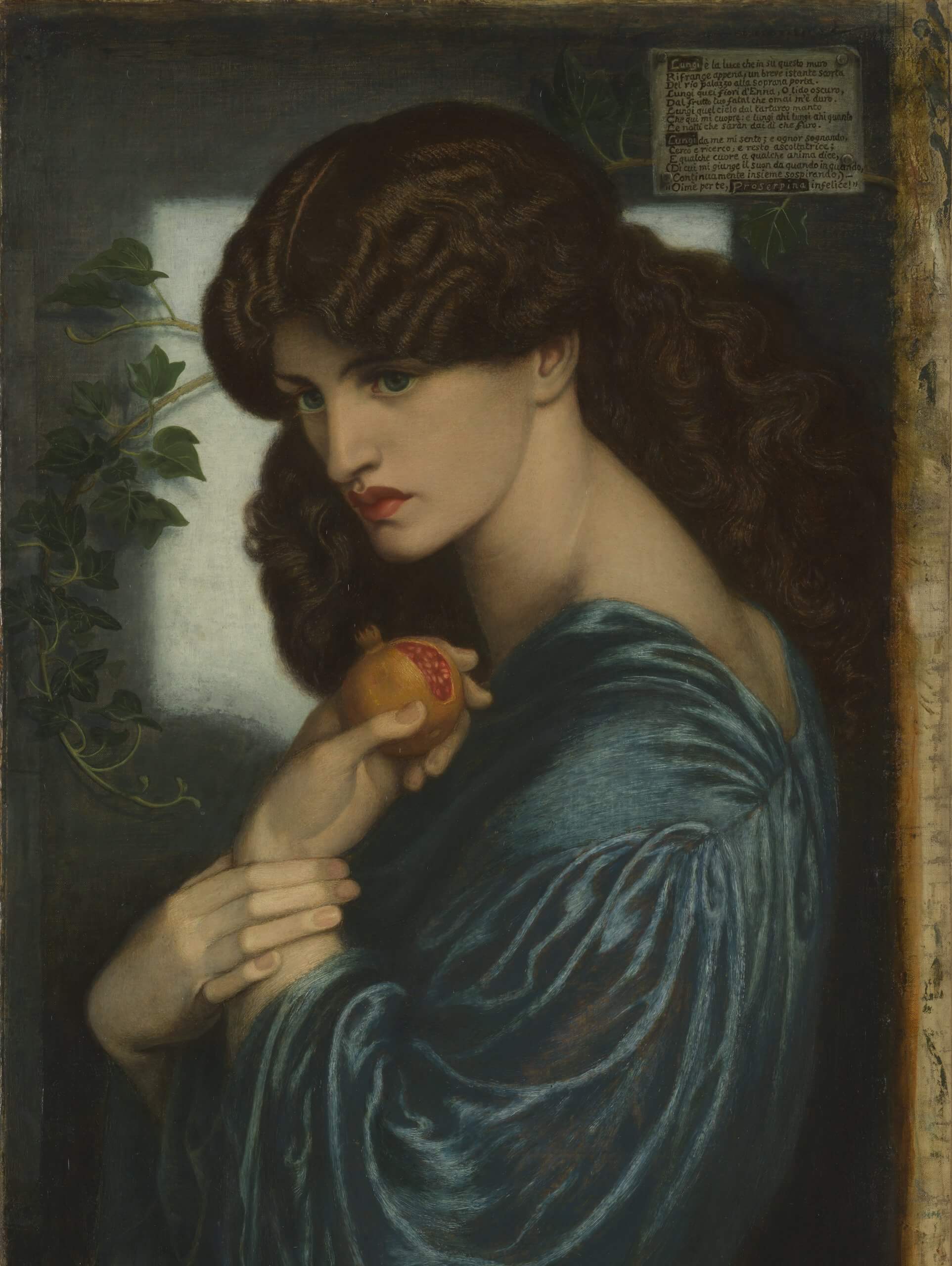 I love Pre-Raphaelite paintings so was looking forward to this. But I think Tate struggles to explain itself well in these large exhibitions. I could have done with a family tree to explain who all the Rossettis were but it was good to know Gabriel was not the only family member who had artistic talent. But it still felt like a Dante Gabriel Rossetti exhibition with supporting characters. Still, there are some beautiful paintings to enjoy so I'm not complaining.
Visitor Information
Title: The Rossettis
Dates: 6 April – 24 September 2023
Location: Tate Britain, Millbank, London SW1P 4RG
Official Website: www.tate.org.uk/whats-on/tate-britain/the-rossettis