Afternoon tea, that light meal served between 4 and 6 PM, is a staple of British culture. In addition to enjoying a hot cuppa of the caffeinated beverage, you might enjoy some sandwiches, pastries, cakes, or even biscuits. Anna Maria Rusell, Duchess of Bedford, is credited with beginning the tradition, and, as such, there's some austerity to afternoon tea. However, some places in London have gotten a bit tired of being prim and proper all the time and developed their own unique ways to present the meal.
1. Mad Hatter's Tea – The Sanderson Hotel
Take a trip through the Looking Glass with this Lewis Carroll-themed afternoon tea in the Courtyard Garden of the Sanderson Hotel in the West End. The menus are hidden in books, the crockery resembles playing cards and clocks, and your choice of beverage comes with a "Drink Me" tag. The tea themselves can be quite interesting concoctions, with flavors ranging from apple pie to strawberries and cream. Make sure you book a few months in advance, however, as this upscale, unconventional tea is very much in demand by locals and tourists alike.
2. BB Bakery Afternoon Tea Bus Tour – Westminster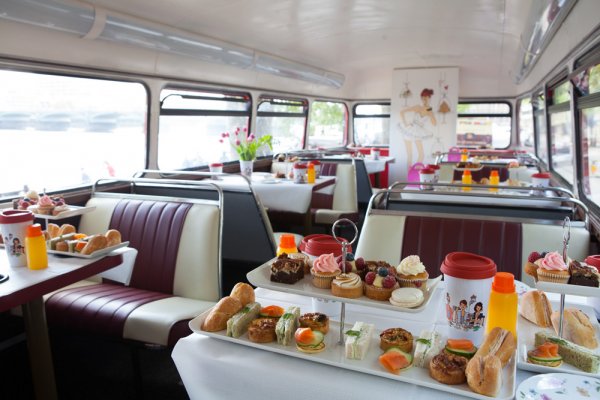 Want to combine your afternoon tea with a sightseeing tour of London? Covent Garden's BB Bakery takes their culinary delights on the road in a chicly-renovated Routemaster bus that will serve you tea and their selection of French delights as you ride past the London Eye, Buckingham Palace, the Royal Albert Hall, and more. Tours depart from Trafalgar Square at 12:30 and 3 PM as well as from Victoria Coach Station at 12, 2:30, and 5 PM. The cost for adults is £45 and for children, £35, and you can believe it's going to be a more (full)filling tour.
3. Charlie and the Chocolate Factory – One Aldwych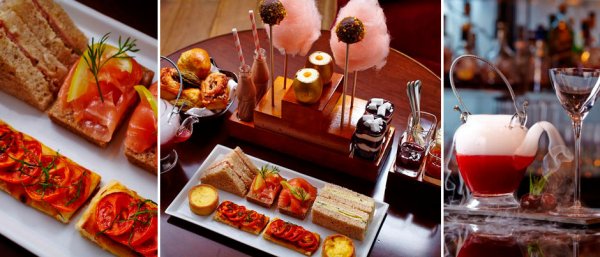 Another opportunity to combine a love of tea with a love of literature, or in this case musicals, as One Aldwych celebrates the West End production of Charlie and the Chocolate Factory with its own Dahl-inspired afternoon tea. In addition to Wonka treats such as a gold-painted chocolate egg with a cheesecake filling and mystery-flavored candy floss, there are more traditional fare options such as smoked salmon and heritage tomato tart. If you want something a bit stronger, you can order champagne or a Cocktail Charlie, which is a potent mix of champagne and whiskey that comes smoking out of a clear teapot. The cost is £37.50 for a normal tea and £48 with the optional alcoholic beverages, but you'd better check the website as they can be fully booked for weeks ahead of the present.
4. Burger Afternoon Tea – Brgr.co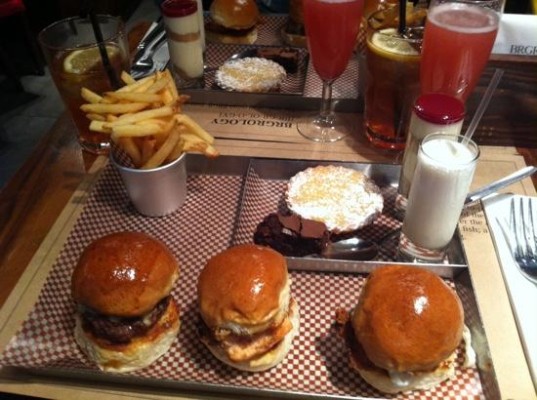 If you want a more American spin on the British classic, go over to Brgr.co in Soho. Instead of scones, cucumber sandwiches, and pastries, your tea comes served with sliders (or mini-hamburgers for non-Americans) that include the traditional cheeseburger, fried chicken with coleslaw, and prawn and salmon, as well as mini-fries, lemon tart, raspberry and white chocolate cheesecake, and a mini brownie. Drinks can include traditional British tea, homemade iced tea, or a milkshake.
5. Gent's Afternoon Tea – Sanctum Soho Hotel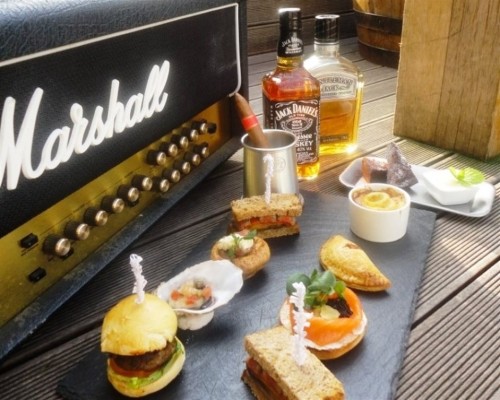 Of course, maybe you're on this trip with the blokes and you wouldn't do something so "girly" as a dainty English tea. Well, fear not, my brothers! No sticking out your pinky while gnoshing on itsy-bitsy cucumber sandwiches at the Sanctum. Instead, you get the option for meat such as steak, lamb, roast beef, and more while sipping on your tea and a tankard of Jack Daniels' "Gentleman's Jack". They'll also give you a cigar to enjoy on the roof terrace and all for £50. Of course, the ladies haven't been left out, and the price is considerably lower for the more traditional "High Tea for High Heels" at £35.