The Tube is another one of those iconic London landmarks that I love to bits. I got to thinking – just what is it about the Tube that I love so much?
Here are 10 things I love about the Tube in no particular order.
It Goes Everywhere
The Tube simply goes everywhere – with 250 miles of track and 270 stations, the London Underground sprawls in every direction. You can travel to a different station every day and discover something new.
Mind the Gap
The most iconic phrase to come from the Tube is 'Mind the Gap,' which is broadcast over audio systems of the network and also painted on the platforms. It's such a reassuring thing to hear the tone and then the calm voice warning you to watch your step as you get on the train.
The Smell
Some would argue that the Tube doesn't smell good. But I would argue that the Tube has its own unique patina – dust, engines and people all combine to make the smell of the London Underground completely unique. I know I'm in London when the smell hits me at Heathrow station.
The Whoosh
One of the simple pleasures of traveling in London is standing on the platform, hearing the train approach and then feeling the rush of wind rushing ahead of the train as it arrives. It's such a feeling of anticipation. And a relief on a hot day as most of the Underground is not air conditioned!
Old Stations
While there are no shortages of new stations on the network, I really love visiting the old stations – some built over a hundred years ago. Many have unique and beautiful tile work you simply cannot see anywhere else. There's such a timelessness about these stations and they're a joy to travel through.
The Tube Map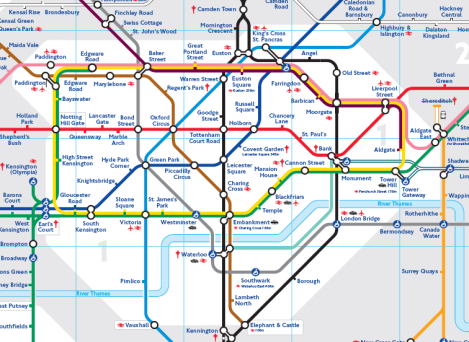 With 270 stations, it would be easy to get confused when you look at a rail map. That's why Harry Beck had the brilliant idea to re-imagine the map as an electrical diagram and the iconic Tube Map was born. It's so simple to navigate – you can easily find your way around London and transferring between lines.
It's a Cheap Way to Get Around London
There are cheaper ways to get around London (buses are much cheaper) but the Tube is a surprisingly affordable way to travel around London when you're on a budget. When we visited during our college days, it was indispensable for poor college students.
Feel Like a Local
We know it will never be possible for us to live in London, but when we travel there – riding the Underground makes us feel like locals. You get to see a slice of London life. London fashion. What people are reading. Hear what people are listening too. You also notice social cues you might not notice anywhere else (like don't talk, ever, or don't sit next to someone if there is a free seat elsewhere).
The Oyster Card
London pioneered using an electronic card to travel its network and we recommend that everyone get one before they go to London. It never expires and you can use it on future trips. For those that don't know what it is – the Oyster card is your ticket to the Tube. It gives you the cheapest fare whenever you use it (and caps out for multiple trips). It's much cheaper to use than paper tickets. It's also much easier to use to get through the ticket barriers. My Oyster card is one of my prized possessions and I always keep it with my passport, ready to go to London.
The Rolling Stock
I'm not a train geek that can tell you what kind of train each one is, but I simply love trains and love examining the variety across the network. They're so fast! And that sound they make as they accelerate out of the station is truly an iconic London sound.
Here are some of the sounds of the Tube:
What do you love most about The Tube? Let us know in the comments!