This National Gallery landmark exhibition is being staged to mark the centenary of the birth of artist Lucian Freud (1922–2011.) It is the first major Lucian Freud exhibition in a decade to showcase his long and influential career.
Family
The grandson of Sigmund Freud, Lucian Freud was born in Berlin in 1922. His father was the Jewish architect Ernst L. Freud. Ernst was the fourth child of Sigmund Freud, whose personality was described as 'controlled and controlling'. Lucian's mother, Lucie, was an art historian. We might think of Freud as a straightforwardly modern painter, but he was grounded in the European tradition and would have learned from his mother's work.
His family moved to St John's Wood, London, in 1933 to escape the rise of Nazism. Lucian became a British subject in 1939.
His mother always made it clear that Lucian was her favorite child. She regarded everything Lucian did not just as 'good but as perfect', which he found suffocating. After the death of his father in 1970, she became more passive. From then until her death, he painted, drew and etched her again and again.
While not mentioned in this exhibition, Lucian Freud was a relentless womanizer. Ridiculously fertile, he once fathered three children with three different women within the space of one year. He formally acknowledged 14 of his offspring, but the rumors suggest he fathered up to 30.
Lucian Freud died aged 88 in 2011.
The National Gallery
I enjoyed the Freud Family Matters exhibition at the Freud Museum in north London earlier this year. While that was an intimate look at the artist and his family (the Freud Museum is in the former London home of the psychoanalyst Sigmund Freud), this is a blockbuster showcase at a major national art gallery.
The National Gallery is the right venue for this major exhibition as it was somewhere Freud enjoyed and visited often. He had a special pass that allowed him enter at any time and the Gallery Director confirmed that Freud would often go there in the middle of the night.
A devoted admirer of European painting, and regular visitor since his earliest days in London, Lucian Freud had a close association with the National Gallery. 'I use the gallery as if it were a doctor,' Freud stated. 'I come for ideas and help – to look at situations within paintings, rather than whole paintings. Often these situations have to do with arms and legs, so the medical analogy is actually right.'
In the 2016 National Gallery exhibition Painters' Paintings: From Freud to Van Dyck the artist's Self Portrait: Reflection (2002) and the nude portrait, After Breakfast (2001) were displayed alongside Corot's Italian Woman, or Woman with Yellow Sleeve (L'Italienne) (about 1870.) The Corot, from Freud's own collection was then allocated to the Gallery following the artist's death through the Acceptance in Lieu scheme.
The background in Self Portrait: Reflection (see below) shows a lively build-up of paint. This was actually the area of his studio wall that he used for cleaning brushes. The wall was covered in excess paint wiped from a loaded brush.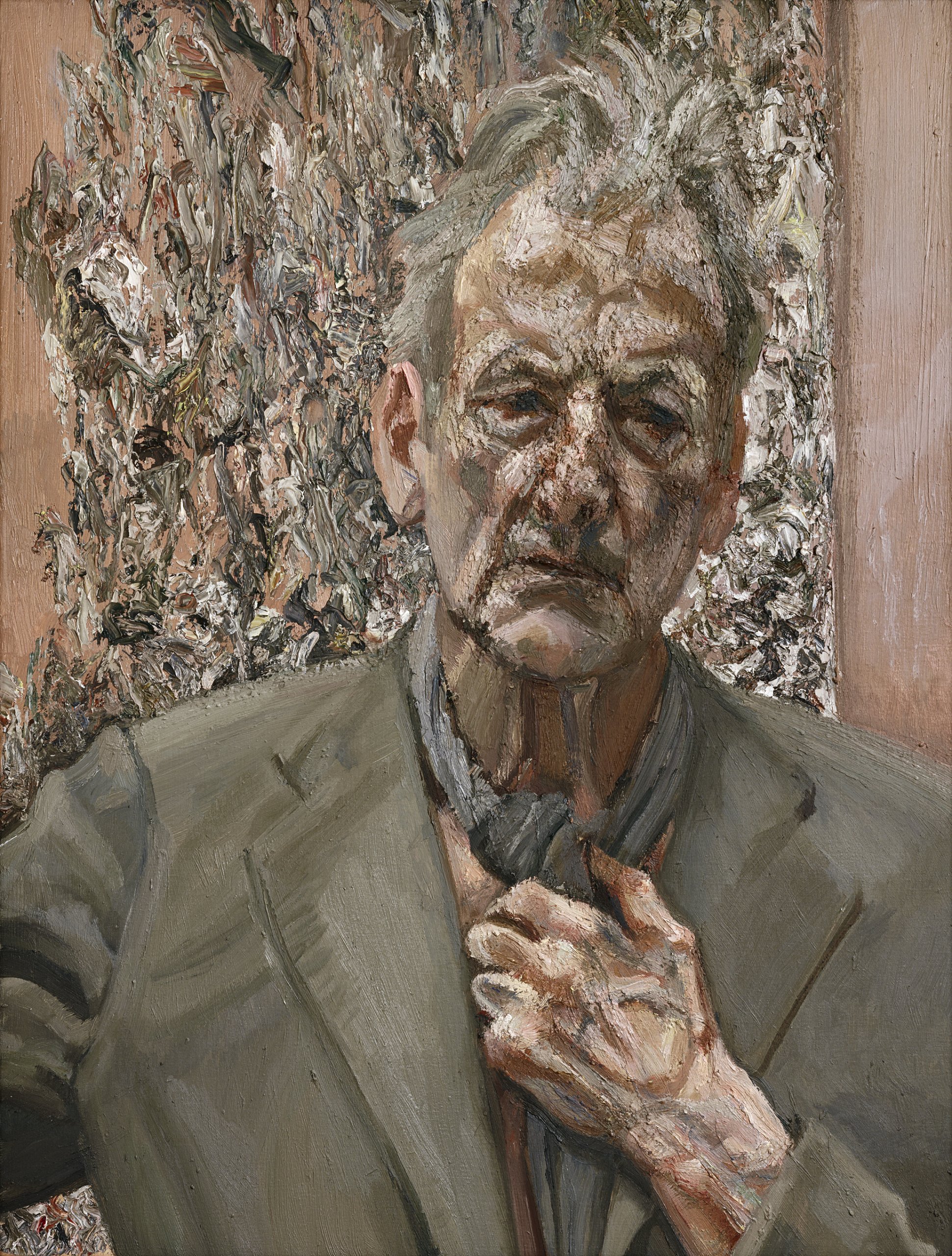 (The portrait above was produced the same year he painted supermodel Kate Moss. The near-life-size naked portrait, produced while she was pregnant, sold for £3.9 million in 2005. Freud also did a small tattoo on the base of her spine the same year. This is just an aside; the Kate Moss painting is not in the exhibition.)
Freud also supported the successful 2008 fundraising campaign by the National Gallery and the National Galleries of Scotland to jointly acquire Titian's Diana and Actaeon (1556–9) and Diana and Callisto (1556–9), saying: 'How is it that these paintings, which are as effortless as Matisse, affect you more than any tragedy? Everything they contain is there for the viewer's pleasure. It hardly matters what is going on. The water, the dogs, the people, though they are involved with each other, are there to please us. To me, these are simply the most beautiful pictures in the world. Once you've seen them you want to see them again and again.'
Hotel Bedroom (see below) was a self-portrait with his wife, Lady Caroline Blackwood. You can see the layers of controlled, translucent paint. The painting was criticized at the time. Freud considered it a watershed in terms of his process, considering it the 'last painting where I was sitting down [to paint]: when I stood up, I never sat down again.' Standing up allowed him to move around more to notice the smallest of details.
The Exhibition
This first significant survey of his paintings in 10 years has brought together 65 paintings from his most important works across seven decades. (It is by no means comprehensive as Freud was a prolific artist.)
It includes loans from museums and major private collections around the world, including The Museum of Modern Art, New York; Tate; the British Council Collection; London and the Arts Council Collection, London. The large amount of private collection loans included shows how long it must have taken to plan. It is the long partnership with Credit Suisse that has allowed the National Gallery to plan so far ahead.
The exhibition spans early works such as Girl with Roses (British Council Collection) from the 1940s; to Reflection with Two Children (Self-Portrait) (Museo Nacional Thyssen-Bornemisza, Madrid) in the 1960s and right through to his famous late works, such as The Brigadier, 2003-04 (Private Collection.)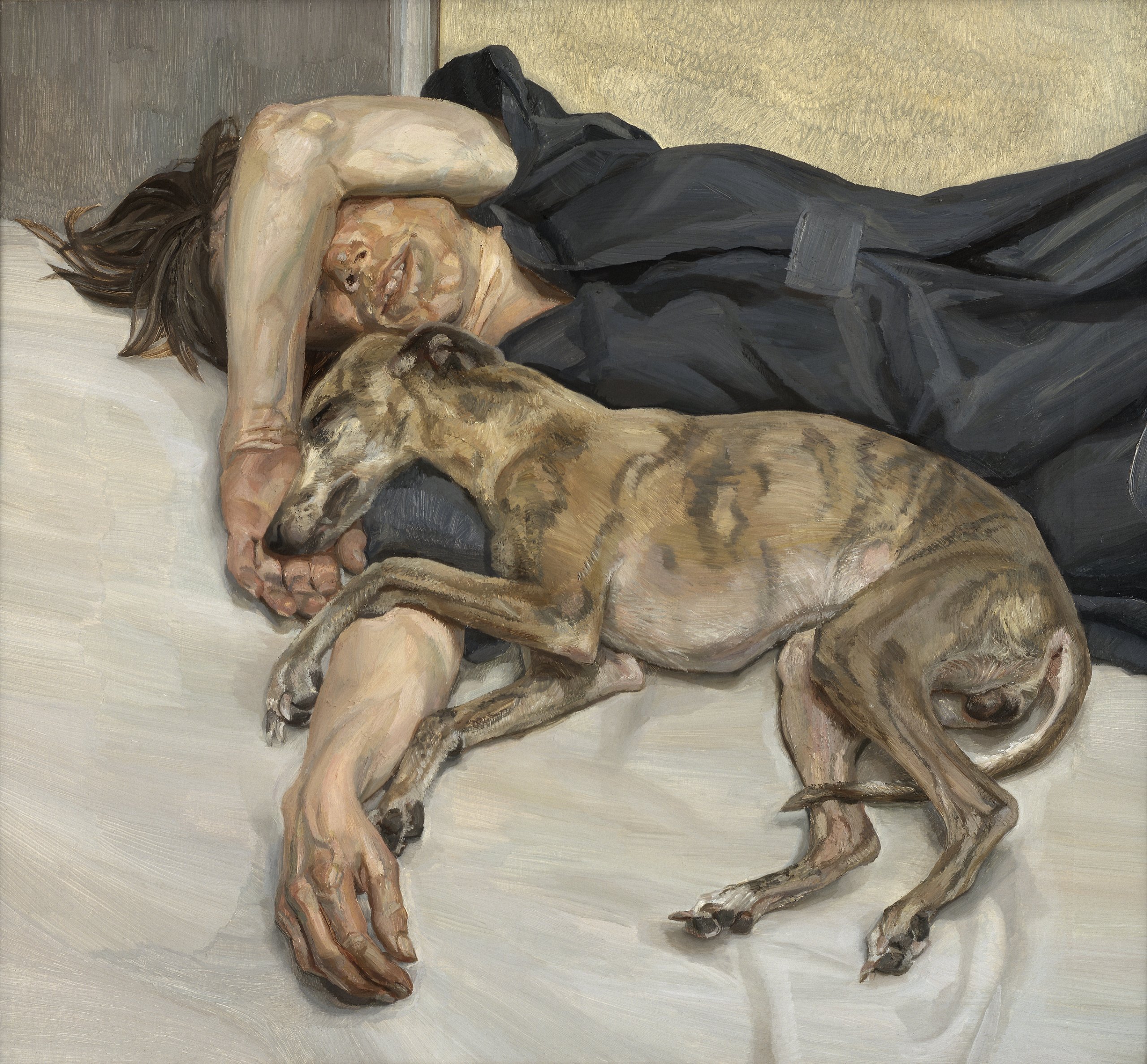 Girl with Roses (below) was produced while he was in his twenties. The wispy fine hair at the hairline is worth seeing up close. The sitter was his first wife, Kathleen 'Kitty' Garman (1926–2011). Look closely and you can see the reflection of a sash window in her eyes.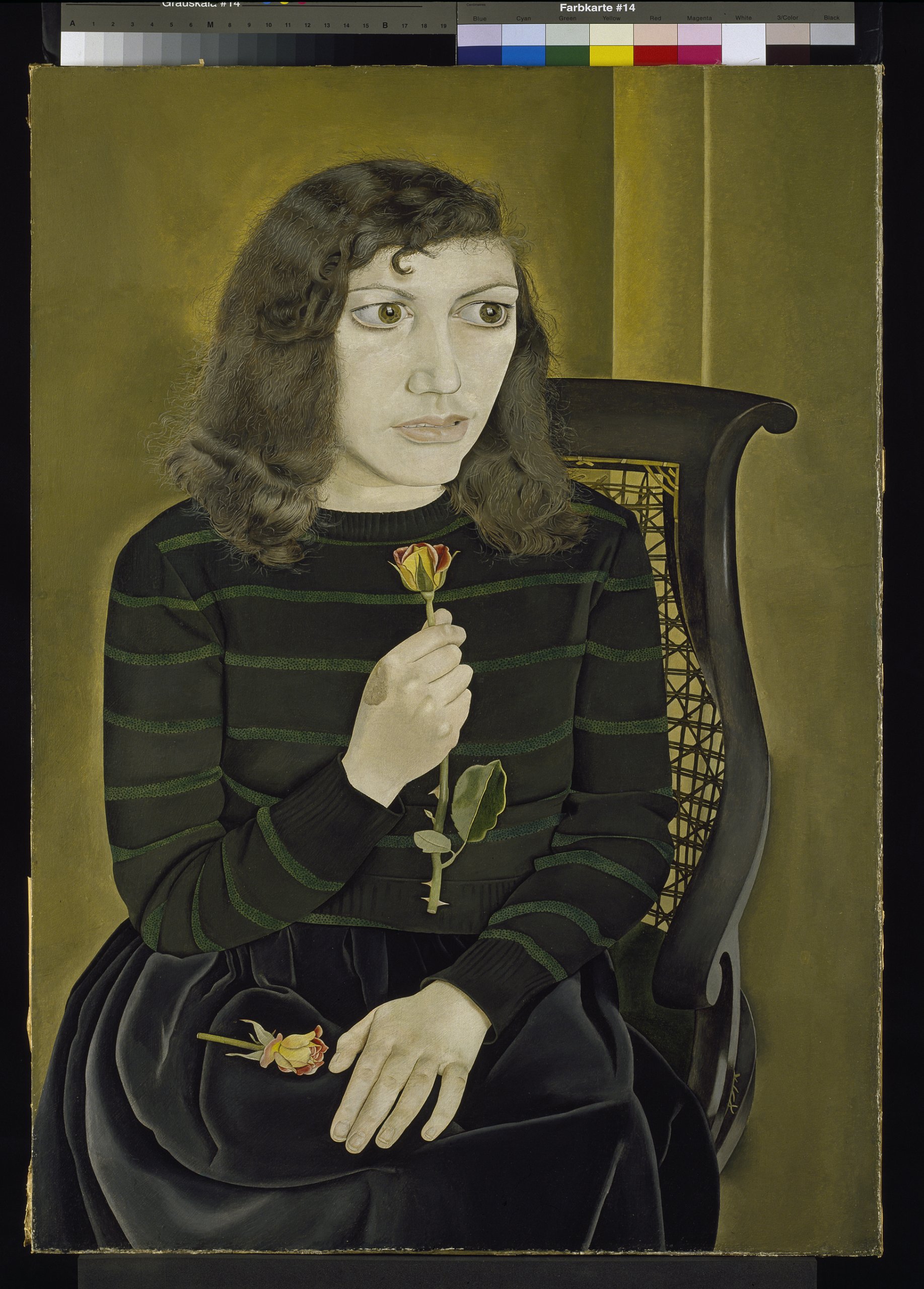 Art History
Demonstrating acute awareness of his artistic predecessors, Freud's painting astutely reflects the history of art. Portraits of sitters clutch flowers in the manner of Hans Holbein (1497/8 –1543); interiors are informed by Surrealism; couples hold hands, reminiscent of Renaissance friendship portraits.
Outrageously Realistic
According to Culture Whisper, "Freud's early work experimented with surrealism and realism, but his mature style was informed by the impasto use of oil paints favored by his peers, combined with a realist bent that spoke to the grand tradition of European painting, from Rembrandt to Corot. But Freud's hand added a distinctly 20th-century sensibility to the portrait tradition; most of his subjects were sprawled naked in bare rooms, stripped of the trappings of their lives. Under Freud's brush, human flesh became textured and meat-like. A violence is done to the subject, who appears naked, rather than nude, made vulnerable but the unflinching eye of the artist."
Known for his outrageously realistic portraits, his works are autobiographical. He would paint the model multiple times, in different postures as he thought this process helped him understand his subject better.
Artistic Development
From his most intimate pictures to his celebrated large-scale canvases, the exhibition gives visitors the opportunity to see the astonishing range of work and the remarkable artistic development of one of Britain's finest figurative painters.
Freud was noticed for his talent early on in his life and, after a spell in the Merchant Navy in 1942, had his first one-man show in 1944 when he was 21.
In his later career, Freud often framed his subjects in domestic settings and in his paint-splattered studio, a place that became both stage and subject of his paintings in its own right. Showing how Freud's practice changed throughout the 20th and early 21st centuries, the exhibition culminates in some of Freud's monumental naked portraits, reveling in the representation of the human form.
In 1987, Freud wrote, 'What do I ask of a painting? I ask it to astonish, disturb, seduce, convince.'
Daniel F. Herrmann, the Curator, reminded us that Freud was more than just a 'celebrity'. The National Gallery wanted to look at Freud the painter. Herrmann said, "There's a lot of fast food for the eye nowadays… but not Lucian Freud. With his paintings, you have to take time to look."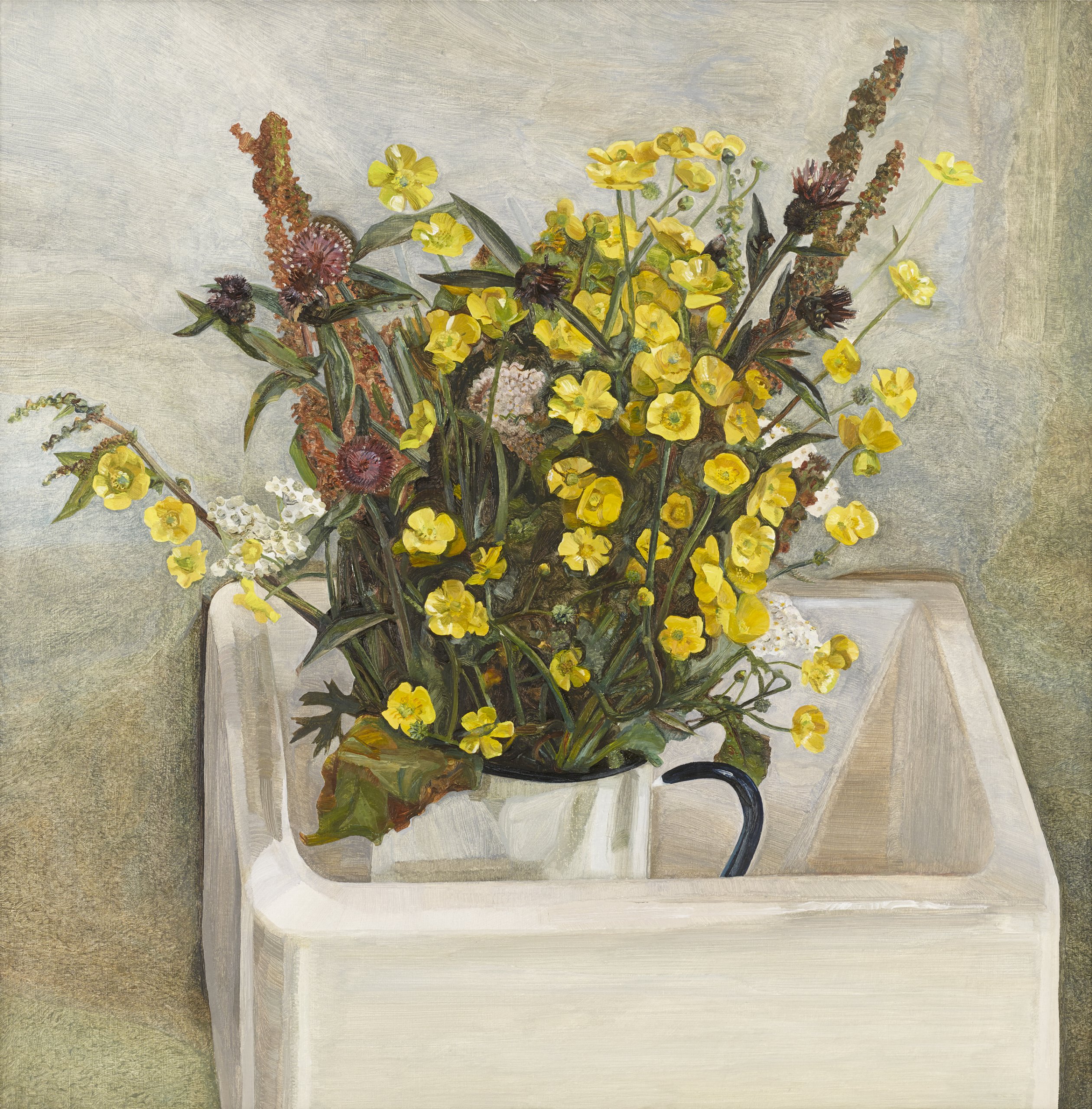 The exhibition is held in the Gallery's original 19th-century rooms. It covers four large galleries plus an entry room and a small side room. It's hard to make an impact in such large rooms and many of the paintings are smaller than expected, although the sizes are varied. By the final room, you reach the monumental works.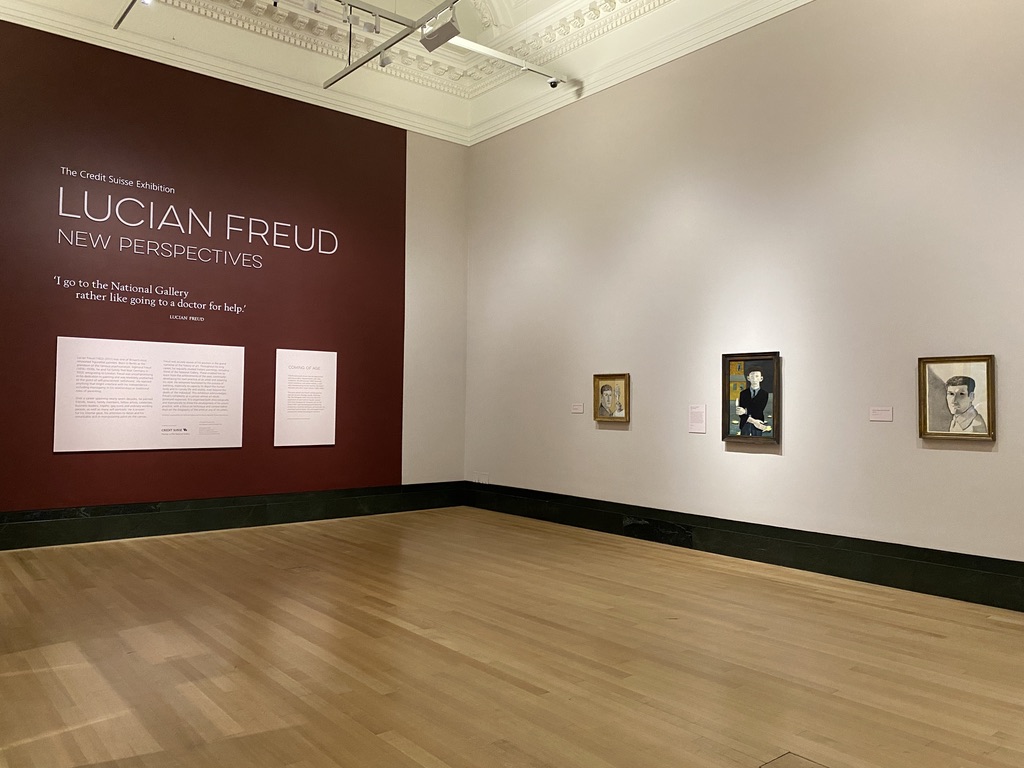 Please scroll to the end of this blog post to see an incredible offer from the National Gallery to ensure everyone can afford to see this landmark exhibition.
Large Interior, Notting Hill (above) has a man breastfeeding. The reason was because of Freud's frustration with the female sitter's reliability so he painted in his male assistant instead.
The Brigadier (below) is reminiscent of depictions of soldiers by Spanish artists such as Diego Velázquez (1599–1660) and Francisco Goya (1746–1828). Even though the figure is completely dressed, the open uniform reveals vulnerabilities of both human body and power.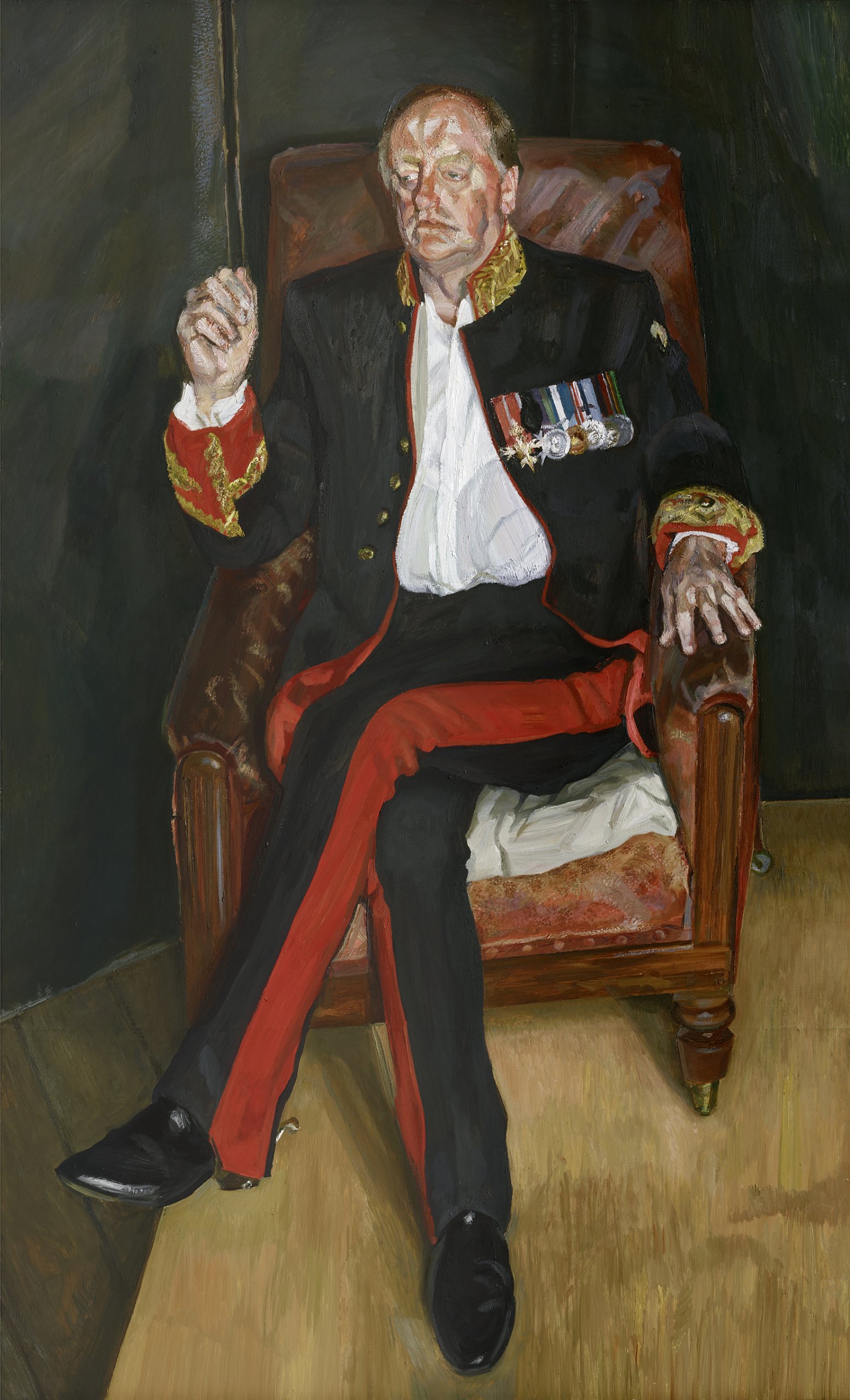 1. Becoming Freud
The exhibition is structured in five chronological sections. It starts with Becoming Freud which includes Woman with a Daffodil, 1945 (Museum of Modern Art, New York, USA) and Woman with a Tulip, 1945 (Private Collection.)
Freud was still in his twenties when this portrait of his then partner (Lorna Wishart (1911–2000) was acquired by MoMa in New York. The daffodil references Freud's awareness of art history and the depiction of flowers in Old Master compositions.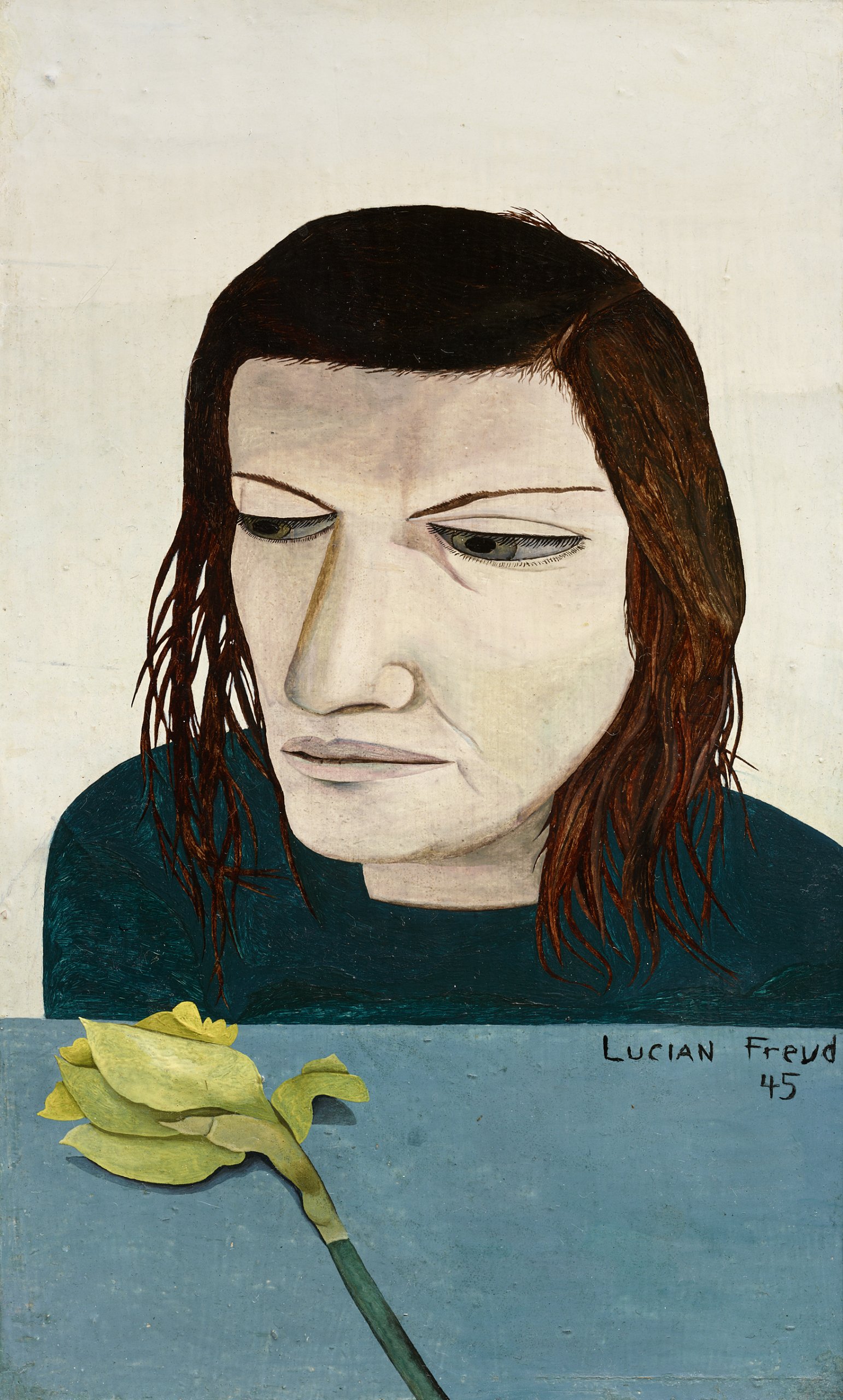 Freud's work was also collected by the British Council in the 1950s. This first room focuses on works shown at the famous Venice and Sao Paolo Biennials of the 1950s, as well as on early institutional acquisitions, highlighting the artist's early and international reception.
We often associate Freud with voluptuous naked bodies so it was good to see these early works in a very different style. The paint was applied in much thicker layers with less focus on the background compared to his later works.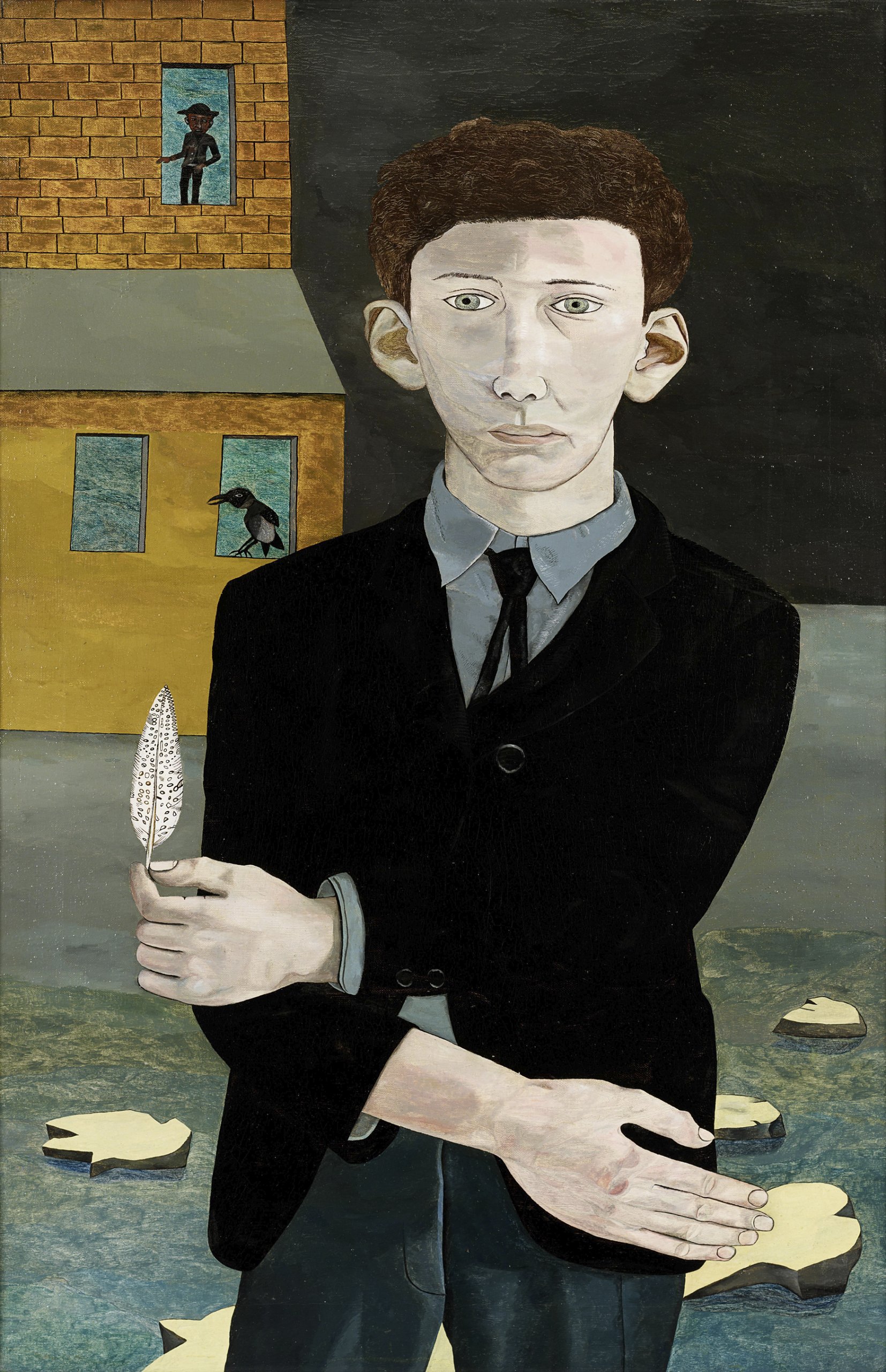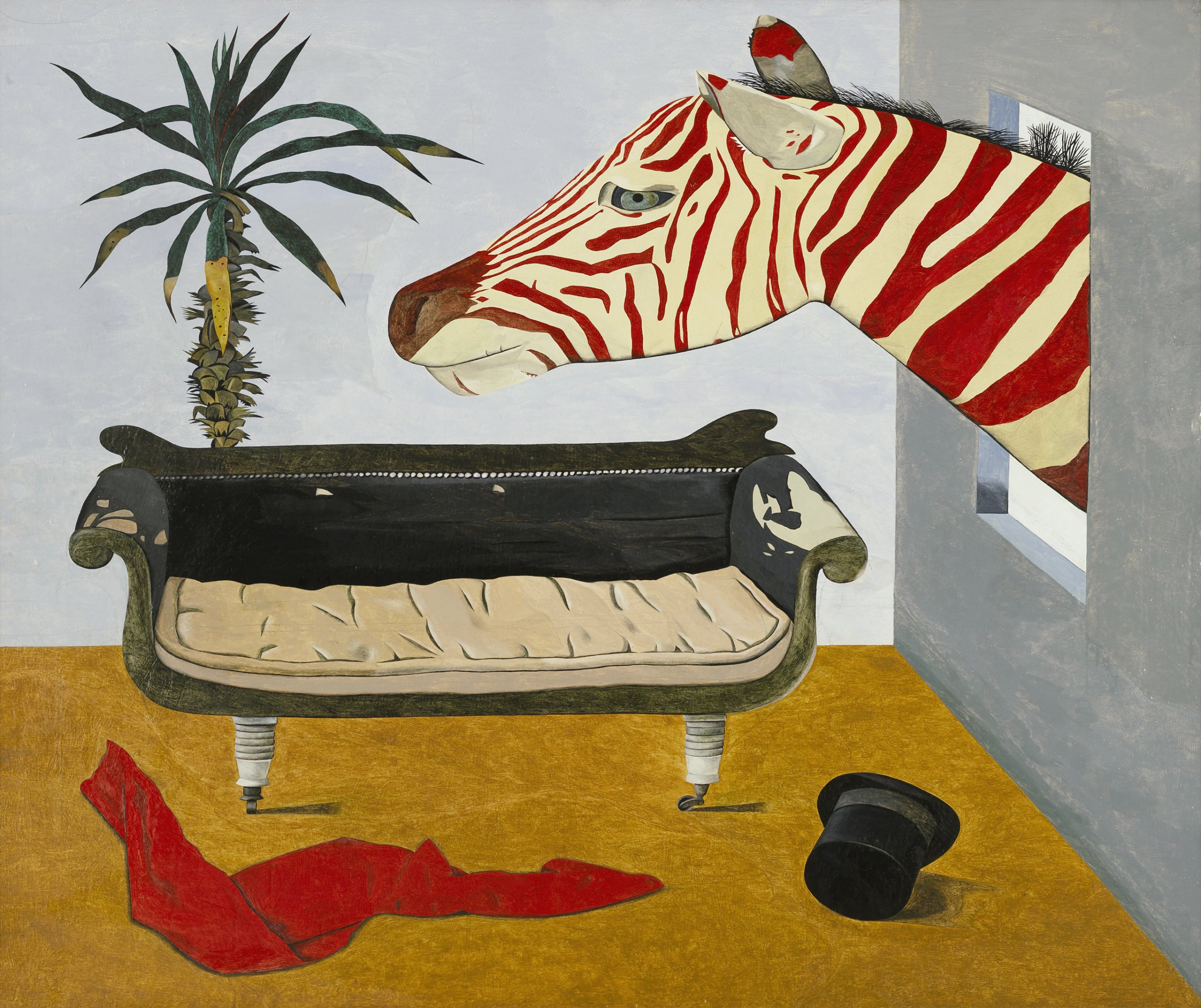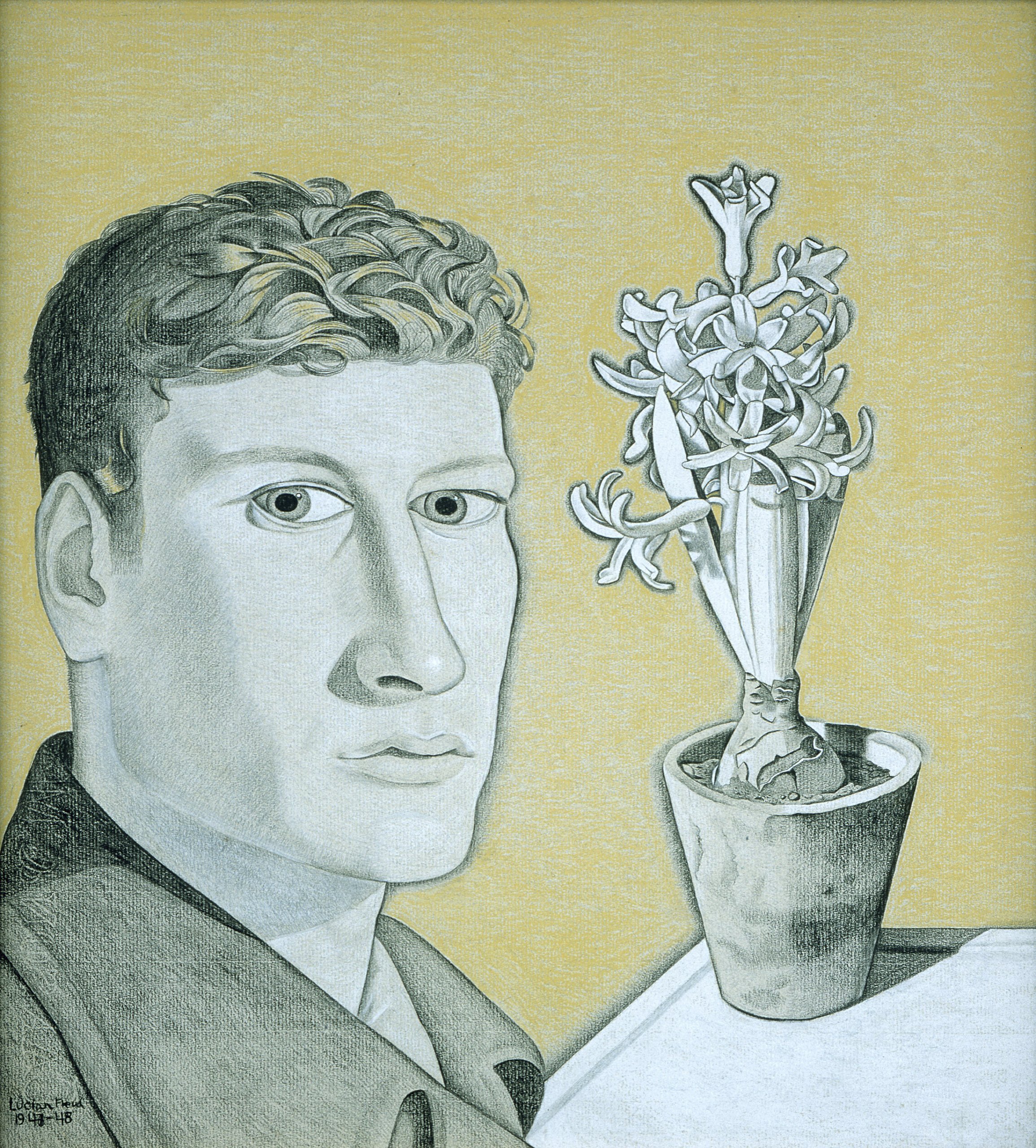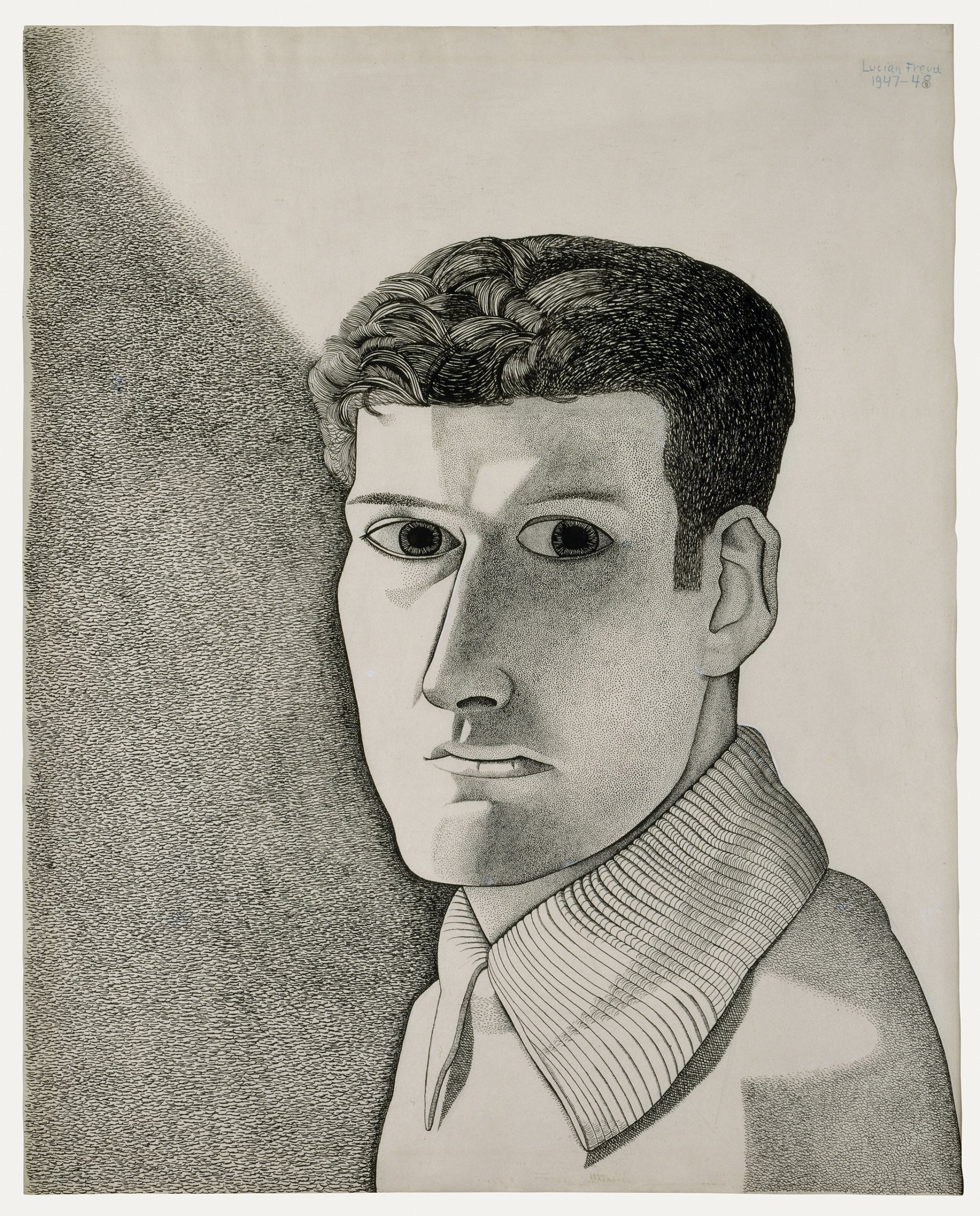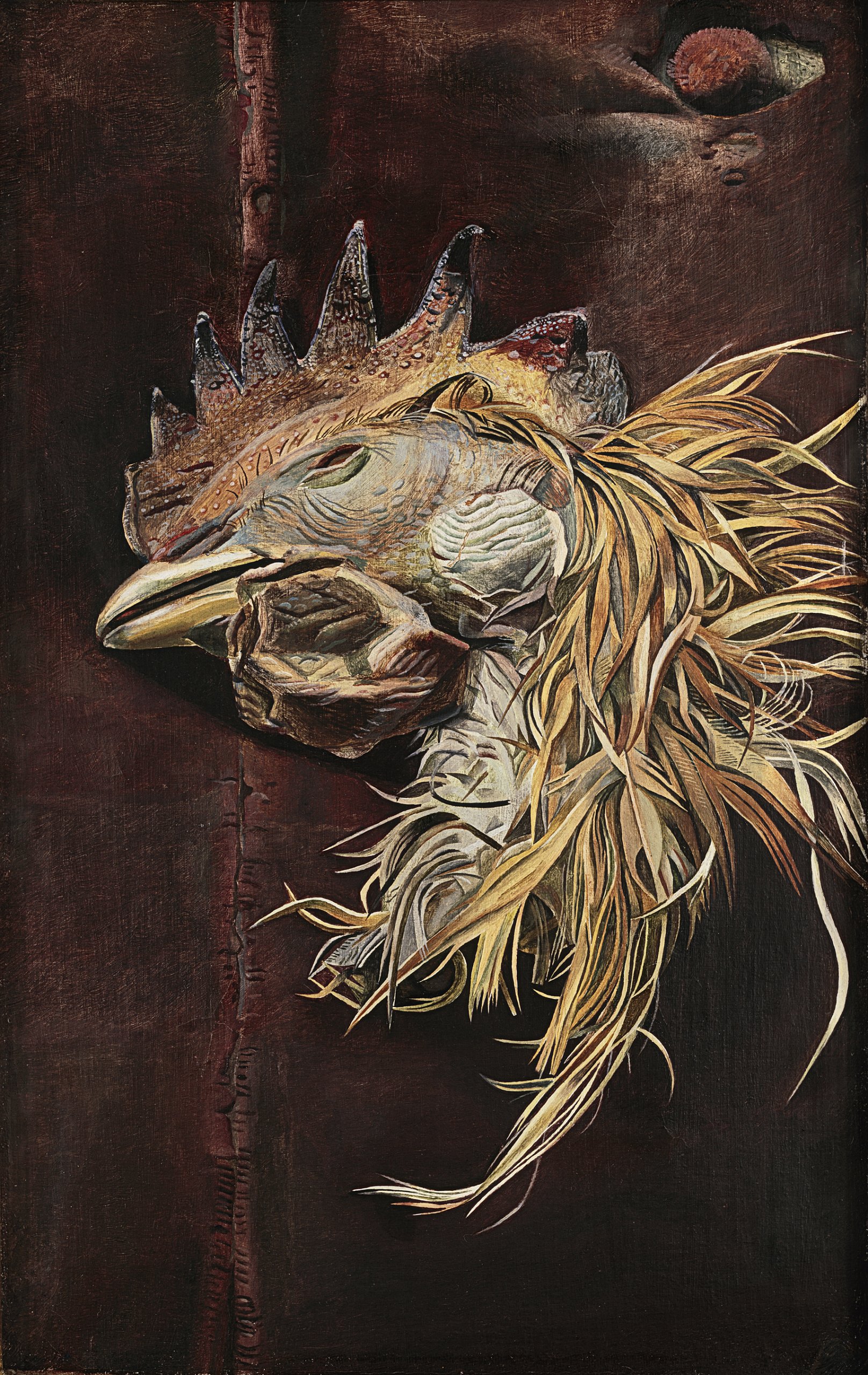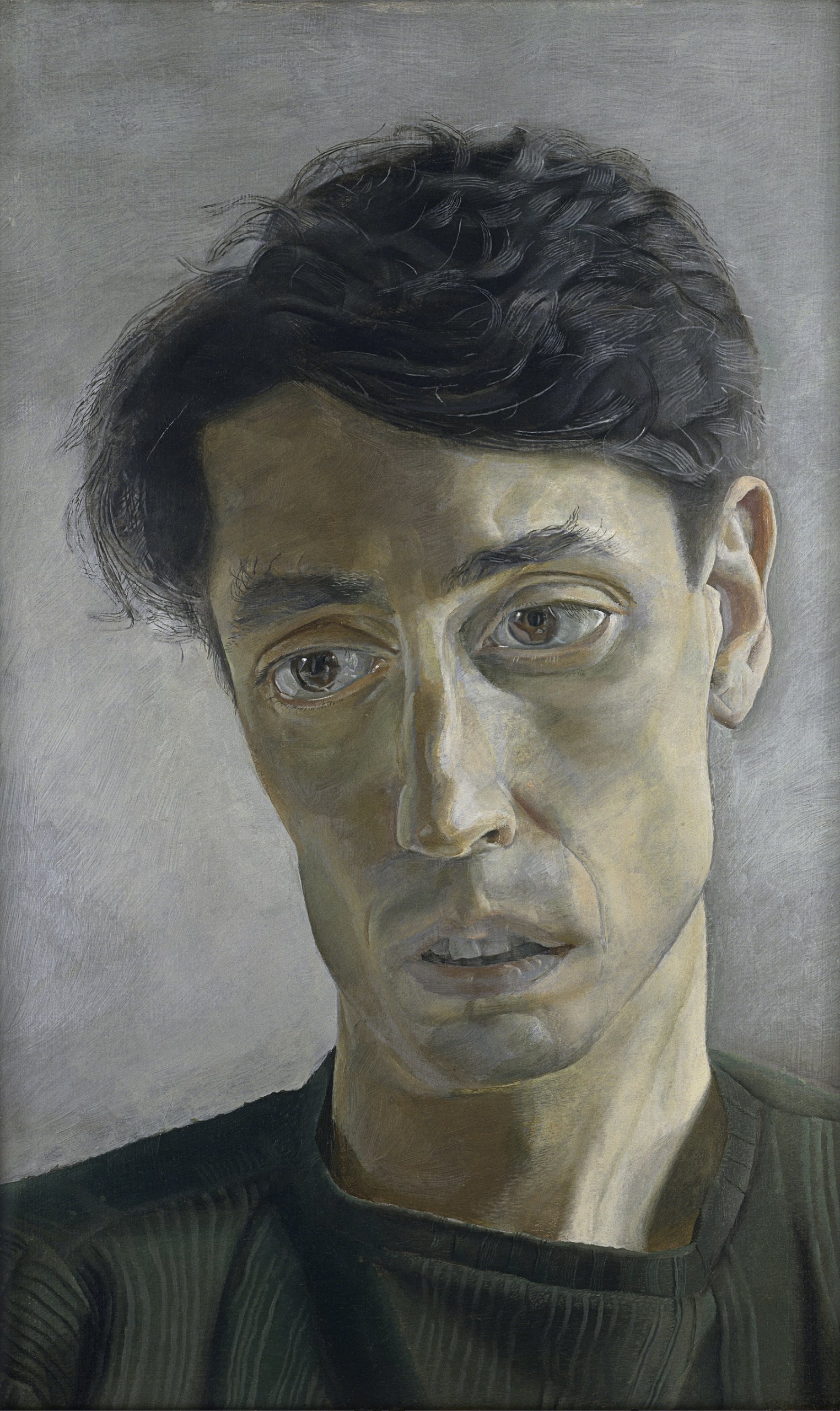 Below is a portrait is British artist Elinor Bellingham-Smith (1906–88). It marked a stylistic change in Freud's practice. The flat background of his earlier works gives way to a swirling, dynamic, textured surface. The brushstrokes on the flesh offer a different treatment of skin tones.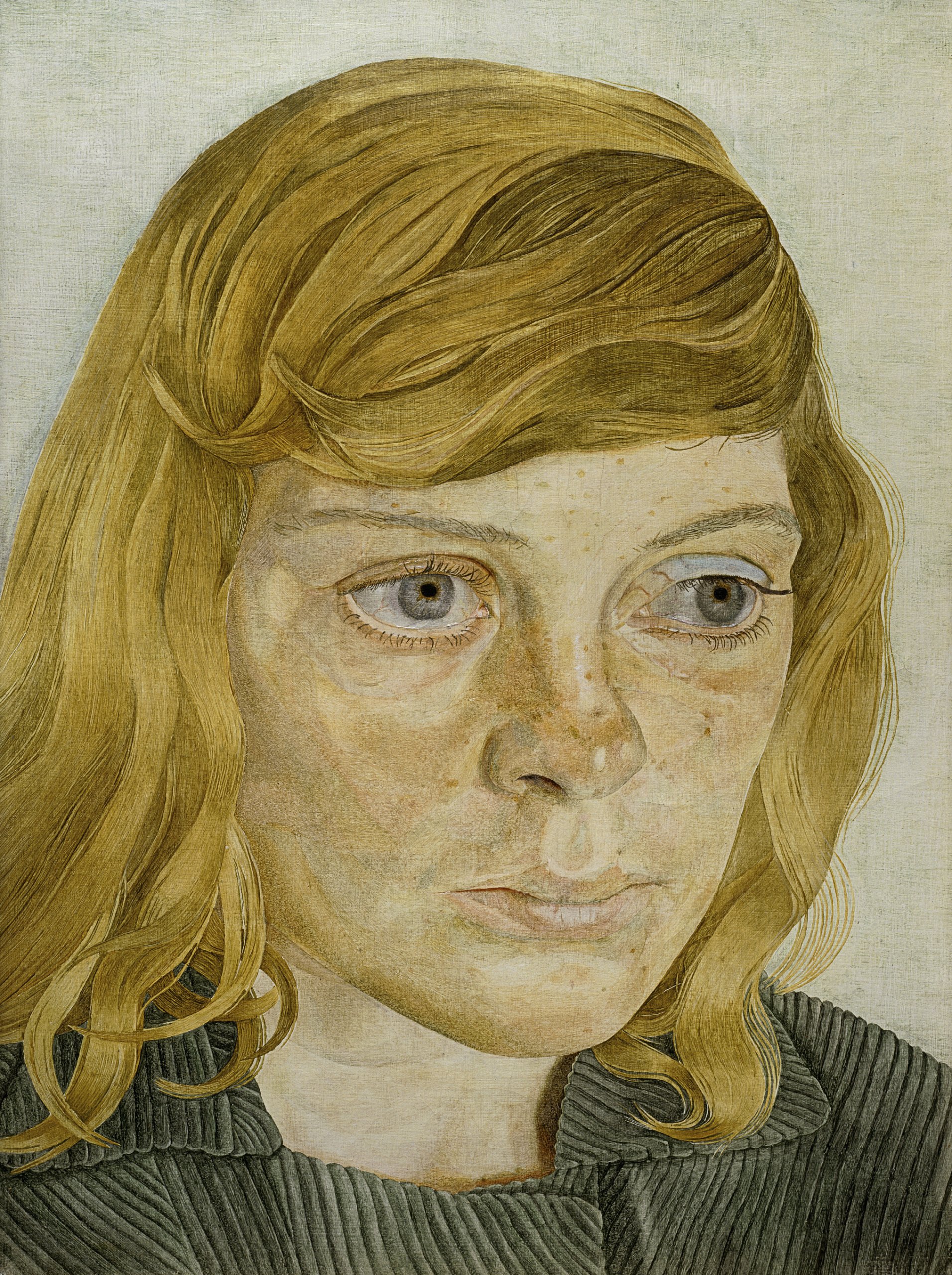 2. Portraying Intimacy
Portraying Intimacy frames Freud's artistic development from the 1960s within the context of his relationships with family and friends, such as Michael Andrews and June, 1965-6 (Private Collection) or Bella and Esther, 1988 (Private Collection.)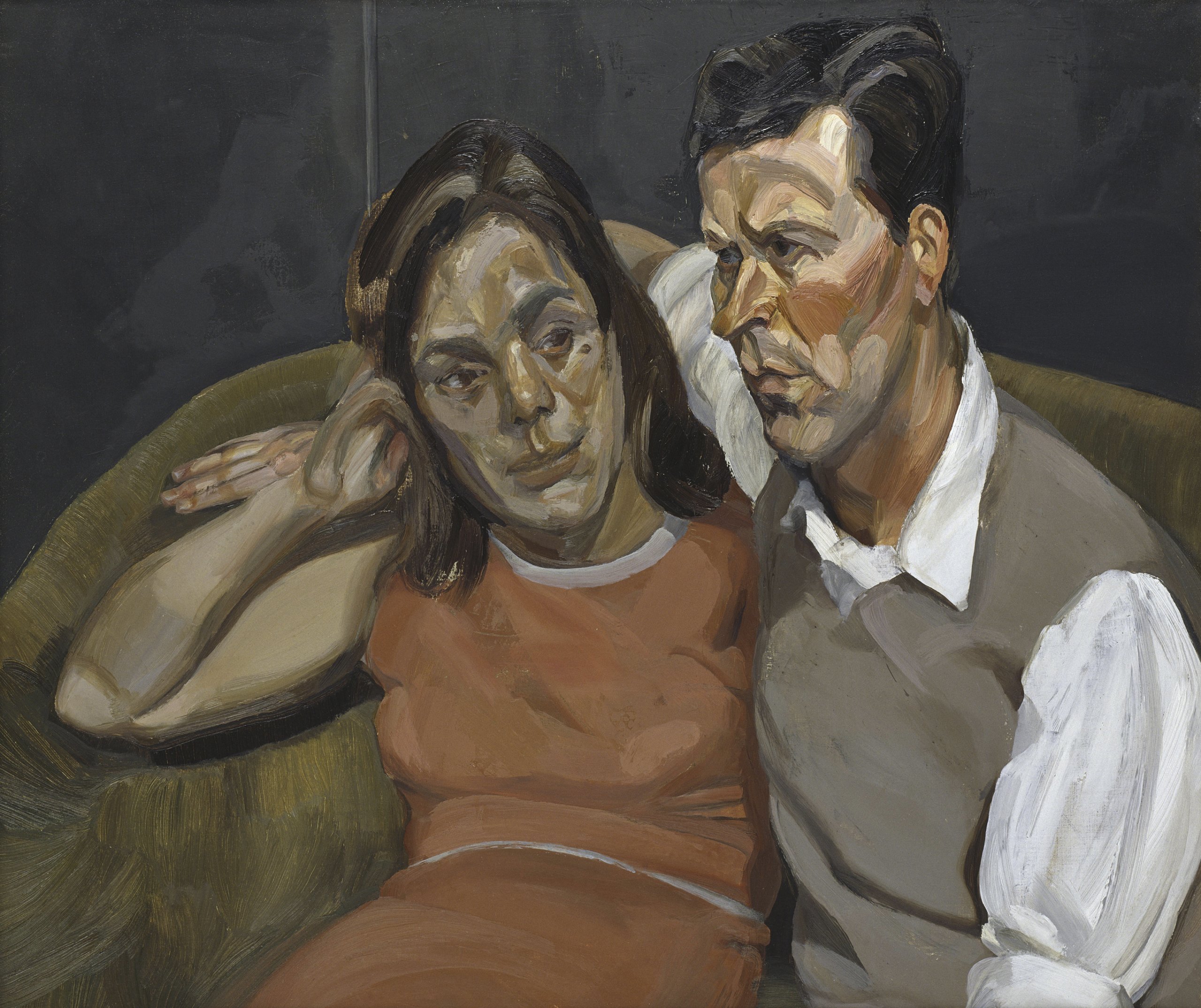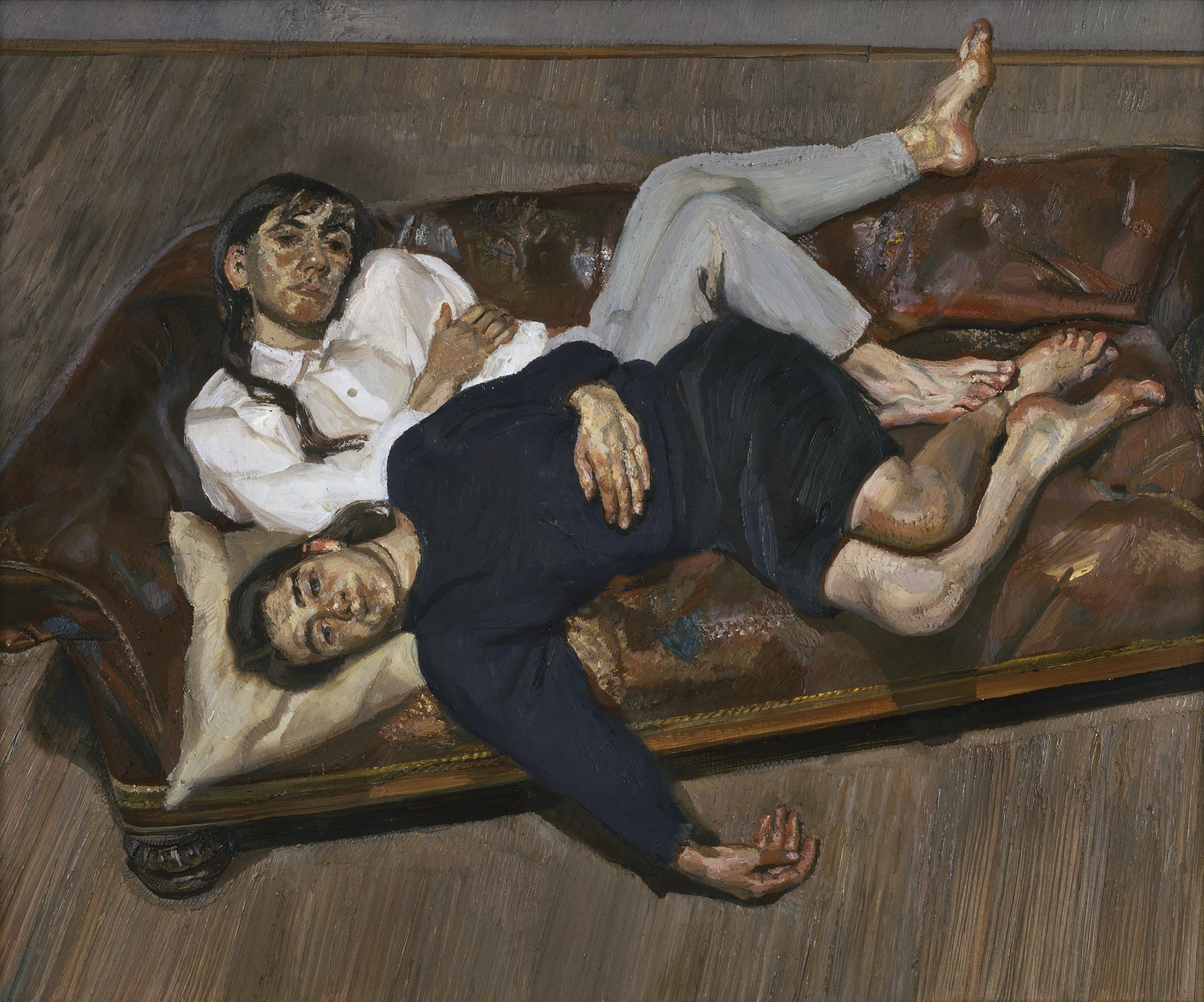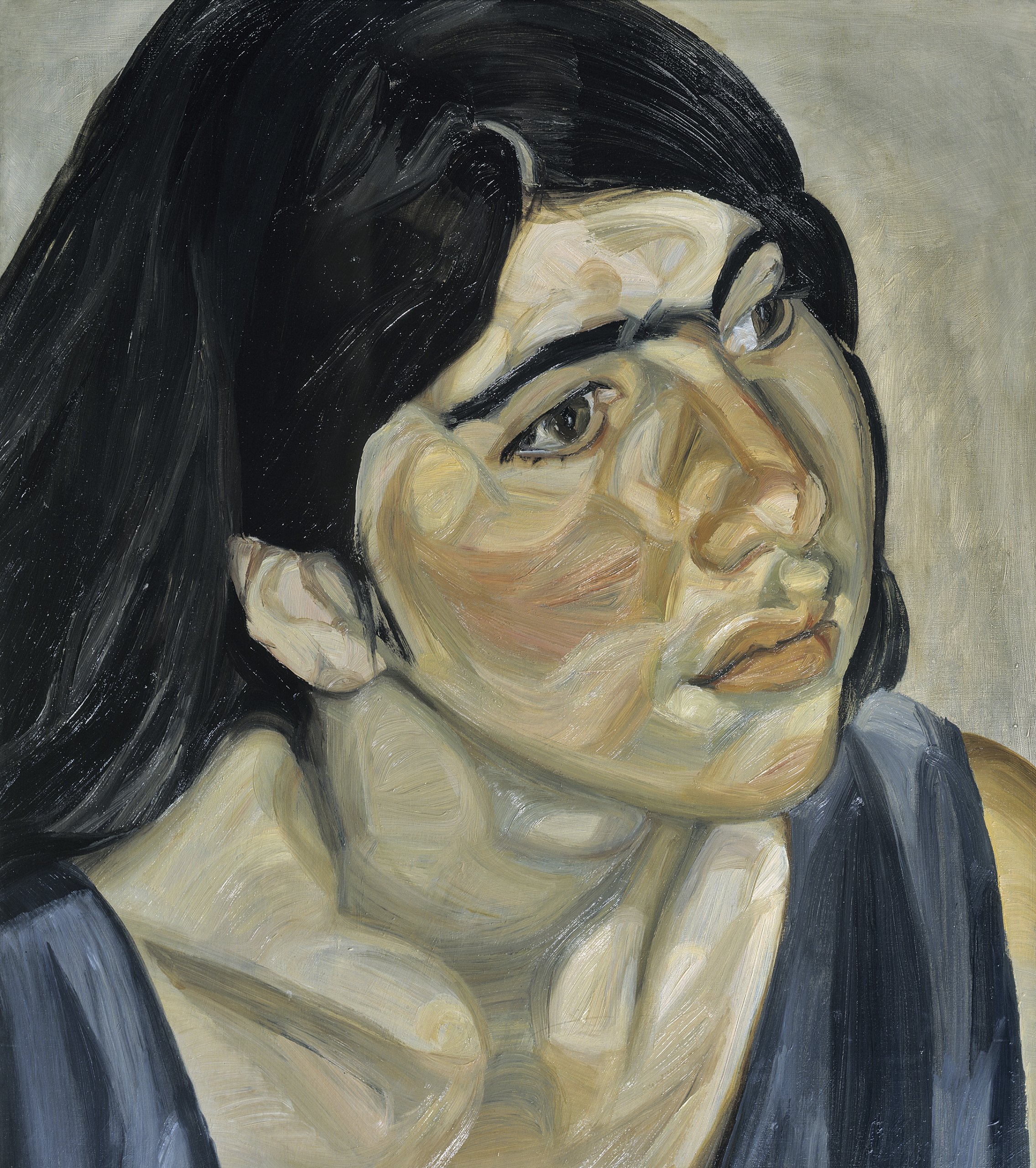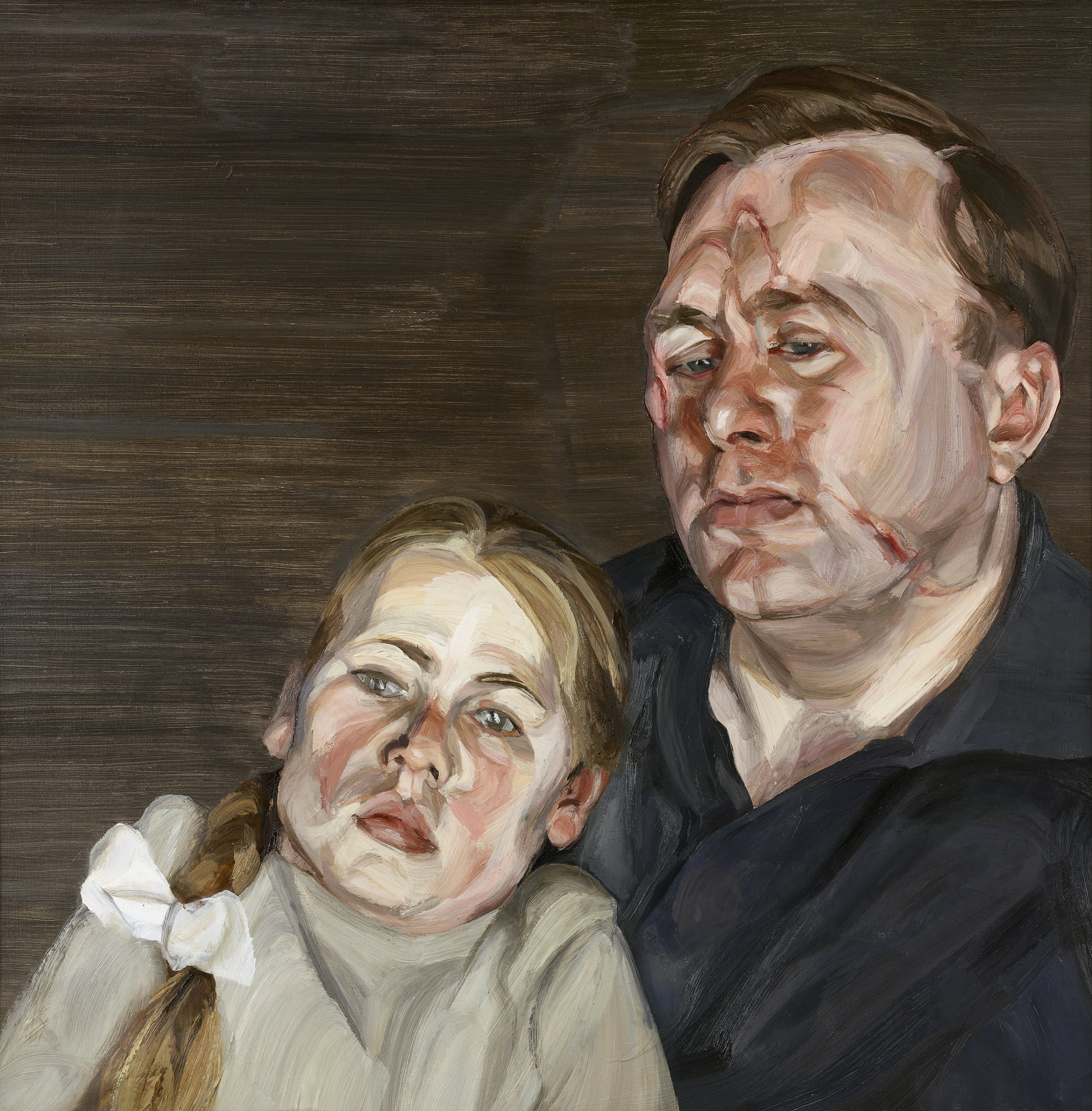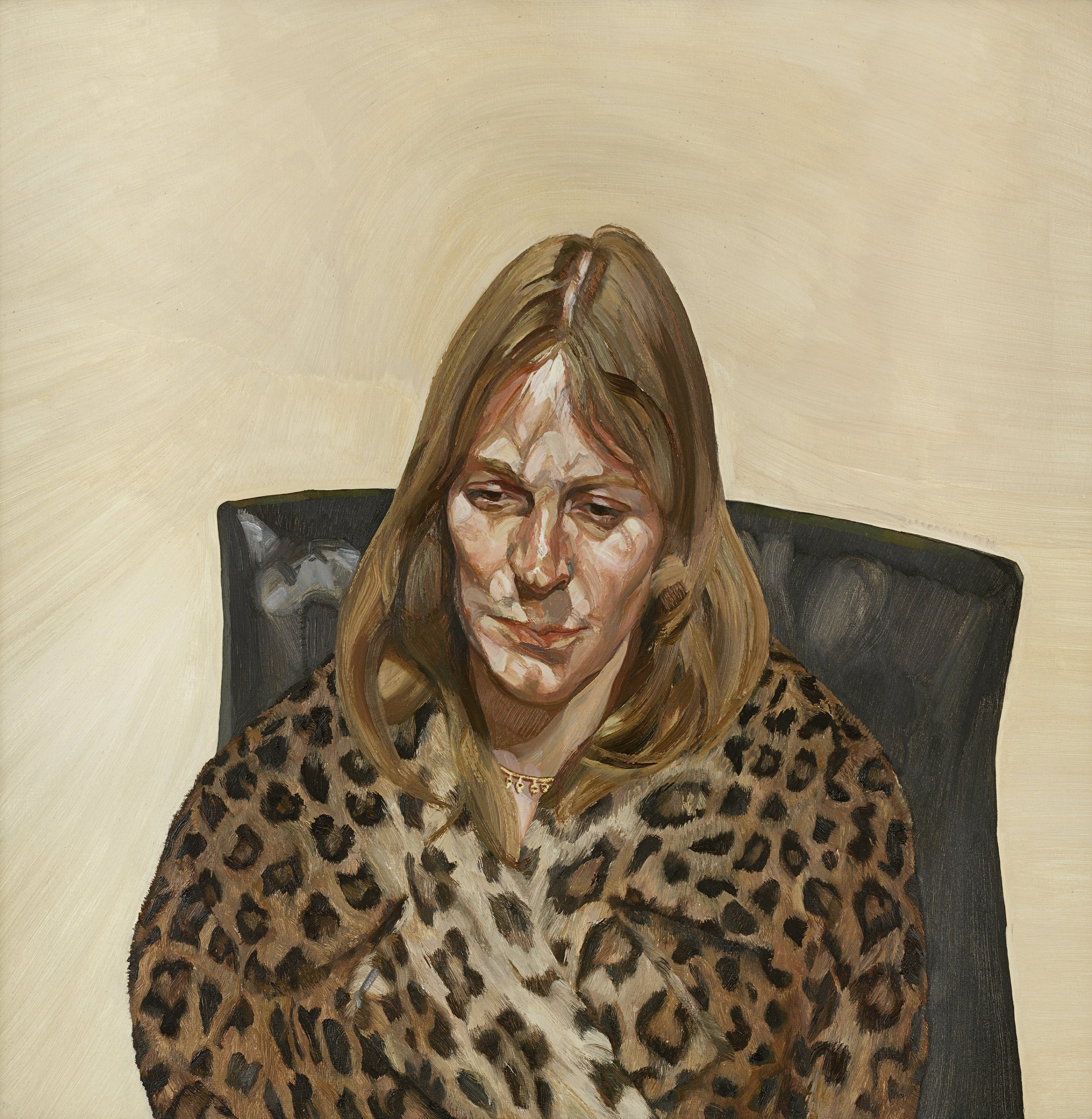 Large Interior W9 (below) is an imagined scene. The composition has Lady Jacquetta Eliot (born 1943) in the background and Freud's mother seated in the foreground. Both women are lost in their own thoughts. The two women never actually met.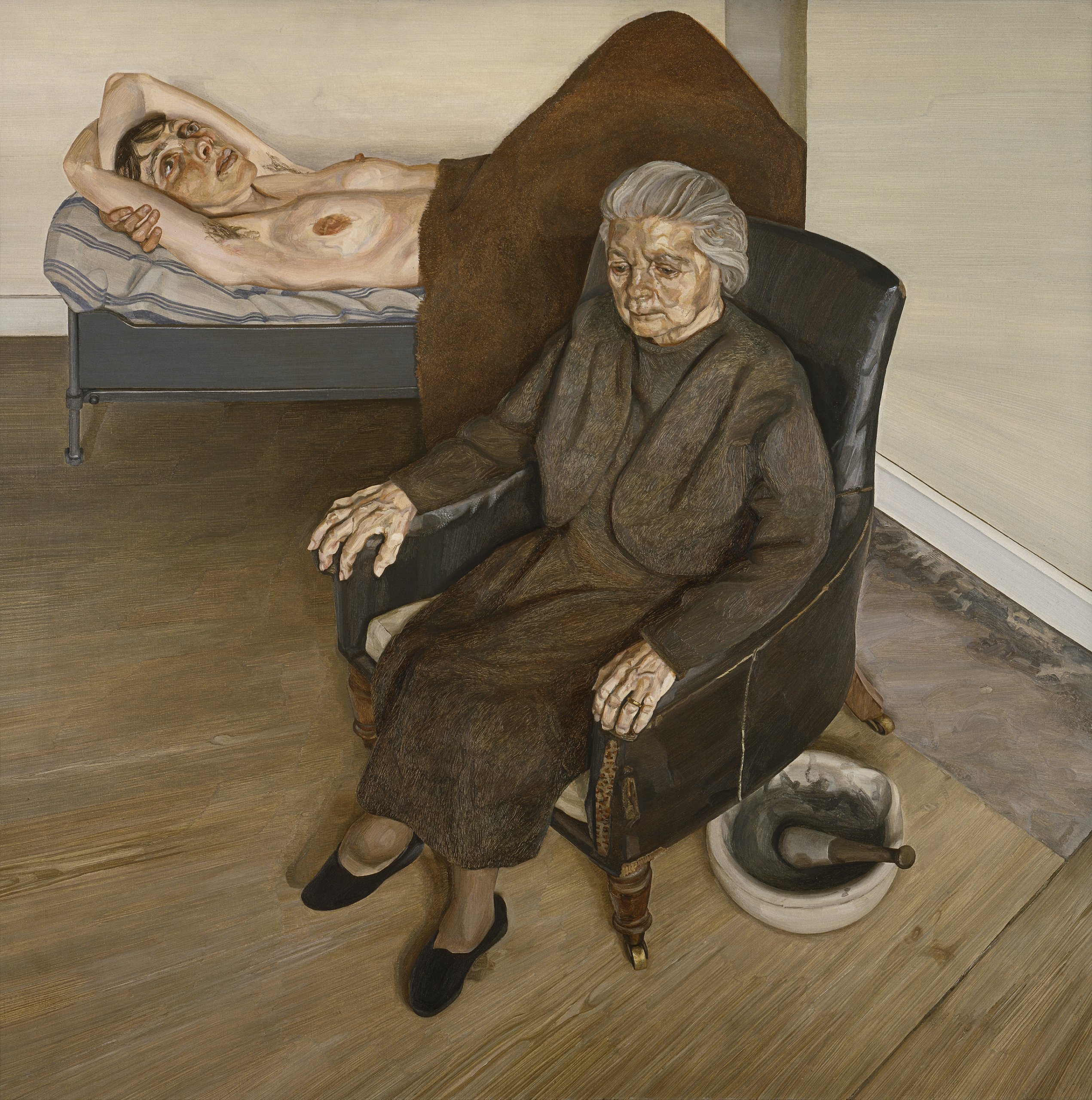 3. Power and Death
Power and Death contrasts Freud's famous portraits of powerful individuals with his delicate and poignant chronicling of frailty in his own mother's death, such as The Painter's Mother Dead, 1989 (Cleveland Museum of Art, USA), recalling the context of court traditions of private portraits for public display.
Special permission was given for Freud to produce this pencil drawing after she died. He did this to help him with his grieving process. He recalled, 'After years of avoidance there came a time that I could be with her, and I though that I should do so. Doing her portrait allowed me to be with her.'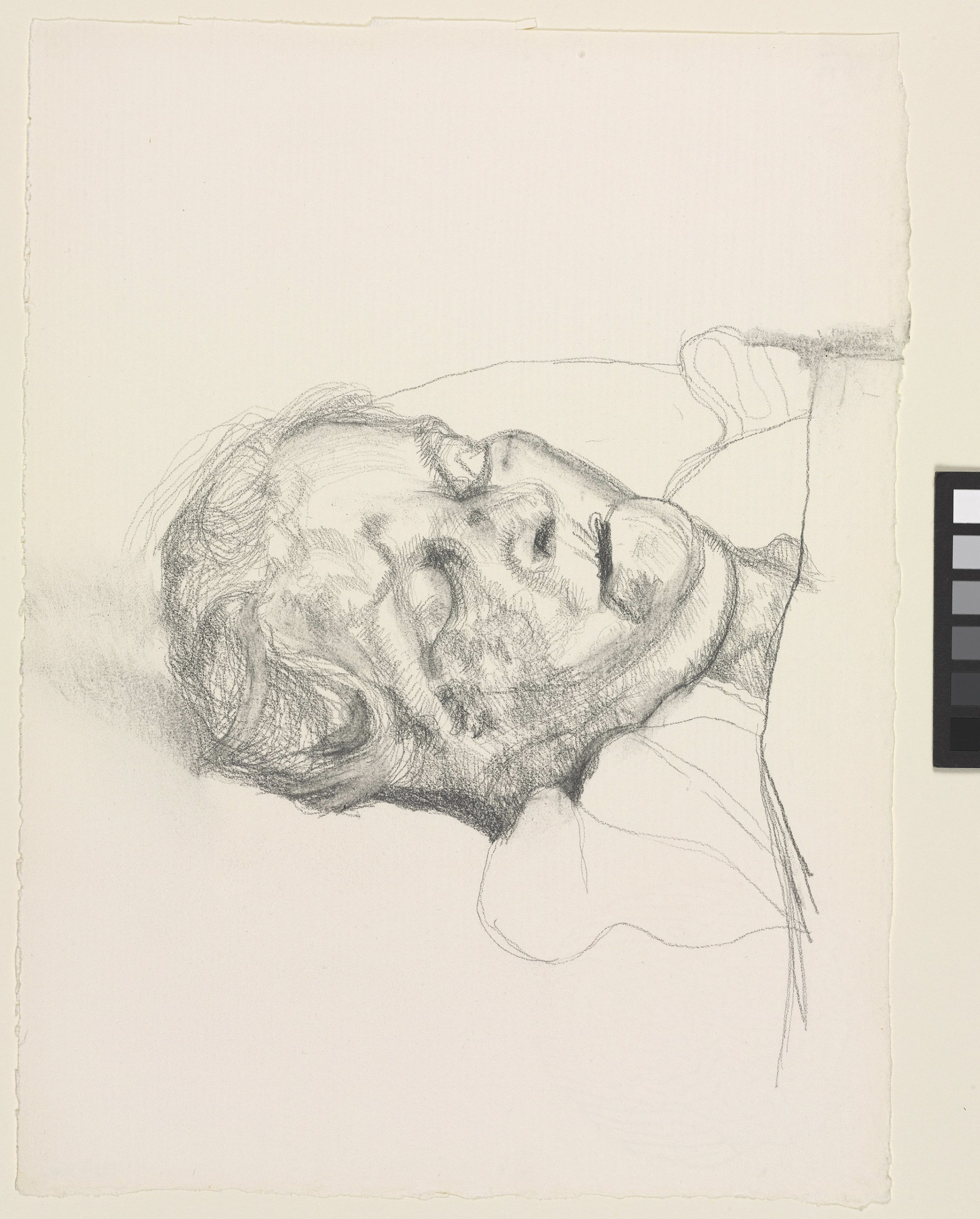 With paintings of the powerful, such as HM Queen Elizabeth II (2001, lent by Her Majesty The Queen from the Royal Collection) the artist positioned himself in the tradition of historic Court Painters, such as Rubens (1577-1640) or Velázquez (1599-1660.)
The Queen sat for him between May 2000 and December 2001 and the diminutive oil portrait drew some controversy when it was first unveiled after portraying her with a thick neck and a "six o'clock shadow" under her blue-grey chin.
4. Art and The Studio
From the 1980s onward, Freud's studio became a dominant and recurring theme in his work. It acted as a backdrop for staged narratives.
Art and the Studio focuses on Freud's keen awareness of artistic predecessors and the role of the studio in his practice. Presenting it both as stage and subject matter, including pivotal works such as Painter and Model, 1986-7 (The Newhouse Collection.) By highlighting the artist's later interest in the representation and materiality of paint, this section also acts as a bridge to the final group of Freud's work.
In Painter and Model (below) I loved the detail of the artist – Celia Paul (born 1959) – stepping on a tube of paint, and the damage on the corner of the sofa in the foreground.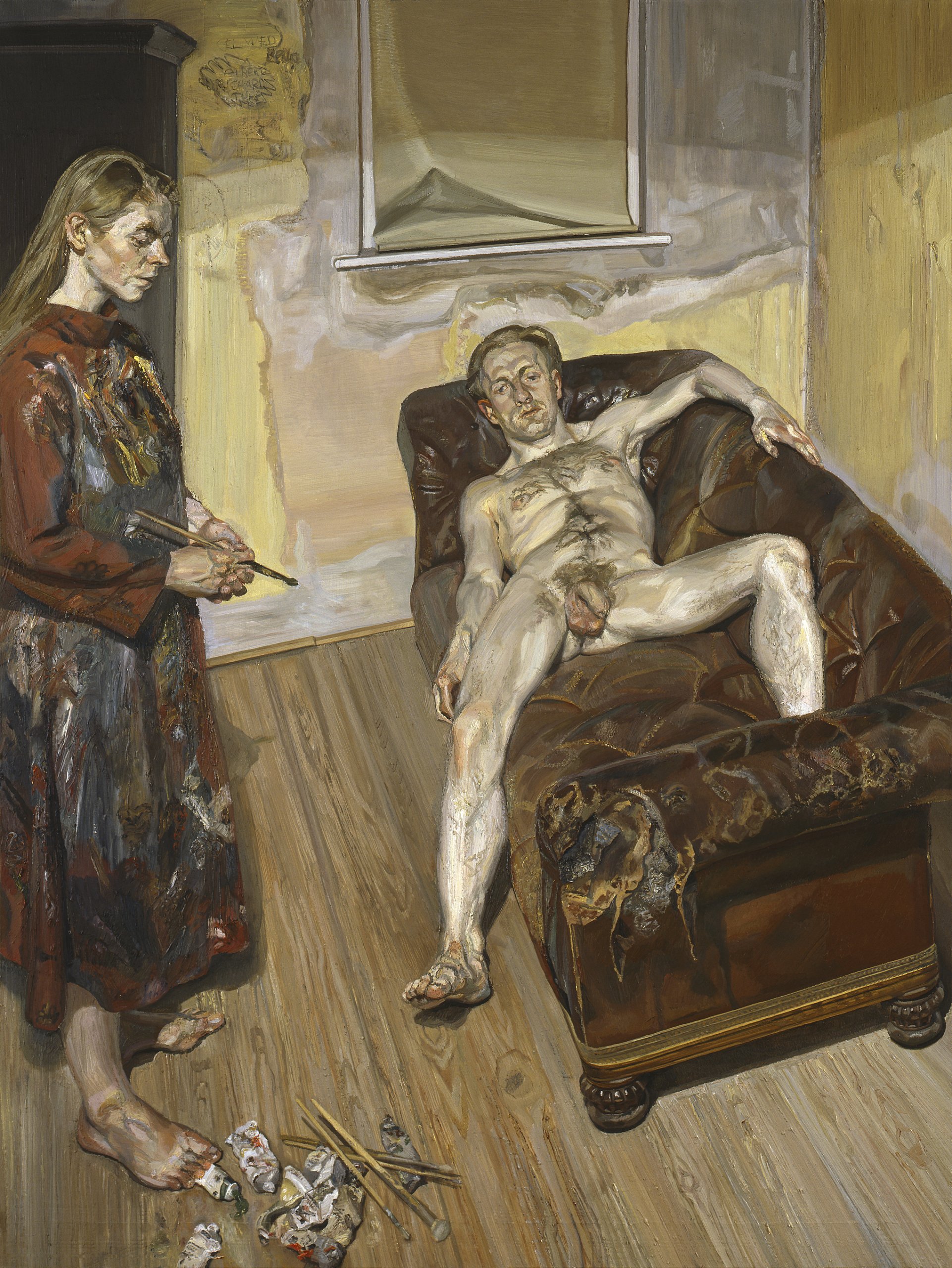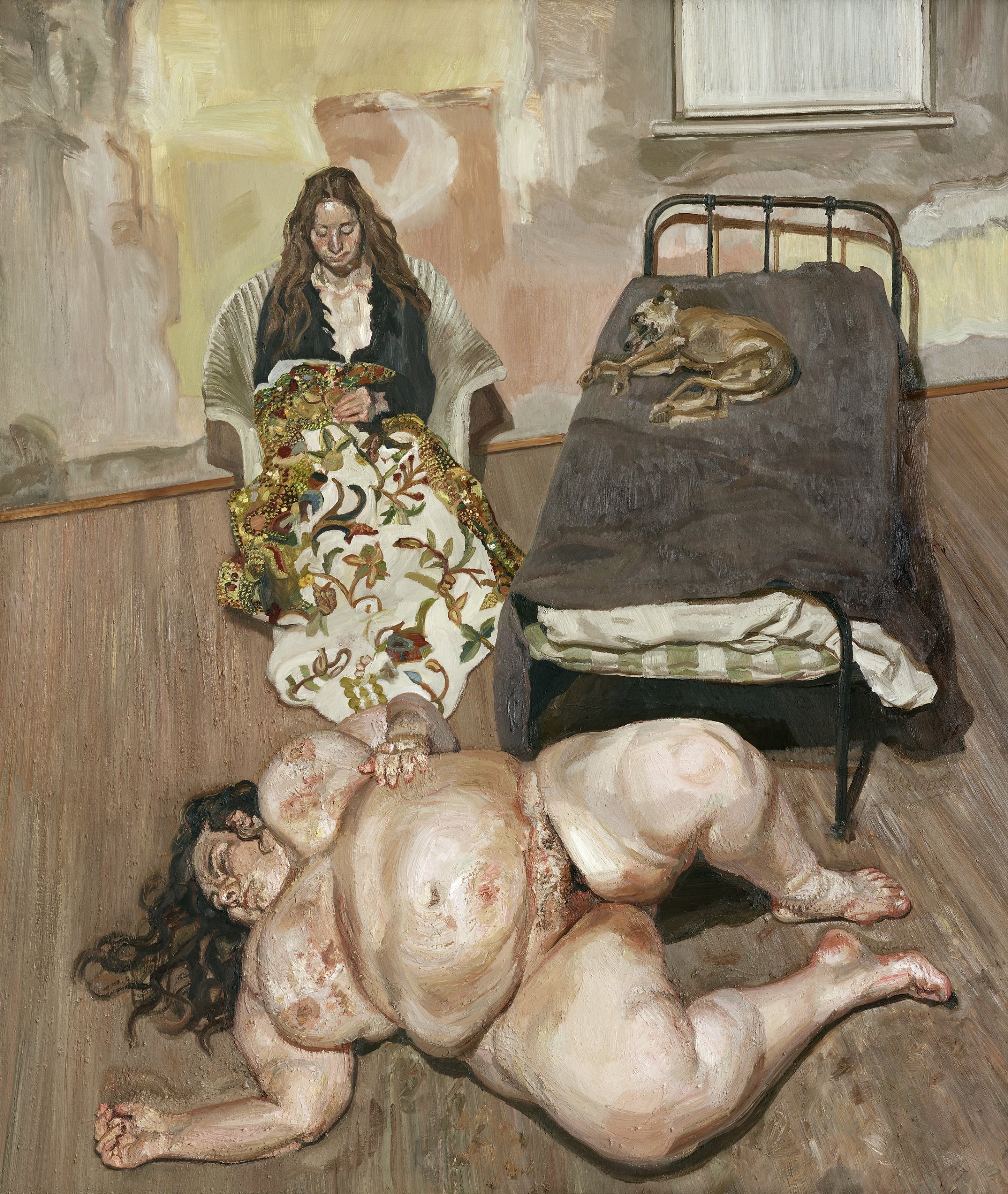 5. The Flesh
The Flesh brings some of Freud's most famous large-scale naked portraits to this retrospective, among them Painter Working, Reflection, 1993 (Private Collection). In this room, the artist's continuous examination of the surface of the human body, including his own in old age, closes the exhibition.
In Painter Working, Reflection (below), he adopts the iconography of Saint Bartholomew the Apostle. Freud mirrors Michelangelo's composition of The Last Judgement in Rome's Sistine Chapel, swapping the Saint's flayed skin for an exposed paint palette.
Naked Child Laughing (below) is Annie, Freud's eldest daughter with his first wife Kitty Garman. Freud regularly painted his children. Freud referred to works such as this as his 'naked' portraits as the painting captured the reality of the flesh contrasting emotional vulnerability with physical nudity.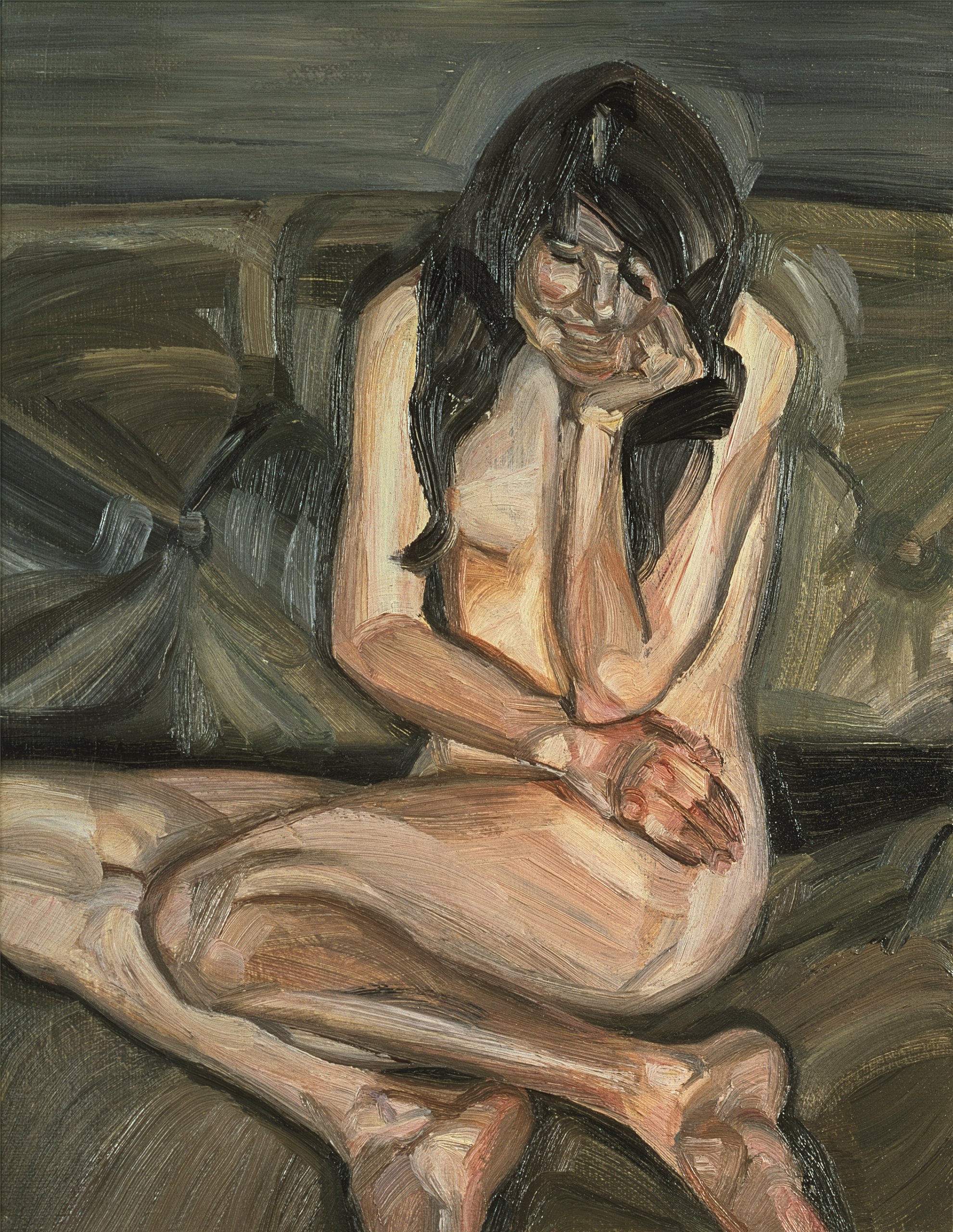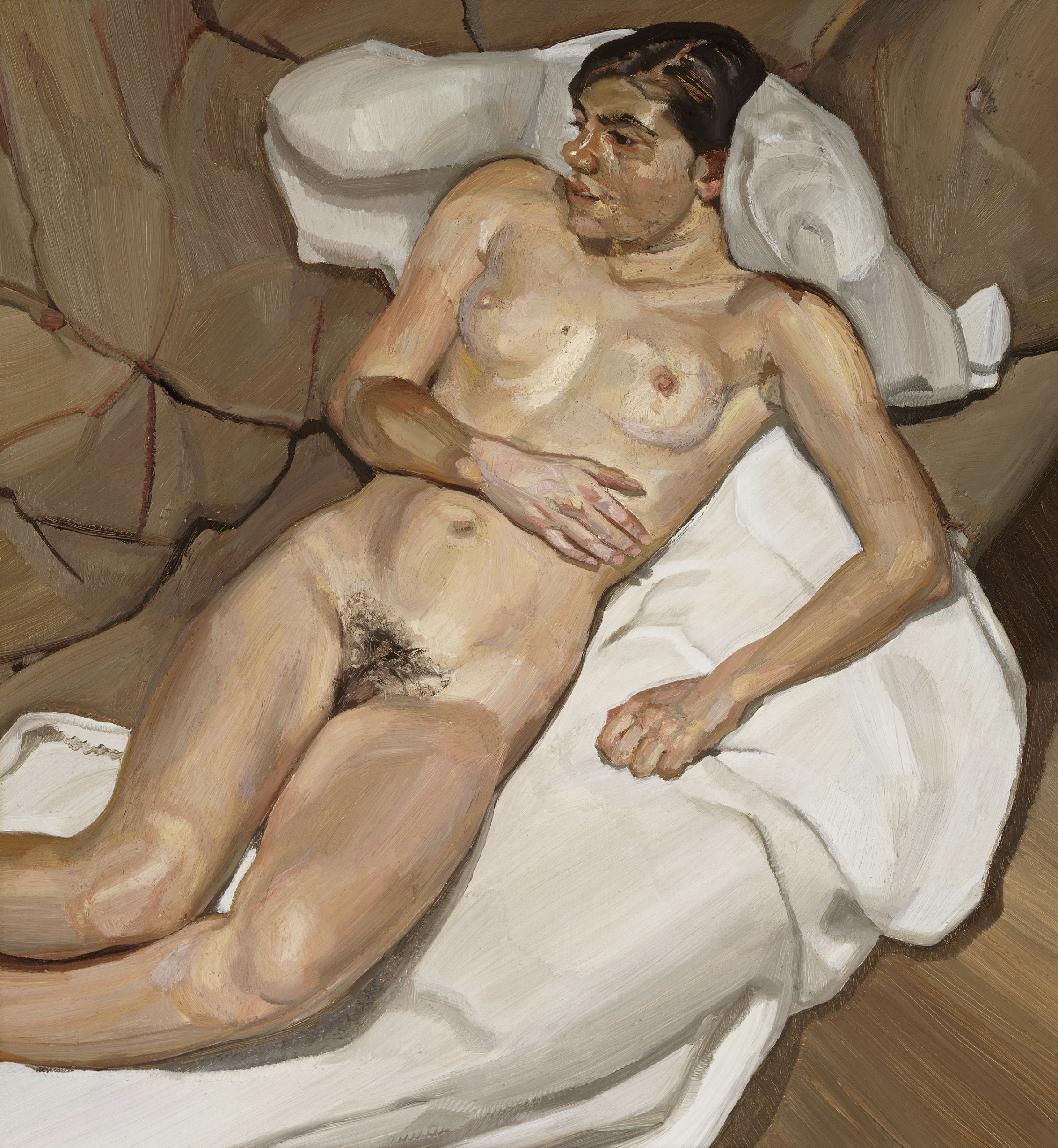 Two Men (below) has real tender intimacy. While the men are turned away from each other, that one hand resting on the other's leg shows the true comfort within the relationship.
Below is Sue Tilley (born 1957), who was a long-term model and muse for Freud. She was friends with the performance artist Leigh Bowery (1961–1964) who also modelled for Freud.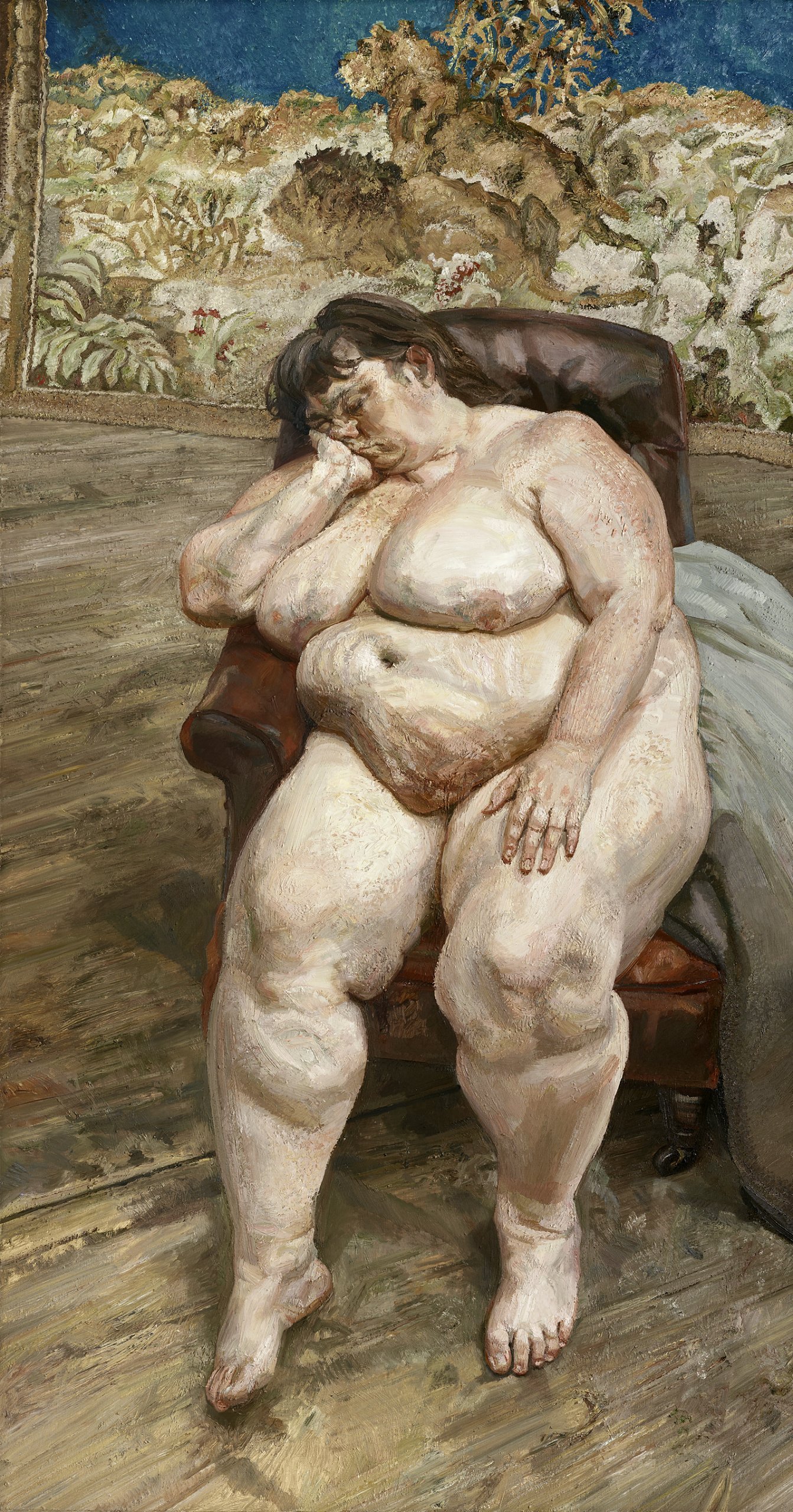 Notice how the painting below is unfinished? It was being worked on during the year that Freud died (2011). Freud's work regularly featured animals extending the tradition of the double-portrait to include animal companions.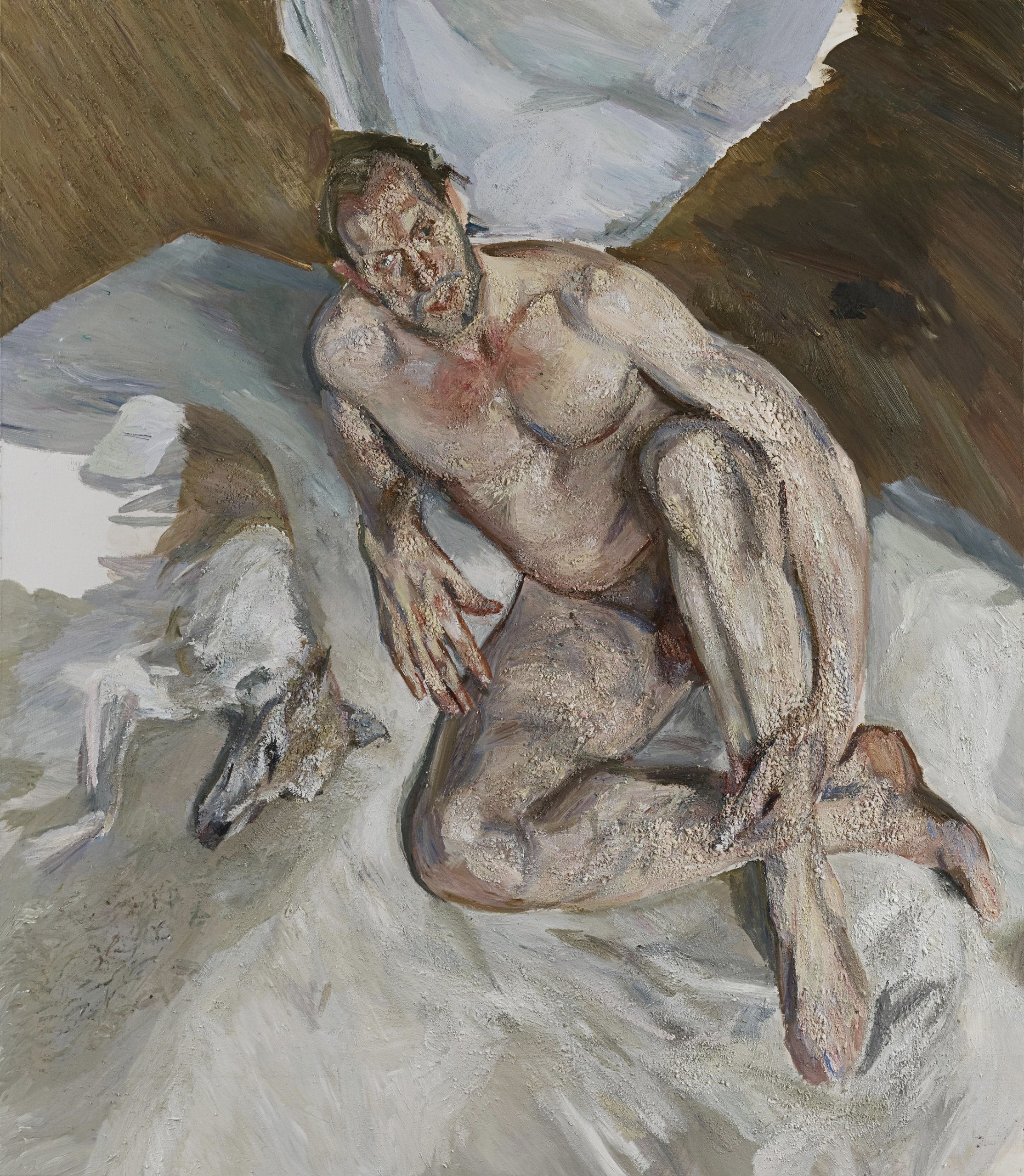 Unfinished Works and Drawings
Seeing his work at this stage of the process is a rare treat. It allows us to see the joy of how it was made. These works were deliberately left unfinished using the Renaissance technique of non-finito which reveals the method behind it.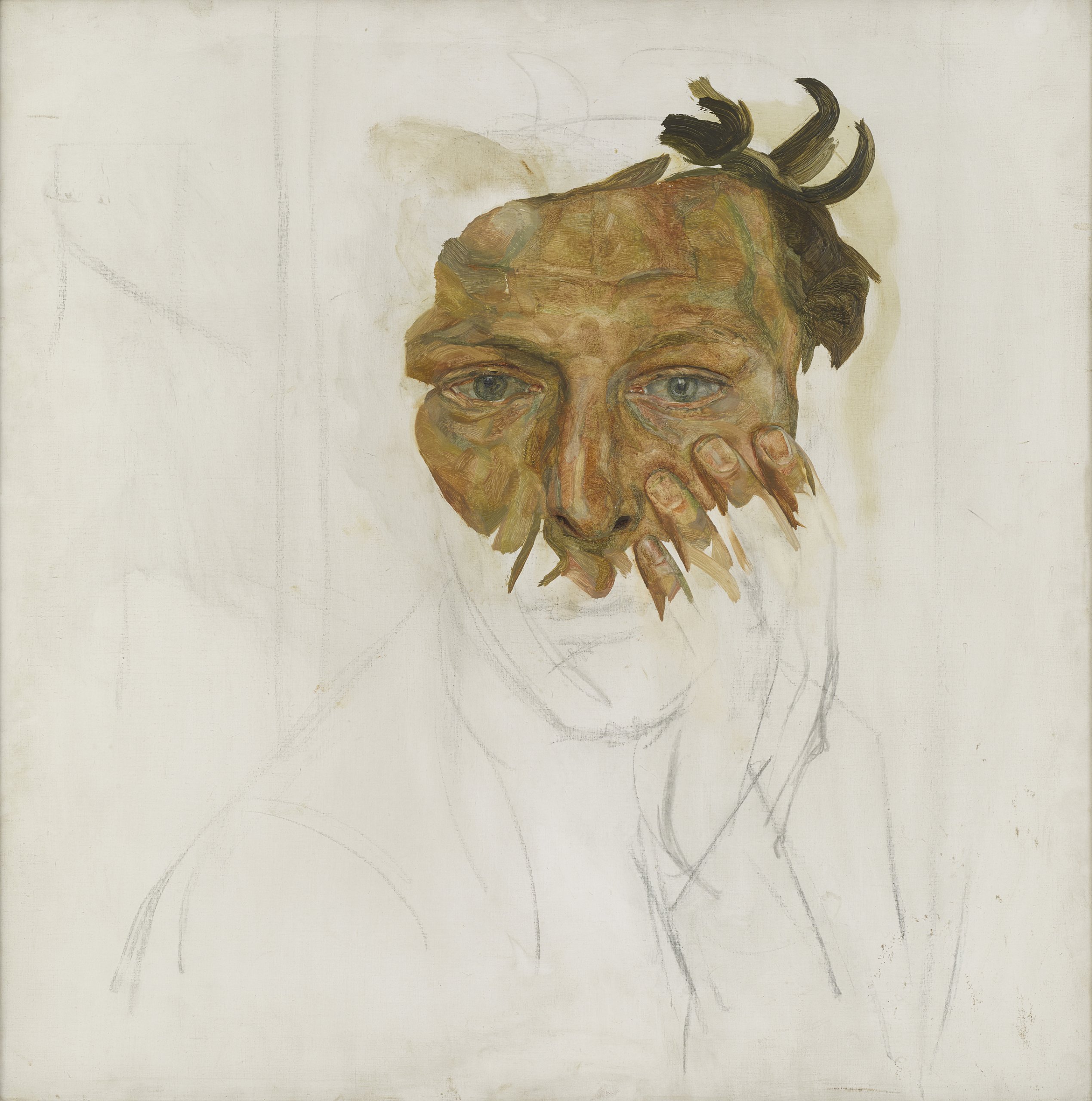 Bacon and Freud were close friends for a long time.
Model Credits
Sometimes, Freud named the model but often they are simply Naked Girl or New Yorker in a Blue Shirt. Maybe this was because the actual person wasn't as important to him as the artwork. He wasn't always flattering to his subjects, often, appearing to want to make them as grotesque as possible. Whether that was out of a need to shock or possibly contempt for the subject, we don't know. But while some of the models are shown in their full hideous glory, he would rather we thought of it as a celebration of the human form.
In the artwork below (Two Irishman in W11), I spent time looking at the view from the window which isn't the obvious focus of the painting. While Freud didn't produce sweeping landscapes he also didn't to the standard flat backgrounds of portraits. He liked the detail of the location.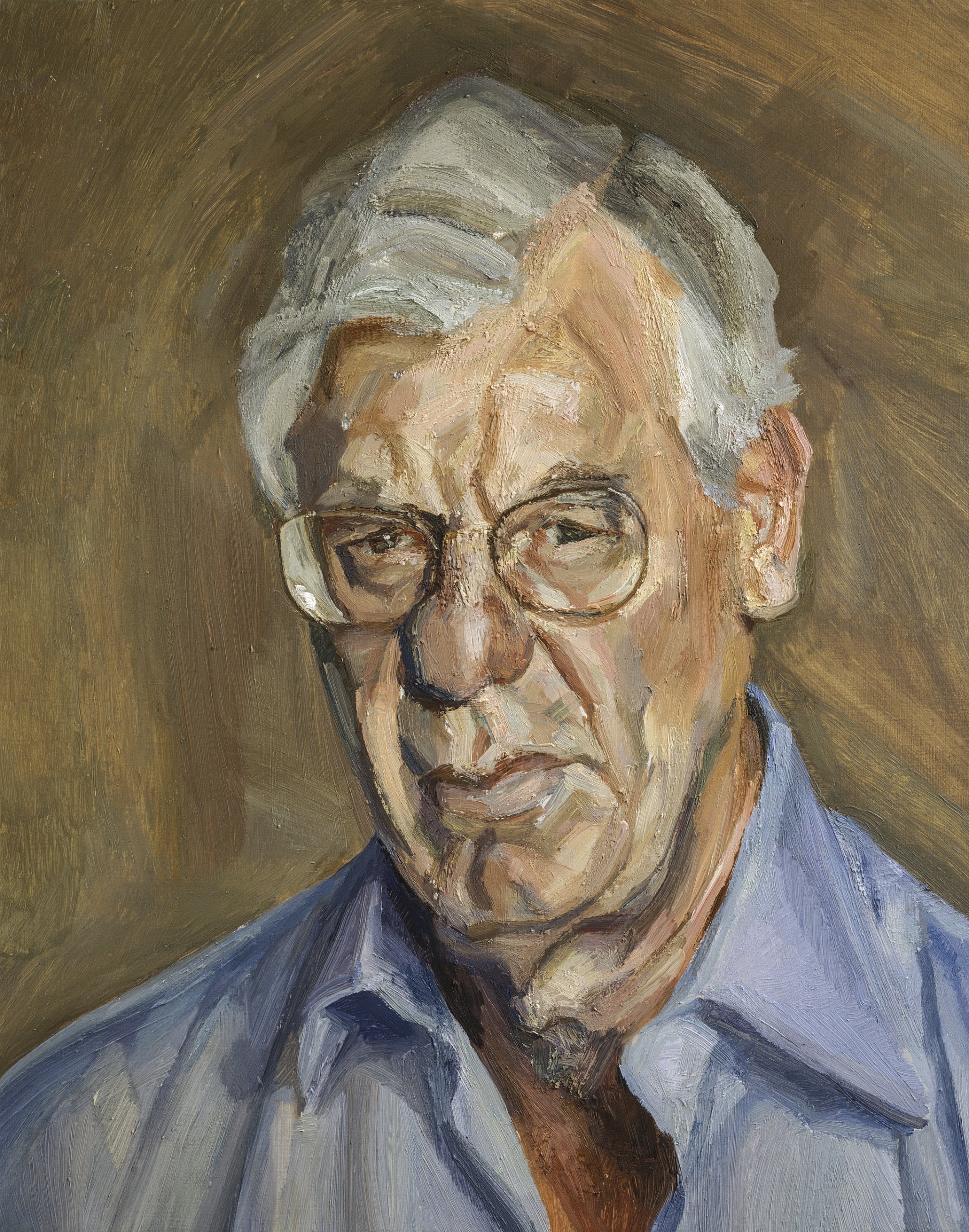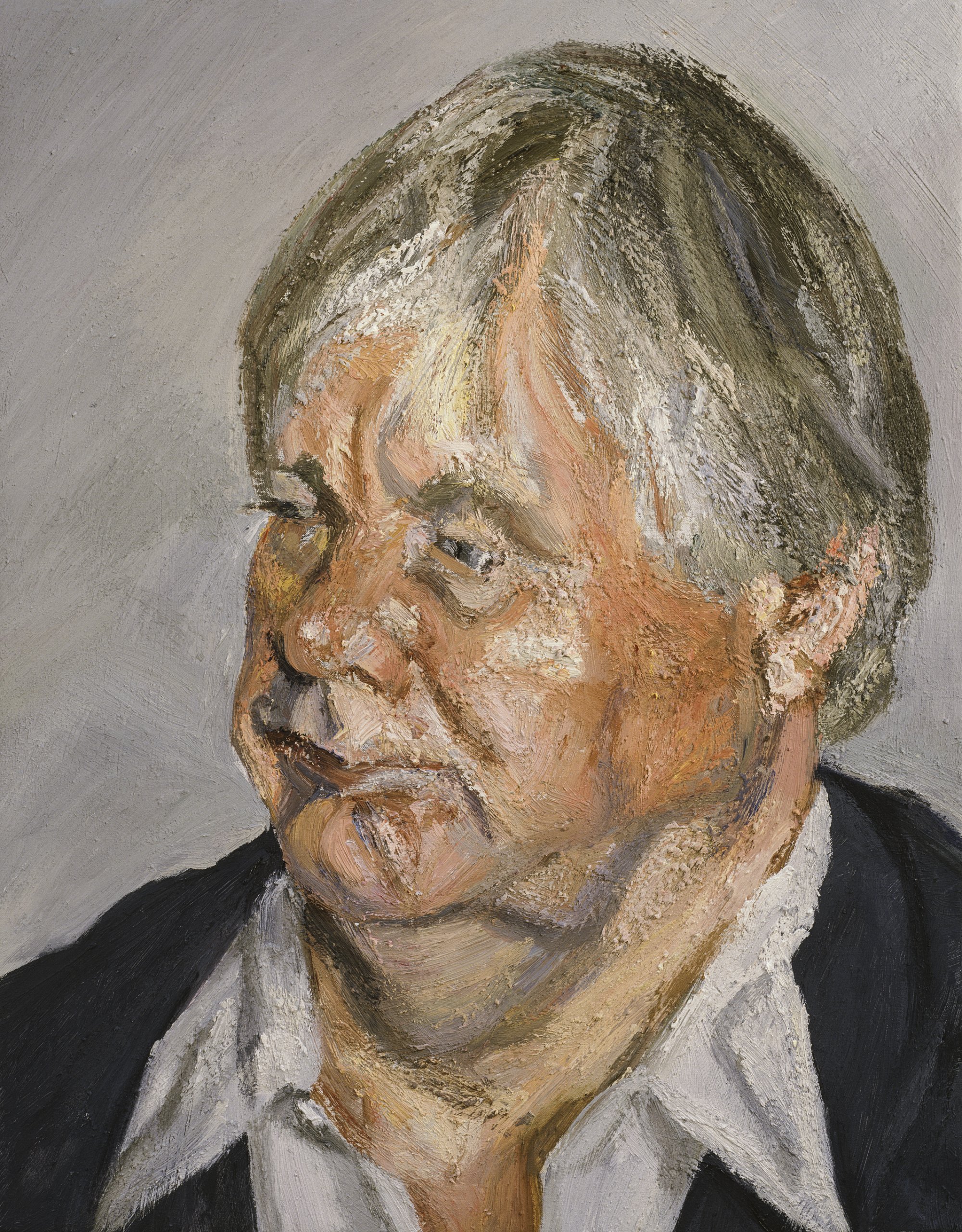 I left waiting to know more. More about the sitters and more about the time in Freud's life when he painted some of the works. As you would expect, you exit through the gift shop and there is an excellent exhibition catalogue available.
You could see everything in an hour or you could stay for two hours and really see it all.
Visitor Information
Exhibition: The Credit Suisse Exhibition – Lucian Freud: New Perspectives
Dates: 1 October 2022 – 22 January 2023
Venue: The National Gallery First Floor Galleries, Rooms 1-8
Tickets: From £24 Monday – Friday | From £26 Saturday and Sunday | On Fridays from 6 pm to 9 pm, you can pay what you wish for your exhibition ticket.
Official Website: www.nationalgallery.org.uk
Freud really is the man of the moment as even the Garden Museum has an exhibition of his plant portraits opening on 14 October 2022.