The Fourth Plinth in Trafalgar Square has displayed temporary contemporary art since 1998. THE END by Heather Phillipson was removed on 15 August 2022, and the latest choice was unveiled on Wednesday, 28 September 2022.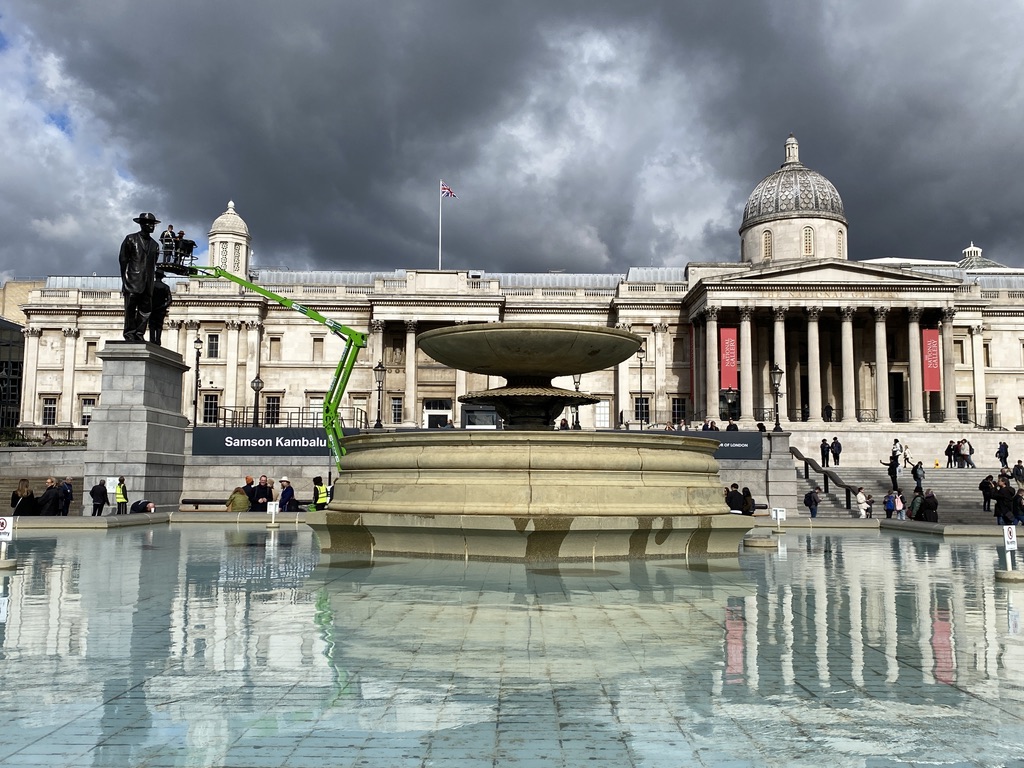 Antelope by Samson Kambalu is the 14th Fourth Plinth commission and will stay until next year. It was selected in 2021 by the Fourth Plinth Commission Group, following an exhibition at the National Gallery where nearly 17,500 people commented on the selection.
It is a sculpture of a preacher who was killed in an anticolonialist uprising in what is now Malawi.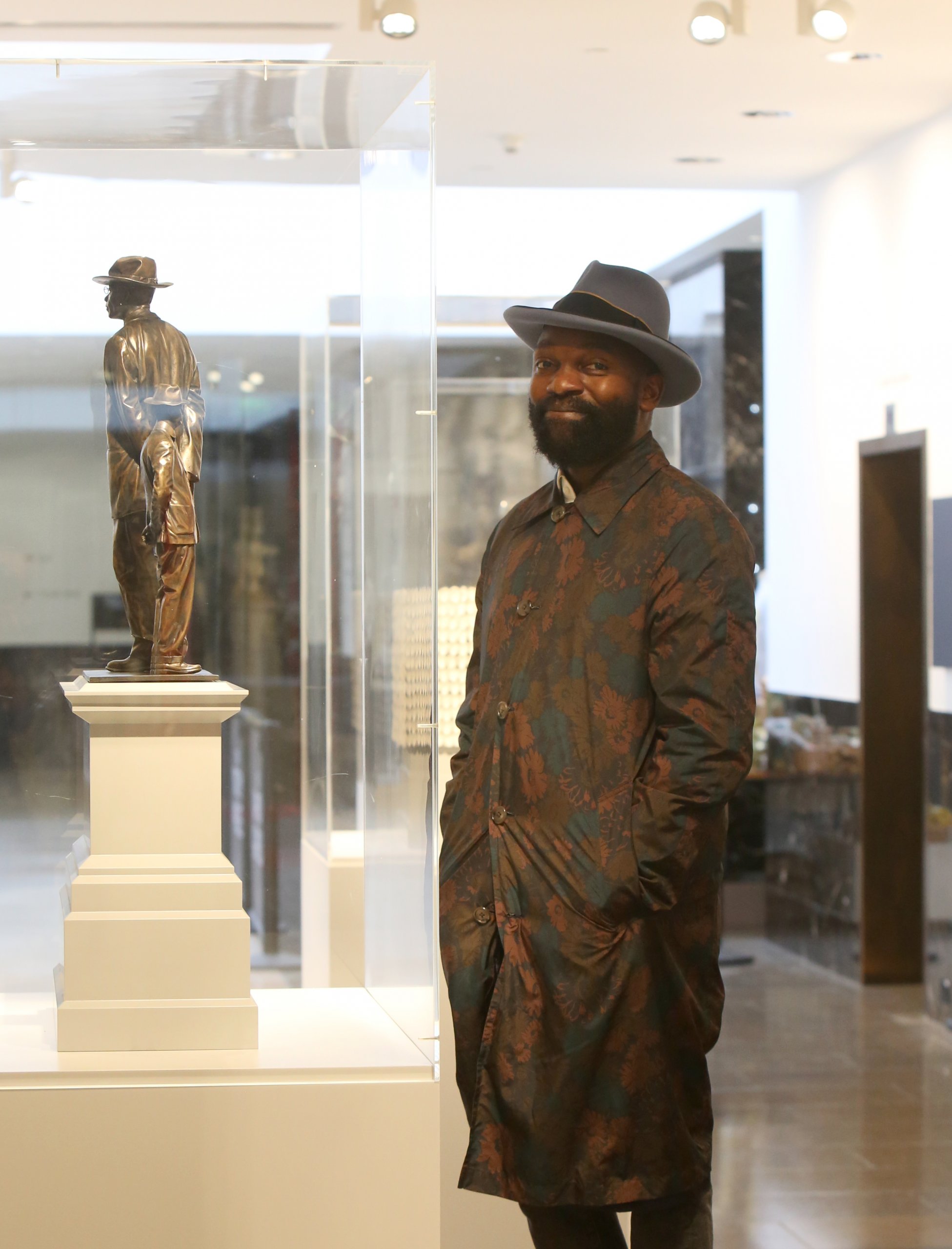 What Is Antelope?
Antelope is a bronze resin sculpture of two figures. It was made in Deptford, south London. It restages a photograph of the Baptist preacher and pan-Africanist (belief in a unified African nation) John Chilembwe with the European missionary John Chorley. The two men had first met in 1899 and had become close friends.
The photograph was taken in 1914 at the opening of Chilembwe's new church in Nyasaland, now Malawi. Chilembwe is wearing a hat, in a direct challenge to the colonial rule that forbade Africans from wearing hats in front of white people.
Born in the early 1870s, Chilembwe was heavily influenced by the Scottish missionaries who went to Malawi following in the footsteps of explorer David Livingstone. He met the radical missionary, Joseph Booth, whose famous dictum was "Africa for Africans". Chilembwe went to the US with Booth where he studied theology in Virginia. During his time there, Chilembwe witnessed the struggles of African Americans during the reconstruction period after the abolition of slavery. Several years later, he returned to his home country emboldened to tackle the colonial injustices he saw there.
Upon his return, he built this church, several schools, and planted crops of cotton, tea and coffee, with financial backing from the US.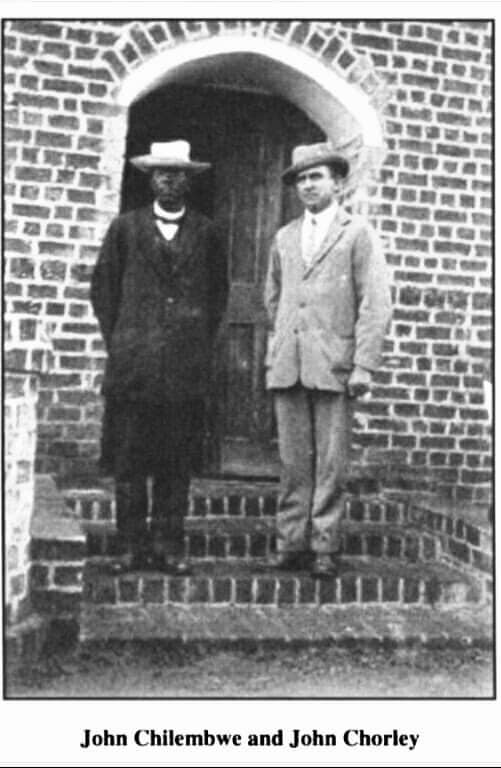 Outraged by the discrimination and forced labor imposed on Africans by the British after the onset of World War I, Chilembwe instigated an uprising against British colonial rule in January 1915. It was triggered by the mistreatment of refugees from Mozambique and the conscription to fight German troops during WWI.
He was killed and his church destroyed by the colonial police. Though his rebellion was ultimately unsuccessful, Malawi, which gained independence in 1964, celebrates John Chilembwe Day on 15 January and the uprising is viewed as the beginning of the Malawi independence struggle. Chilembwe is considered to have influenced several figures of black liberation, including Jamaican political activist Marcus Garvey, and John Langalibalele Dube, the founding president of what went on to become the African National Congress (ANC) in South Africa.
While not universally known, Chilembwe is still an important figure in Malawi. Several roads have been named after him, while his photo appears on the country's currency, the kwacha, as well as stamps.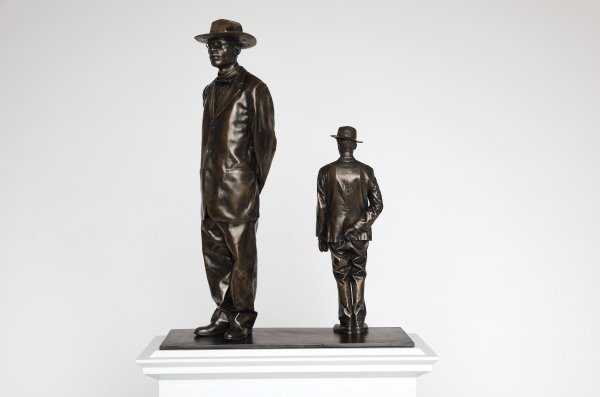 In this sculpture, Chilembwe is five meters high – almost twice the size of Chorley who is approximately life-size. By increasing his scale, the artist has elevated Chilembwe and his story highlighting the distortions in conventional narratives of the British empire. The symbolism aims to reveal the hidden narratives of underrepresented peoples in the history of the British Empire in Africa, and beyond.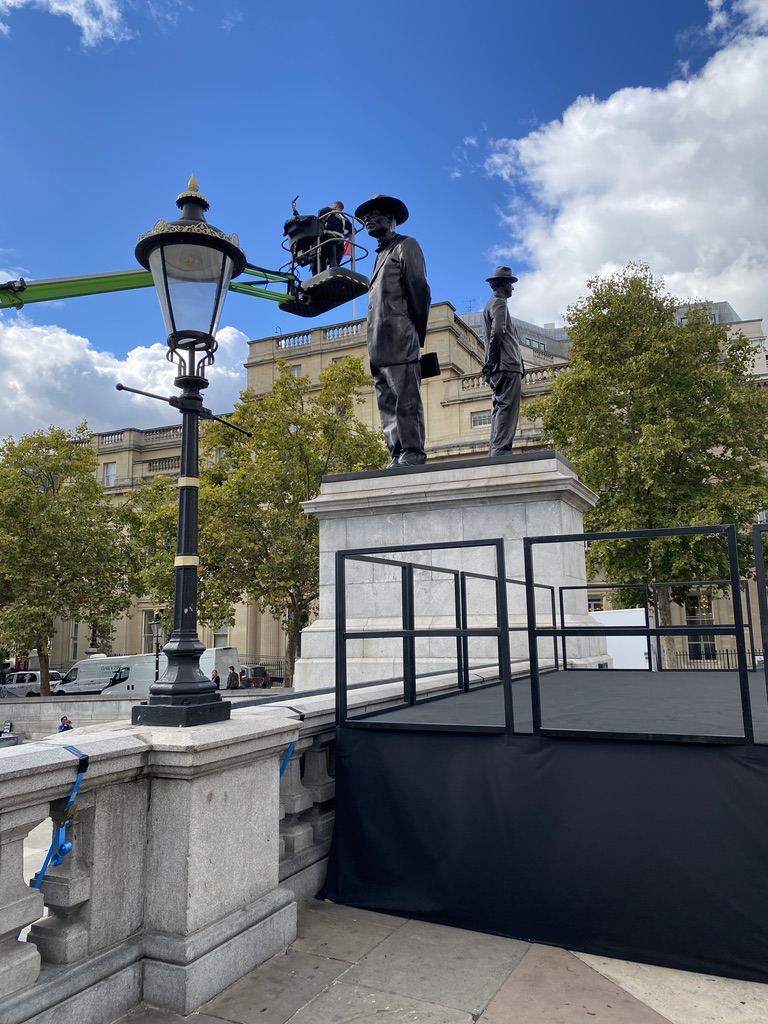 I asked about the meaning of the installation's title (Antelope), and the artist says it lies partly in the symbolism of the hat Chilembwe is wearing – a fedora hat placed high on his head so that its top rises in two peaks like antelope horns. It is also a reference to the traditional Nyau masking tradition.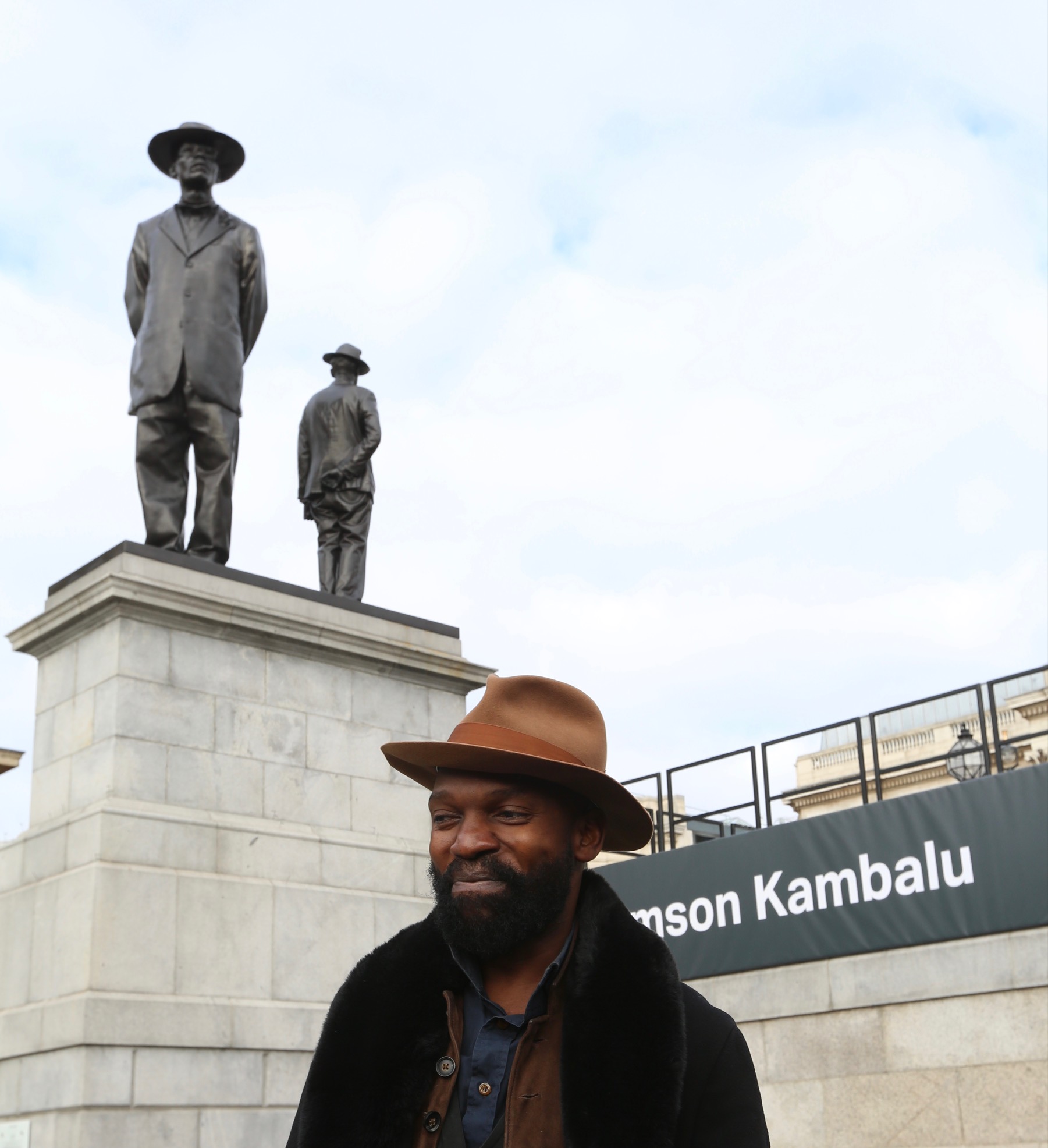 About Samson Kambalu
Born in 1975 in Malawi, Samson attended Kamuzu Academy – the Eton of his home country. He has a BA in Fine Art and Ethnomusicology from the University of Malawi; an MA in Fine Art from Nottingham Trent University; a PhD from Chelsea College of Art and Design; and has held research fellowships with Yale University and the Smithsonian Institution.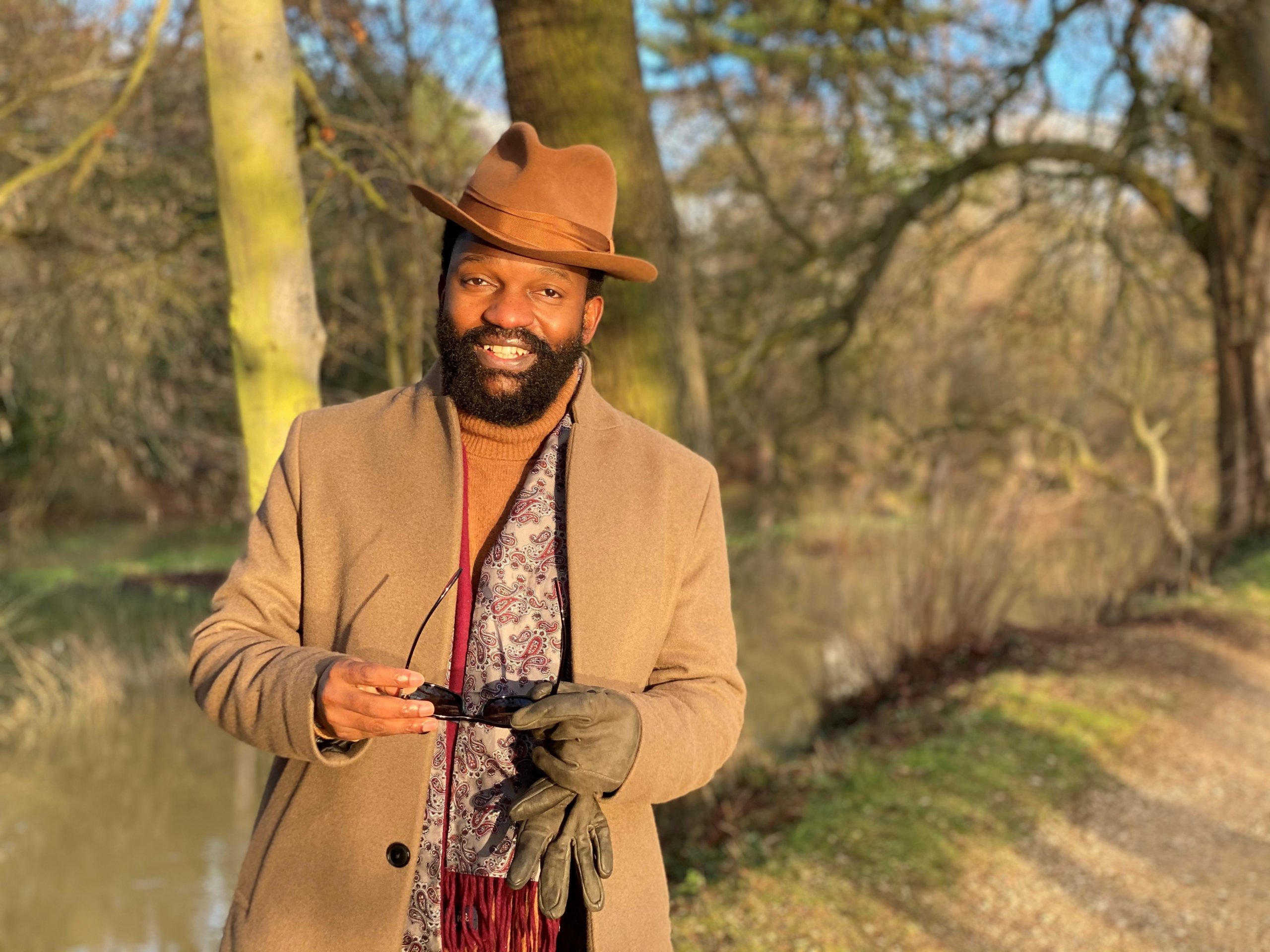 Kambalu came to the UK in 2002 to attend graduate school. He recalls fondly his years in London where he still keeps a studio. Here, he enjoys living a more 'bohemian life', as he put it, playing in blues sessions or wandering the streets like a flâneur, gathering inspiration.
He now lives and works in Oxford where he is Associate Professor of Fine Art at Ruskin College and a fellow at Magdalen College, both at Oxford University.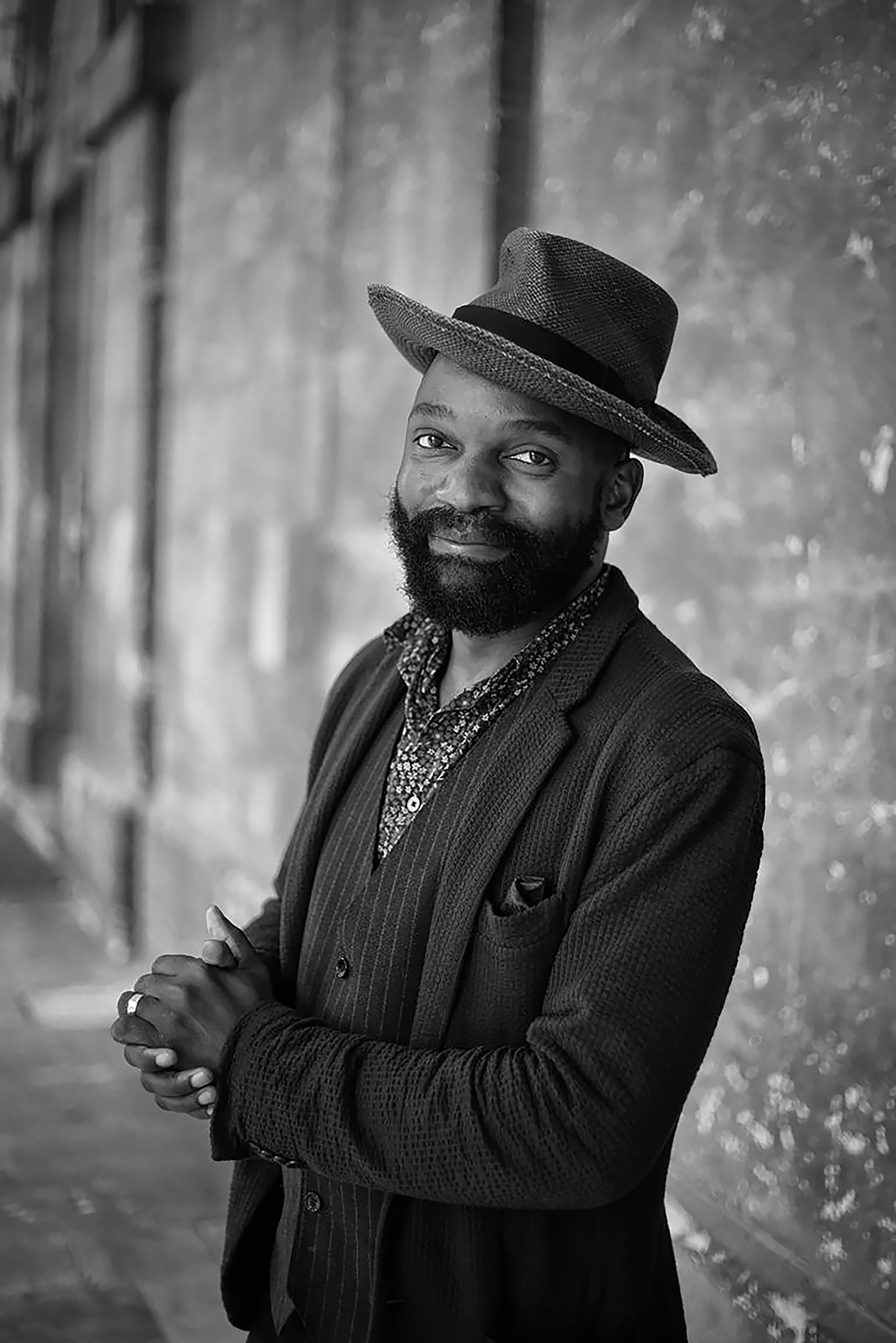 The artist grounds his multi-media practice in Nyau culture – a secret society of the Chewa tribe in Malawi, which is known for its ritual mask performances.

Kambalu featured in 'All the World's Futures', the 56th Venice Biennale. His work has been included in numerous international exhibitions and projects including the Dakar Biennial (2014 and 2016); Tokyo International Art Festival; and Liverpool Biennial (2004 and 2016). He has had solo exhibitions at PEER Gallery, London; Mu.ZEE, Ostend, Belgium; Whitechapel Gallery, London; Logan Centre for the Arts, University of Chicago; NSU Art Museum, Fort Lauderdale, Florida; Kunsthalle Mainz, Germany.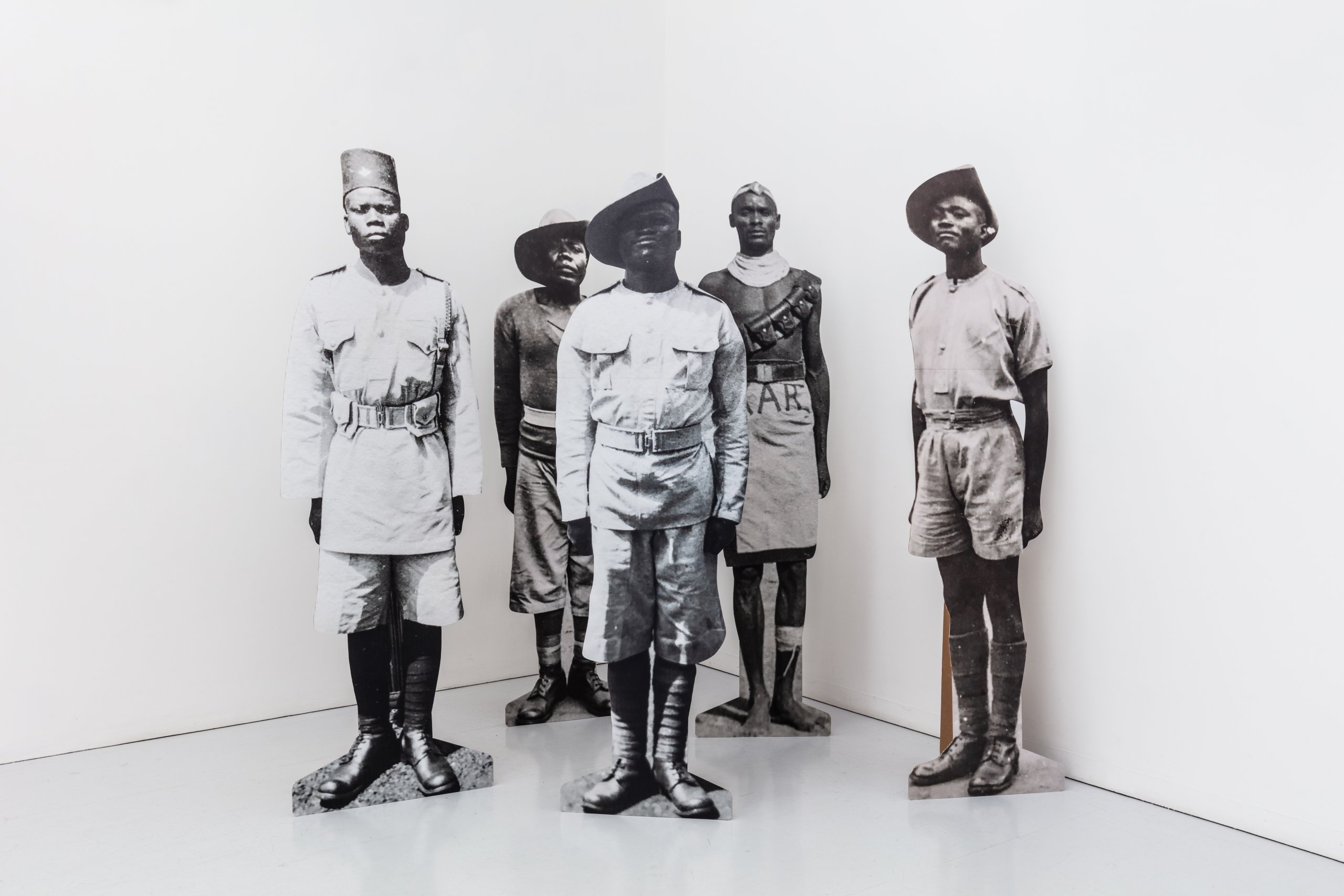 Coinciding with the unveiling of Antelope, an updated version of Kambalu's memoir The Jive Talker: Or, How to get a British Passport has been released in paperback by September Publishing. Kambalu tells the story of how a little boy obsessed with fashion, football, Nietzsche and Michael Jackson won a free education at the Kamuzu Academy ('The Eton of Africa') and began his long journey to art school, and international artistic and academic success. The revised edition includes a new 5000-word introduction by the artist that includes being chosen for the Fourth Plinth.

Samson Kambalu said, "Antelope on the Fourth Plinth was ever going to be a litmus test for how much I belong to British society as an African and a cosmopolitan. This commission fills me with excitement and joy."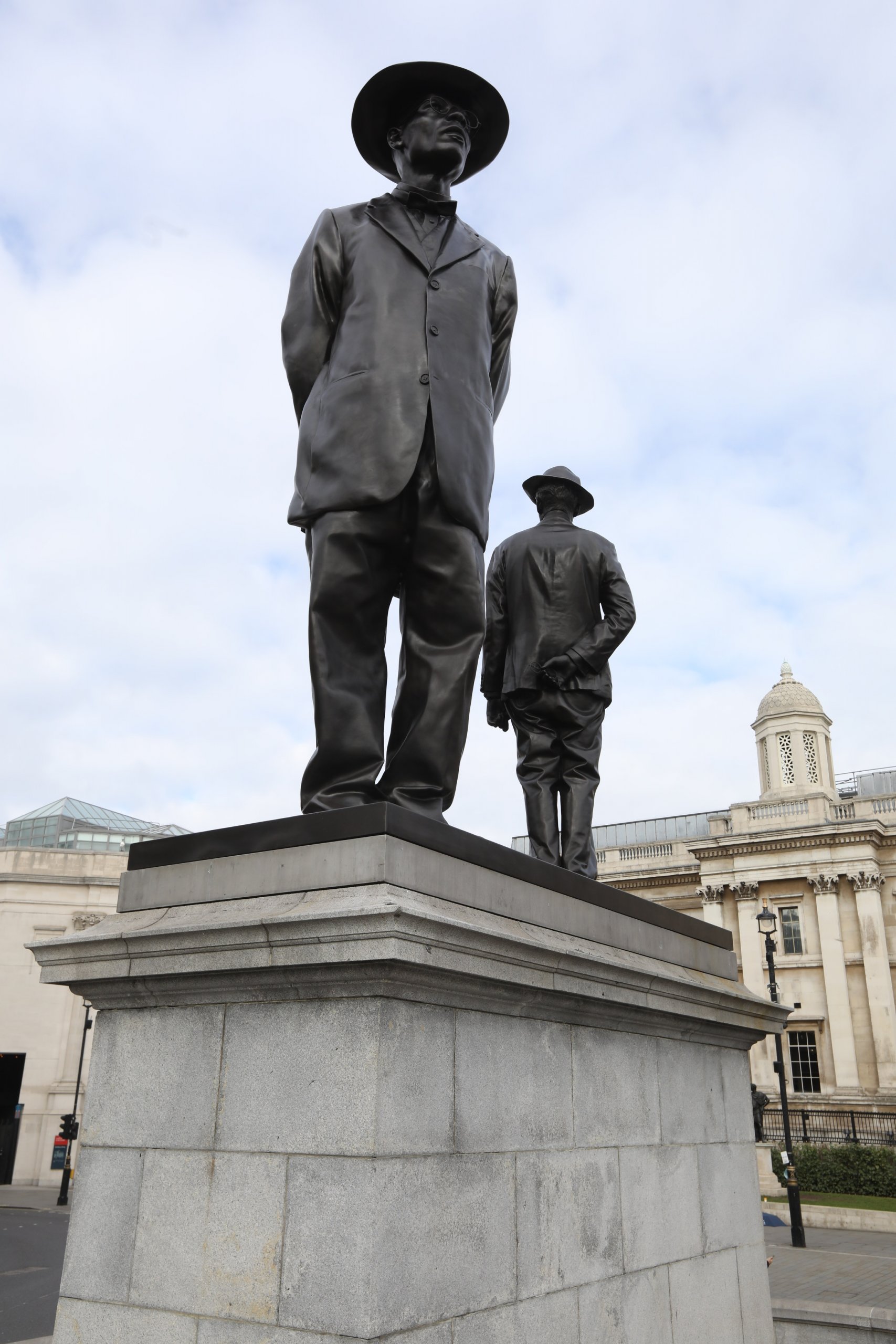 More About The Fourth Plinth
The Fourth Plinth brings great contemporary art to the heart of our city for free and encourages lively conversation. It casts new light on London's most historic square and has showcased the work of artists who have not shied away from tackling the important issues of the day.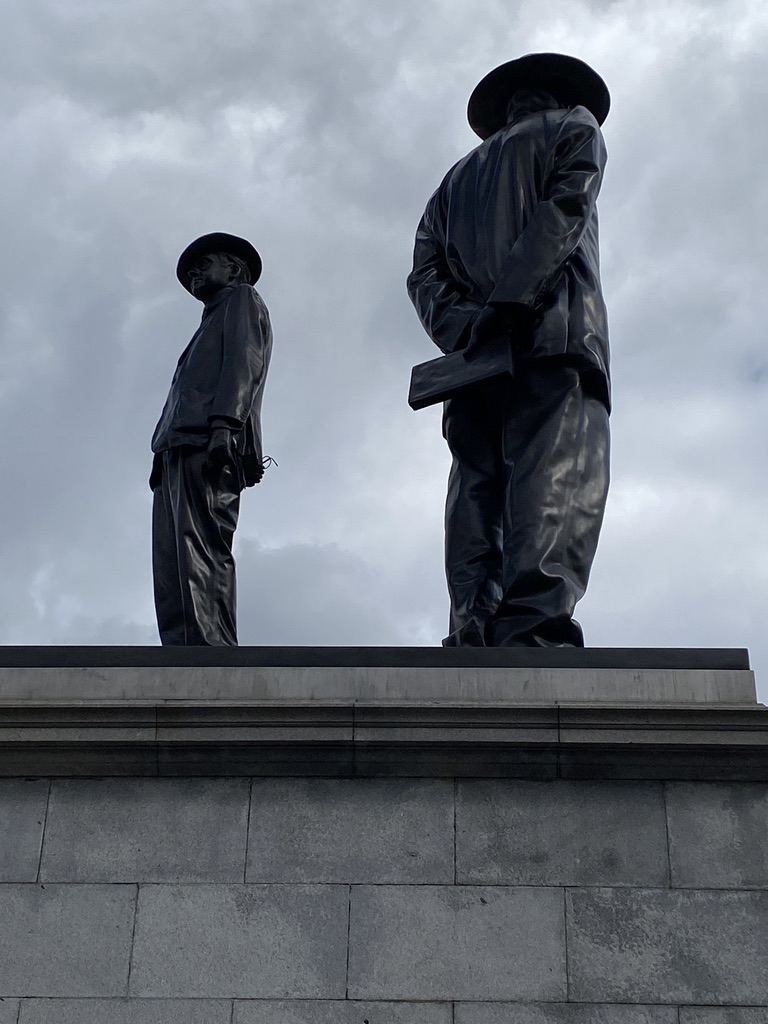 Yinka Shonibare CBE considered the legacy of British colonialism in Nelson's Ship in a Bottle (which now has a permanent home outside the park entrance of the National Maritime Museum). Katharina Fritsch commented on gender equality and the masculine posturing in the square with her work Hahn/Cock. And Michael Rakowitz's recreation of the Lamassu, a winged bull and protective deity that was destroyed in Nineveh (near modern-day Mosul) in 2015, shone a light on the devastating impact of war on cultural heritage. Marc Quinn's sculpture of Alison Lapper has been one of my favorites. She was born without arms and with shortened legs, and the marble sculpture showed her pregnant.
The Fourth Plinth is funded by the Mayor of London with support from Arts Council England and Bloomberg Philanthropies.
The Fourth Plinth features on Bloomberg Connects, the free app that allows users to access museums, galleries and cultural spaces around the world anytime, anywhere. Users can access exclusive new content on the making of Antelope. The app is available to download on Google and Apple app stores.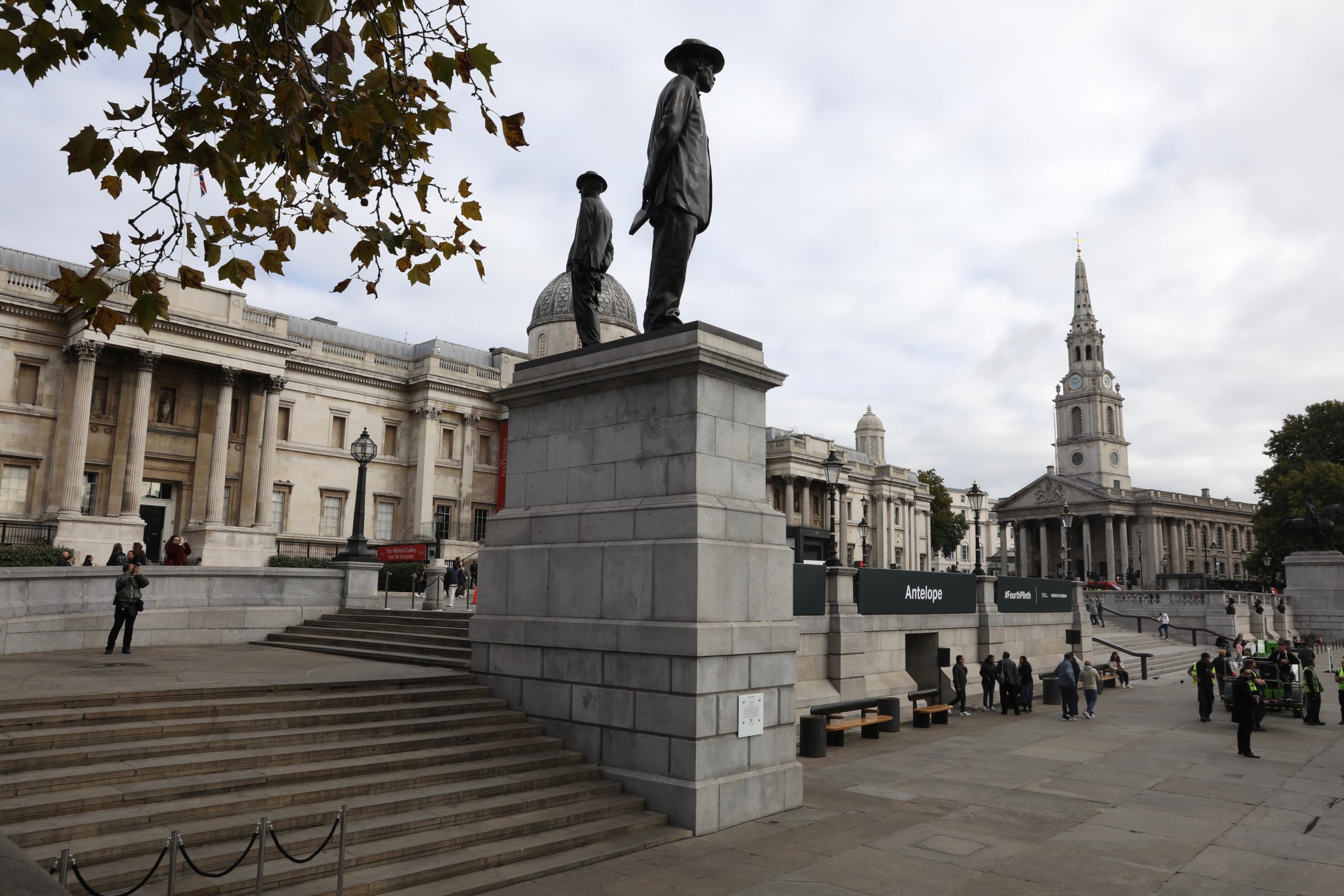 Black Lives Matter Movement
It would be easy to read Antelope as an act that celebrates a black political figure over a white one. But Kambalu had proposed the sculpture for the Fourth Plinth before the Black Lives Matter movement took off in the UK following the police murder of George Floyd in 2020 in the US.
Chilembwe is the first African statue in Trafalgar Square. Kambalu wants to raise awareness and wants his work to challenge us. He has questioned if the Fourth Plinth series itself has lulled us into complacency. As if we expect something contemporary there and that expectation takes away from a powerful message.
I hope that by having this sculpture in a landmark location it can raise awareness of what happened. I'll admit, I didn't know about this time in African history and it's helped me have a better understanding of the British Empire. While I was taking photos at the unveiling, I spoke to other members of the public who asked about the story behind the sculpture so it is a good conversation starter.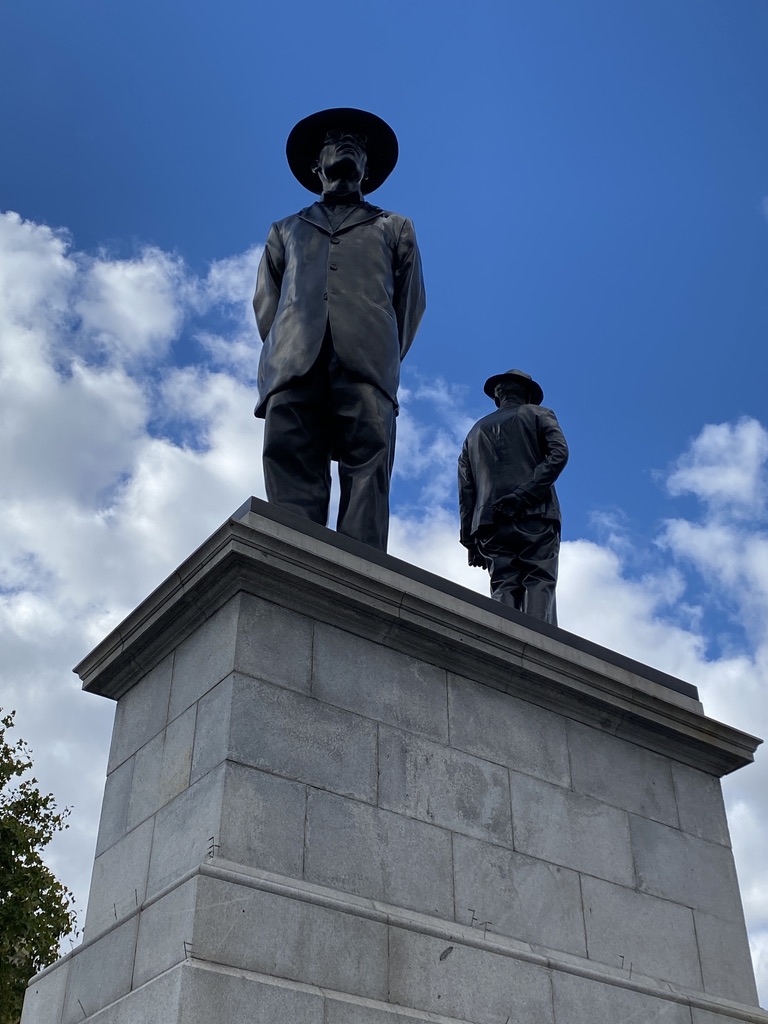 It's certainly significant that the huge statue of Chilembwe is facing Trafalgar Square while Chorley faces away.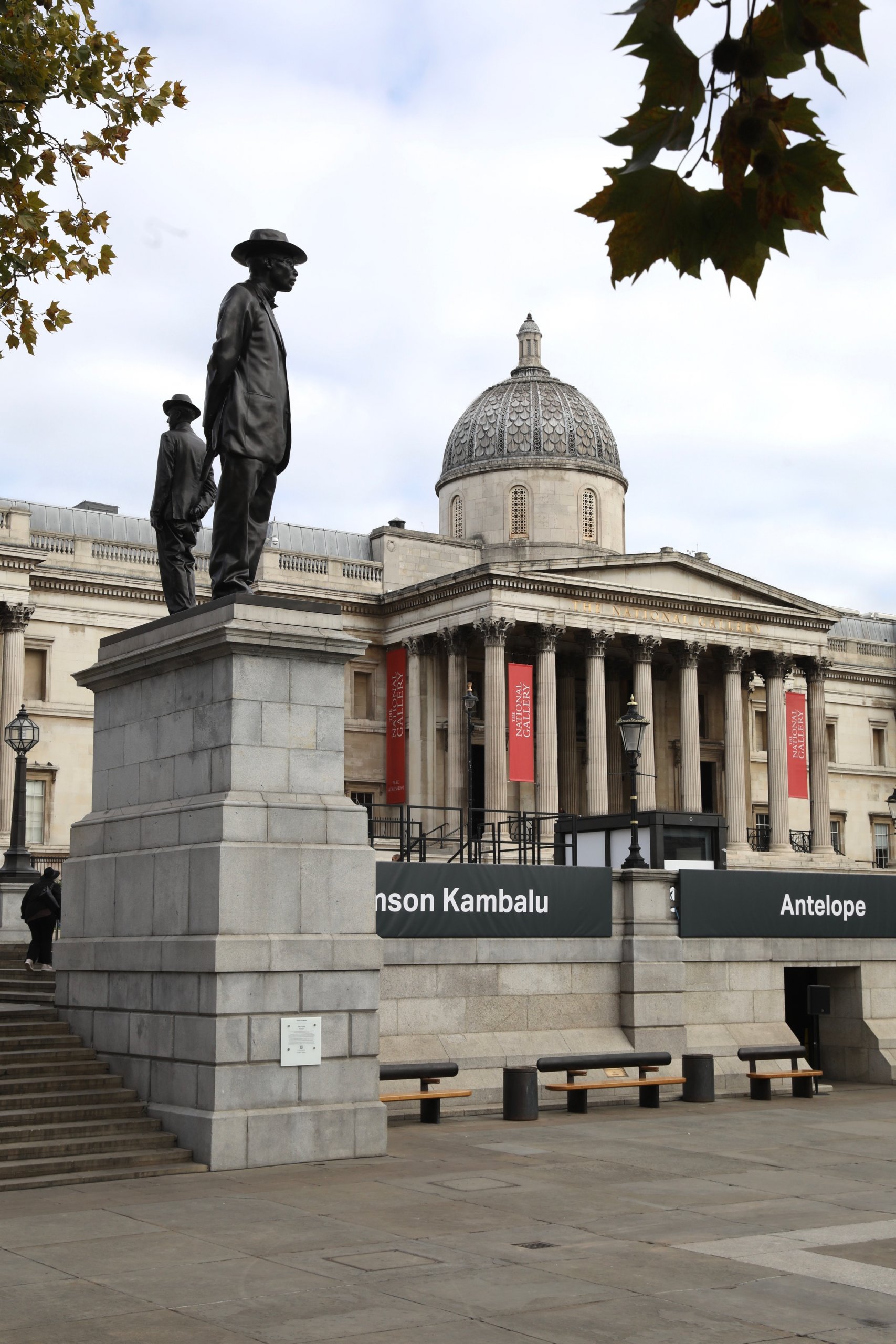 What's Next?
Kambalu's work will remain until September 2024. It will then be followed by 850 Improntas (850 Imprint) by Teresa Margolles. 'Life masks' of the faces of 850 trans people appear in the artwork, put together in the form of a tzompantli — a skull rack from Mesoamerican civilizations.
Margolles, who was a mortician in Mexico City in the 90s, now works with often-marginalized trans communities, many unable to access social care. Her Fourth Plinth artwork is a demand that more attention is paid to these people, many of them sex workers.
Since the recent death of The Queen, there have been calls for the fourth plinth to eventually be given over to a statue of Elizabeth II to match the other monarchs. Whether that happens or not, remains to be seen.