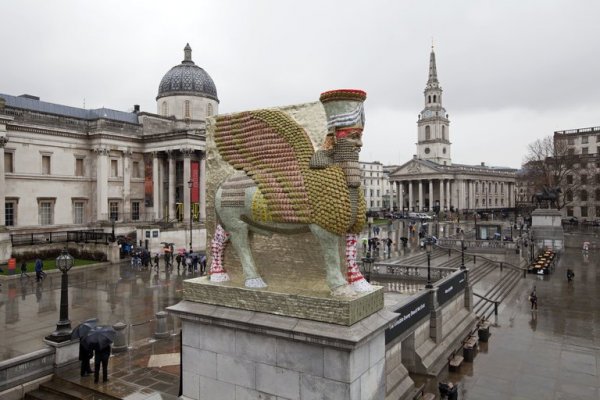 Goodbye, giant Thumb's Up, hello Lamassu. The fourth plinth is one of the best public art projects in London. Every few years, a new artwork is put on display on the empty fourth plinth in Trafalgar Square (empty for a statue that was never made). It's prime place directly in front of the National Gallery is a great place to display a large work of art. There have been some fantastic pieces on display in recent years (my favorite was the Victory in a Bottle). The most recent work was a giant thumb's up.
Yesterday, the latest artwork was revealed. Introducing The Invisible Enemy Should Not Exist by Michael Rakowitz. What is it?
For the Fourth Plinth Rakowitz has recreated the Lamassu, a winged bull and protective deity that stood at the entrance to Nergal Gate of Nineveh (near modern-day Mosul) from c 700 B.C, until it was destroyed by ISIS in 2015. It will be the 12th work to appear on the Fourth Plinth since the commissioning programme began in 1998 and will be on the plinth until March 2020.
The reconstructions in The Invisible Enemy are made from recycled food packaging, similar to the reliefs at the base of Nelson's Column being made from canons salvaged from the wreck of HMS Royal George. The Lamassu is made of 10,500 empty Iraqi date syrup cans, representative of a once-renowned industry decimated by the Iraq Wars.
This is probably the most timely and political work of art put on display in recent years.
From the artist himself:
"This work is unveiled in Trafalgar Square at a time when we are witnessing a massive migration of people fleeing Iraq and Syria. I see this work as a ghost of the original, and as a placeholder for those human lives that cannot be reconstructed, that are still searching for sanctuary."
The Mayor of London said:
"I am delighted to unveil this new work by Michael Rakowitz, the next sculpture to be featured on the Fourth Plinth – the world's most famous public art platform. Michael's work shows the power of art to bring to life politics, cultures and personal stories from around the world and across generations."
What a remarkable work of art with a powerful message of the importance of preserving our shared global heritage from destruction by those that wish to wipe it away from history due to their sick and dangerous ideologies. I'm sure there are many that will not like it, but that's art for you. And they'll replace it with something new in 2020 (which, I'm sure, will divide opinion).