Visiting the Charles Dickens Museum at Christmas time is a real treat as the place is transformed with Victorian-style decorations.
This year, the Museum has lots of winter events, including a production of A Christmas Carol streamed from inside Charles Dickens's only surviving London home. There are also spooky ghost stories and 'A Search for Father Christmas' for families to enjoy. And the current Oliver Twist exhibition – More! Oliver Twist, Dickens, and Stories of the City – continues throughout the festive period.
A Christmas Carol
In November 1843, Charles Dickens was writing the book that would become a hit barely a month later. A Christmas Carol was completed in the early days of December, published on the 19th of that month, and greeted with glowing reviews. 178 years on, the book is at the heart of Christmas celebrations at the Charles Dickens Museum at no.48 Doughty Street.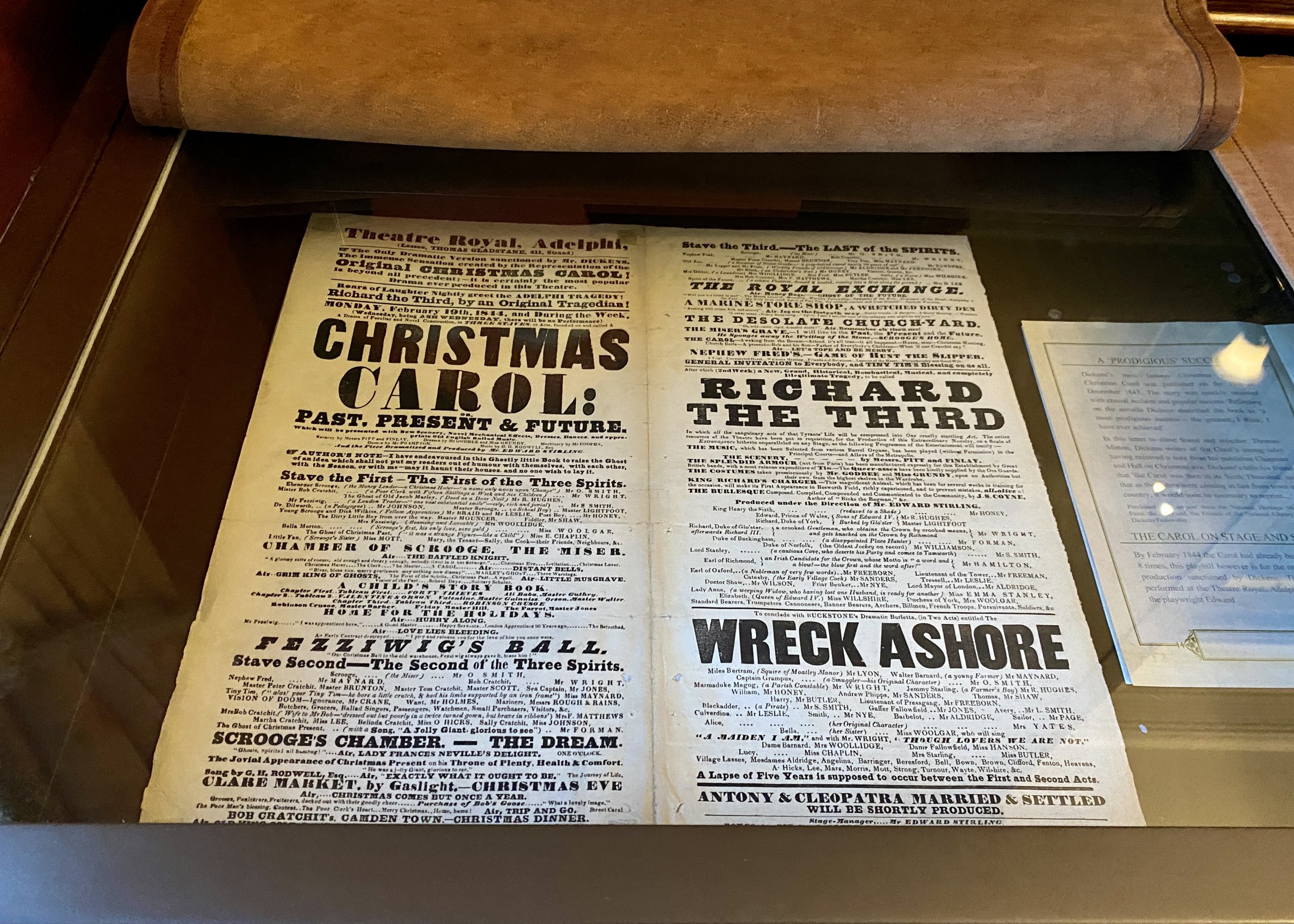 48 Doughty Street
48 Doughty Street is the London residence where Dickens wrote Oliver Twist and Nicholas Nickleby, completed The Pickwick Papers, and began Barnaby Rudge.
From Wednesday 17 November 2021, visitors to the Museum are invited to savor the sights, sounds, and scents of the rooms where Dickens and his family celebrated Christmas – with holly and ivy decking the halls, beautiful Victorian decorations throughout, and a whole host of other festive surprises to discover. As the Georgian townhouse is dressed for Christmas, the Museum also displays a number of previously unseen items from its collection.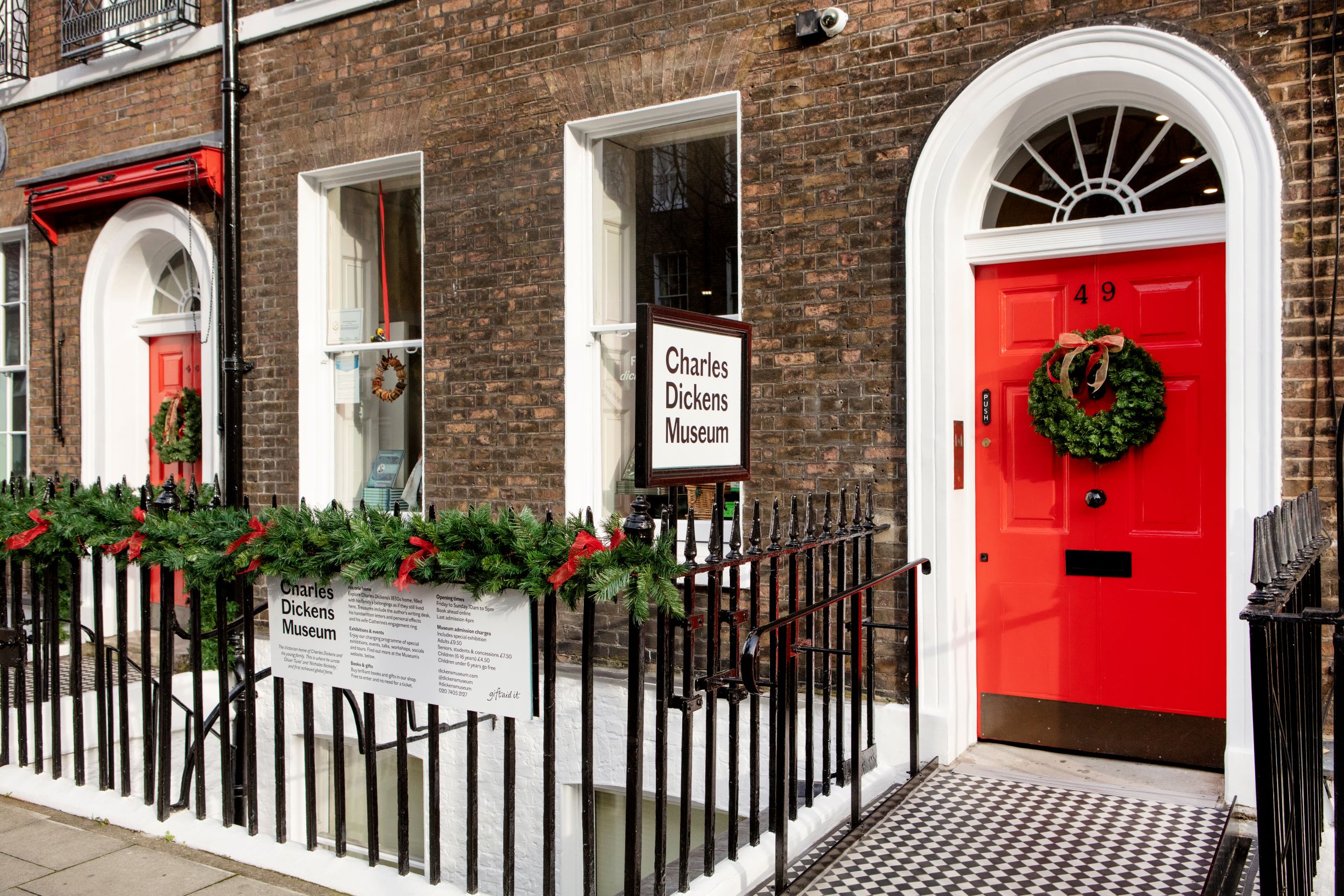 You enter the Museum at no.49 as no. 48's original door now remained locked to preserve it.
There's a fabulous gift shop to start your route. It's not just books as there are wonderful plates (bottom right shelf) and fabulous aprons.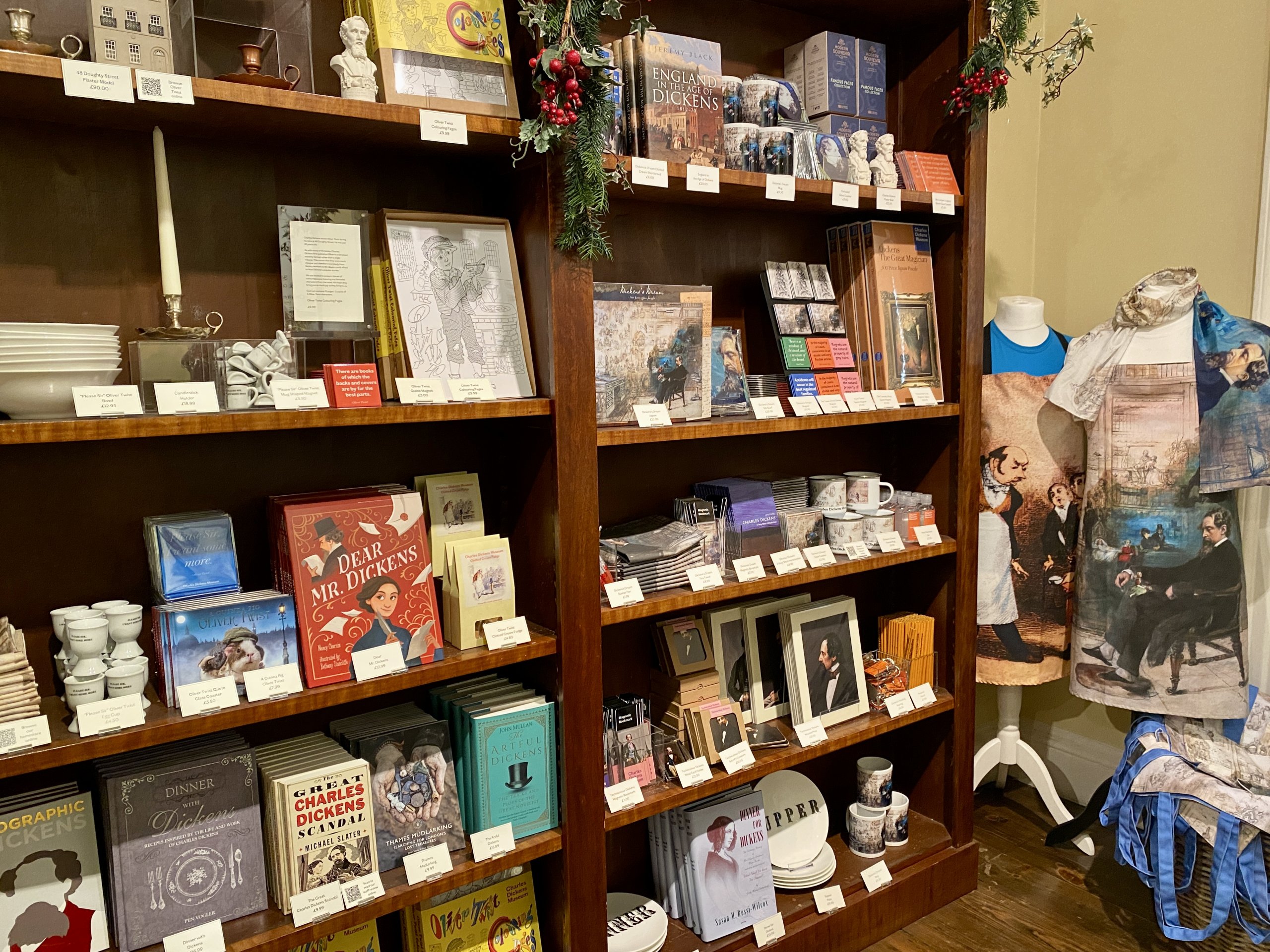 The route starts next to the inside of the door to no.48, so you can get the feel of the way Dickens and his family entered the building.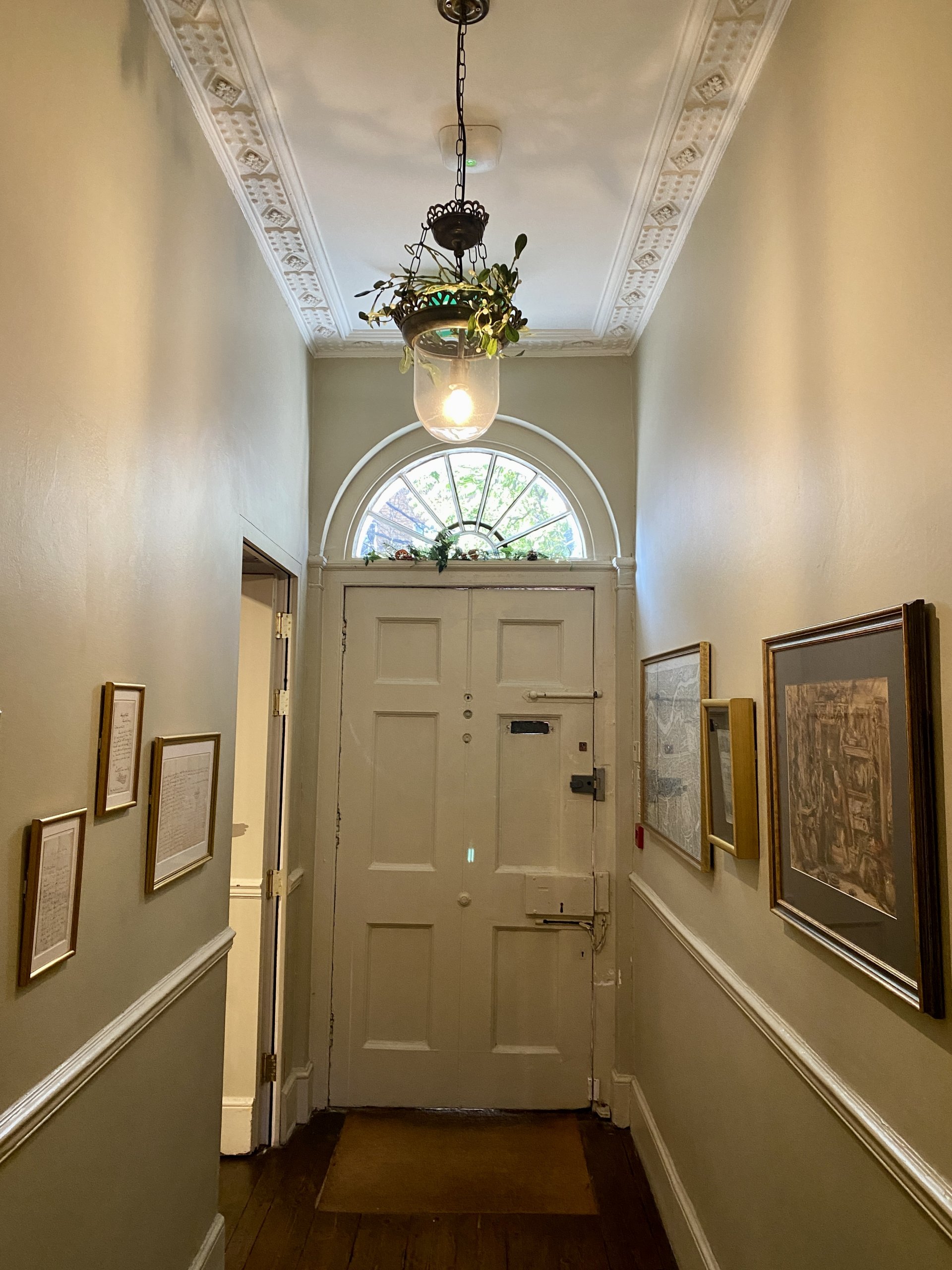 There are two ground floor rooms, and both are looking their best at this time of year. The dining room is particularly fine as the table is laid for a Christmas feast.
Do note the long red bell pull to the right of the fireplace for contacting servants in the kitchen.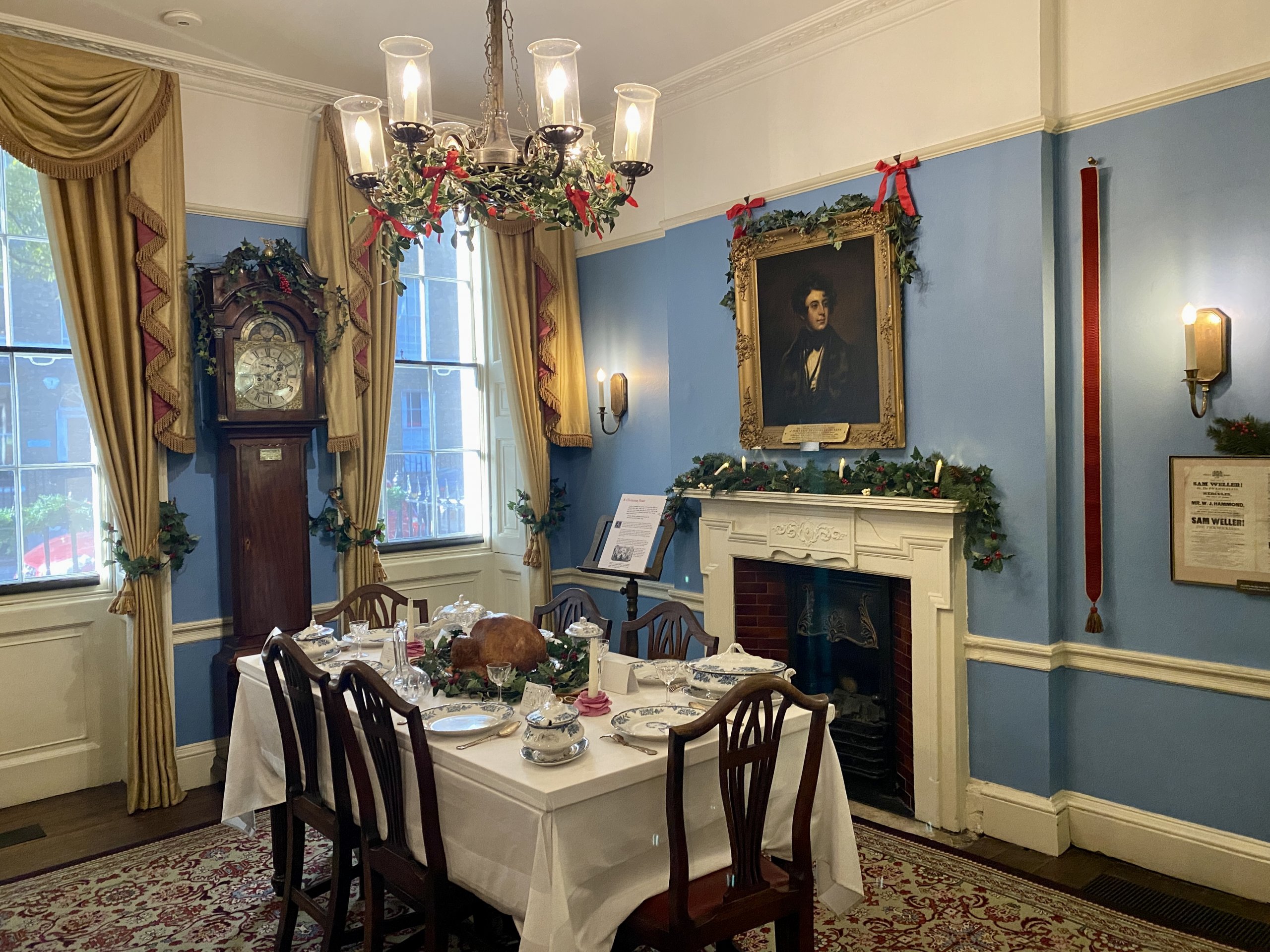 The other room on this level was used by Charles's wife, Catherine. This was where she welcomed visitors and where she met with friends.
I particularly liked this small sewing box with a drawer for threads and a pin cushion on top.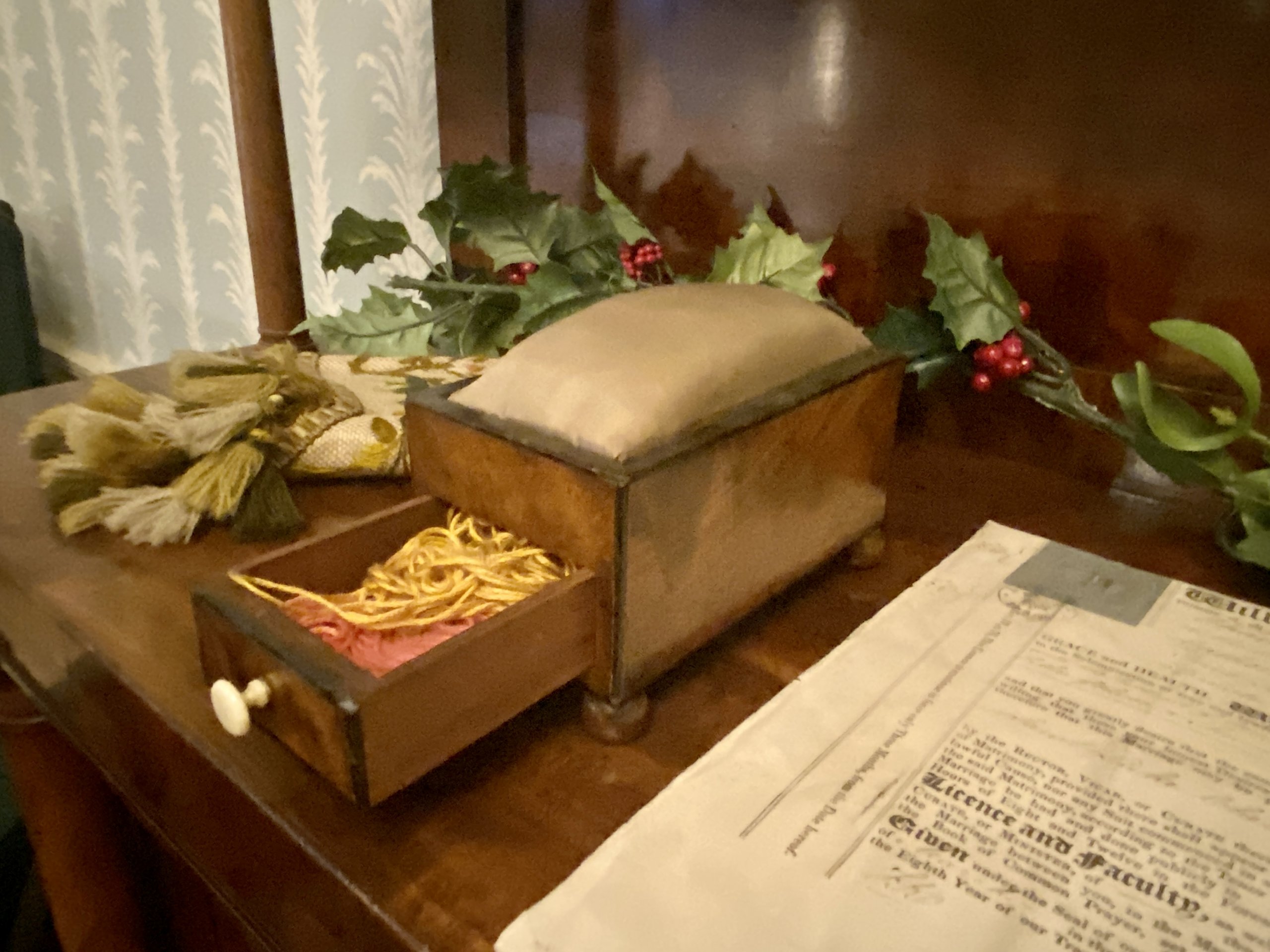 Basement
Don't rush on upstairs, or you will miss seeing the kitchen in the basement. The kitchen table has been set for a Christmas meal for two at one end.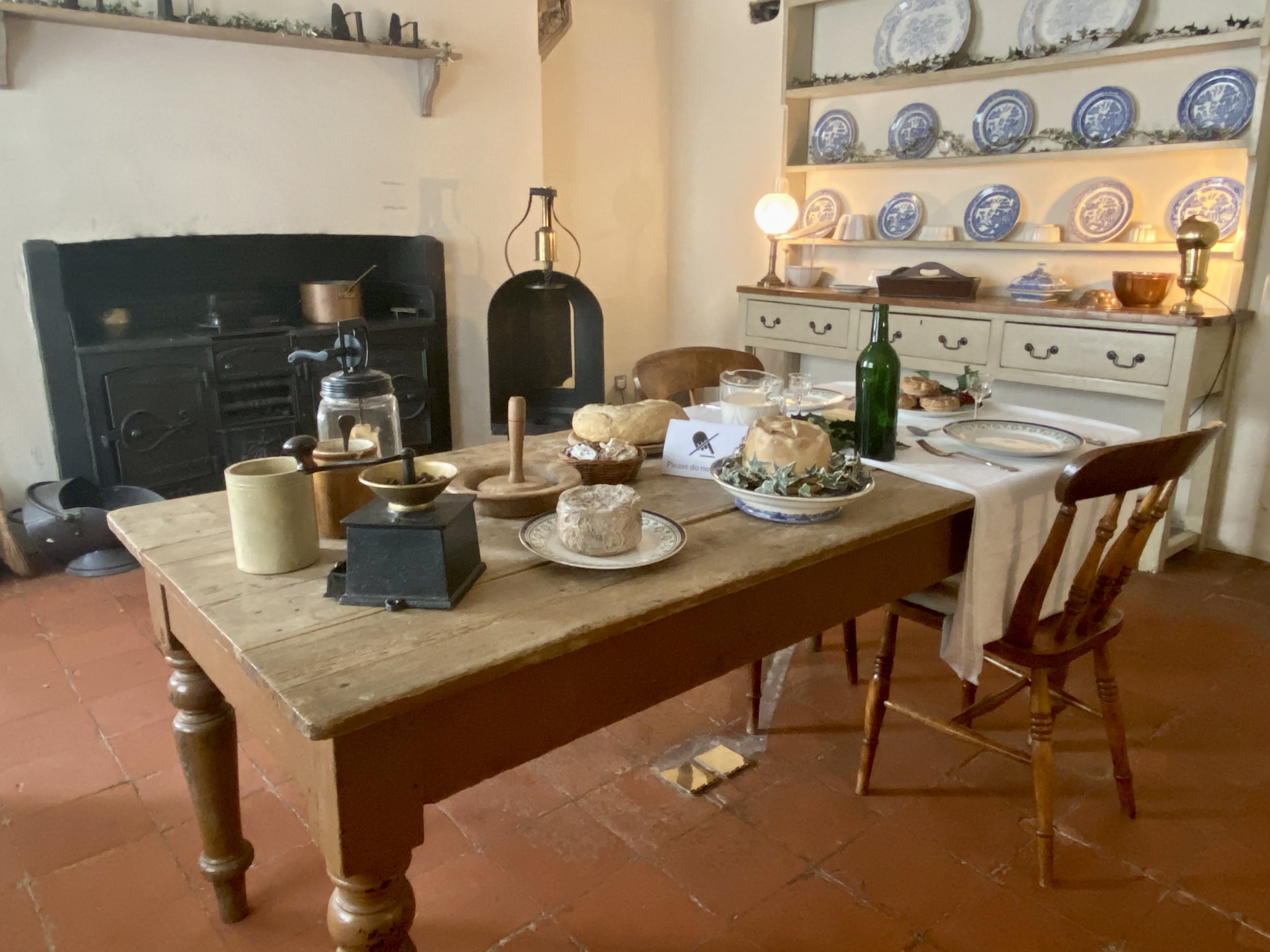 I can never resist seeing the resident (stuffed) hedgehog. But why is there a hedgehog in the kitchen? Well, some Victorian kitchens kept a spiky friend to eat insects, so he was the equivalent of pest control.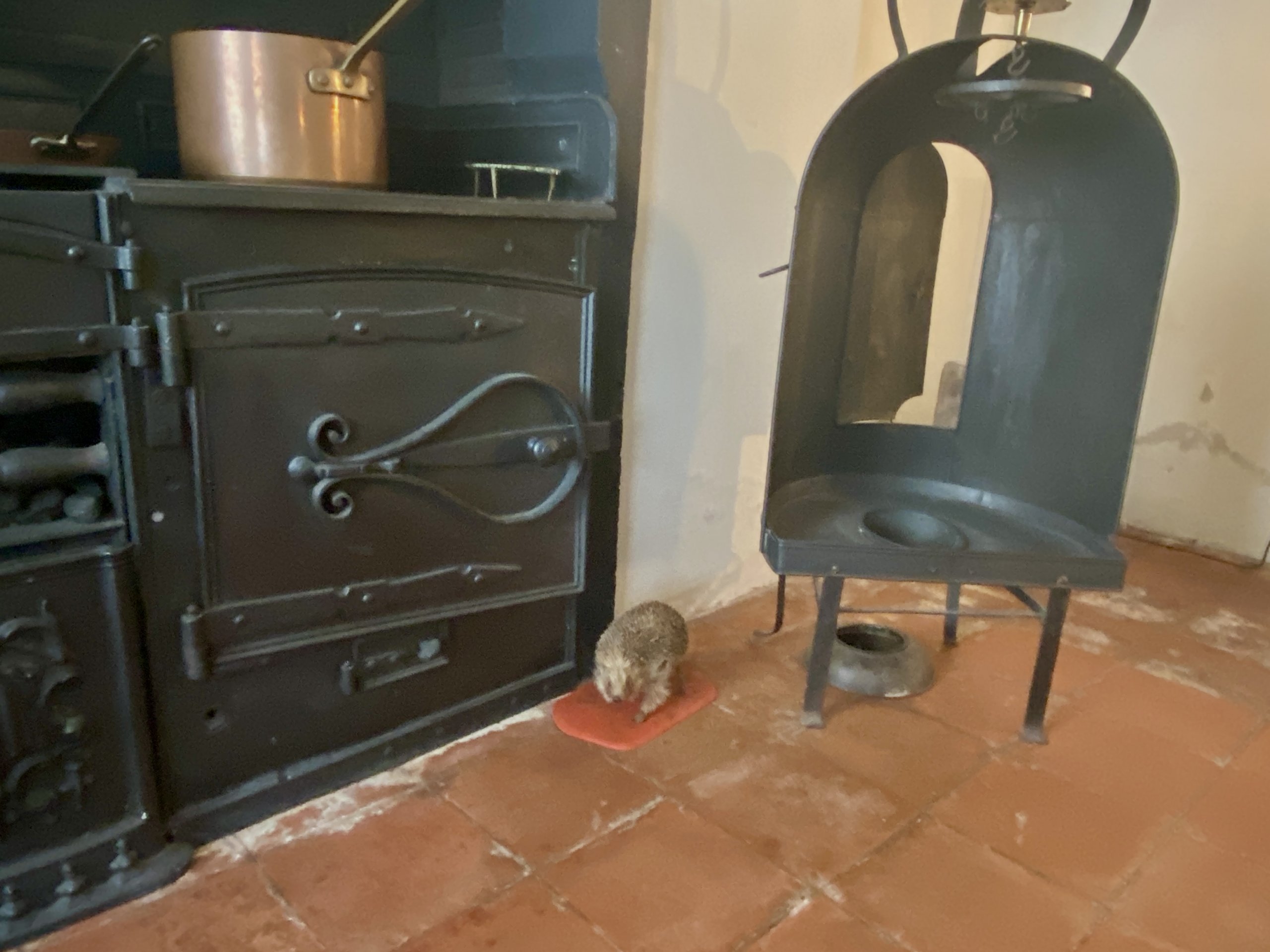 There's a Christmas pudding being made in the scullery and laundry being cleaned in the wash house. Do go inside the small washhouse as it triggers the audio so you can hear sounds and chatter.
Upstairs
I do like the gentle guidance of which way to go from these silhouette shadows. Follow the chap's advice and head upstairs.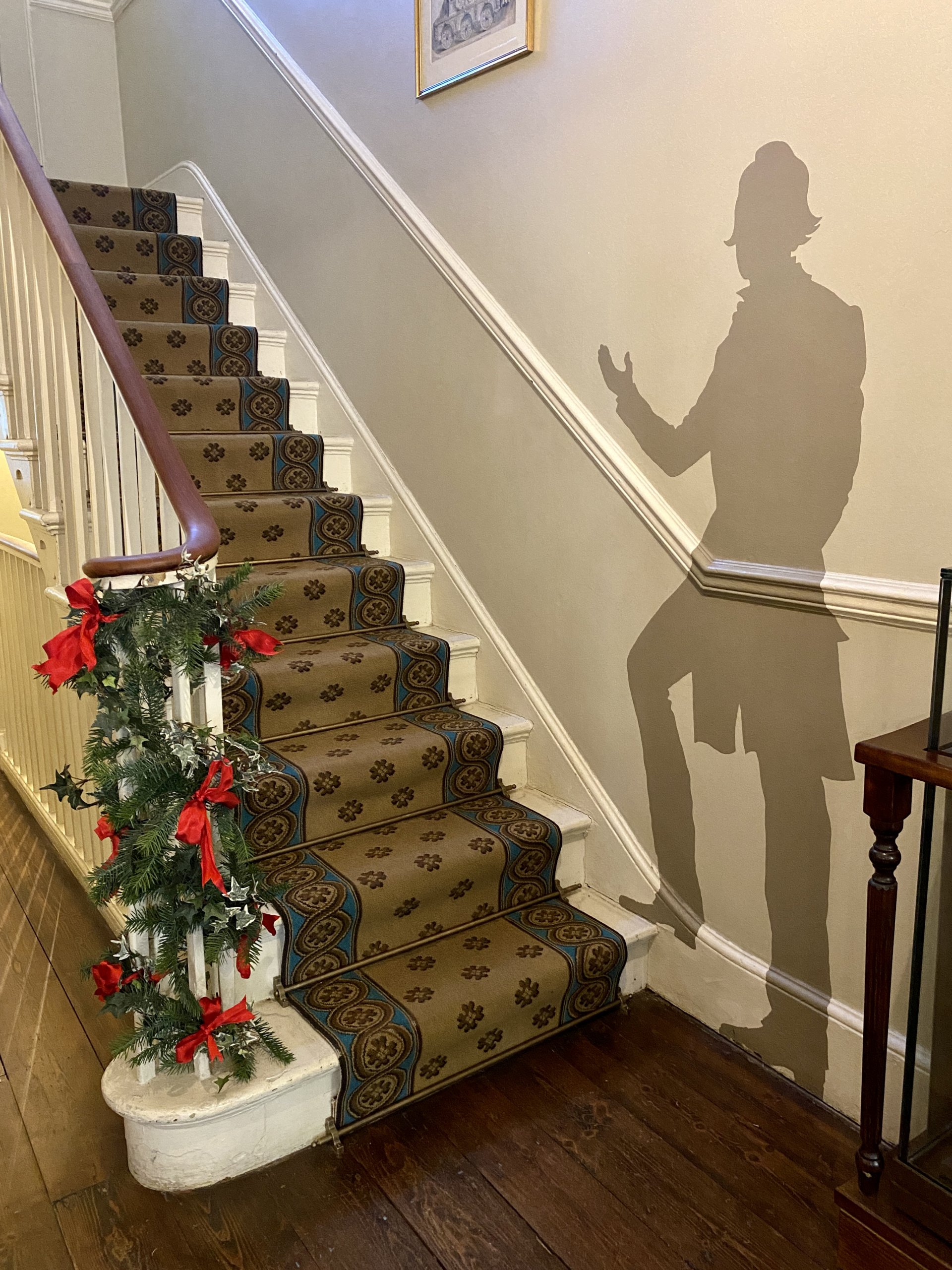 At the front of the house is the drawing room, which is where Dickens entertained friends and family. It is, therefore, where you can find the Christmas tree.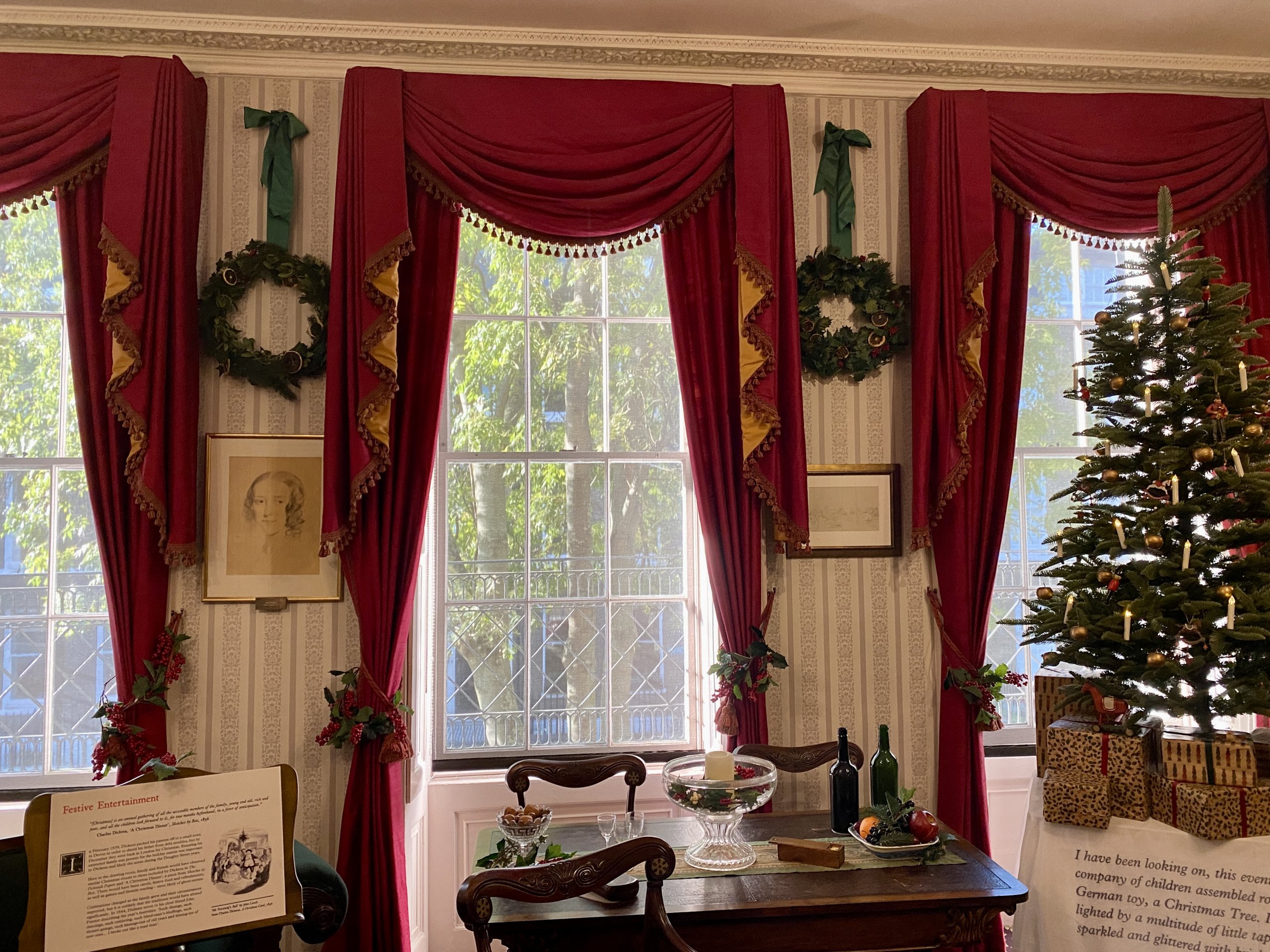 You can also see his traveling lecturn, which he took with him when he performed public readings. And there is this impressive bust of Charles Dickens in the window that was created by John Theodore Tussaud. He was the great-grandson of Madame Tussaud and the chief artist at his family's Museum of waxworks. It was made in the early 1900s in a new type of self-hardening clay.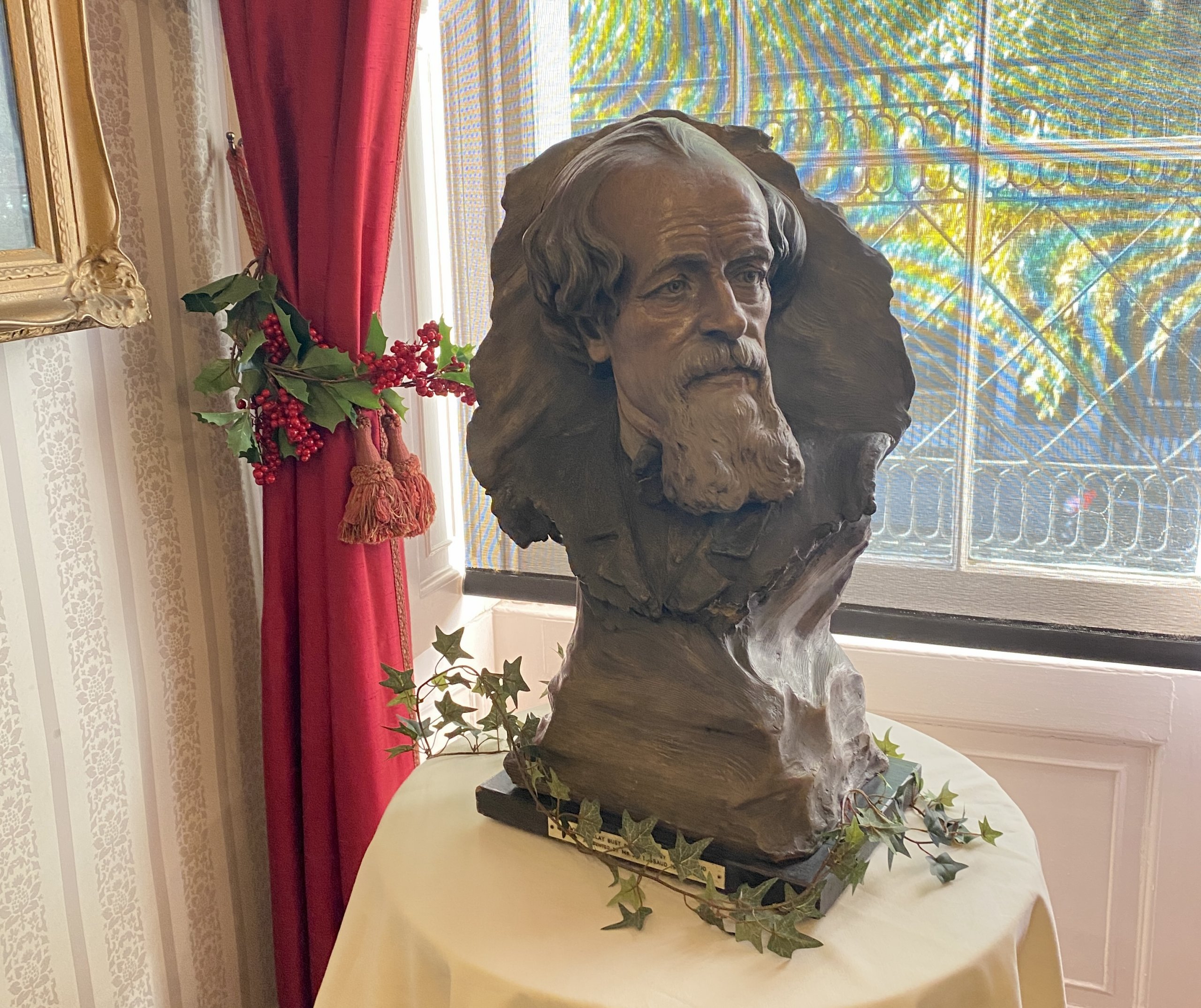 Through a connecting door, you can enter Charles Dickens's study. He used this desk and chair when he wrote many of his later works, including A Tale of Two Cities, Great Expectations, and Our Mutual Friend.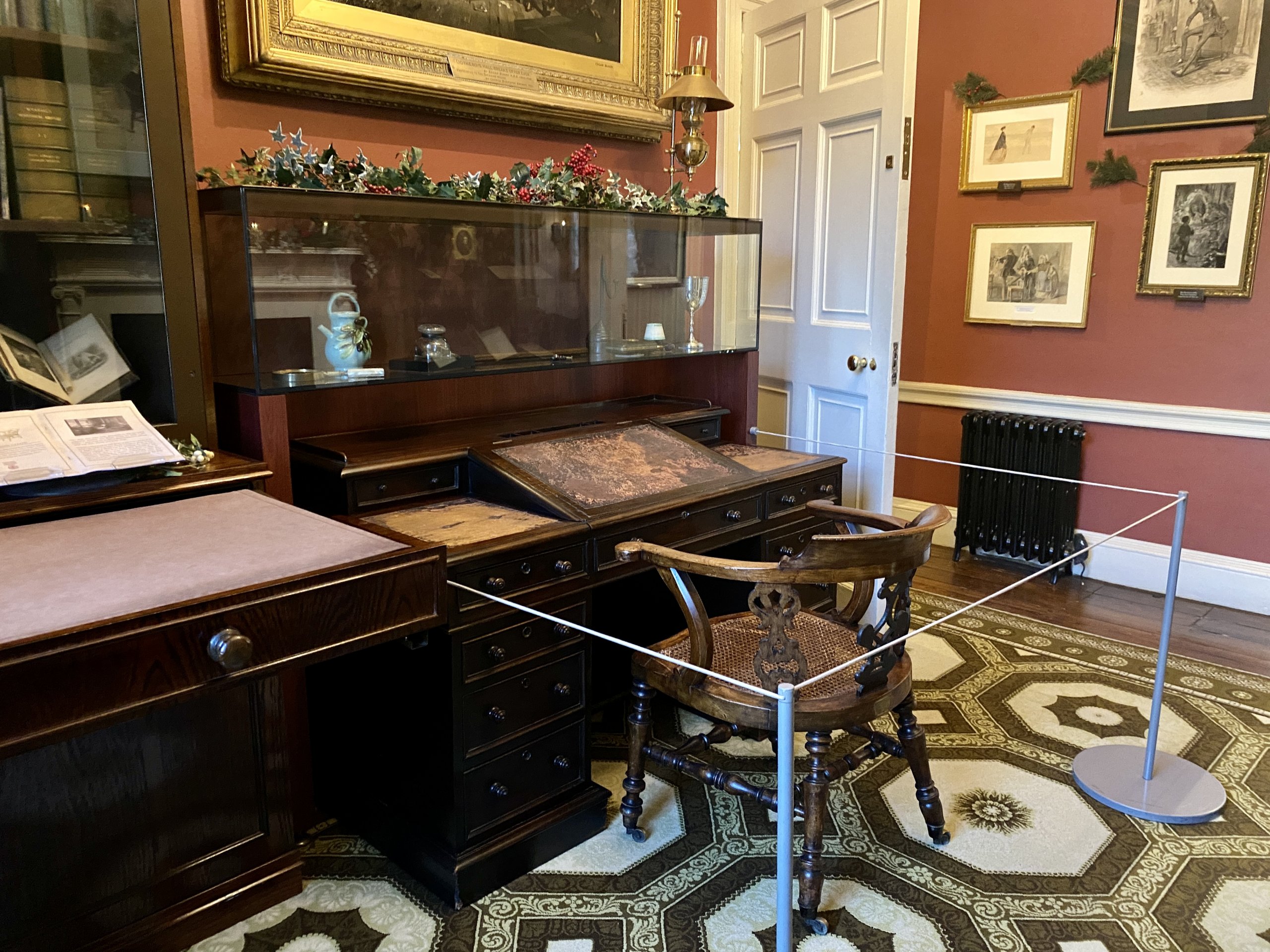 It's a relatively small room but of huge significance. From the window in the study, you look out over the back garden and see the back of Brownlow Mews. Mewes were notorious for overcrowded housing, and that type of urban issue inspired the writer.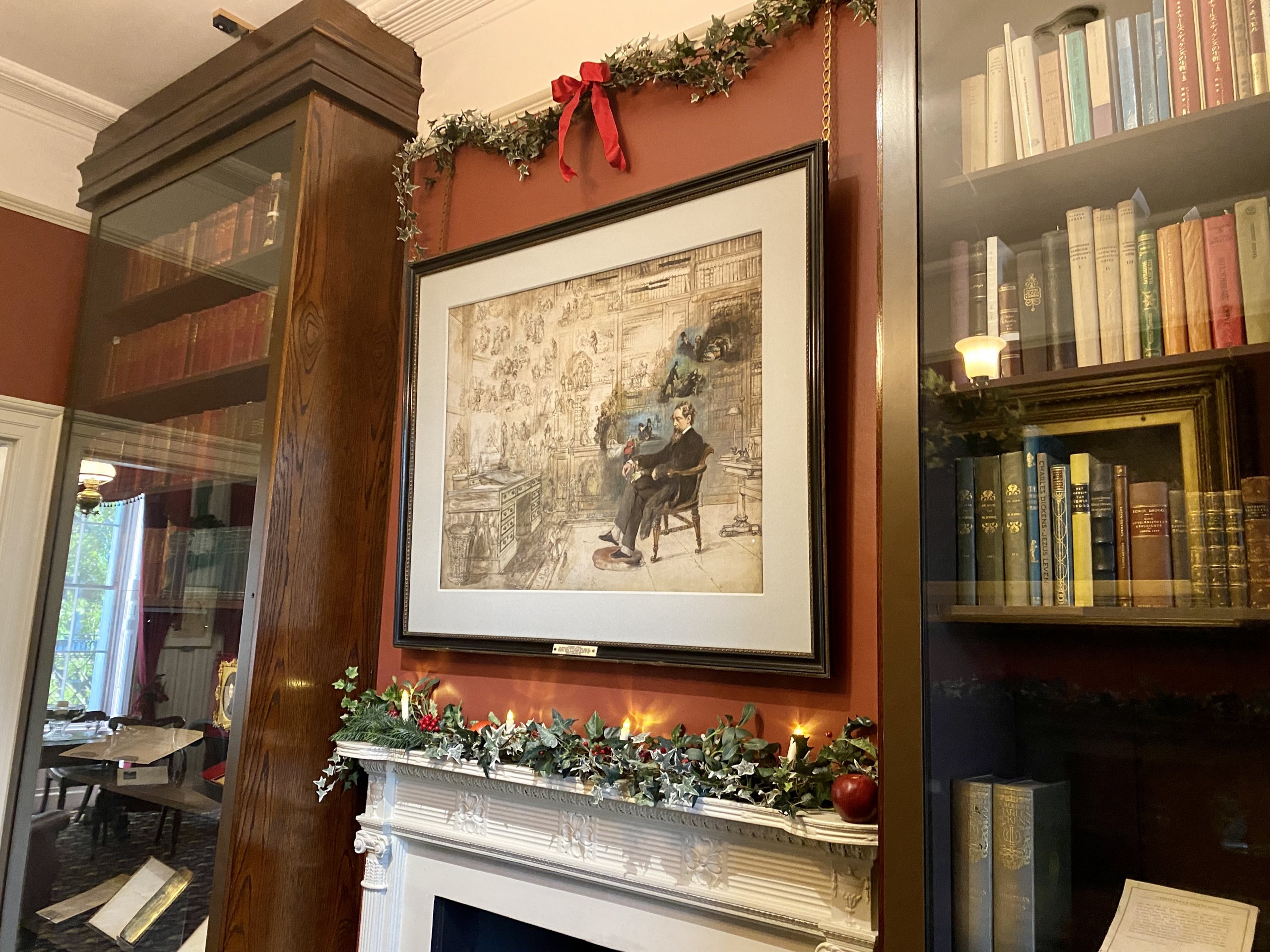 Up Again
Follow the kind invitation of the shadow to head up to the next floor. Do look at the artworks on the walls as there is The Rake's Progress by William Hogarth. Scenes such as this inspired the depictions of London and its inhabitants in Oliver Twist. Many contemporary reviewers drew comparisons between Dicken's writing and Cruikshank's illustrations for Oliver Twist and Hogarth's rich and detailed pictures of city life.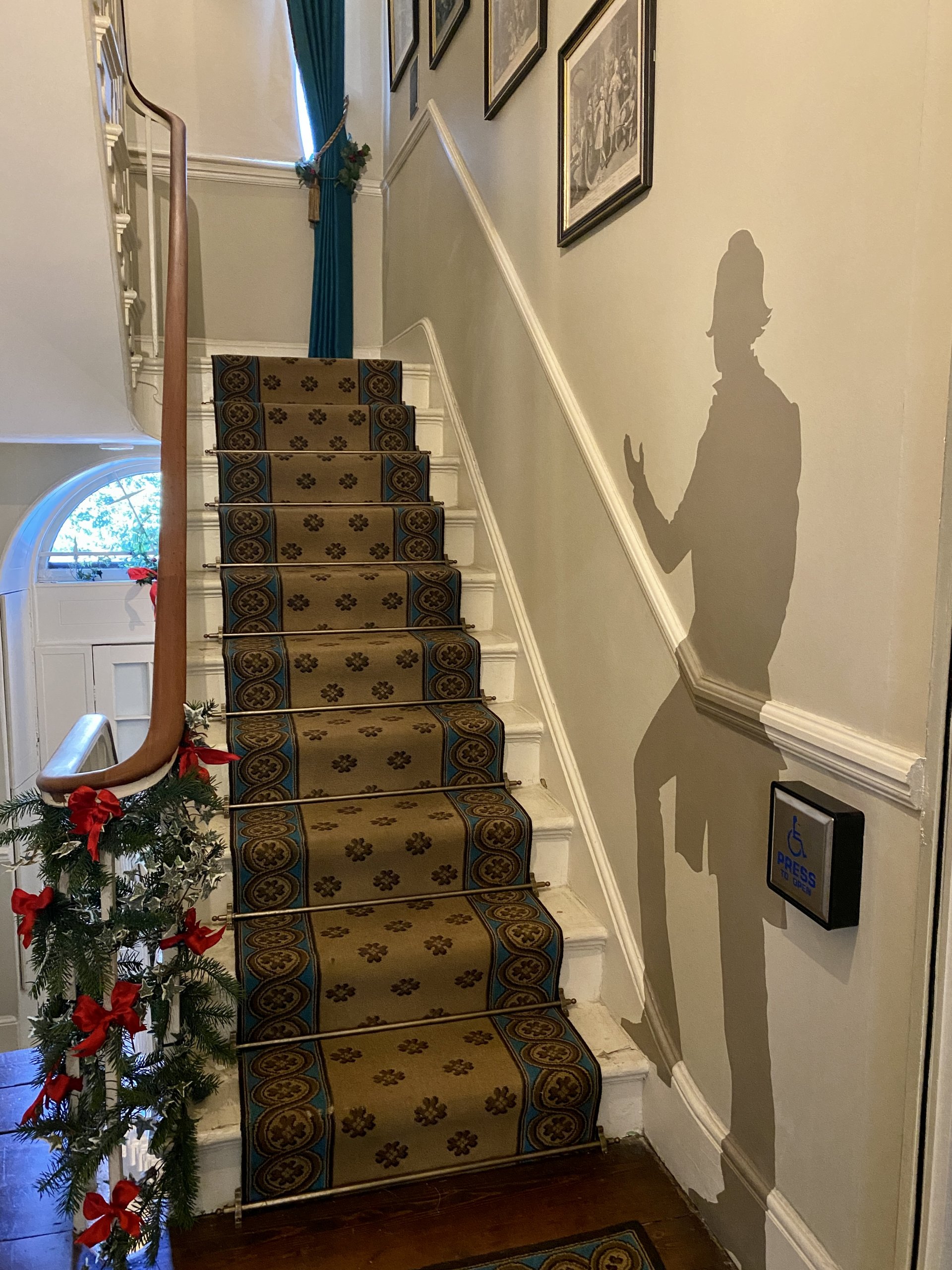 This is the bedroom level, and you can go inside Dickens's bedroom.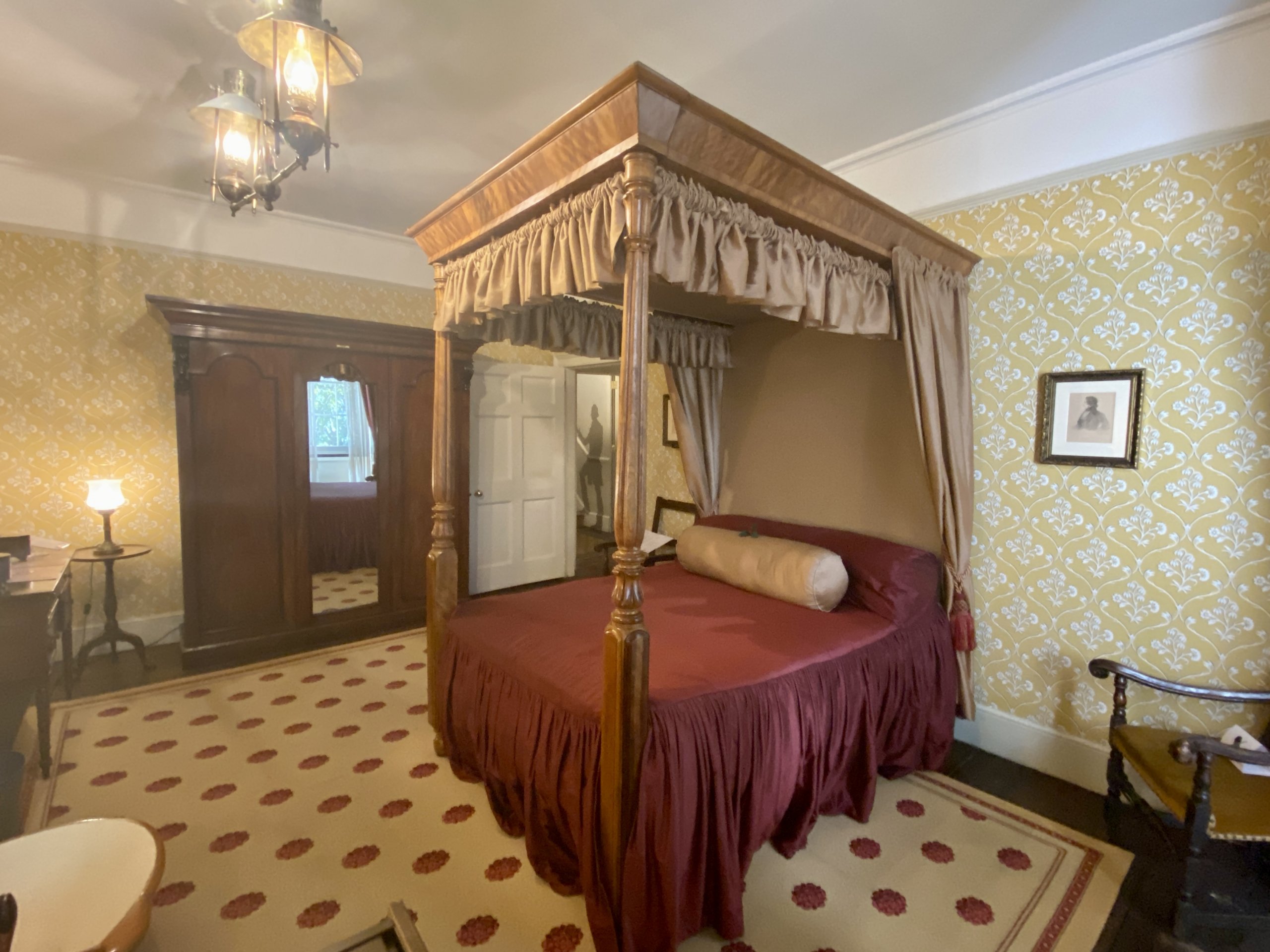 The festive decorations are much more minimal here.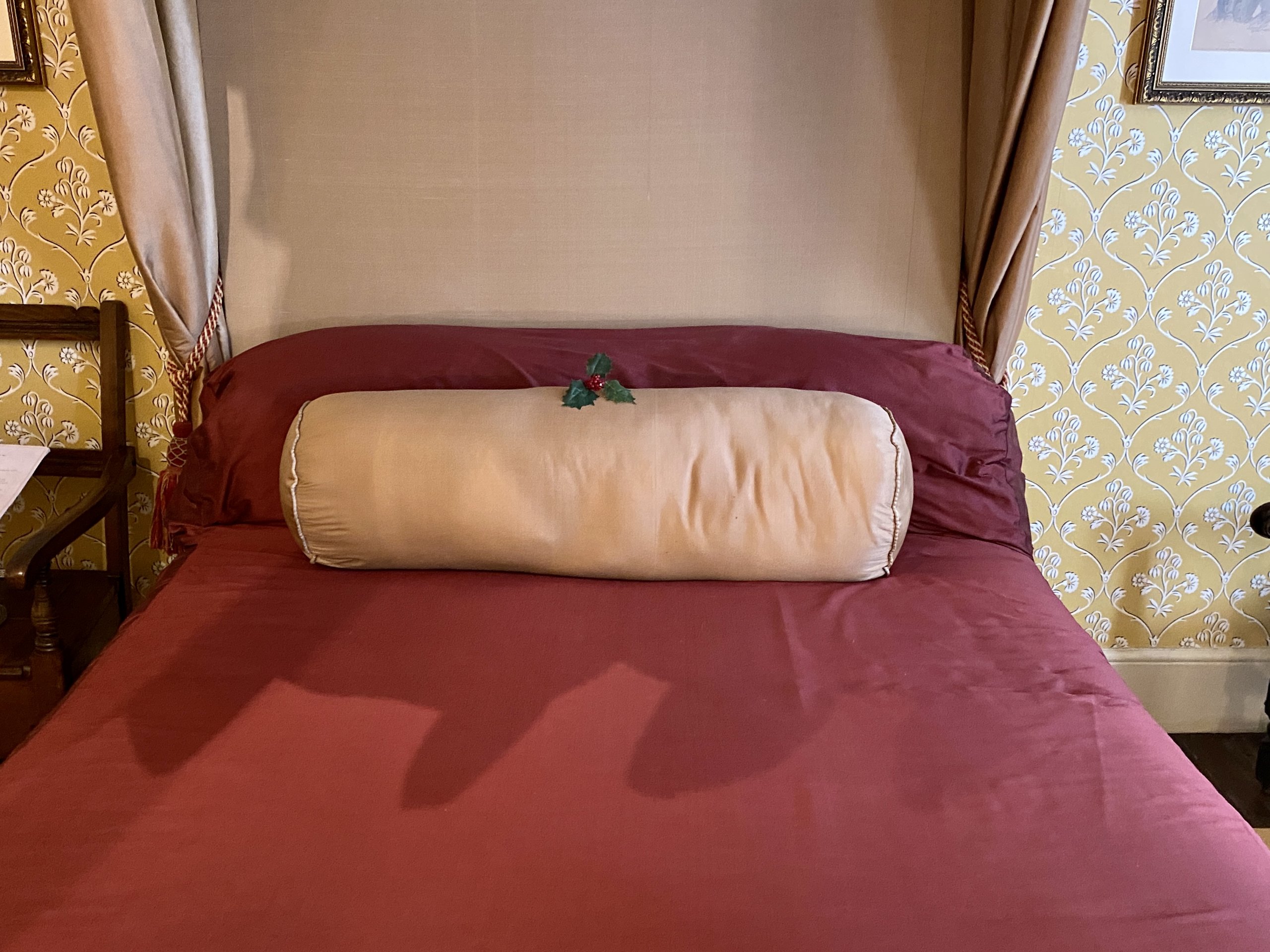 There is also Dickens's dressing room – a small room next to the bedroom for daily grooming and dressing. Here you can see Dickens's Court Suit that he wore to a royal reception at St James's Palace on 6 April 1870. It is thought to be Dickens's only surviving suit.
There is a smaller bedroom on this level that was used by Mary Hogarth, Charles's sister-in-law. Both he and his wife were devasted when she died before her 18th birthday. She had lived with the couple at no.48 Doughty Street for a year but died suddenly in 1837.
Mary's death left a deep and lasting impression on Charles, directly influencing Oliver Twist and his later works. The beautiful, wholesome character of Rose Maylie, who becomes a close ally of Oliver, is clearly based on Mary (as is Little Nell in The Old Curiosity Shop).
Attic
At the top of the house is the nursery – used for Charley Dickens, who was born on 6 January 1837.
I was impressed to see an attic window had been saved from a childhood home of Dickens's and put on display here (in the middle of the photo below). He had a happy childhood in Kent, but when the family's fortunes declined, they moved to London. This salvaged window is from a house on Bayham Street in Camden Town.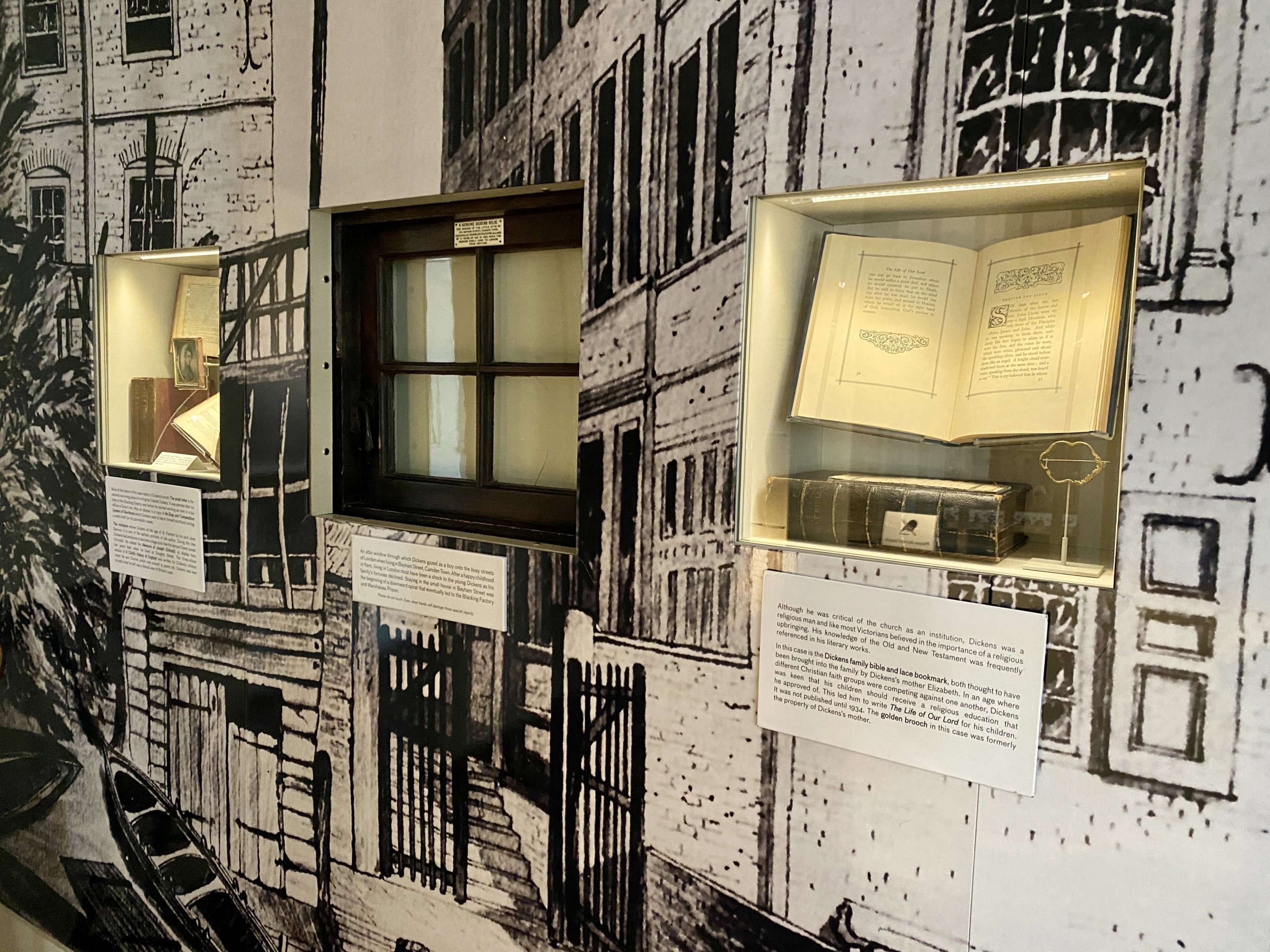 The family went on to worse circumstances as Charles Dickens's father was sent to a debtor's prison, and Charles had to go out to work at 12 years old. You can see a prison grille from the former Marshalsea Prison in Southwark here in the center of the room.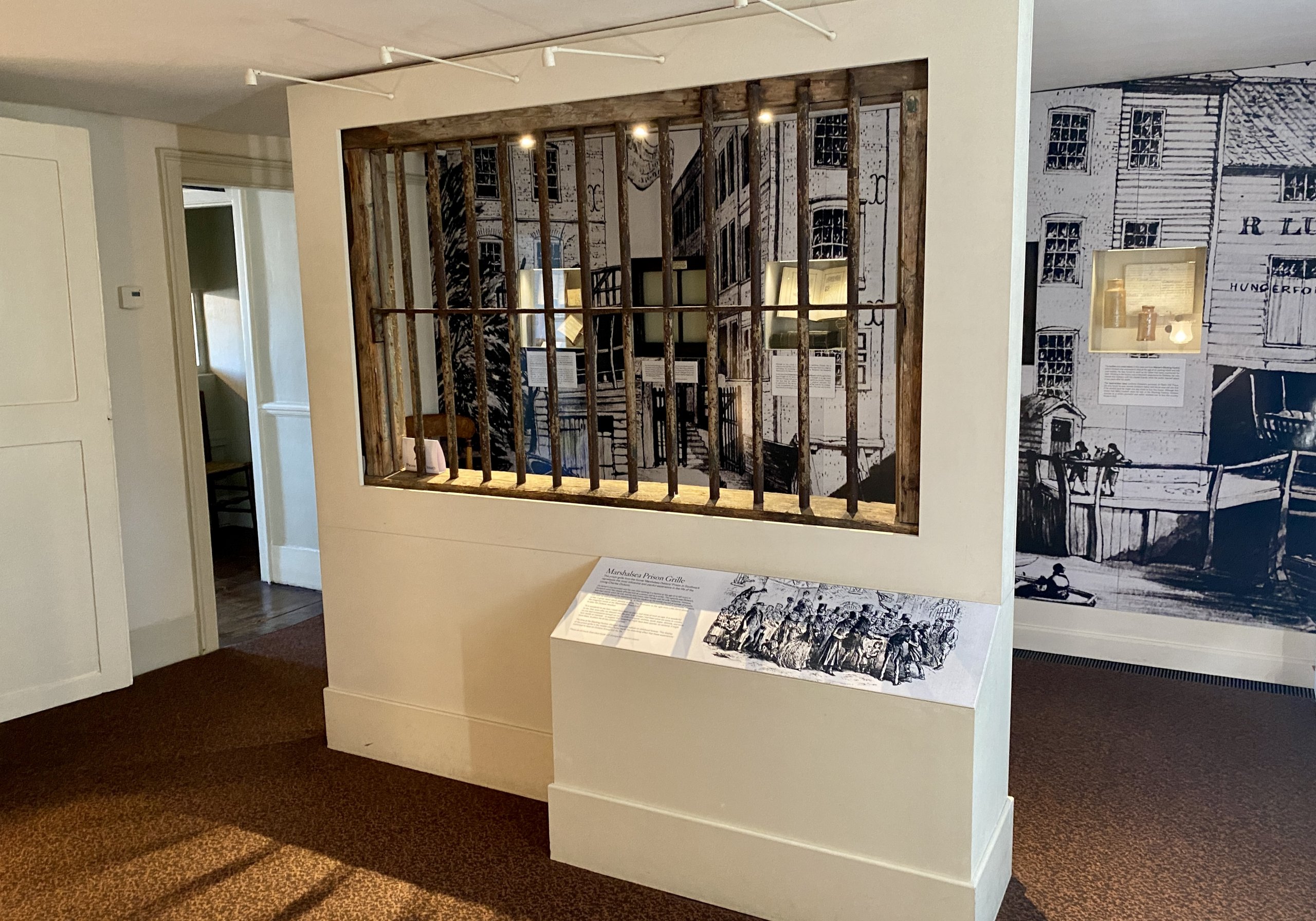 Do take time to look at the displays up here as I found a miniature of Dickens showing him at 18 years old. It was painted by his aunt Janet Barrow and is one of the earliest portraits of the author.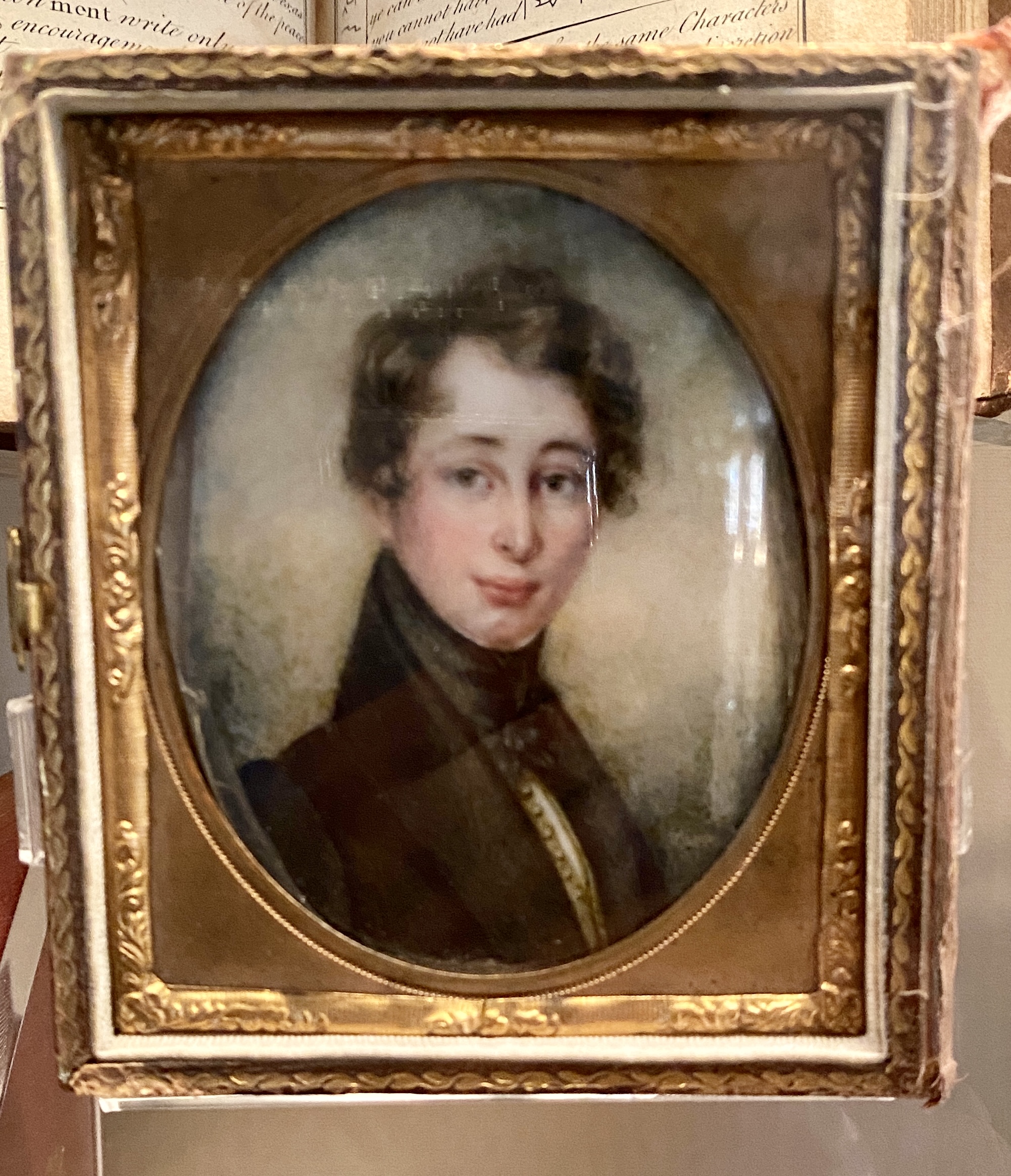 And before you head down the stairs, there's a fun games room on this level.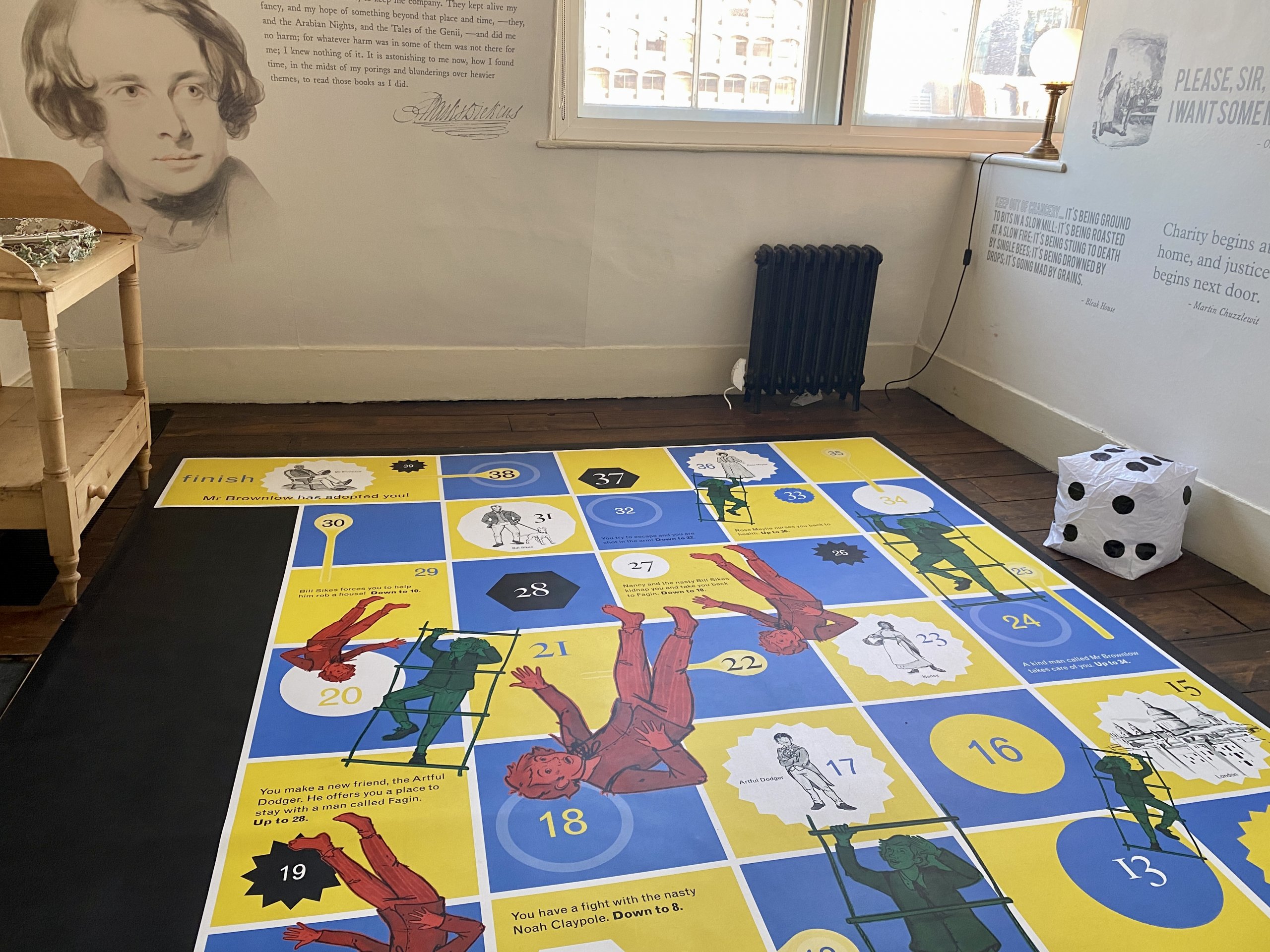 More! Oliver Twist, Dickens, and Stories of the City
The Museum's current special exhibition explores one of the best-loved stories of all time in the house in which it was written. More! Oliver Twist, Dickens, and Stories of the City explores the characters, events, places, and personal tales of triumph and tragedy that inspired and shaped the novel that made Charles Dickens a household name across the world.
Exhibits include a page from Dickens's original handwritten manuscript, unseen letters from Dickens, sketches and illustrations of Fagin on display for the first time, and the previously-unseen lockets exchanged by Dickens and his sister-in-law. (The exchange of this type of locket between a brother and sister was not unusual at the time.)
It also features work by artist Cold War Steve highlighting subjects that concerned Dickens and are still relevant today.
Special Events for Christmas 2021
Online event: A Christmas Carol – virtual performance by Dominic Gerrard
It doesn't matter where you are in the world as everyone can join this event. You are invited into the author's home for a unique theatrical production of his best-loved work, A Christmas Carol. Filmed by candlelight, the production follows Ebenezer Scrooge through the very rooms in which Charles Dickens lived and wrote. Directed by Tim Carroll and performed by actor Dominic Gerrard, this magical, haunting adaptation progresses through Dickens's home as Scrooge travels through the night with his ghostly visitors towards redemption.
The performance, featuring puppetry from Mandarava and a specially created soundscape, with Alexis Bennett on violin, is a beloved annual highlight of Christmas at the Museum. Miriam Margolyes said, "What a gorgeous Carol. Anyone going to see this is lucky indeed."
Screening dates (via Zoom): 8 December at 7 pm; 19 December at 3 pm; 22 December at 10 am.
Tickets: £15 per device.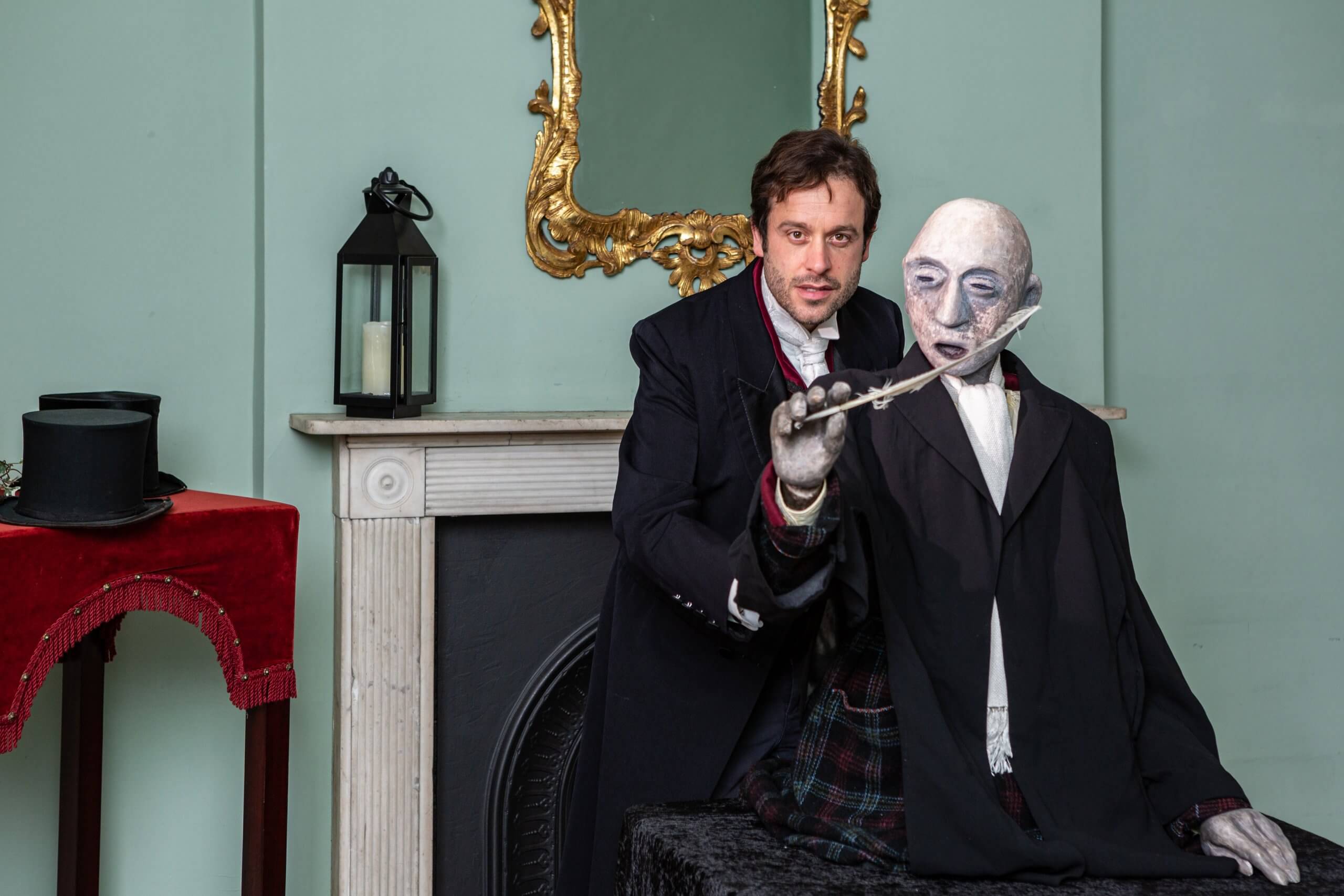 Online event: The Chimes – virtual performance by Dominic Gerrard
The Museum is sharing Dominic Gerrard's solo performance of one of Dickens's lesser-known festive
tales: The Chimes. Encounter Trotty Veck, a good-hearted but discouraged messenger who has lost
faith in humanity. Join him on a transformative journey through a world teeming with goblin-infested bells and true Dickensian adventure as he learns the lessons of New Year's day, beneath the soaring melody of the chimes.
Screening date (via Zoom): 31 December at 5 pm. Tickets: £15 per device.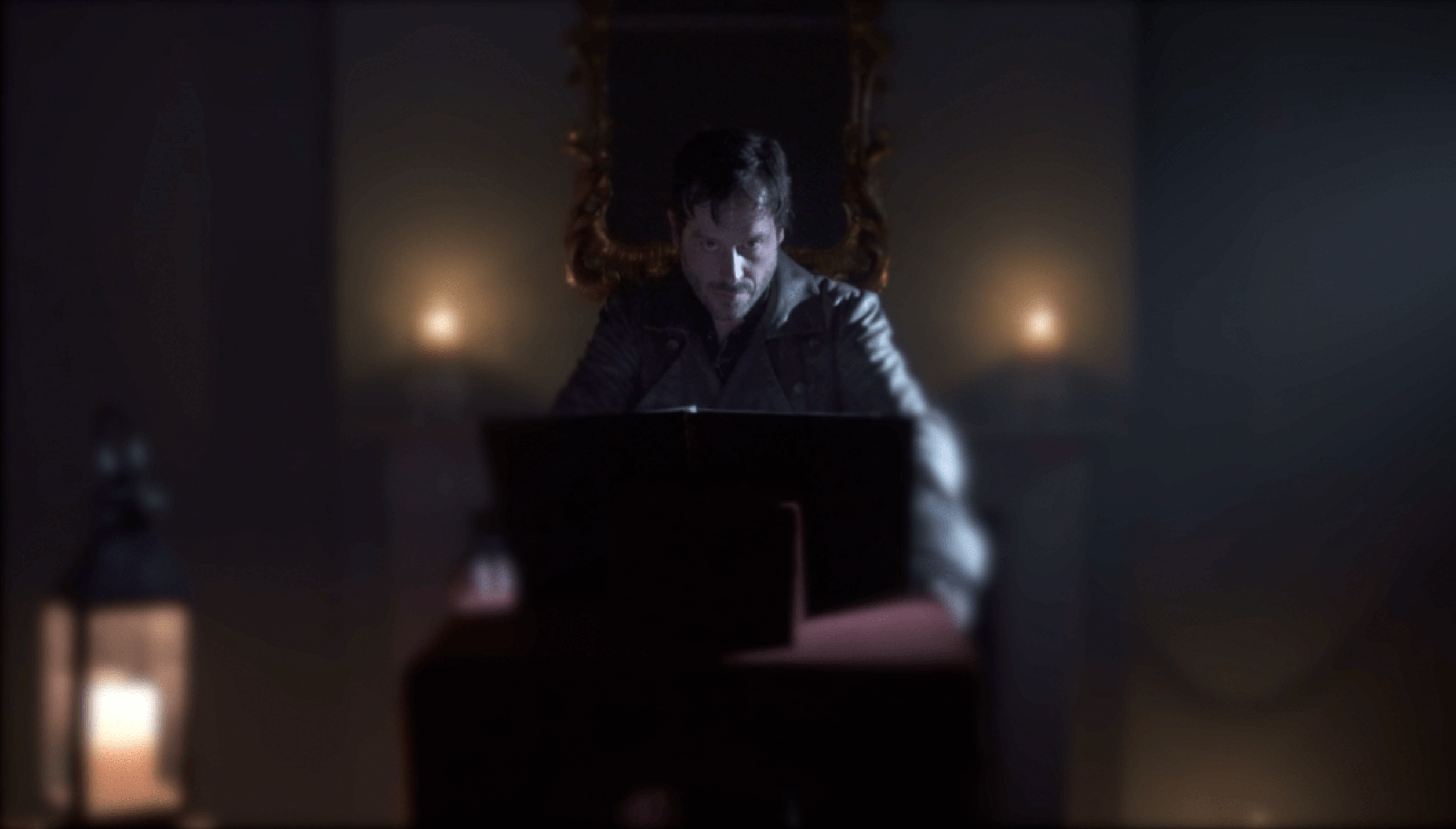 In-Museum event: The Christmas Housemaid's Tour
She's a busy woman, but as long as you don't get in her way, you can enjoy a tour of Charles Dickens's London home, led by his own housemaid. Experience the house as it would have been in the 1830s: a busy, bustling, and exciting family home, as the Dickenses get ready to celebrate Christmas. Hear their stories (and a little bit of gossip on the way).
Dates: 5 December & 21 December from 10am. Tickets: £18 adult; £12 concession; £10 under 16.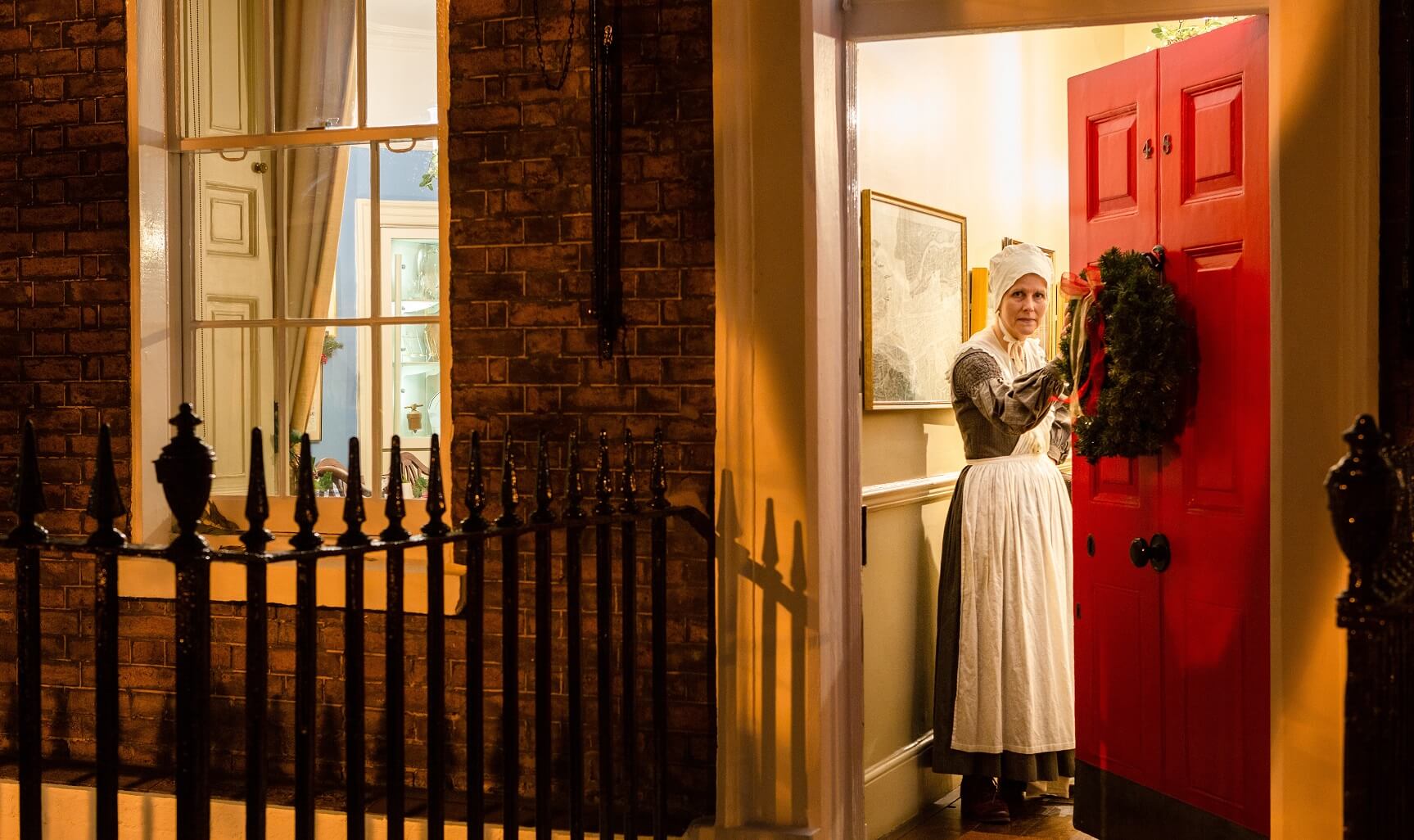 In-Museum Event: Finding Father Christmas
Finding Father Christmas is a wonderful family event that allows your little ones to meet Father Christmas himself. Follow the Family Trail, full of clues and puzzles which will help you discover Santa's Grotto. On the way, you'll learn loads about how the Victorians celebrated Christmas and what inspired Charles Dickens to write A Christmas Carol.
This festive event is suitable for all ages, especially the little ones who want to meet Father Christmas.
Date: 18 December. Times: Entry slots every 15 minutes between 11 am and 3 pm.
Tickets: £10 adult; £8 Concessions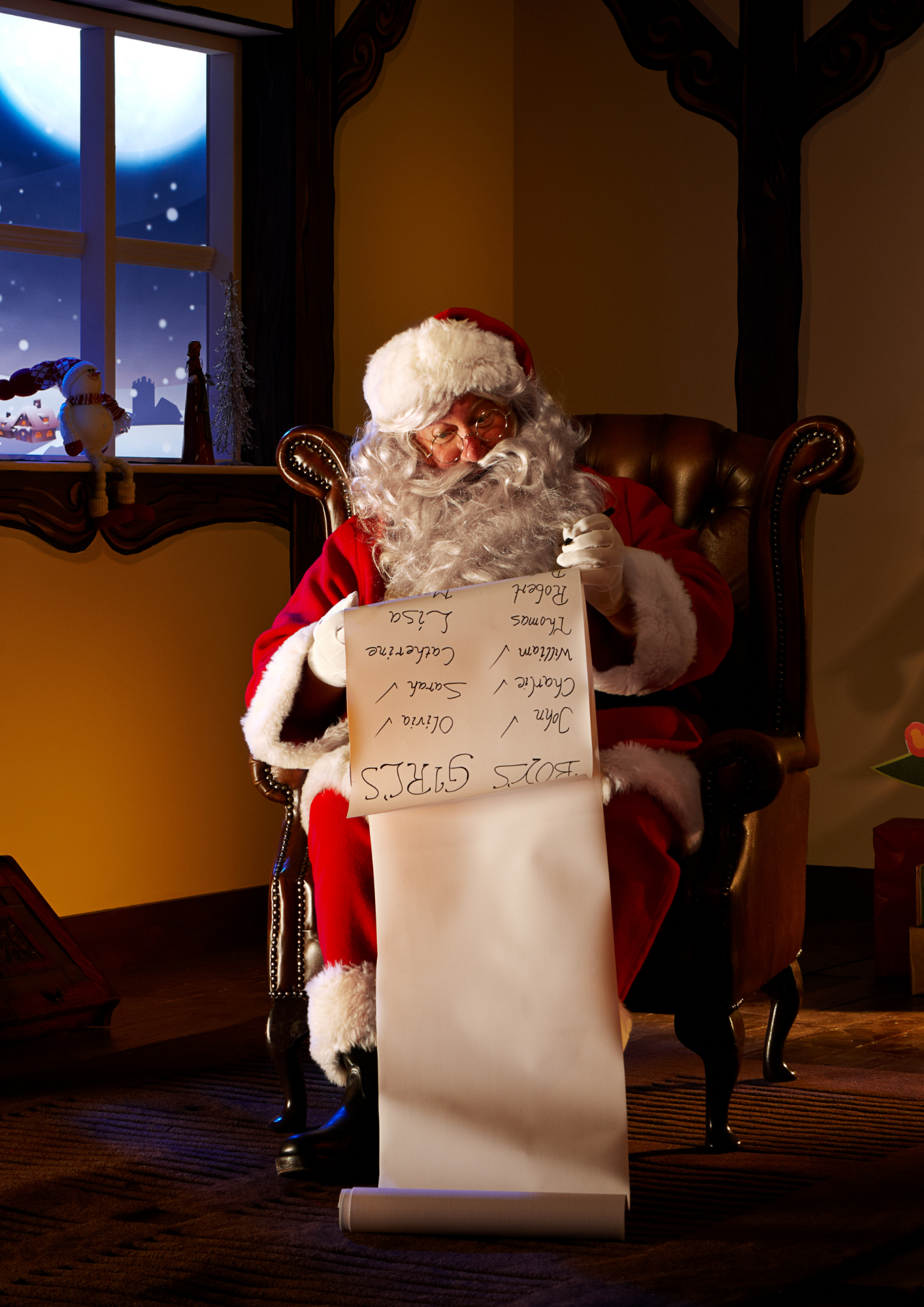 In Museum Event: The Christmas Ghost Stories, by James Swanton
Come and experience three of Dickens' Christmas ghost stories: not only A Christmas Carol, but The Chimes and The Haunted Man. Their words unlock a world teeming with goblin-infested bells, dark and shadowy doubles, and Ghosts of Christmases Past, Present, and Yet To Come.
The enchanting, exuberant, and ultimately redemptive ghost stories are performed by James Swanton, who took Dickens to the West End's Trafalgar Studios in the acclaimed Sikes & Nancy ('fantastical … remarkable … startling and enthralling' – Simon Callow) and has also performed all five of the Christmas Books at the Charles Dickens Museum ('extraordinary … superb … it couldn't have been more vivid!' – Miriam Margolyes).
A Christmas Carol: 15, 17, 22 and 23 December at 6pm; 16, 19 December at 4pm.
The Chimes: 15, 22, 23 December at 4 pm; 19 December at 6 pm.
The Haunted Man: 16 December at 6 pm; 17 December at 4 pm; 23 December at 12 noon.
Tickets: £22 (includes museum admission)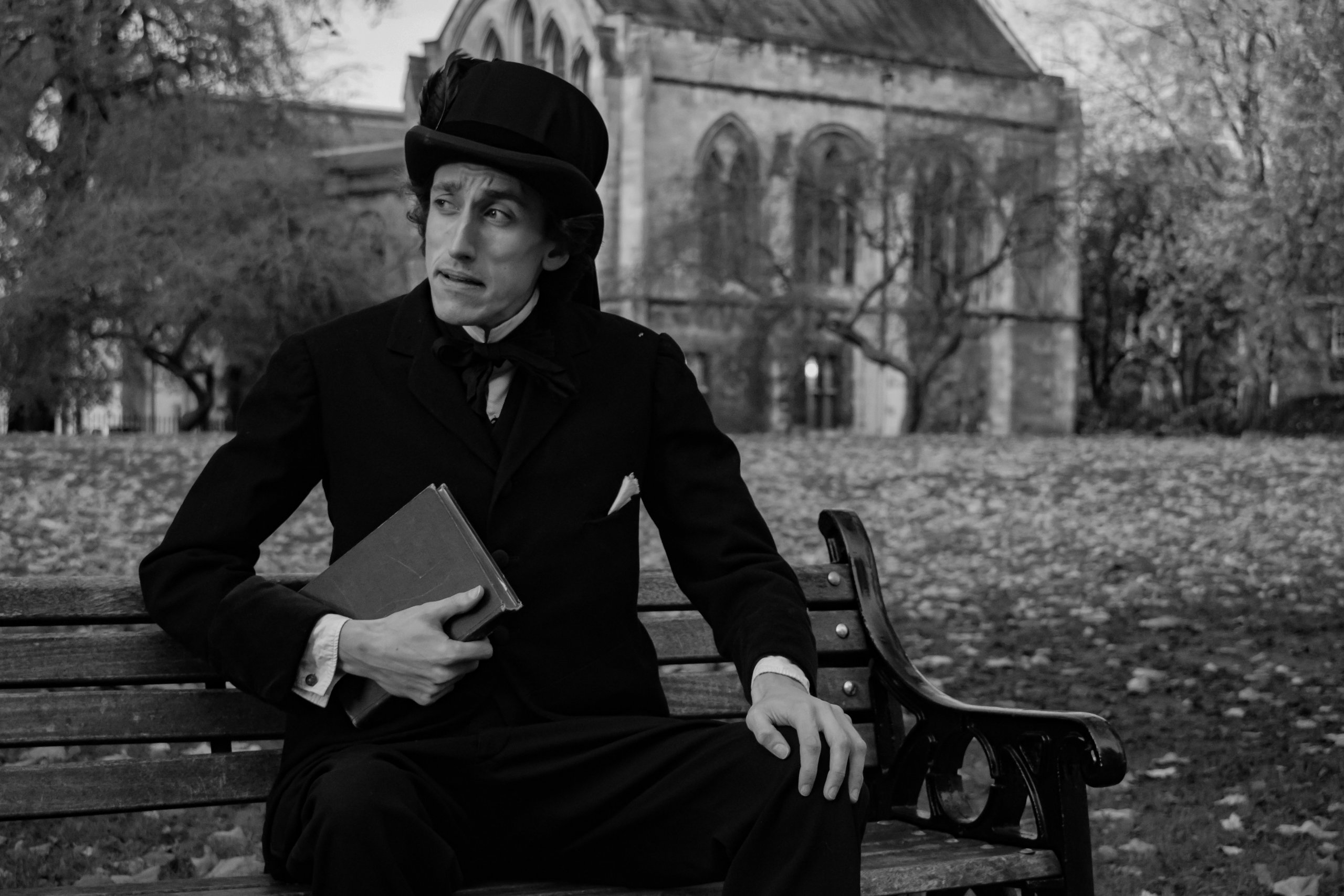 Online Event: Charles Dickens & Christmas with Lucinda Dickens Hawksley
Join Lucinda Dickens Hawksley to discover what Christmas was really like in the 19th century. Find out how Charles Dickens and his own family celebrated Christmas and how Dickens's stories helped to influence the way we celebrate today.
Drawing on the research for her book, 'Dickens and Christmas,' Lucinda will talk about the ways in which the festive season changed during her great-great-great grandfather's lifetime – from 1812 to 1870 – and how his Christmas writing captured the public imagination and sparked a renewed fervor for Christmas.
Date: 15 December at 7.30 pm (via Zoom). Tickets: £8 per device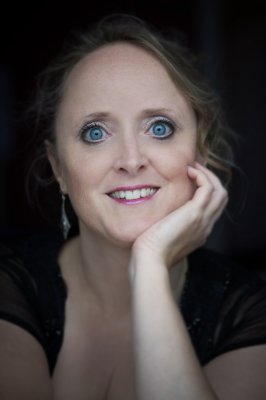 Visitor Information
Address: The Charles Dickens Museum, 48 Doughty Street, London WC1N 2LX
Opening Hours: 10 am to 5 pm, Wednesday to Sunday.
Museum Admission: Adult: £9.50; Concessions (Students, Seniors, and Disabled Visitors): £7.50; Child 6-16 years: £4.50; Children under 6 years: Free
Official Website: www.dickensmuseum.com
48 Doughty Street is dressed for a Dickensian Christmas from Wednesday, 17 November 2021.