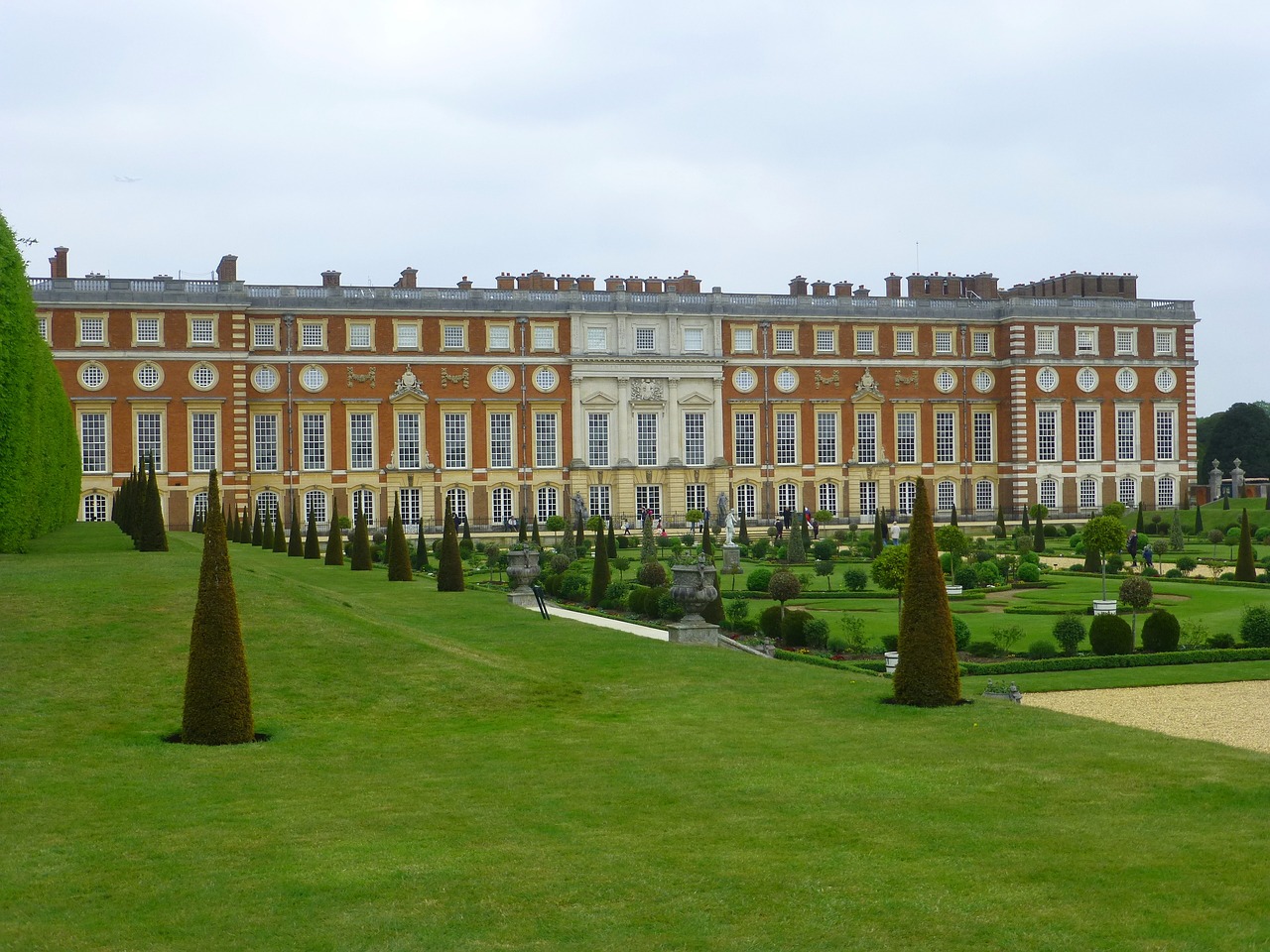 A Grade I listed Royal Palace in the heart of Richmond, Hampton Court Palace, was the primary residence of King Henry VIII.  Much of the original Tudor structure was subsequently demolished and rebuilt in a new style by King William II, but some of the castle's previous residents remained.  Several ghostly figures have been reported within the walls of Hampton Court Palace, from strange sounds in the rooms to full spectral figures that stalk the halls.  Follow us—if you dare—as we explore some of these supernatural presences that continue to haunt Hampton Court Palace.
The Grey Lady
In life, the "Grey Lady" is believed to have been Sybil Penn, a servant to four Tudor monarchs, including Henry, Queen Mary I, Queen Elizabeth I, and King Edward VI.  She was a wet nurse to the last three and cared for Elizabeth when the then-princess caught smallpox in 1562.  While Elizabeth recovered, Sybil herself caught the pox and died from it.  The story is that her ghost did not begin to appear until after her tomb was disturbed in 1829 by renovations to the chapel.
Sinister Spinning Wheel
Potentially linked to Sybil Penn, reports also began in the 19th Century of an eerie spinning wheel sound within the palace walls.  The Ponsonby family, who were living in the palace at the time, began to complain about the noise that seemed to be coming from behind the wall of their apartment.  When the wall was removed, there sat a spinning wheel that had been abandoned by time—but not by Sybil.  There is no definitive proof it once belonged to her, but the timeliness of the events has led many to speculate that she was behind the spinning noise.
"Skeletor"
Another Hampton Court Palace ghost or just a prank?  This ghost, dubbed "Skeletor" for his skeletal appearance, was spotted on three consecutive nights in 2003.  CCTV footage captured the robbed figure forcefully blowing open some fire doors in the palace.  Once the second night, the "ghost" pulled the doors back after opening them.  In addition to the palace's security staff, a visitor left a note in the guest book that they had seen a specter in approximately the same area.  There haven't been any reported sightings since, and no one has come forward to admit to the prank, so it remains a mystery whether "Skeletor" is yet another supernatural inhabitant or just someone having a bit of fun.
Jane Seymour
The third wife of King Henry VIII, Jane Seymour, was the only one of his six wives to produce a male heir in the person of King Edward VI.  However, the very act of childbirth took her life when she died twelve days afterward from post-birth complications (believed to have been puerperal fever).  She supposedly never left the palace walls and is said to be seen stalking the palace hallways with a single lit candle.  She was first spotted on Edward's first birthday, carrying her sole candle up the Silverstick Stairs to the room where she gave birth and passed away.
Catherine Howard
Catherine Howard, Henry's fifth wife, was reportedly the exact opposite personality of Jane—a trait that is reflected even in death.  Catherine led a wild life and was ultimately beheaded by Henry for treason as she allegedly had been carrying on affairs behind his back.  When she was arrested, it's said she broke free from her guards and ran screaming down one of the palace's galleries, trying to reach Henry to plead with him before she was recaptured and hauled away to her doom.  Her ghost has been spotted repeating this failed journey in what is now known as the "Haunted Gallery."  Visitors still claim to hear, see, and even smell strange things as they pass through the Haunted Gallery.