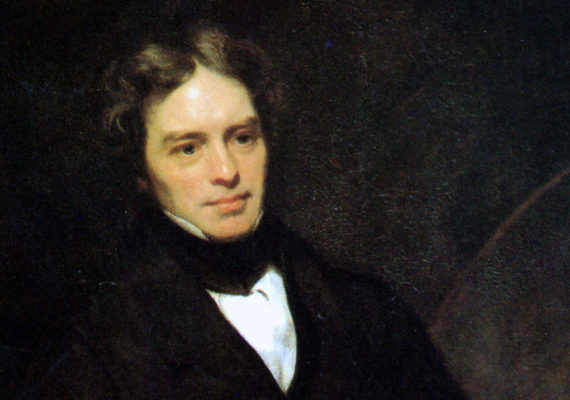 Michael Faraday is one of those great scientists whose discoveries really changed the world.  Focused on electromagnetism and electrochemistry, Faraday changed what we know about electricity.  His discoveries also led to several inventions including electrolysis, the Faraday cage to block electromagnetic fields, and the electric motor.  It's certainly fair to say that Faraday had an impact on life as we know it and there's a good bit of London where you can experience his life and work first-hand.  As we explore the life of this Great Londoner, we'll also look at places in London that he touched.
When Michael Faraday was born in Newington Butts in 1791, the area wasn't quite in London yet but was actually part of Surrey.  Faraday was not born wealthy and didn't have any formal education growing up, leading him to teach himself.  He then became apprenticed to a bookbinder and remained in this position until 1811.  As a twenty-year-old man in 1812, Faraday attended four lectures by Humphry Davy, an eminent chemist, and member of the Royal Institution and Royal Society.  Faraday ended up sending a book of the lecture notes he took to Davy and was appointed as a chemistry assistant at the Royal Institution.
He went on a tour with Davy and his wife in 1815 that covered France, Italy, Switzerland, and Belgium, returning to the Royal Institution to continue assisting other scientists with their experiments.  He also began his own work in electricity and chemistry, inventing a device to produce "electromagnetic rotation," ultimately producing the first electromagnetic motor.  Unfortunately, Faraday had built upon his mentor's work and not given Davy the appropriate credit, so the two had a falling out, and Faraday was reassigned to other tasks.  Eventually, however, Faraday took over as director of the laboratory after Davy's health declined in 1825.
His scientific discoveries took off after this, during his time as lab director he discovered benzene, magnetic induction, and established the First and Second Laws of Electrolysis.  By 1855, he like many others in London was concerned with the terrible stench produced by the River Thames.  He conducted several experiments on the pollution levels in the river and wrote a letter on his findings to The Times.  Unfortunately, his work in this regard was ignored by Parliament and panned in political comics in Punch magazine.  Three years later his words would prove prophetic as a particularly hot summer resulted in the Great Stink and an outbreak of cholera that finally forced authorities to take the Thames pollution seriously.  In 1851, Faraday also helped with the planning and judging of exhibits for the Great Exhibition.  He also introduced a new lecture series to the Royal Institution in London.
By the time Michael Faraday died in 1867, he had not only changed science but also changed London.  From the ultimate cleaning of the Thames to electromagnetic discoveries that enabled electrical generators, cell phones, electric cars, tablets, and more.  Thousands of applications of Faraday's work can be found on the streets of London daily.  Several monuments and memorials to Faraday can also be found throughout the city as well as buildings that show off his legacy.  One of these is the Savoy theater, which was the first building in London lit by electricity in 1881 based off Faraday's discoveries fifty years prior.  A statue of Faraday stands outside the Institute of Engineering and Technology near Victoria Embankment.  Lastly, not too far away from his birthplace, the Michael Faraday Memorial in Southwark, a Brutalist structure constructed in 1959 to hold a quite appropriate electrical substation for the London Underground.
As you find yourself in London, be sure to take the Michael Faraday Walk to see all the places that were important to his life and continued legacy.