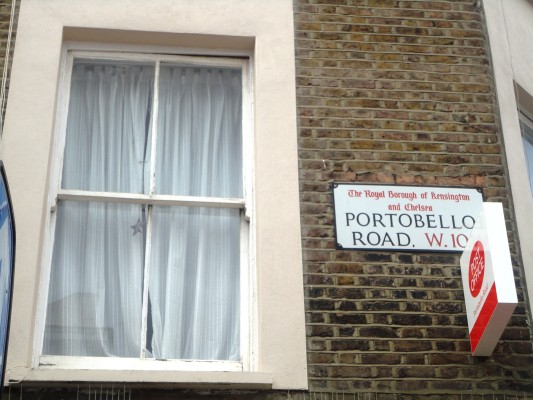 I have been to the United Kingdom several times and I always look forward to going back whenever I can. However, only last year did I have the chance of going to Portobello Road Market and it was an amazing experience. The following lines are about that experience and they reflect how a foreigner feels walking through one of liveliest markets in London. I should add that there is a Portuguese touch to this article, because coming from Portugal (and I guess from any other country), you find it difficult to miss certain details.
So, off you go. You take the tube to the station that seems nearest to Portobello Road, but you still have to walk a bit. You realise this is a neighbourhood many Portuguese people have chosen to live in, because of the football club logos you see in various places. You also realise that, even without having met those people, you feel a bond to them. It doesn't matter whether they support Benfica, Porto or Sporting (Portugal's largest clubs). They are your countrymen and women.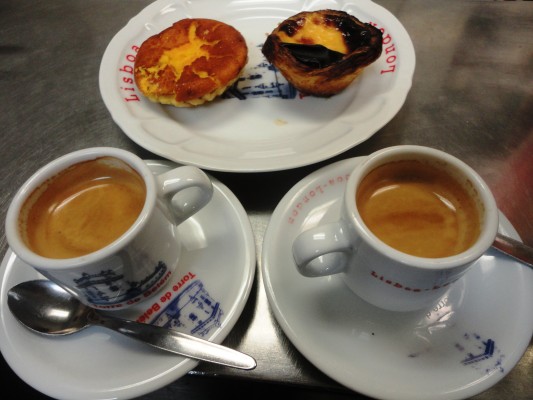 It is feeling this way that you get to Lisboa Patisserie. It is at 57, Golborne Road, and it is a great opportunity to eat Pastéis de Belém, the famous egg tart pastry from Lisbon, which you generally have with a hot espresso, also famous in Portuguese coffee shops. You think you will enjoy the atmosphere by taking your time, but guess what: the place is crowded with people of various nationalities, so you have to move along. Suddenly you become aware that there is a Portuguese grocer's nearby and you get the sensation of being home.
You eventually walk down the street and there you have it: the Royal Borough of Kensington and Chelsea – Portobello Road – W.10. There are lots of people selling all sorts of second hand articles. For those who think the British are very serious and formal, you should go to this place to see the explosion of chatter everywhere. How about the colours in the houses? You get them in red, yellow, blue, orange… It is fabulous!
Speaking of colours, don't think they are just in house fronts. You have them in the clothes people are selling and also in the food: red for tomatoes, yellow for corn, green for broccoli, aubergine for eggplants, orange for carrots… But while you are looking at the vegetable stalls, don't forget to look upwards, because you will also have colour in the flowers on the window sills and balconies.
You thought that you had left all the Portuguese flavours back on Golborne Road, but that just isn't true. Right before your eyes, there they are: Pastéis de Bacalhau & Rissóis. The first are salt cod fritters and the second ones are also fritters and you generally get them filled with meat and sea food.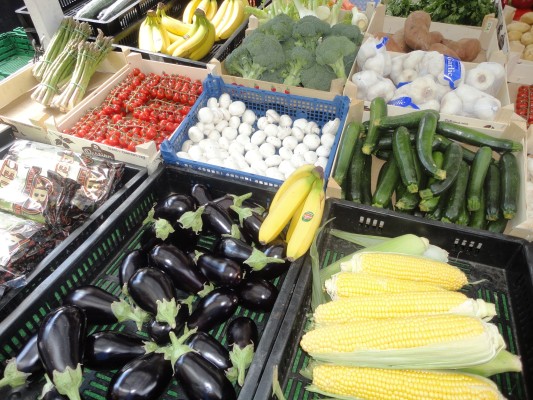 As you continue walking, you have lots of fun trying on hats and other head accessories, wondering how you would look like in a specific dress, glancing at book covers, listening to music coming from an old record player, paying attention to comedians or musicians performing on the street, looking at the most imaginative shop signs you have ever seen (you will get them even more imaginative at Camden Market)…
Portobello Road is so packed with people that, even if you are travelling with three other friends (as is the case), you suddenly realise you are all by yourself and why? One has stopped to get some souvenirs to take home, another can't resist a head band and the third one has gone into a shop… Keep walking or just wait for them to meet you again, for everybody is heading in the same direction.
Yes, besides the stalls on the street, you also have lots of shops along Portobello Road you may like to visit. Don't forget the small restaurants and coffee shops. Just take your time to enjoy the atmosphere. After all, you don't know exactly where your friends are and might as well have fun while you are waiting for them to show up.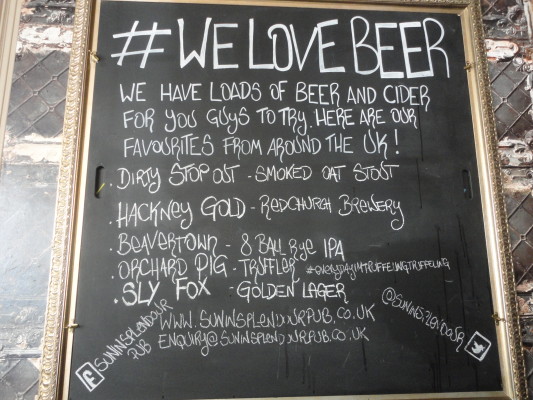 One by one, they start coming with bags in their hands. You all realise it is lunch time and, despite all complaints about the British weather, the sun is shining and the clouds in the sky are as white as cotton. It is a lovely August day. Where to go? A pub seems to be the right choice. After all you are in London.
Speaking of good weather, as you are getting to the end of Portobello Road, you see a pub with a very appropriate name. It is called the Sun in Splendour. Once again, it is packed with people, but you feel it is worth waiting, because of the decoration on the walls and the promise of a beer garden.
You end up getting a vacant table inside and a member of staff comes to ask for your order. As a foreigner (and I think most people get this feeling), you know the food vocabulary, but you don't actually understand what is on the menu, so you accept the waiter's suggestions. Don't think you can just have burgers and fries with a pint… The menu also includes other offers, such as roasted red pepper & goat's cheese tart, which by the way is delicious…
When it comes to drinks, the choice is even more difficult and you get lost along the list. Once again, the member of staff is there to help you, and you decide that each of you is going to have a try at a different type of beer.
By the end of lunch, you already miss Portobello Road. You are sure to recommend a visit to your friends back home and you are also sure to return. Coming here has opened up new possibilities in London: the city's street markets. Your next stop is Camden Stables Market, but many others will follow. See you there!
About the Author
My name is Ana Galrinho. I come from Portugal. I took a degree in Modern Languages and Literatures (English and German) at Lisbon University. I have been an English teacher for nearly 24 years. I am a great admirer of the English language and all that is related to British culture. I try to encourage my students in their interest not only for the language itself, but also for what is behind it. I have had the good fortune of travelling to the United Kingdom several times and have been to various cities all over the British Isles. It is always with great pleasure that I return to the country.