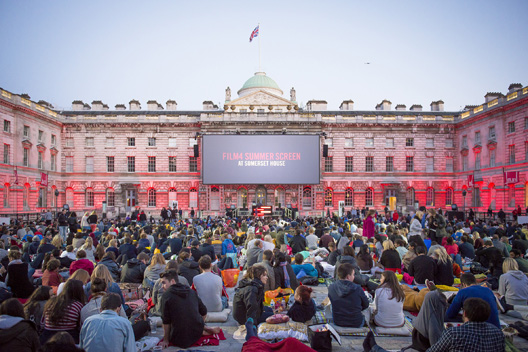 Every summer, a series of outdoor film screenings is held in the courtyard at Somerset House in London. It's a popular event and comes back every year.
Film4 who are sponsoring the event this year have released the line-up for this year – it's a mix of new movies and classic films:
Gemma Bovery
Gustave Flaubert's desperate housewife gets a modern update, starring Gemma Arterton. Thursday, August 6.
The Man from Uncle
Guy Ritchie gives the 1960s TV show a slick Bond-spoof makeover. Friday, August 7.
Withnail & I + An American Werewolf in London 
It's a double bill! They say London is dangerous. But only bad things happen when the characters in these two movies tiptoe through tulips in the countryside. Saturday, August 8.
Princess Mononoke
Studio Ghibli's gorgeous tale of a medieval warrior on a whopping screen. Sunday, August 9.
The Silence of the Lambs
Watching on your laptop isn't the same as seeing Hannibal's face 20ft wide. Monday, August 10.
The Graduate
In the role that made him a Hollywood star, Dustin Hoffman finds himself in the tricky position of falling in love with the daughter of the older woman he's sleeping with. Careless. Tuesday, August 11.
The Second Mother
Be among the first to catch this Brazilian arthouse gem in London. Wednesday, August 12.
Aguirre, the Wrath of God
Discover Werner's Herzog's mad masterpiece from 1972. Thursday, August 13.
Do the Right Thing
Spike Lee's 1989 drama is set over one sweltering Brooklyn day as racial tensions boil over. Friday, August 14.
True Romance + The Warriors
Young hearts run free in this double bill. Christian Slater is a comic-book geek on the rampage with Patricia Arquette in 'True Romance'. Cult classic 'The Warriors' finds a New York gang battling their way home. Saturday, August 15.
Roman Holiday
Audrey Hepburn sparkles as a runaway princess who slips incognito into Rome during a state visit. Sunday, August 16.
The Last of the Mohicans
Daniel Day-Lewis springs through the forest like a deer, hatchet raised. Monday, August 17.
Best of ten musicals – audience vote
Go to www.somersethouse.org.uk to vote for your favourite movie musical. The choice is between ten of cinema's greatest, including 'Oliver!' , 'Bugsy Malone' and 'Singin' in the Rain'. Tuesday, August 18.
Me and Earl and the Dying Girl
Take tissues along to this teenage cancer comedy-drama. Wednesday, August 19.
Tickets are on sale now start at £16 (about $25). Book here now.
Source: Film4 Summer Screen line-up: exclusive first look – Now. Here. This. – Time Out London