Charity shopping isn't just a trend. In fact, the first charity shop to open in the United Kingdom was an Oxfam store, in February 1948. Countless Red Cross charity shops had launched prior to this throughout the war years in an attempt to raise money for the overseas effort, but this was the first commercialised thrift store. Since then this concept has taken the nation by storm, with fast fashion, sustainable living, recycling and eco-fashion ensuring that it has a prominent place in British society.
The sheer amount of charity shops in London is astonishing, which makes finding that 'unique jaw-dropping look' quite a strenuous task. Wherever you tread, shops line the streets and tourists on holiday and Londoners on their lunch break do their best to bag the best of the city's bargains. Hard-core shoppers sift through countless articles of clothing before they get close to the good stuff, making it a very fast-paced shopping environment. This post unearths the very best of London's esteemed vintage and charity stores. Forget about trudging through the long lost riches of London – find out the best spots to shop right here!
North: Lost N' Found
Camden Stables Market, NW1
Nearest station: Camden Town (Northern Line)
Fans of 1950s Americana fashion wear are bound to fall in love with this delightful two-floor den. Located within the famous Camden market, this is arguably the best stocked vintage shop of North London. Featured by a handful of distinguished publishers, including TimeOut, the best thing about this shop is the extensive range of timeless wedding outfits that are up for grabs. Collections are comprised of lace, tulle, satin and feather, which are all sure to get the necessary levels of attention on the big day!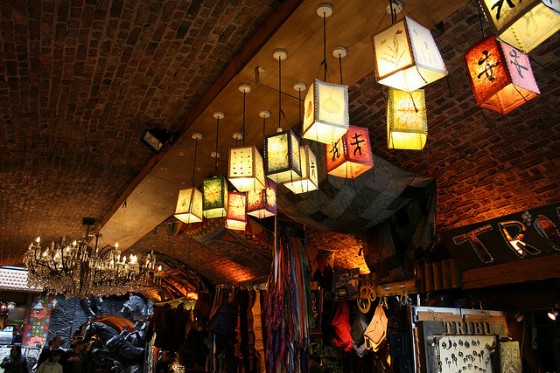 East: Blitz
55 – 59 Hanbury Street (just off Brick Lane)
Nearest station: Shoreditch High Street (London Overground)
This is the very first vintage department store to come to London and opened very recently on August 5th. Spread across five rooms, this 9,000 sq. foot store boasts an impressive collection of stock for men and women from every decade and designer. Everything from clothing to books to records and bicycles can be purchased here and it's the perfect place to come to kit a new crib as there's loads of funky furniture here too from Broadway Market's design merchants. An on-site café is also in the pipeline to ensure that customers can replenish and refuel during their shopping spree!
South: What The Butler Wore
131 Lower Marsh, SE1
Nearest Tube: Lambeth North
Thrift shopping wouldn't be the same without the interesting characters you meet – owners, fellow fashion fanatics and those who contribute to create the magical environment. Once inside What The Butler Wore it's all too easy to get distracted. Bridget Duffy, the shop owner, has a sparkling personality and is an absolute delight to spend an afternoon with. A very attentive and determined individual, she'll go well out her way to ensure you make a grand discovery.
Image courtesy of Flickr user "Risager"
West: Three Pound Shop
28 Pembridge Road, W11
Nearest station: Notting Hill Gate (Central, Circle & District Lines)
This bargain branch is a great place to come for those in need of some cheap threads. Most of the goodies on display here are (unsurprisingly) three pounds, but there are also a few items a little bit above and below the threshold. Expect to trawl through lots of clobber before setting your eyes on that desirable garment. Patience is an absolute virtue here too, which comes both highly recommended and rewarded. There's usually an array of cheap summer holiday deals – just be sure to make a visit before the end of the season.