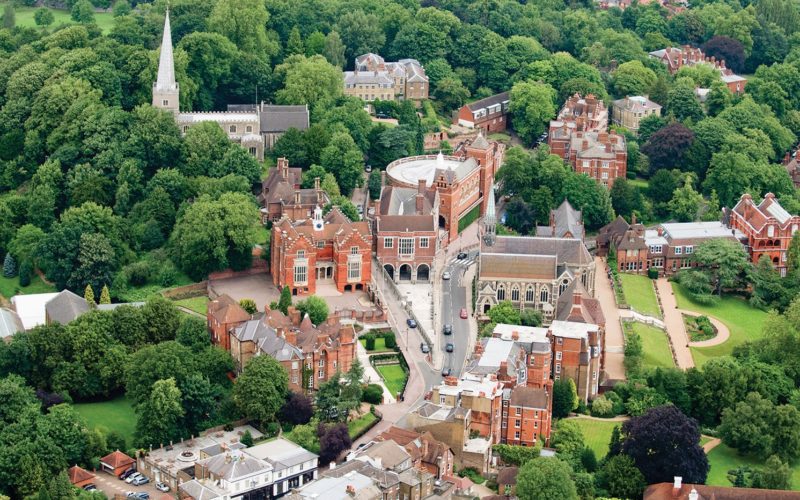 In the far reaches of Northwestern London, Harrow is a sprawling suburb of over 80,000 people.  And while you'd be forgiven for thinking that a suburb would be devoid of anything remotely interesting—that's where you're wrong.  Harrow actually has quite a lot of interesting places to visit including sport, tea shops, and possibly the most museums of any borough outside the center of London.  We've identified ten places for you to visit that are going to help you realize that this sleepy suburb is actually an incredibly happening place.  You can let know some of your own favorite Harrow spots in the comments.
Doll's House on the Hill
The interior design of this tea house and café is exactly what it sounds like, with furniture and dining sets akin to the doll's house you may have owned as a kid.  In addition to afternoon tea, Doll's House has menus for breakfast, brunch, and lunch as well as a great assortment of cakes.  If you find yourself in need of a meal, a snack, or want to try a tea party in a doll's house, this is for you.
Tour of Harrow School
Harrow School is one of the oldest independent boarding schools in London, with Queen Elizabeth I granting John Lyon a Royal Charter for the school in 1572.  The school's buildings are Grade listed and available for the public to tour three times a year.  This being such a limited event, you do have to buy tickets for the tour, but they're worth it for the history you will get to experience.
Heath Robinson Museum
For those not familiar, William Heath Robinson was a humorist and illustrator who used his gifts to poke fun at the world around him and make people think.  Active from 1897 until his death in 1944, he saw many a world-changing event and his lifetime of work is on display at this museum in Pinner.  In addition to the permanent exhibits on Heath Robinson's life, there are rotating exhibits dedicated to other influential artists.
Playgolf London
It wouldn't be the suburbs without some golf, and Playgolf London has everything a golf lover or even a novice could want.  Playgolf offers a driving range, full course, and even a mini-golf course for those just looking to have a good time.  If you don't know how to play, they offer lessons for first-timers or tips to help you up your game.  And if you're not into golf at all, you can check out the batting cages or visit the Kitchen Club Café for a bite or a drink.
London Motorcycle Museum
Our second museum on the list, this one is geared more towards the petrolheads.  The London Motorcycle Museum is dedicated to anything on two (and sometimes three) wheels, focusing almost exclusively on British motorcycles from BSA to Triumph and everything in-between.  Those looking to get more involved can donate to the museum's upkeep or "adopt" a bike to help maintain it as an exhibit piece.
RAF Museum
Those interested in military history will want to check out the Royal Air Force Museum at the former Herndon Aerodrome.  The five buildings and hangars that make up the museum will not only give you an insight into the history of this military branch but also let you look at RAF aircraft up close.  The best part is that admission is free, so there's no reason not to make the trip.
Harrow Museum
Also known as the Headstone Manor & Museum as it is situated on the former site of Headstone Manor, the Harrow Museum offers a look at the history of this part of London from pre-recorded history to the present.  The Museum collection has over 15,000 objects that document Harrow's past and a library that can aid in historical research.  The museum puts on events throughout the year that will let you experience the traditions of the area and live times gone by.
Harrow Arts Center
The premier center for culture in Harrow, the Harrow Arts Center is a performance venue that sees all manner of performances from concerts to plays.  Located in Elliot Hall, the Grade II listed building is a wonder of architecture and worth seeing on its own, though you'll definitely want to check out the performance calendar to find a show that best suits your tastes.
Fryent Country Park
One of the most beautiful spots in Harrow, Fryent Country Park also offers one of the best views thanks to Barn Hill.  At a height of 86 meters, from the hill, you can take in views of Harrow as well as the Borough of Brent.  The park also offers a couple of small ponds as well as horseback riding facilities, so you can either enjoy a quiet time in the park or have a bit of adventure.
Ruislip Woods National Nature Reserve
Are the far edge of Harrow bordering the Borough of Hillingdon, Ruislip Woods National Nature Reserve is an important preservation of the area's natural beauty.  RWNNR is also a Site of Special Scientific Interest thanks to its array of unique plants and animals.  Additionally, the adjoining Ruislip Lido Railway is a small train that takes visitors around the lido that lays between the nature reserve and the Ruislip Common, granting an extraordinary view of the surrounding natural beauty.