The famous polite bear from deepest darkest Peru is the feature of a new exhibition at the British Library. Paddington: The Story of a Bear is a family-friendly exhibition celebrating one of the world's most beloved fictional bears over 60 years on from when he was first published.
As it's summertime, you may not need your duffle coat, but a marmalade sandwich packed lunch for a trip down memory lane always sounds like a good idea.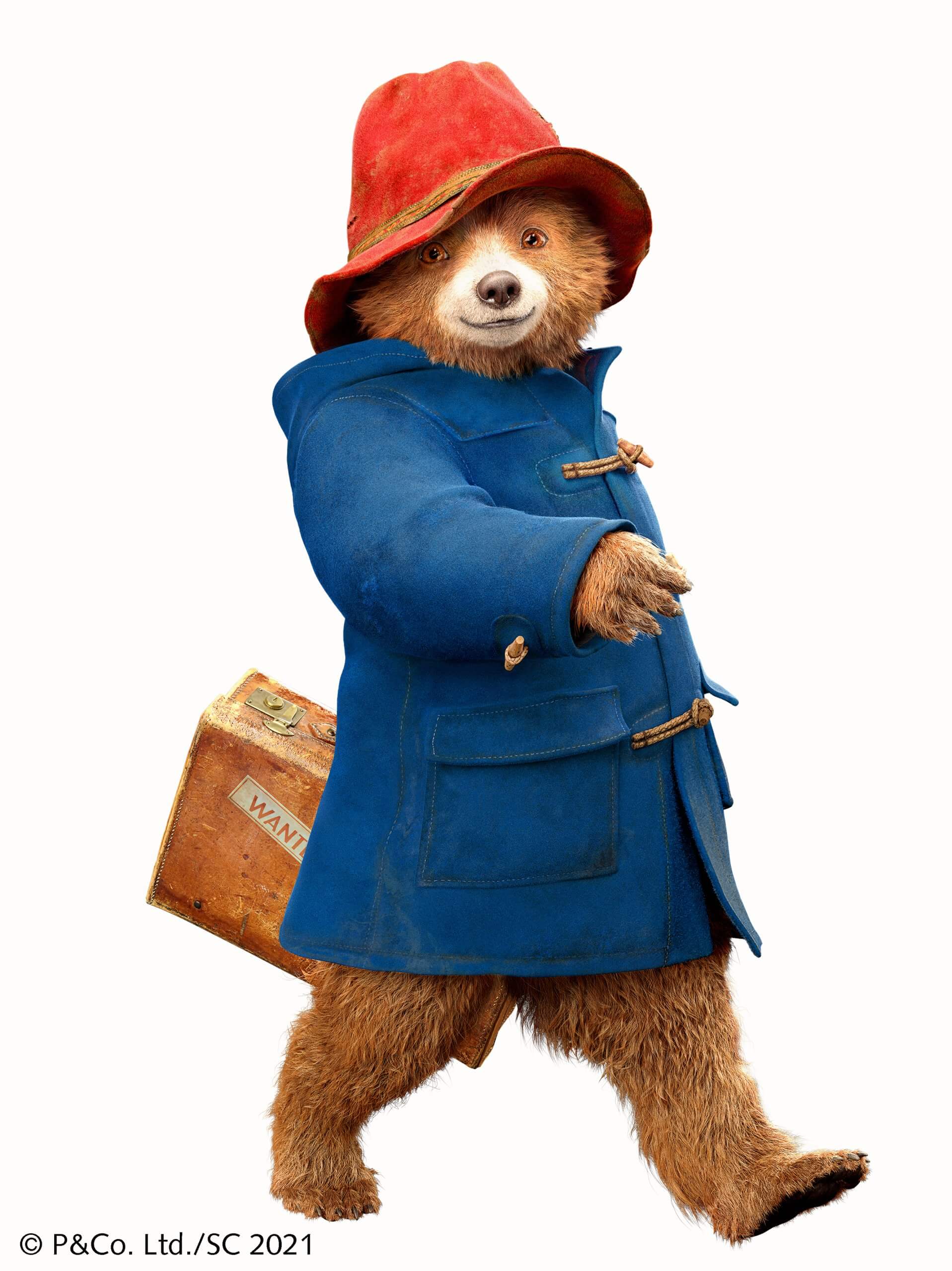 About The Exhibition
Paddington is a timeless and universal story of the desire for home, acceptance, and a sense of belonging, which appeals to all ages. The exhibition recalls the many faces of Paddington we've come to know and love in original artwork, books, and scenes from TV and film adaptations.
The exhibition explores Michael Bond's creation of Paddington, from his arrival in the UK from Peru to finding a new home and his exciting adventures in London and beyond. There are original illustrations of Paddington stories by artists including Peggy Fortnum, David McKee, and RW Alley.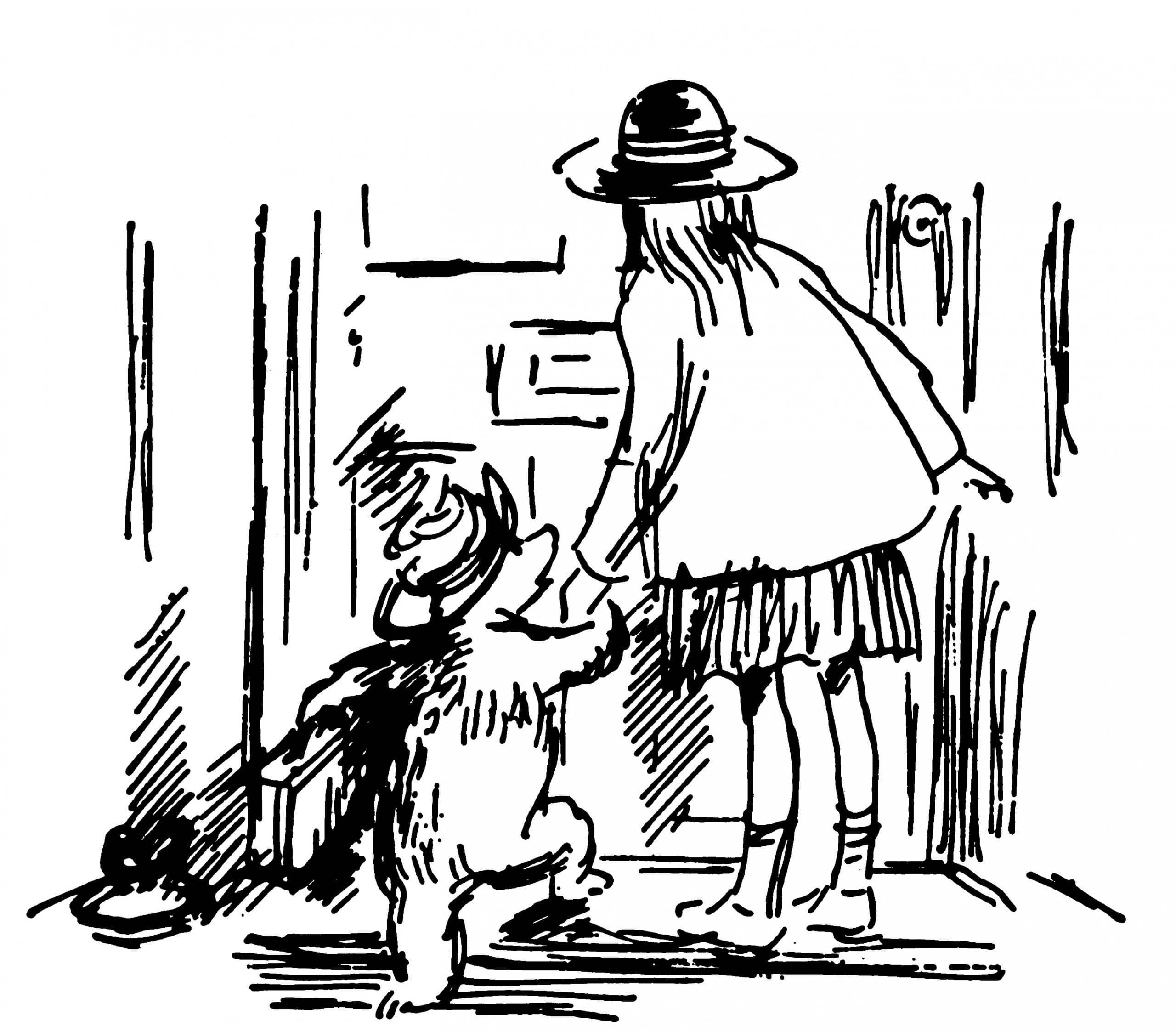 The exhibition also explores how author Michael Bond took inspiration from his own life and family in creating Paddington. (Mr. and Mrs Brown were based on his parents as he thought they would have welcomed Paddington into their home in the same way as the Browns – his mum impulsive, his dad slightly more anxious. And Mrs. Bird, the housekeeper, was based on the aunt of a friend.) There are photographs and memorabilia of Michael Bond on loan from his family.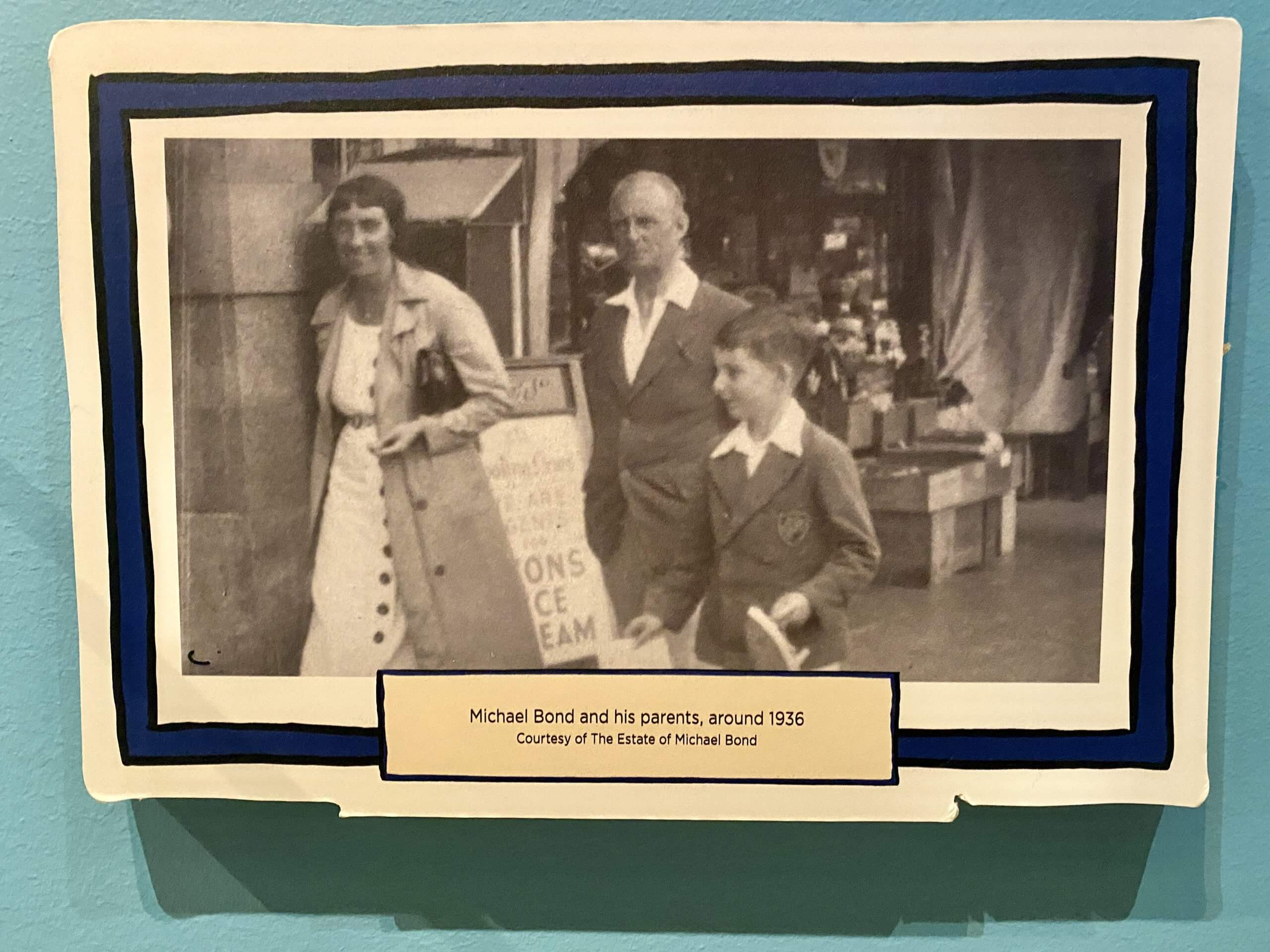 It has been over six years since we had the chance to see some of these archive materials at the Museum of London (in their A Bear Called Paddington exhibition), so it's a delight to have them back on display.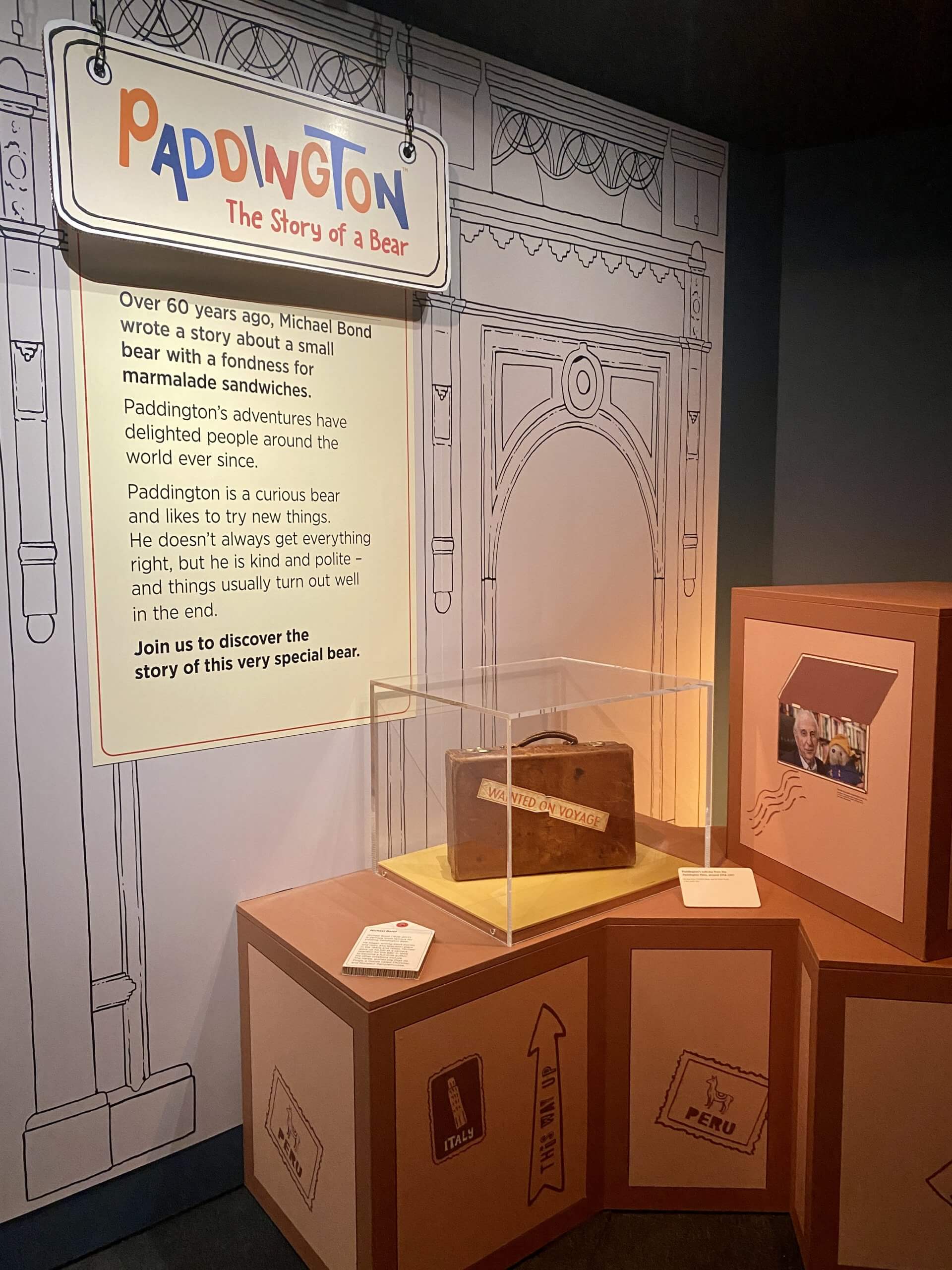 How It All Began
On Christmas Eve in 1956, Michael Bond bought his wife a small toy bear from Selfridges department store. He named the bear after the London railway station he traveled into each day from his Berkshire home. At this time, the couple didn't have children, but Michael felt he couldn't leave him there over Christmas. (You can hear Michael Bond telling this tale in a wonderful audio recording at the start of the exhibition, recorded by the British Library in 2013.) The bear is still with the family, but you can see some of the original clothing on display, including a jumper and duffle coat made by Mrs. Bond. The duffle coat was based on one Michael wore himself.
It only took him ten days to write the first Paddington book in 1957. A Bear Called Paddington was published in 1958, a couple of months after his daughter Karen was born. There's a copy of the book on display and the original review by Barbara Ker Wilson, an editor at Collins Publishers. She was the first to recognize the appeal to adults and children.
Michael Bond had written other stories before, but once he had Paddington bear, he didn't plan the storyline but instead imagined taking him out and about and then waited to see what adventures unfolded.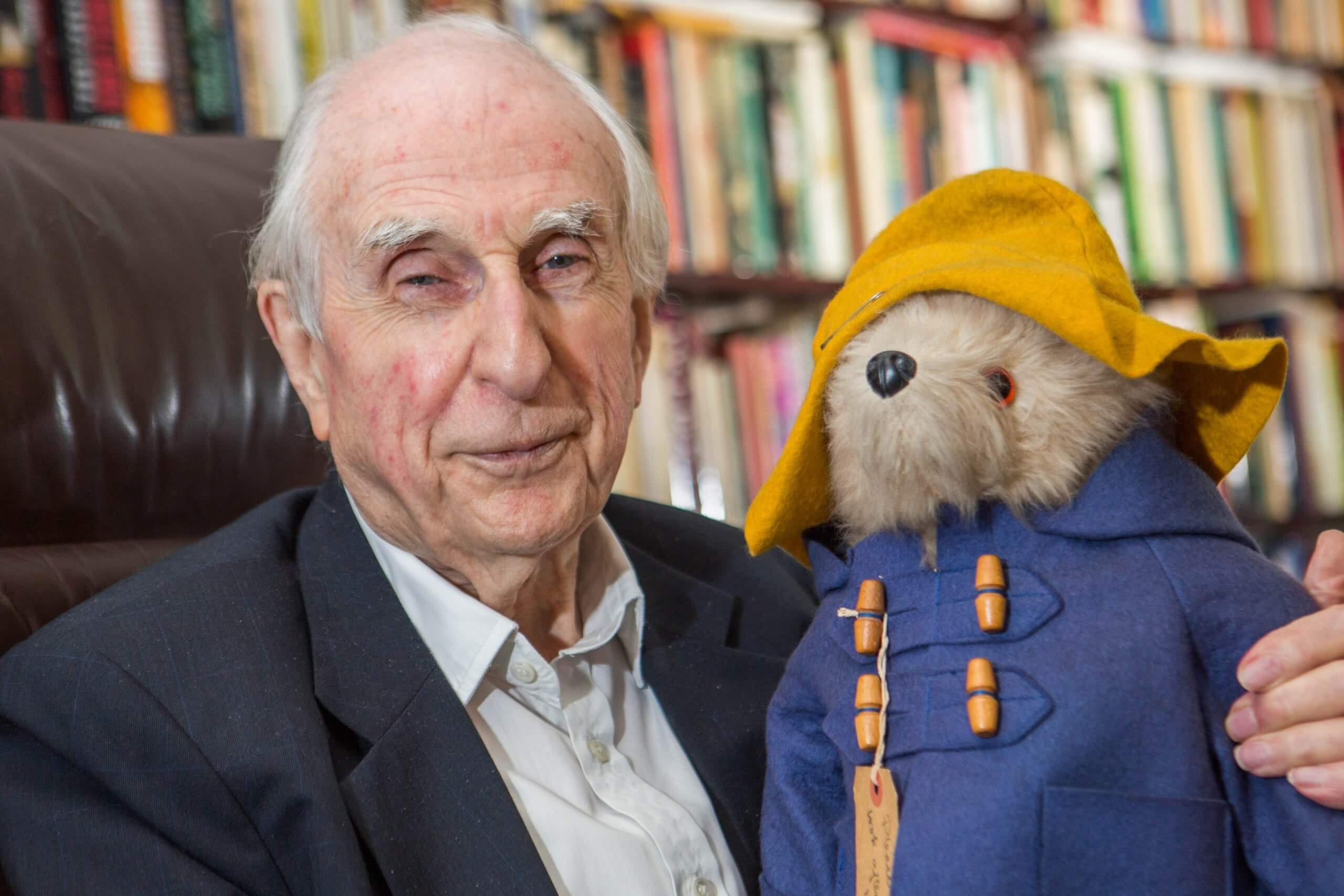 Family Activities
Whether tidying the attic, going to the laundrette, or enjoying a birthday party, Paddington is forever making a mess. Children can follow his trail of marmalade splats throughout the exhibition.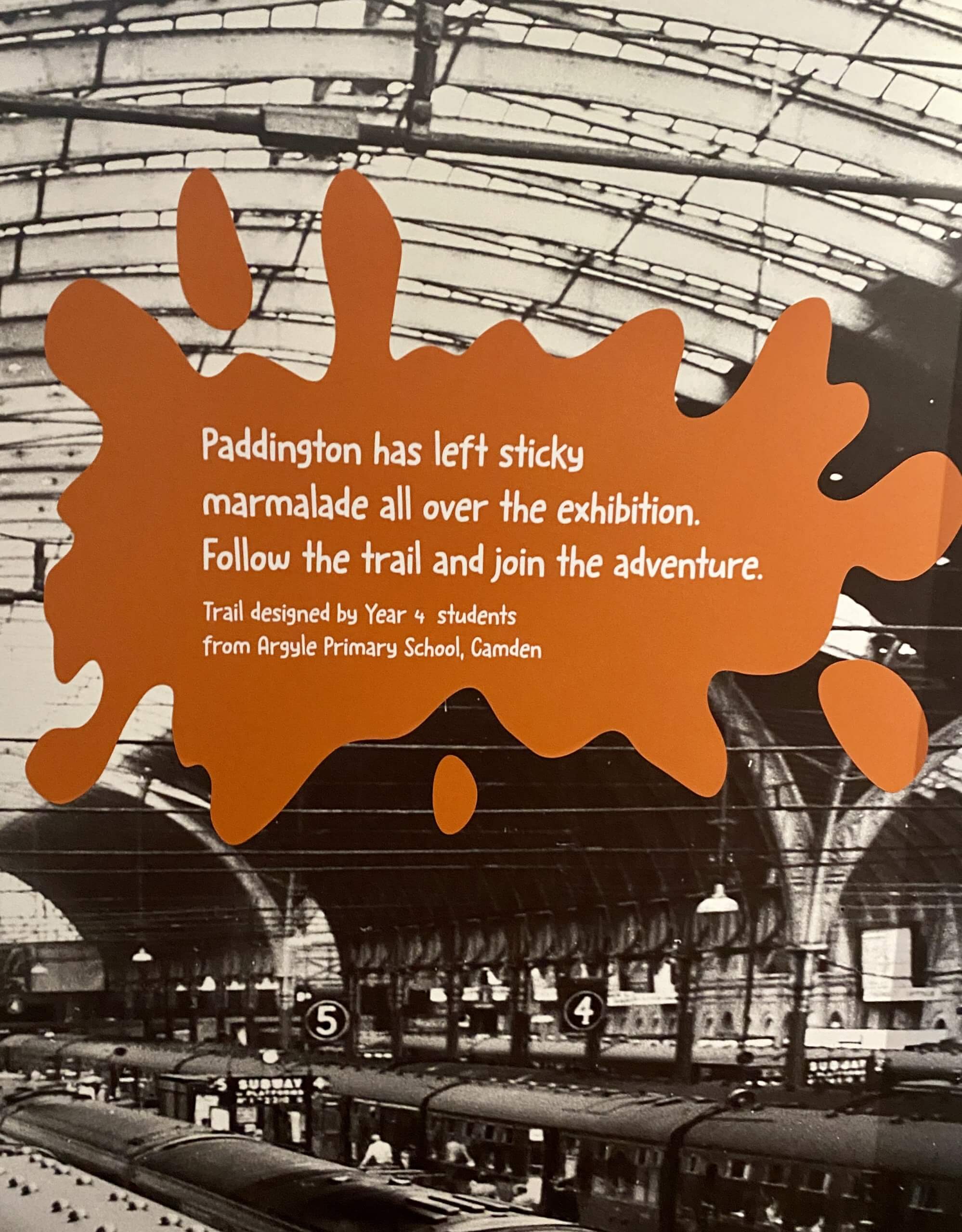 Two local primary schools have worked with the British Library to create new content. The exhibition has activities for visitors to practice their hard stares as well as a special printed guide for families.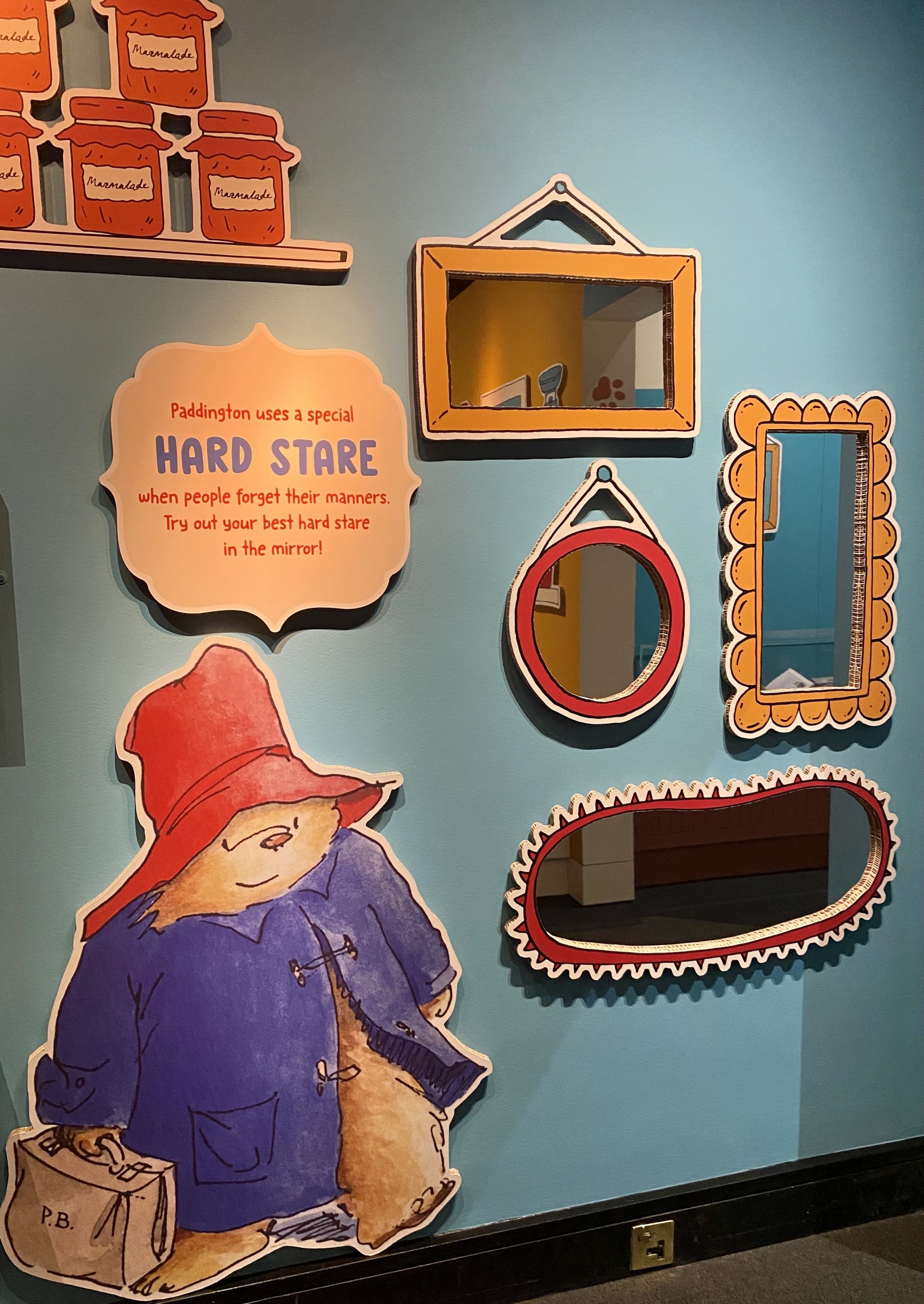 The exhibition is accompanied by a program of events as well as workshops and online activities for schools and families.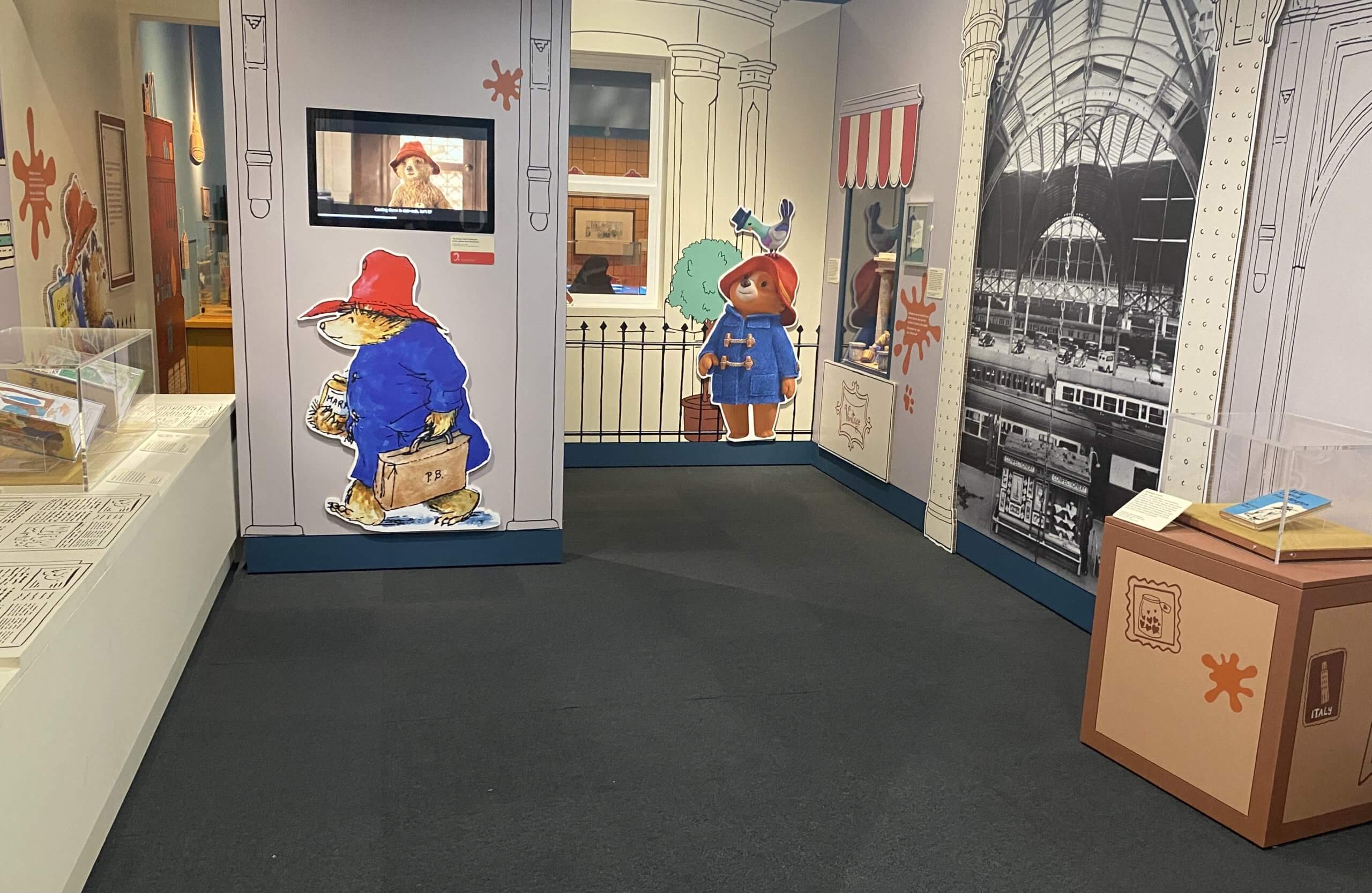 It is not a huge exhibition, but it is enjoyable. After the first section with Bond's typewriter and notebook, there's an area with a central dining table and chairs. Projections land on the table to make it look like breakfast time.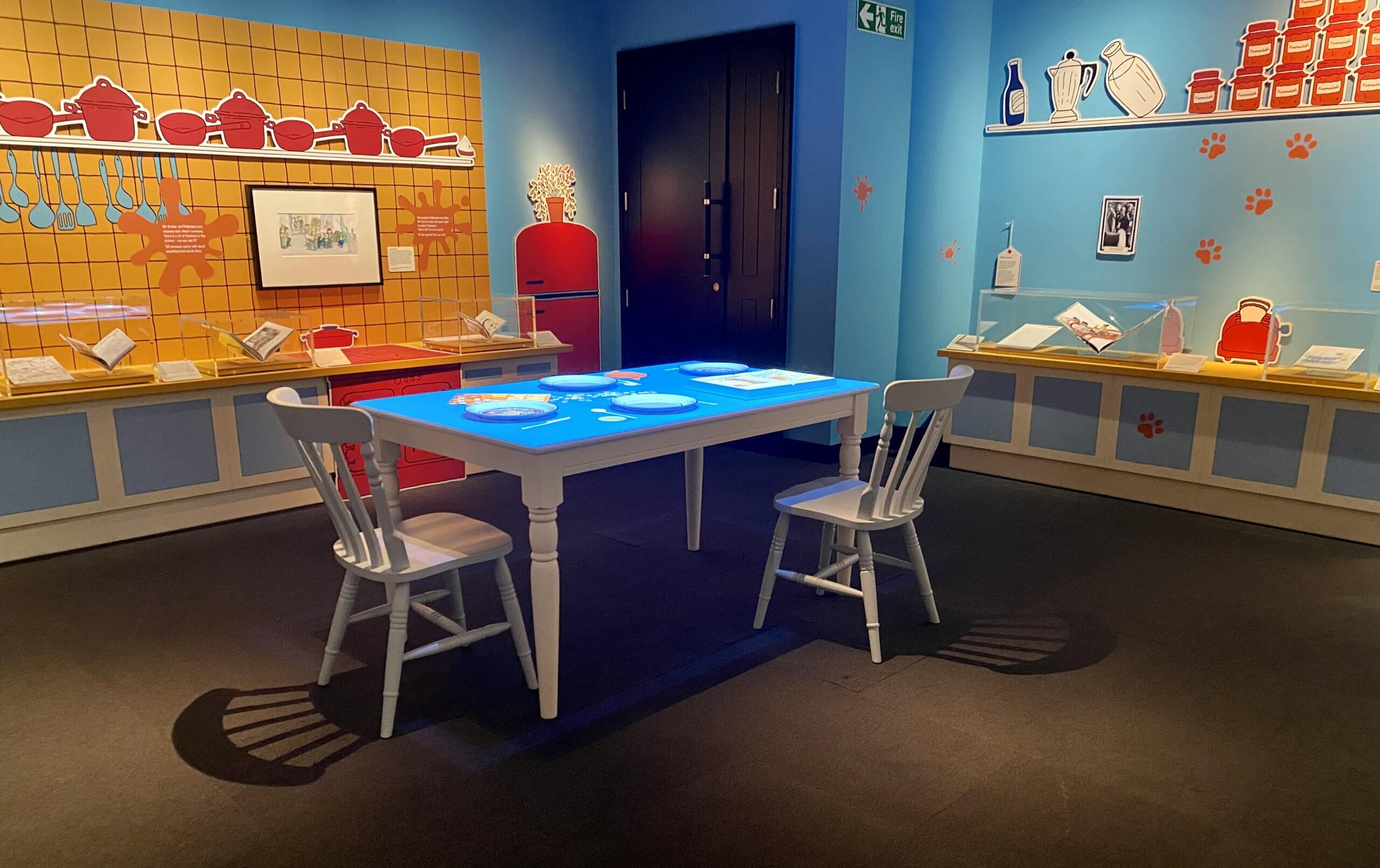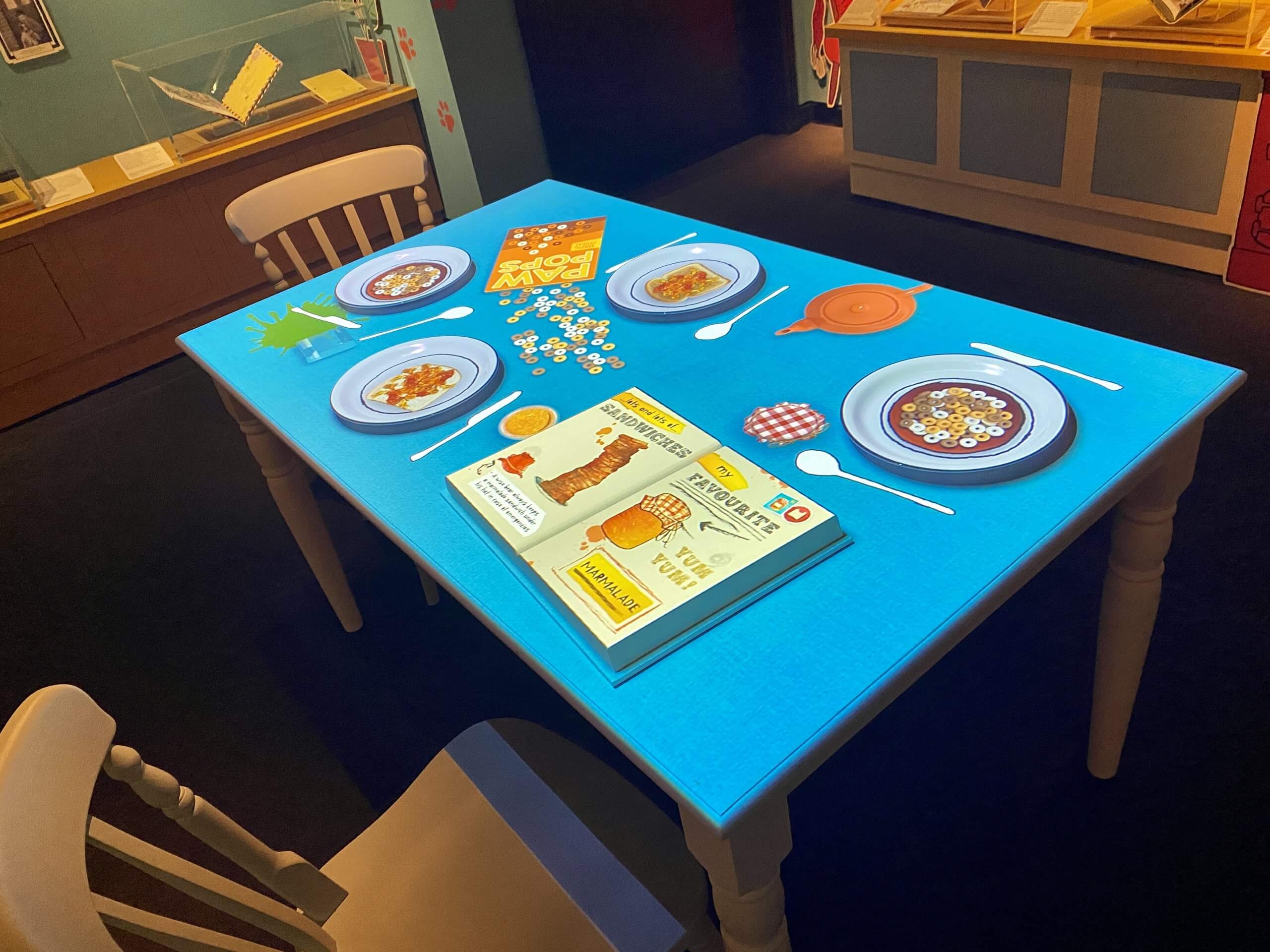 In this area, there are original illustrations by David McKee, who I know better as the illustrator of Mr. Benn and Elmer the Elephant.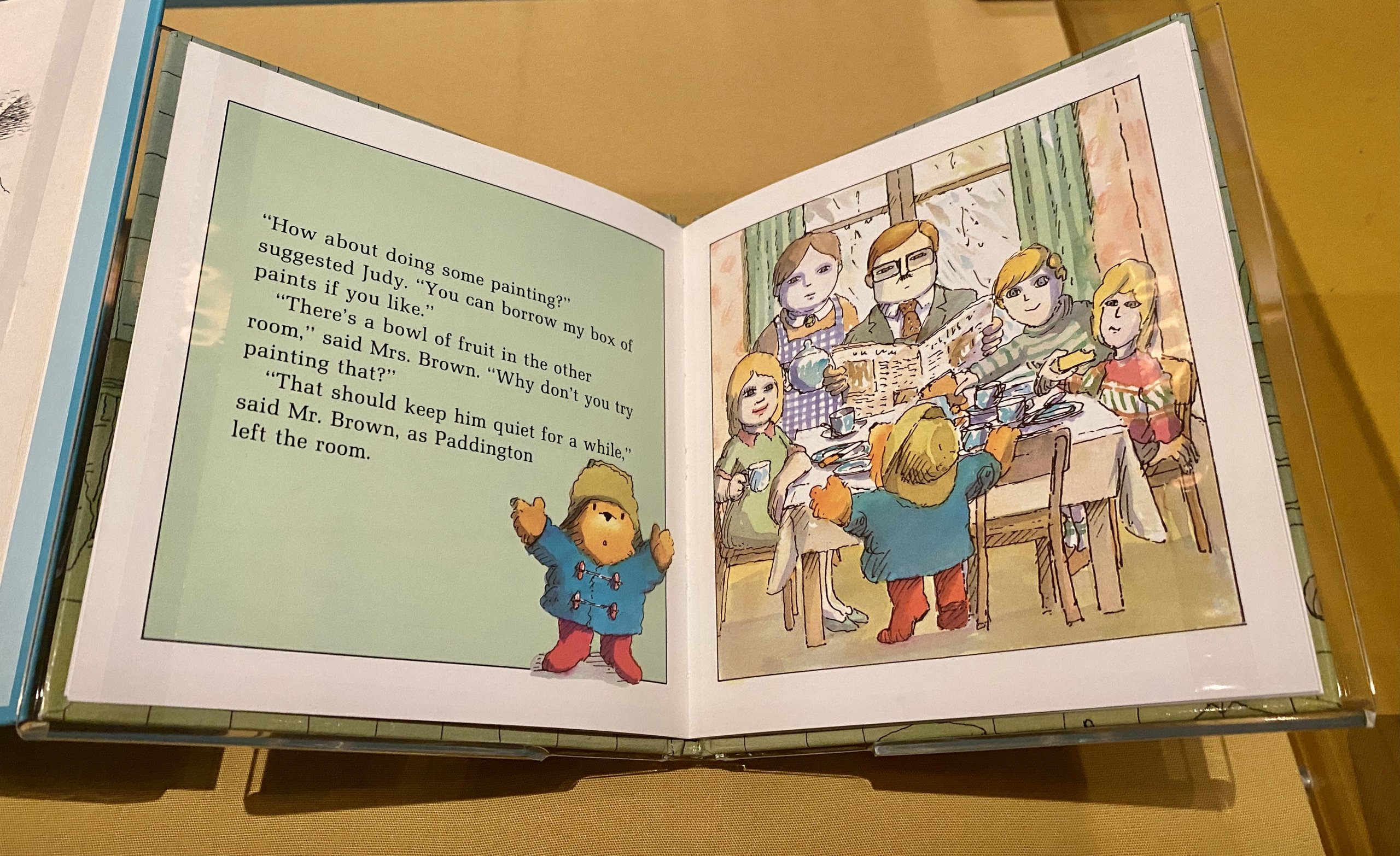 This is where conversations were started about which version was "my Paddington," as it was clear that a 60 year-history had reached each visitor's childhood at a different time. An animated series currently on Nickelodeon was new to me, but the 1975 FilmFair cutouts from the original TV series brought back childhood memories. It was cleverly done with 2-D drawn backgrounds and the characters moving in stop-motion animation.
Seeing the 1975 FilmFair Paddington episode "Do-it-Yourself" made me laugh out loud. Michael Hordern's voice as Paddington as he attempted to repair a table that had been split in two was an episode I remembered from childhood.
"Even covering the join with marmalade and drawing the blind couldn't disguise the fact that the table was very wobbly."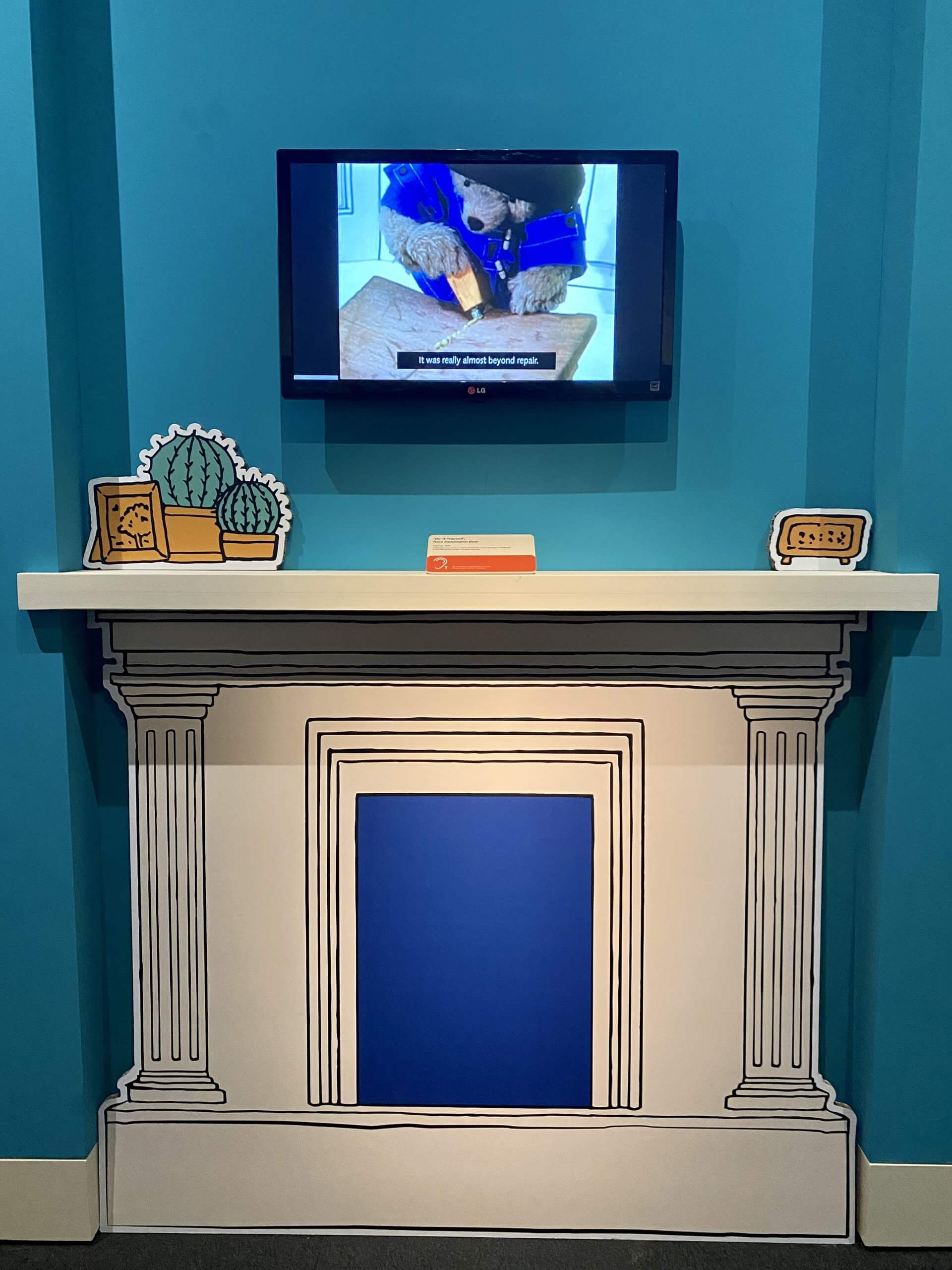 Evacuees
Michael Bond was brought up in Reading, Berkshire, and later moved to Notting Hill, London, when married.
In 1939, when the Second World War began, he was 13 years old, so would have felt a connection to the young children who were evacuated from London.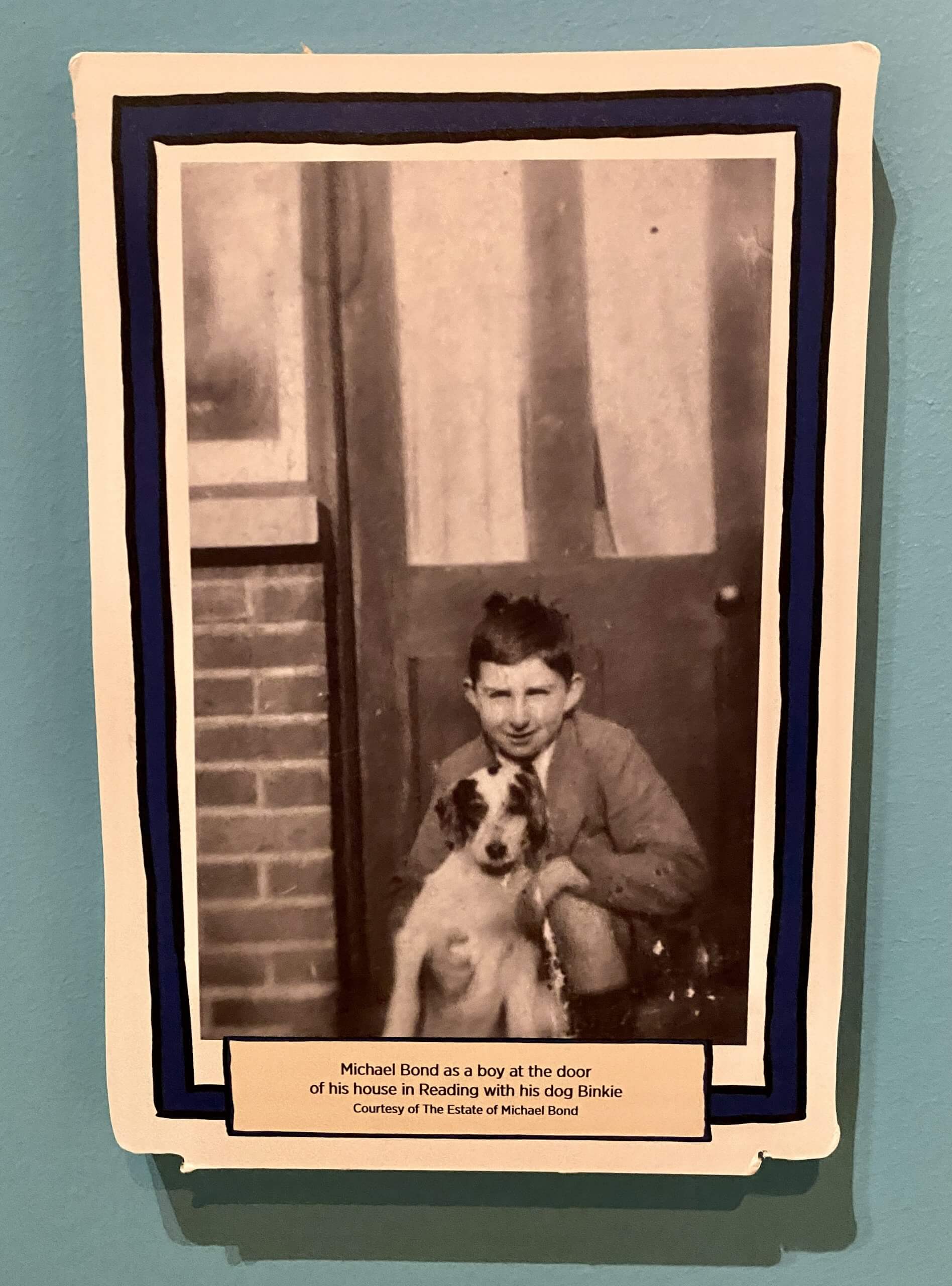 Bond wanted to include a character who knew what it was like to move to a new country. His agent, Harvey Unna, was a German refugee, so he based Mr. Gruber, the kind man at the local antique shop, on him.
In the exhibition, you can see this photo of children being evacuated at Paddington station. Note the labels around their necks rather like the "Please look after this bear" label that Paddington had and the small suitcases.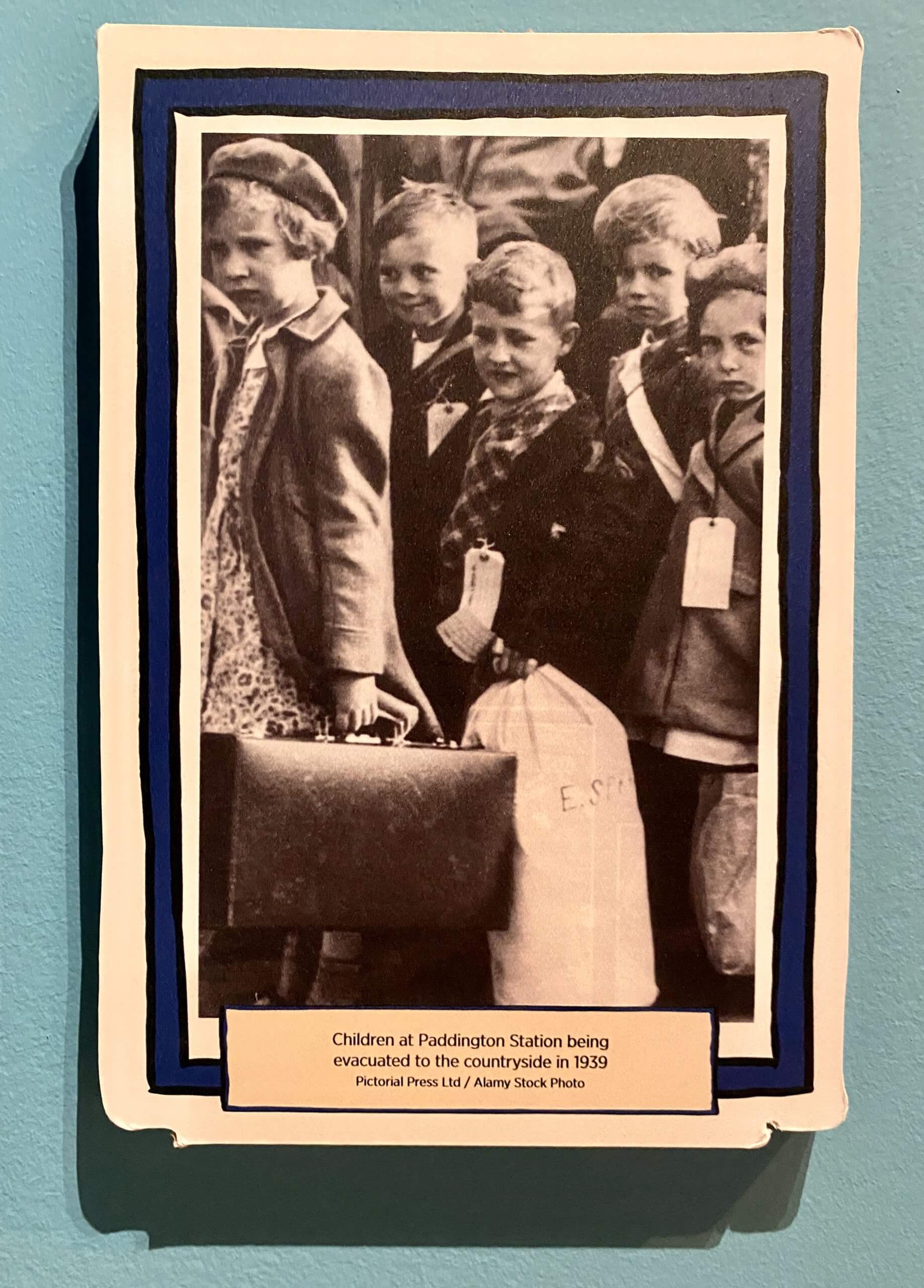 Michael Bond's A Bear Called Paddington, published in 1958, was set in Notting Hill as that was where he lived. At that time, lots of people from the Caribbean had settled in the area as part of the Windrush generation. While Paddington was welcomed, Coming to England by Floella Benjamin is on display here to remind us of the racism many faced.
BBC
Michael Bond worked at the BBC as a cameraman on the children's program, Blue Peter. He wrote Paddington stories for the Blue Peter annuals from 1966 to 1980.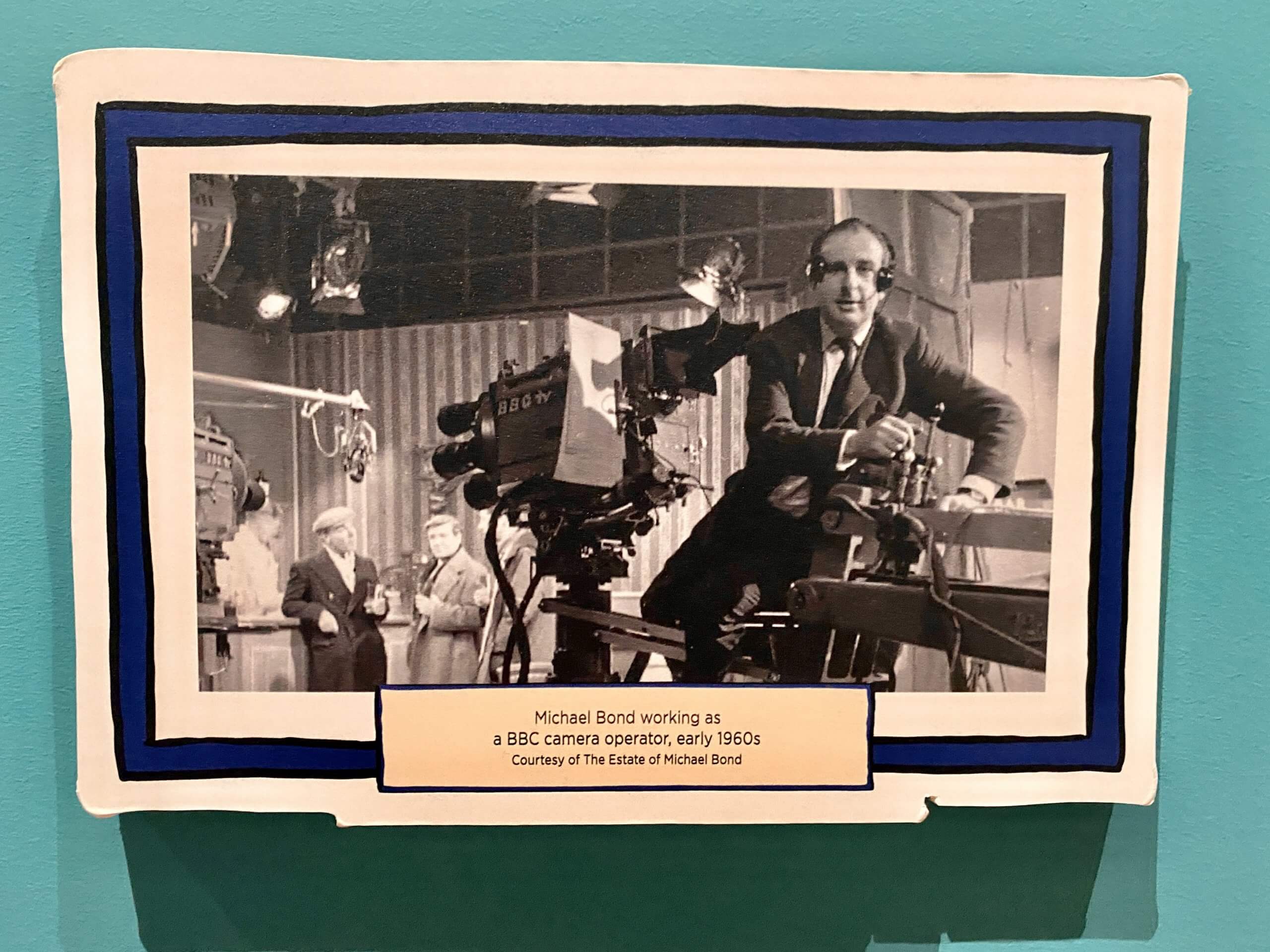 The last Paddington picture book written by Michael Bond was published in 2018. It's about a trip to St Paul's Cathedral.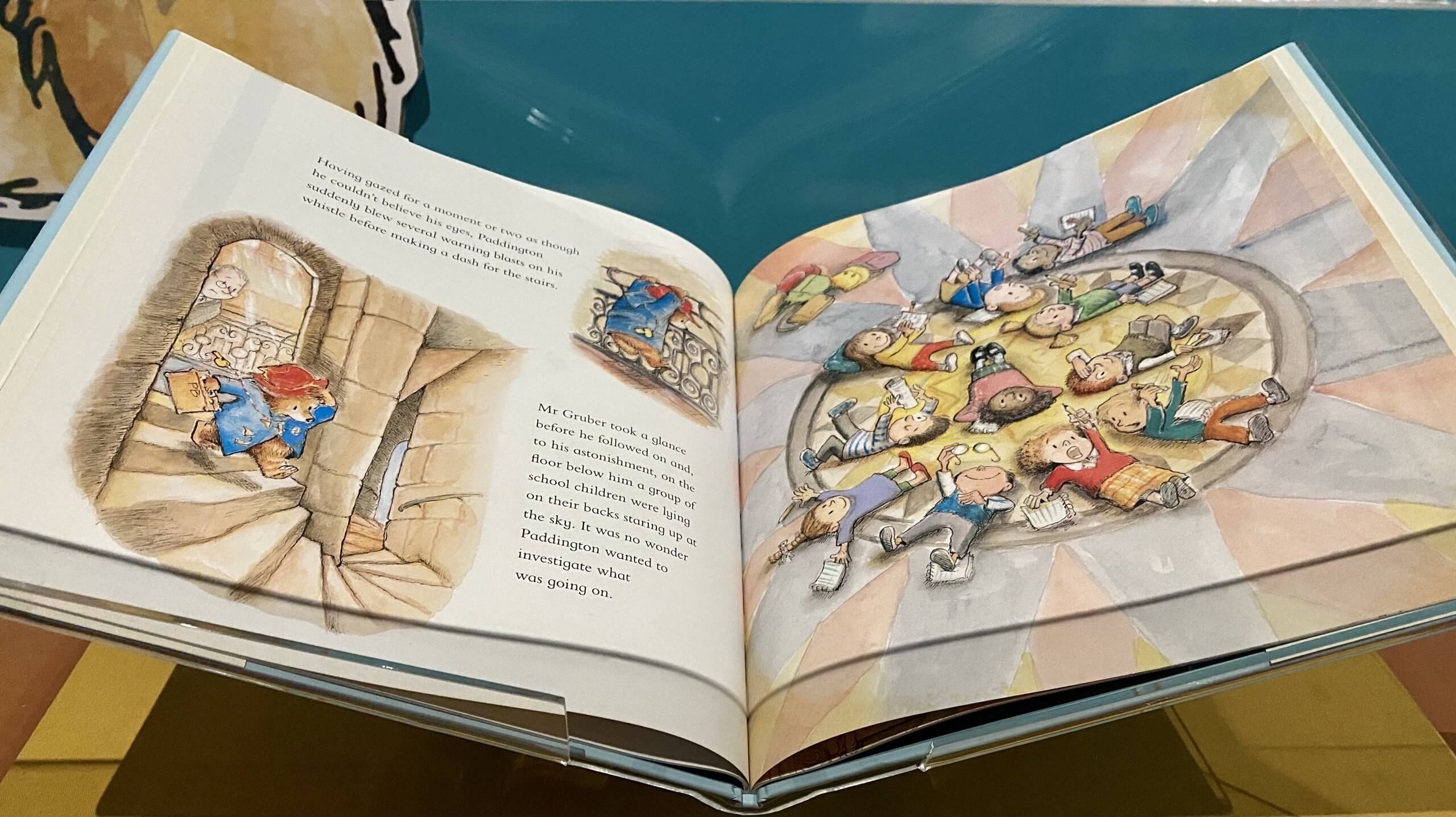 There are translations of Paddington books on display in Finnish, Japanese, and Polish, which reminds us of the huge international appeal of this lovable bear.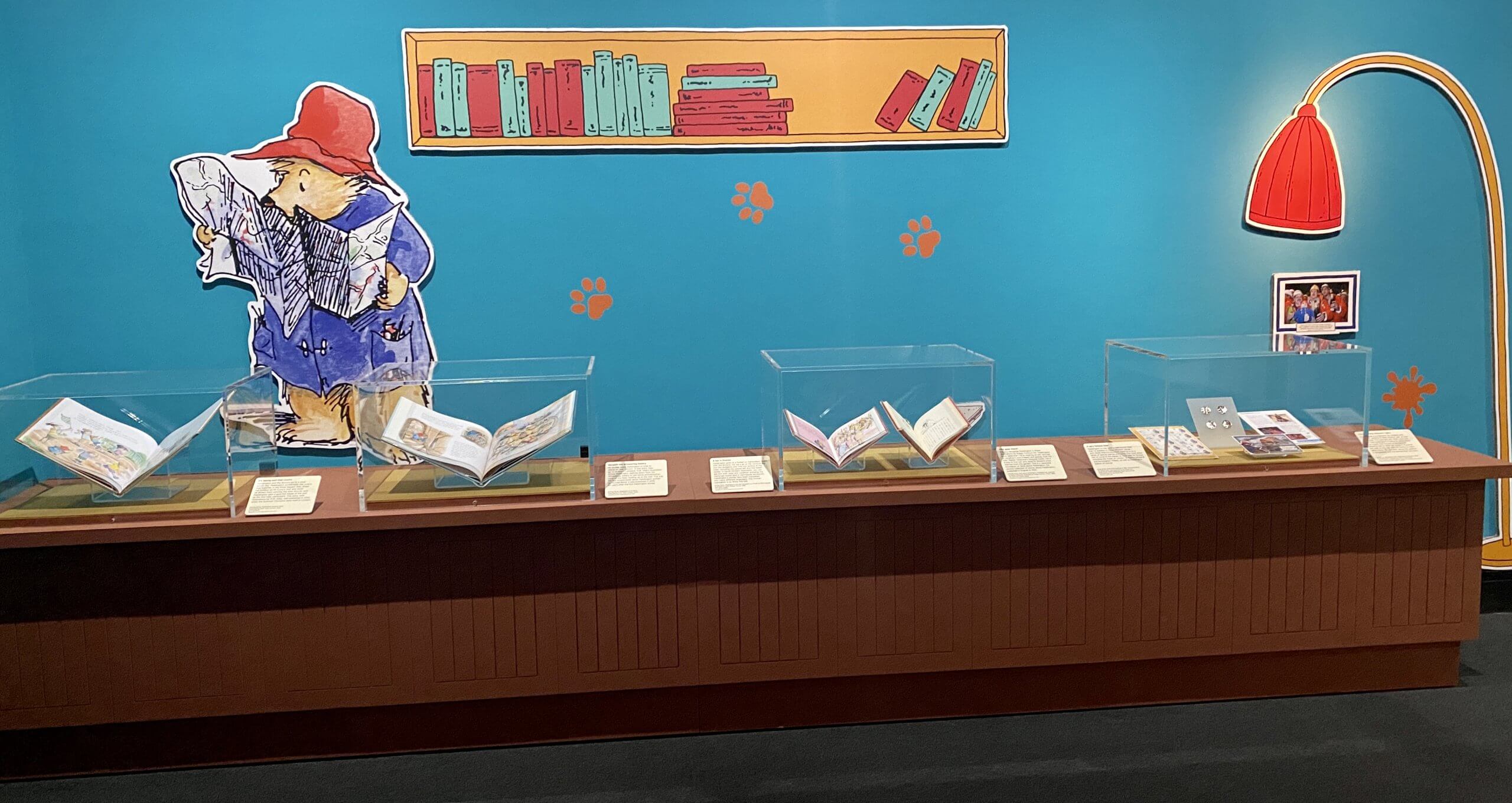 You won't need long to see the full exhibition, but I really enjoyed it so would recommend it. It was relatively quiet inside when I visited for a preview, apart from the happy squeals of adults finding "their Paddington." But I expect the exhibition will really come to life when full of families as children complete the trail and giggle at the challenges they are set along the way.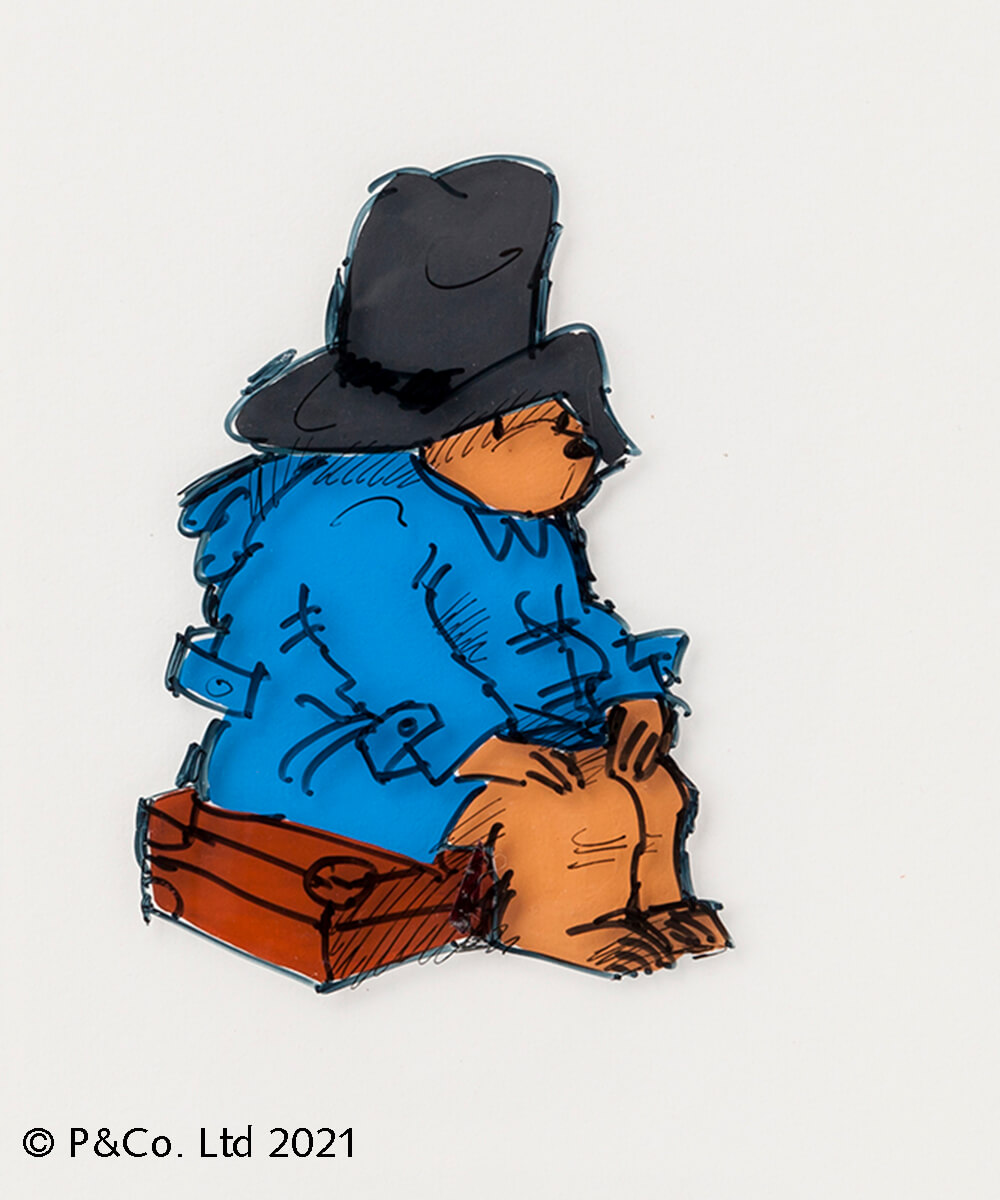 Visitor Information
Exhibition Name: Paddington: The Story of the Bear
Exhibition Dates: 9 July – 31 October 2021
Location: British Library, 96 Euston Rd, London NW1 2DB
Visit Duration: 45 minutes
Admission: Adult tickets £8, 12-17 year olds £4, under 12s go free
Official Website: www.bl.uk/events/paddington-the-story-of-a-bear