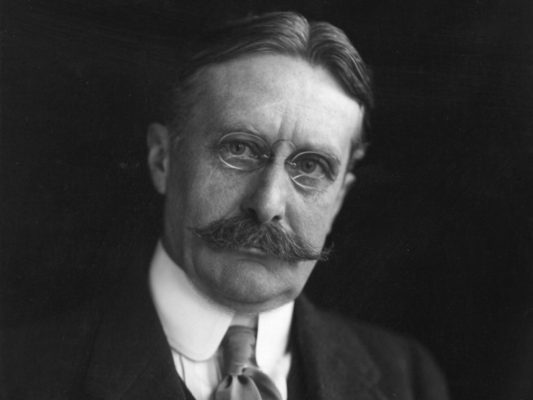 One of the city's greatest men and founders of one of its biggest department stores wasn't actually born in the United Kingdom at all.  He was born in Ripon, Wisconsin on 11 January 1858, though only stayed there for a few months until his family moved to Jackson, Michigan.  It could be said that Selfridge was born into the retail industry since the move was necessitated by his father taking over a general store in the town.
With the outbreak of the American Civil War in 1860, Selfridge's father Robert joined the Union Army and eventually rose to the rank of Major.  Unfortunately, the end of the war didn't bring a joyful reunion to the family as Robert abandoned Harry's mother Lois and his two brothers, leaving Lois to raise the three boys by herself.  Things got worse as Selfridge's brothers died fairly young, leaving him as an only child.  He and his mother struggled to get by, with her taking a job as a schoolteacher and painting greeting cards while he delivered newspapers.
While his mother eventually became the school's headmistress, Selfridge himself actually left school at age fourteen, two years after he had started working at Leonard Field's dry goods store.  He worked for a bank, failed the entrance exam for the United States Naval Academy, moved to bookkeeping, and then to insurance.  None of these positions seemed to work out as well for him as retail, so when his old boss Leonard Field agreed to write a letter of recommendation to Marshall Field.  Field at the time was a partner at Field, Leitner, and Company, which (as you may guess) became simply Marshall Field.
Field, Leitner, and Company was one of the most successful department stores in the city of Chicago and Selfridge began as a stock boy in the wholesale department, working his way up to junior partner over a period of twenty-five years.  He also married Rosalie Buckingham and began collecting a large fortune.  At Marshall Field, Selfridge's marketing skills, that would later serve him well in his own company, asserted themselves when he devised the original "Only ___ shopping days until Christmas" promotion.  He opened up his own shop in Chicago in 1904 but sold it after only two years.
In the same year he sold his first business, Selfridge took a holiday to London with his wife and fell in love with the city.  Eschewing his planned retirement, Selfridge decided to open up his own department store in London, investing £400,000 in a building on Oxford Street.  Selfridge took the same approach to his new store that he did at Marshall Field, insisting that shopping should be a pleasurable activity.  He included a restaurant in his store, a library, a First Aid room, and public restrooms so that women did not have to leave and go home.  Selfridge was also one of the first people to heavily advertise, use sales gimmicks, and cater to the women's suffrage movement.
All of his sales efforts were immensely successful and made Selfridge even richer than he was before.  Unfortunately, his wife Rose died in 1918 during the influenza epidemic and his mother followed six years later.  With the two women who grounded his life gone, Selfridge's profits were equaled and eventually eclipsed by its founder's lavish spending and debts.  He became involved with the Dolly sisters, who only encouraged his spending habits as the Great Depression made his lifestyle untenable.  Eventually, he was removed from control of the company in 1941 and moved into a three-bedroom flat with his eldest daughter, Rosalie.  Often, Selfridge would visit the site of the store in his shabby clothes and was even once mistaken for a vagrant.
He even became estranged from his other children.  His son, Harry Jr., had fallen in love with an employee at the store name Charlotte, a relationship his father hadn't approved of since he hoped his children would marry into London society.  Harry Jr. kept his marriage to Charlotte and their children a secret from his father.  When Harry Sr. died on 8 May 1947, of bronchial pneumonia, he had never met his daughter-in-law or his grandchildren.  His funeral was conducted at St. Mark's Church in Highcliffe and he was buried on 12 May 1947 next to his wife and mother in the graveyard.