The Royal Academy of Arts's latest exhibition presents the first survey of the late work of John Constable (1776–1837). Late Constable opens on 30 October 2021, exploring the last twelve years of the artist's career, from 1825 until his unexpected death in 1837.
The exhibition brings together over 50 works, including paintings and oil sketches as well as watercolors, drawings, and prints. It takes an in-depth look at the expressive development of the artist's late style.
About John Constable
Constable was born and raised in Dedham Vale, the valley of the River Stour in Suffolk. The Dedham Vale area is fondly known as "Constable Country," as you can recognize the views from his landscape paintings.
The son of a wealthy mill owner, he became a student at the Royal Academy Schools in 1800, aged 24. (Note, the RA Schools has trained some of the UK's finest artists from William Blake and J.M.W. Turner RA to Sir John Soane and Sir Anthony Caro RA.)
He first exhibited at the Royal Academy's Annual Exhibition in 1802 with a piece simply called Landscape.
John Constable by Daniel Gardner, 1796 (For reference; not included in the exhibition)
The exhibition is arranged in three sections: '1825–1829', 'Works on Paper' and '1830–37'.
1825–1829
This was the period in his life when he got married, had children, and his wife died. He wed Maria Bicknell (1788–1828) at St Martin-in-the-Fields in Trafalgar Square in 1816, and they moved to London. He had a studio at Charlotte Street, Fitzrovia, and was more reliant on memory for his famous Suffolk landscape paintings.
They spent the summer months away from central London in Hampstead due to Maria's poor health. And from 1824, they spent more time in Brighton, hoping the sea air would be beneficial. Sadly, Maria died of tuberculosis in 1828, leaving John with seven young children.
John Constable was elected a Royal Academician on 10 February 1829, at the age of 52, just a few weeks after Maria's death. He had waited a long time to finally reach enough votes to be accepted. Once elected, Constable put a decade's resentment aside and played an active role in the institution.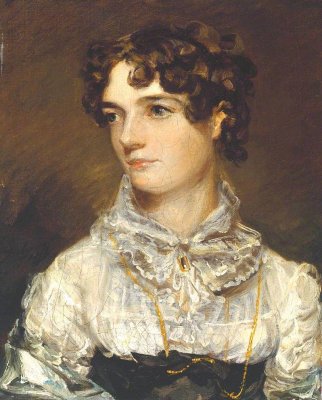 The first section, 1825–1829, has the last of Constable's celebrated six-foot Suffolk' canal' scenes. The Leaping Horse was first exhibited at the Royal Academy's Annual Exhibition in 1825 and is one of the highlights of the Royal Academy's collection. It is in this painting that, by adding the detail of the tower of Dedham Church, Constable first moved away from the notion of topographical accuracy, which had been a hallmark of his work until that date.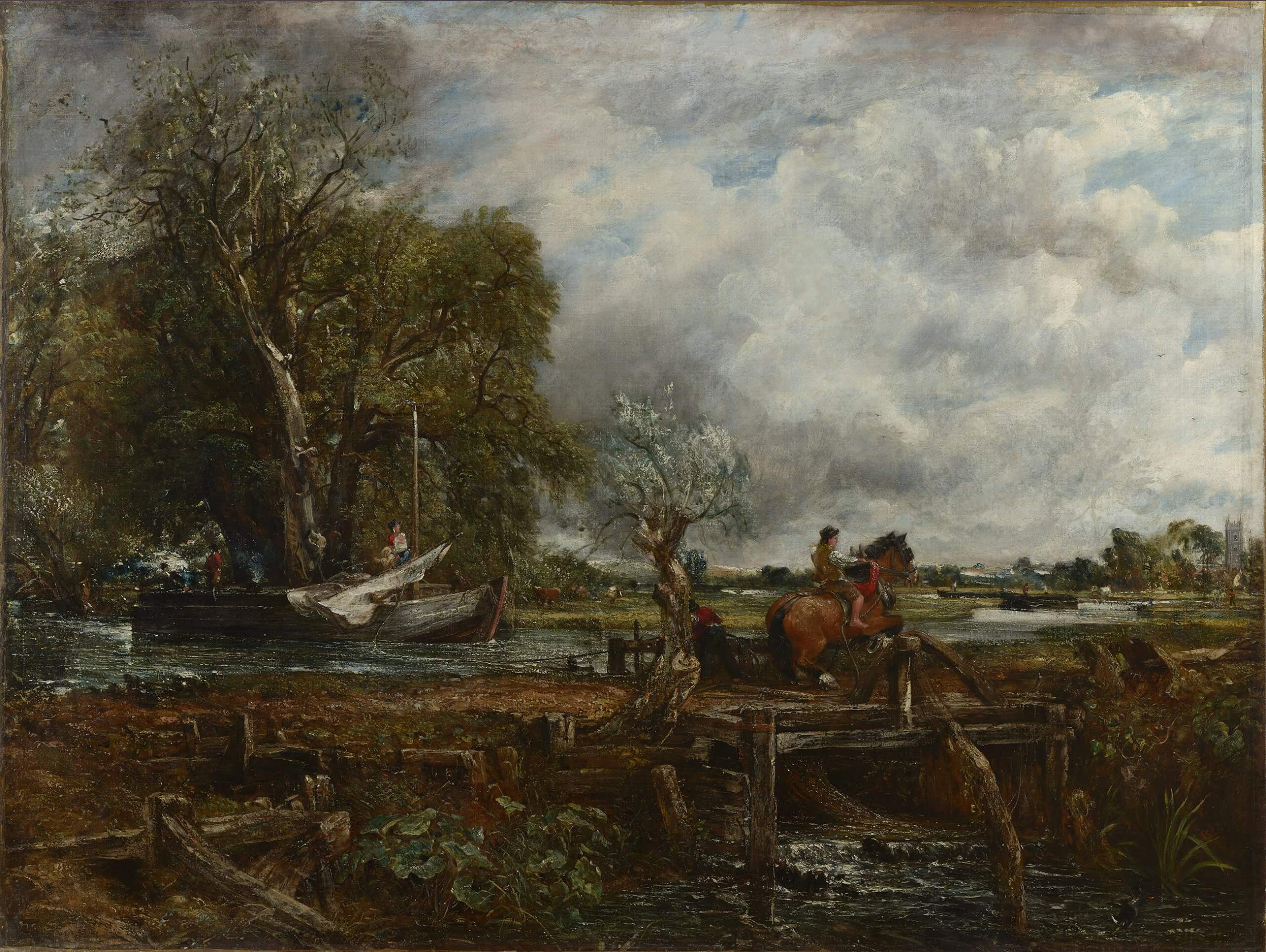 It's a real delight to see the progress to reach this final painting as there are pen sketches on display as well as a full-size oil painting 'sketch.' (The final painting is on the right.)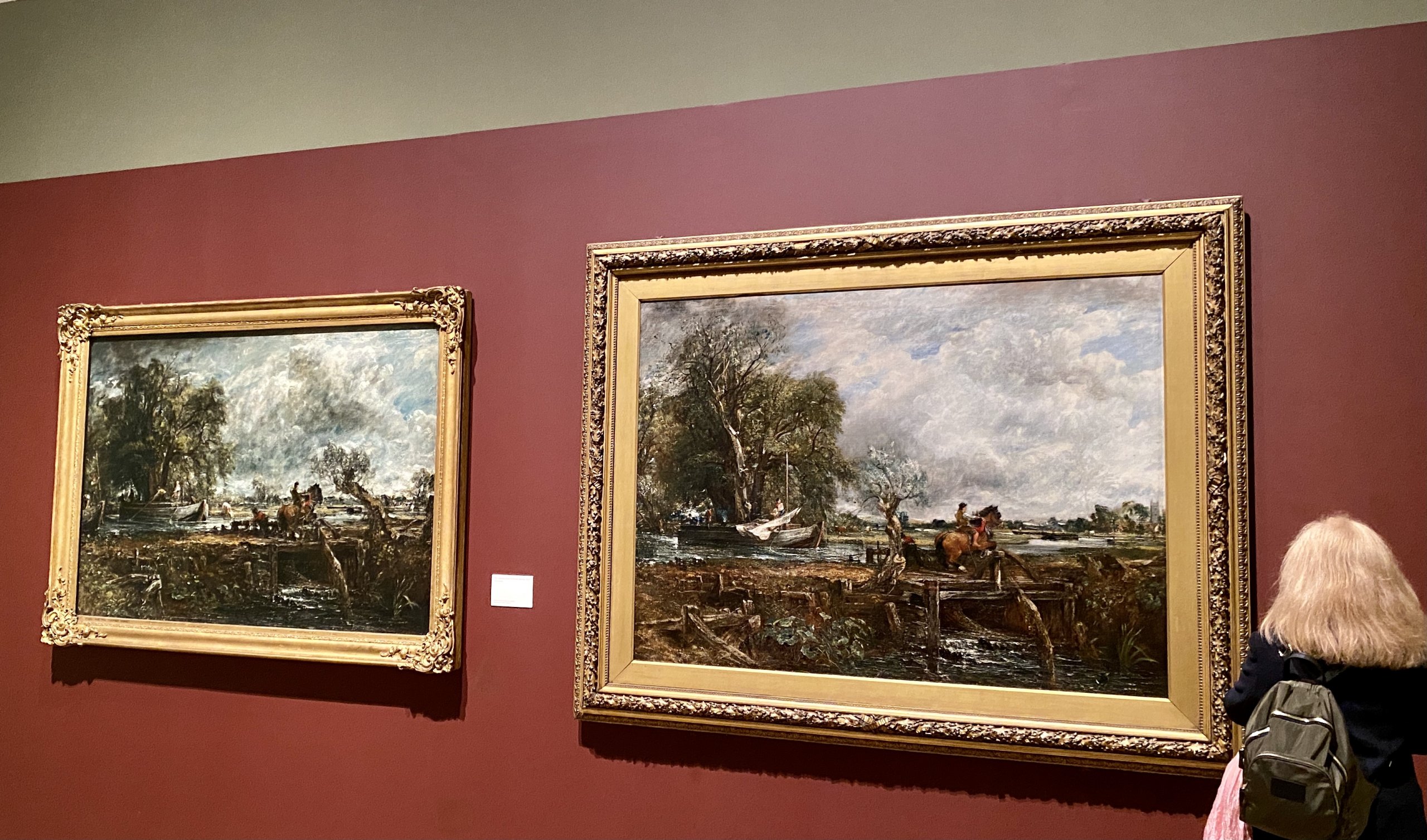 The pen and grey ink compositional studies are positioned in front so you can compare.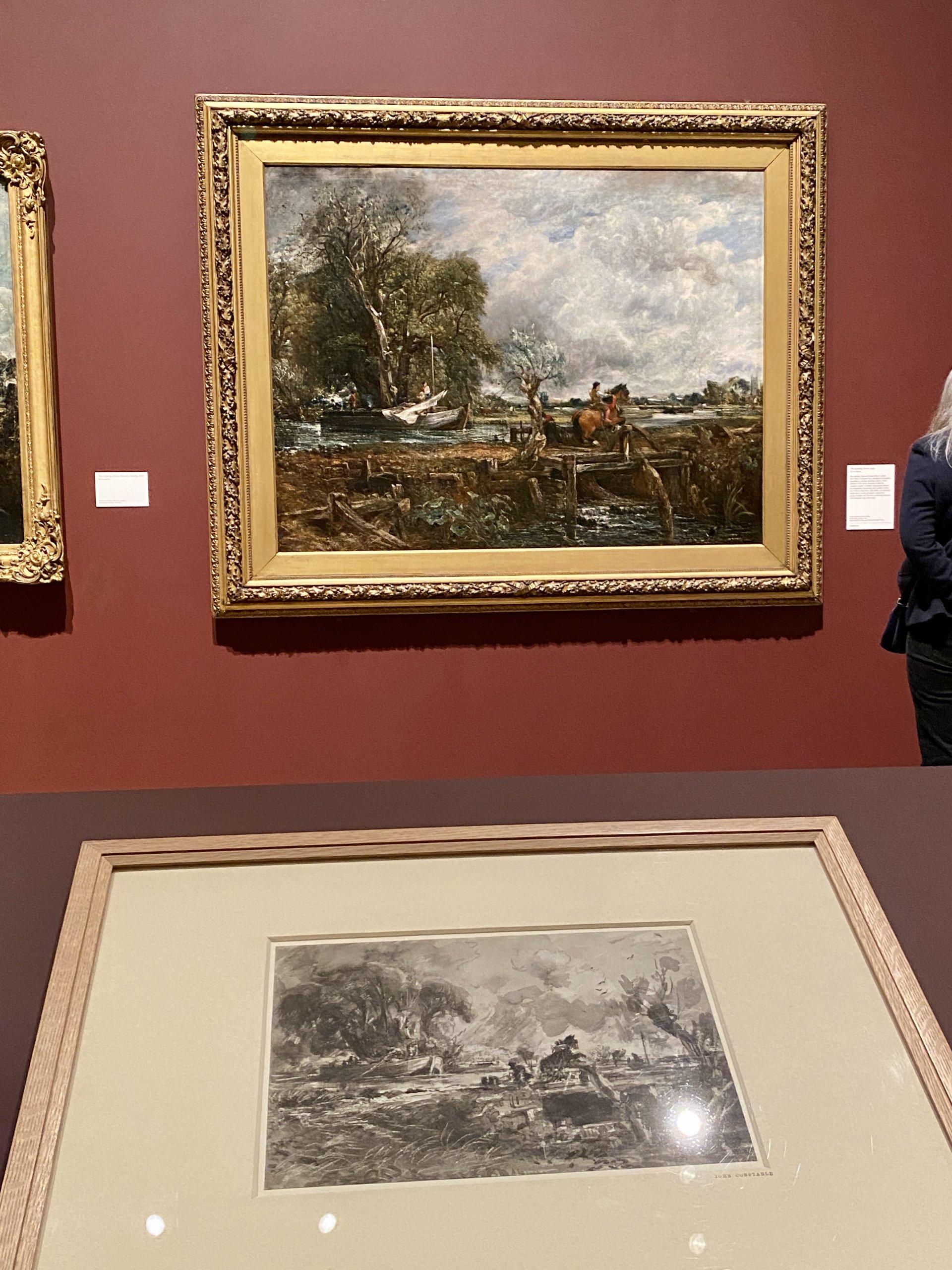 After The Leaping Horse didn't sell, he moved away from the River Stour' canal' scenes and created The Cornfield, 1825 (The National Gallery, London) and Dedham Vale, 1828 (National Galleries of Scotland, Edinburgh) – both on display here. Dedham Vale was painted as a homage to his friend and patron, Sir George Beaumont (1753–1827) who had died the year before.
I found it interesting to see how the composition of Dedham Vale echoed a picture by French artist Claud Lorrain (1600–1682), Hagar and the Angel, formerly in Beaumont's collection.
And again, it's a treat to see his full-size oil sketch beside the final painting (on the right) of Hadleigh Castle painted during the months after his wife died.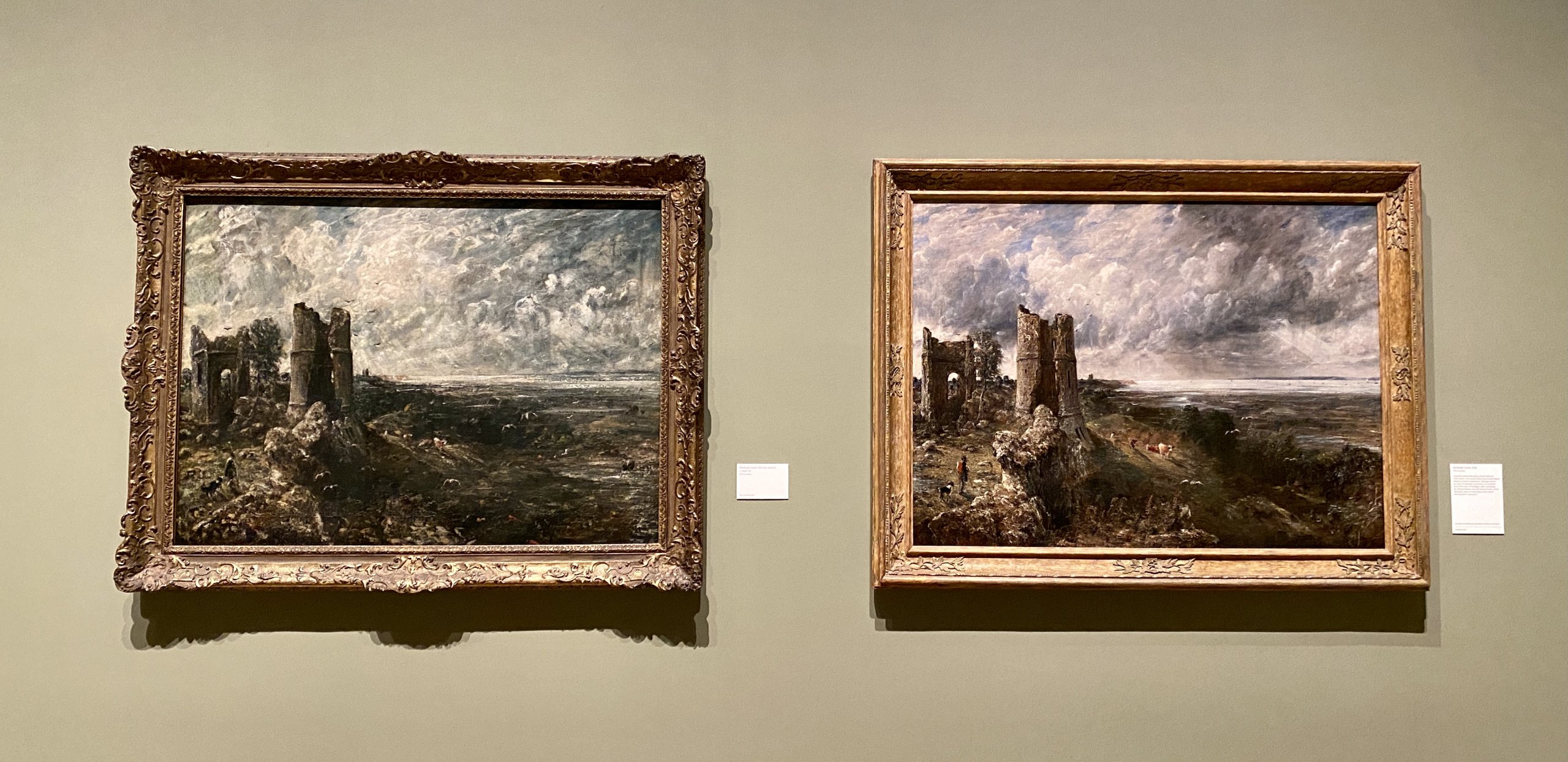 Following his election as a Royal Academician in 1829, Constable chose A Boat Passing a Lock, 1826, to present to the Royal Academy even though he had already sold it to a friend.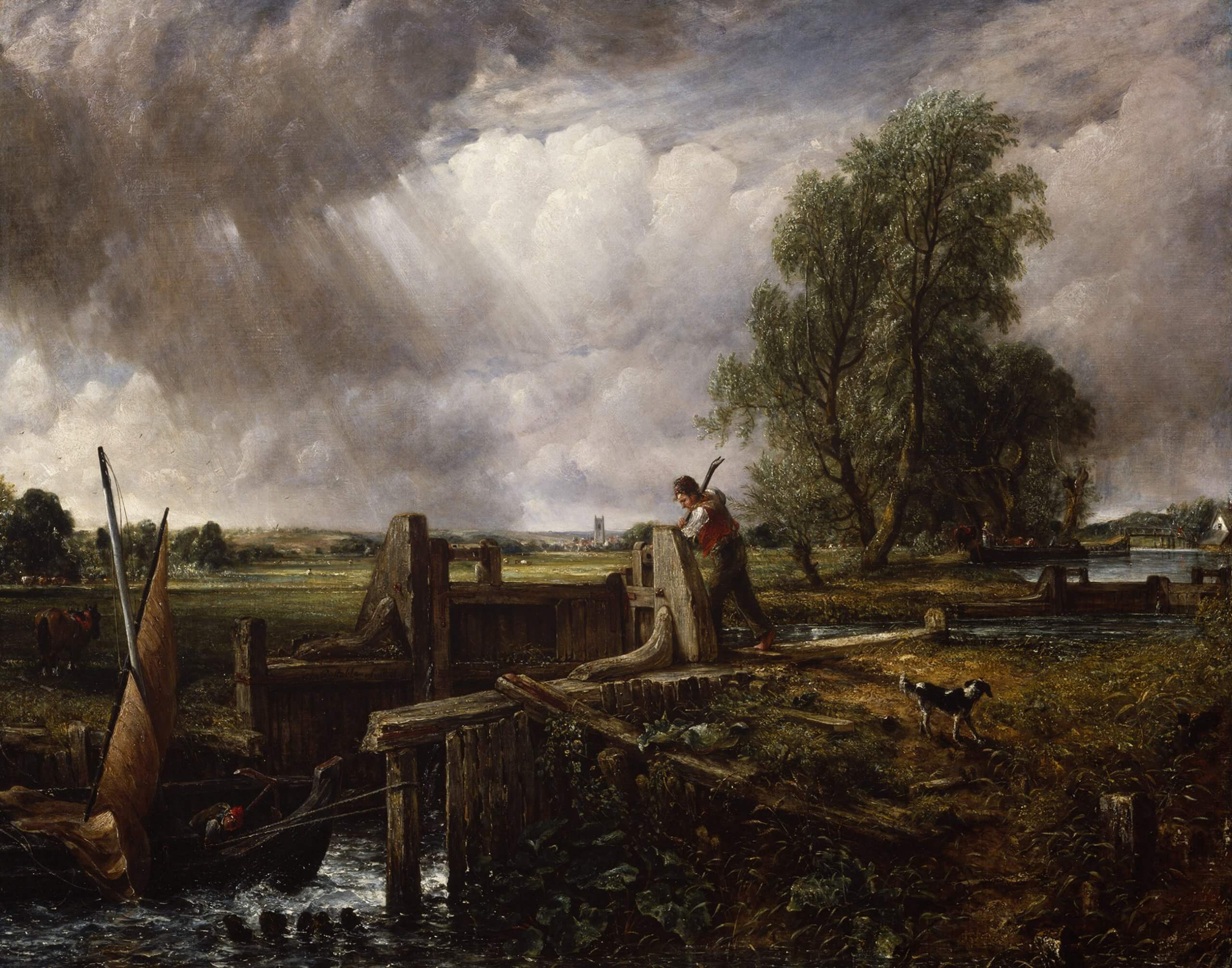 Between 1821 and 1822, Constable painted many cloud studies from the high ground at Hampstead Heath. He was very interested in meteorological research and even planned to give a lecture about skies and clouds but died before it happened.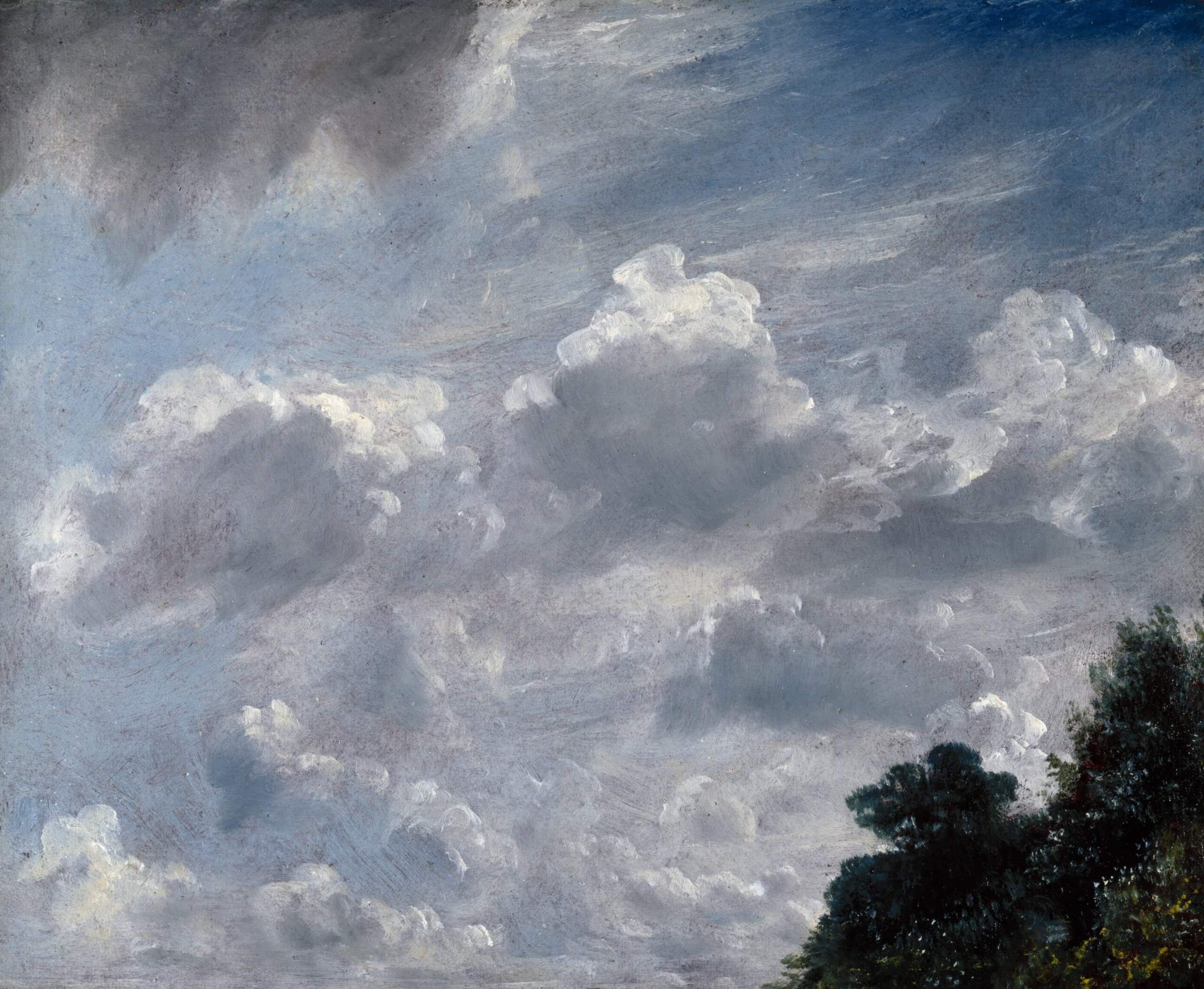 I was pleased to see Rainstorm over the Sea, 1824–5, as it's a wonderful example of his expressive painterly brushstrokes with less concern for realism than his landscapes. It shows a thunderstorm in Brighton over the sea. The painting has been positioned next to his first coastal view on a large scale. Chain Pier Brighton, 1826–27, clearly shows how his sky studies developed. This was painted during the family's last extended stay in Brighton before Maria died.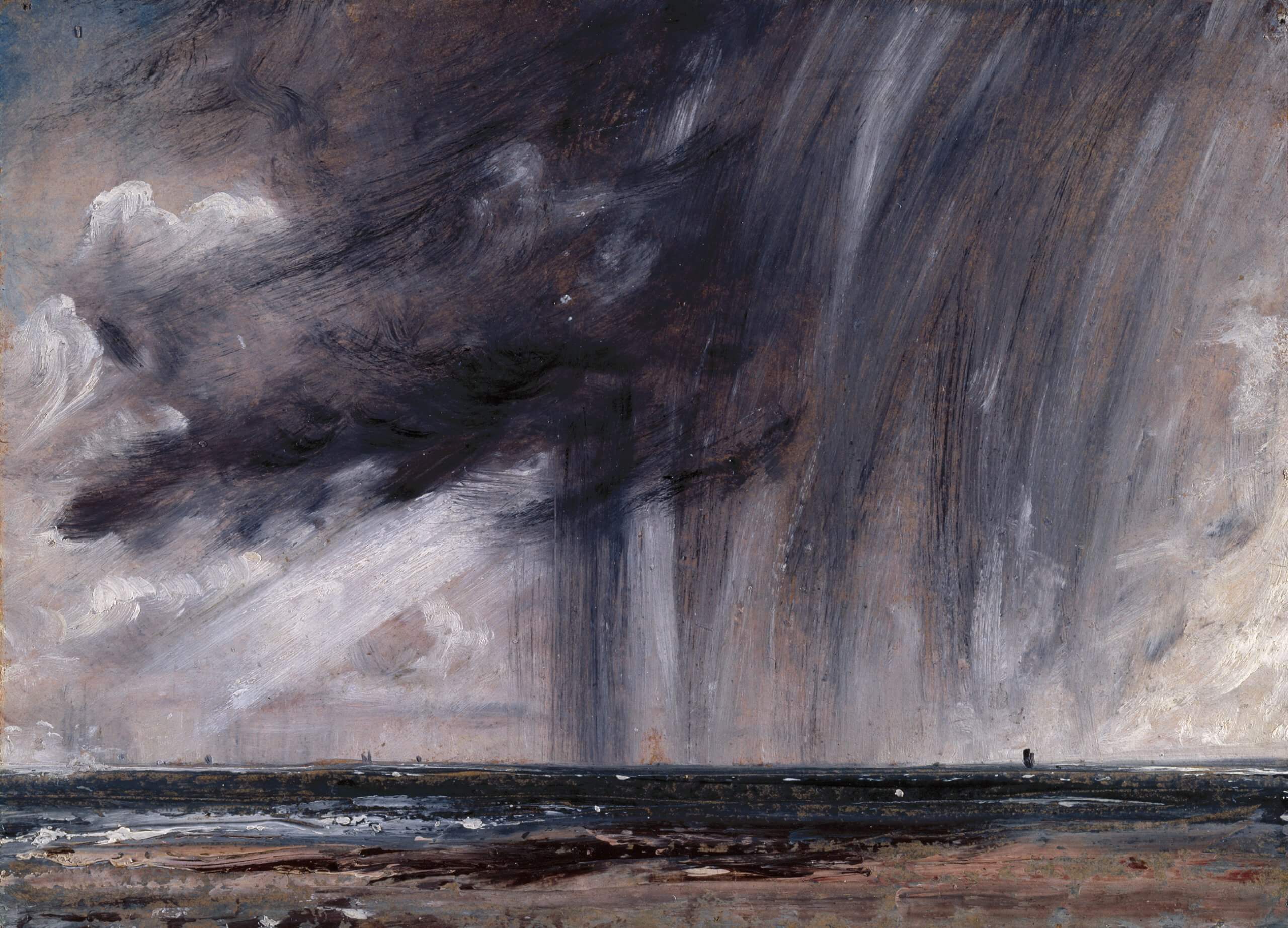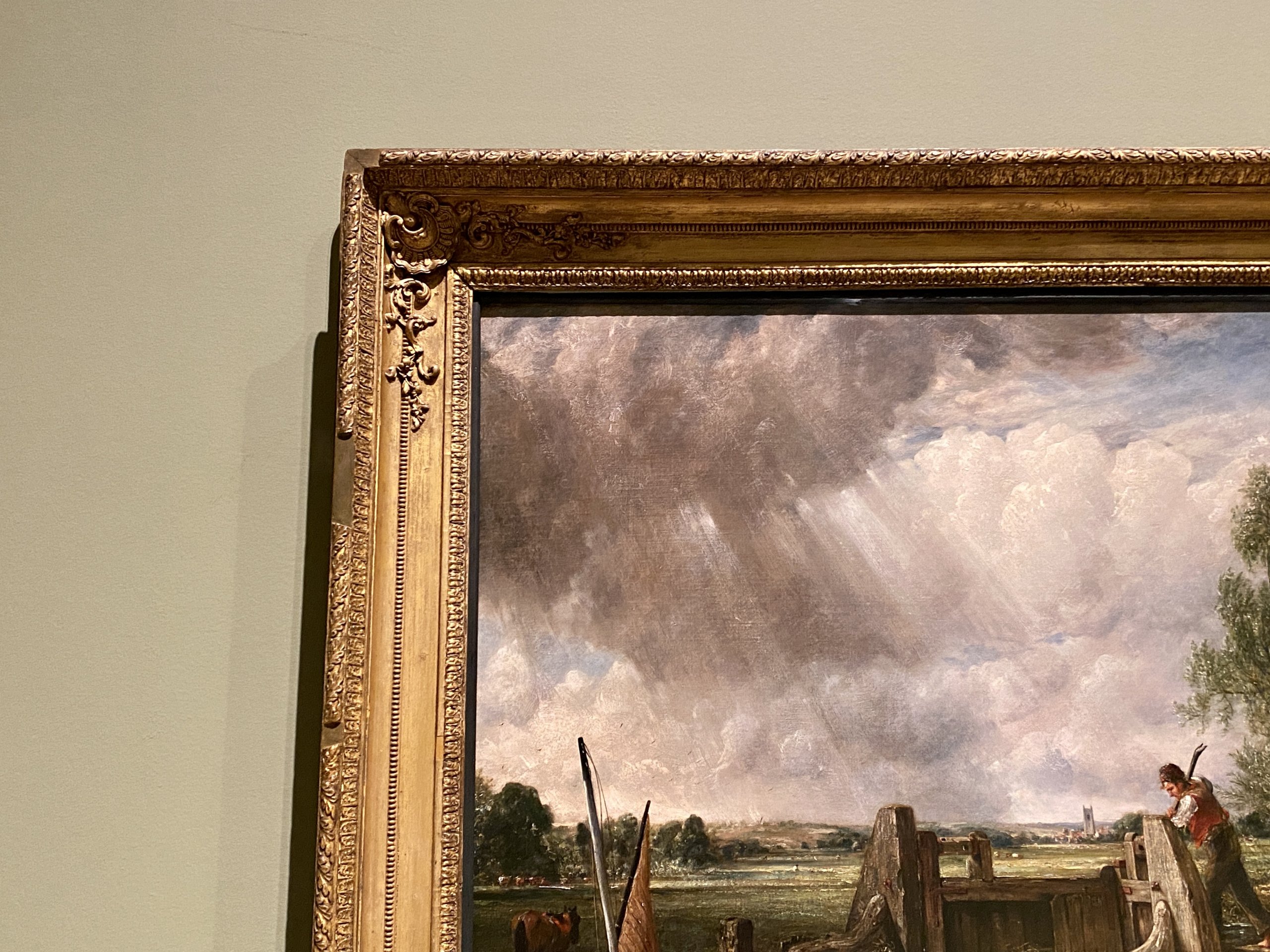 Works On Paper
The middle section of the exhibition features watercolors, drawings, and prints. This was an intriguing gallery as we generally associate Constable with his large-scale oil paintings.
As illness had prevented Constable from completing any oil paintings for the Royal Academy exhibition in 1834, he submitted Old Sarum, which became the most important work he showed that year. Look closely, and you can see an extra strip of paper was added to the righthand side. This was so he could include a rainbow.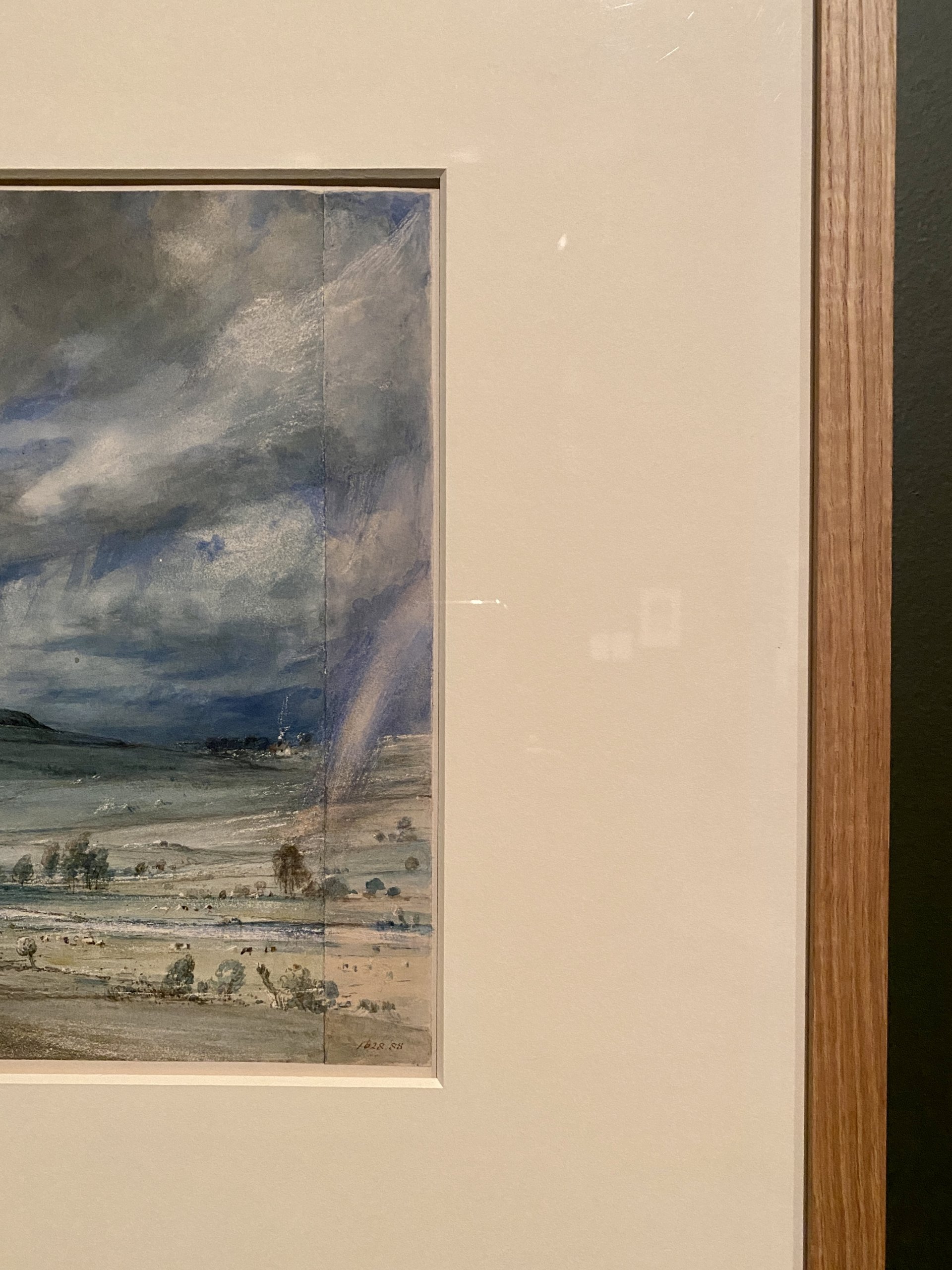 Another artwork – The Lock, c.1826 – has been expanded with additional paper added behind.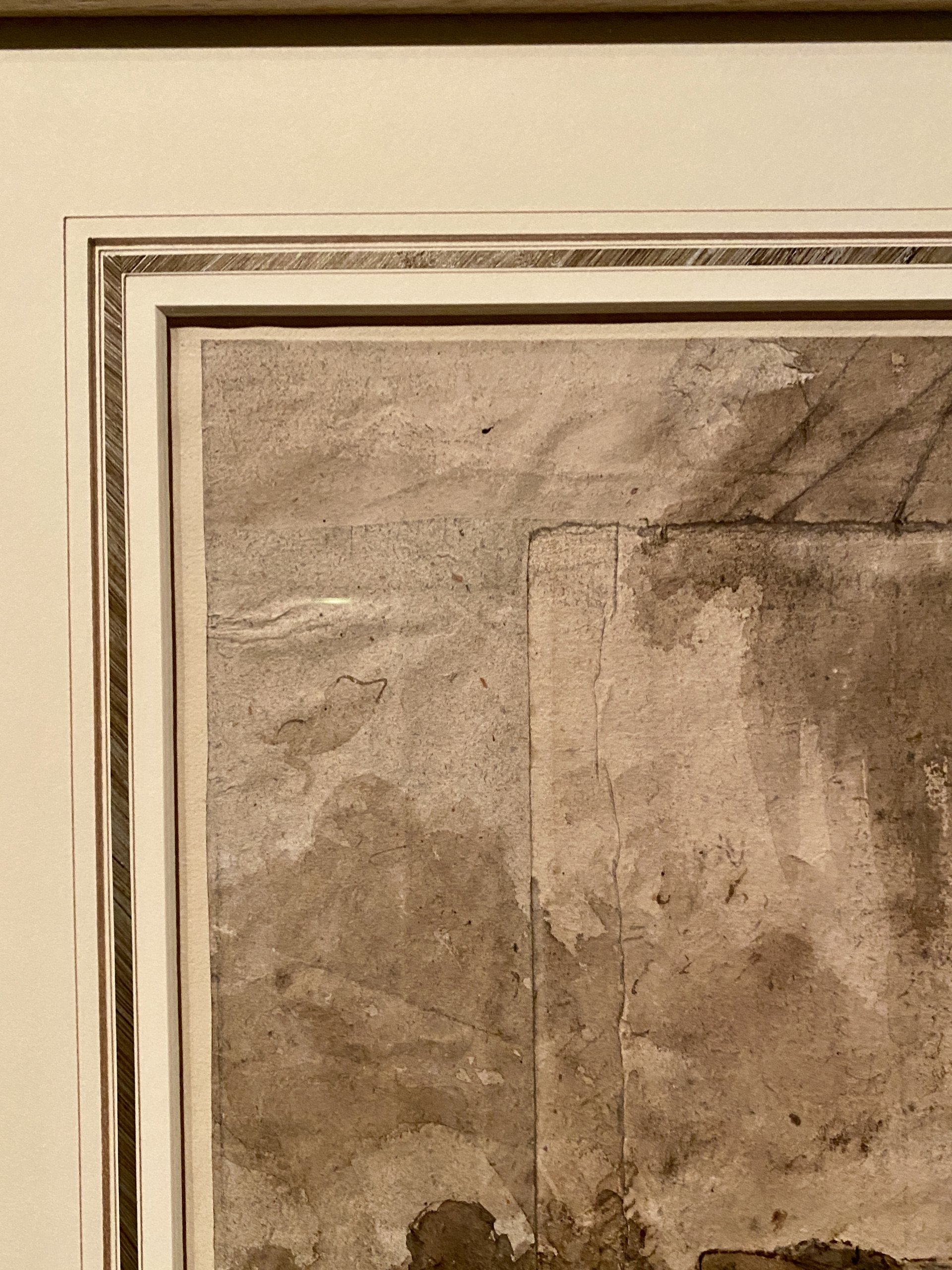 Constable often worked in pencil for his plein-air sketches and used them later for inspiration for oil paintings as well as finished watercolors and prints. The Netley Abbey artistic development was fascinating to see side by side. He had sketched the view in 1816 on his honeymoon and came back to the subject ten years later as an etching. But it was in 1833 that he painted it as a watercolor with the addition of a figure by a gravestone that adds a melancholic tone.
It was also late in life that Constable explored the possibilities of printmaking in a series of mezzotints after his paintings (English Landscape, published 1830–32). These were designed to promote his use of light and shade, which had become a powerful vehicle of expression in his late work. The close collaboration between Constable and his printmaker, David Lucas, is evident in the corrected progress proofs for the final print of the series, Vignette: Hampstead Heath, 1829 (Fitzwilliam Museum, Cambridge).
I enjoyed the brown ink artworks such as these views on the River Stour (1836), where he created the dramatic tones by loading the brush differently for light and shade.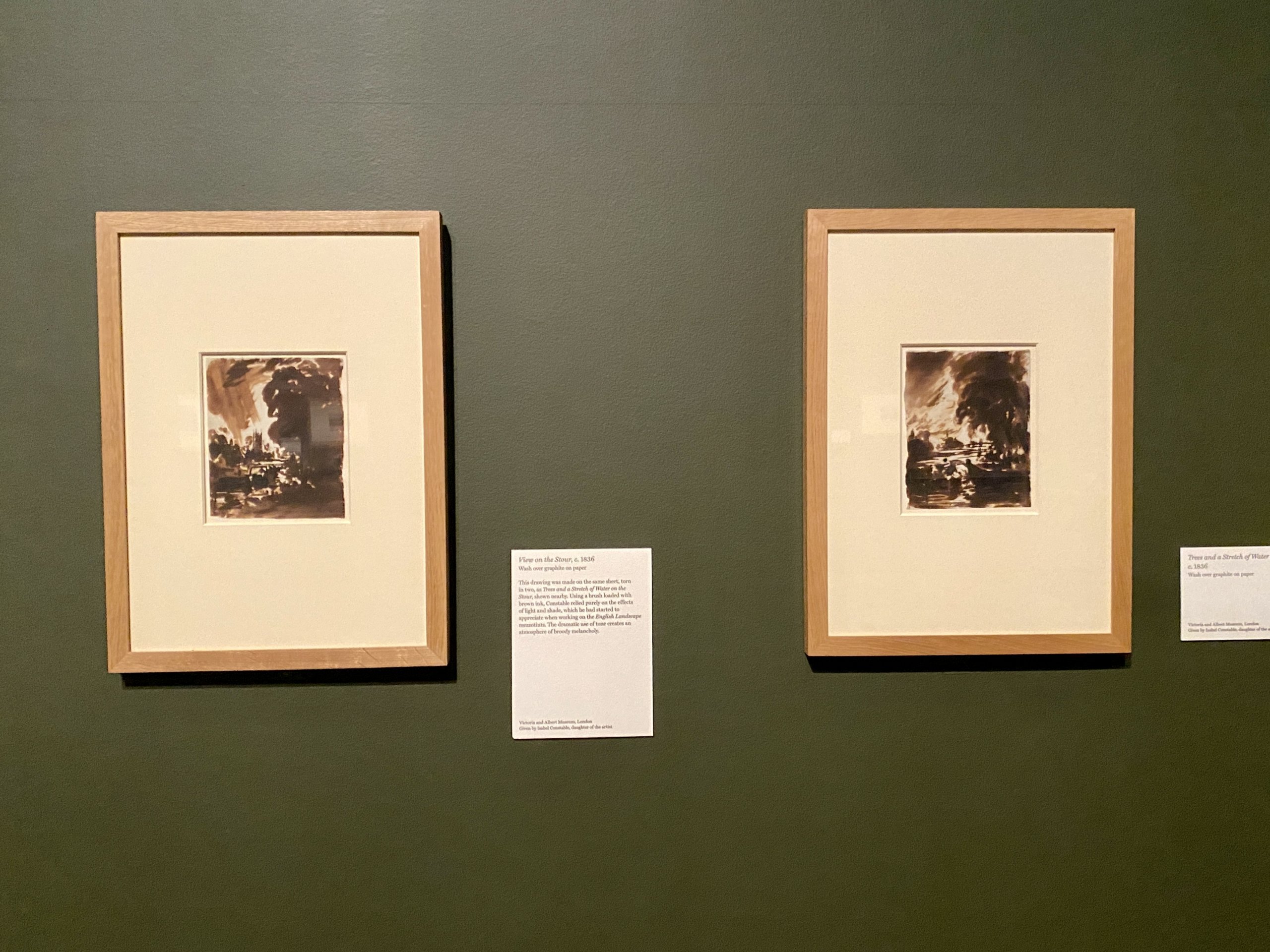 And it was good to see Constable's quick sketch of Michelangelo's Taddei Tondo. The marble relief of the Virgin and Child arrived at Somerset House in June 1830, bequeathed by Constable's patron Sir George Beaumont. Constable wrote in The Athenaeum that he considered it to be "one of the most beautiful works in existence."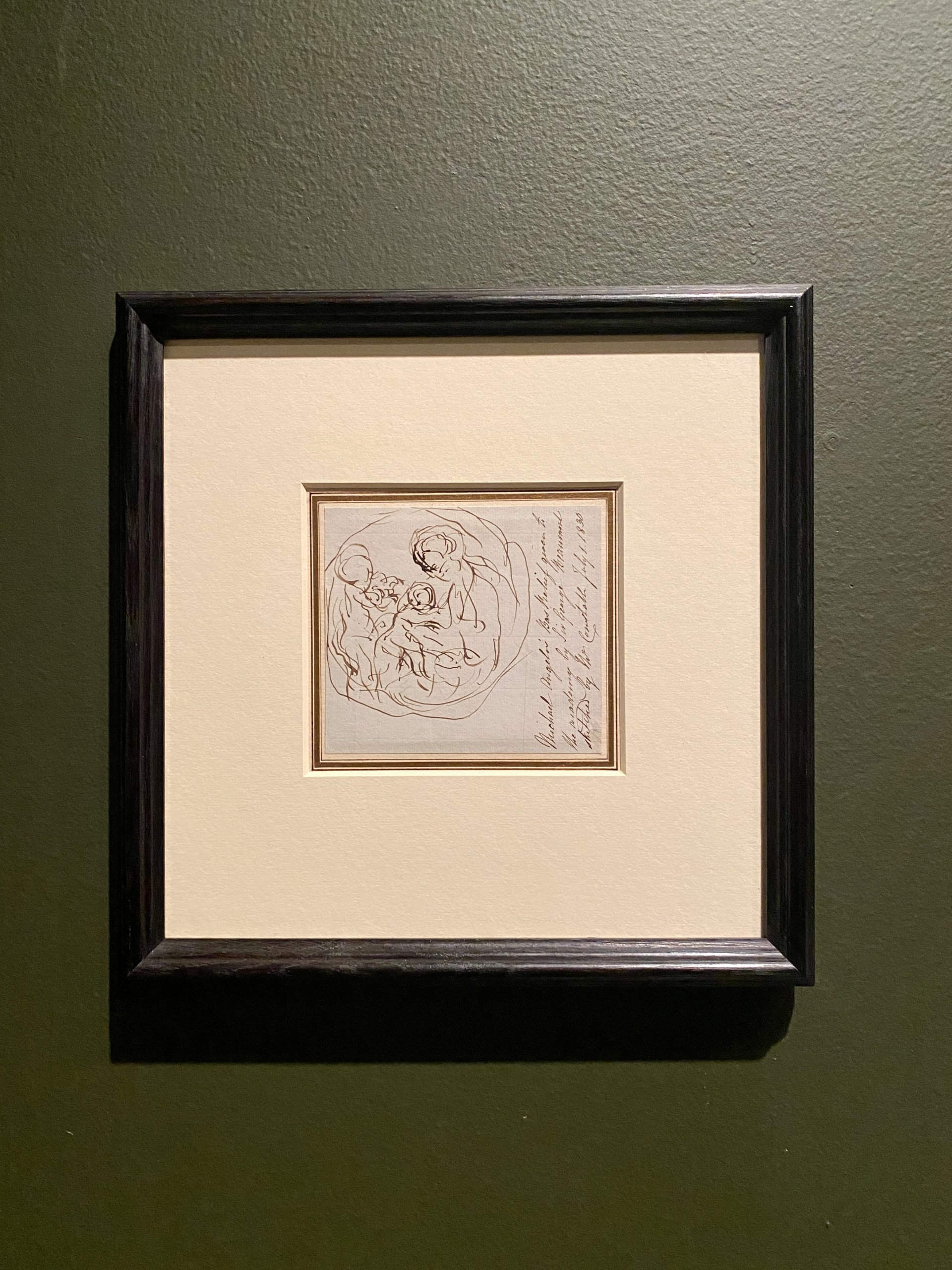 Do go next door to the Collections Gallery, where you can see The Taddei Tondo, c. 1504–05.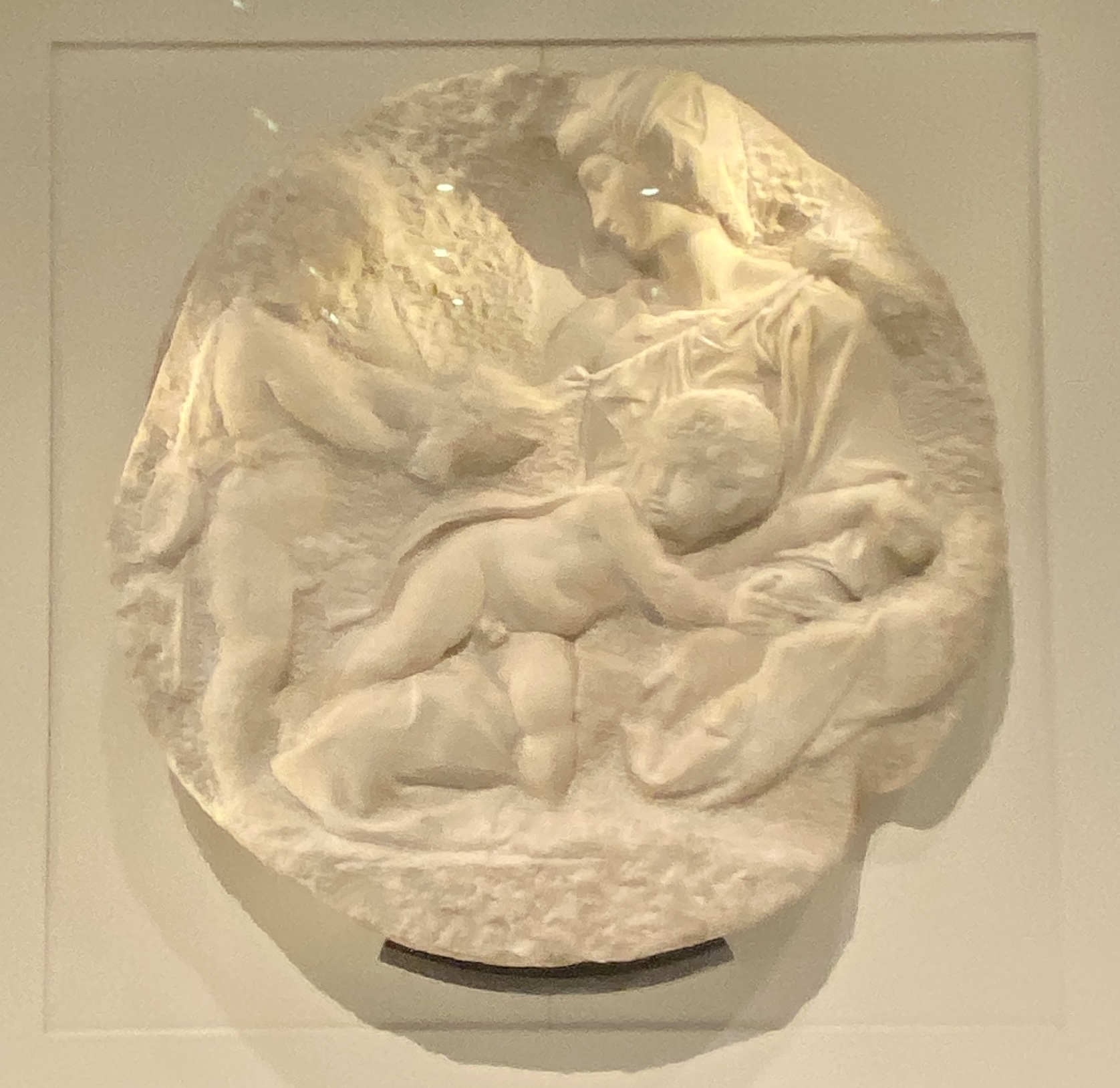 The culmination of his exploration into watercolors was his celebrated Stonehenge, 1835, which was exhibited at the Academy in 1836. His initial drawing had been made in 1820, and he added a dramatic sky with a double rainbow.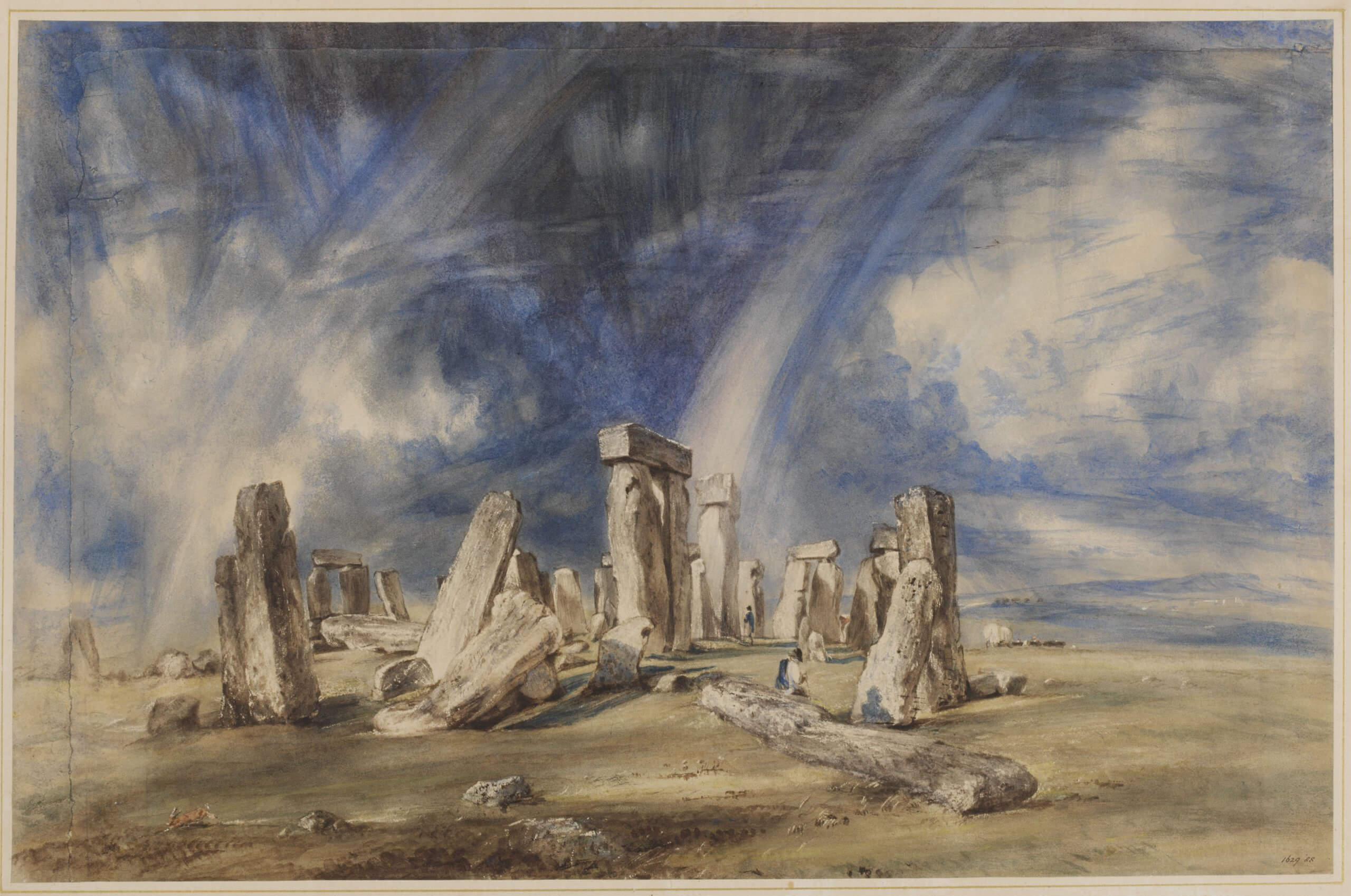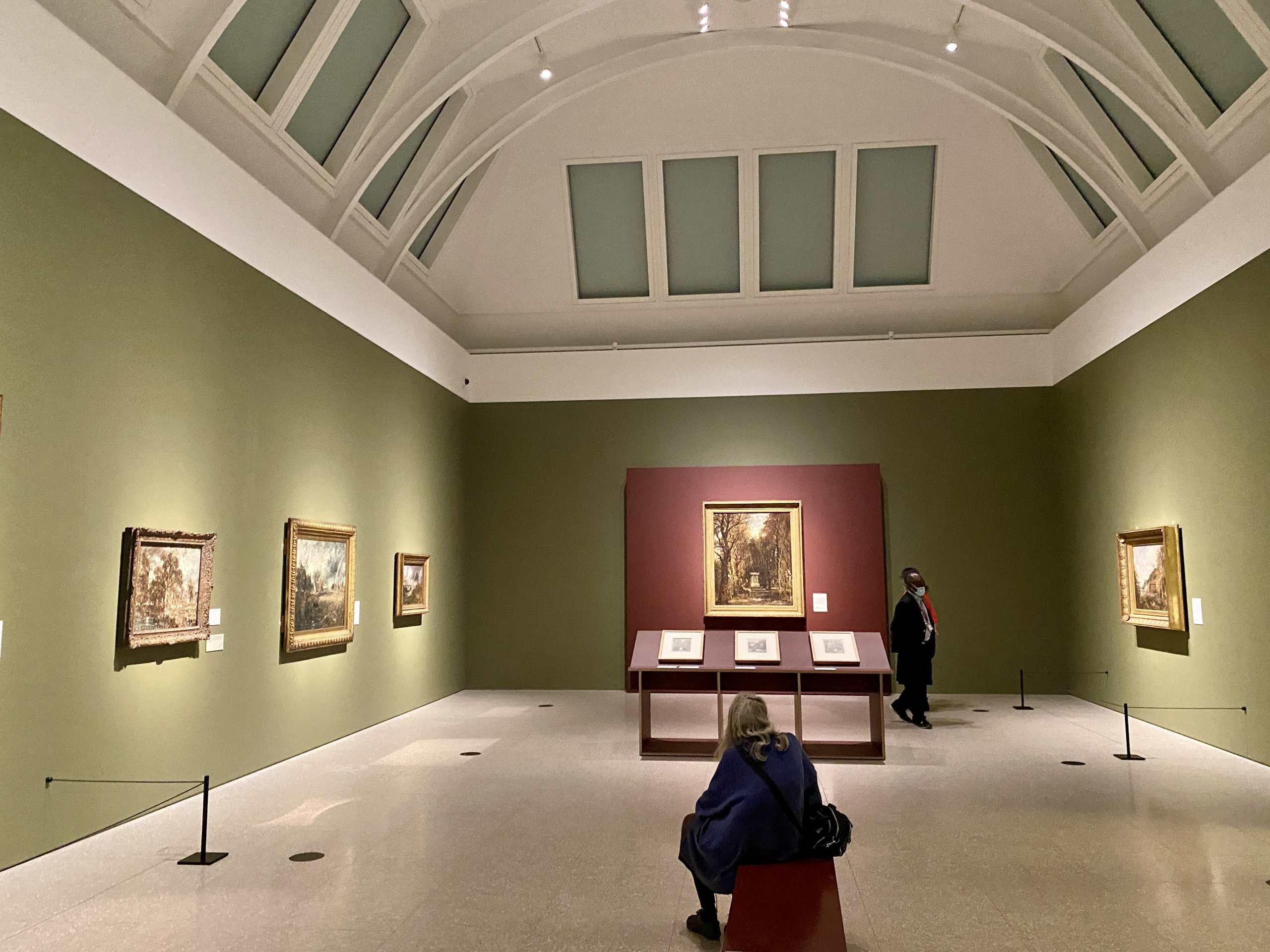 1830–37
The final section explores Constable's work in the 1830s leading up to his last two exhibition pictures: Cenotaph to the Memory of Sir Joshua Reynolds, 1833–36 (The National Gallery, London) and Arundel Mill and Castle, 1837 (The Toledo Museum of Art).
Cenotaph to the Memory of Sir Joshua Reynolds was exhibited in the RA's last Annual Exhibition held at Somerset House. It shows the cenotaph erected by Sir George Beaumont on the grounds of his home at Coloerton Hall, Leicestershire. Constable also pays tribute to the old masters: busts of Michelangelo and Raphael can be seen to either side, and the handling is, I'm told, reminiscent of the late work of Titian.
Constable commented that he wished to see Reynolds and Sir George Beaumont's names together in the catalog one last time.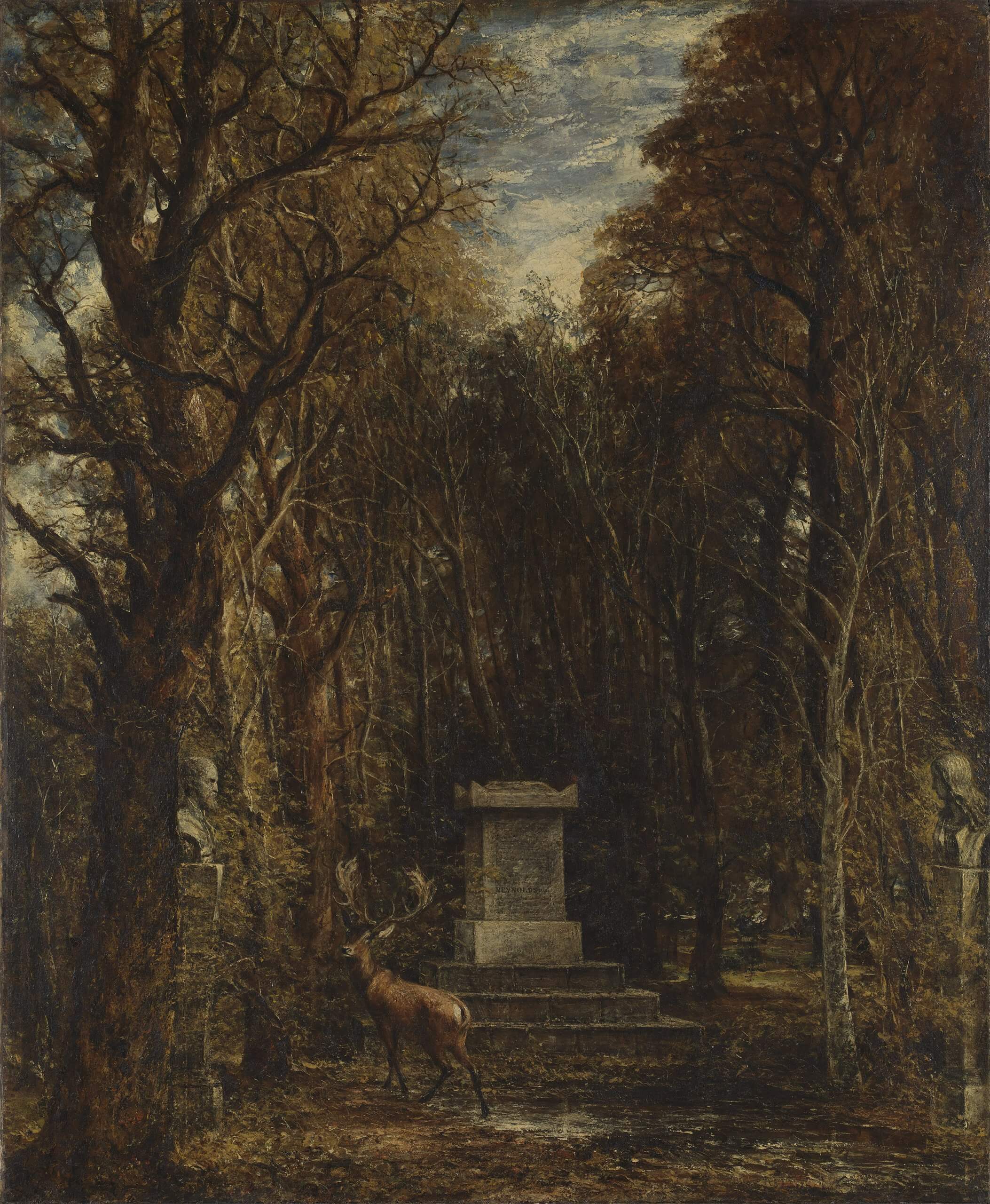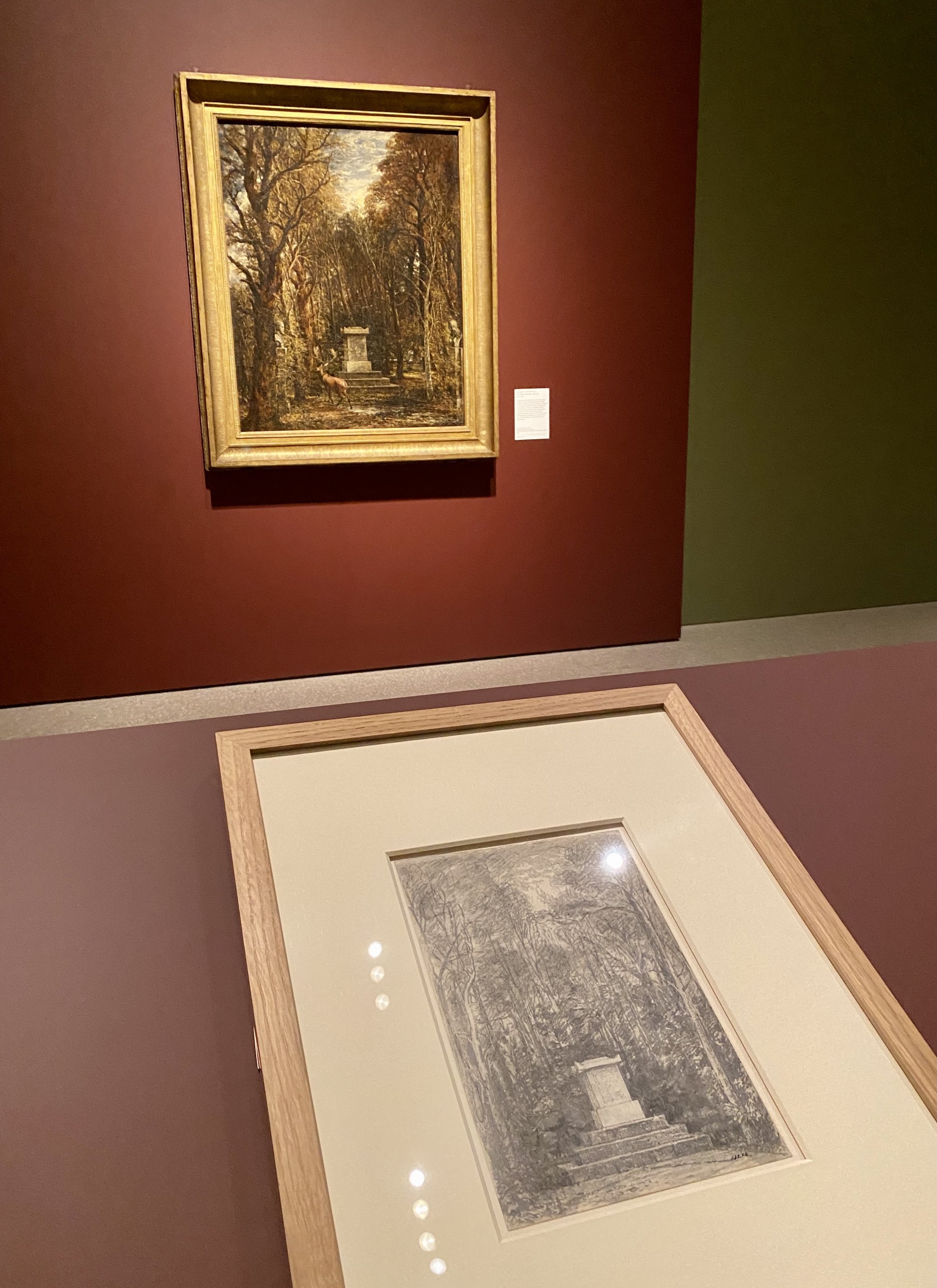 In 1831, he took on the unenviable task of the hanging of the Annual Exhibition again. He showed Salisbury Cathedral from the Meadows, which he moved into a position between two paintings by J.M.W. Turner (1775–1851). Turner was unimpressed.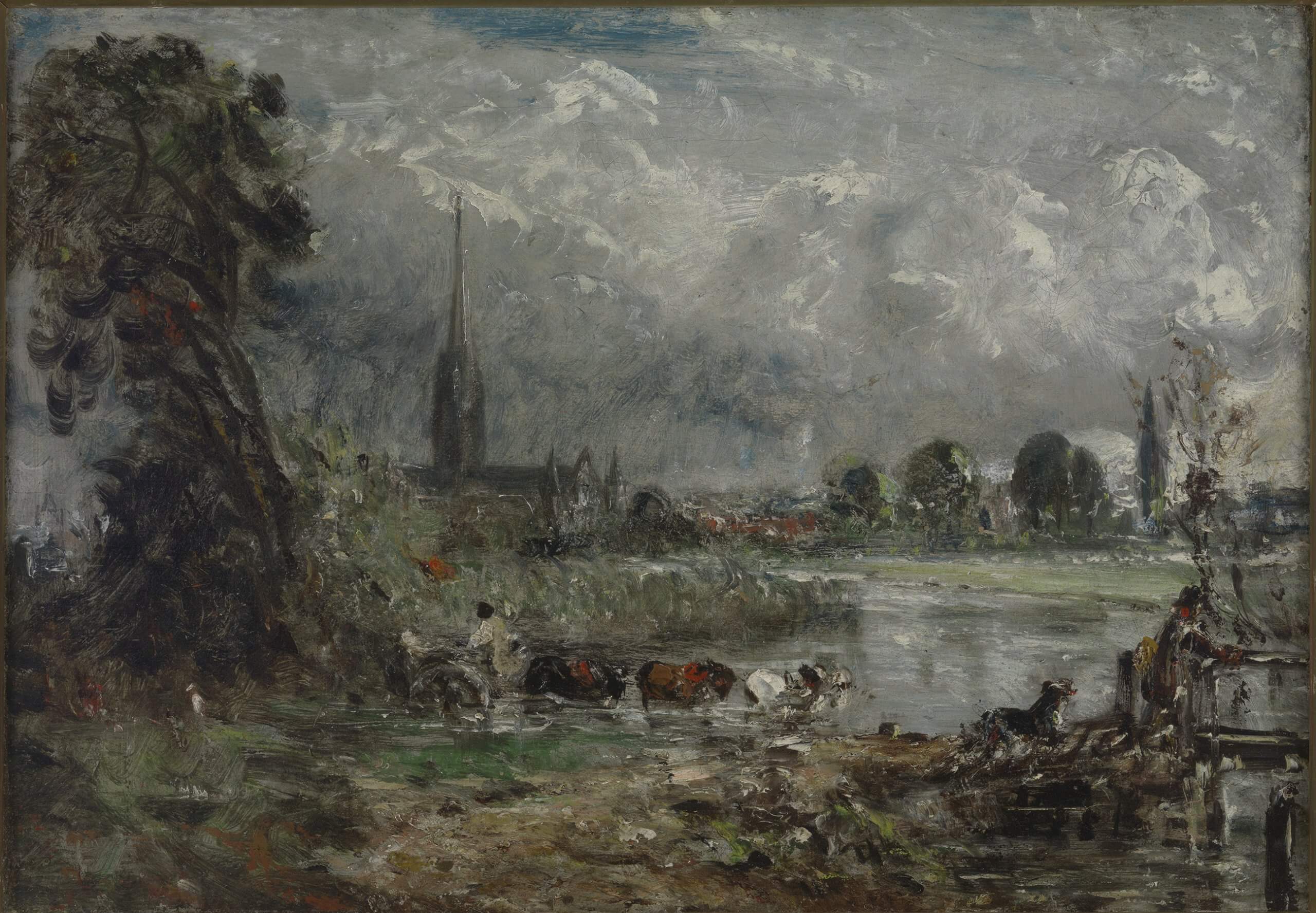 At the Academy's Annual Exhibition in 1832, the famous stand-off took place in which Turner reportedly upstaged Constable's The Opening of Waterloo Bridge by adding a blob of red paint to his own Helvoetsluys.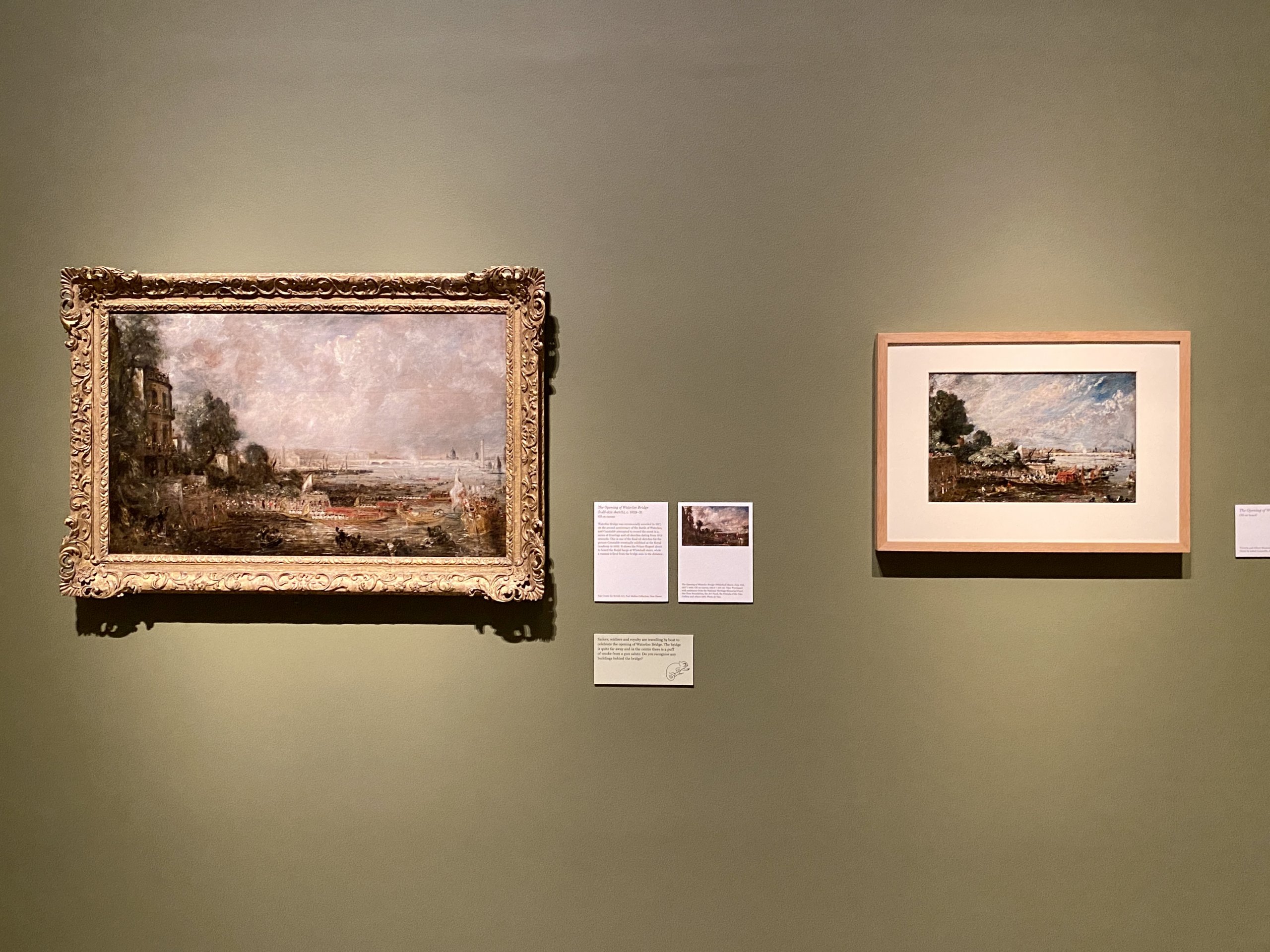 Constable died unexpectantly in his sleep on 31 March 1837. Arundel Mill and Castle was shown posthumously at the Royal Academy's then-new location in Trafalgar Square. Critics lamented the great loss of that "able and very powerful artist."
Constable had visited Arundel in 1835 with his eldest son, John Charles (1817–1841). John junior had suggested his father should make a large painting of Arundel Mill and Castle.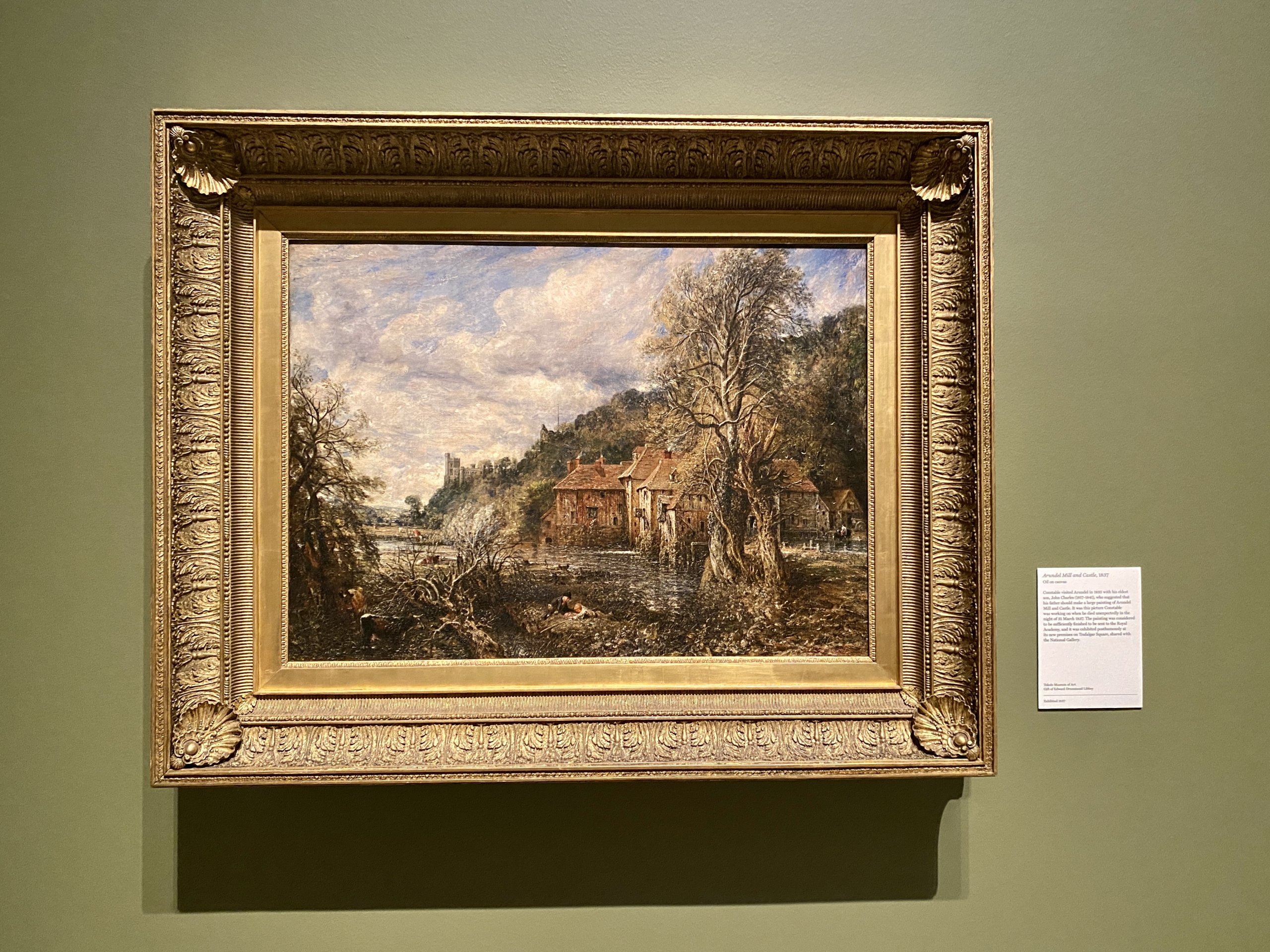 Conclusion
This is a relatively small exhibition of just three galleries, but it is at the right venue as Constable was so closely connected with the Royal Academy. A visit will probably last around an hour, so whether it is worth the RA's high ticket price I'll leave you to decide. I will say I really enjoyed the exhibition and learned a lot about this famous artist. And in these difficult times, seeing art in real life is good for the soul.
Visitor Information
Exhibition Name: Late Constable
Address: Royal Academy, Burlington House, Piccadilly, London W1J 0BD
Dates: Saturday 30 October 2021 – Sunday 13 February 2022
Times: 10 am – 6 pm Tuesday to Sunday (last admission 5.30 pm)
Admission: From £19; concessions available; under 16s go free
Official Website: www.royalacademy.org.uk