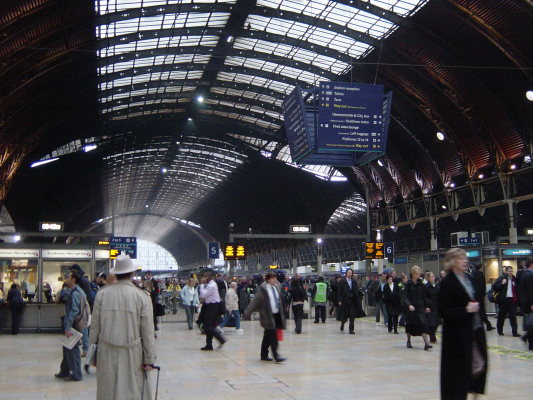 Later this week, the film "Paddington" is set to come out in theatres across the United States. Voiced by Ben Whishaw, it tells the classic story of a Peruvian bear who comes to live with the Brown family. Paddington Bear, of course, is granted his name in the story due to being found at Paddington Station in London. Since it's coming out this week, I figured why not have a look at both of these British classics and the ties that bind them together.
London Paddington Station, or Paddington for short, first opened in 1838 as a temporary terminus for the Great Western Railway. The main station opened in 1854 and the first station became the goods depot. In the modern day, it has fourteen tracks across four spans made of iron and glazed windows that curve over the tracks. It is quite honestly a fantastic representation of a Victorian design train station and is a Grade 1 listed building (meaning it has special protection and can never be torn down). Its designer, Isambard Kingdom Brunel, designed the station when he was only 29 years old. Further, it sees quite a lot of traffic, and in 2012, it saw little over 32 million passengers.
Meanwhile, Paddington Bear was created in 1956 by Michael Bond. The story goes that Bond had noticed a stuffed bear sitting alone on a shelf in Selfridges on Christmas Eve and purchased it for his wife Brenda. He opted to name it Paddington after the station because it was closest to his home. At that point in his life, Bond was a cameraman for the BBC, most notably working on the children's programme Blue Peter. Bond then started to write stories about the bear, "more for fun than with the idea of having them published." After about ten days, he had the first book written, though it wouldn't be published until 1958.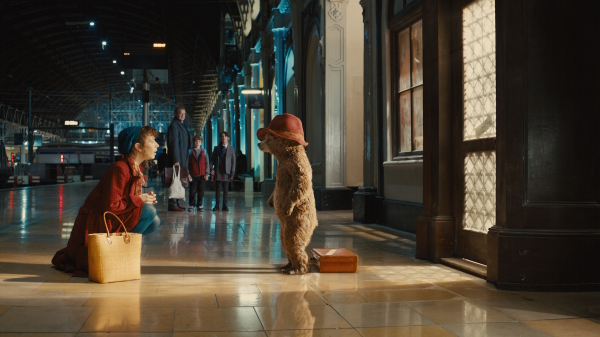 In his first tale, Paddington is simply a bear who stowed away from Peru to London, sent there by his Aunt Lucy. He is all alone in a strange place with a suitcase and his hat. He also came with a single note attached, reading, "Please look after this bear. Thank you." Mr. Bond stated that part of his inspiration for the story came from newsreels of children being sent out to the countryside by their parents to escape the Blitz.
Found by Mr. Brown, who takes pity on the young bear, Paddington comes home to live with the Brown family. Most of his adventures follow the idea of the "stranger in a strange land" and Paddington's child-like naiveté. He gets himself into humourous problems and often takes things too literally, to the consternation of the Browns, their neighbours, and anyone who encounters him. He is also a great fan of marmalade, because "bears love marmalade."
A year after "A Bear Called Paddington" was published, it was listed as "The Best Children's Novel of 1958" by UK Trade Journal, Books, and Bookmen. In 1960, it was published in Denmark, Sweden, the Netherlands, and the United States. Later on, Bond used his connection to Blue Peter to publish several Paddington stories in the programme's annuals and eventually retired from the BBC to write his stories full-time. By the 1970s, Paddington Bear was a full-on children's phenomena, with Eddie and Shirley Clarkson making the first plush Paddingtons (that they gave to their children, one of whom was future TV presenter Jeremy Clarkson), a musical, and an animated series.
Today, the station certainly plays up its connection with the famous fictional bear. There is a stand selling all sorts of Paddington items, from books to stuffed bears. There is also a bronze statue of Paddington as he was depicted in Michael Bond's first book, made by Marcus Cornish and based on the illustrations of Peggy Fortnum.
With the movie set to come out this week, also starring Hugh Bonneville as Mr. Brown, Sally Hawkins as Mrs. Brown, as well as Jim Broadbent, Peter Capaldi, and Nicole Kidman, you can expect renewed interest in one of the world's favourite children's characters and more articles from yours truly (who owns his own Paddington).