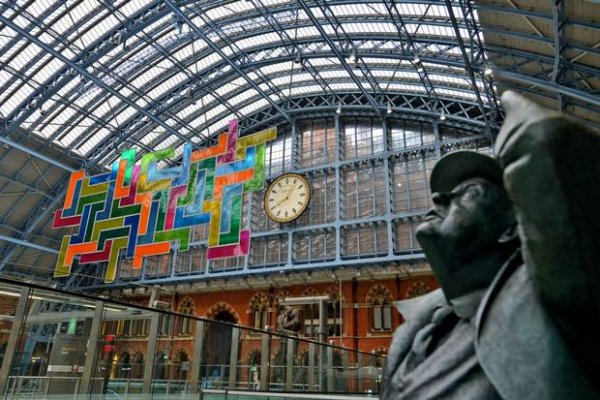 St Pancras Station, which is the hub for Eurostar trains to Paris, is a magnificent public space. We love to visit the station even when we don't have a train to catch (the champagne bar is fab). One of the things we love about it are the public works of art on display. It's hard to miss the statue of the lovers embracing or the Sir John Betjeman Statue (the poet famously led the charge to save the beautiful Victorian station from demolition).
The station also rotates out magnificent works of public art, most recently the cloud floating above the trains. This week, they've unveiled a new work of art that loves pretty much like a giant game of Tetris.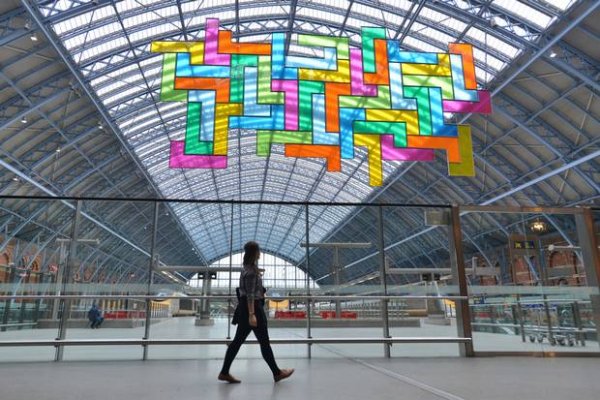 It's called Chromolocomotion and it was created by the Scottish artist David Batchelor. It's a giant 20 metres by 10 metre mosaic work of 44 brightly-colored Perspex L shapes slotted together beneath the Grade I listed shed roof the station.
Quoth the artist: "Terrace Wires offered me the chance to create a piece of work that celebrates the beauty and grandeur of this iconic example of industrial engineering. It seemed appropriate to celebrate this great volume of space above the platforms with something that alludes to these magnificent qualities."
Here's a BBC Video about the work of art:
https://www.youtube.com/watch?v=i8vdjaGAuP0
I must say that it is simply stunning. It will be really cool to see how the colors interplay with the inside of the station. An amazing work of art.
The work of art will be on display until September. Definitely stop by and have a look if you're in the area. The station will not disappoint.