Sculpture in The City is an annual free open-air art exhibition. It takes place across the City of London – that's the old part of town; the financial district. Amongst the iconic architecture of skyscrapers, historic and landmark buildings, there are 19 contemporary public artworks on display by internationally acclaimed and emerging artists.
Tenth Anniversary
Sculpture in The City isn't new as this is the tenth edition. It has shown 113 artists and 130 artworks to date. This latest selection is here until spring 2022.
MSCTY x Sculpture in the City
If you like sounds with your artwork, do check the locations for MSCTY. It's location-specific architecture-inspired music and sound art.
I had forgotten about these until I saw a sign on the ground next to an artwork. It was a lovely piece of music, but I'm not sure it enhanced my visit.
Bloomberg Connects
The 'Bloomberg Connects' app has a Sculpture in the City guide. It includes the past nine editions of Sculpture in The City in case you wanted to look back at what you've missed.
There are short audio clips so you can listen to the artists speaking directly about their work. And there is a Family Trail with five locations and audio tracks.
Open To All
I guess the most important thing about an outdoor art exhibition like this is that it is open to everyone. It can't close, so it remains available 24/7.
You can get up close as the artworks (except one) are not behind glass walls. And there is no one to stop you if you want to touch them.
Map
I had been warned that the map on the official website wasn't great. I visited with a friend, and we both know London well, yet we struggled to find all of the artworks. I would go as far as to suggest whoever designed this map has never actually been to London.
I would recommend plotting the locations on Google Maps and printing it as it wasn't always easy to get a clear signal on a phone amongst the very tall buildings.
We spoke to others who were also struggling to find the artworks, so it seemed to be a universal issue.
You can start your route anywhere in The City, but I chose to set off from Liverpool Street station (strangely not included on the official map) and end at Aldgate Square, where there are display boards about the ten years of Sculpture in The City. I learned about the Aldgate Square Commission, which is a biannual commission supporting emerging artists in the UK. Two winning artworks will be selected in September 2021 to be on display in Aldgate Square in May 2022 and May 2023 consecutively.
Enhance a Good Walk
The appeal of outdoor artwork like this should be the wonder of turning a corner and finding something unexpected and marvelous. With the difficulties of finding the artworks, we empathized with others who were feeling despondent and underwhelmed.
While we searched out as many as we could, we also saw permanent City of London sculptures that were at times more appealing than the elusive SITC artworks.
Seen in Devonshire Square, EC2, this is NOT part of Sculpture in The City
Plaques on Chairs
While there are 19 artworks, one artist gets multiple sites. Oliver Bragg's brass bench plaques can be seen in 7 artwork locations scattered across The City of London. Created in the style of the plaques on memorial benches, these were fun to spot but were often hard to find, even when you knew you were near.
Here are five photos as we didn't see them all.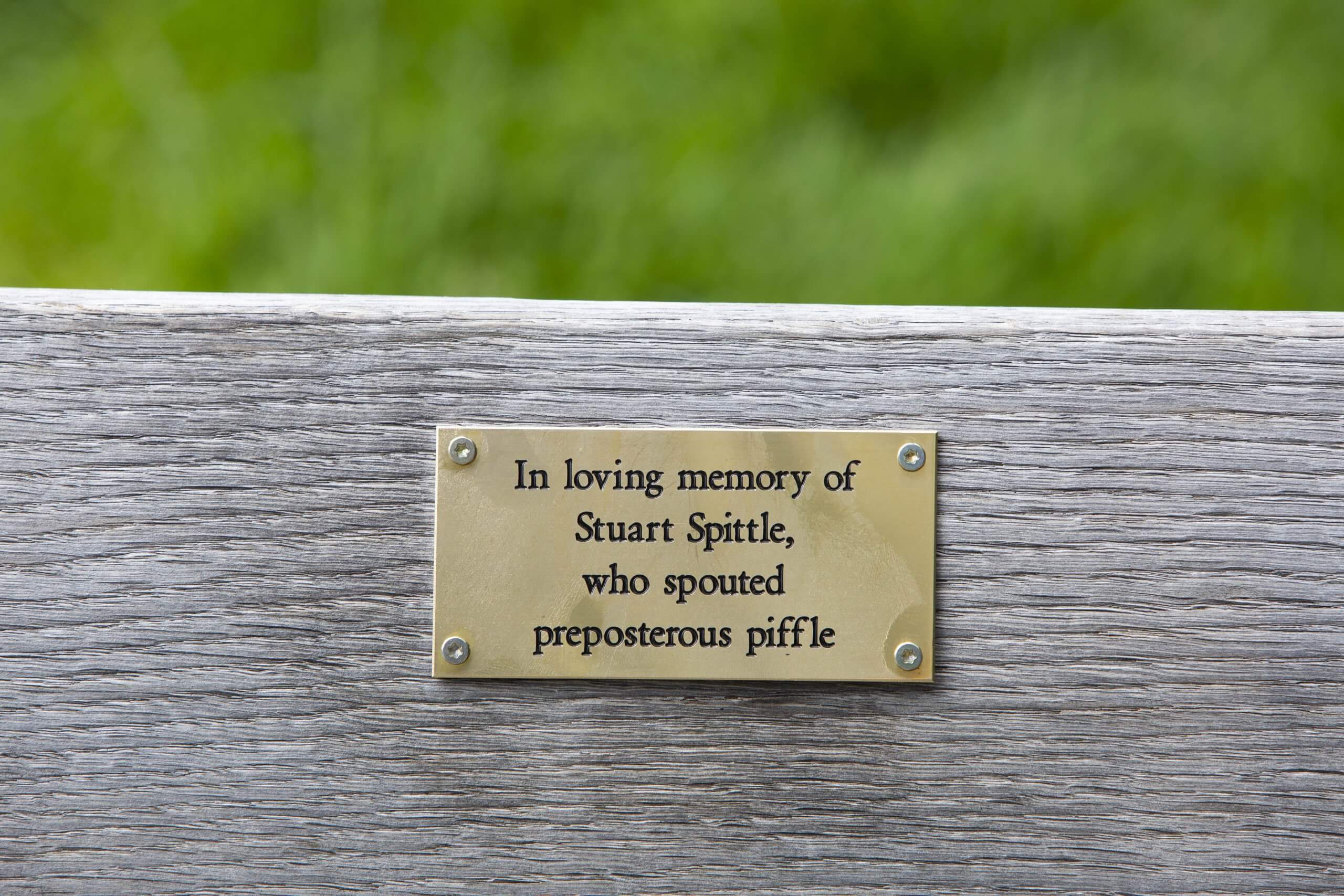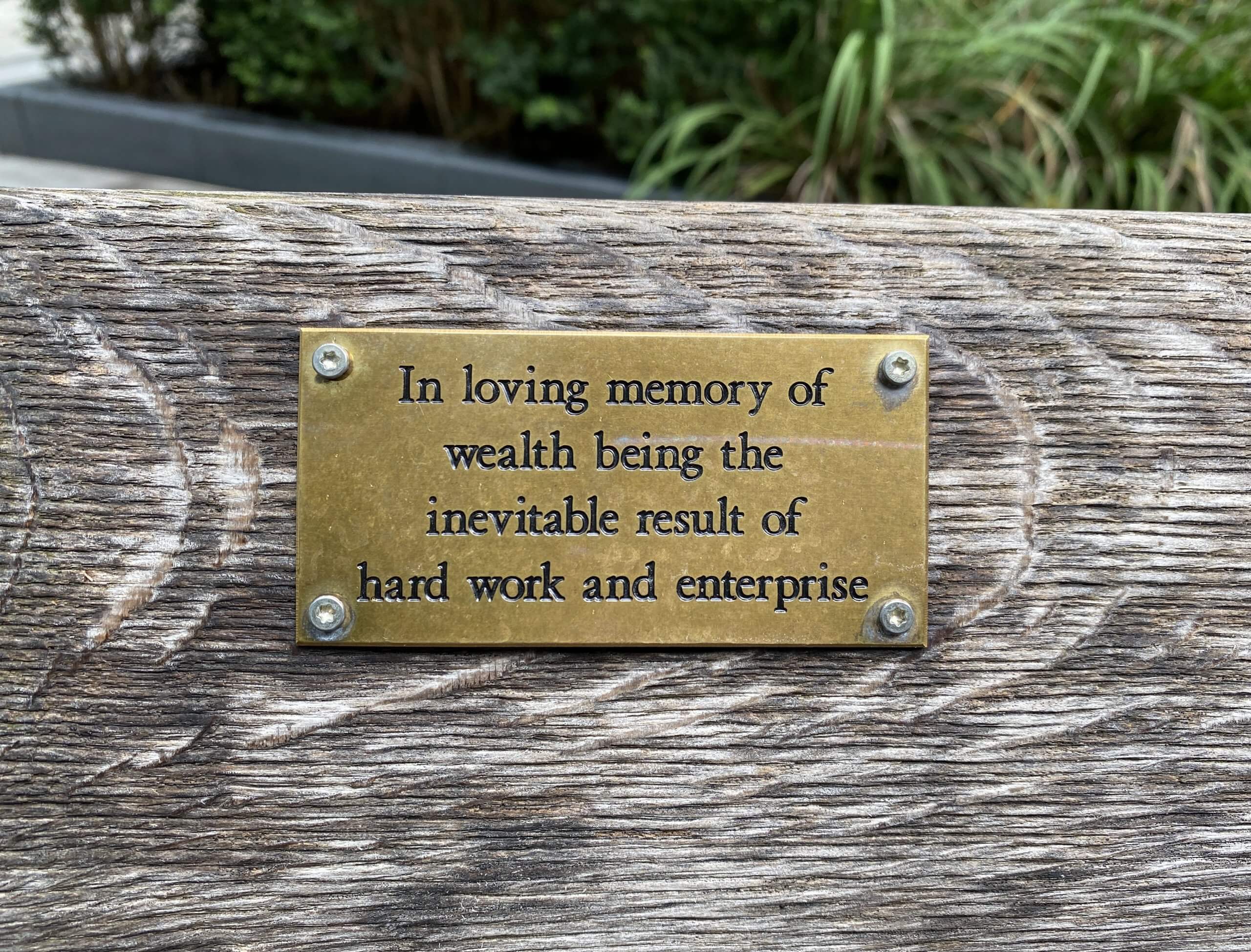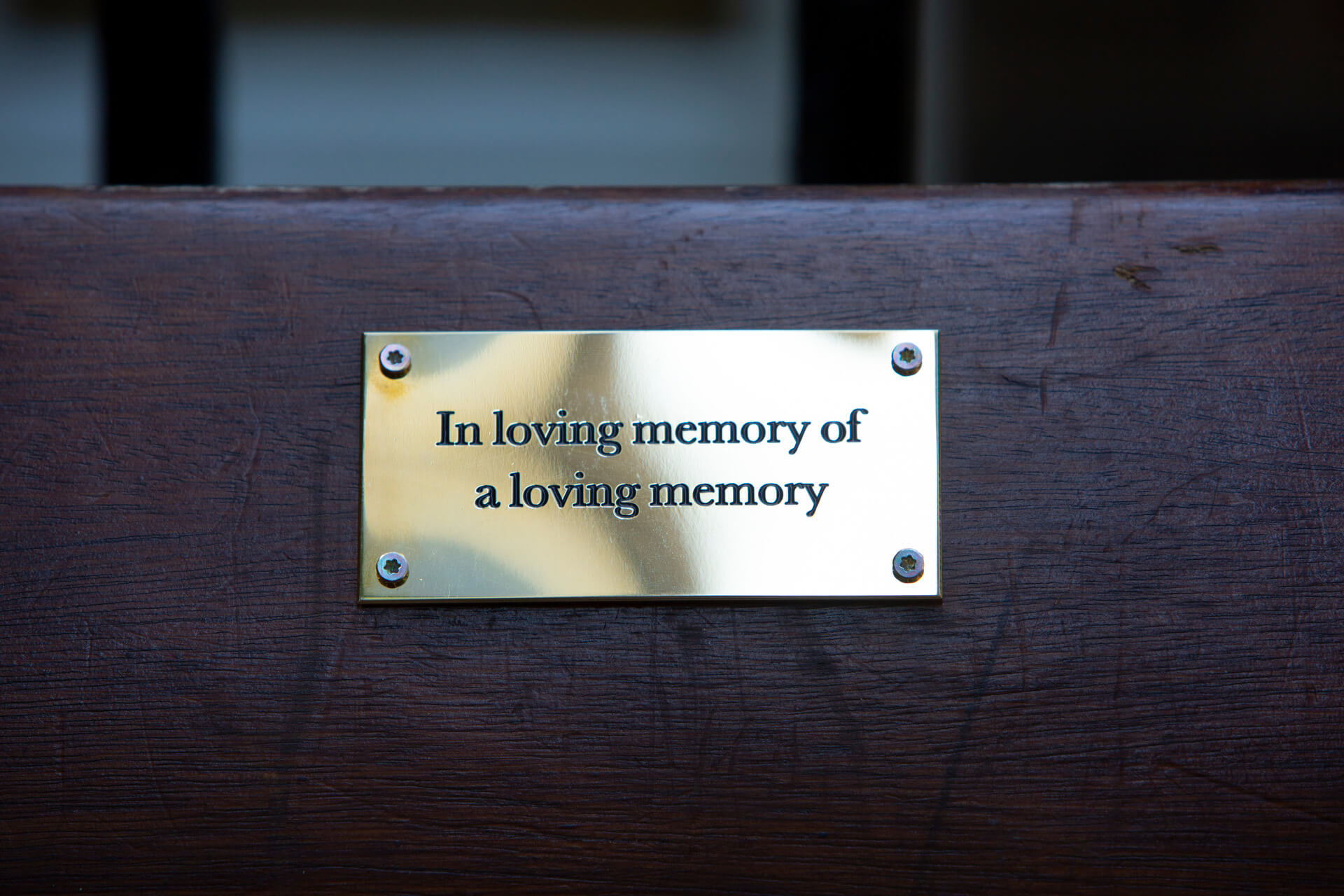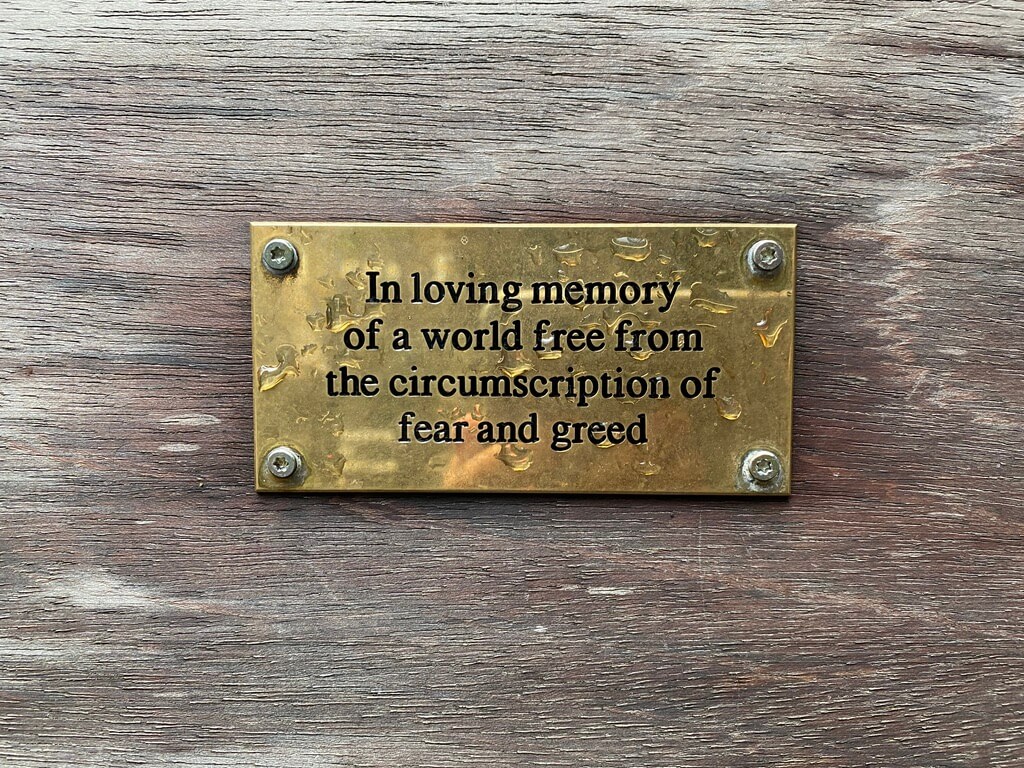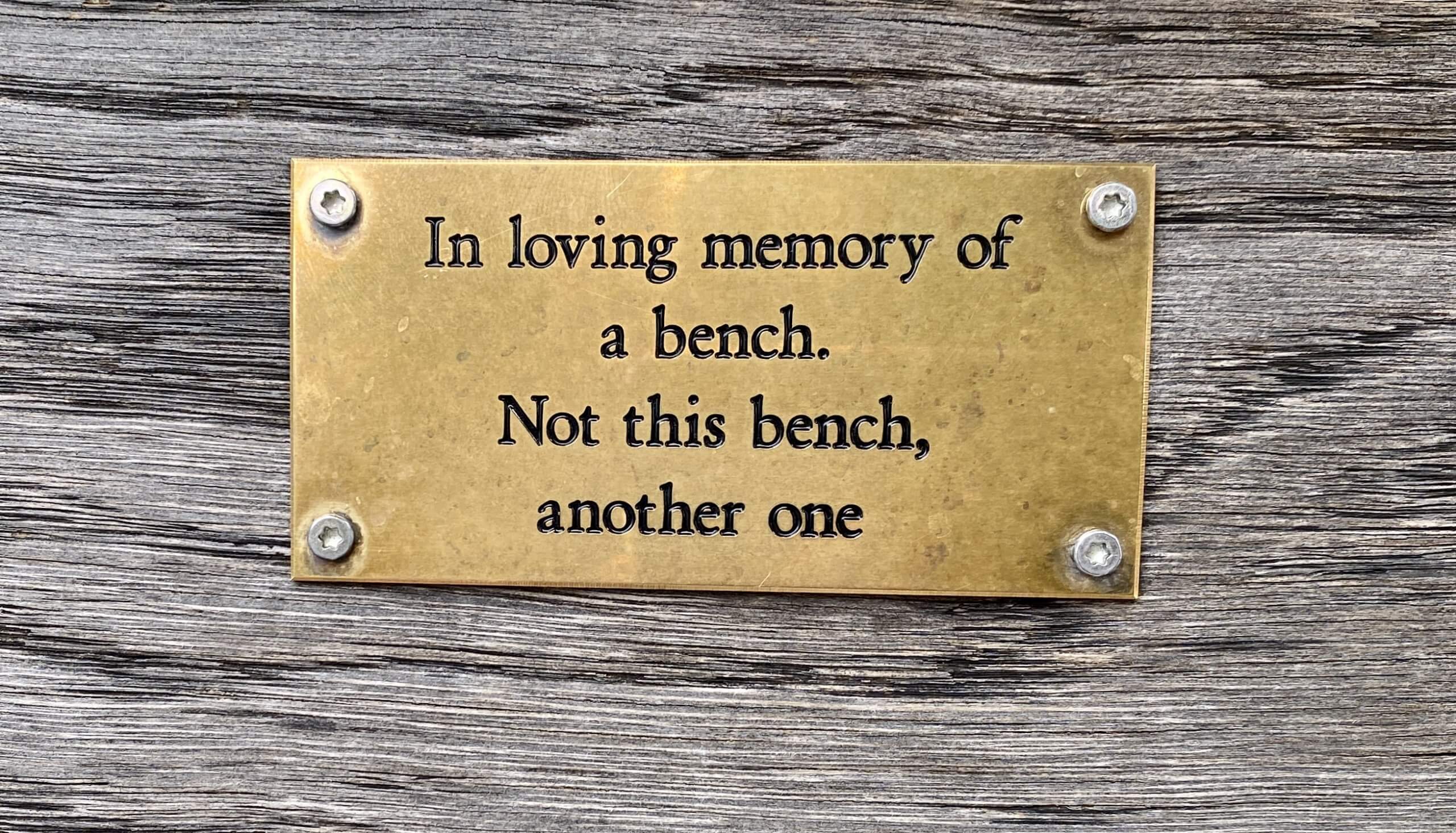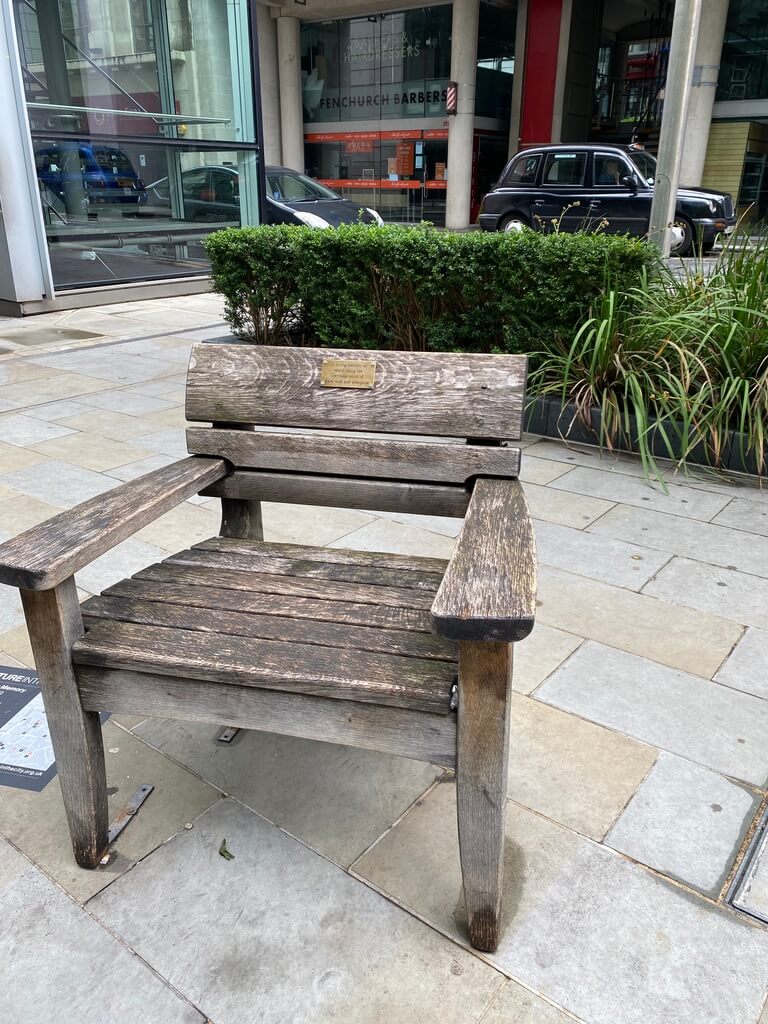 The Artworks
Let me show you what's included in the tenth edition of Sculpture in The City.
1. BURIAL – Alice Channer
We passed this on the way from Liverpool Street station as it's in the churchyard of St-Botolph-without-Bishopsgate.
It's a pair of hollow 'rocks' made of sand-cast Corten steel. The rocks were cast from lumps of concrete the artist collected from London demolition sites as evidence of the changing materiality of the city.
That's some dedication to collect those rocks as they would have been very heavy indeed.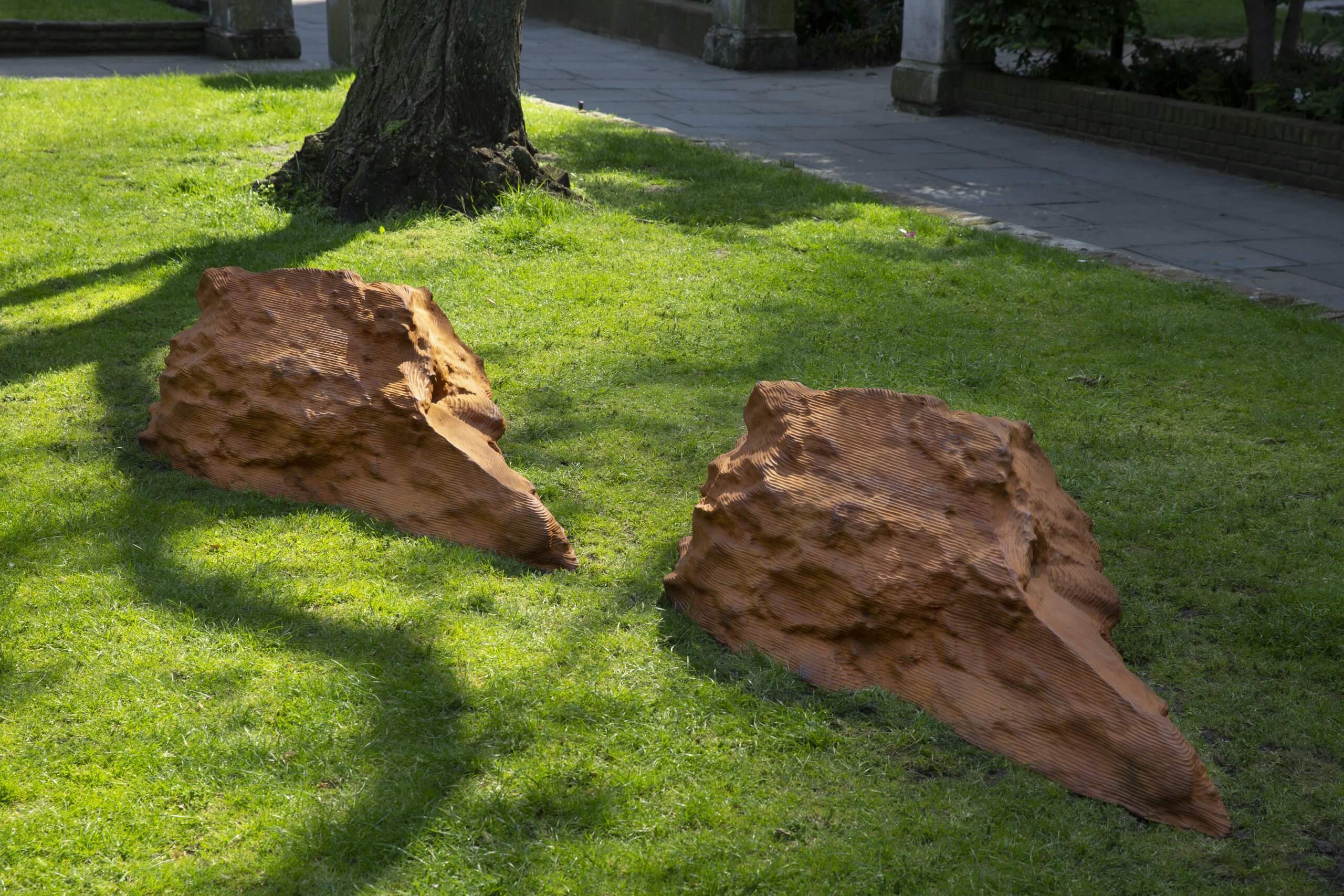 2. SILENT AGITATOR – Ruth Ewan
I liked this one. It's a large clock with an interesting back story. It is based upon a detail of an illustration produced by Ralph Chaplin in 1917 for the Industrial Workers of the World union (the IWW). Chaplin's illustration, bearing the inscription 'What time is it? Time to organize!' was reproduced on millions of stickers, and these stickers were known as 'silent agitators.' They were distributed by union members in workplaces and public spaces across the US.
Look closely, and you'll see that the clock hands have clogs on them. That's because the French word for clogs is sabots, and that's where the word sabotage is derived (sabotage was originally used in English to specifically mean disruption instigated by workers).
In a part of town where long working hours are the norm, this artwork acknowledges the IWW's fight for the five-day workweek and eight-hour workday.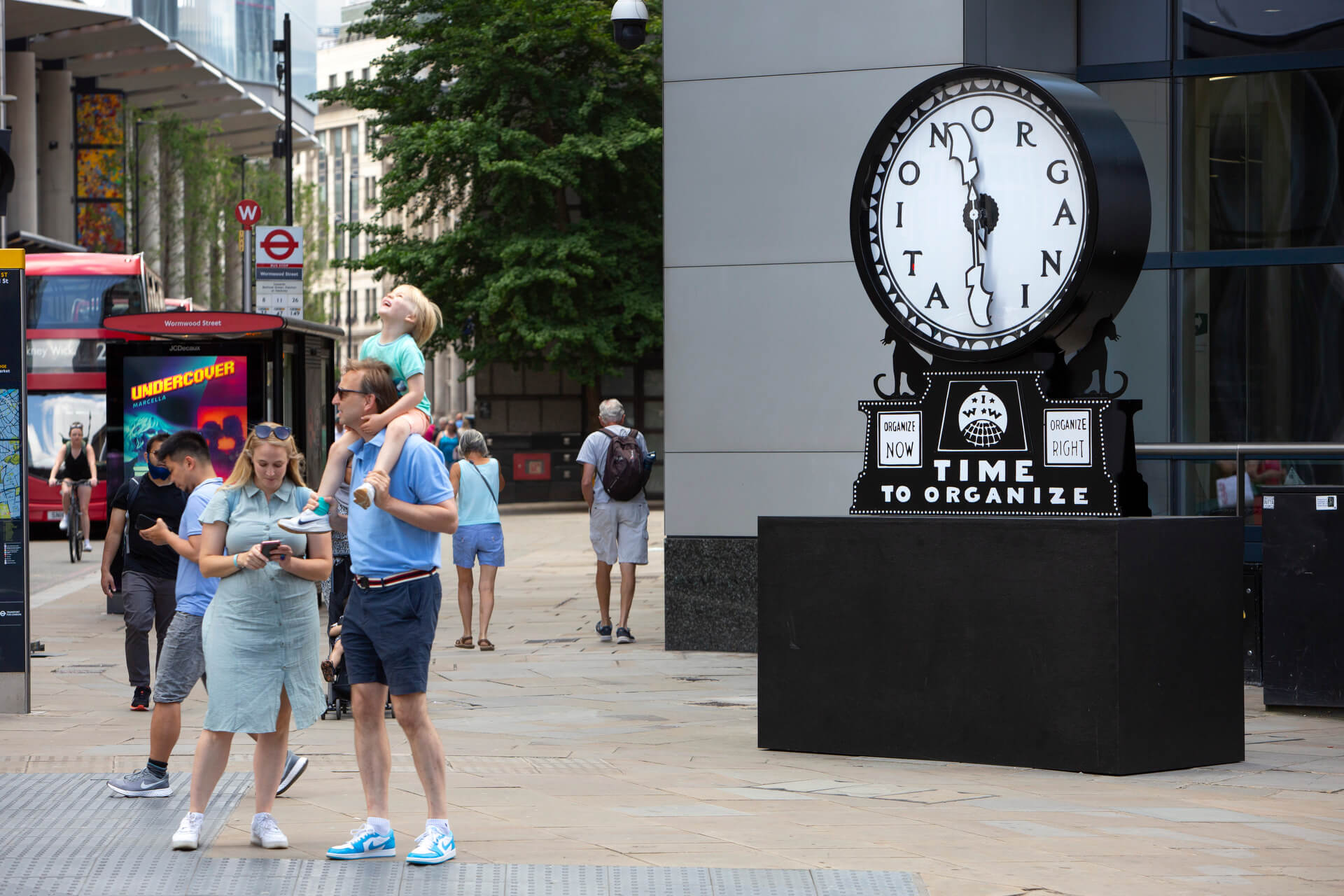 3. KEEPING TIME – Isabella Martin
This one is easily missed as you have to look up to the 'podium level.' Its lines are from an obscure Italian short story, apparently.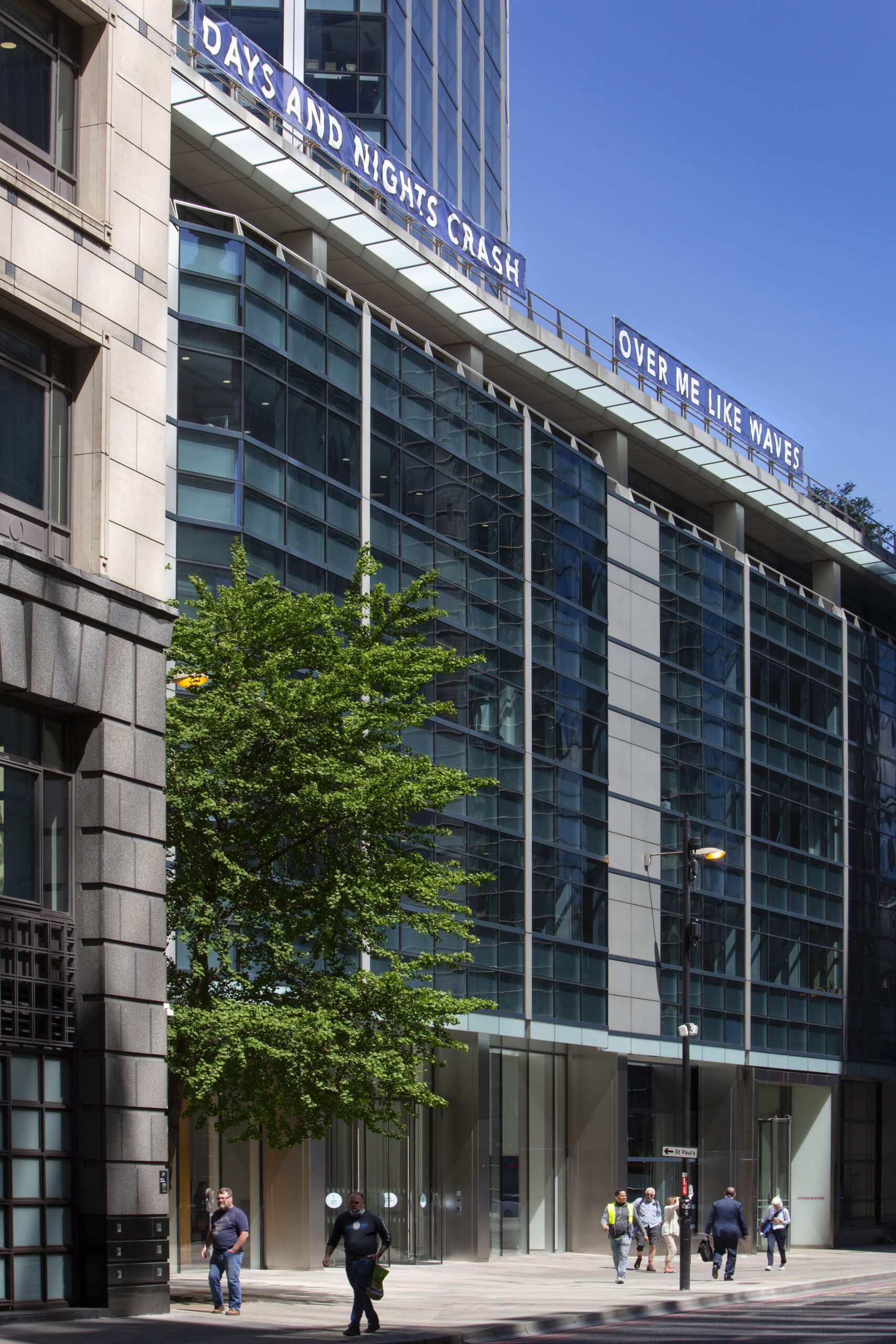 4. ROUGH NECK BUSINESS – Mike Ballard
I didn't found this one, but it does sound interesting as it is made up of hoardings sourced from several sites across London. They include green hoardings from the Olympic Park and blue hoardings from Dalston and Hackney Wick.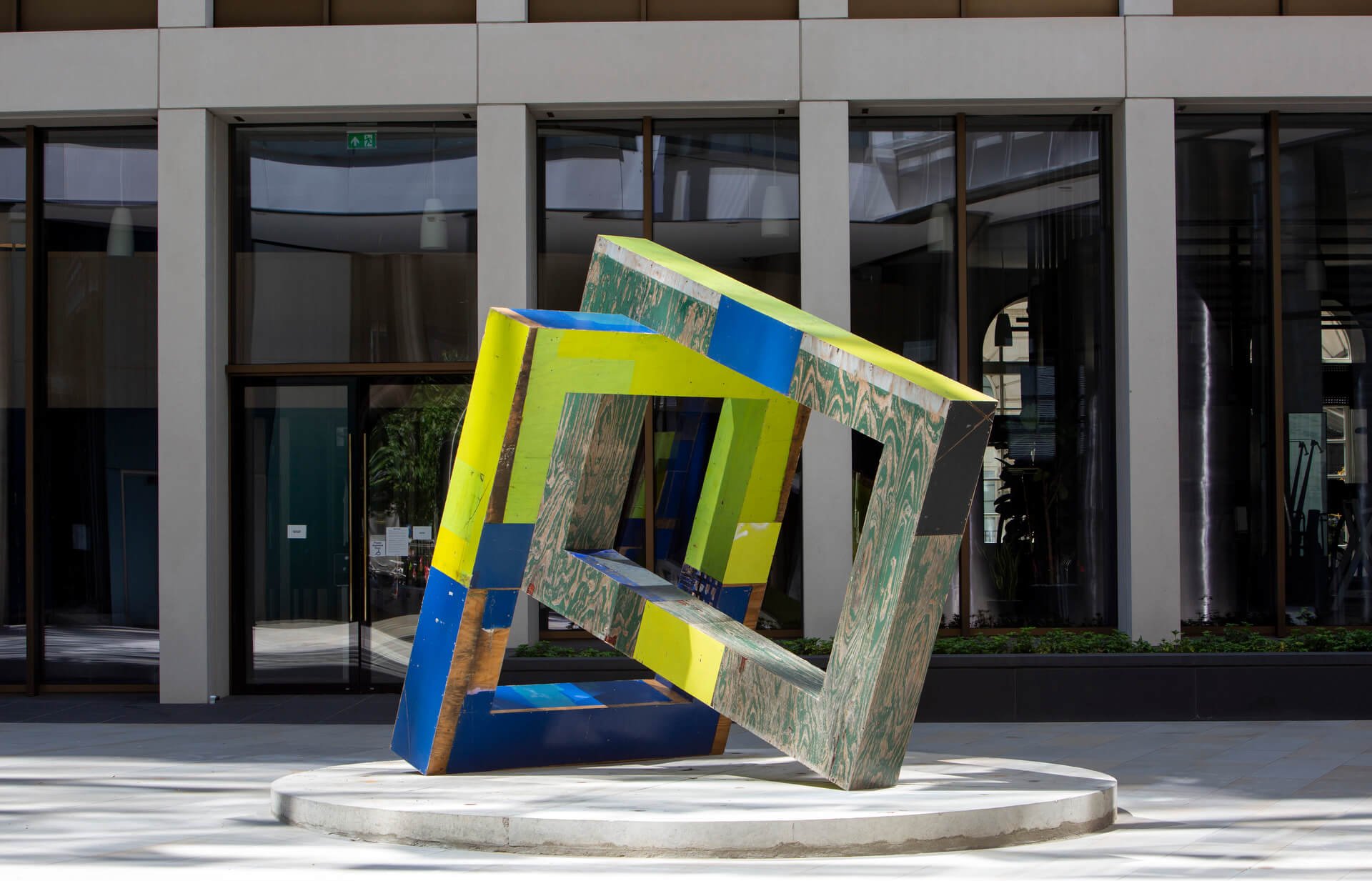 (No. 5 is the brass plaques on chairs by Oliver Bragg mentioned above.)
6. HARLEQUIN FOUR – Mark Handforth
This 14-foot high aluminum sculpture gives me the excuse to use the arty word 'juxtaposition' as it is placed outside the oldest parish church in The City of London and The Gherkin.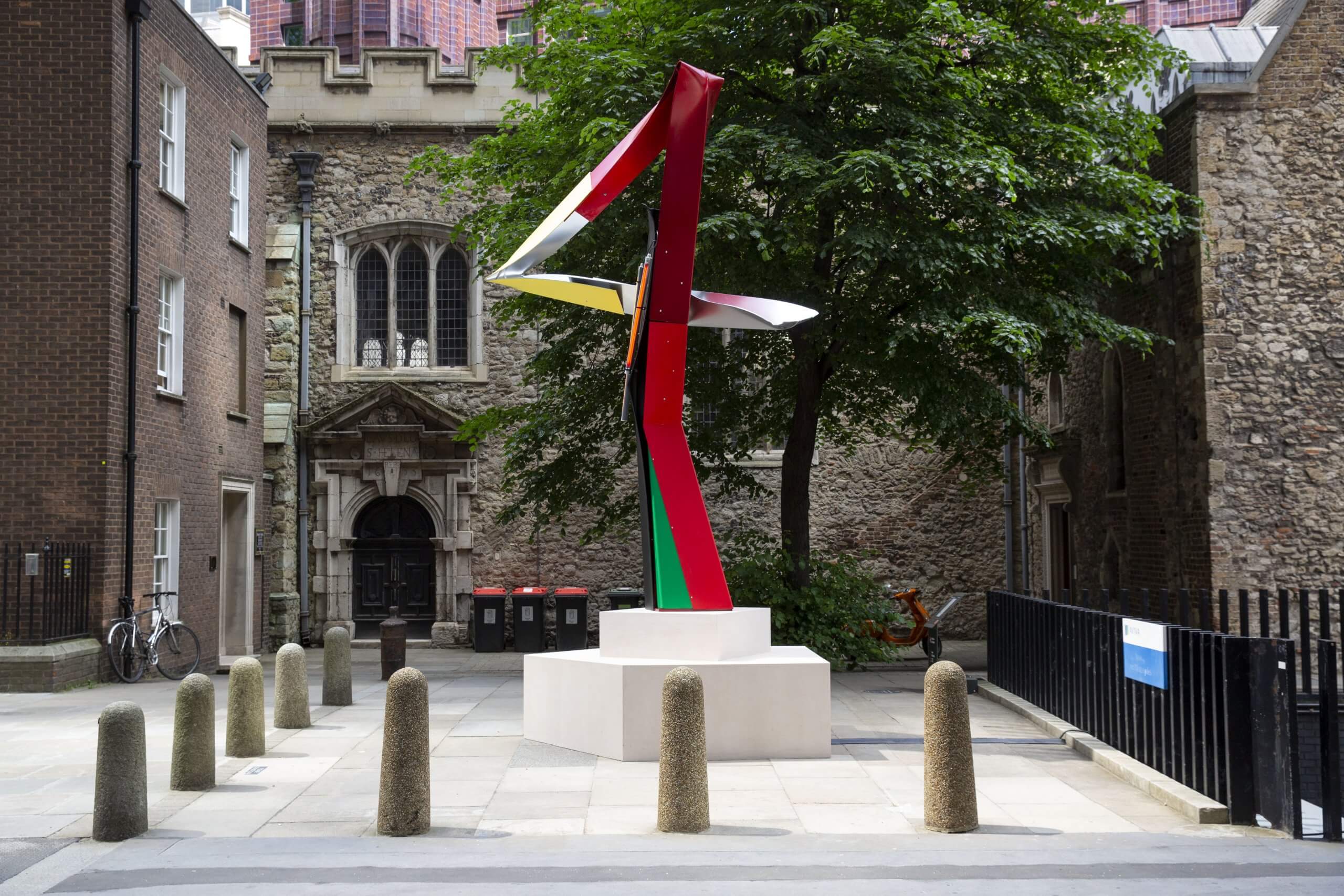 7. COSMOS – Eva Rothschild
You should be able to see this one from 'Harlequin Four,' but there is so much visual distraction in the area we searched even while almost facing it.
I expect small children would enjoy running in and out of this one.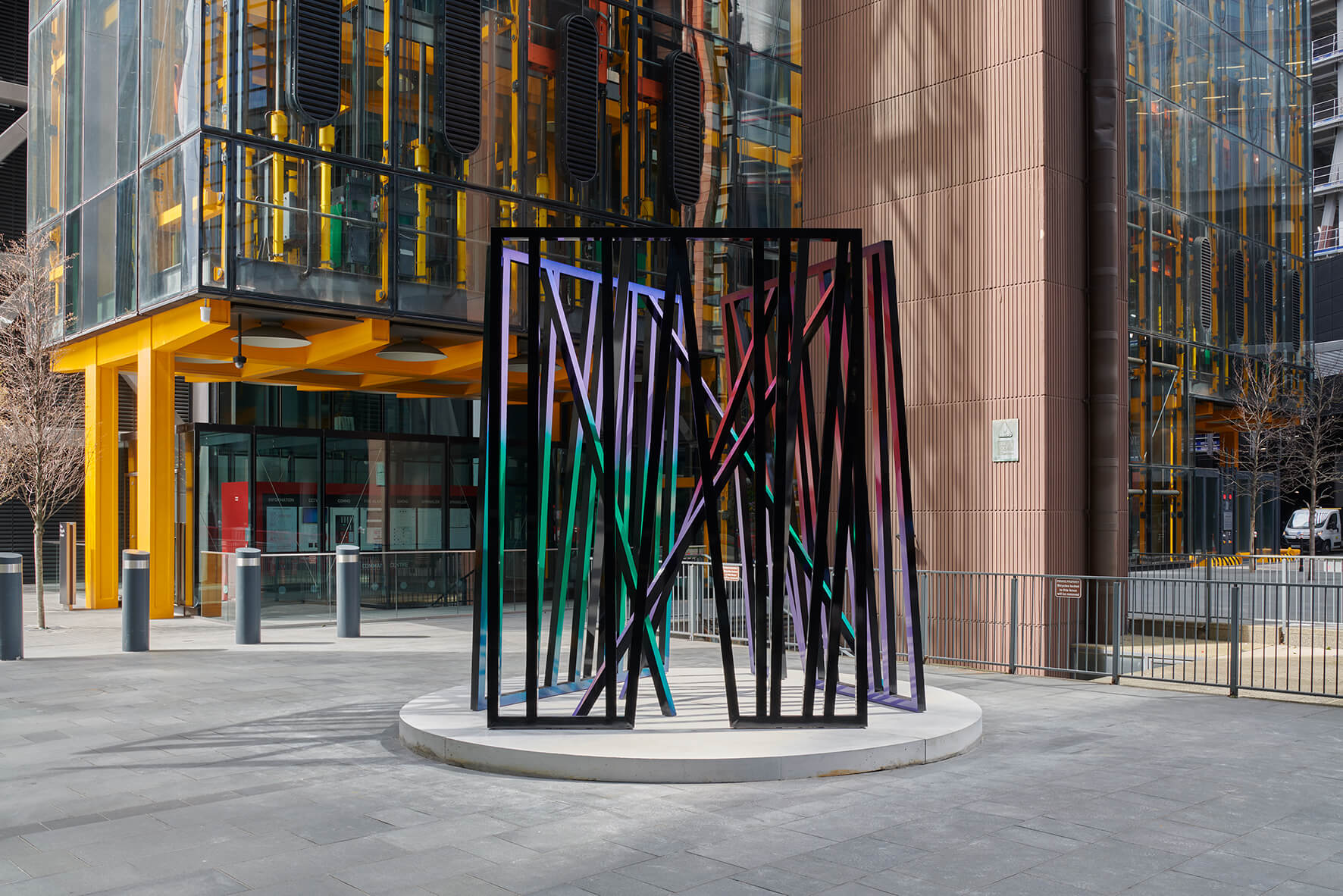 8. MURMURS OF THE DEEP – Laura Arminda Kingsley
You need to look under the external escalators on the Leadenhall Building to spot this.
I had high hopes for this one, but it wasn't as impactful as I thought it might be. Nearby there are brightly decorated vent shafts, and these got more attention from others wandering through The City on a Sunday.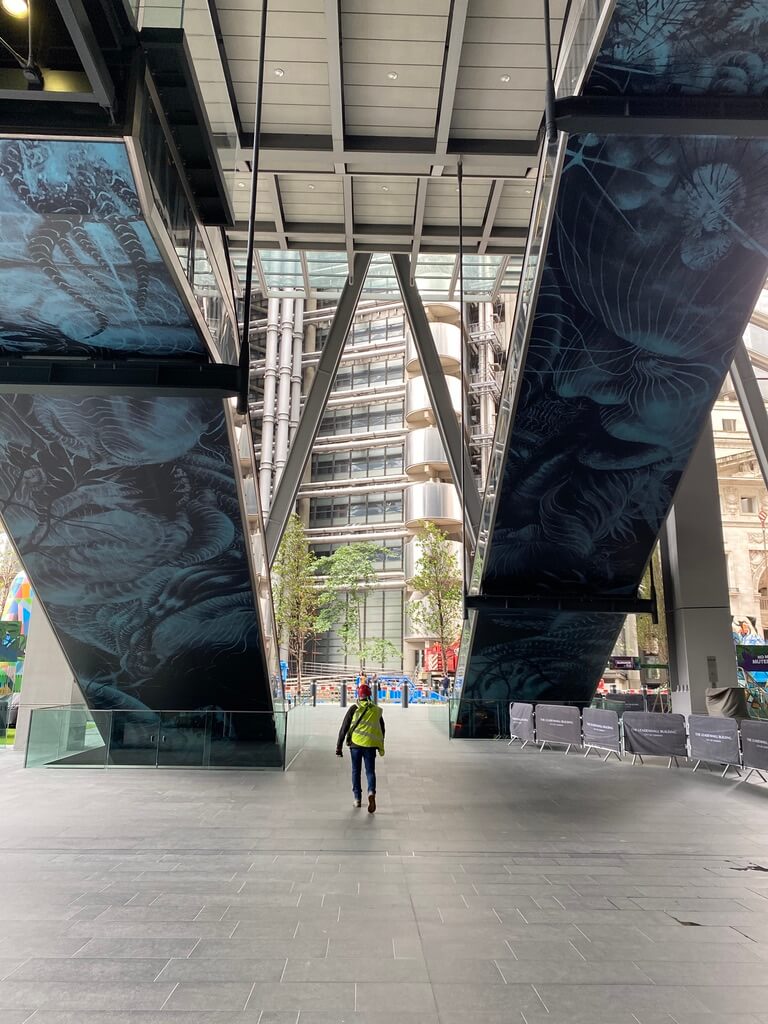 9. UNTITLED – Tatiana Wolska & 10. UNTITLED – Tatiana Wolska
This "sprawling, modular biomorphic form" is made from recycled plastic bottles. So good, we've got two of them.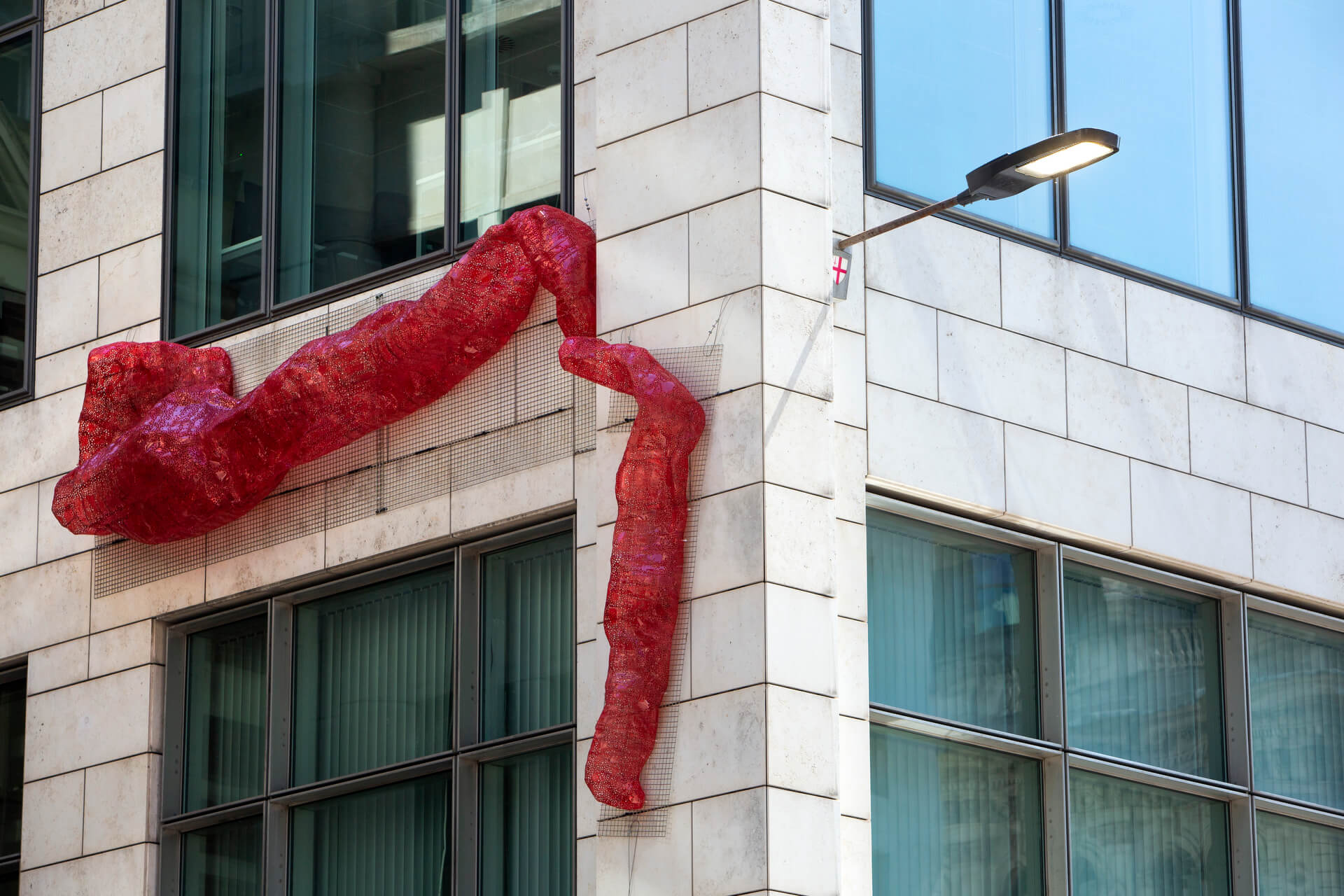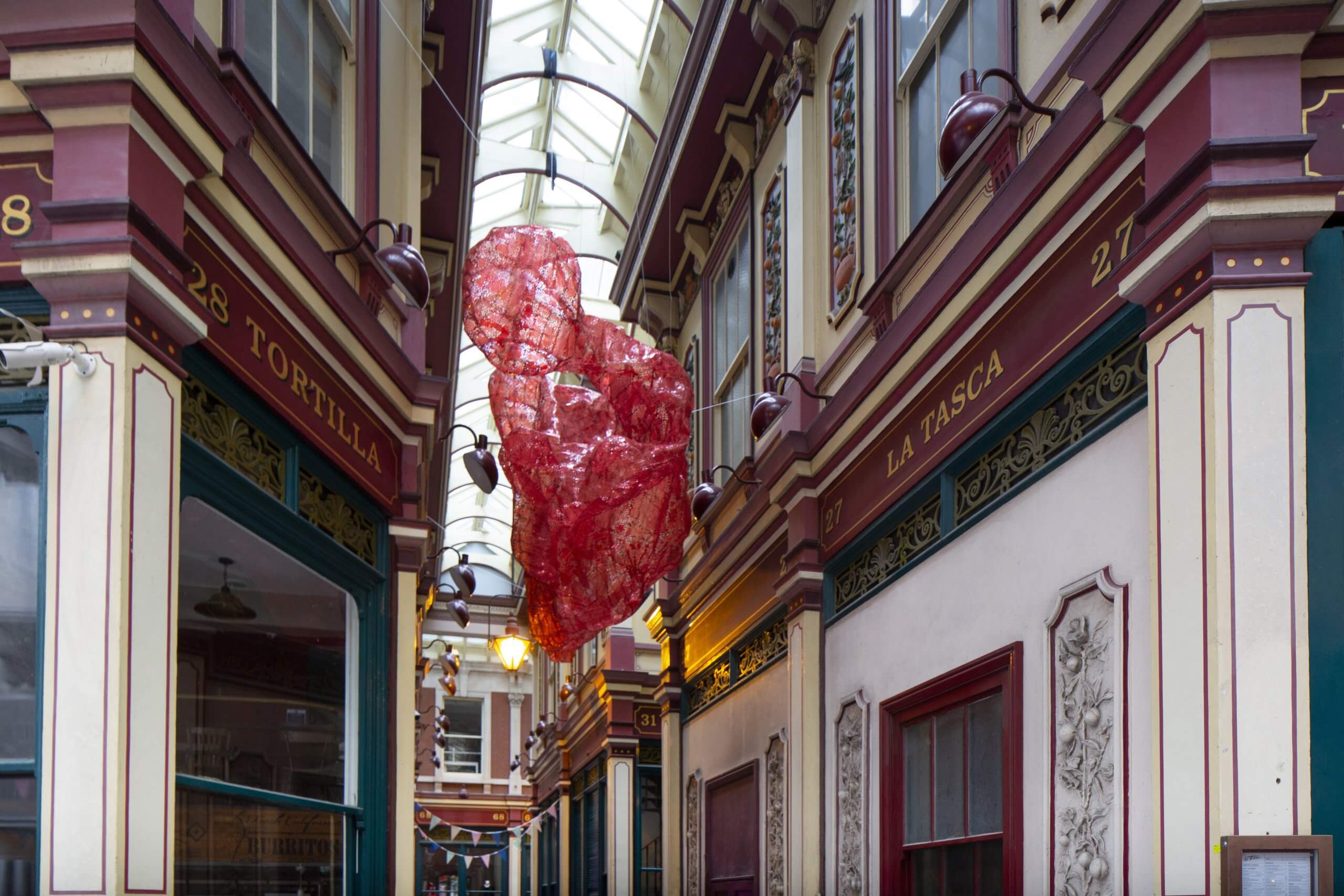 11. SYMBOLS – Guillaume Vandame
On display in Leadenhall Market, this has 30 unique flags from the LGBTQ+ community.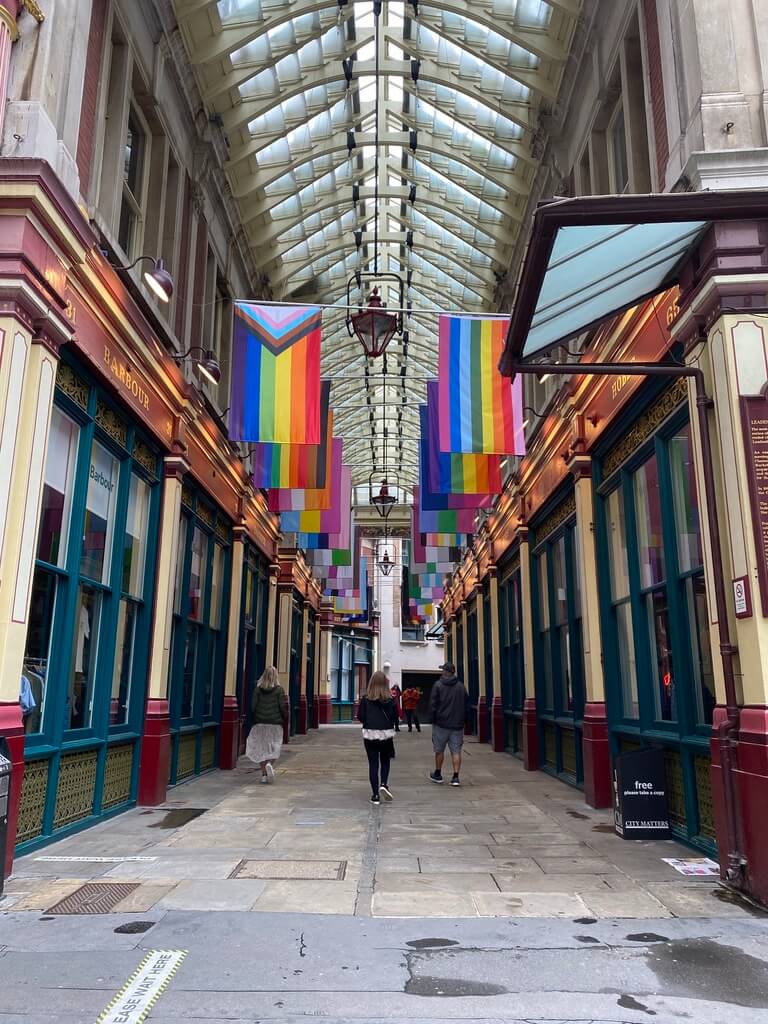 12. ORPHANS – Bram Ellens
This courtyard is always a good spot for public art. Orphans is made of thrift-shop paintings with the back of the painting on the outside. The description of the artwork says the artist also collected paintings of the deceased from undertakers and that by creating these forms, he has "contained both the energy of the original artist as well as the attachment of the deceased owner." It was working for me before I read that, as it sounds rather unlikely. Undertakers tend not to have a supply of dead people's paintings to give away, do they?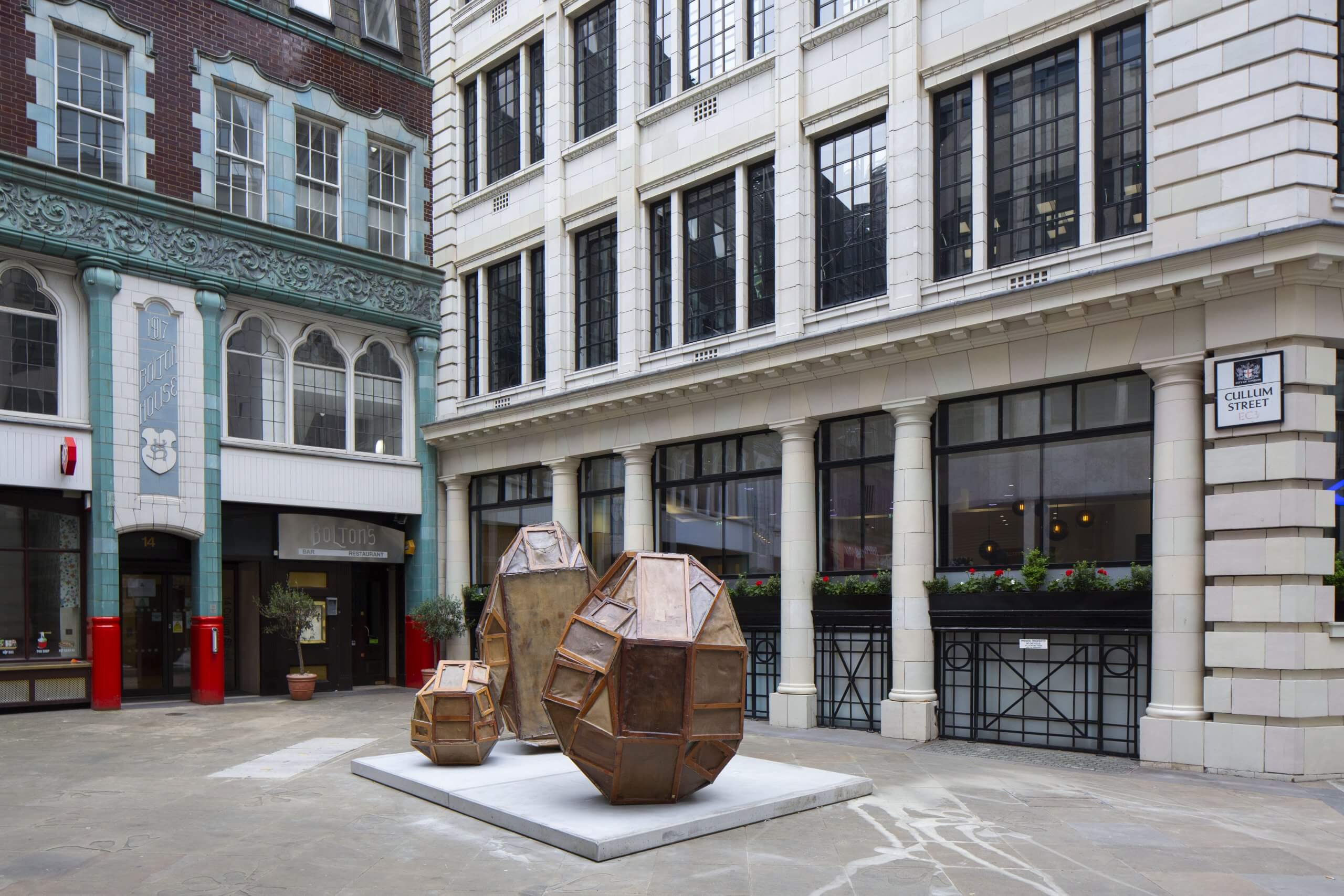 13. LATENT SPACE – Jake Elwes
Don't expect this one to look the same when you see it, as it is a digital video on a 6-hour loop. "Latent Space is a video snap-shot of an A.I. algorithm in its infancy trained using 14.2 million photographs continuously producing new images."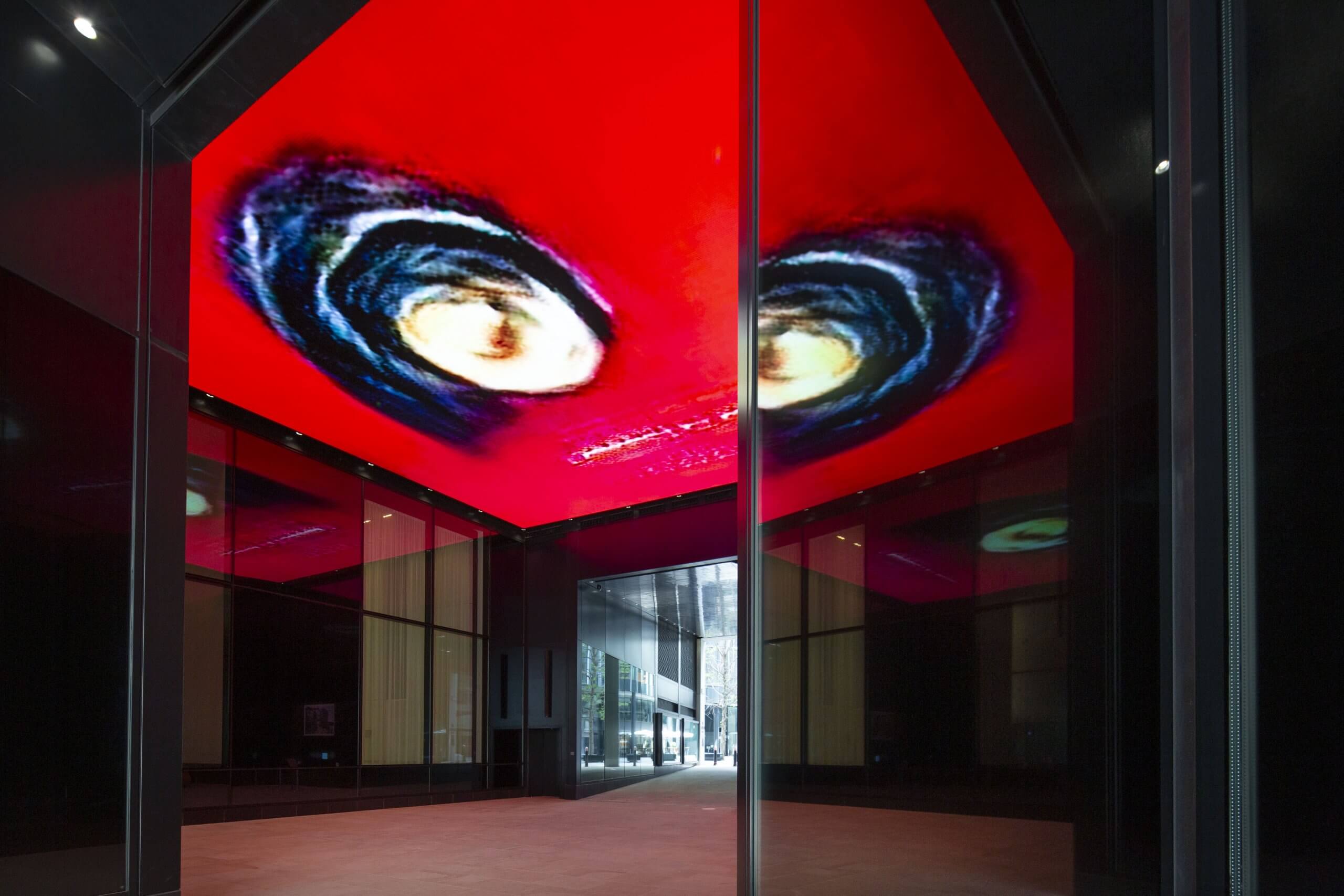 14. BLOOM PARADISE – Jun T. Lai
Now, this is joyful. It's bright, fun, and 'playful.' And it's not just one artwork as there are three to enjoy. These oversized flowers were created to "bring greater positivity into the pandemic stricken world." I'm sure it brightens the day of the commuters using Fenchurch Street station.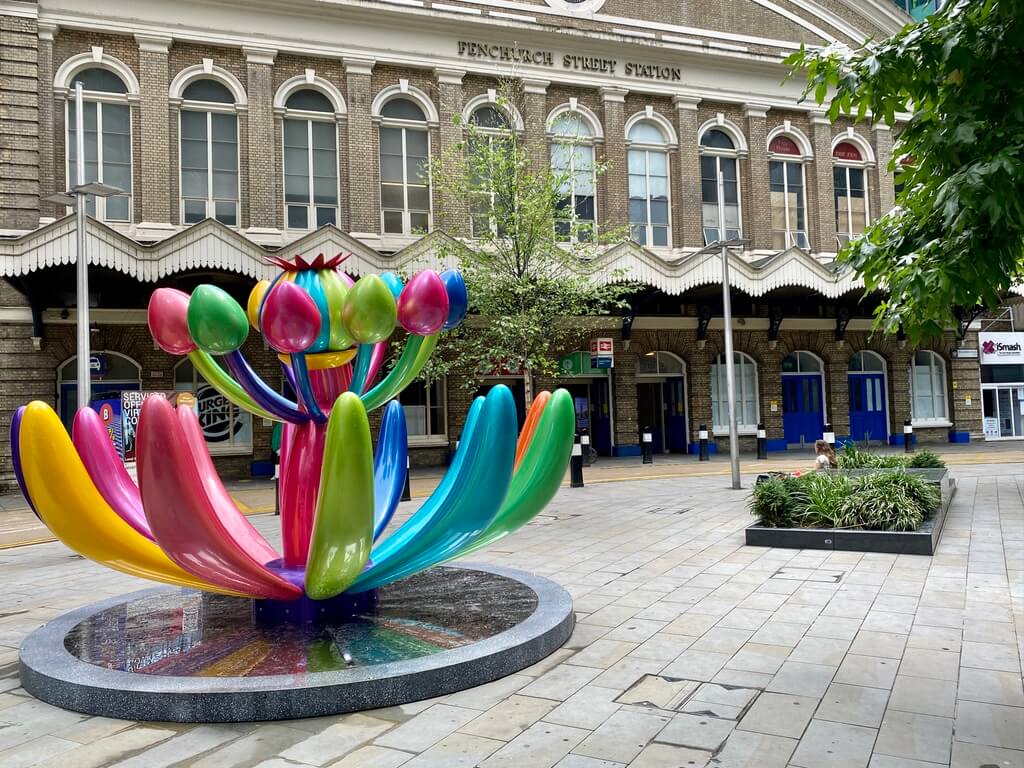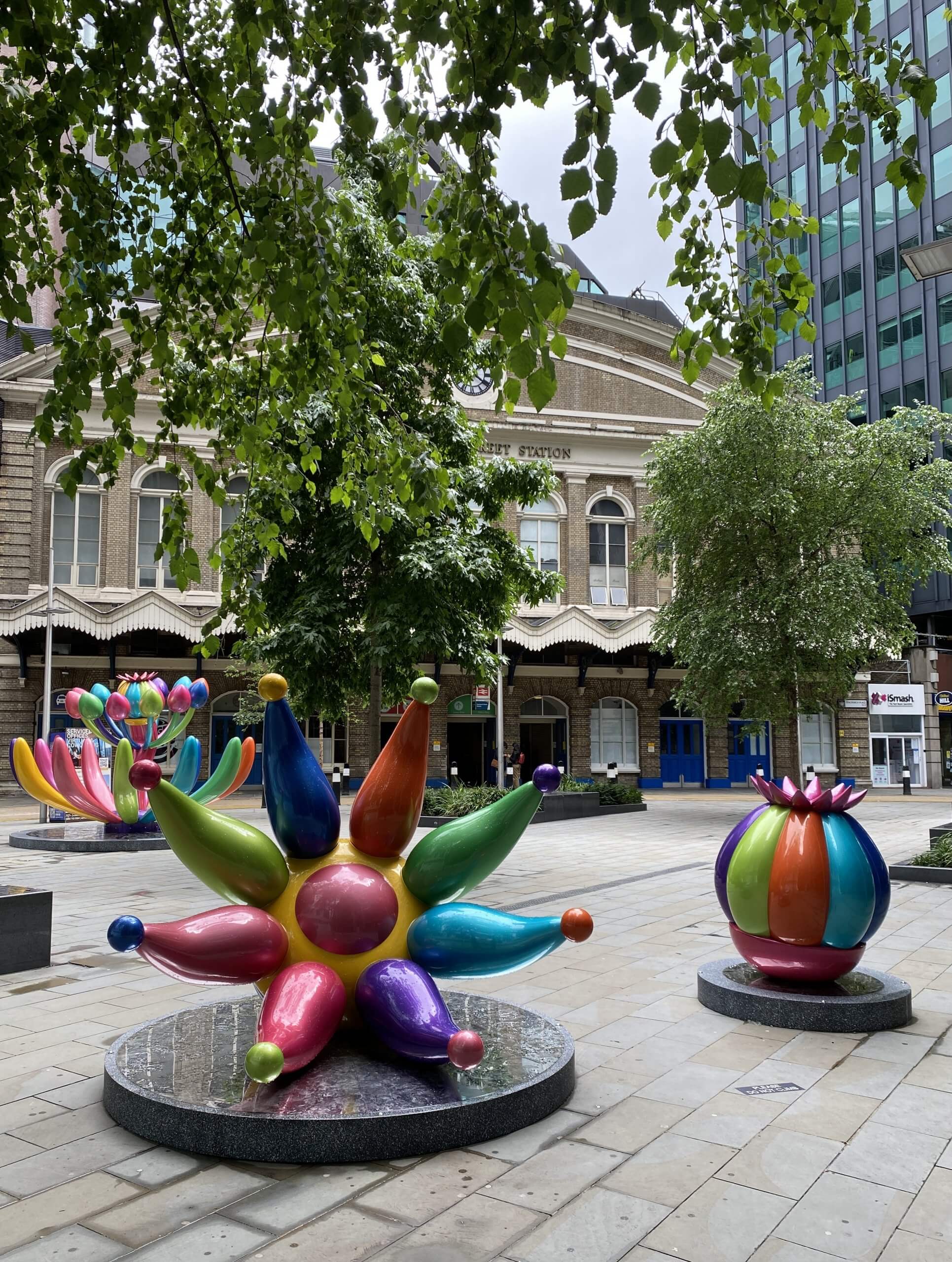 15. REACTIVITY – Regitze Engelsborg Karlsen
There is a detailed arty explanation in the brochure, but sorry, these didn't 'speak' to me.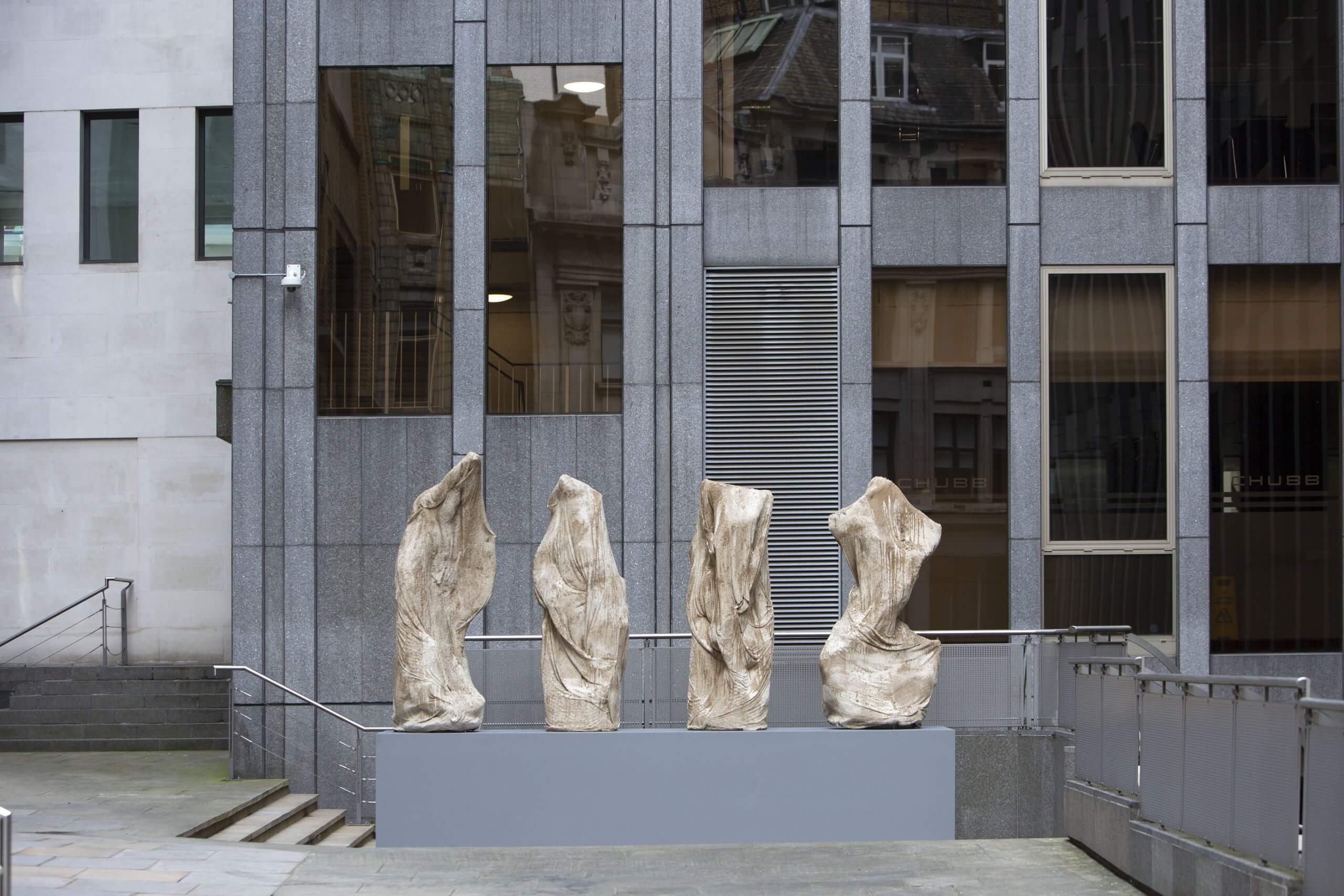 16. REDHEAD SUNSET STACK – Almuth Tebbenhoff
It's about a sunset in the form of a toy tower. I don't know about that, but it does make a really good piece of public art.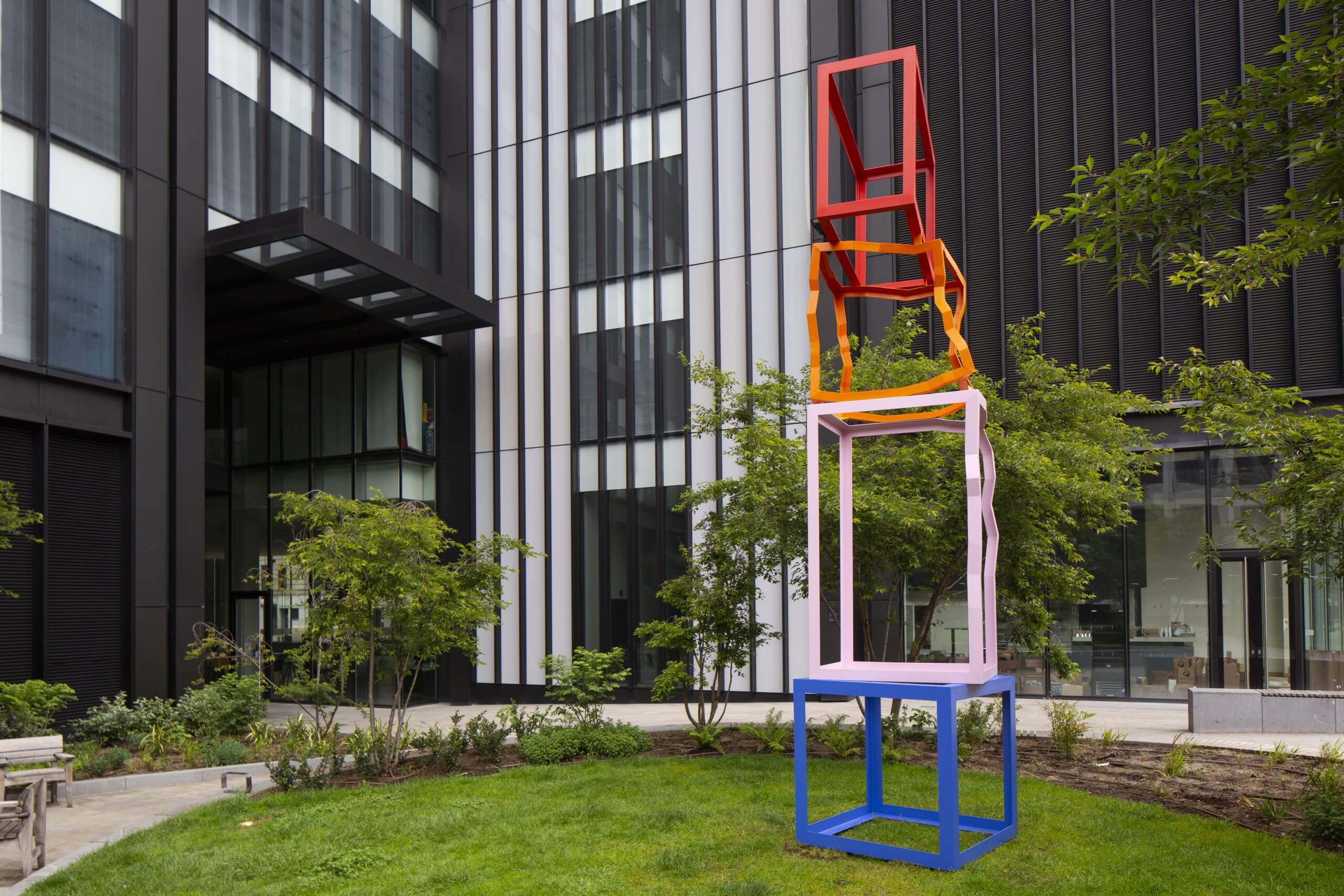 17. STONE (BUTCH) – Rosanne Robertson
That's a reflection in the image below, as there is only one piece. This has an LGBTQ+ story that I don't fully understand. It's something about "a 'raincoat layer' of the body exposed to external forces inspired by a novel by lesbian and trans activist Les Feinburg."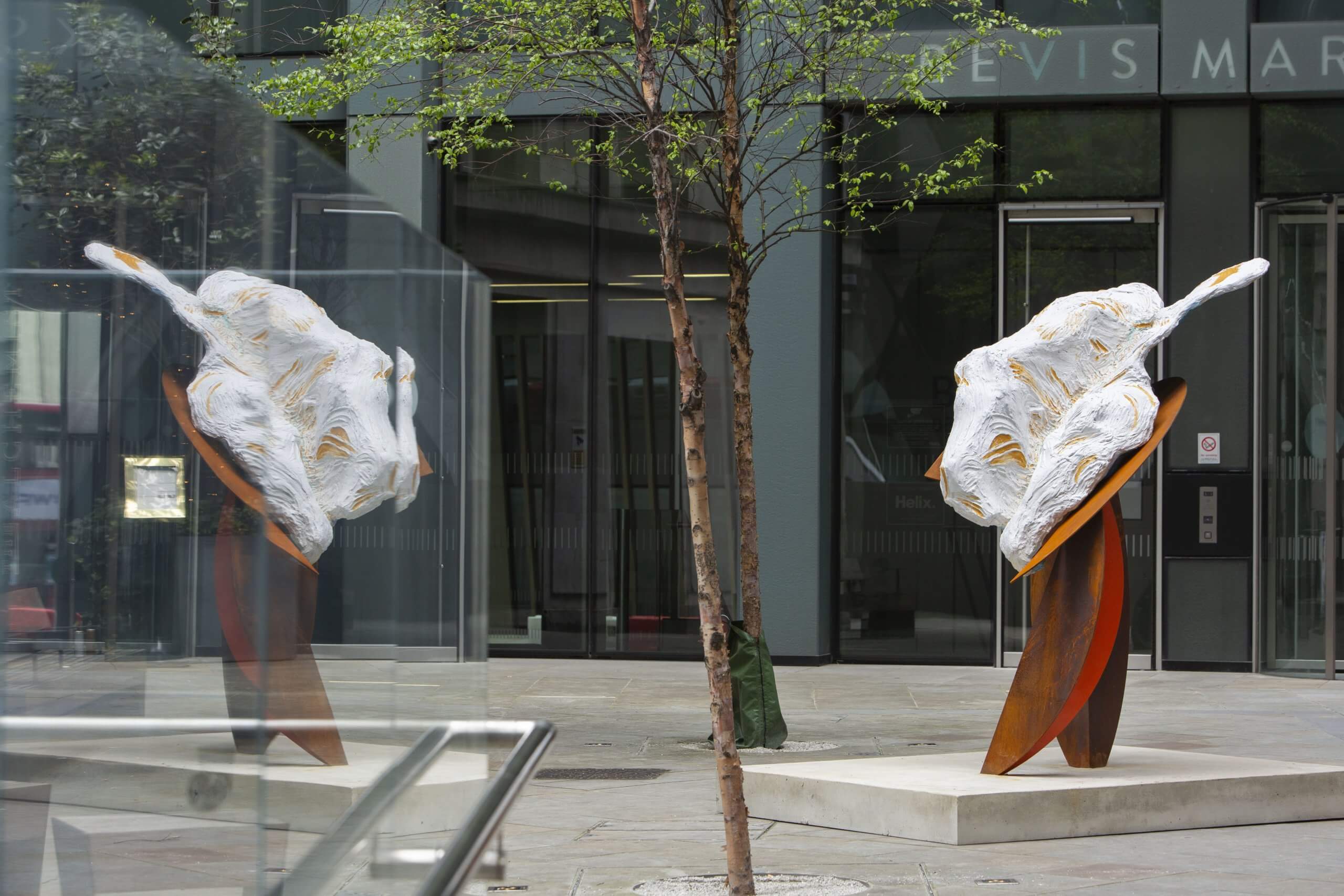 18. METAL MAN – DEEPER TOGETHER, DEEP TRAVEL INK.NYC – Laure Prouvost
This one is inside no.70 St Mary Axe, so it is really easy to miss. It's two kneeling metal sculptures with 'video heads.' The videos have images and phrases such as 'THIS IS THE BEST THING YOU HAVE SEEN FOR A LONG TIME' and 'COME WITH US.' There's sound too, I'm told.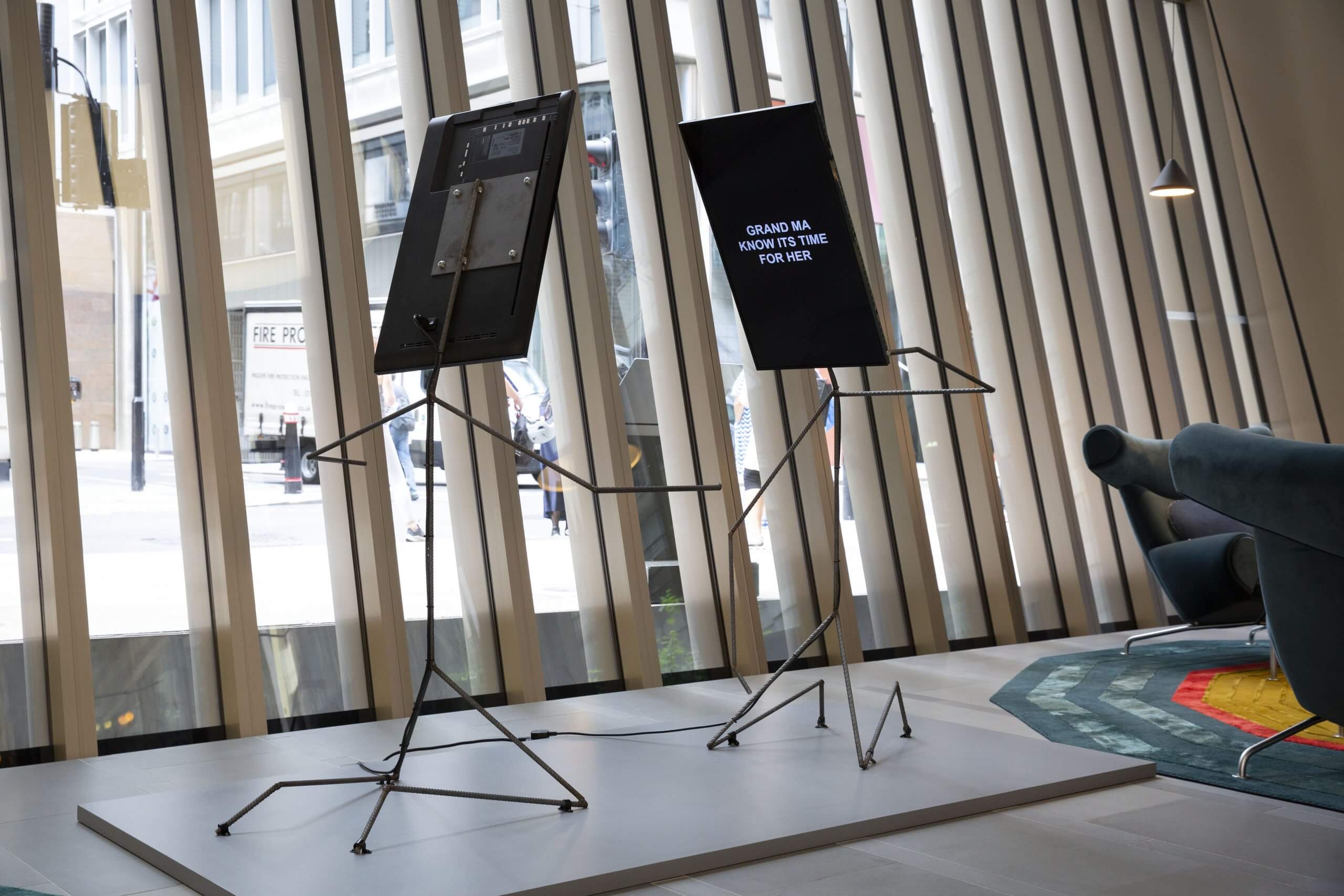 19. THE GARDEN OF FLOATING WORDS – Elisa Artesero
This neon poem was first commissioned by Canary Wharf Group for the Winter Lights Festival 2017 and was part of the 9th Edition of Sculpture in the City.
This is worth seeing after dark as while in the daytime you can see the words on tall rectangular clear acrylic stands, at night the words alone become the main feature. It was a challenge to find, so to help you with more directions, it's at the junction of Camomile Street, Bevis Marks, and St Mary Axe (and not in sight of the Gherkin, as you might expect by its address).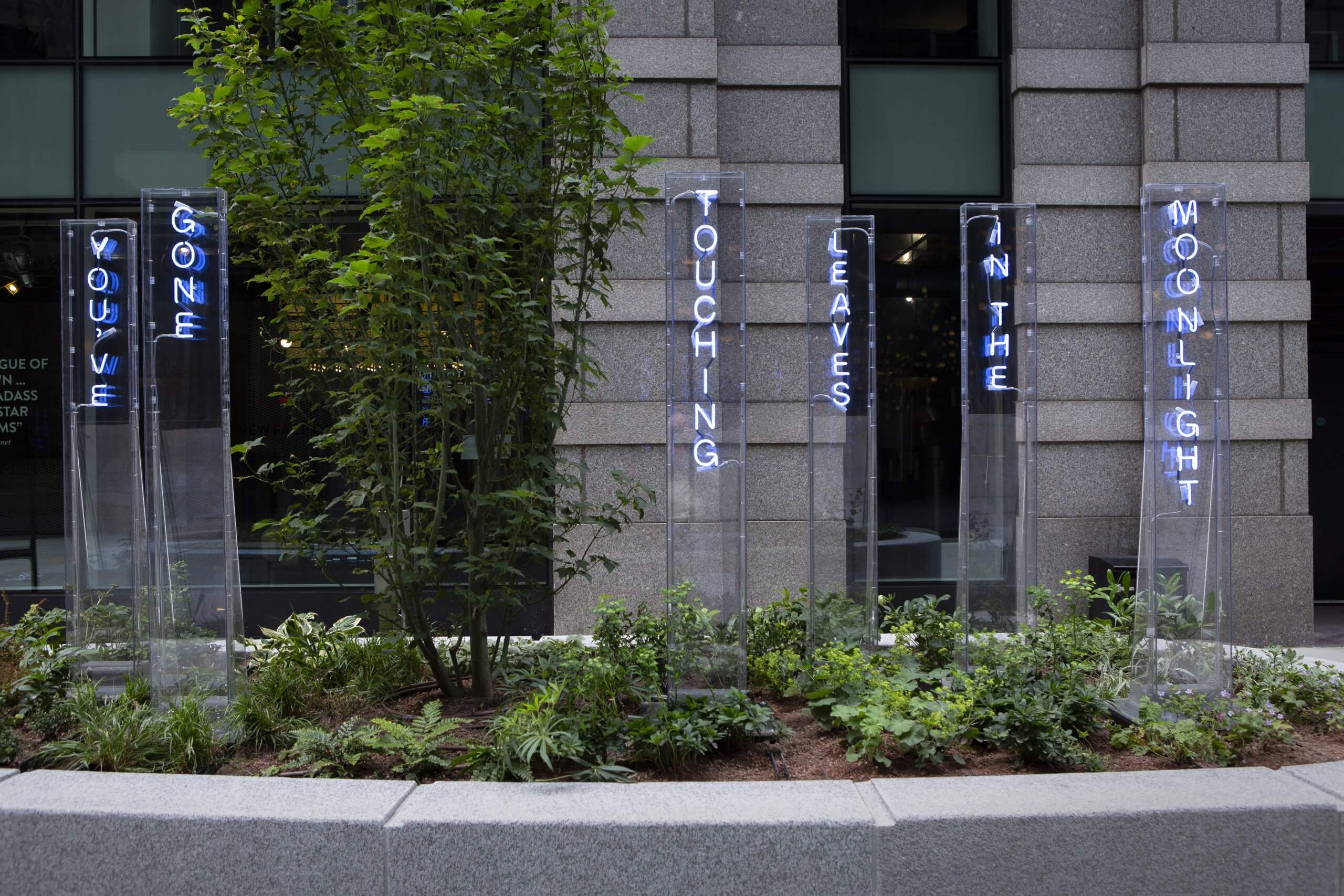 Conclusion
I have been a bit snarky about this year's Sculpture in The City. That's generally not because of the choice of artwork, as art is subjective, and a couple of these are truly lovely. But more because the website, the app, and the map seem to have been produced by a "creative team" with little knowledge of the actual area. The City of London is not built on a grid system; it's a maze of 'shortcuts' with old and new streets amongst old and new buildings. It's easy to get lost here, and yet it is only a mile wide. When you just want to meander, this is wonderful as you can feel safe knowing you will never be far away from public transport. But when you want to find something – such as an artwork on a map – it can be more challenging. Maybe in the future, a What Three Words location can be included, too, as they are much more accurate.
Official Website: www.sculptureinthecity.org.uk