This is the most ambitious exhibition the Science Museum has ever staged. Science Fiction: Voyage to the Edge of Imagination places visitors at the heart of a genre-defying interactive science fiction story.
Through over 70 objects, visitors uncover fascinating connections between significant scientific innovations and celebrated science fiction works, brought together in the UK for the first time.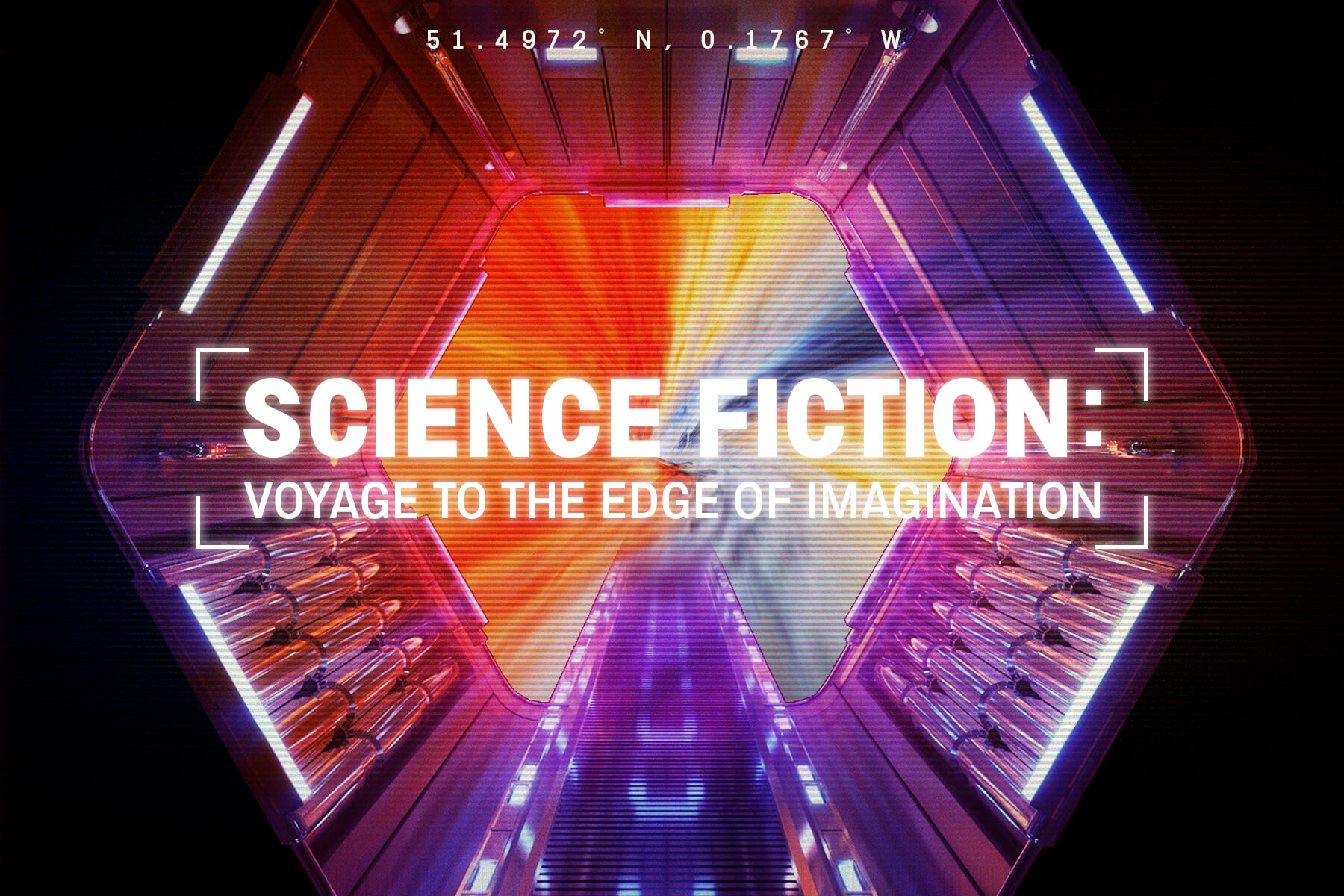 Immersive Experience
Science Fiction: Voyage to the Edge of Imagination is staged in the museum's largest exhibition space, which covers an area of 1,100m2. (Head up to the first floor; nearest steps/lifts to the entrance/exit.)
The exhibition is designed by BAFTA and Academy award-winning Creative Studio Framestore. The design plays with ideas of how alien life forms might communicate with each other through innovative audio-visual design interventions in the space and gives visitors the sense of taking a journey off-world. It's an immersive experience that invites us to boldly go and explore strange new worlds.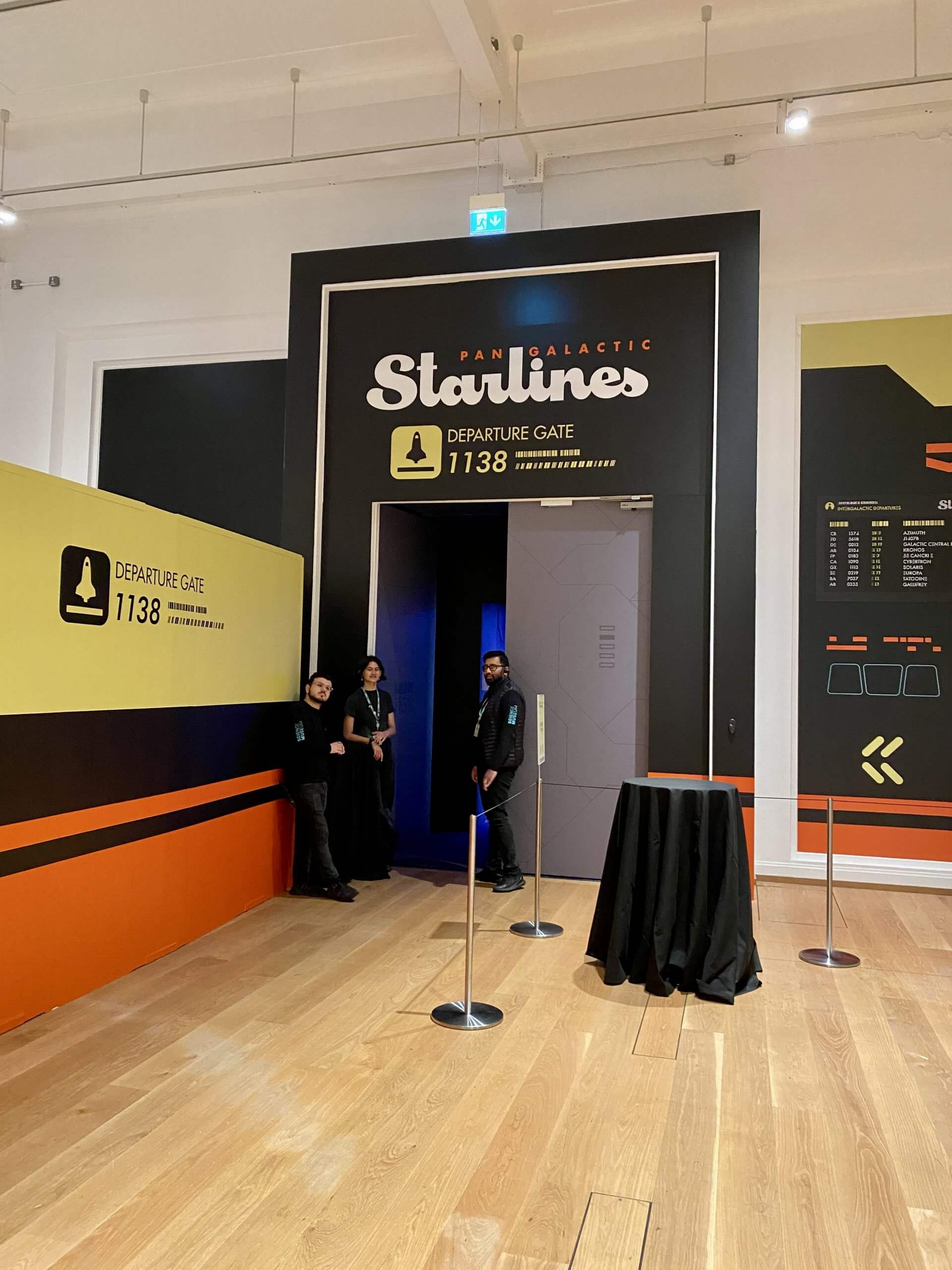 Visitors embark on an adventure through the cosmos traveling aboard an extra-terrestrial spaceship. You get to gaze over planet Earth from the observation deck and touch down on a mission to an unexplored world. You see visions of the future through science and science fiction and uncover connections between significant scientific objects and authentic items. 
Science Fiction aims to inspire the next generation of scientists whether they like Doctor Who or Star Wars. It is about the conversations between science and science fiction, and also about storytelling with object-led stories. It's about how science has inspired science fiction and how science fiction has inspired science.
It features an AI Guide and a new alien language created exclusively for the exhibition.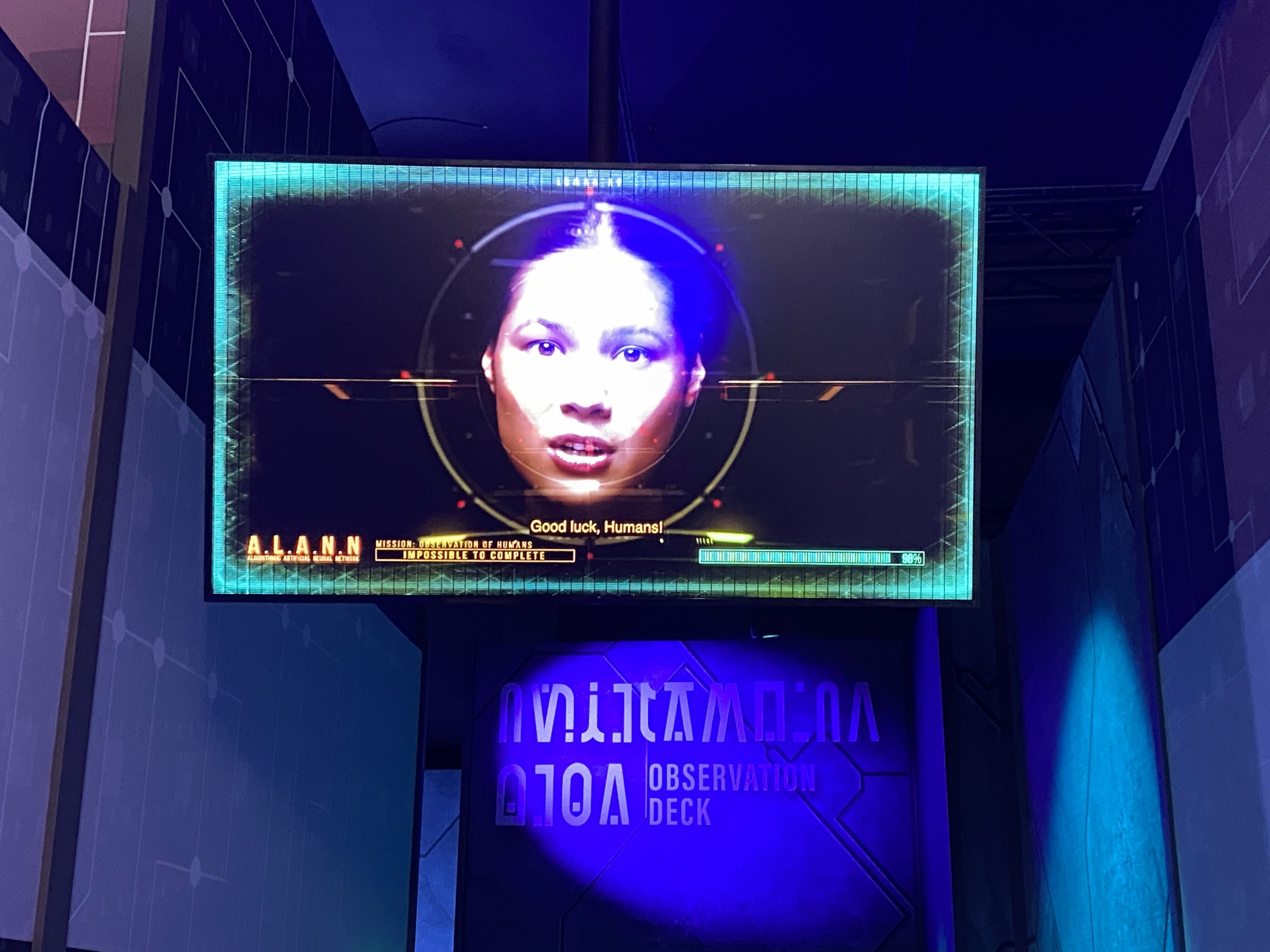 Alien Language
An alien language called Bhaux was developed especially for the exhibition. It looks mechanical, as if it were generated by a machine intelligence. It has a unique vocabulary of 4,000 words, and its grammar structure is unique to the exhibition. Bhaux phrases also feature in the soundscape for the exhibition and are woven throughout the design, enhancing the immersive feel of Science Fiction. 
So, let's take a journey on Pan Galactic Starlines.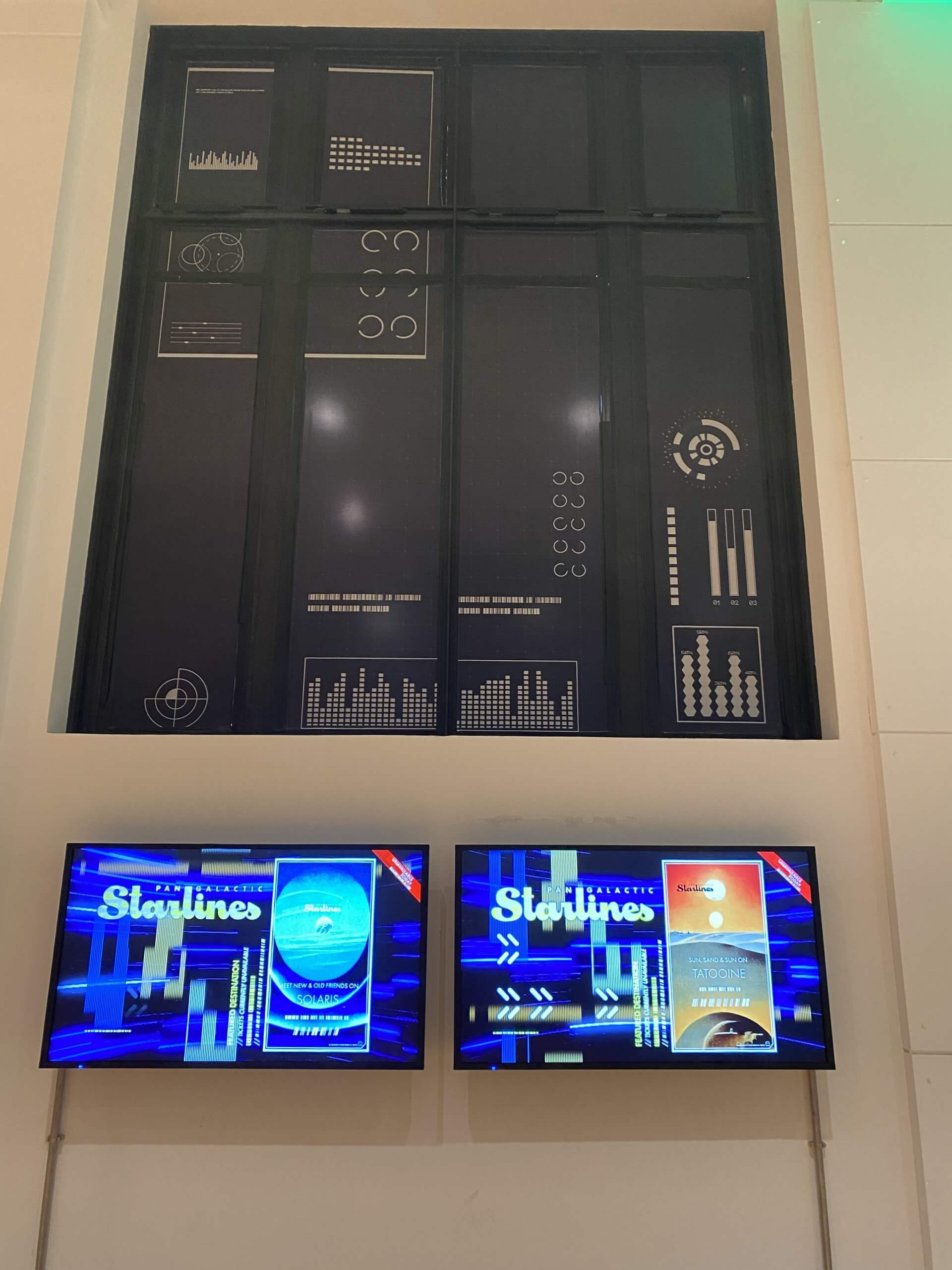 What To Expect
You enter in groups and start with an introduction video to meet the AI Guide A.L.A.N.N. It felt like an escape room at this stage so I was expecting to be set a task.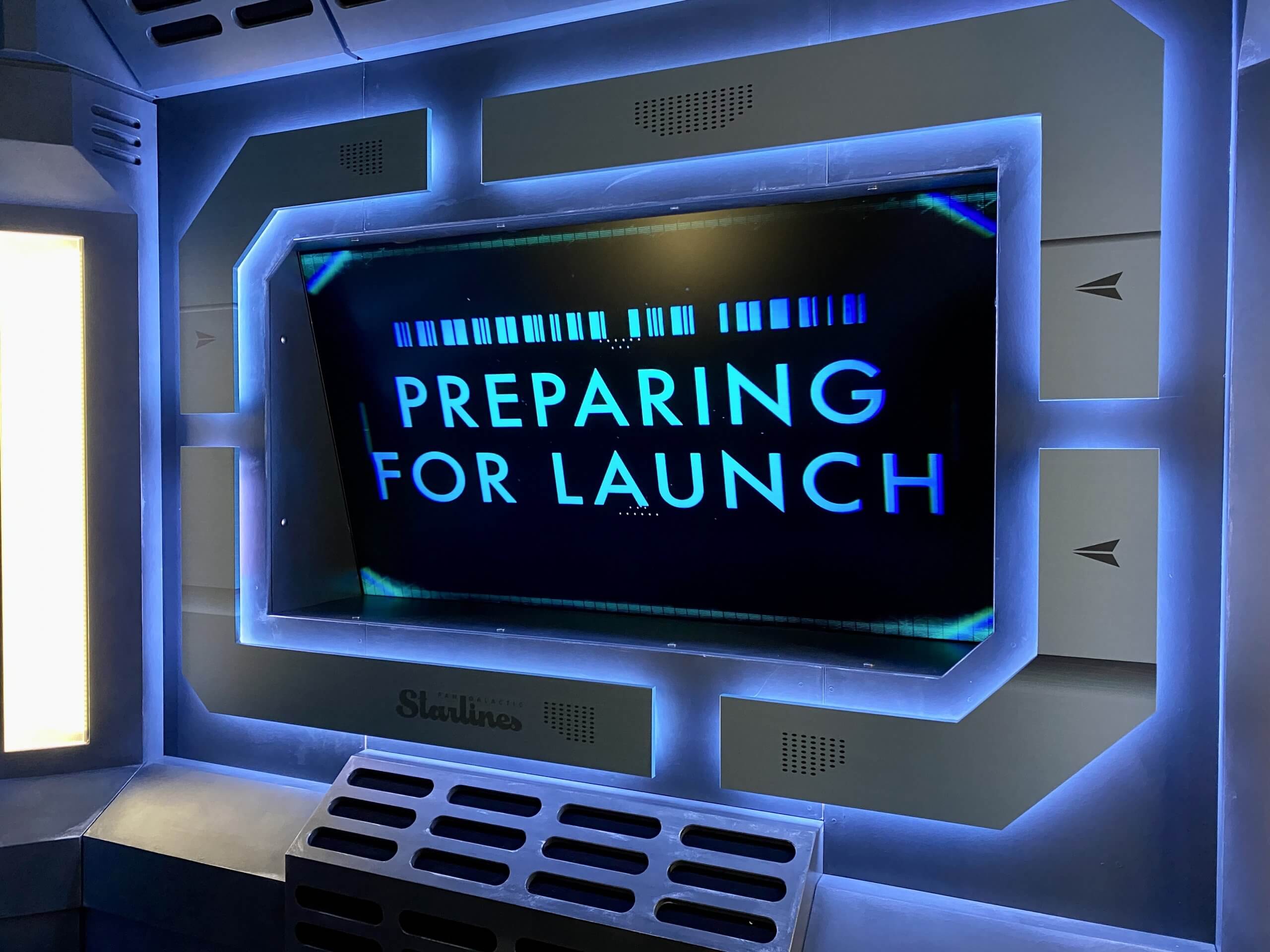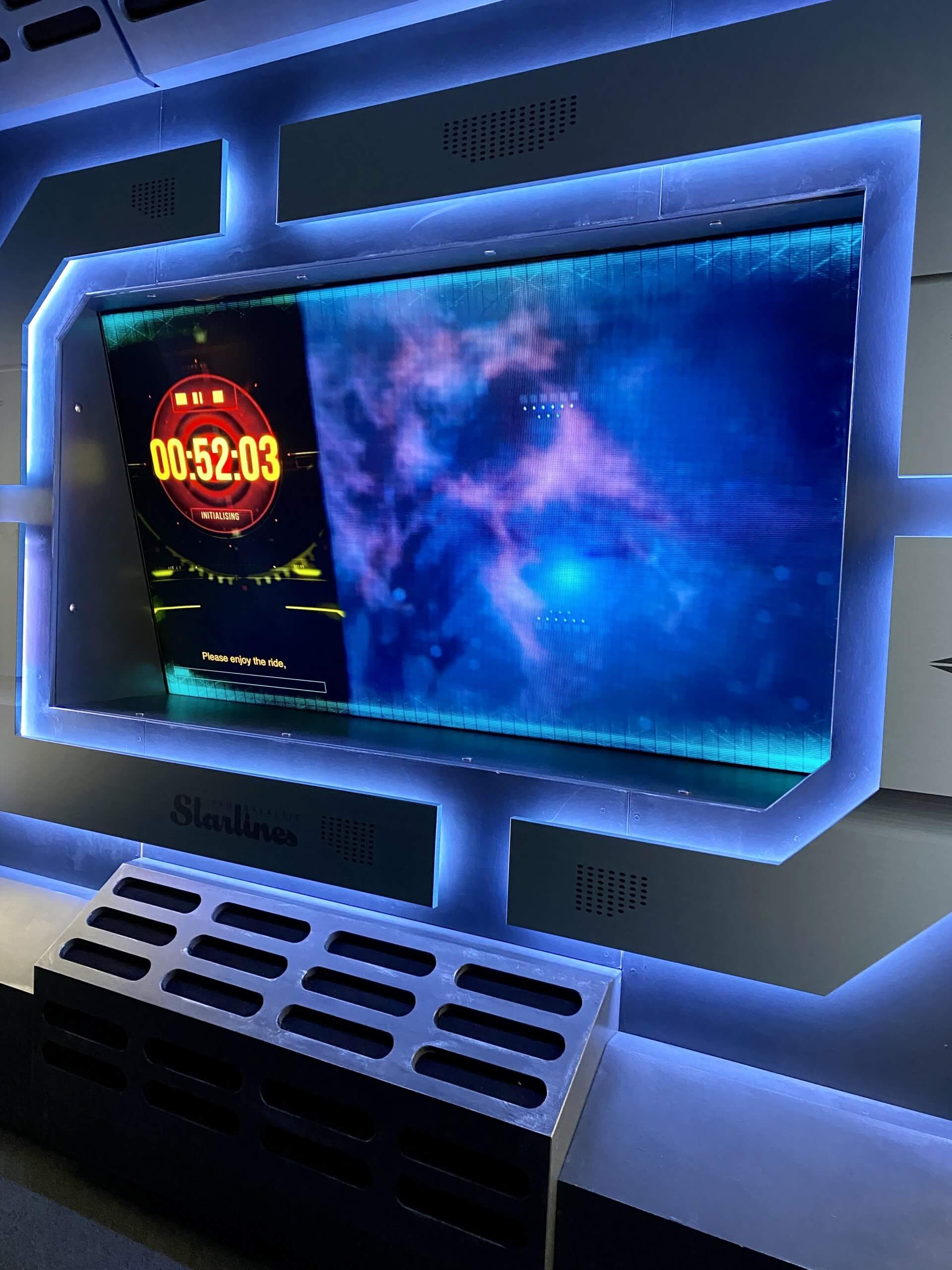 In the next anteroom, there is more from A.L.A.N.N. plus a Mondoshawan costume from The Fifth Element. (Film Directed by Luc Besson, 1997).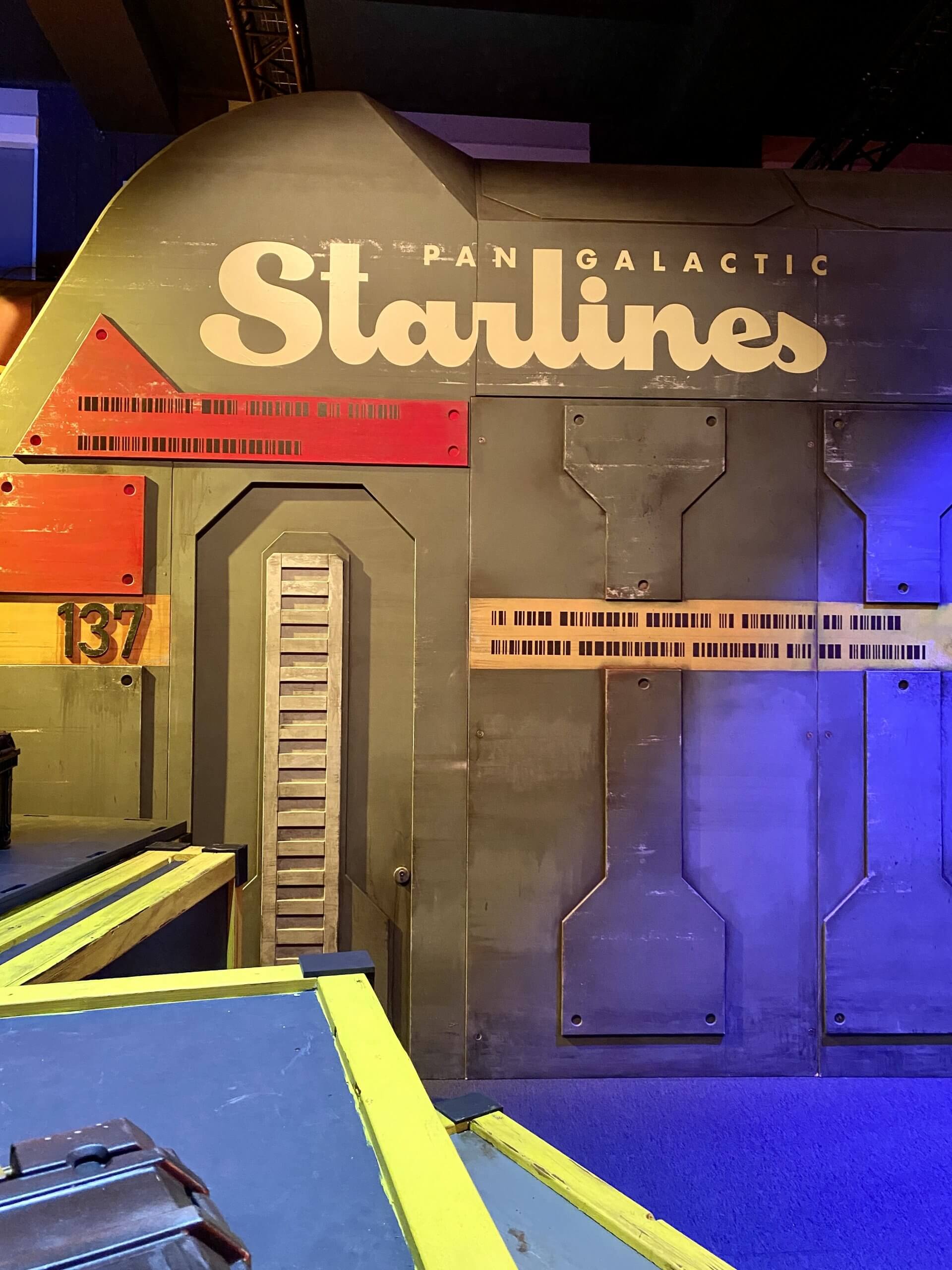 We then entered a large, quite dark space and it reminded me of when I visited the Doctor Who Experience in Cardiff years ago.
For me, it was too dark to see the labels clearly but maybe I have old eyes. And there are voices everywhere from different screens and exhibits making it somewhat overwhelming. Again, that might be me being sensitive to noise but I mention it for awareness for others.
What's On Display?
The exhibits are from celebrated science fiction movies, TV and books, as well as paintings, artworks, and photography. There's classic literature that imagined and inspired new understandings of the world around us. There is so much to see that it would be easy to miss the first edition of Jules Verne's From the Earth to the Moon by the entrance to the room.
But I did see Lieutenant Nyota Uhura's uniform worn in Star Trek: The Motion Picture (1979). Nyota Uhura was the communications officer on board the U.S.S. Enterprise in the iconic franchise Star Trek. Her name comes from nyota, meaning 'star', and onuru, meaning 'freedom' in Swahili.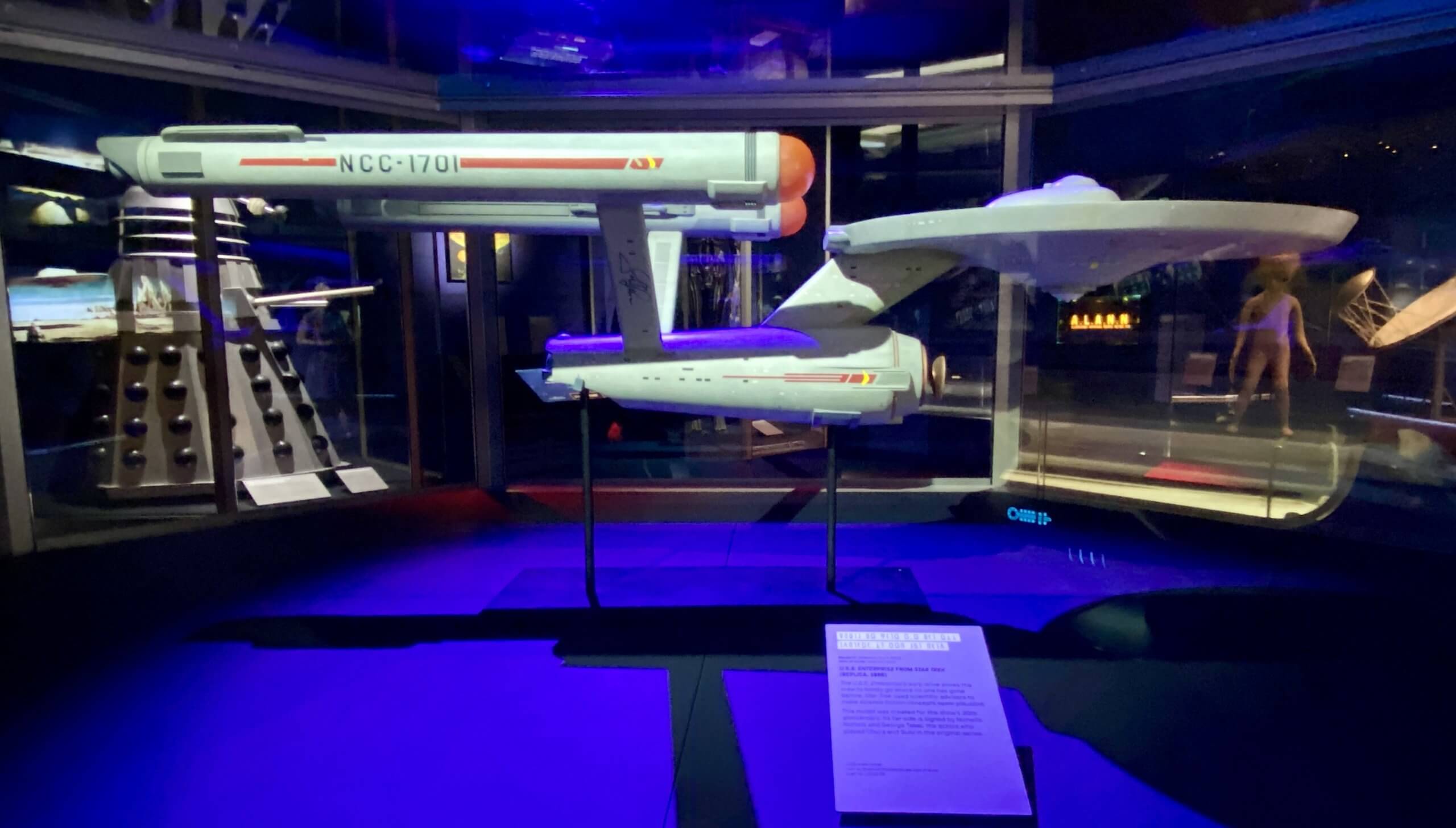 Nearby, there's a model of the U.S.S. Enterprise from Star Trek (replica, 1996) signed by Nichelle Nicols and George Takei. Star Trek used scientific advisers to make science fiction concepts seem plausible.
Turn around and you can see a hypersleep chamber from Prometheus, a gold spacesuit from Sunshine and a Pan African Flag and Traveller Suit from artist Larry Achiampong's Relic Traveller series.
Turn again and there are these three well-known iconic pieces.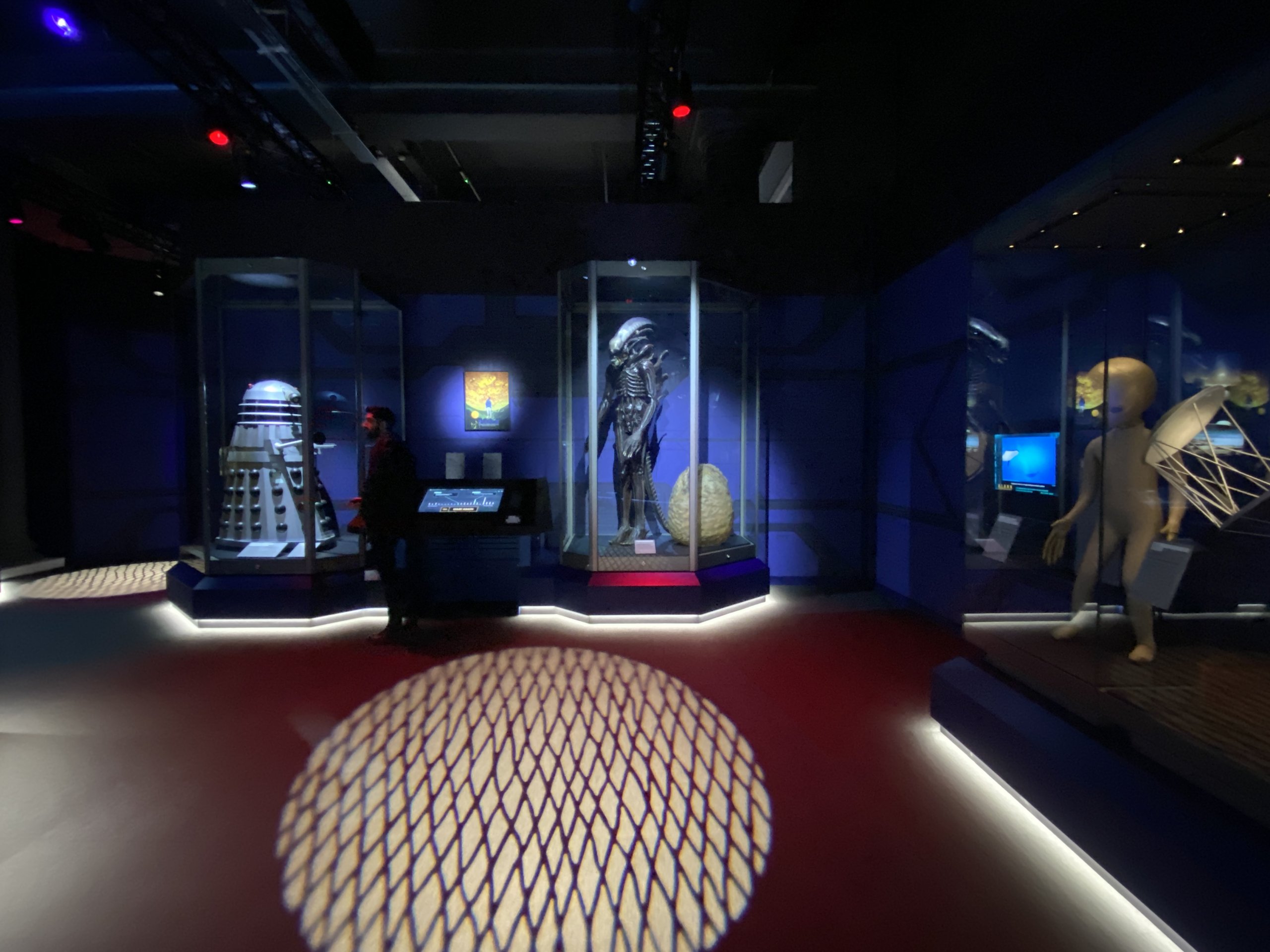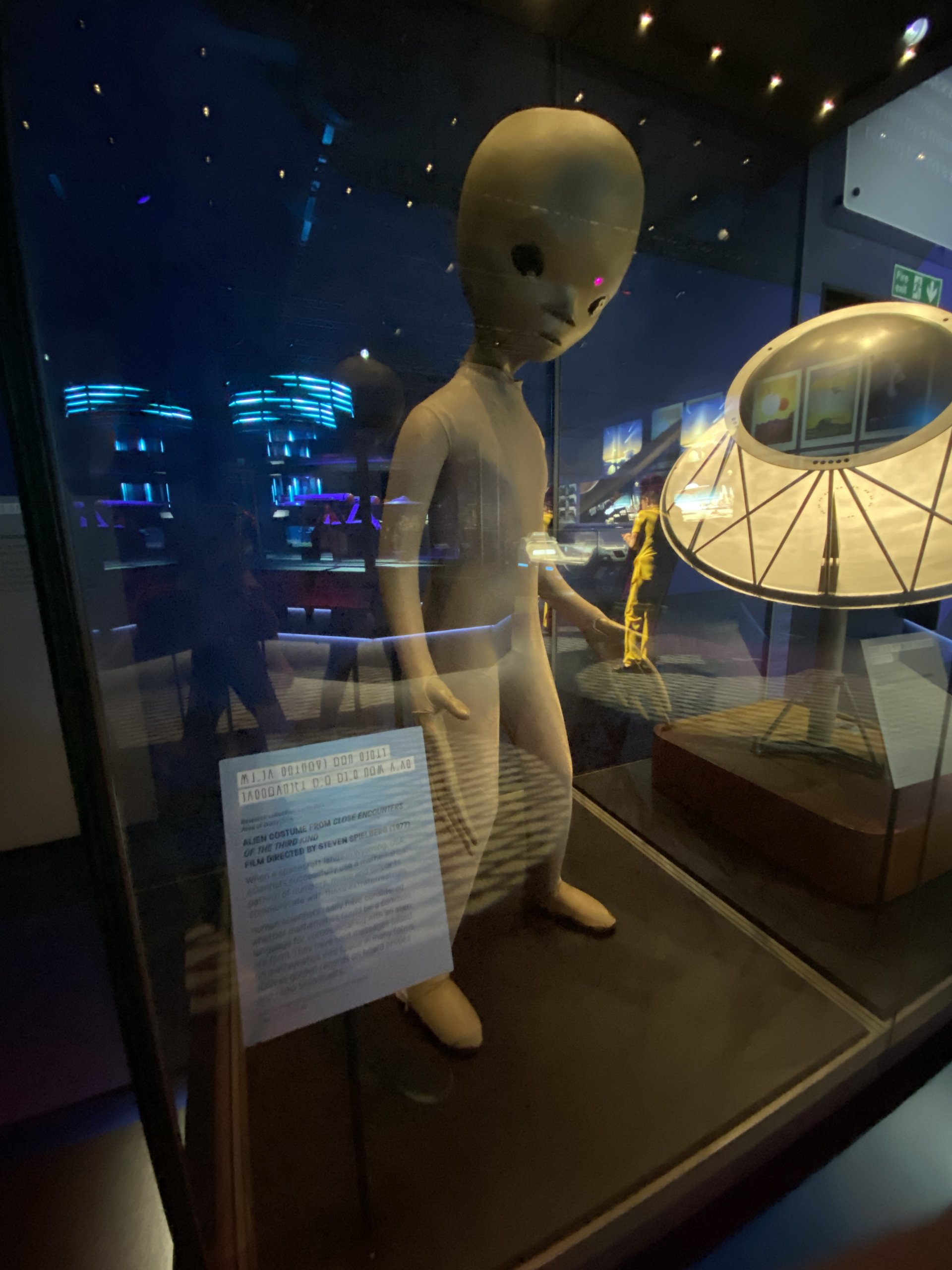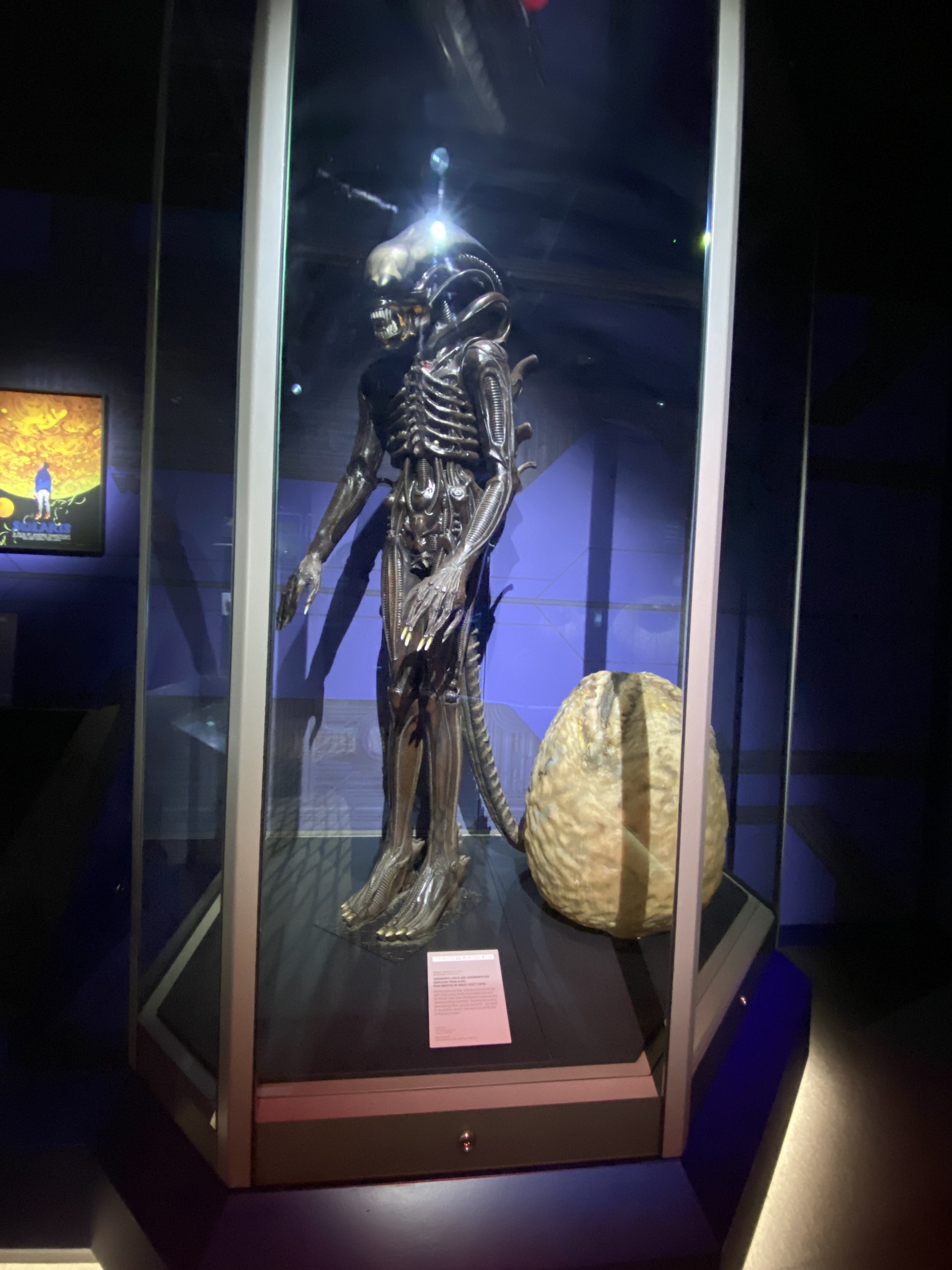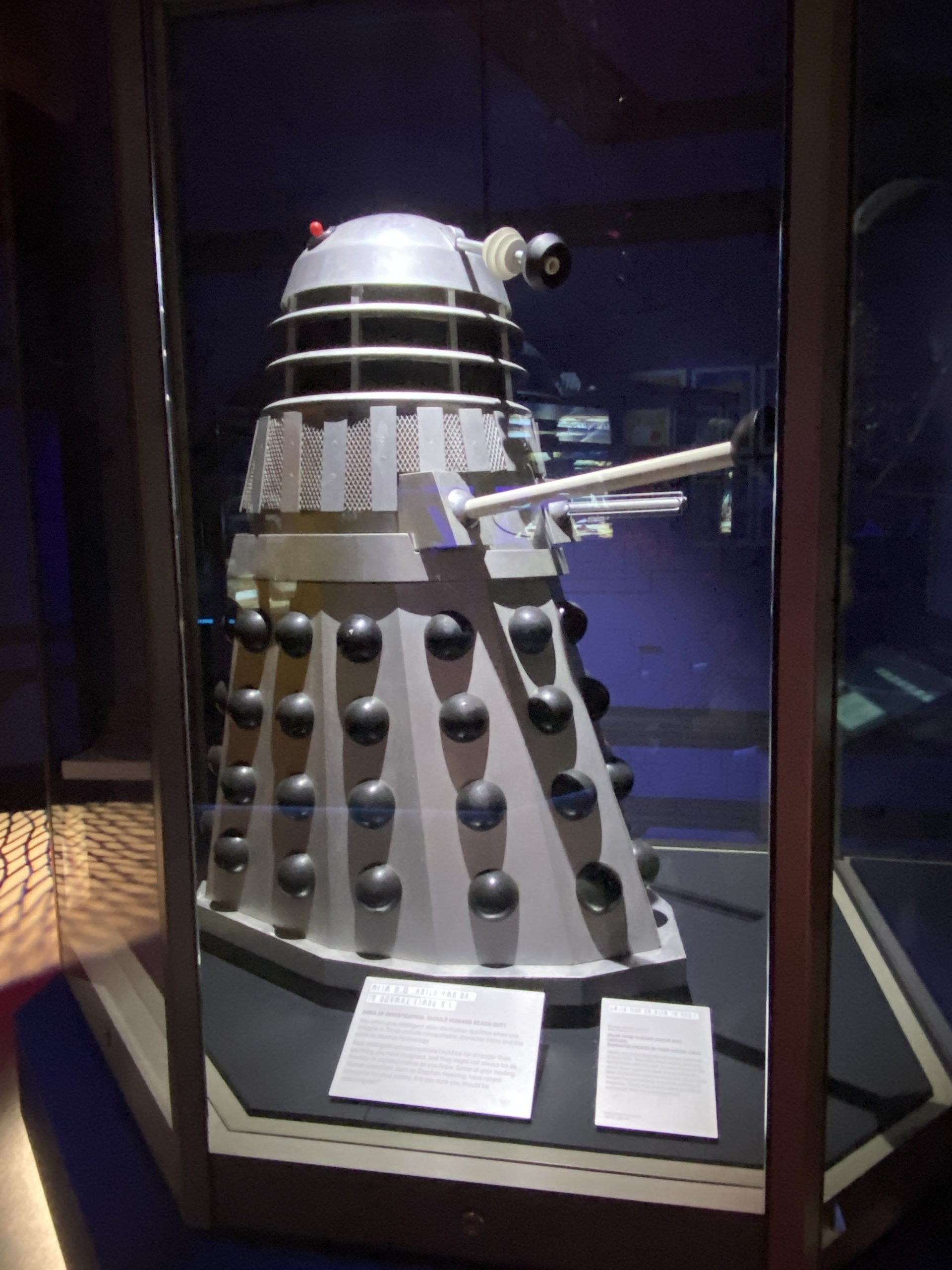 This gallery (the Exploration Deck) has so much going on! You can play games, watch screens, and see space suits. Don't rush through as this is fantastic.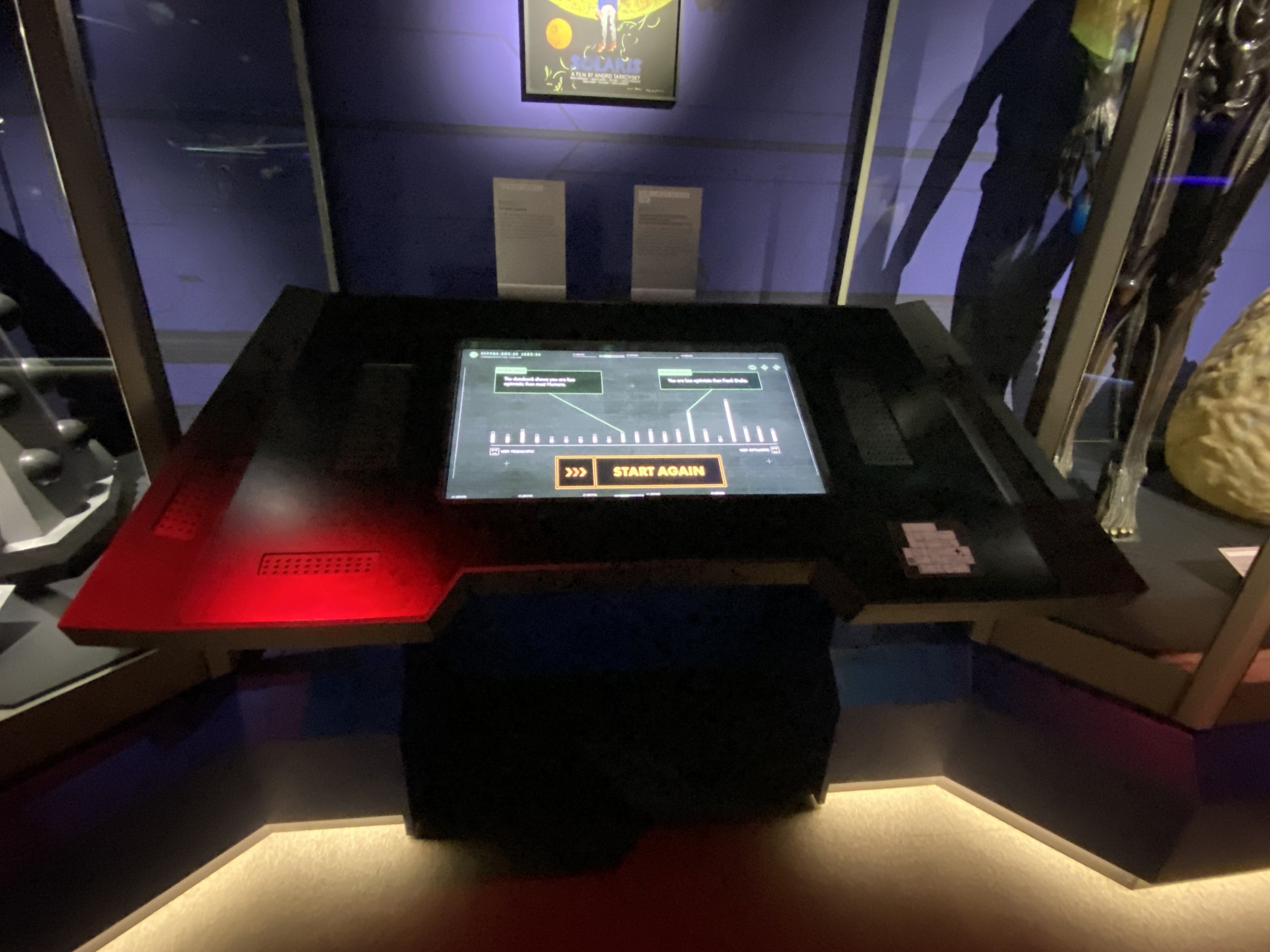 Bio Lab
The journey continues to the spaceship's Bio Lab. Here, you get to examine what it means to be human. Objects explore how science fiction imagines the evolution and replication of the human form through the depiction of cyborgs, AI, and gene editing.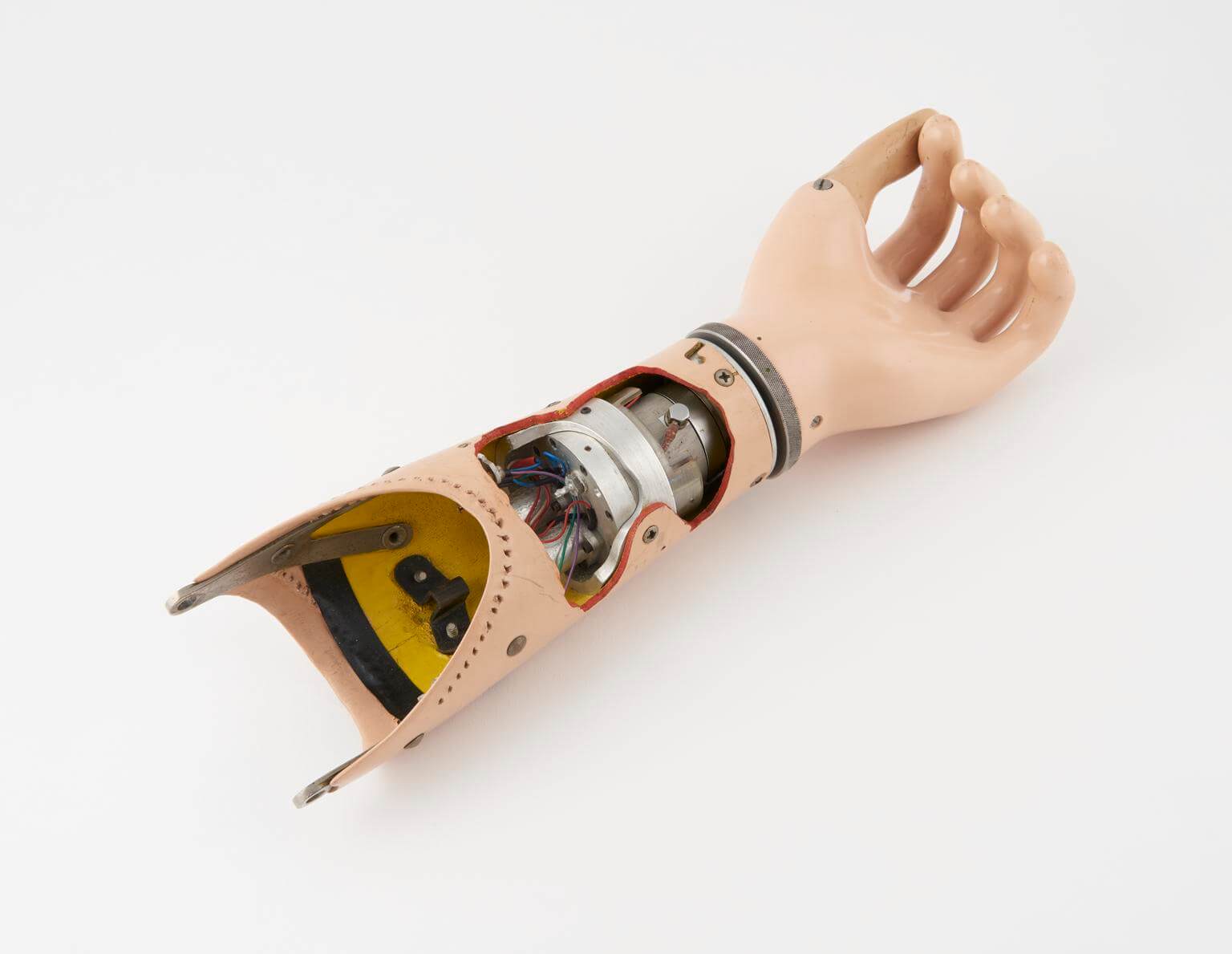 There's a display about science fiction and medicine. It has the first pacemaker made by Earl Bakken (1958) and a Frankenstein toy (1994–1995). A love of Frankenstein films, in which the monster is brought to life with a spark of electricity, inspired Earl Bakken into a career in medical electronics, founding Medtronic in 1949. There's also a Tricorder from Star Trek and a modern diagnostic scanner that can diagnose asthma to heart failure.
And next to these wonders, is a Darth Vader helmet from Star Wars: The Empire Strikes Back (1980) and Iron Man, mark III armour.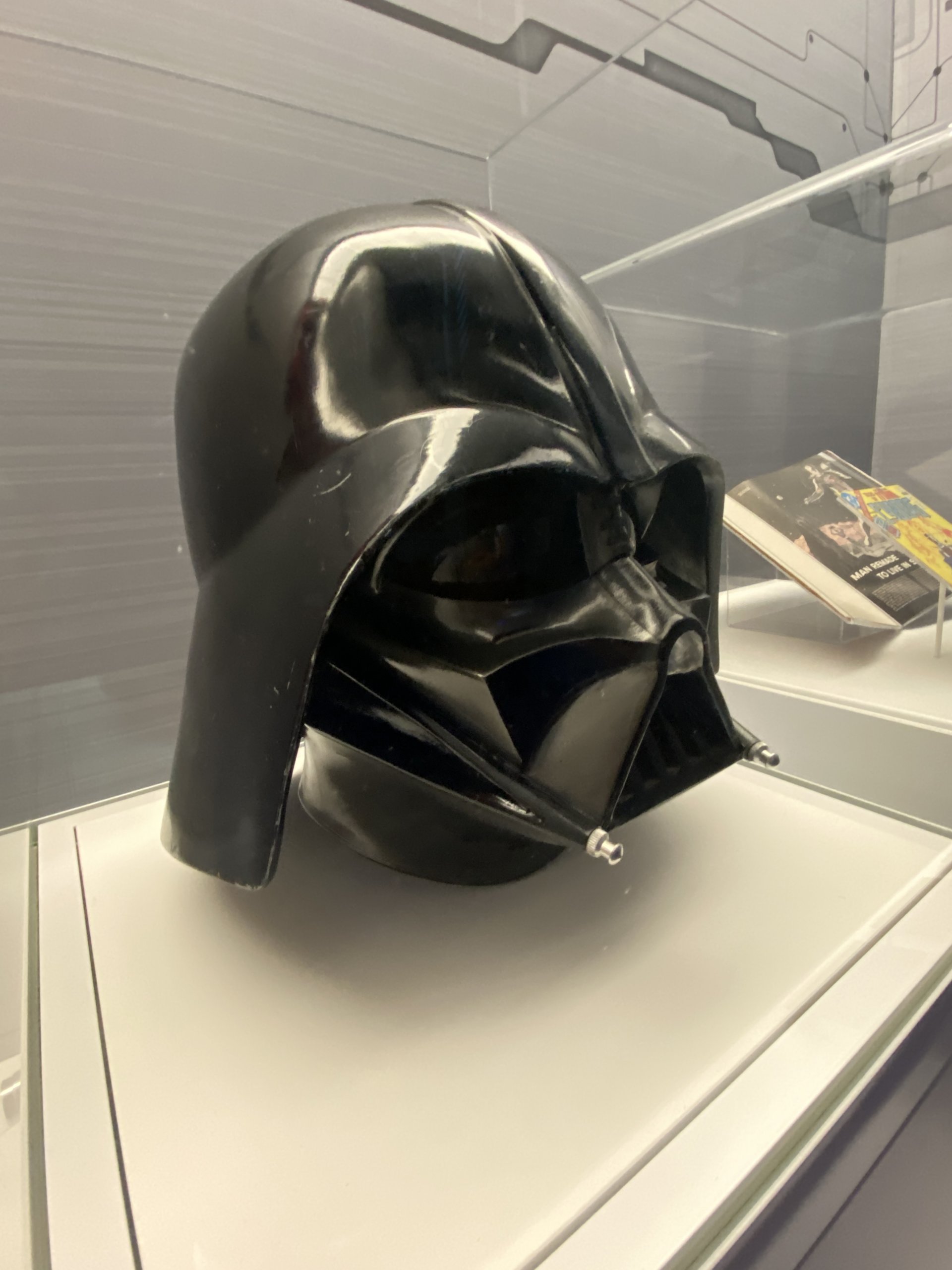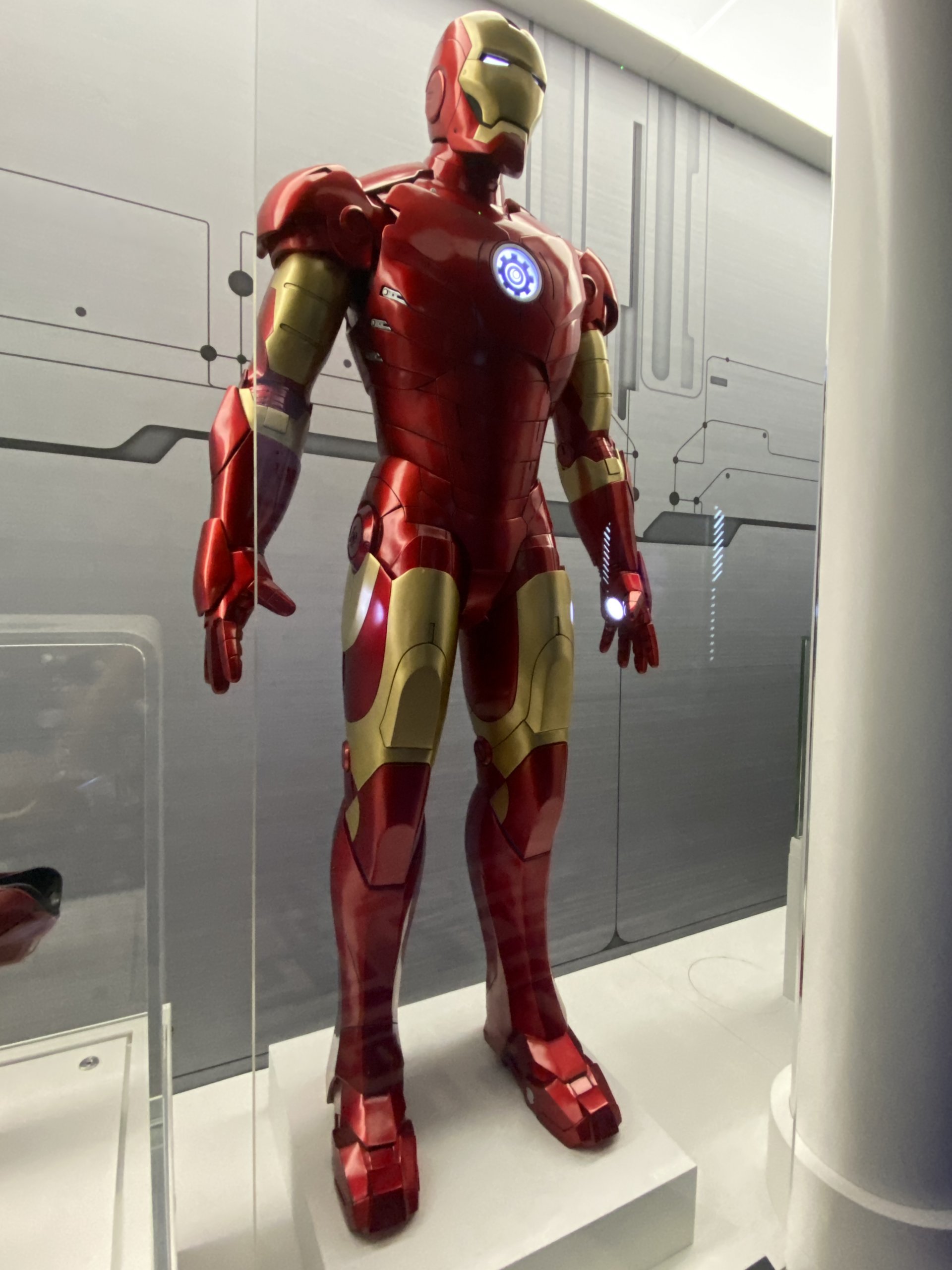 Another "wow, all in one room" moment is the costume worn by Boris Karloff in Bride of Frankenstein (1935) and Robby the Robot (replica) from Forbidden Planet (1956). Robby was science fiction cinema's first robot with a personality, and he inspired robots in films including Star Wars.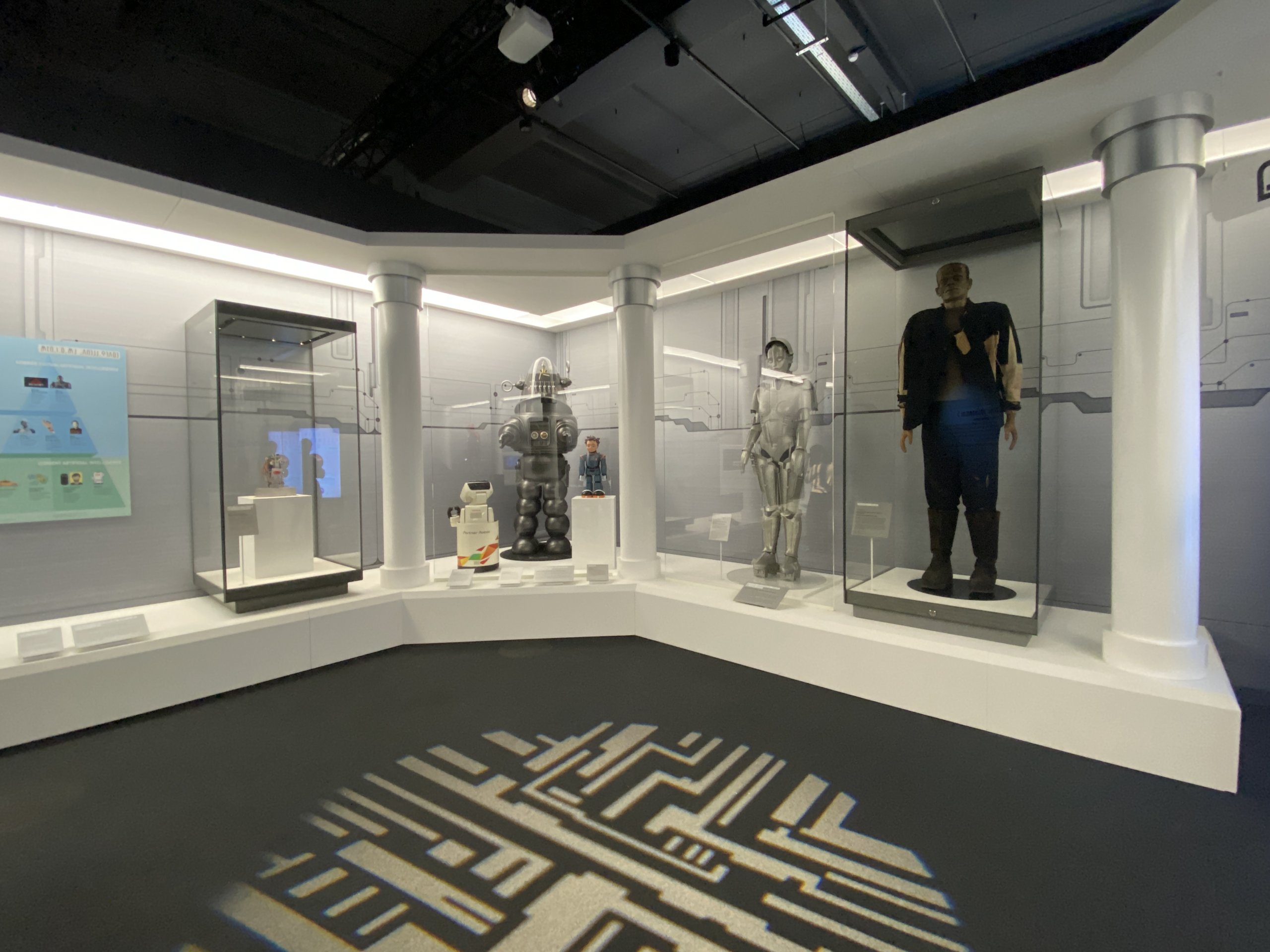 The written captions often pose questions. What is AI capable of? How are robots helpful?
Should AI have rights? is accompanied by the NS-5 robot from I, Robot (2004). Set in 2035, I, Robot is based on the stories of Isaac Asimov. Sonny is an NS-5 robot who serves humans. He is creative, experiences dreams, and looks human-like. But when he is accused of killing his creator, the rights he is entitled to are questioned. Who is responsible for a robot which kills: the creator or the robot?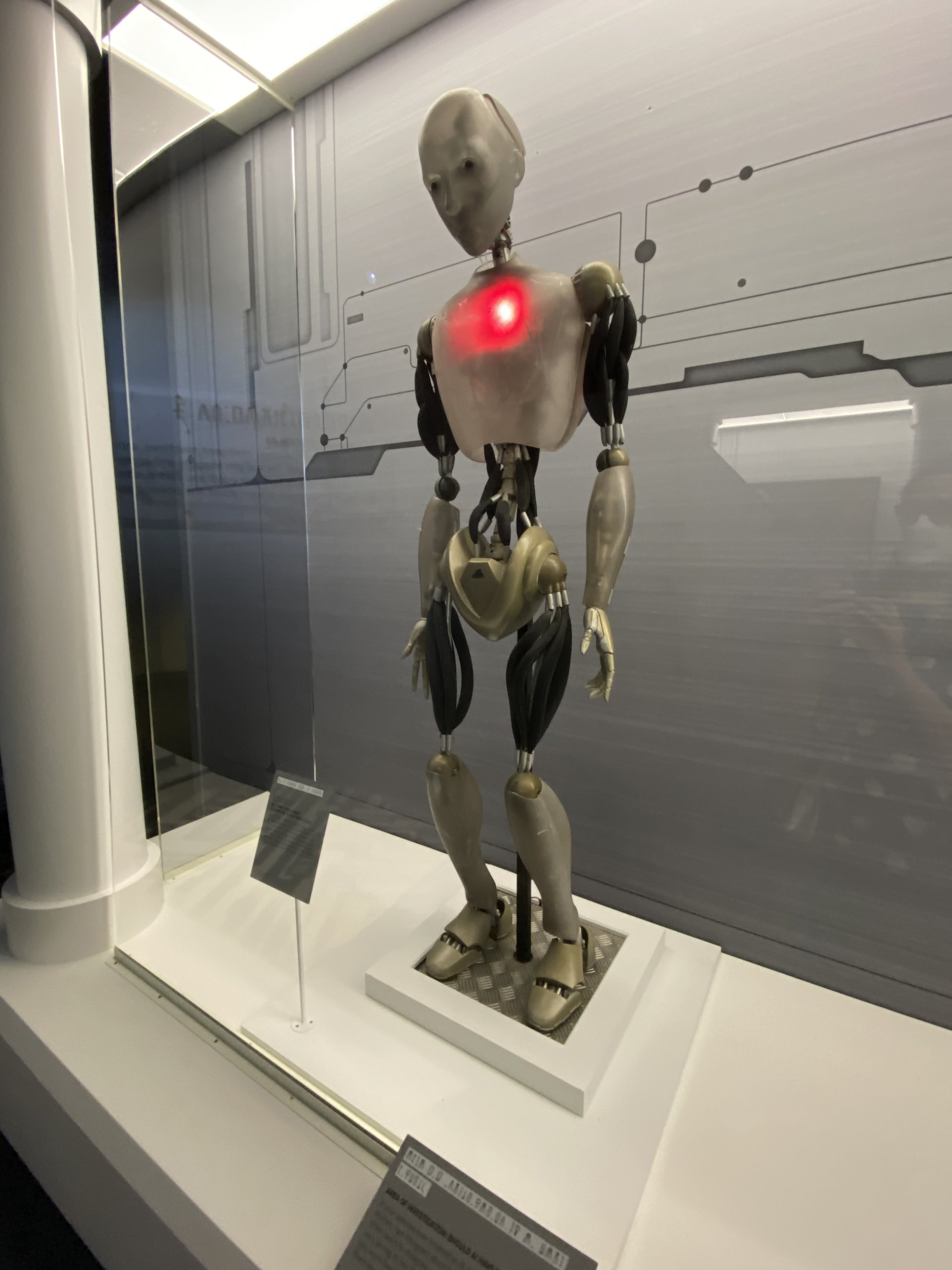 Wormhole
Through a 'wormhole jumpgate' you get to visit another world. You enter a dome with projections of swarms of bioluminescent creatures. The idea is that they interact through the intelligent communication of a collective hive mind, inspired by different depictions of aliens across science fiction.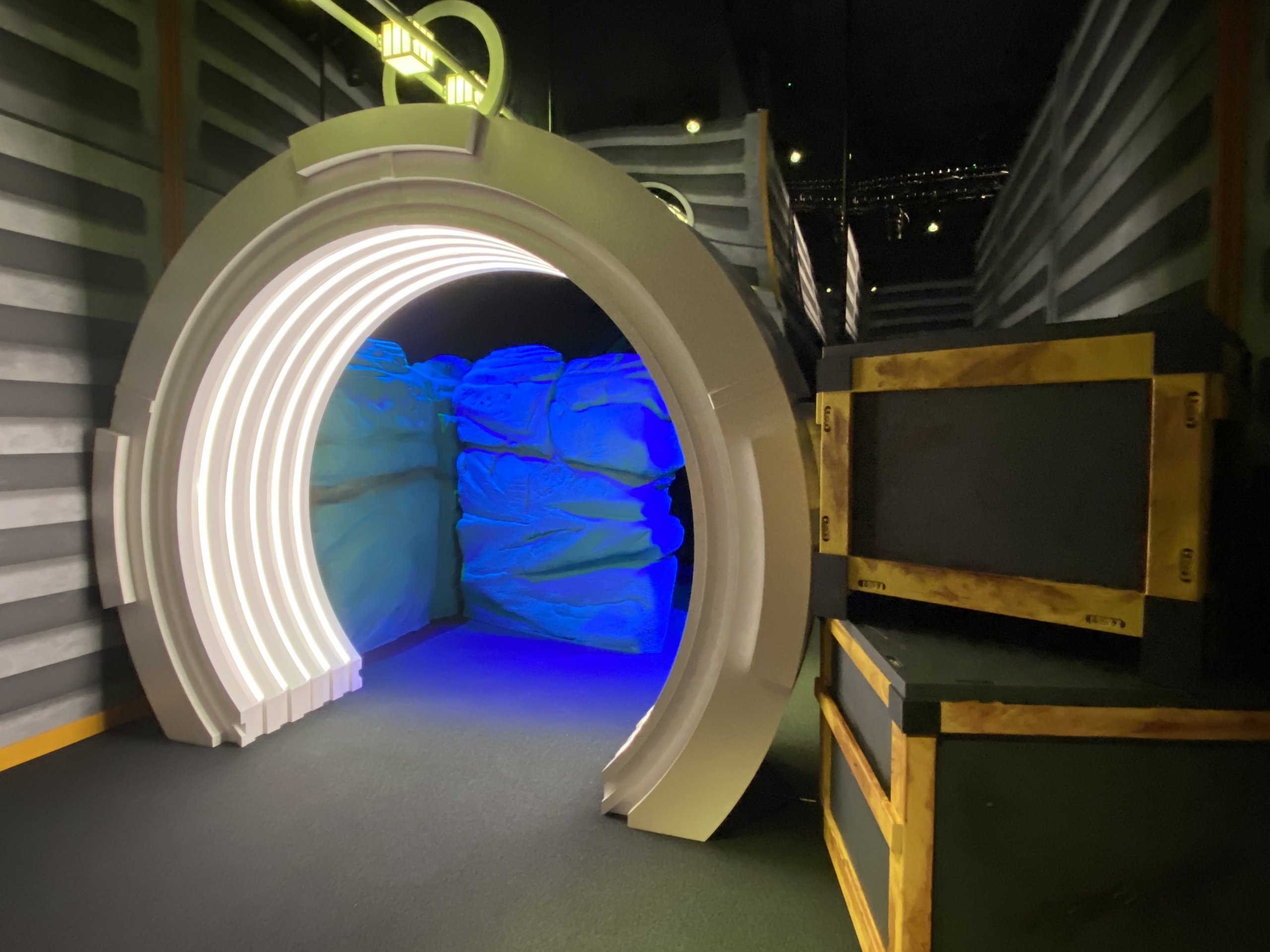 Visualization Deck
Back on the Visualisation Deck visitors are prompted to think about how science fiction reflects contemporary concerns and challenges.
On display is a metal urn from Hiroshima. Distorted by the heat of an atomic blast, it is displayed alongside a poster from the original Godzilla – highlighting how the development of nuclear weapons shaped post-war anxieties.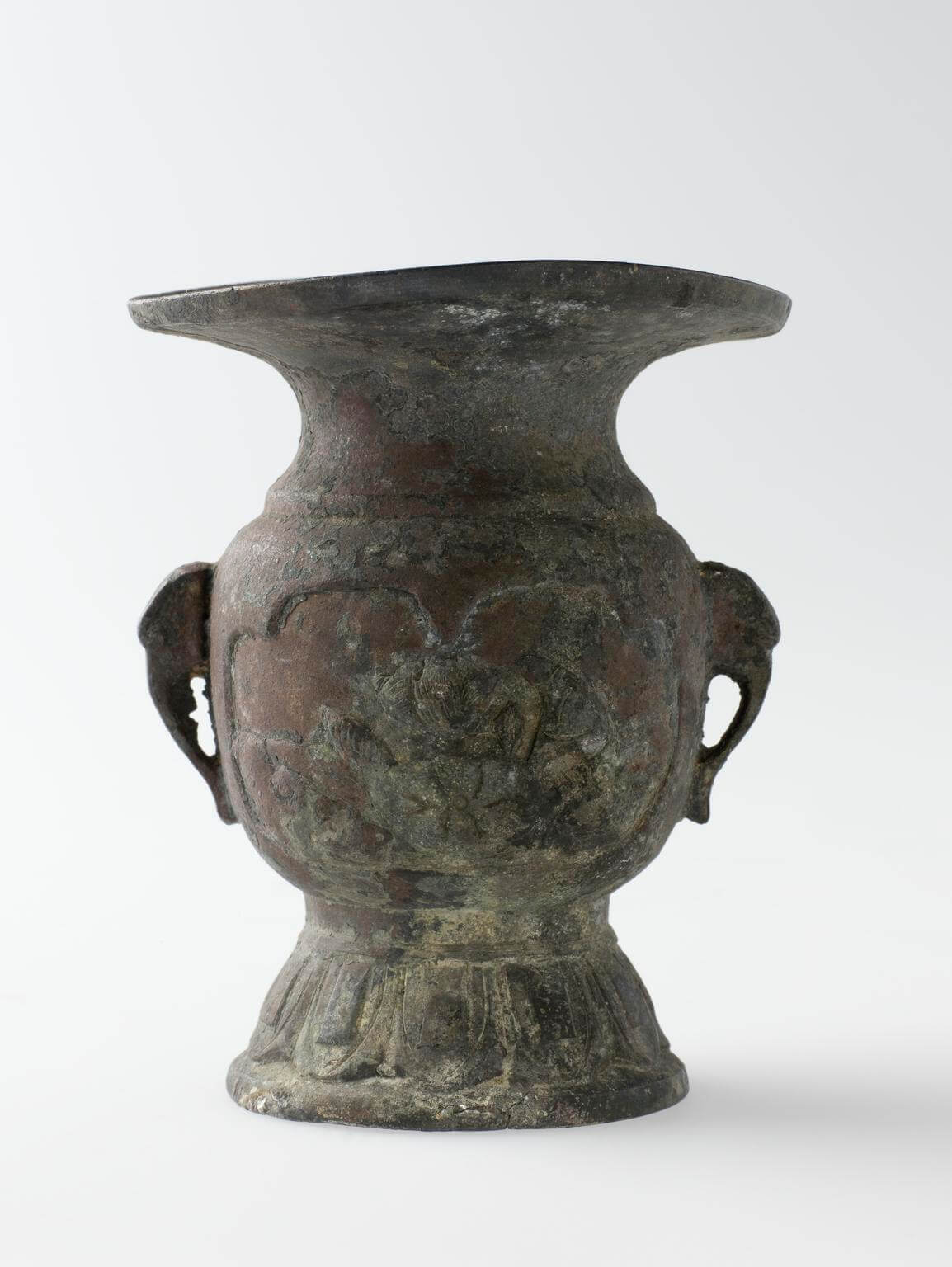 We're told both science and science fiction also offer hope that we may overcome or mitigate global challenges. There's a short film featuring scientists and futurists examining the importance of creativity in finding solutions to the grave threats we face. (But it was hard to hear due to so many audios playing in one area.)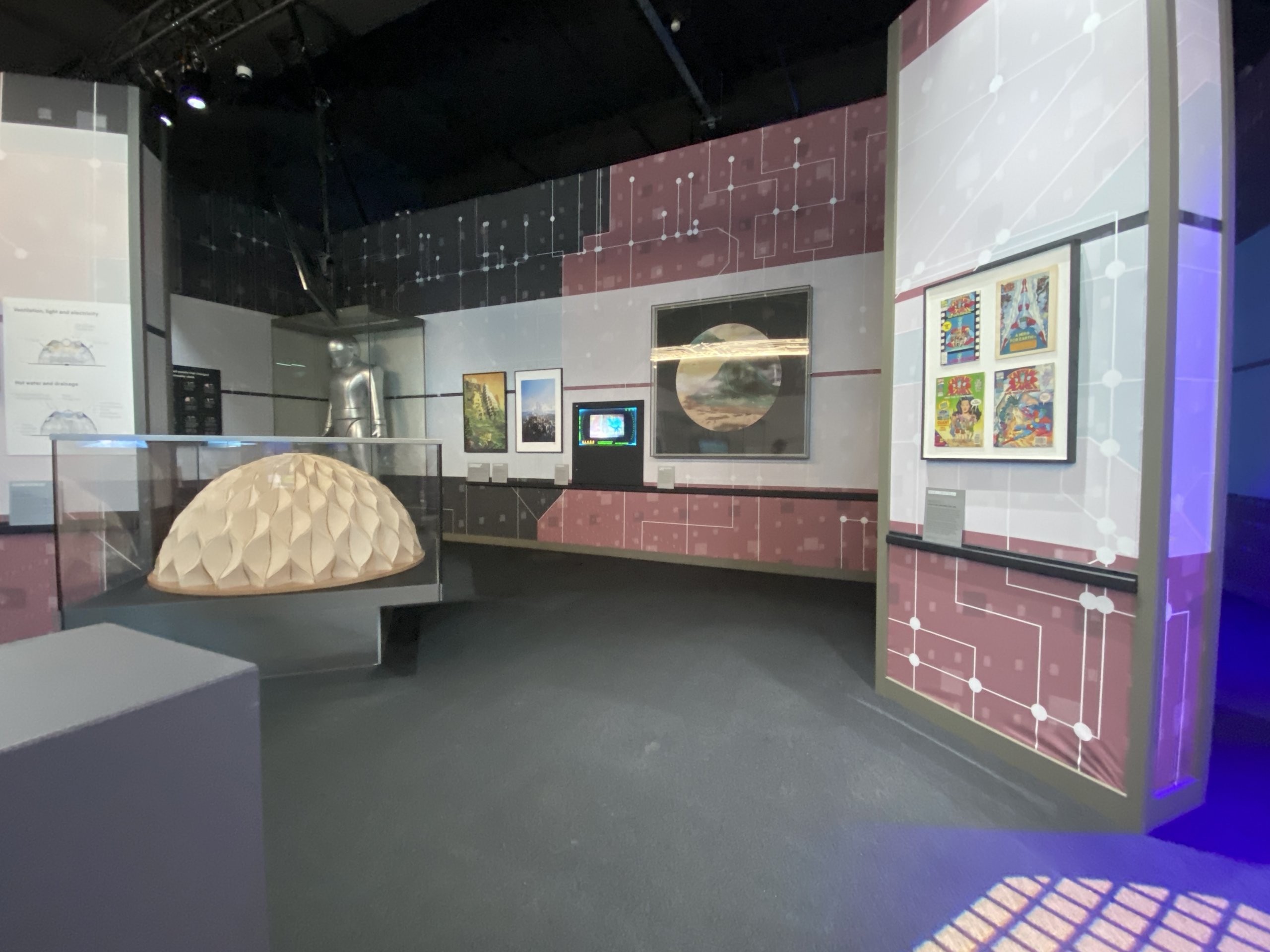 Observation Deck
Visitors end their journey overlooking Earth through a huge window from the Observation Deck. While this was appealing, I wanted more information. Would it be obvious to all visitors that this was a view of Earth? There were no labels and no guidance on what part of Earth we could see. I would like to have seen this as more of an interactive so you could 'fly over' areas you wanted to see.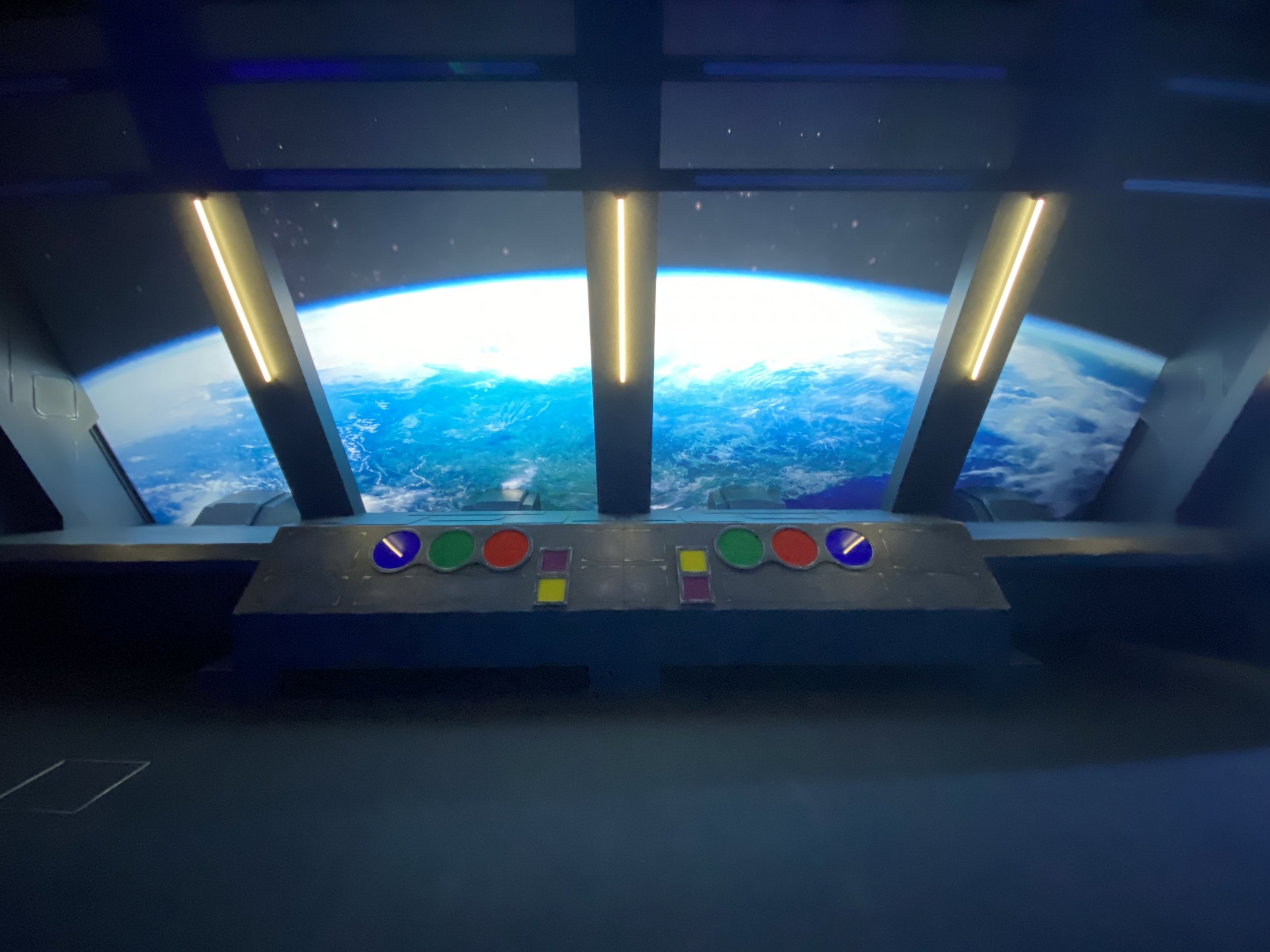 While I was told the exhibition addresses the big issues of climate change, the ecosystem and nuclear war, I wouldn't say it focuses on them throughout. And Londonist pointed out that such a large topic has omissions that many of us would have wanted to see. As they said, I really wanted a walk-through TARDIS. Why can't I have a walk-through TARDIS?
At times, I found the exhibition's low light and loud noise frustrating. I have memories of visiting the Science Museum when my daughter was small and of a wall of sound hitting you as you entered so I'm sure their core audience is used to this. I did wish there were headphones and location-based sound though. I'm sure it's expensive technology but I first experienced it at the V&A's David Bowie exhibition nearly ten years ago.
Gift Shop
As you would hope, there is an excellent gift shop to complete your return to reality.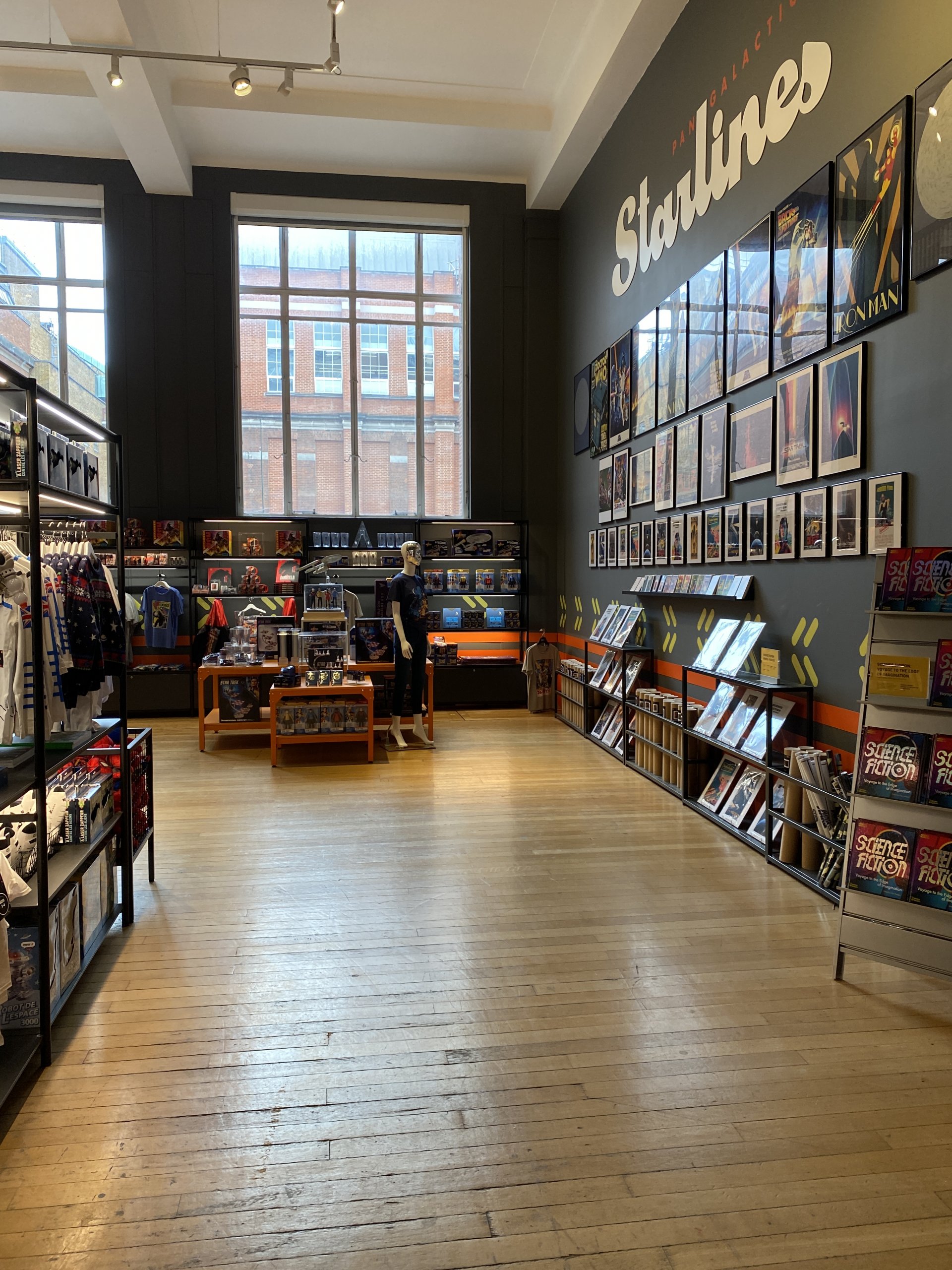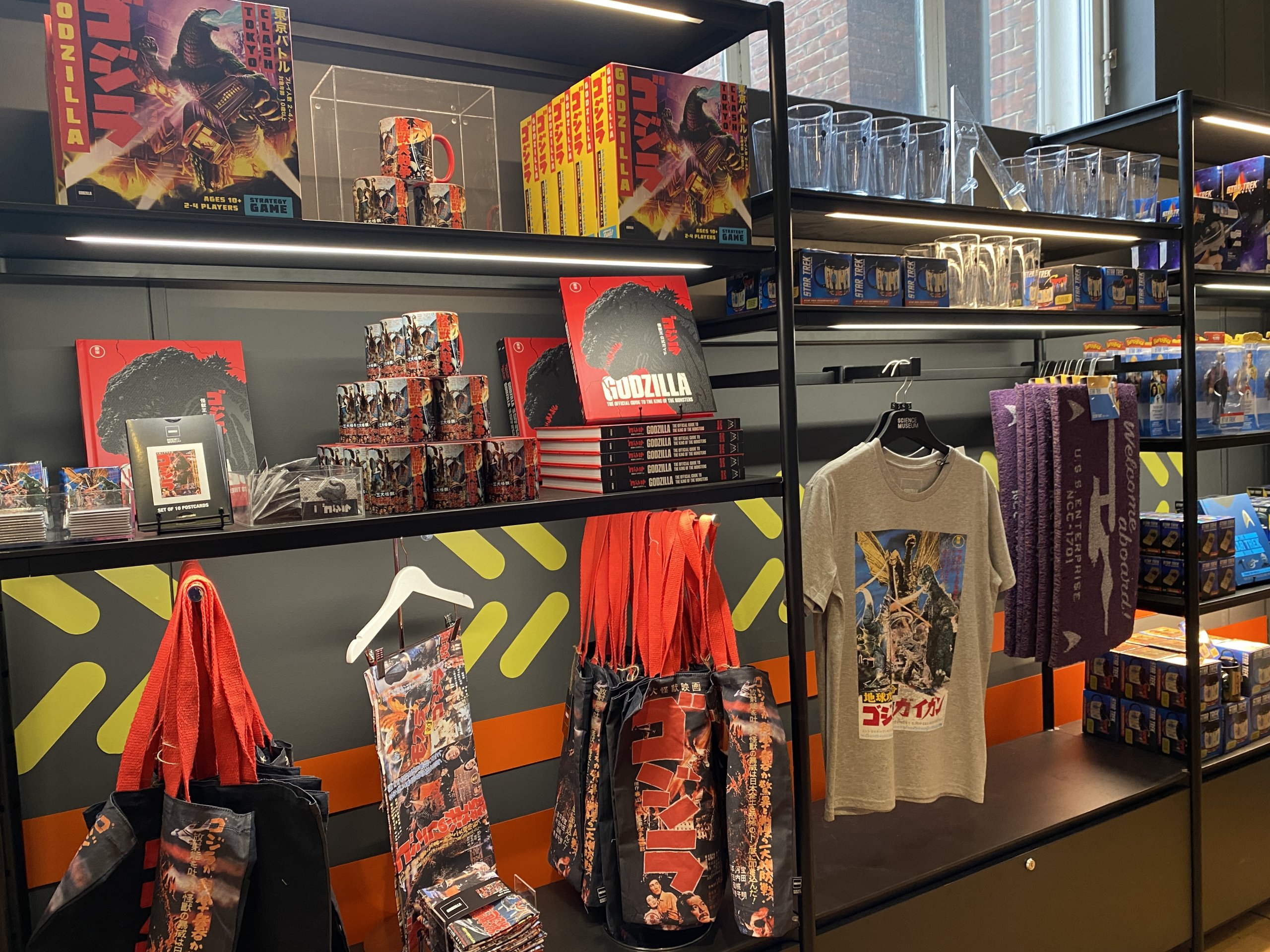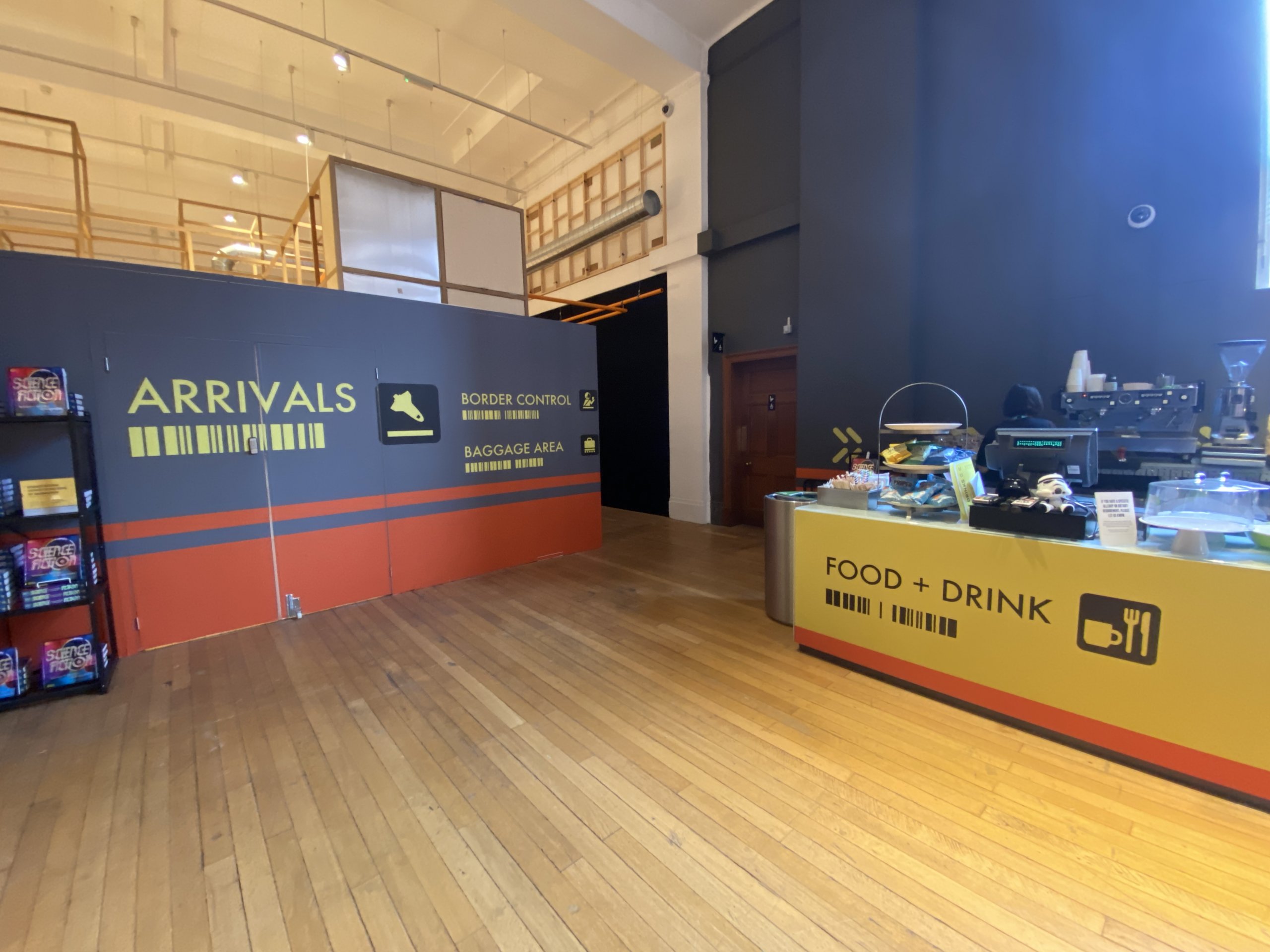 The exit brings you out by the Medicine galleries, but I would recommend going back down to the ground floor and through the Space galleries to see the Doctor Who Cyberman costume (1988). Hat tip to IanVisits for alerting me to this.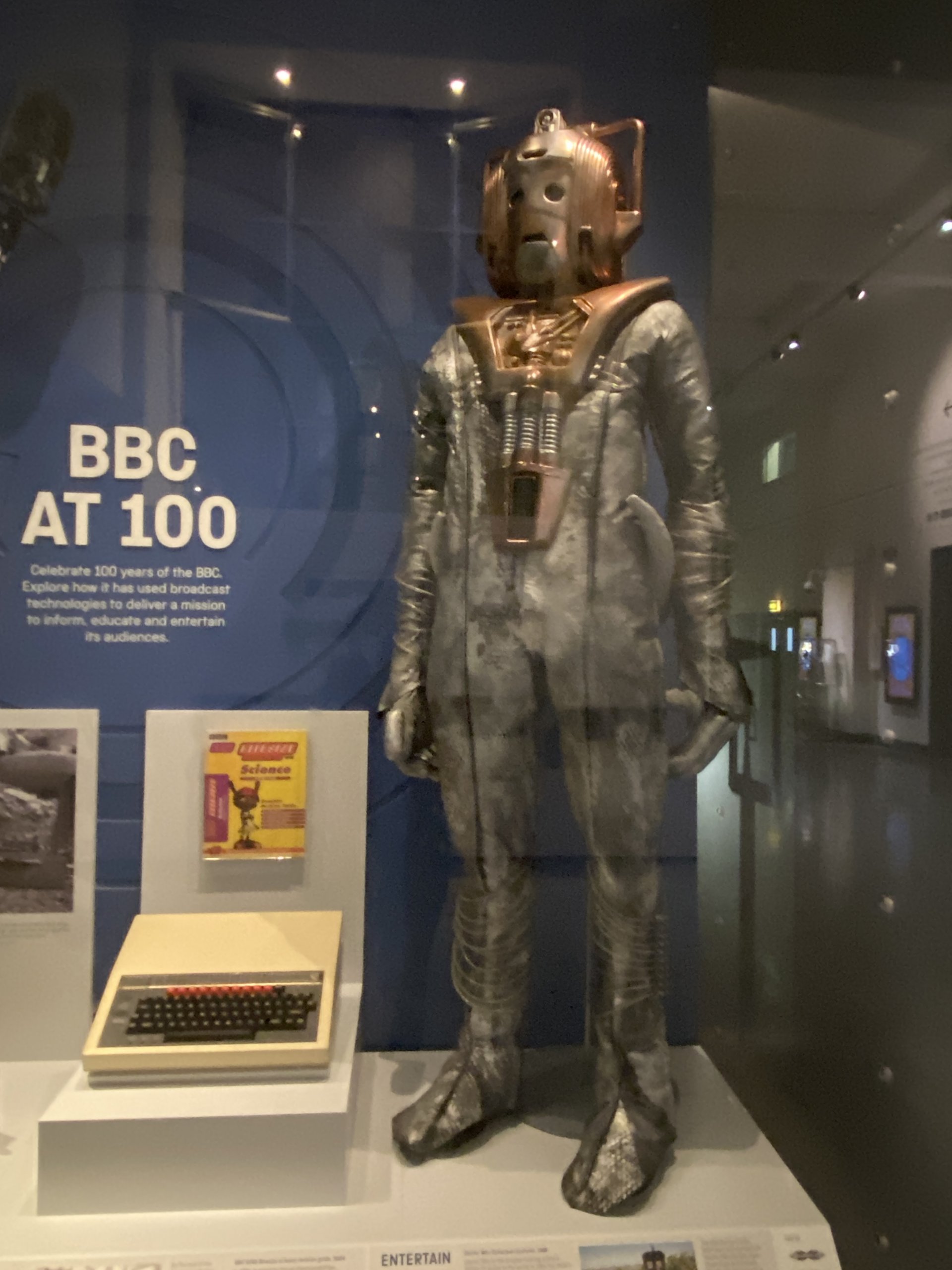 Events Programme
Science Fiction: Voyage to the Edge of Imagination is accompanied by an events program that explores the impact of science fiction literature, TV, and film on the modern world.
There are expert panel discussions and live music performances, including a collaboration between The Radiophonic Workshop and Stealing Sheep. Plus, a science fiction-themed Astronights, the popular museum sleepovers for children.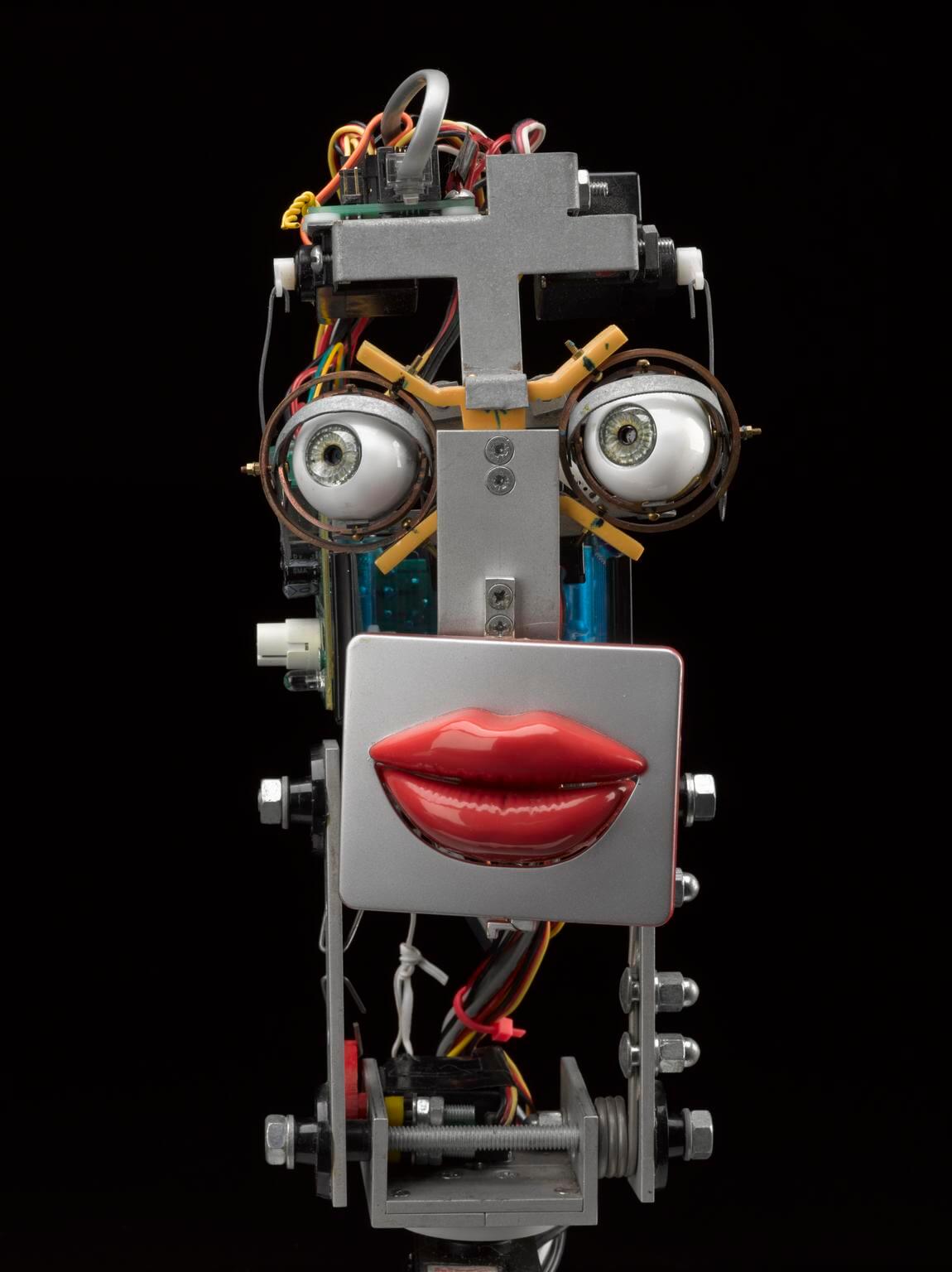 Science Museum Lates
Bringing together a host of themed talks, workshops, and activities, Science Museum Lates are free adults-only, after-hours theme nights that take place in the museum every month. Science Museum Lates began in September 2008, and the museum has since hosted over 120 Lates events with themes ranging from sexuality and medicine, zombies and Frankenstein, to Zombies and AI.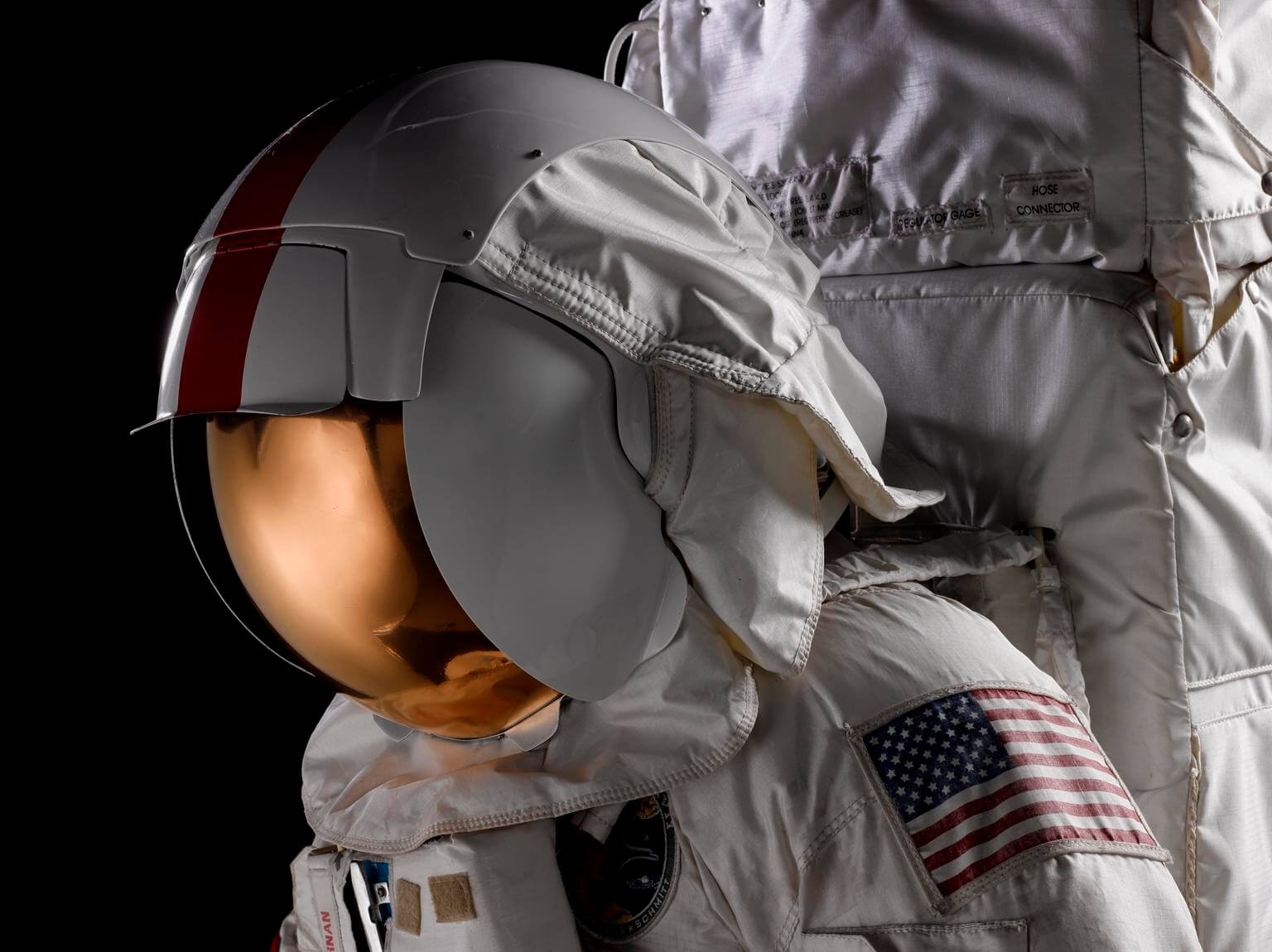 Arthur C. Clarke Award
Science fiction is an ever-evolving genre that seeks to make sense of our changing world. Recognizing the importance of celebrating science fiction creators, the Science Museum is hosting the Arthur C. Clarke Award at Lates on 26 October 2022. Attendees will first to find out the winner of the Arthur C. Clarke Award.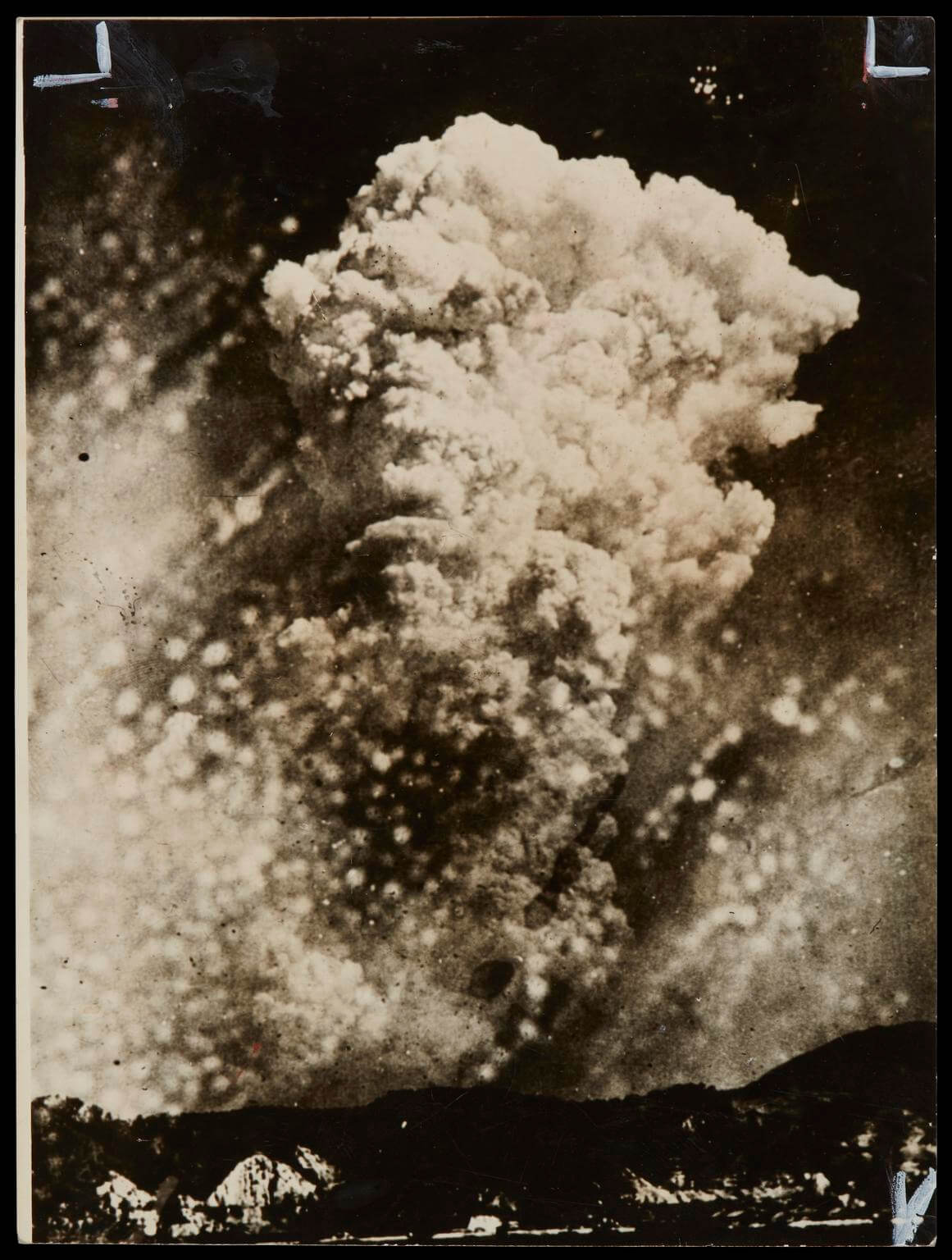 Science Fiction Debuts
The Science Museum launched a new writing prize to champion science fiction writers. In partnership with publisher Hodder & Stoughton, Science Fiction Debuts is helping to nurture and support the science fiction creators of the future.
The deadline for submissions was 30 September 2022 and a shortlist will be announced at the Science Museum's Lates on 26 October 2022. The winner will be selected in January 2023 by a panel of authors and industry figures.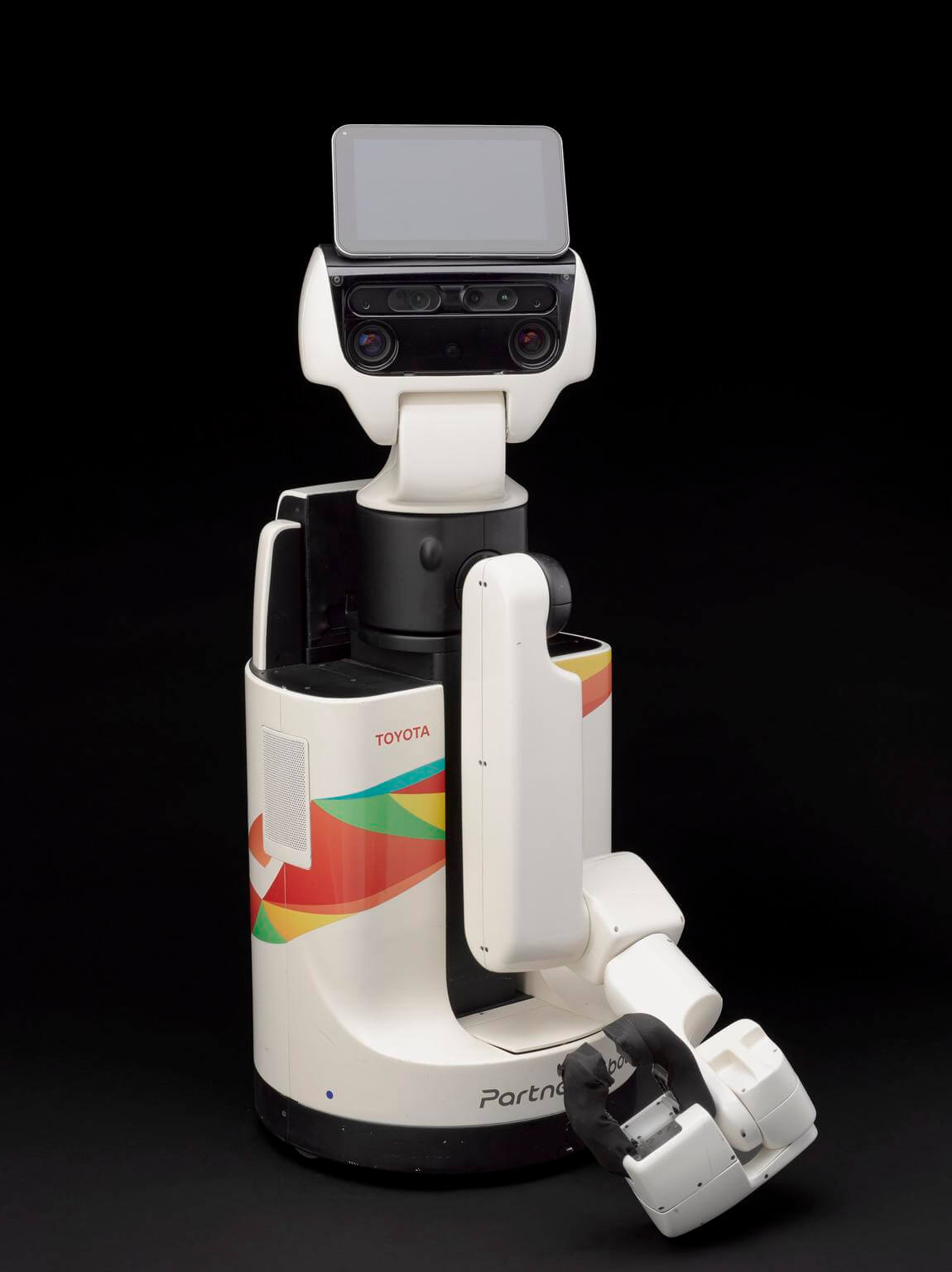 Exhibition Book
Accompanying the exhibition is a book, Science Fiction: Voyage to the Edge of Imagination, published by Thames & Hudson. Edited by the exhibition's lead curator Glyn Morgan, this compelling, fully illustrated companion book encompasses a range of themes explored in the show. From people and machines, space travel, and aliens, to communication, threats, and anxiety, through interviews with an array of international science fiction authors, essays by experts, and reproductions of classic ephemera, graphics and objects.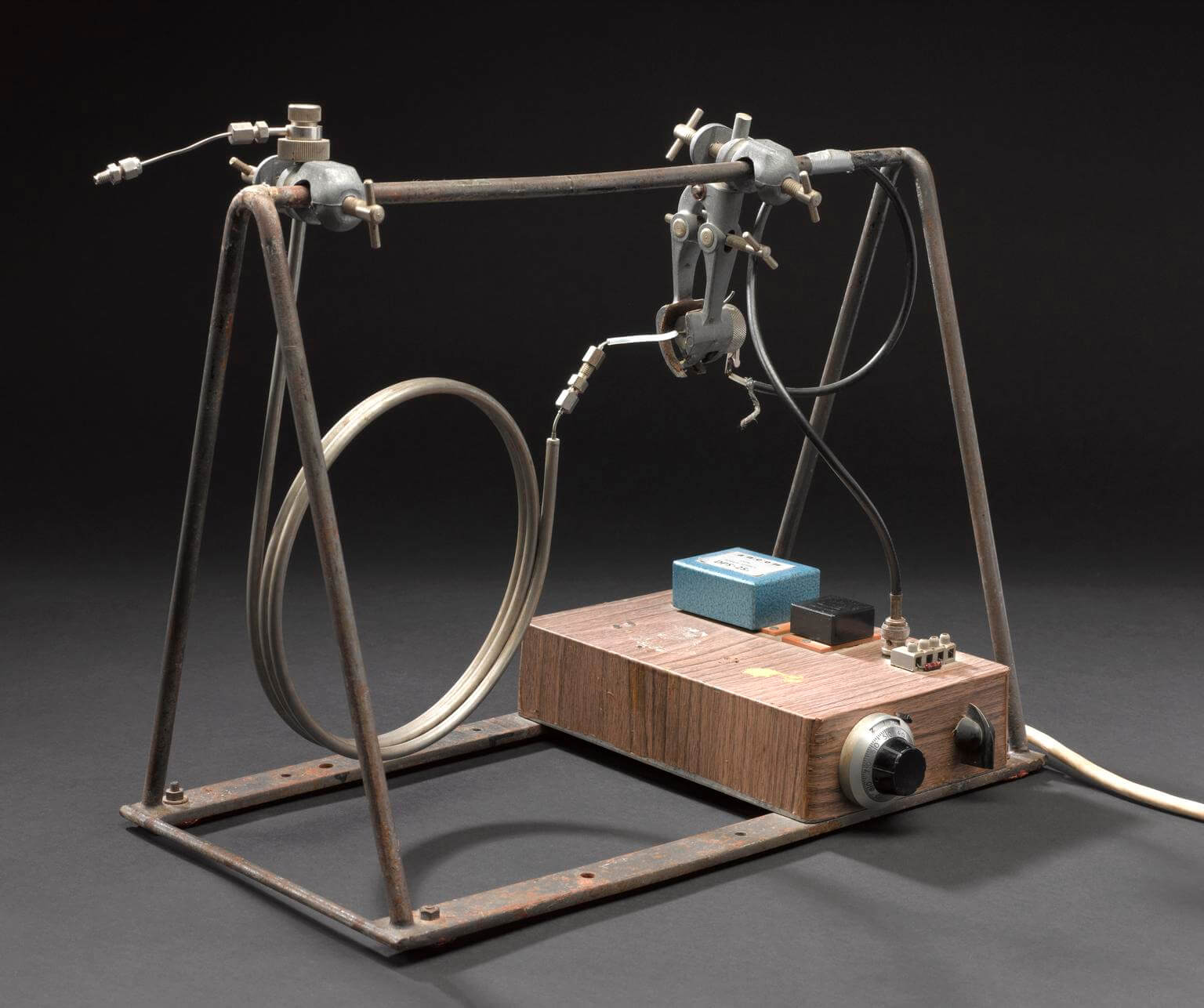 Visitor Information
Title: Science Fiction: Voyage to the Edge of Imagination
Dates: 6 October 2022 – 4 May 2023
Venue: Science Museum, Exhibition Road, South Kensington, London SW7 2DD
Tickets: Adult: £20 | Seniors: £19 | Child/concessions: £18 (under 7 years go free)
Book online to get 10% off tickets.
Science Fiction is an immersive exhibition recommended for ages 8+.
Children under the age of 12 must be accompanied by a responsible adult.
Official Website: www.sciencemuseum.org.uk/see-and-do/science-fiction