It has been twenty years since the publication of Harry Potter and the Philosopher's Stone in the UK (Harry Potter and the Sorcerer's Stone was published in the US a year later – see more below).
Twenty years of Harry Potter had to be marked in a memorable way and this British Library exhibition is able to be high brow enough for such a prestigious location while also being really cool.
© Tony Antoniou
If this exhibition is so outstanding why didn't I visit sooner to tell you about it? Incredibly, ahead of opening Harry Potter: A History of Magic sold over 30,000 tickets – the highest amount of advance tickets ever sold for a British Library exhibition – so this was the first day I could go inside.
What Can You Expect?
This is fact and fiction blended beautifully. There is J.K. Rowling original material alongside rare books, manuscripts and magical objects from the British Library's collection. And it all comes together to capture the traditions of folklore and magic from across the world, which are at the heart of the Harry Potter stories.
J.K. Rowling has said that 90-95% of the magic in the Harry Potter series was invented by her but I think she's selling herself short. There are so many references here to the research she may well have done to spark the ideas.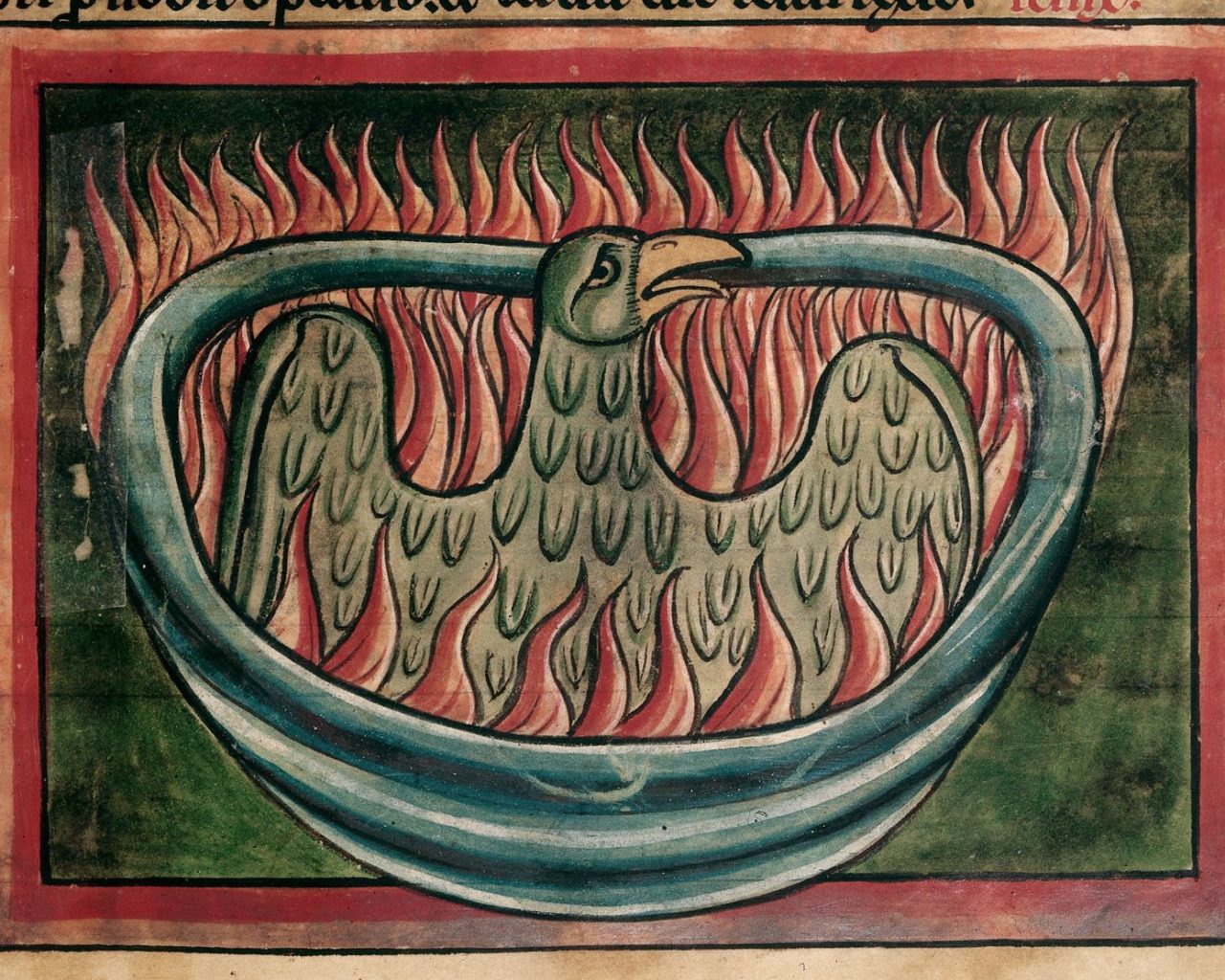 Why The British Library?
The British Library is the largest library in the world. Not on every visitor to London's radar, it's actually a fascinating place to visit. There are free changing exhibitions and the permanent displays include handwritten song lyrics by John Lennon and one of the four surviving copies of the Magna Carta. It's even a great place to bring kids as there's a free family trail.
Objects to display in this exhibition have been sourced from the 150 million items at the British Library. The exhibition combines centuries-old British Library treasures, including the oldest items in the collection: the Chinese Oracle Bones (see more below). This has been a really good excuse for the curators to go through the archives for a selection of items on the topics of potions, sorcery, mythical beasts and all things magical.
As Ron said about Hermione, "When in doubt, go to the library".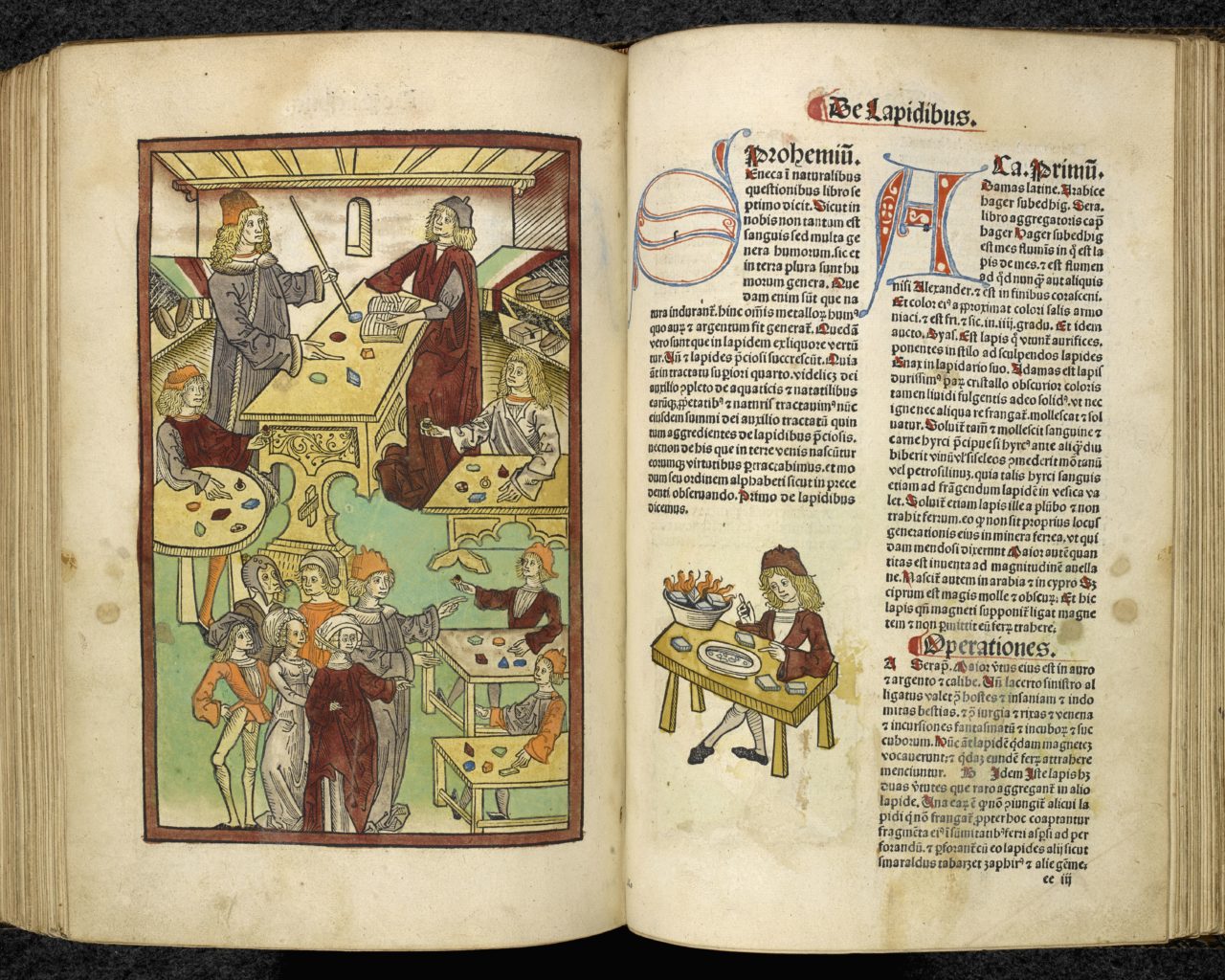 Loans
It's not just items from the British Library archives on display as objects from across Britain are included.
The Museum of Witchcraft and Magic in Boscastle, Cornwall, has supplied quite a few objects and you can see more from the Museum at another exhibition on in London too (see more at the end).
The exhibition showcases material from J.K. Rowling's and Bloomsbury's own collections, with much going on display for the first time. There is also plenty of examples of the work of Jim Kay, the Harry Potter illustrator since 2003.
J.K. Rowling
This is the first time a living writer has been featured in an exhibition at the British Library but we have to admit, J.K. Rowling is an extraordinary woman.
Joanne Rowling was born on 3 July 1965 in Gloucestershire. She grew up surrounded by books and wanted to be a writer from an early age. She studied French and Classics at the University of Exeter, and first had the idea for Harry Potter while delayed on a train travelling from Manchester to London King's Cross in 1990. She finished the book while living in Edinburgh in 1993 with her baby daughter, Jessica, and Harry Potter was soon accepted for publication by Bloomsbury.
In 2007, Harry Potter and the Deathly Hallows became the fastest-selling book ever, selling 2.65 million in the first 24 hours in the UK. The Harry Potter series is now published in 78 languages, and over 450 million copies have been sold across the world.
J.K. Rowling has received many awards and honours, including an OBE for services to children's literature, France's Légion d'Honneur, and the Hans Christian Andersen Award.
Oh yes, It's Busy
I was somewhat surprised to find the long snaking line outside to even enter the British Library so do arrive well ahead of your allocated time slot. The slight delay entering is for security bag checks and then you join the line for the exhibition inside (many waiting to enter are going in to study).
When I got inside, ten minutes before my time slot, I was able to walk straight into the exhibition but when I left a few hours later there was a crowded winding line awaiting their time.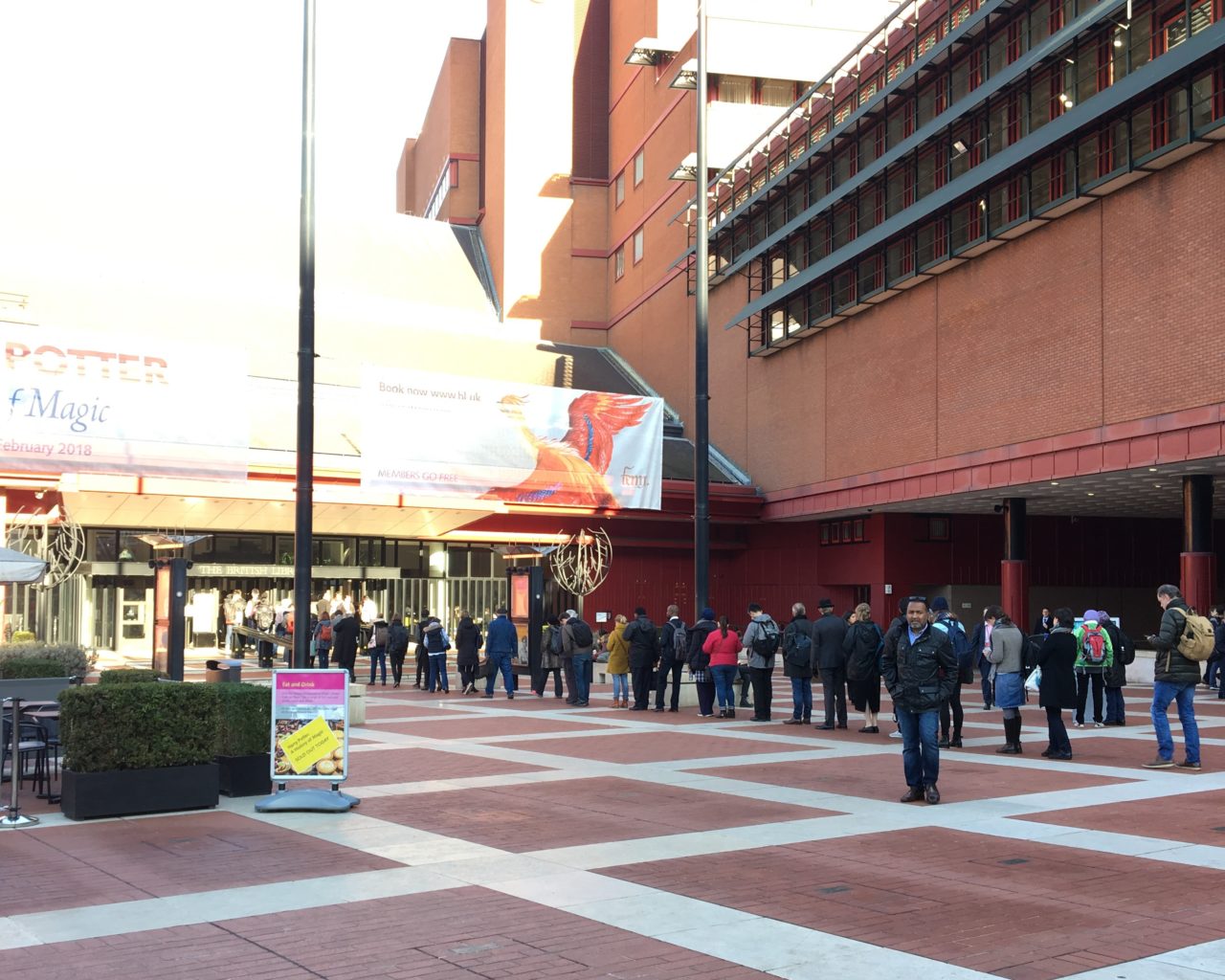 The Exhibition
We've established Harry Potter is one of modern fiction's most alluring characters so let's have a look at the real-life magic at the heart of the orphan boy wizard's world.
The exhibition is divided into some of the subjects learned by Harry and his friends at Hogwarts School of Witchcraft and Wizardry. It's a beautifully-designed exhibition and you can often feel like you're walking through a library that could have featured in a Harry Potter film.
The Journey
The first exhibition space is called The Journey and the first artwork you see is a preparatory sketch of Harry Potter by Jim Kay. J.K. Rowling is also a really good illustrator as her sketches of characters throughout the exhibition reveal.
While 'flying' books are suspended above your head you can see J.K. Rowling's original school plan for Hogwarts, complete with the giant squid that lives in the lake. She told the curators, "This is the layout as I've always imagined it."
Harry Potter and the Philosopher's Stone had an initial print run of only 500 copies, as is usual for a new children's author. As well as the original synopsis for the first book, there's the first review written by the eight year old daughter of Bloomsbury's CEO who said, "It made me feel warm inside".
The exhibition continues downstairs (accessible lift available) to two portraits by Jim Kay of Professor Dumbledore and Professor McGonagall. They are so wonderfully detailed with much more to notice once you stop and really look at them. I particularly liked the Dumbledore portrait as it showed the powerful wizard with a fondness for sweets and knitting patterns.
By the way, have you ever wondered where J.K. Rowling found the names for her characters? Well, Dumbledore is actually Old English for 'bumblebee'.
Potions
Onto the school topics, Potions was a compulsory subject at Hogwarts.
There are some fabulous touchscreen interactives here where you get to add ingredients to a cauldron to make potions.
But don't be distracted as right next to them is an actual book of spells. Yes, a real magical textbook from the 15th century. Next to that is Ulrich Molitor's earliest printed image of witches using a cauldron from 1489, plus a 16th-century potions book that took 31 years to complete.
The room's centrepiece is the Battersea cauldron dated 800-600 BC and on loan from the British Museum.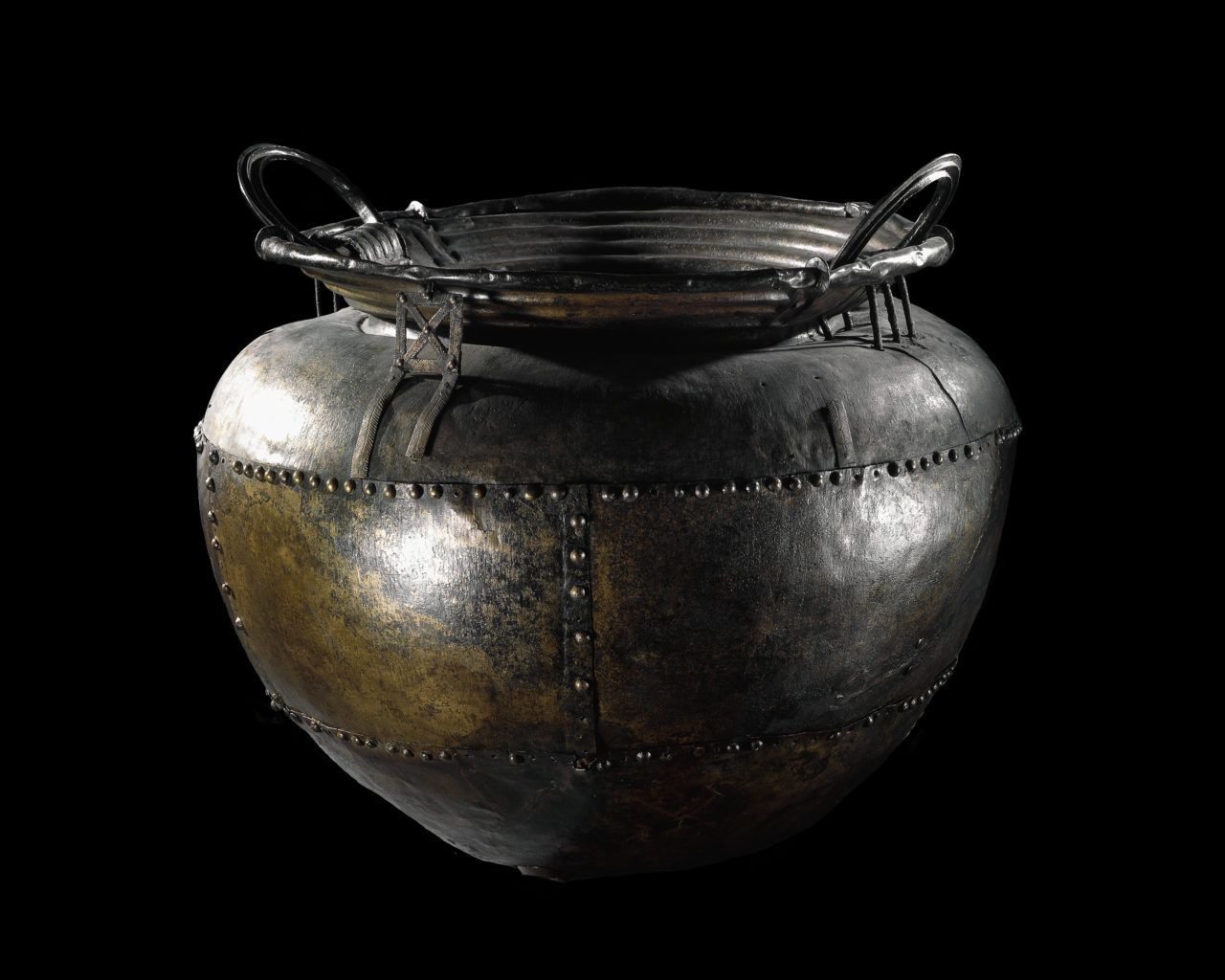 I was most impressed by the stunning Spanish apothecary jars from the 17th or 18th century with labels for "crab's eyes" and "dragon blood".
Alchemy
As this was the ancient forerunner of chemistry do note the chemistry liquid containers hanging above your head in this section.
Medieval alchemists pursued immortality so the centrepiece here is the 6-metre long 16th-century Ripley Scroll that explains how to create a Philosopher's Stone. It is rarely unrolled so is still really colourful and is well preserved.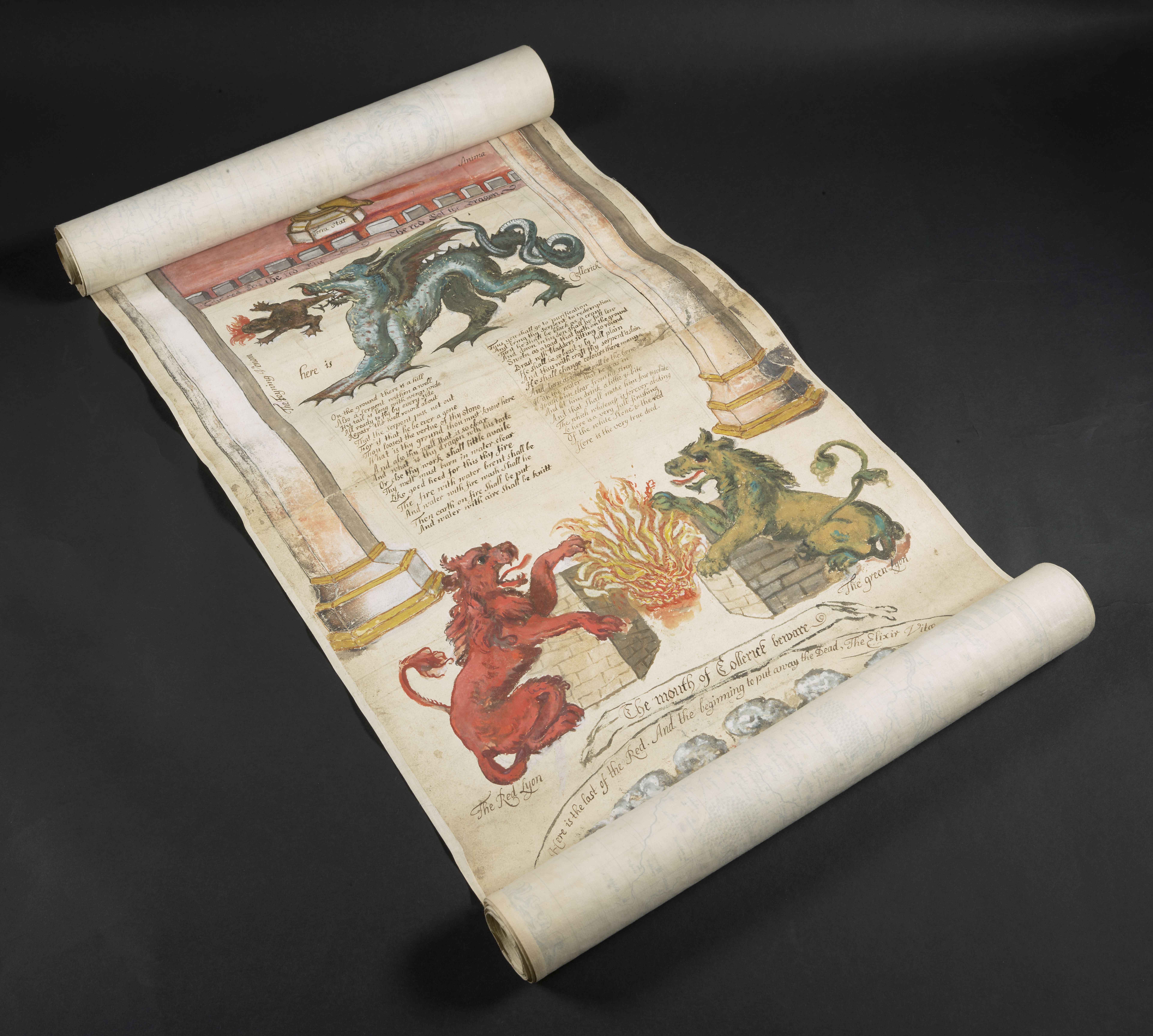 A real historical figure who featured in Harry Potter and the Philosopher's Stone was Nicolas Flamel and you can see his tombstone here. He was a landlord in medieval Paris who died in 1418. Rumours circulated that he was an alchemist who had discovered the Philosopher's Stone.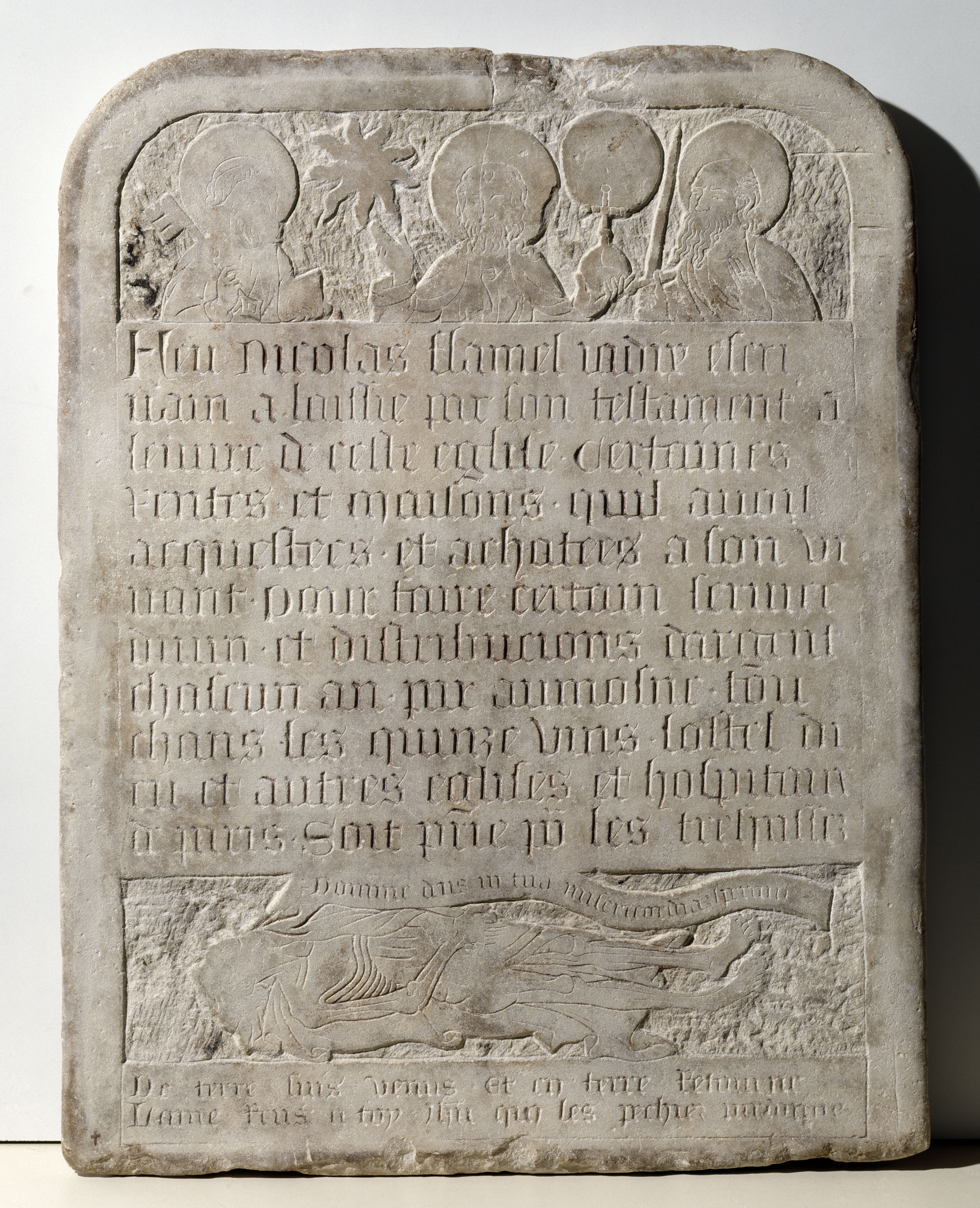 Herbology
Herbology is the wonder and mystery inspired by plants.
This is one of only a couple of opportunities to sit down so take a seat at a potting table – mind the wellies – and lift plant pots to listen to Stephen Fry reading about a Herbology lesson at Hogwarts. Or watch a video on Jim Kay the Harry Potter illustrator.
J.K. Rowling, broadly speaking, adopted the mandrake myth and there are some illuminating illustrations on display.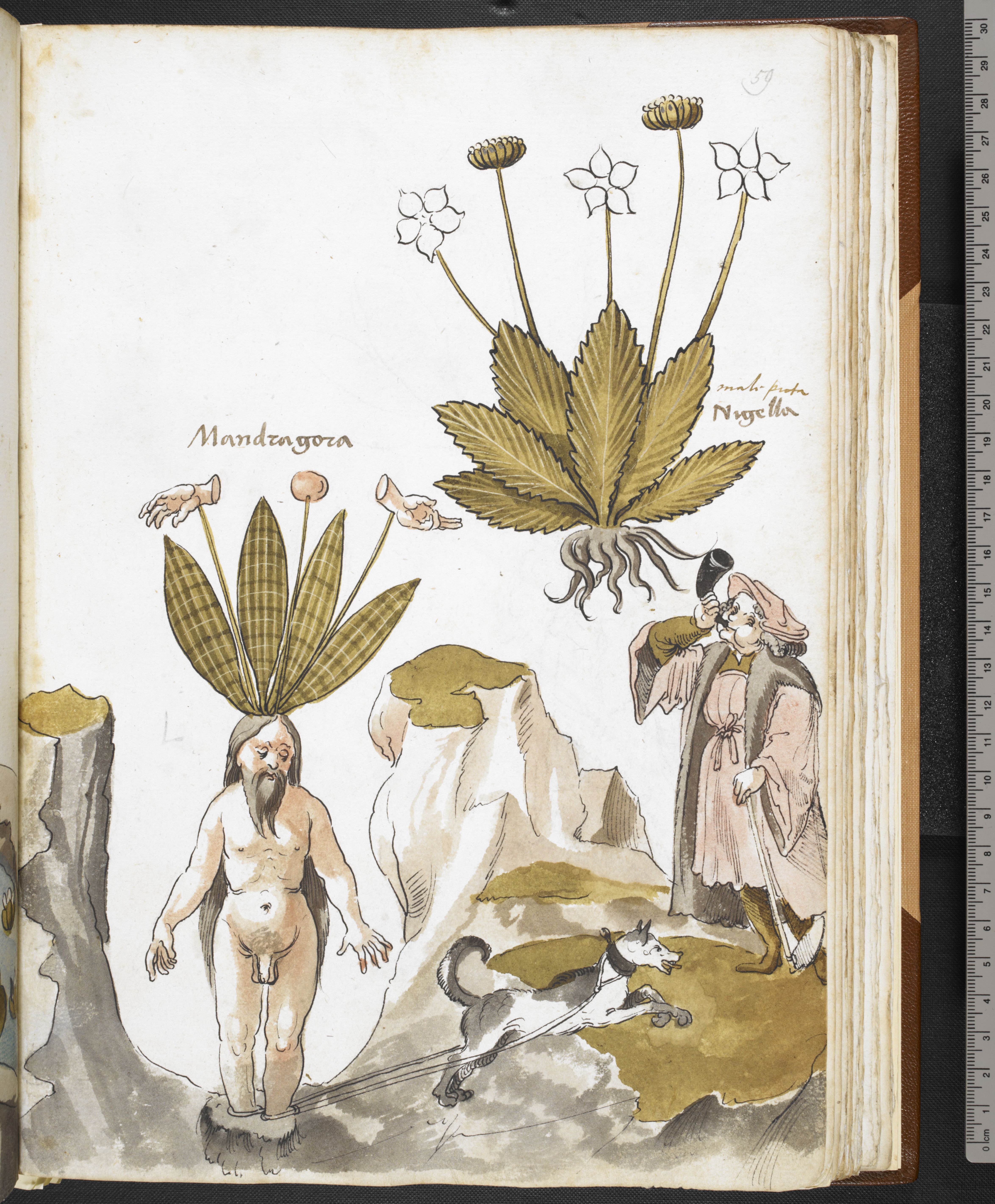 There is also a 17th-century copy of Culpeper's Herbal – a book J.K. Rowling owned (and referred to) while writing the Harry Potter series. Culpeper wrote in English and not Latin making the topic accessible for common people to find their own treatments and cures in the fields and hedgerows. At a time when physicians were in charge of all the medicine, he was a herbal hero although, unsurprisingly, he was accused of being a practising witch.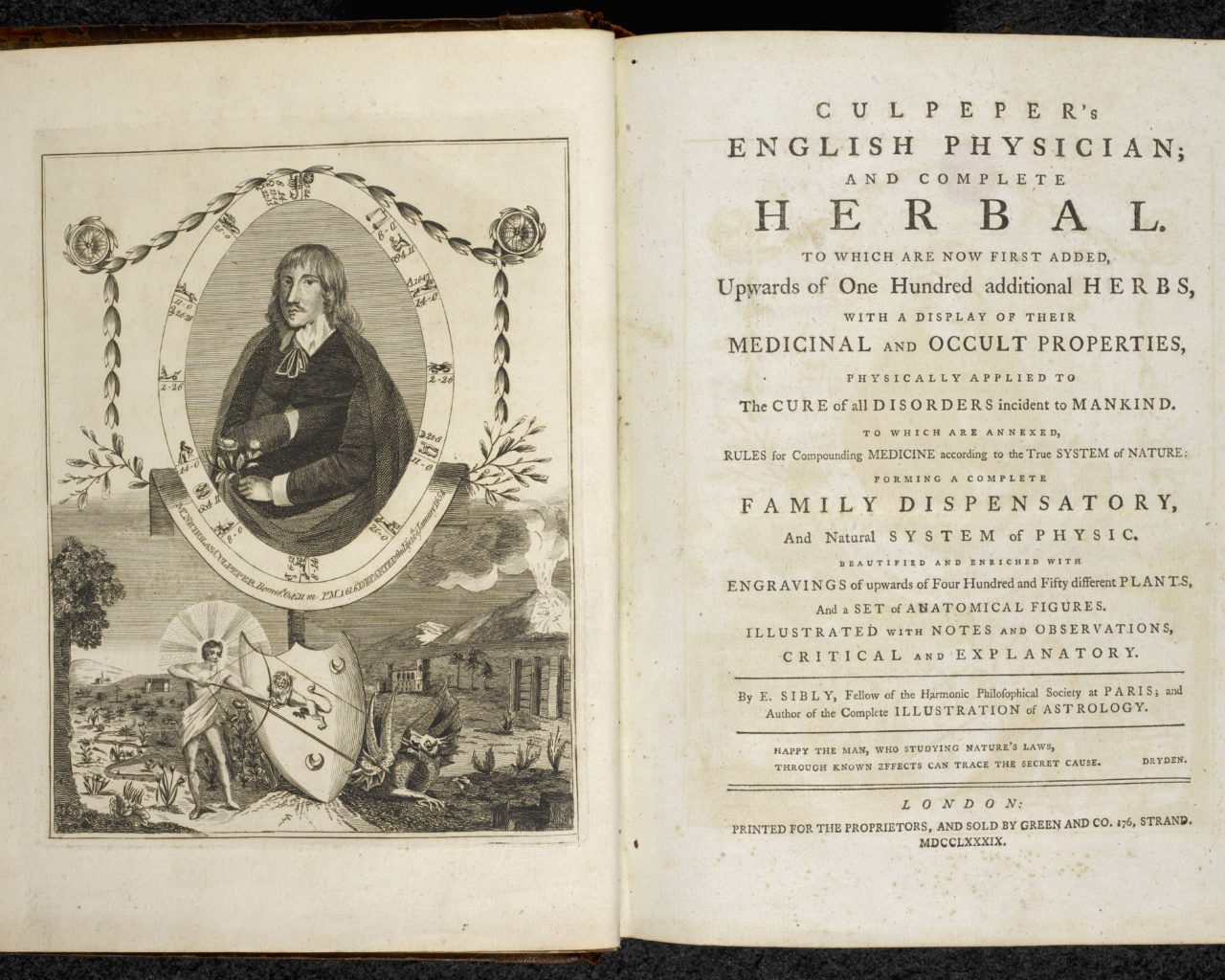 Do look out for J.K. Rowling's sketch of Professor Sprout. She drew it while staying with friends and watching 'The Man Who Would be King' on TV. The next day she found out her mother had died while she was doing the drawing on 30 December 1997. She has often said the Harry Potter books would not have been the same if her mother had not died.
Charms
It's generally quite quiet inside the exhibition although some rooms have some atmospheric sounds such as the spells being chanted in this section.
Look up to see the Sorting hat and broomsticks above and the golden snitch buzzing about the walls.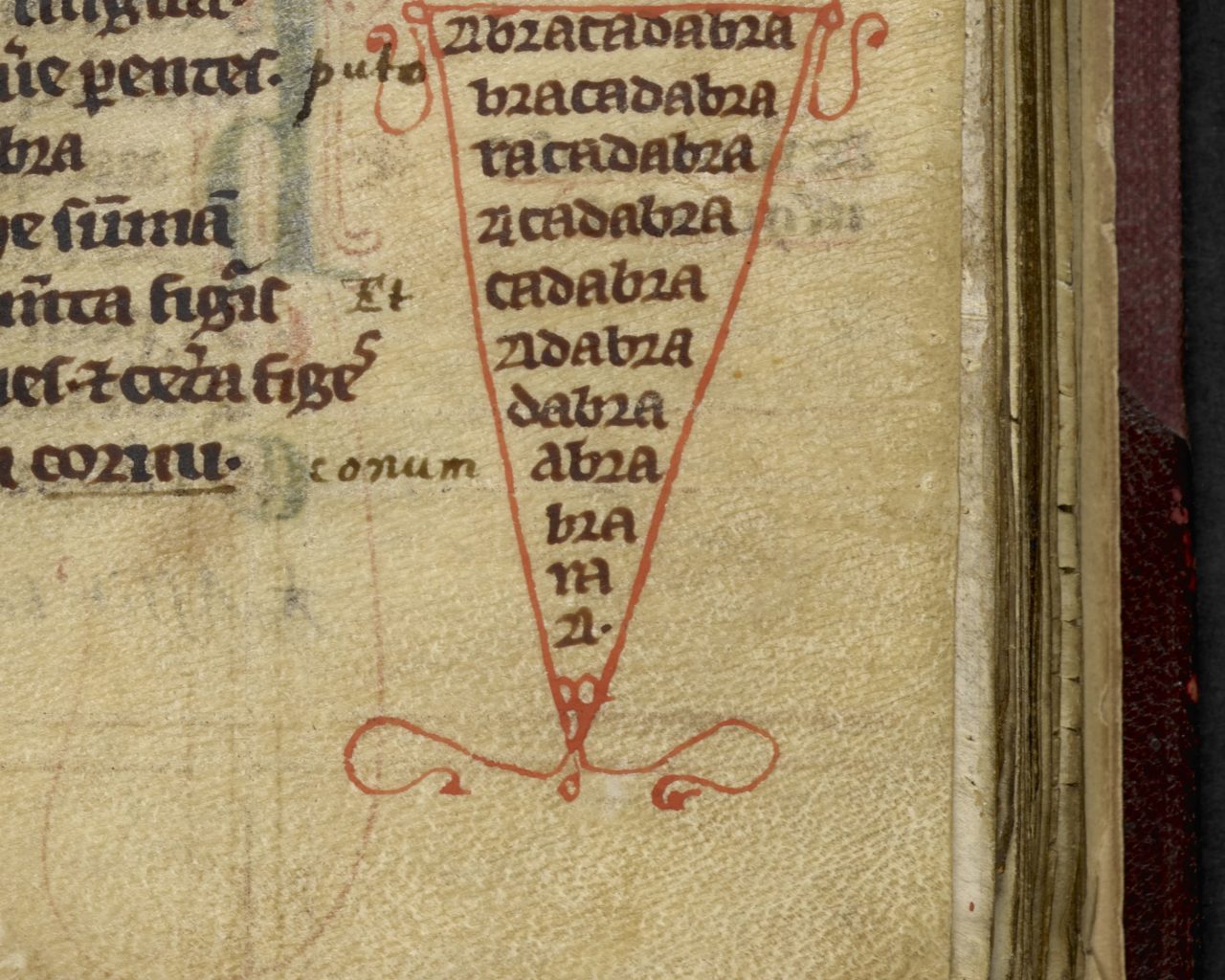 Do find the 13th-century book with an early written record of 'abracadabra', used as a charm to cure malaria. But the best is the glass display case for an invisibility cloak. Who says British Library curators don't have a sense of humour?
Astronomy
The night sky has inspired many of the character names in the Harry Potter series.
In the centre of this section is a celestial globe dating from 1693, made by Vincent Coronelli. It has been brought to life using augmented reality technology, in collaboration with Google Arts & Culture, which enables visitors to spin the globe virtually and explore in detail the ancient constellations, some of which share their names with familiar characters from the Harry Potter stories, such as Remus Lupin, Sirius Black, Bellatrix LeStrange and Draco Malfoy.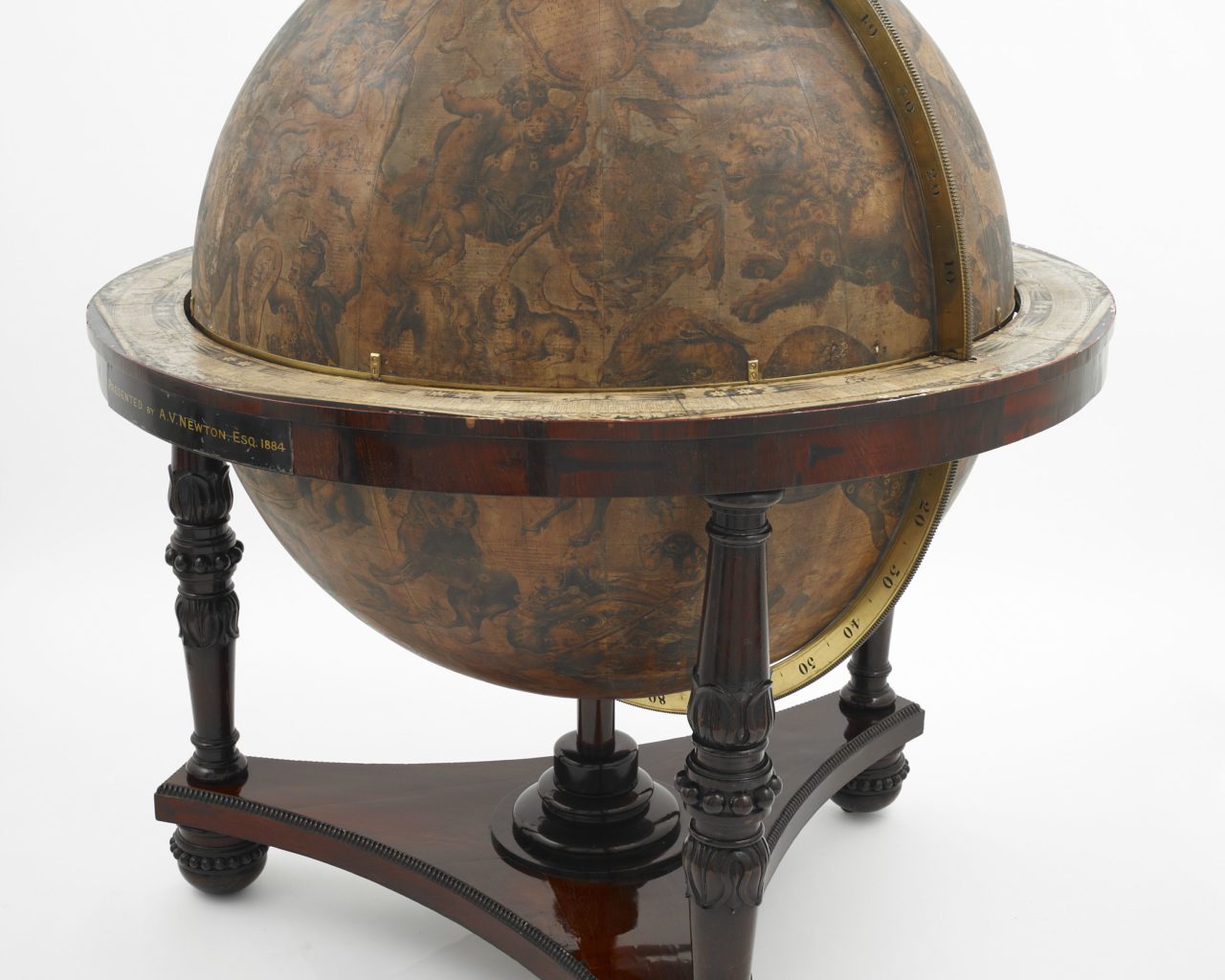 You can also see the oldest atlas of the night sky from China dated AD 700, made centuries before the invention of the telescope. And a Leonardo da Vinci notebook from 1506-8 written in Italian in his mirror writing.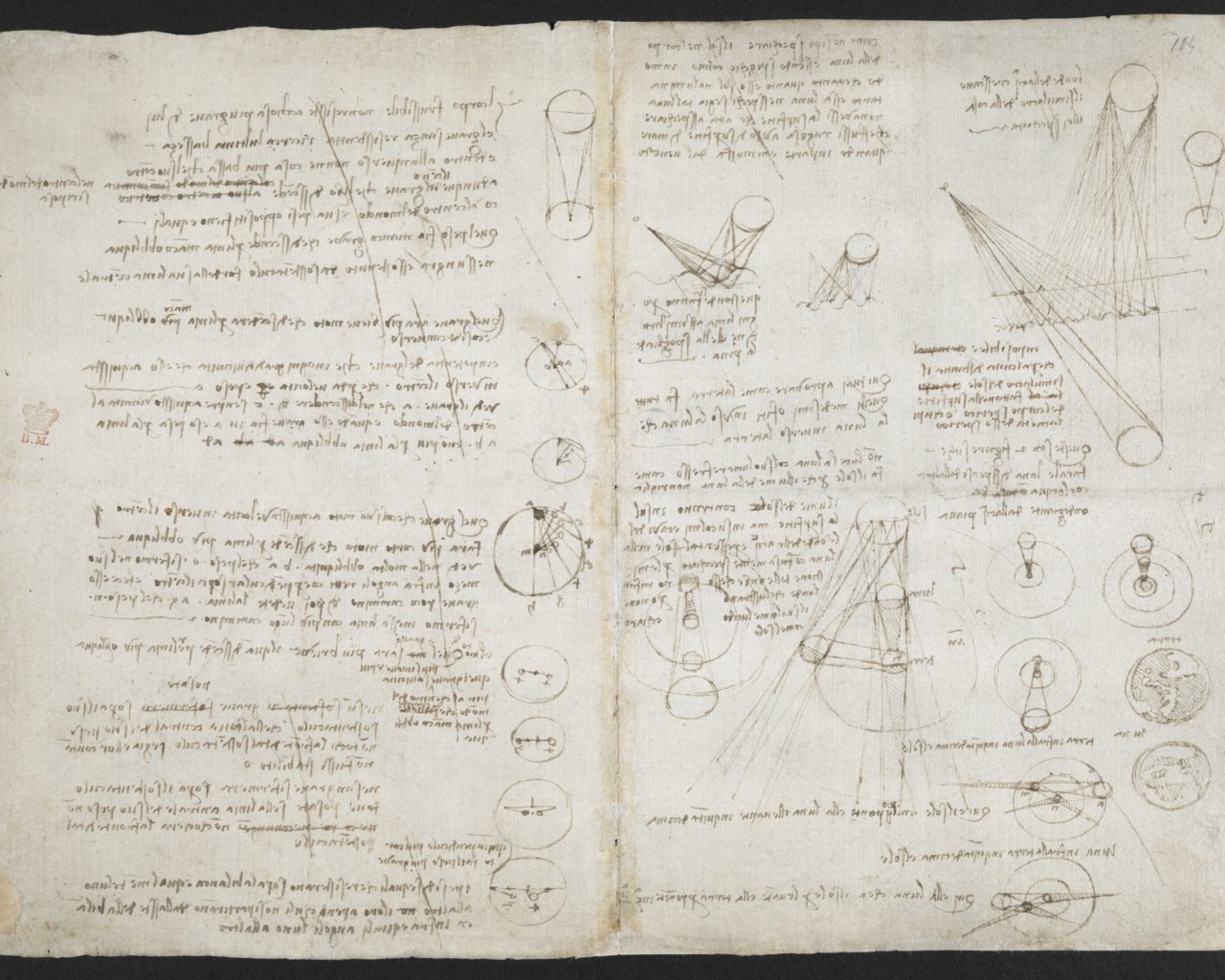 Divination
Divination was used not so much for predicting the future but instead for helping people to make decisions.
It wasn't a belief system that J.K. Rowling had a lot of faith in though as her portrayal of Sybill Trelawney as the bumbling Hogwarts Divination Professor showed. She described it as "you get lucky once in a while".
In this section, you can see a black moon crystal ball, used by 'Smelly Nelly', a 20th-century witch from Paignton, Devon, who had a taste for strong perfume.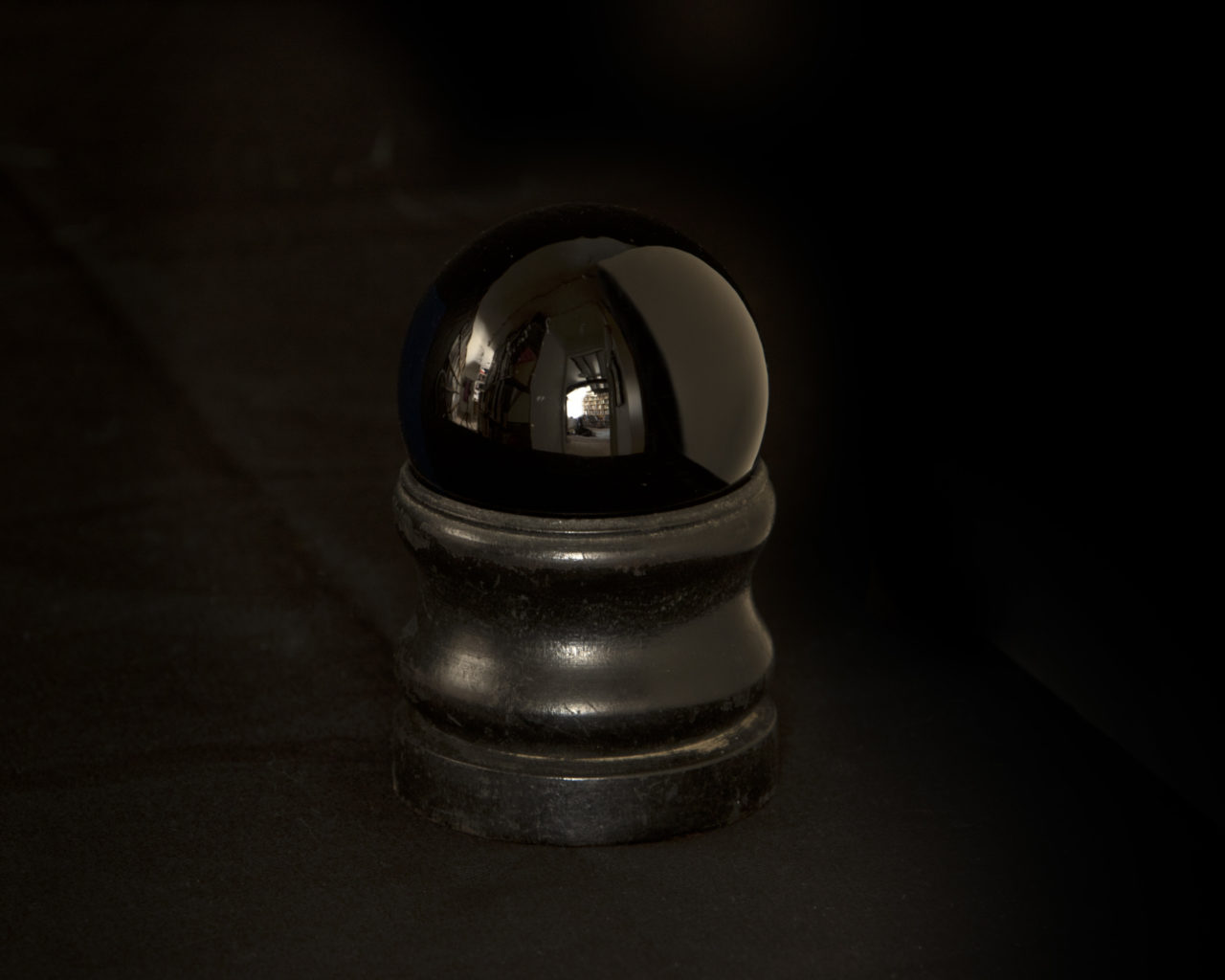 And do take time to see the Chinese Oracle Bones – the oldest datable items in the British Library's collection. These dragon bones with Chinese writing were used in Bronze Age China. Light and portable, these were taken onto the battlefield and used for a ritual to divine the future. The cracks on the bones were messages from the dead.
The bones are precisely datable to 27 December 1192 BC because of the lunar eclipse recorded on them.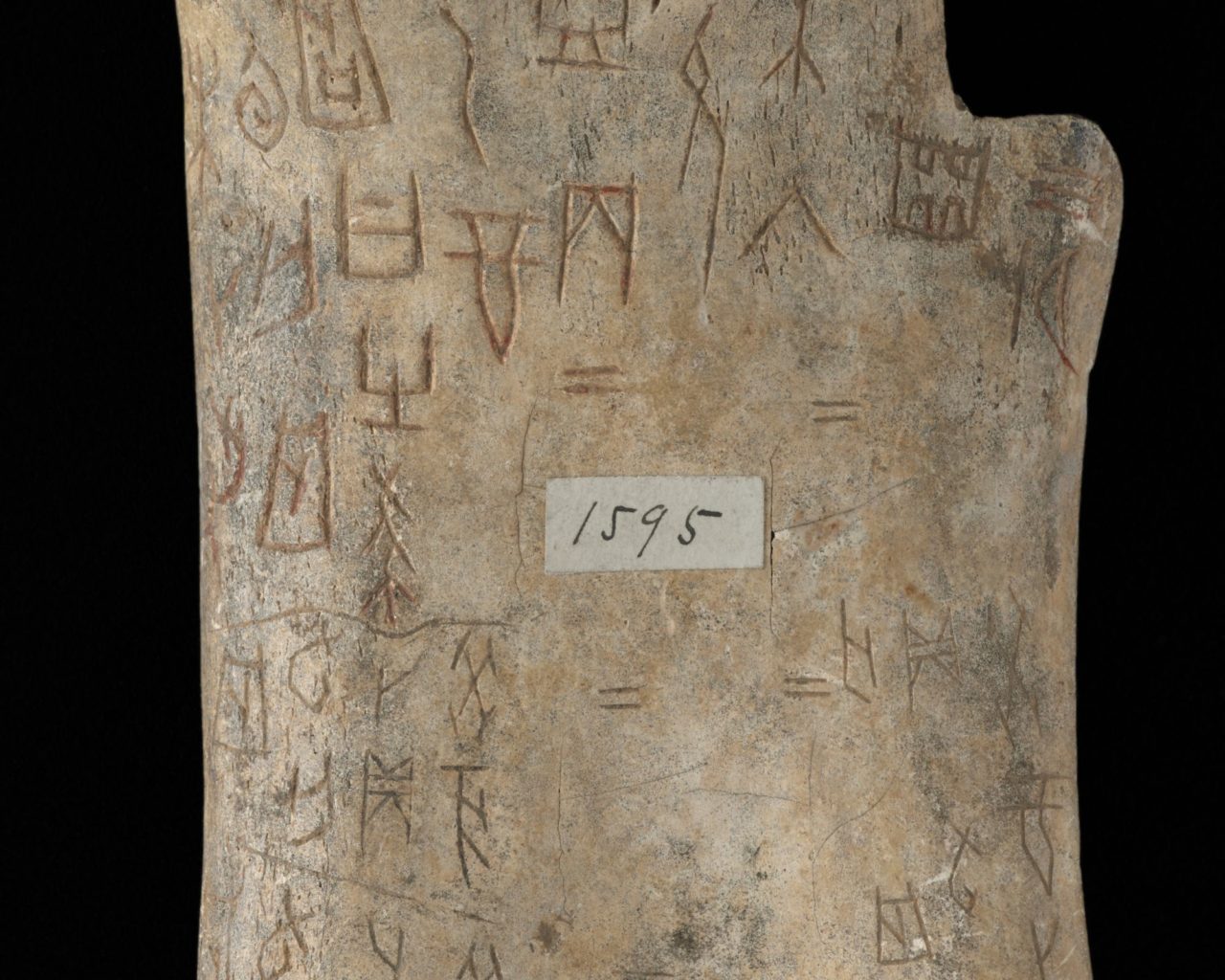 There are a couple of seats in this section but it's more fun to try the touchscreen tarot card table or wave your hands over the crystal ball so it makes spooky sounds. No, it's not just for children.
Defence Against the Dark Arts
You walk through a Gothic archway to the surprisingly small space for Defence Against the Dark Arts.
Here you can touch a replica of a sphinx from the British Museum, and admire The Magic Circle – a large painting by J.W. Waterhouse loaned from the Tate collection.
There's a serpentine wand on loan from The Museum of Witchcraft and Magic, plus a tall serpent staff and a real witch's cauldron too.
Plus you can read an early draft of a quite different Harry Potter and the Philosopher's Stone.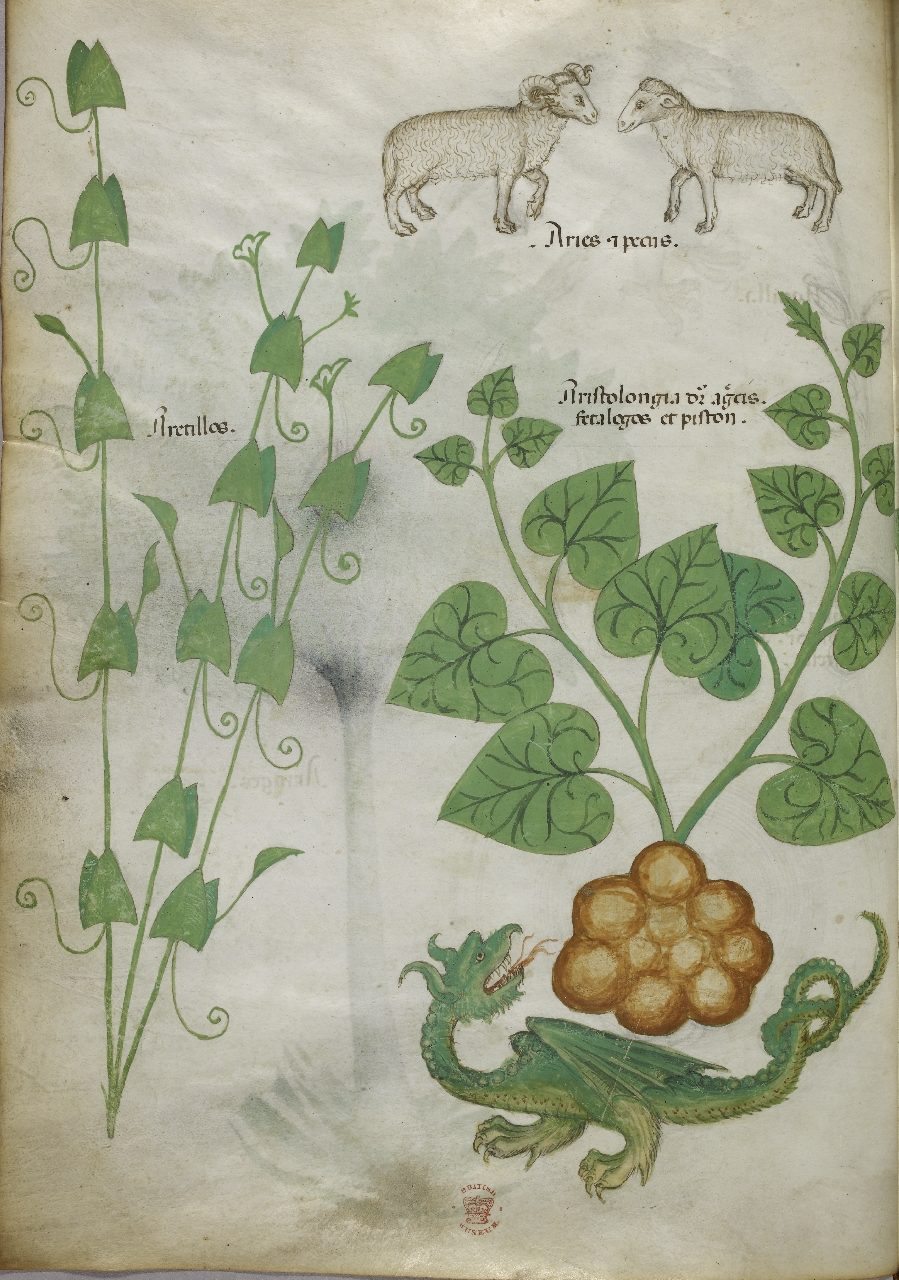 Care of Magical Creatures
From the surprisingly small to the impressively large exhibition space for Care of Magical Creatures. The room is filled with animal and bird sounds from the Fantastic Beasts and Where to Find Them digital audiobook.
Enjoy reading a deleted chapter from Harry Potter and The Chamber of Secrets, and be amazed at a mermaid allegedly caught in Japan in the 18th century (it's really half monkey and half fish).
Over 100 species of mythical creatures are mentioned in the Harry Potter books. You can see hand-coloured pictures of dragons, unicorns, and a phoenix rising from the flames in a 13th-century book alongside the study of Fawkes the Phoenix by Jim Kay used to promote the exhibition.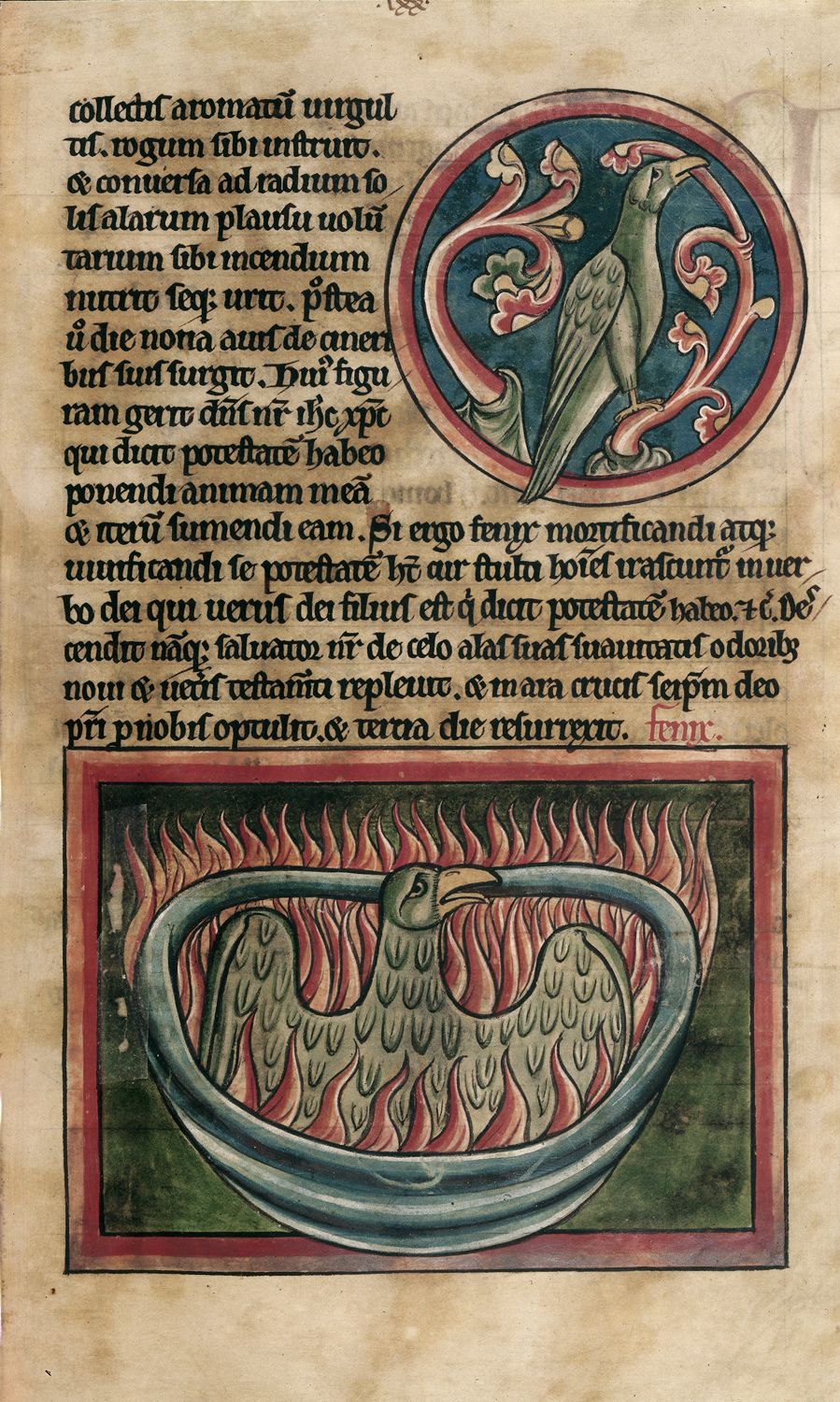 In Prisoner of Azkaban Hippogriffs were described as "the most bizarre creatures Harry had ever seen" and here they feature in a 16th-century book.
Another gem from the J.K. Rowling archives is the first handwritten draft of the escape from Gringotts in The Deathly Hallows.
Past, Present, Future
This last section has a display of Harry Potter books from around the world as well as a model box for Cursed Child – the play that opened in London in 2016. There's an annotated screenplay of Fantastic Beasts and an annotated first edition of Harry Potter and the Philosopher's Stone – with J.K. Rowling illustrations – that was auctioned for charity.
As she had already mapped out all of the books in the series from the start it's interesting to see the detailed planning of The Order of the Phoenix from 2001-2. By the time she had finished writing Harry Potter and the Philosopher's Stone she knew who would die and where.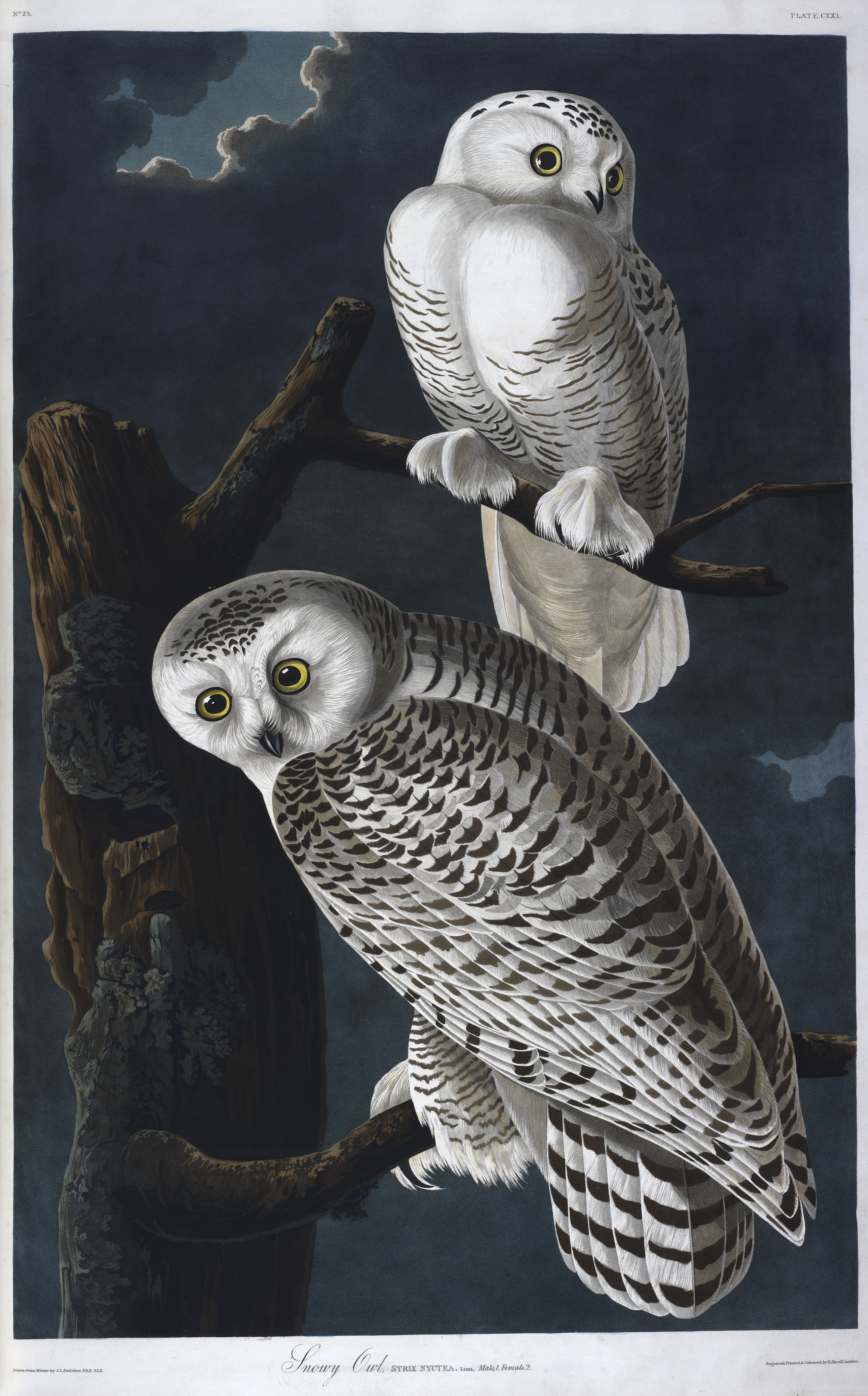 Overall
My visit lasted around 1.5 hours and I saw more adults than children (possibly because I was there on a weekday). I'm confident you don't need to be a hardcore Harry Potter fan to enjoy this exhibition as it was fascinating to see the ancient books which likely won't be out on display again for decades.
As Roald Dahl wrote in Charlie and the Chocolate Factory, "Those who don't believe in magic will never find it". So I say be a believer as this exhibition really brightened my day.
Exit Through the Gift Shop
There's a small merchandise sales area at the exit – mostly with the image of Fawkes the Pheonix on them (travelcard holders, pens, notebooks, etc). I was initially a bit unimpressed as a cuddly Fawkes is £45 but I will say the Harry Potter – A Journey Through the History of Magic book looked worth buying as it includes a lot of what's inside the exhibition and is only £12.99 (cheaper than a ticket to see the exhibition).
But don't be put off as the main exhibition shop is up on the ground floor and has plenty of gifts and souvenirs.
Heading to New York
When the exhibition's run ends at the British Library on 28 February 2018 it will be moving to the New-York Historical Society to open in October 2018. The exhibition's New York opening marks the 20th anniversary of the publication of Harry Potter and the Sorcerer's Stone in the US.
As it travels from London to New York, the exhibition will evolve to include US-specific artefacts from New-York Historical's collection and items from US Harry Potter publisher Scholastic's collection.
Contact Information
Venue: British Library
Address: 96 Euston Road, King's Cross, London NW1 2DB
Dates: 20 October 2017 to 28 February 2018
Official Website: www.bl.uk/events/harry-potter-a-history-of-magic
Admission: Adult £16, Senior £11, Student £8, Child £8 (under 4 years free but needs a ticket). Family tickets available.
More for Harry Potter Fans
While you're near the British Library, do admire St Pancras station (seen in Harry Potter and The Chamber of Secrets) and stop by King's Cross station to see Platform 9 3/4s where there's an excellent photo opportunity available every day. King's Cross is practically next door to the British Library. There's also a great Harry Potter gift shop.
Warner Bros Studio Tour north of London is where the movies were created and is a good day out. And House of MinaLima in Soho is a chance to see the graphic art used in the films for free.
Also in London: The Museum of Witchcraft & Magic
Also on in London at the moment, why not visit The Museum of Witchcraft & Magic? It's an exhibition in east London dedicated to Cornwall's most magical Museum. The Museum of Witchcraft and Magic in Boscastle has the largest collection of witchcraft-related objects and books in the world. The exhibition features haunting photographs of haunted objects and a bewildering mix of magical items including a Witch Mirror, a waxen curse poppet, spells and charms and items from a Black Magician's altar.
Venue: The Viktor Wynd Museum of Curiosities, Fine Art & Natural History
Address: 11 Mare Street, Hackney, London E8 4RP
Dates: 3 November 2017 to 28 February 2018
Official Website: www.thelasttuesdaysociety.org/listings/event/museum-witchcraft-magic
Admission: Museum Admission £5 including a free cup of tea; £2.50 Thursday evenings 5pm-10pm
See this video for a quick overview.