It must be getting close to Halloween as a new exhibition at the Charles Dickens Museum explores the ghosts in the mind of Dickens. To Be Read At Dusk: Dickens, Ghosts & the Supernatural is open from 5 October 2022 until 5 March 2023.
Dickens wrote, read, performed, and edited ghost stories for over 30 years, and the exhibition covers from boyhood horror comics to his scariest stories. The Charles Dickens Museum does the 'reason to return' really well, and this is an excellent excuse to go back with lots of interesting events planned too.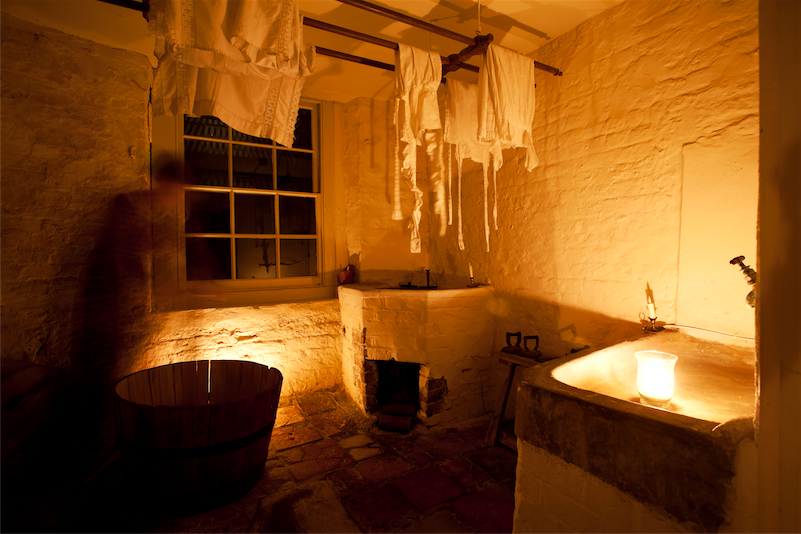 Spirits and Phantoms
Many of Charles Dickens's stories have spirits, phantoms, and spectres lurking within. The exhibition celebrates the writing which helped form the ghostly genre and reveals Dickens's own intense interest in the paranormal.
Charles Dickens wrote twenty ghost stories throughout his life, published from 1836 onwards. From A Christmas Carol to The Signal Man, to elements of Bleak House and Nicholas Nickleby, as well as The Chimes and The Trial for Murder, the stories of Charles Dickens are rarely short of a ghostly apparition designed to chill the reader.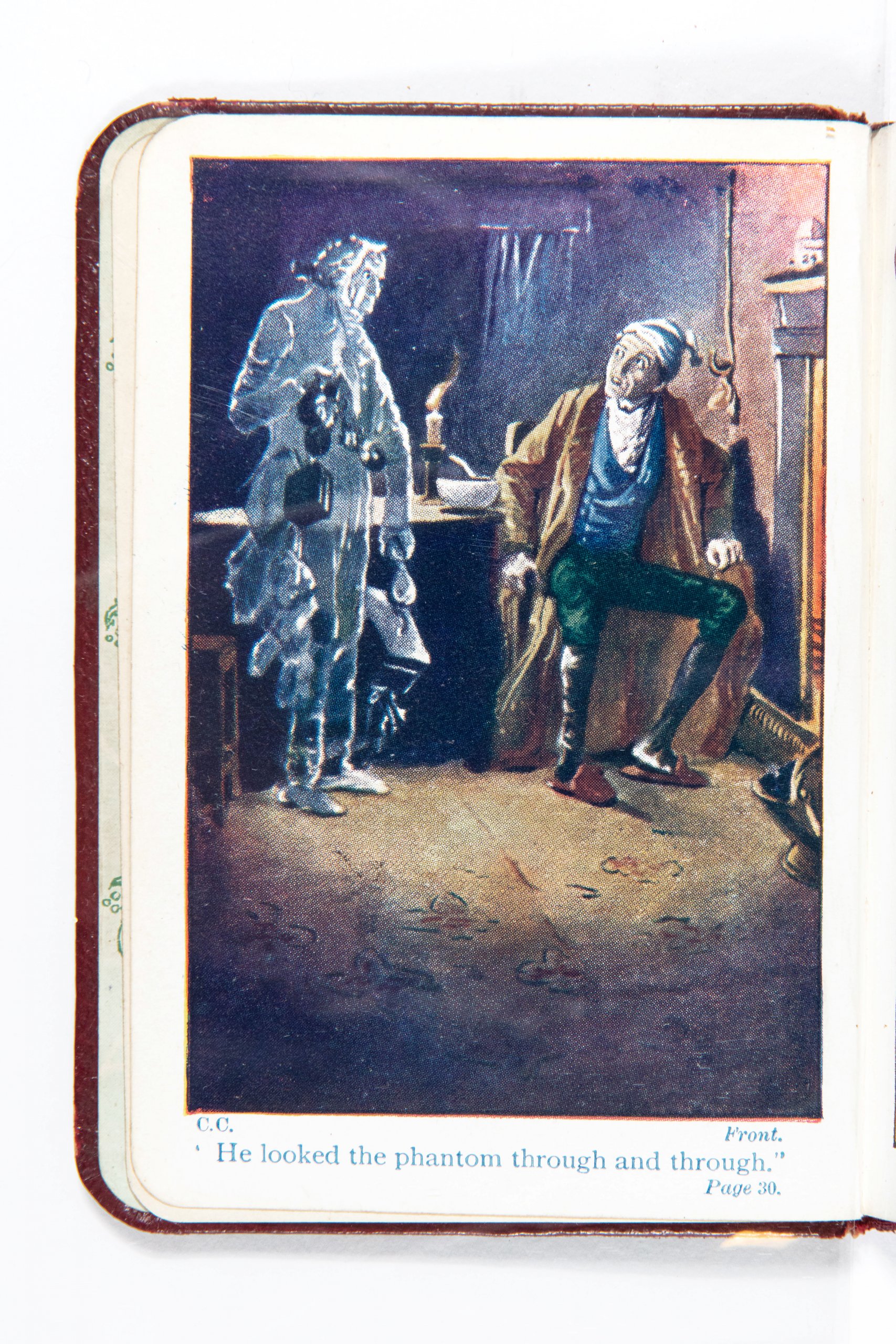 Dickens was a lifelong admirer of ghostly fiction and influenced many who followed him, including Wilkie Collins and Elizabeth Gaskell. As a boy, Charles Dickens read the weekly horror magazine, The Terrific Register, later admitting that it had "frightened my very wits out of my head." It is possible that its weekly publication influenced the way that Dickens marketed his own work, releasing his books in serial format. When he became an editor, a popular feature of his magazines Household Words and All the Year Round was the special Christmas number, which included, at various times, ghost stories by Elizabeth Gaskell, Wilkie Collins, Charles Collins, and Amelia B. Edwards. You can only imagine the spookiness of sitting by the light of the fire in the evening on a dark winter night to read the next installment.
An excellent addition to the museum for this exhibition is an armchair and a book with an invitation to read a spooky tale. This is even more wonderful as this is in the room where Dickens liked to perform to family and friends.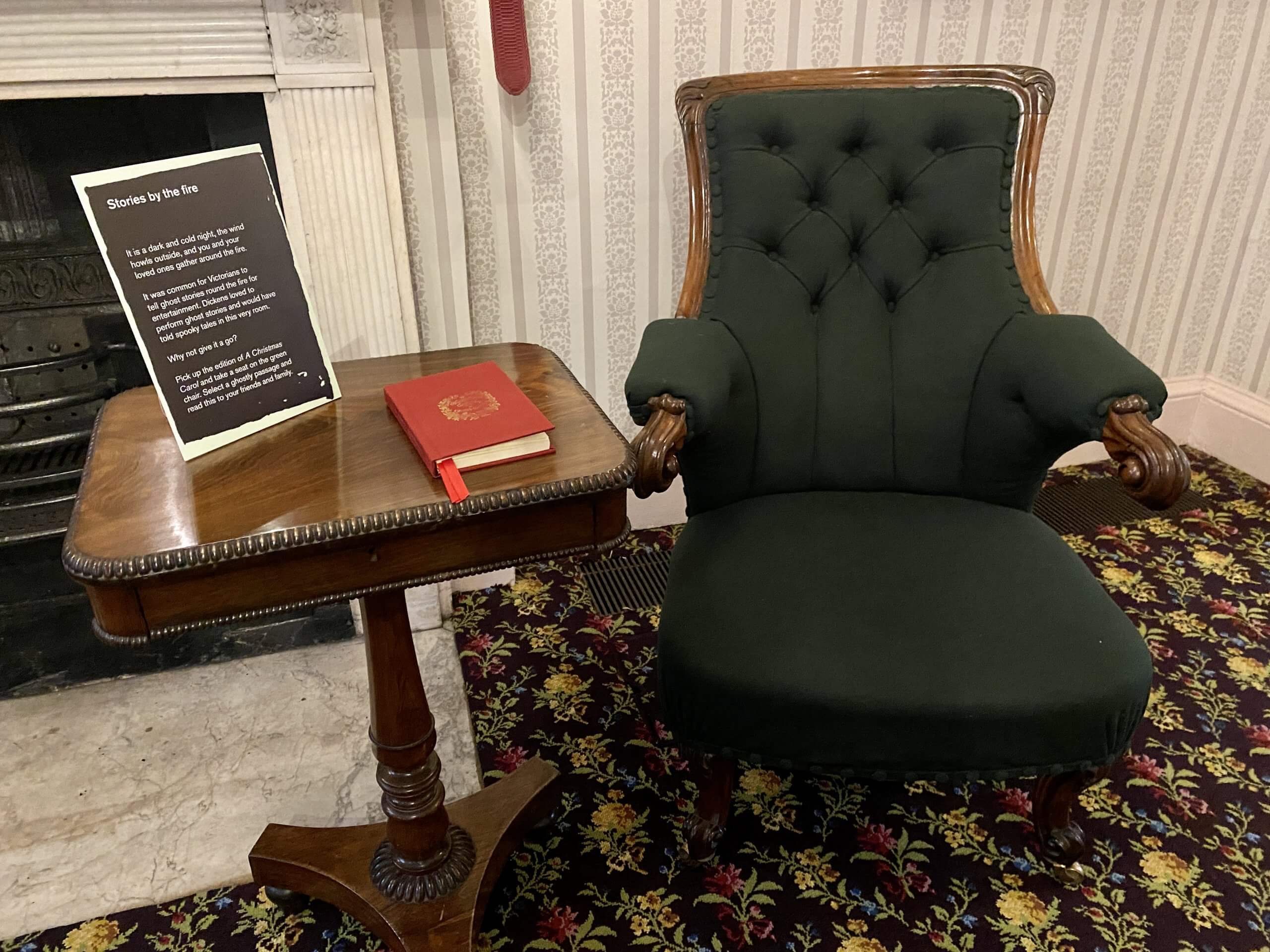 Fascinated Sceptic
While Dickens was undeniably fascinated by the notion of ghosts and hauntings, he was certainly skeptical, becoming more so as he grew older. After Dickens's death, his friend and biographer, John Forster, wrote that Dickens had a 'hankering after ghosts' and was convinced that Dickens would have 'fallen into the follies of spiritualism,' had it not been for 'the strong restraining power of his common sense.' Dickens was clearly charmed with writing and telling haunting stories, but he was a fascinated skeptic.
The skepticism finds its way into A Christmas Carol, as illustrated by this passage:
"You don't believe in me," observed the Ghost.
"I don't," said Scrooge."
"What evidence would you have of my reality beyond that of your senses?"
"I don't know," said Scrooge.
"Why do you doubt your senses?"
"Because," said Scrooge, "a little thing affects them. A slight disorder of the stomach makes them cheats."
Emily Dunbar, Curator at the Charles Dickens Museum, said, "Charles Dickens spent his whole writing life surrounding himself with ghosts. We believe he was a fascinated skeptic with a powerful talent for creating stories and images that resonated with, and entertained people. Dickens's own feelings about the supernatural probably followed Scrooge's, considering ghosts to be 'more gravy than grave' but he recognized the power that ghostly tales could wield and hugely enjoyed writing and performing them."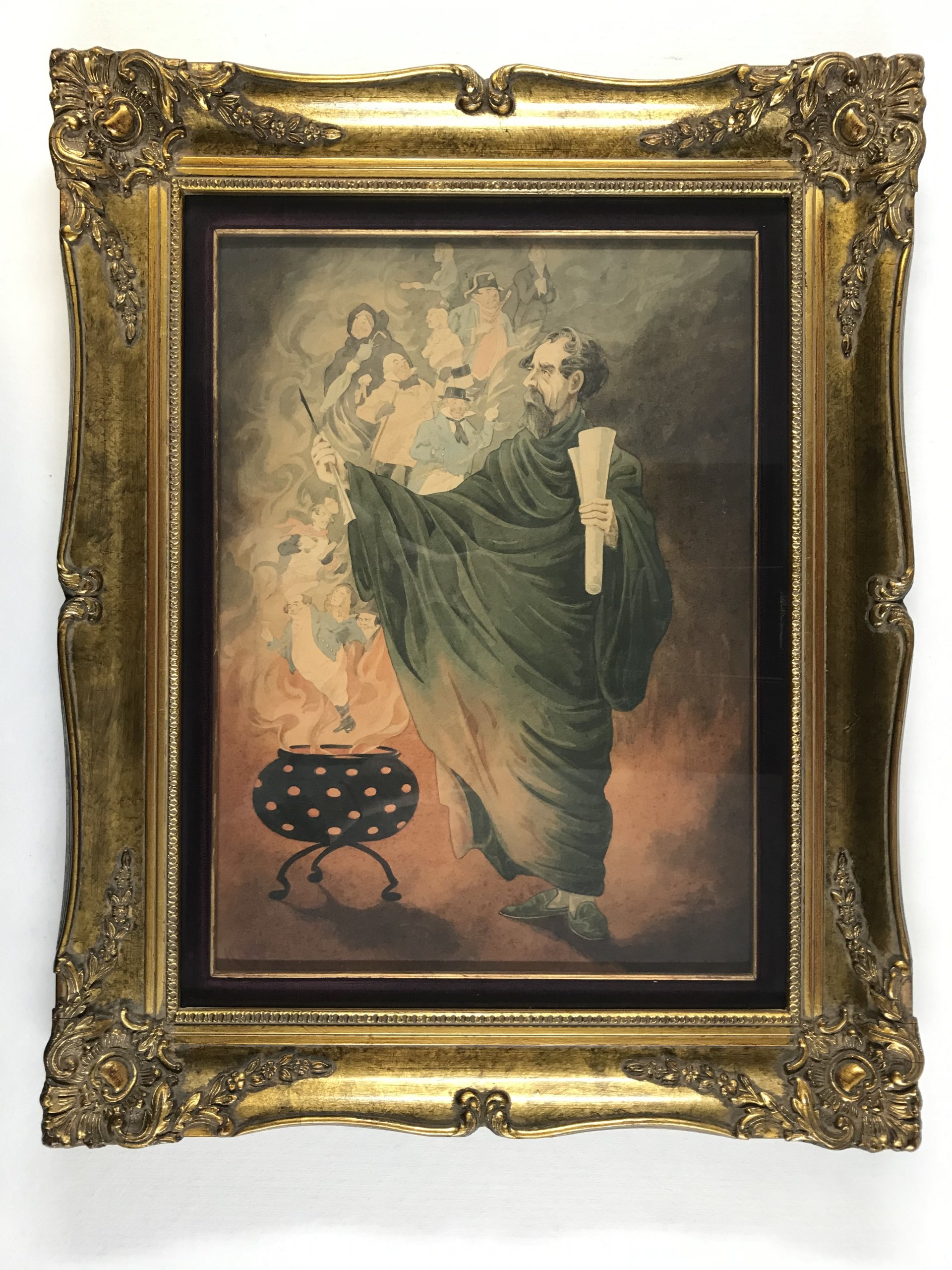 William Howitt Letter
On display for the first time is a letter from Dickens to his spiritually-minded acquaintance, William Howitt. On 31 October 1859, Dickens writes to Howitt about ghosts and asks whether he knows of "any haunted house whatsoever within the limits of the United Kingdom where nobody can live, eat, drink, sit, stand, lie or sleep without sleep-molestation" as he has a friend ready to pit himself against it.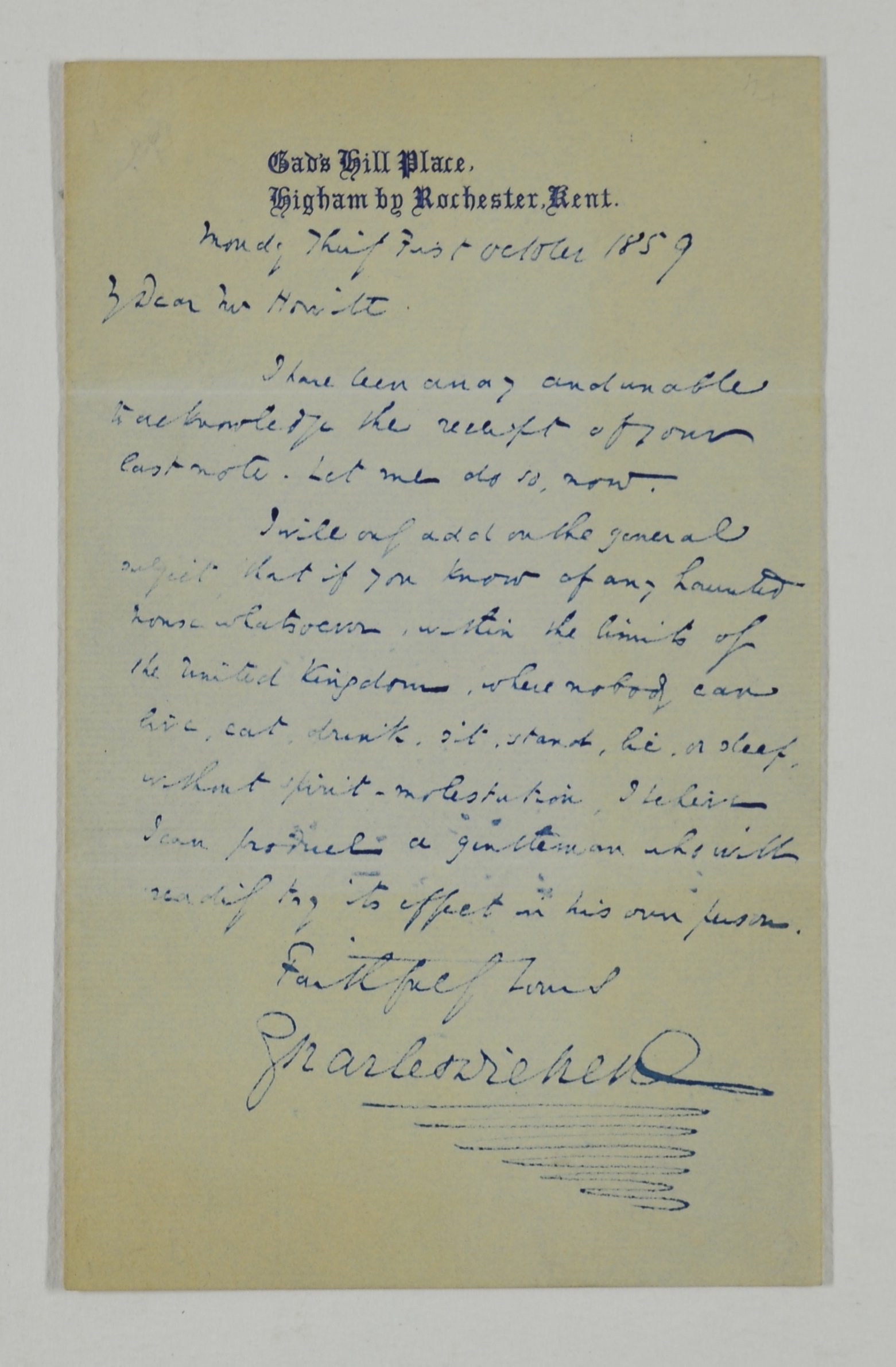 The Exhibition
Rather than having one room for the exhibits, there has been something new and interesting added to most rooms in the house. As you explore, look out for the bell-shaped notices with extra information and often sounds too.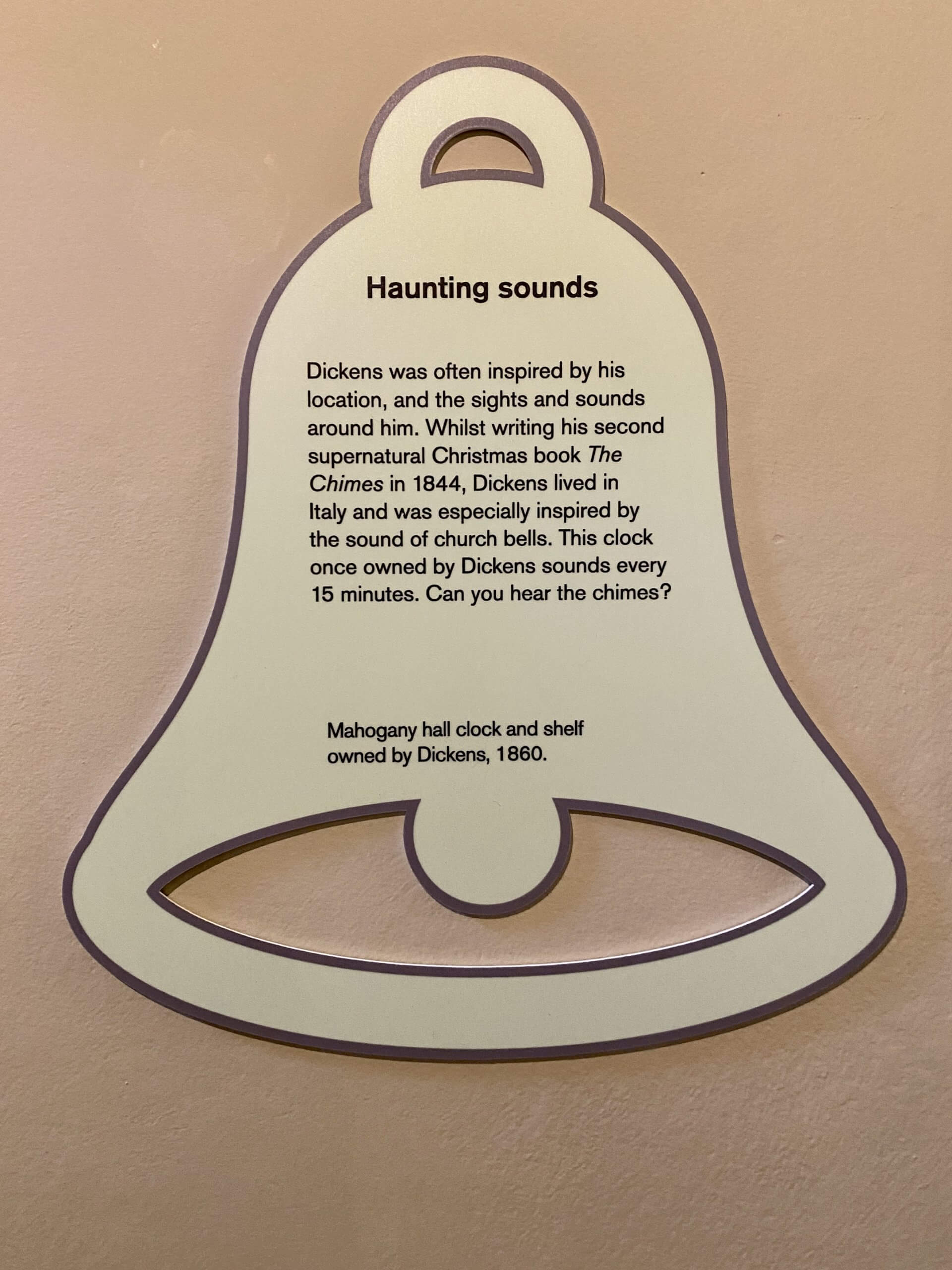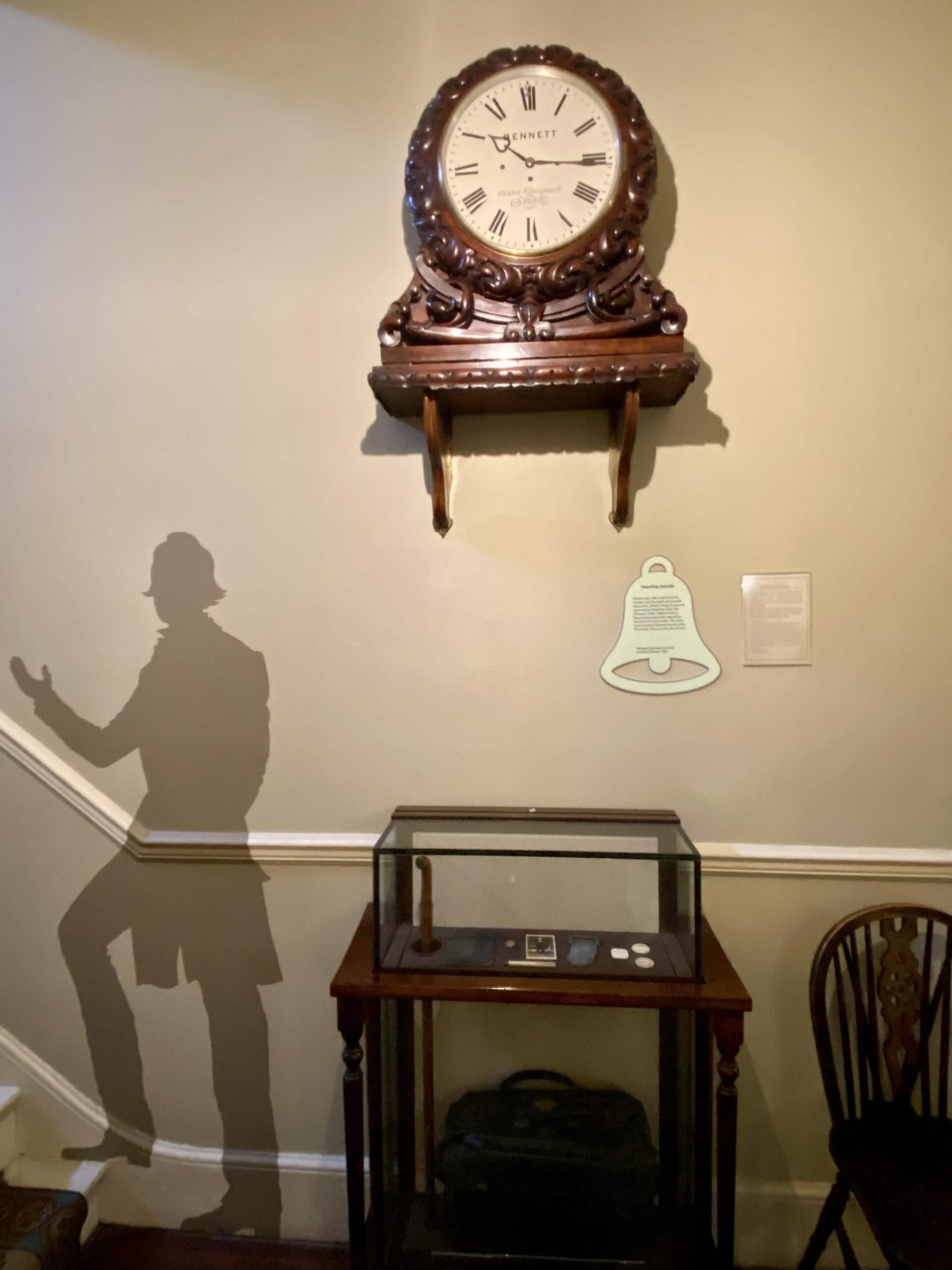 The dining room is always a treat to see.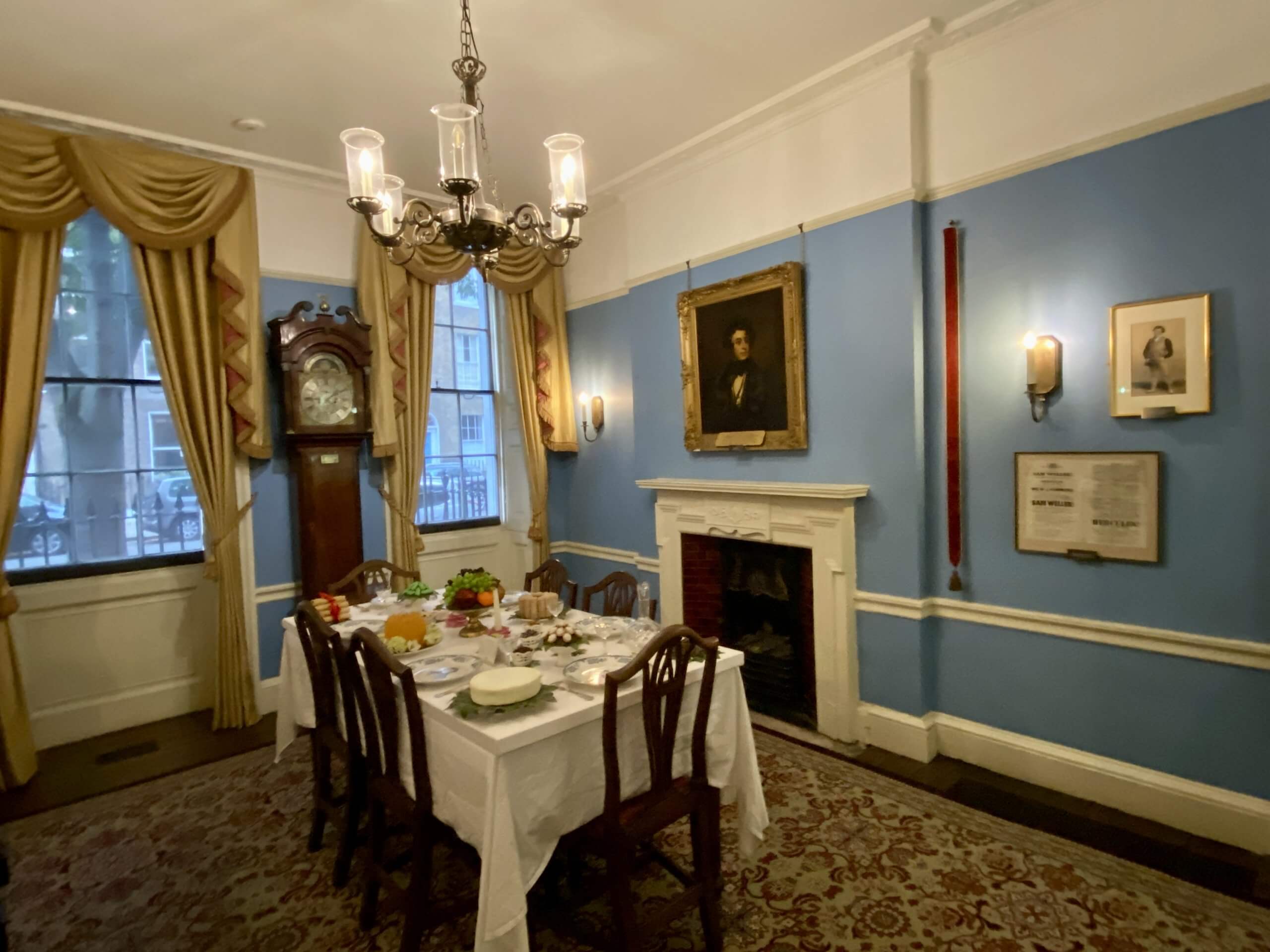 And there was this new addition for the theme.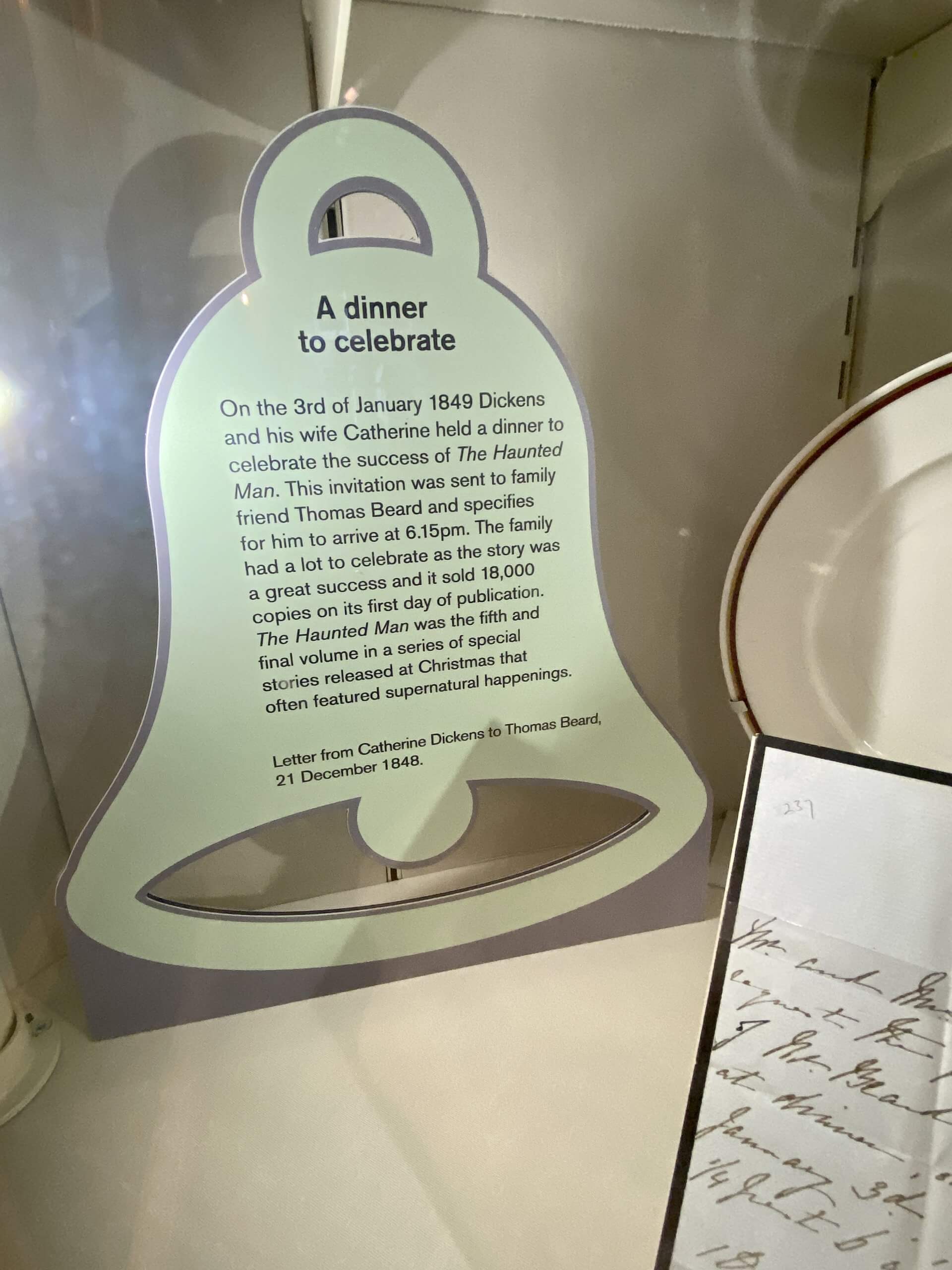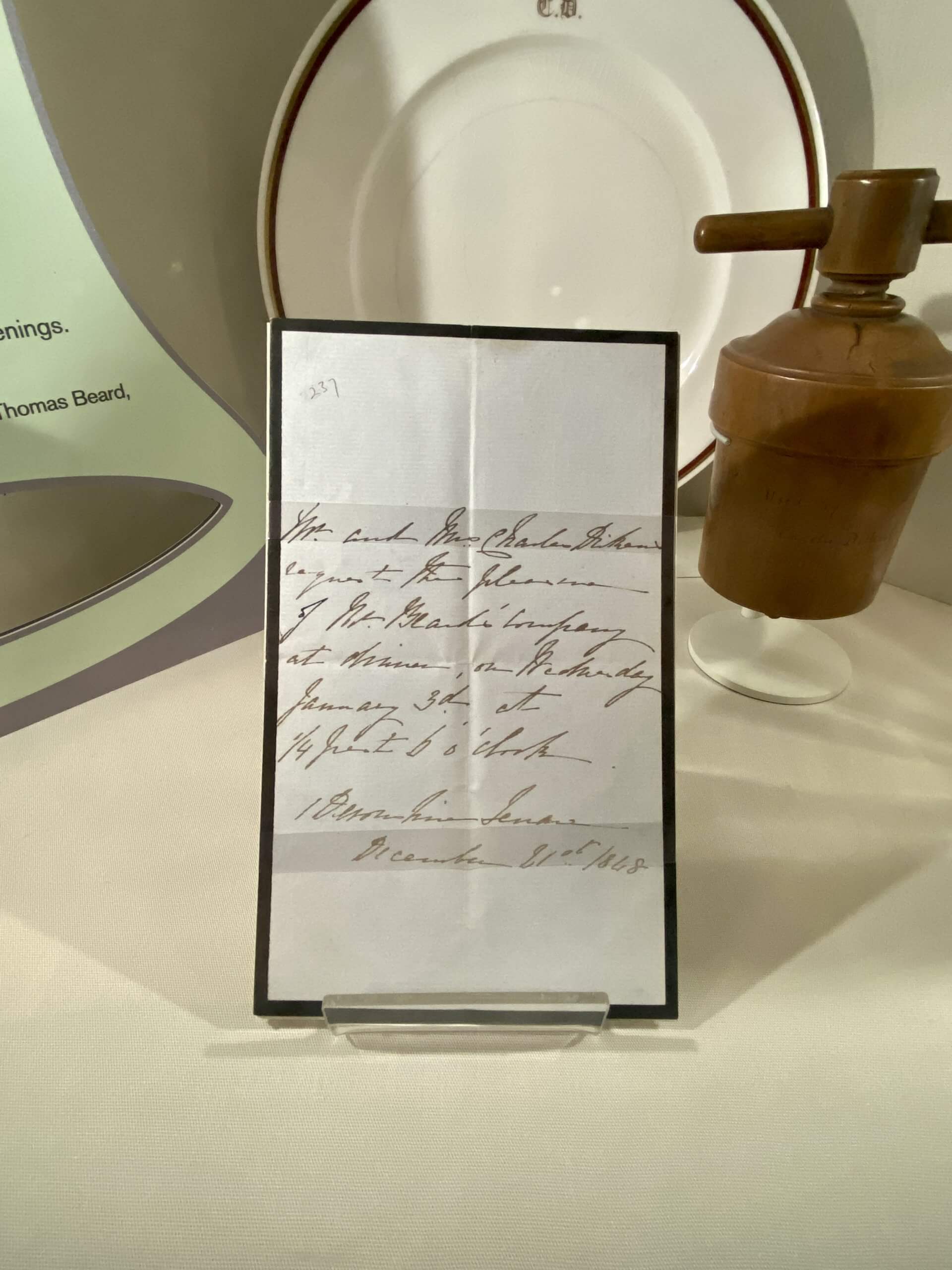 Following the museum route, you next go down to the basement rooms. These rooms have a lot less natural light and feel atmospheric during the winter months.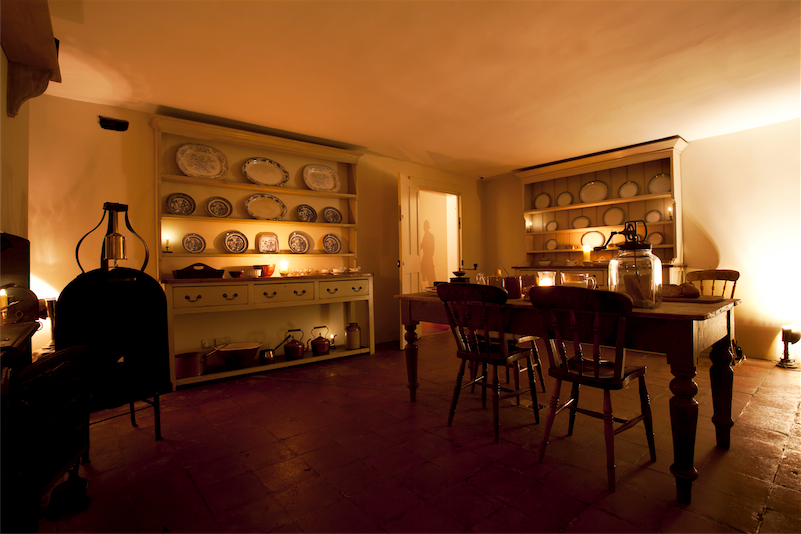 Do notice the hedgehog by the fire. Why? Because some Victorian kitchens had hedgehogs to eat insects to help keep the kitchen clean. Keeping your kitchen clean was seen as both a matter of hygiene and also a moral duty. A dirty house was seen to produce dishonest people.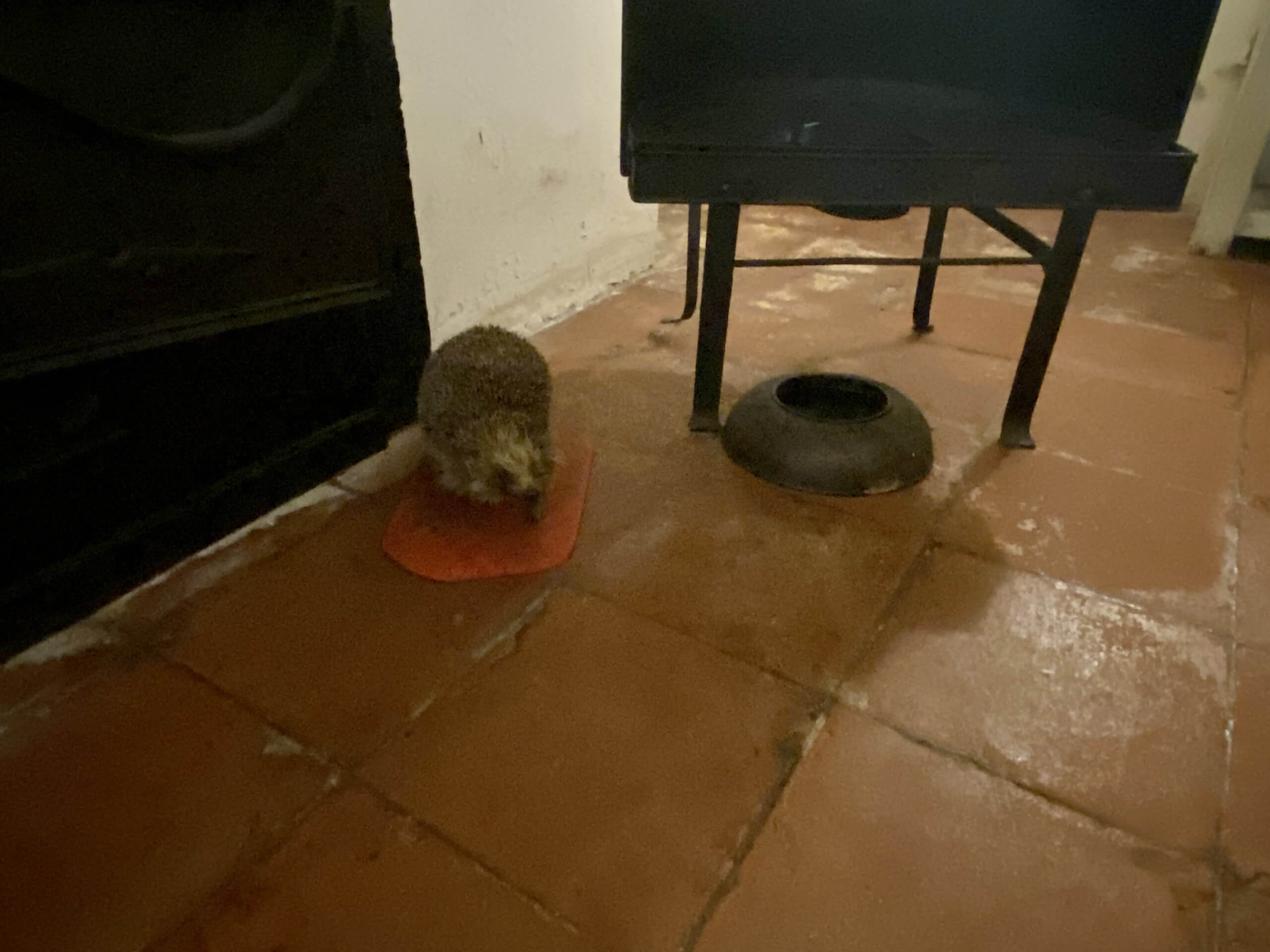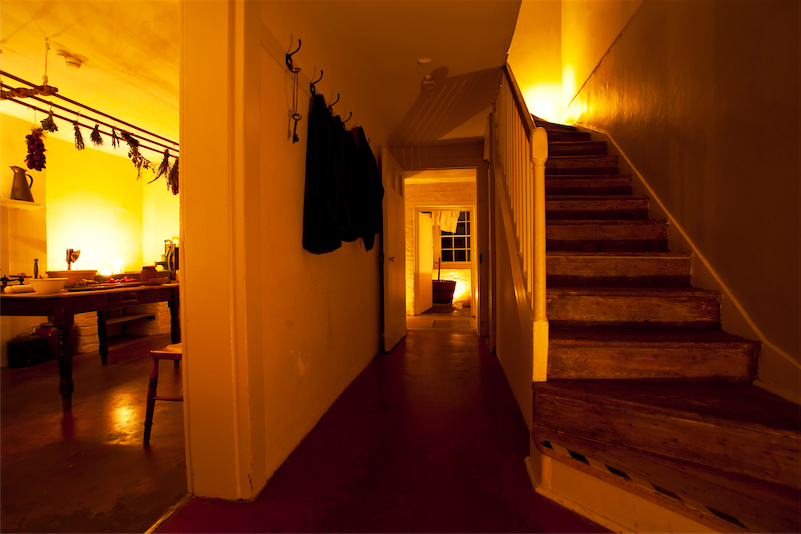 The route then takes you up to the first floor where there's the main parlor and Dickens's study. On display here is a writing quill owned by Dickens (c. 1860s).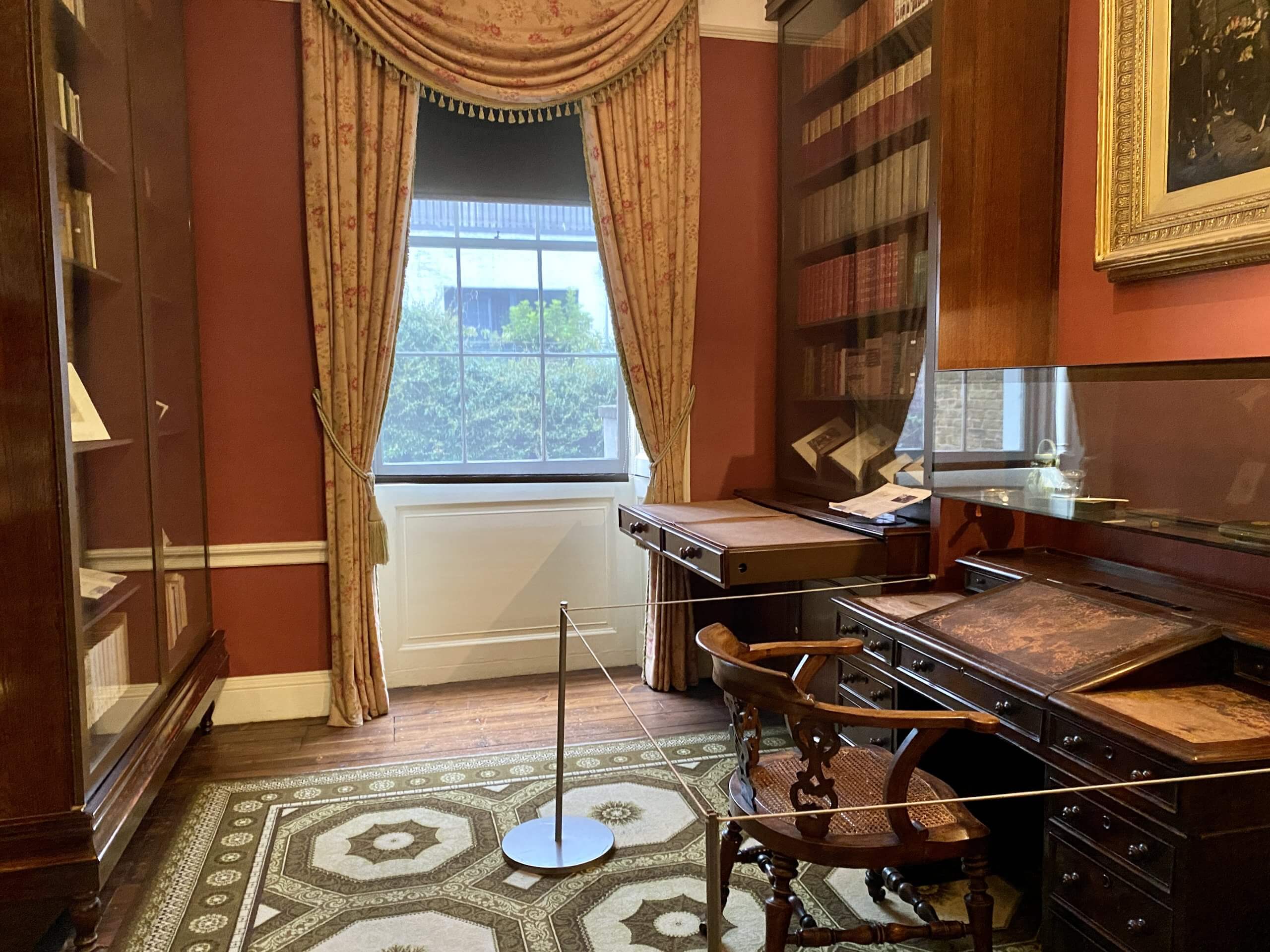 This floor also has a room dedicated to the exhibition which includes a book owned by Harry Houdini and a handkerchief that Charles Dickens may have used for his own magic tricks.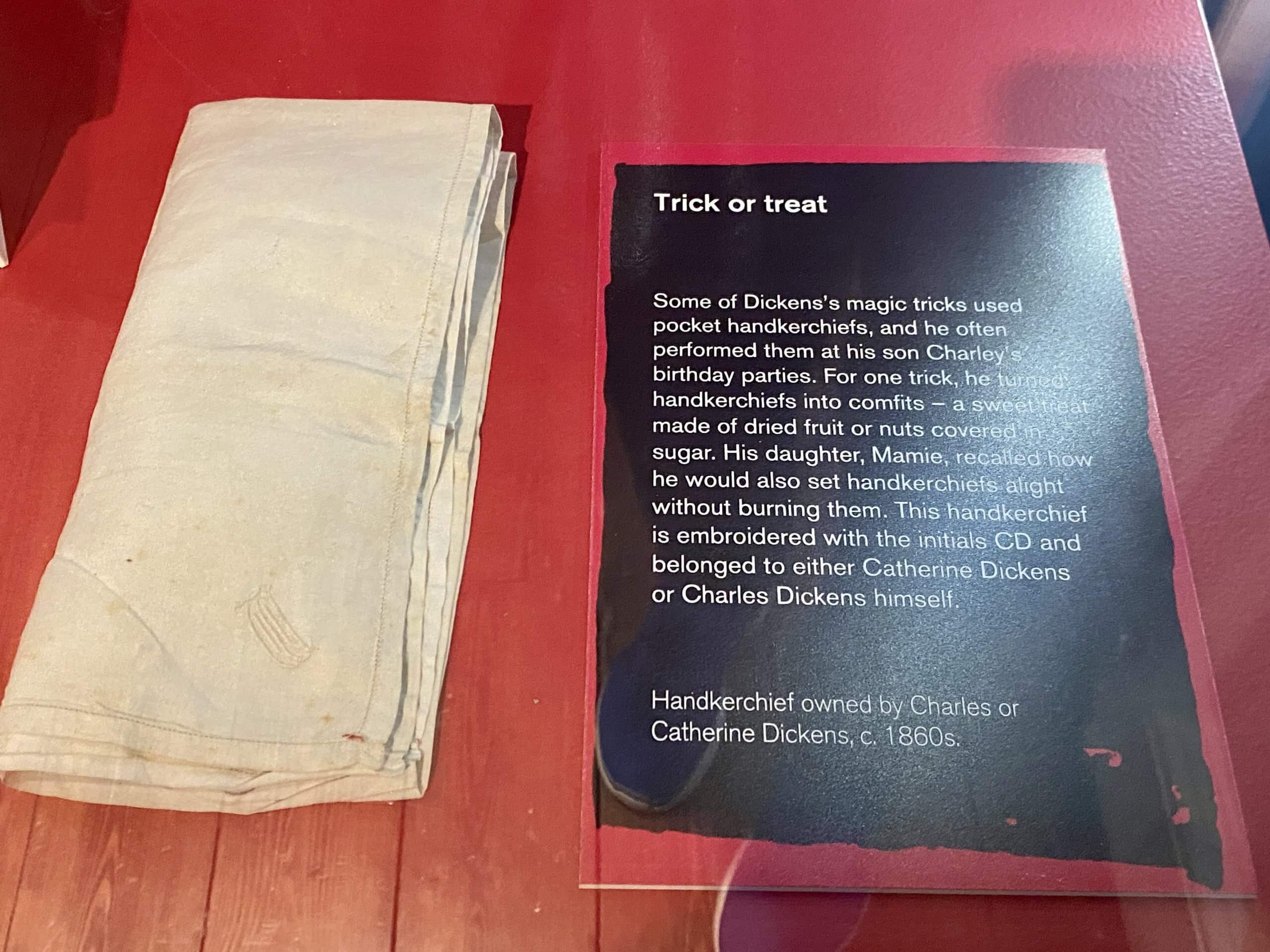 On the second floor there are the bedrooms and another room for the exhibition. Do go through to the back where there's a simple interactive (put a voting disc in a tube). It'll be interesting to see how these tubes fill up over the winter months.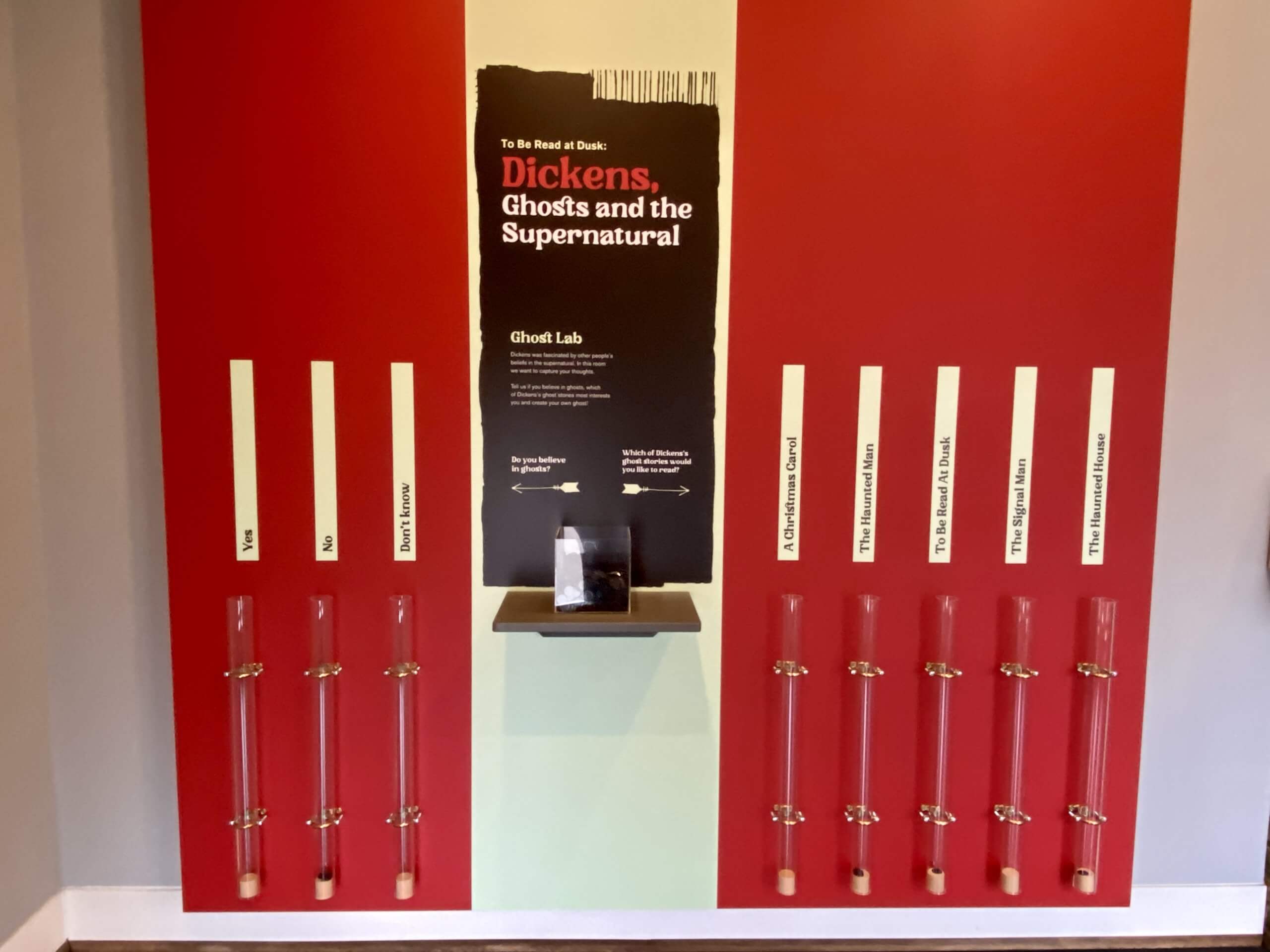 There are some more simple interactives such as this modern digital stereo viewer where you can see 3D images of some famous ghosts.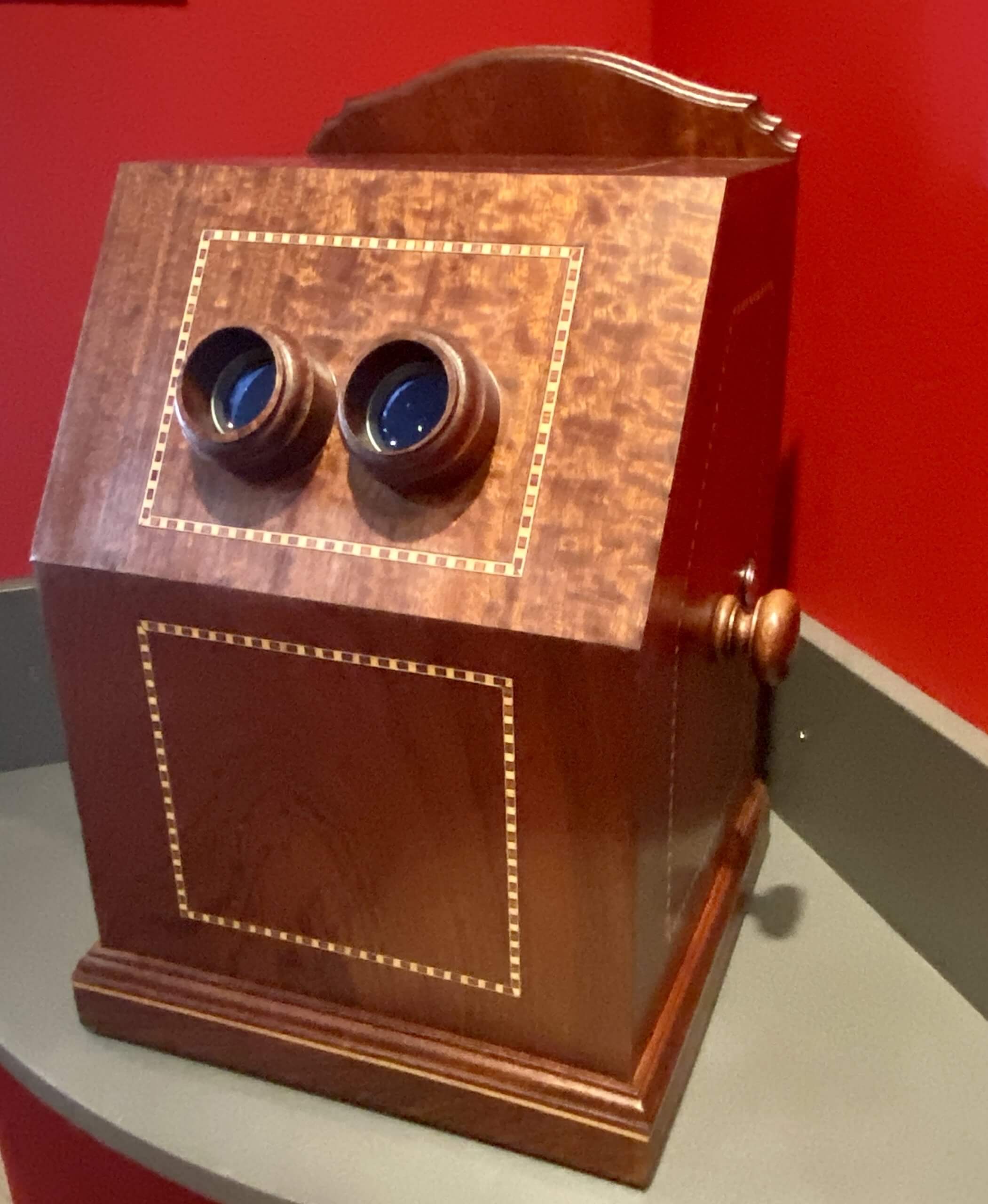 Looking in the viewer…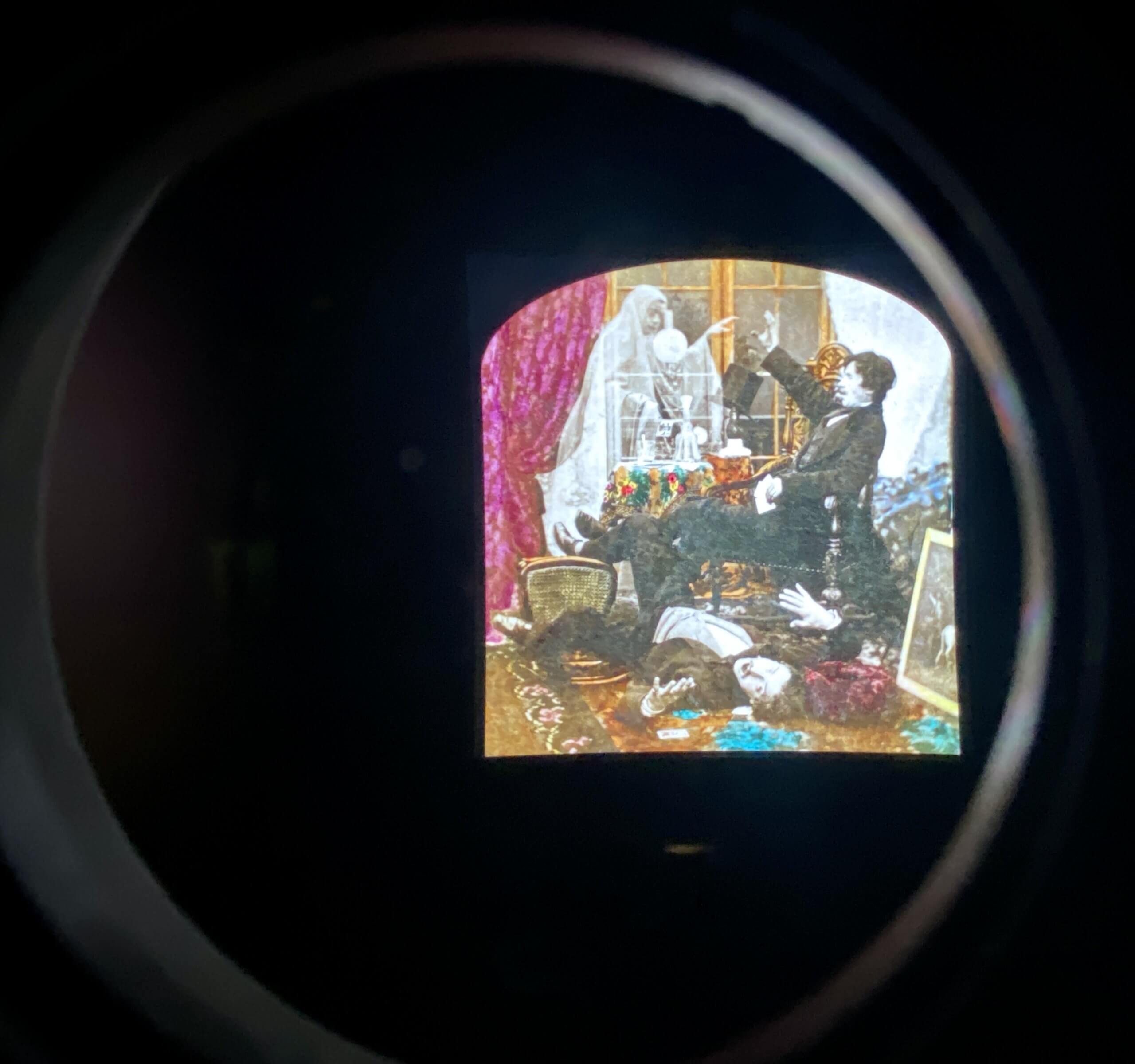 This is a great theme for a winter exhibition and having the items added throughout the museum means there are delights at every turn. Here's a copy of The Chimes that Dickens gifted to Hans Christian Andersen. The Chimes, like Andersen's fairy tales, includes supernatural creatures such as goblins.
The inscription reads:
Hans Christian Andersen
From his friend and admirer
Charles Dickens
London July 1847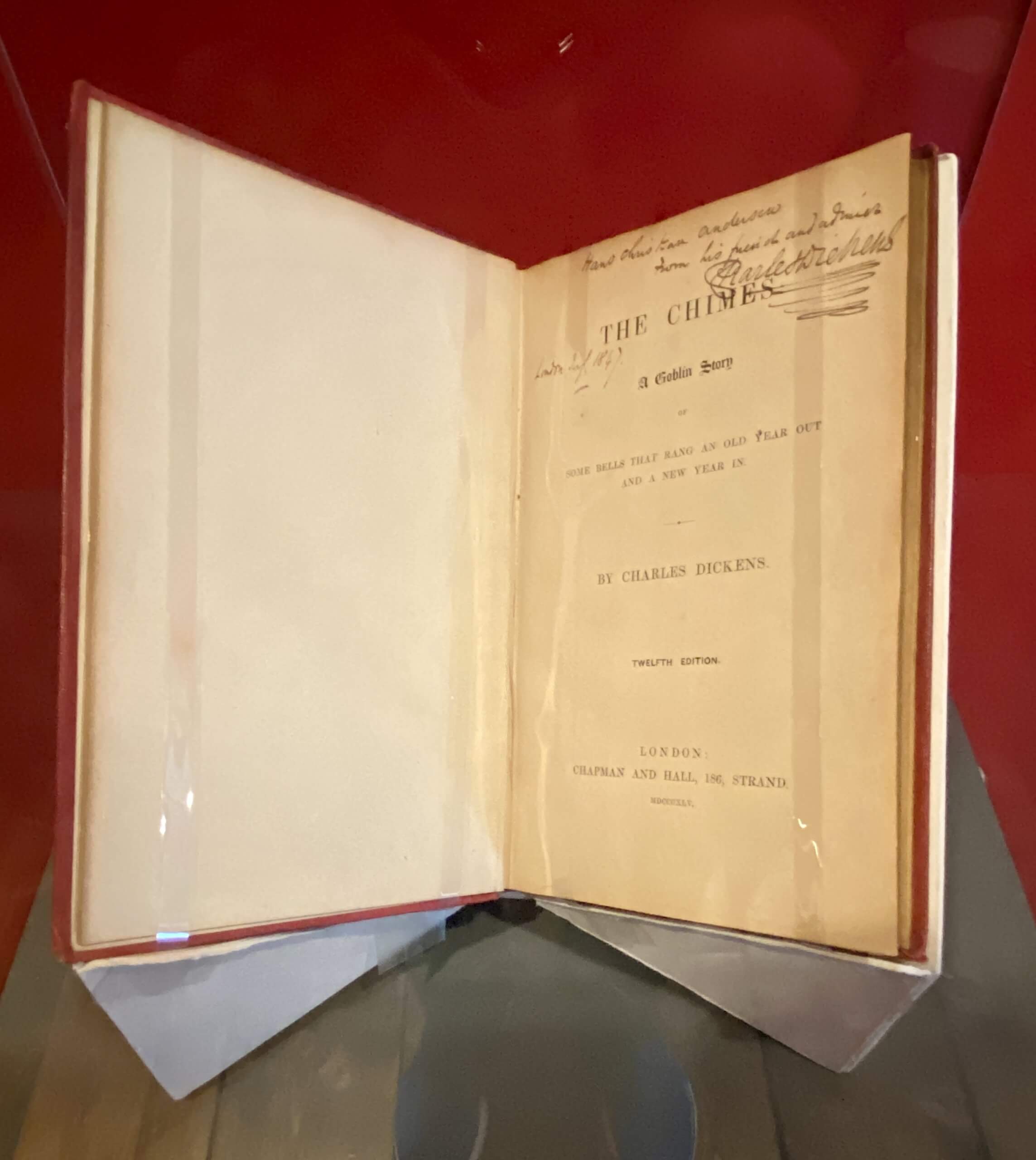 The Haunted Man
On display is Dickens's own reading copy of The Haunted Man, colorfully defaced by the author himself. This was Dickens's 1848 ghost story. Dickens physically altered copies of his books for his public readings, adding stage directions and, in this edition, uses different colored inks to indicate deletions, express emotions and emphasize emotive words.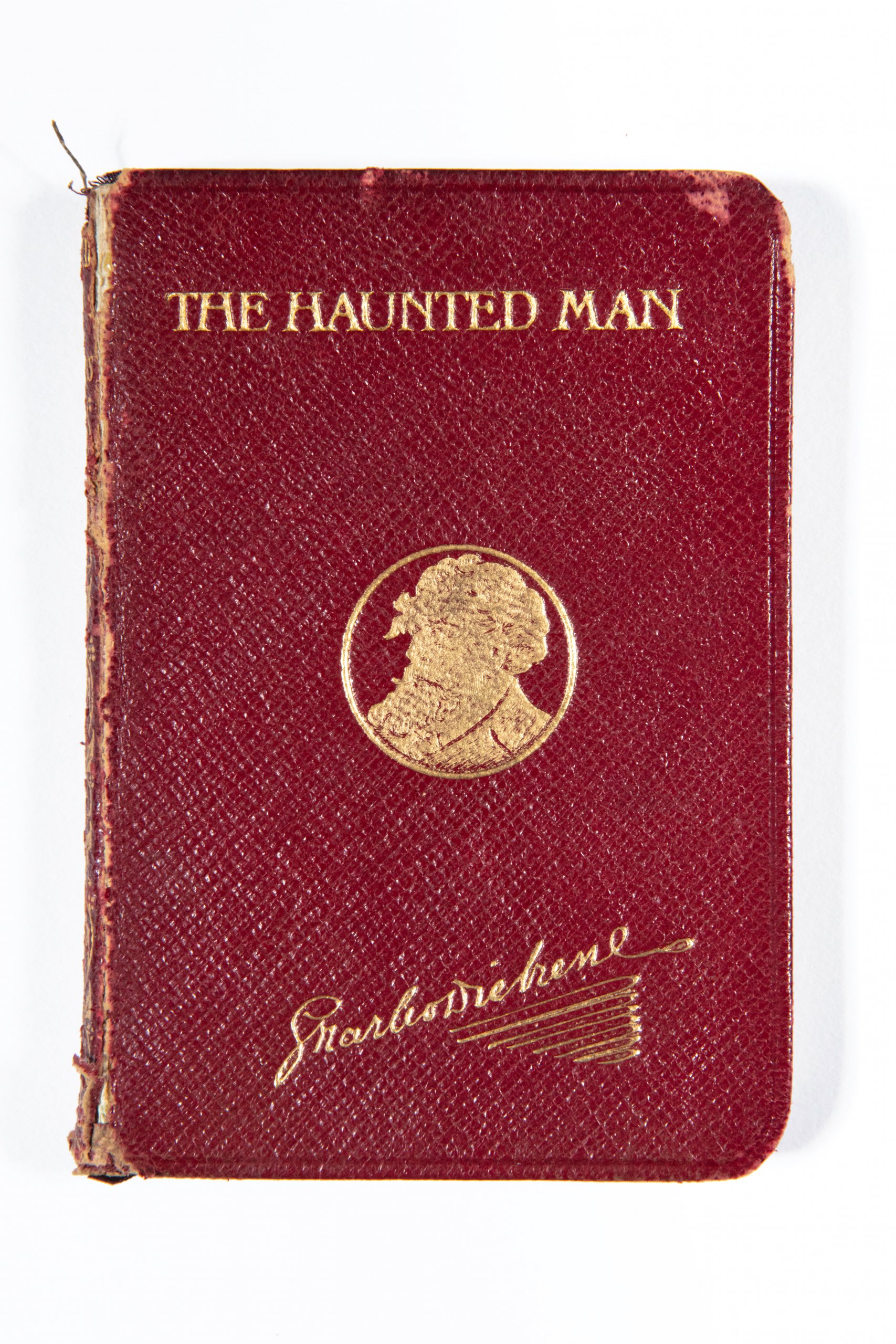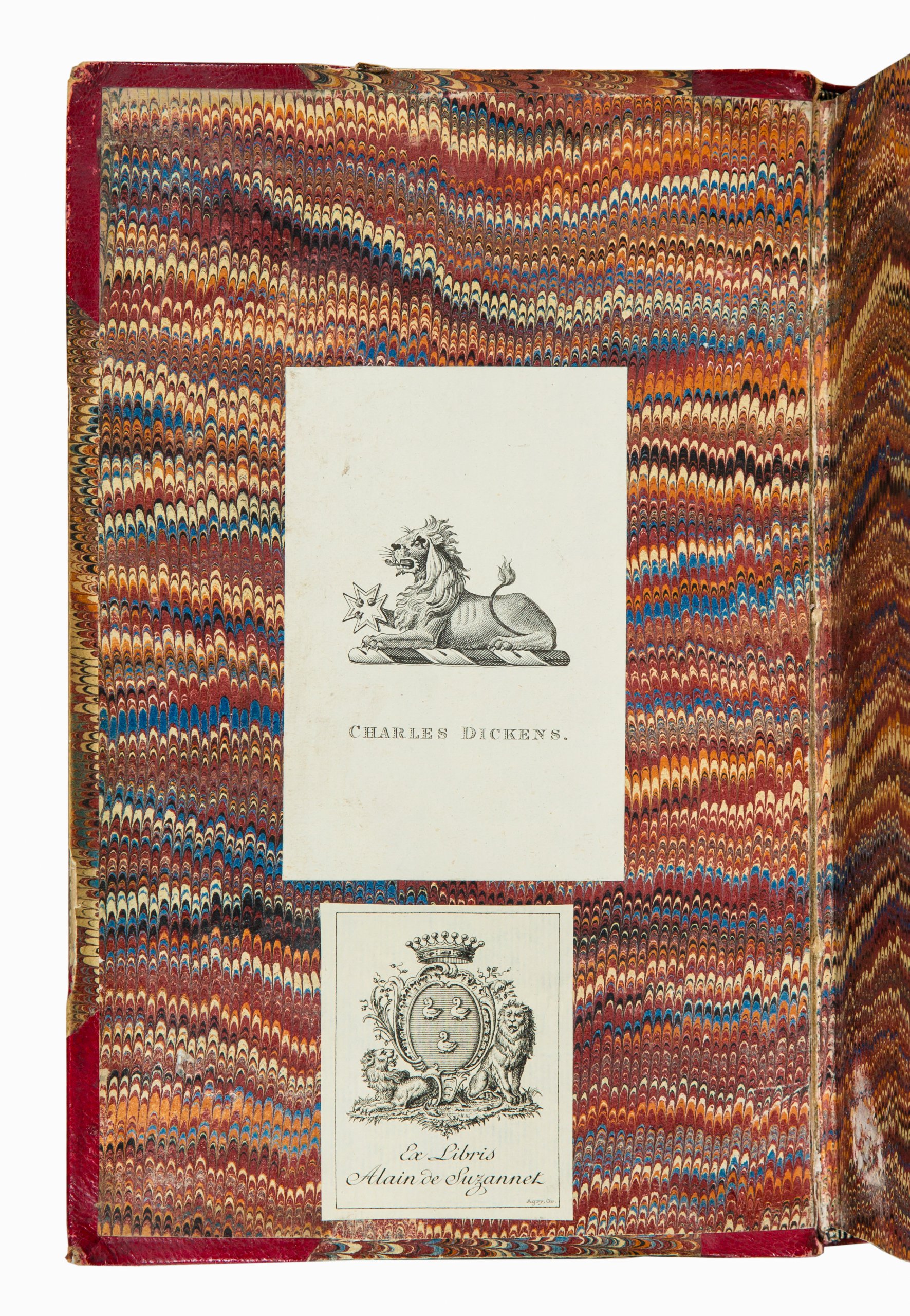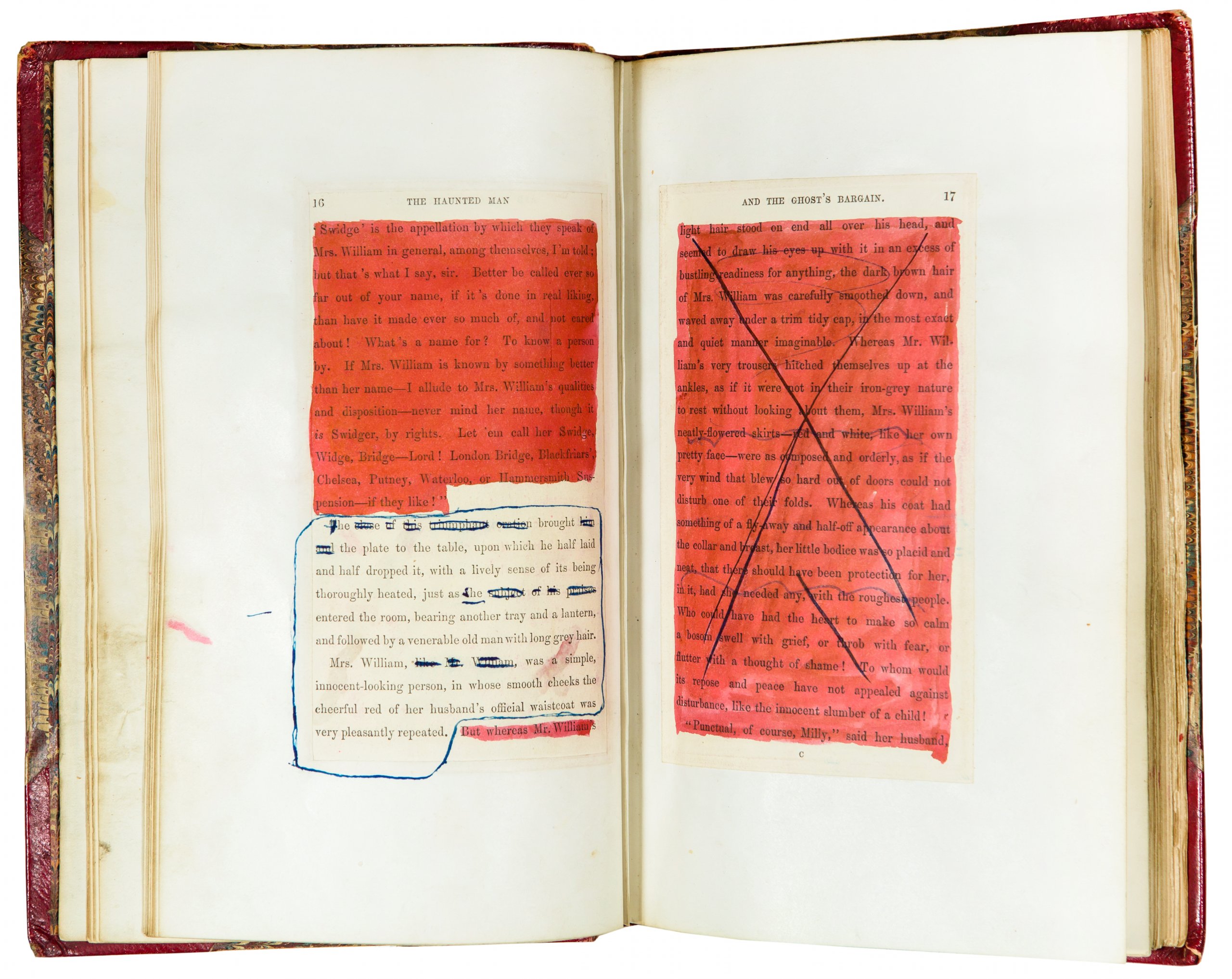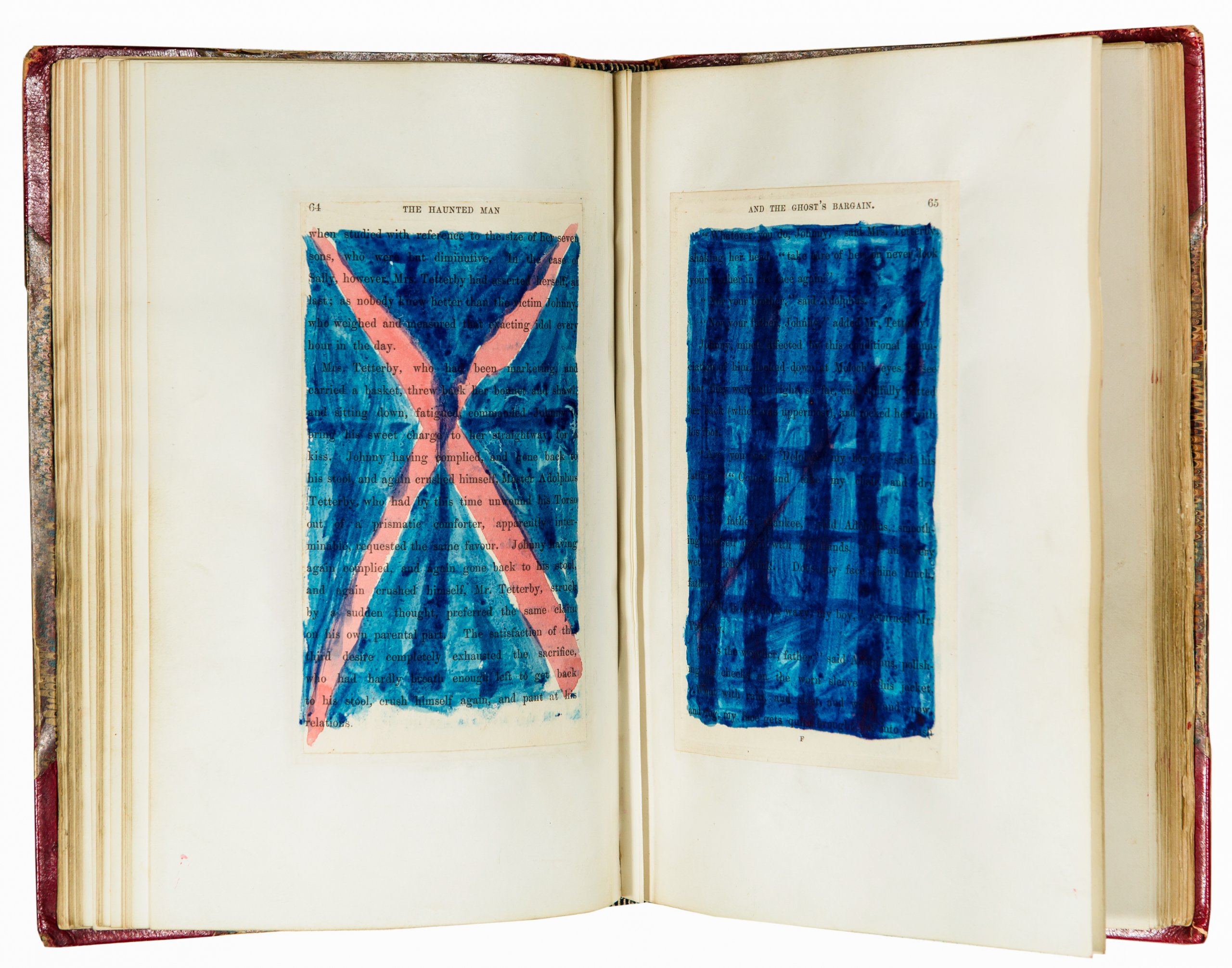 A Christmas Carol
You can see the very first illustrations of the four ghosts from A Christmas Carol. These are pencil sketches by Dickens's illustrator, John Leech, which were used in preparation for the full-colour illustrations that featured in the first edition of the book in December 1843.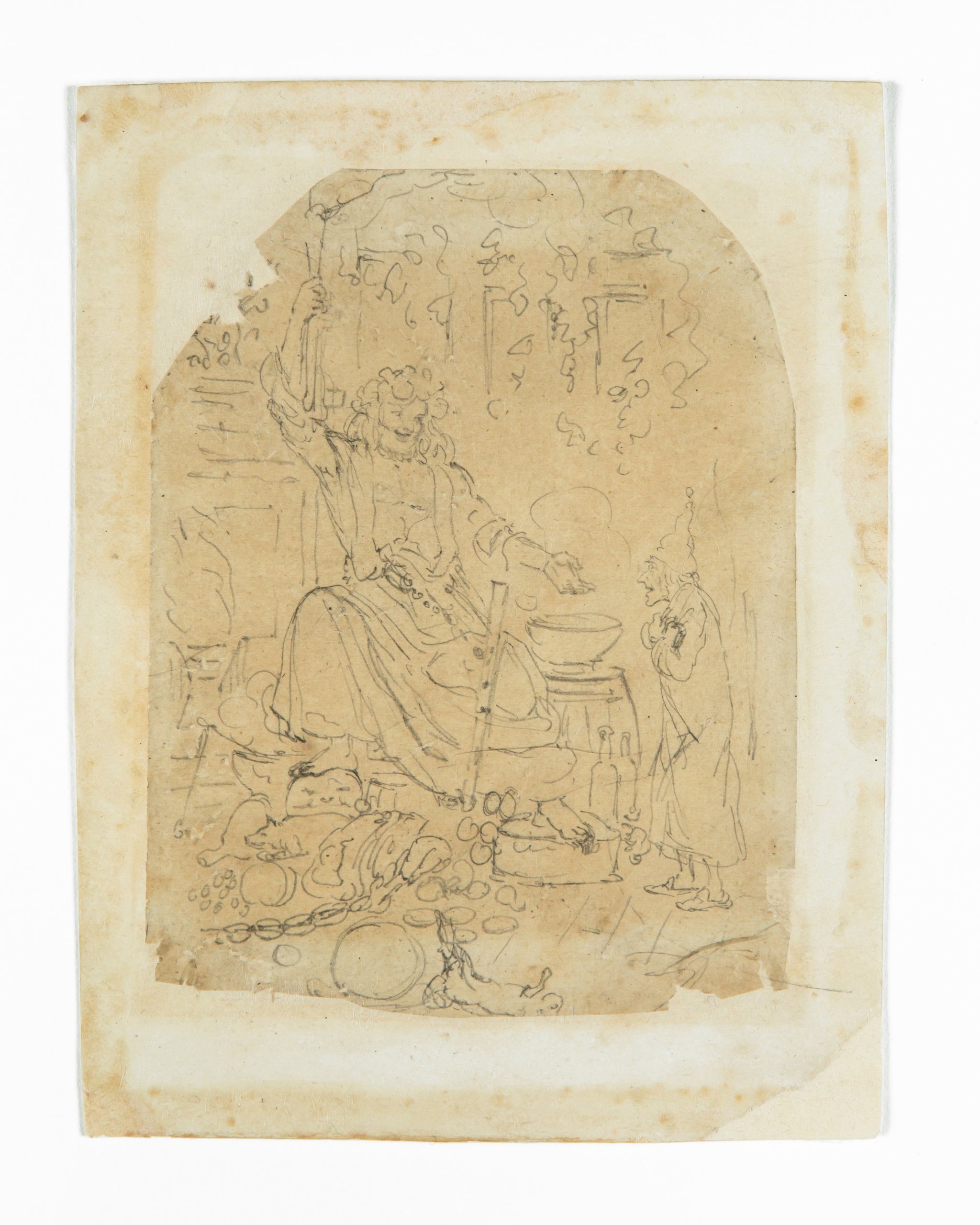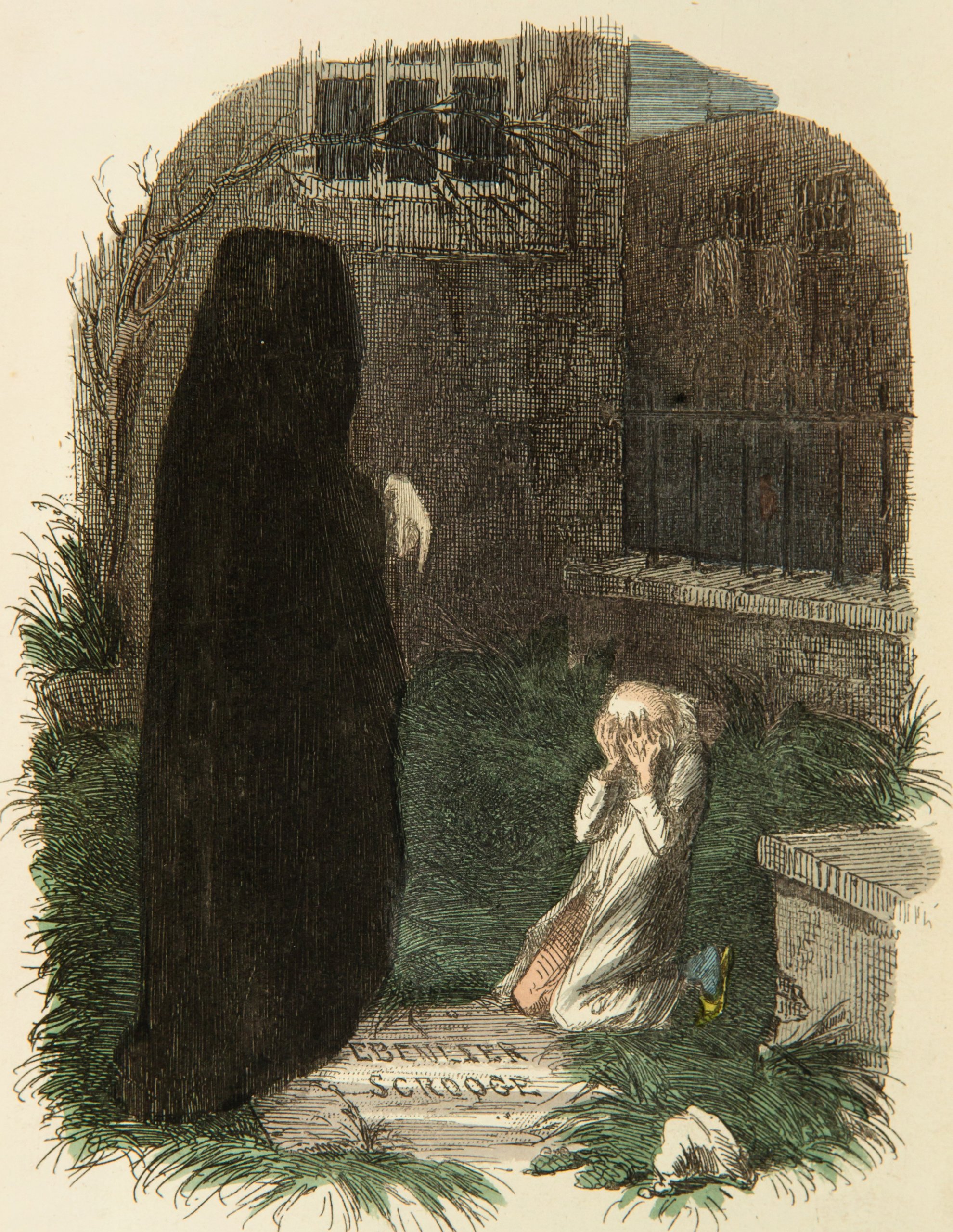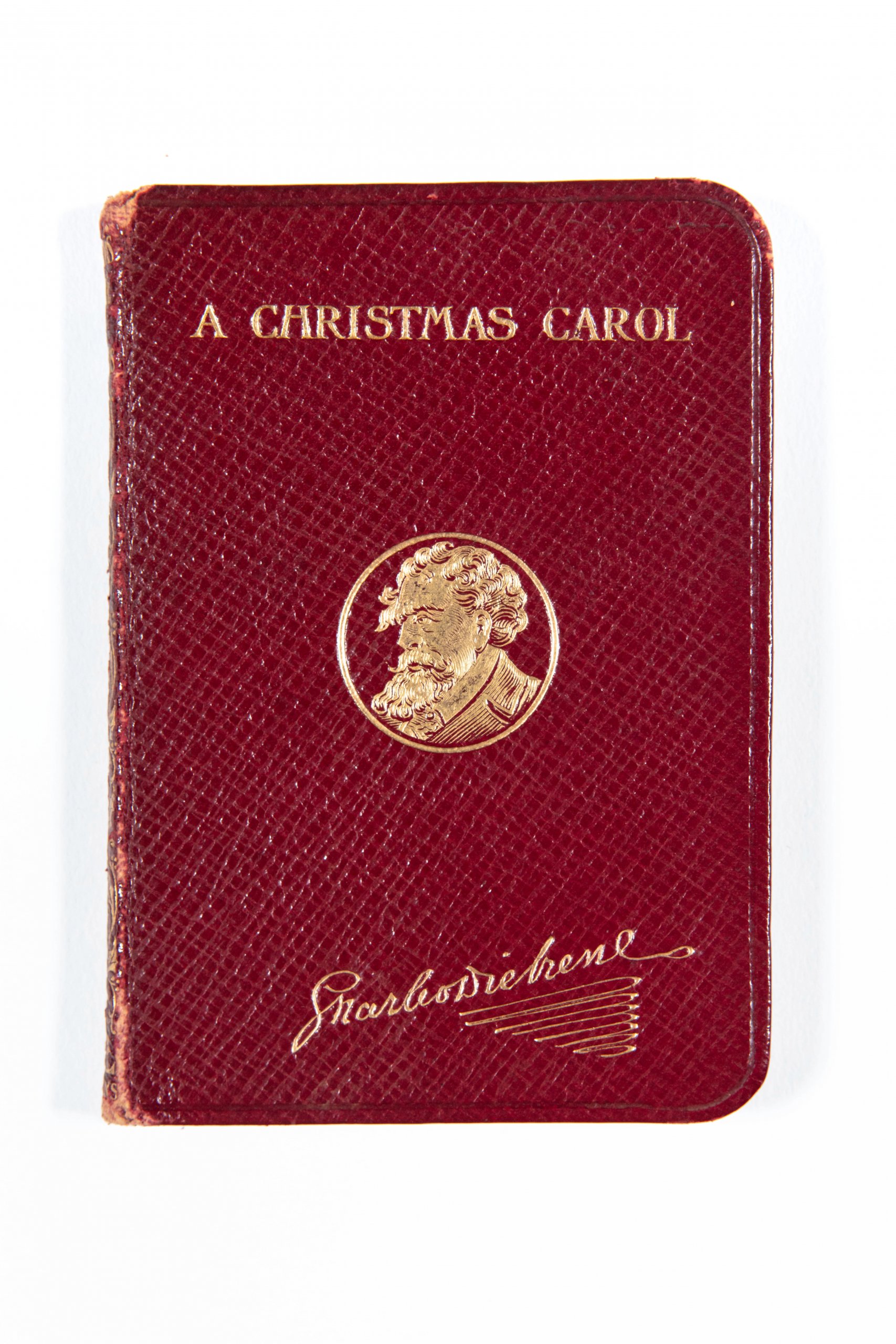 So Much To See
Through objects, posters, letters and books, the exhibition reveals just how much Dickens enjoyed creating eerie scenes, disturbing characters and building tension to toy with the emotions of his audiences.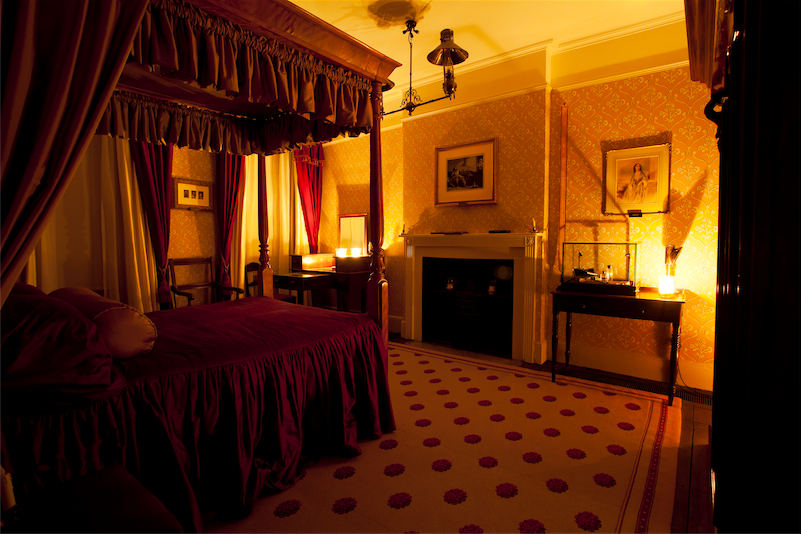 The power of Dickens's visceral 'in person' performances of his tales was notorious, and he enjoyed evoking emotions in his live audiences, as well as his readers, with ghostly stories. He performed his ghost-laden A Christmas Carol reading 127 times and, after writing another Christmas book, The Chimes, asked John Forster to gather a crowd so he could test out the effects of the book. In a letter to his wife, Catherine, about this performance, Dickens writes, 'P.S. If you had seen Macready last night—undisguisedly sobbing, and crying on the sofa, as I read—you would have felt (as I did) what a thing it is to have Power.'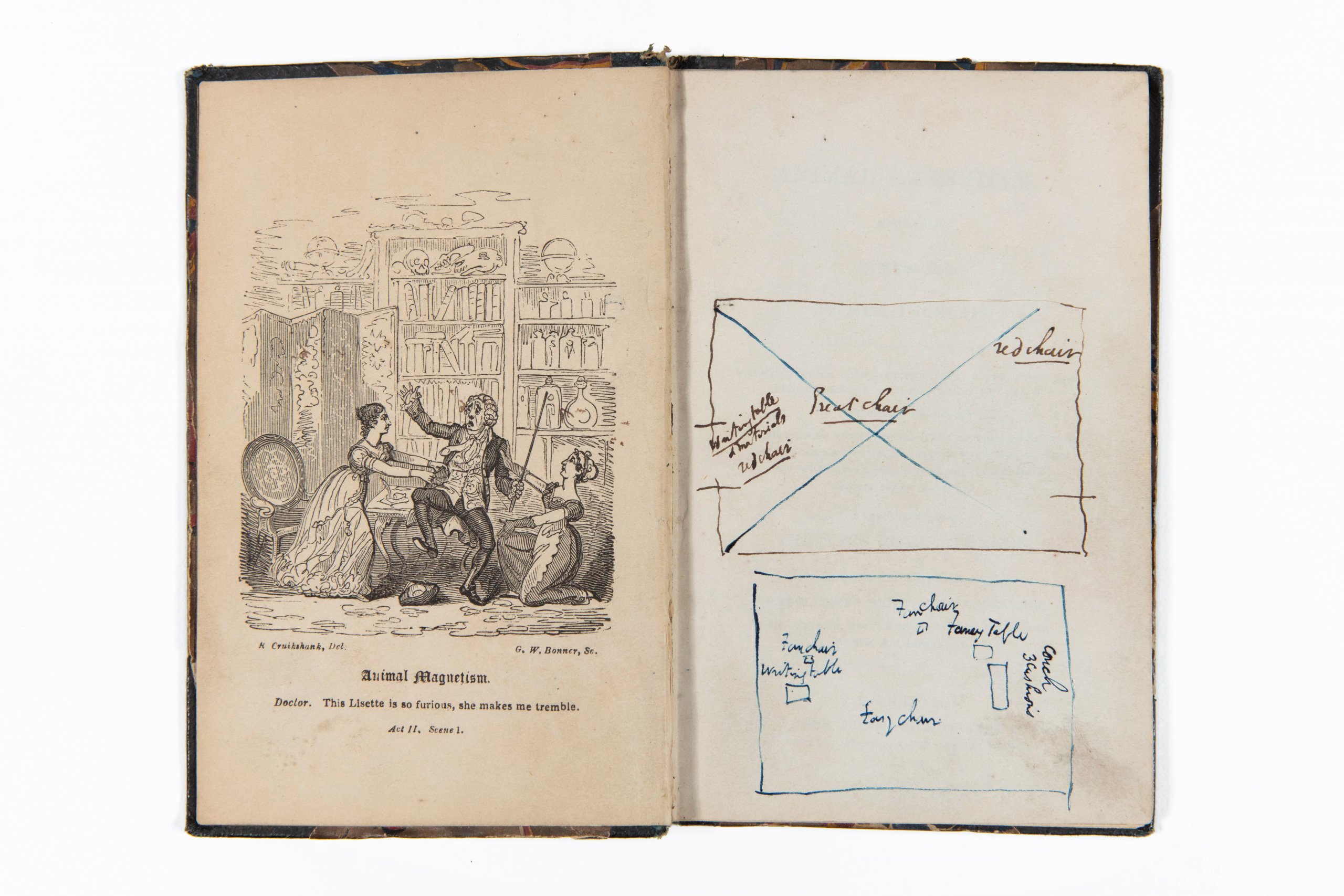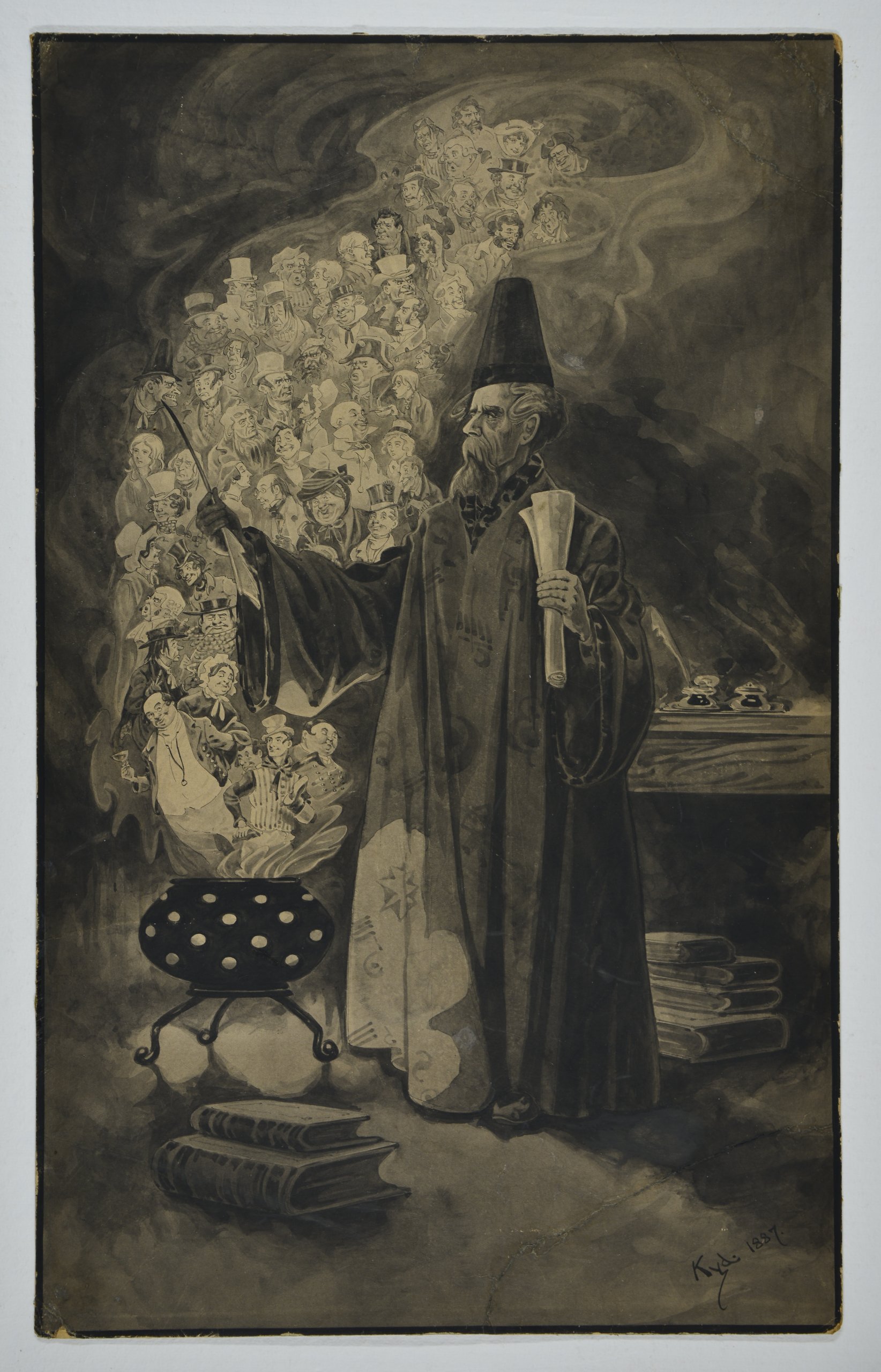 Do look at the William Hogarth sketches on the stairs too.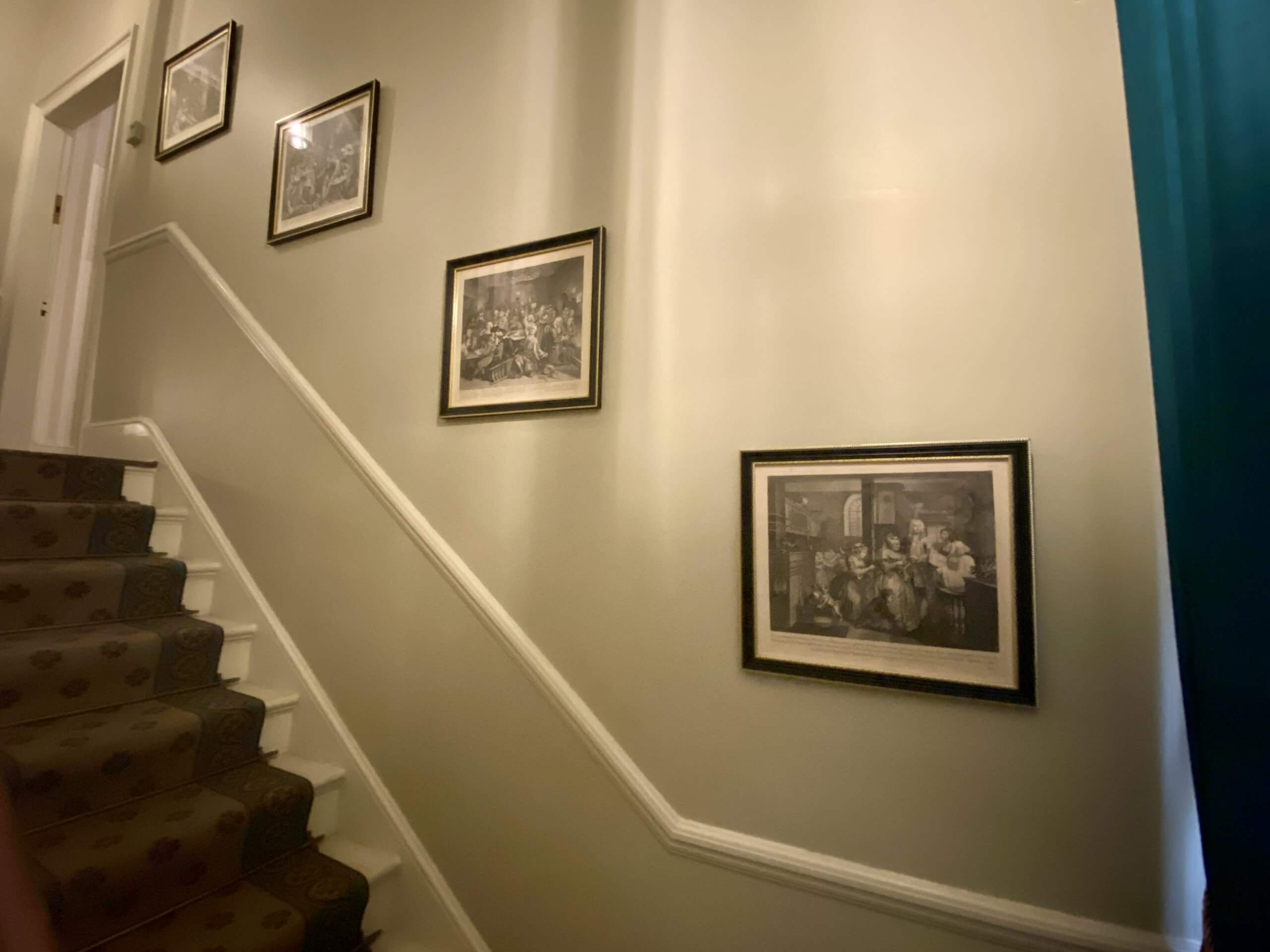 And then back on the ground floor, there's a handy timeline across one wall.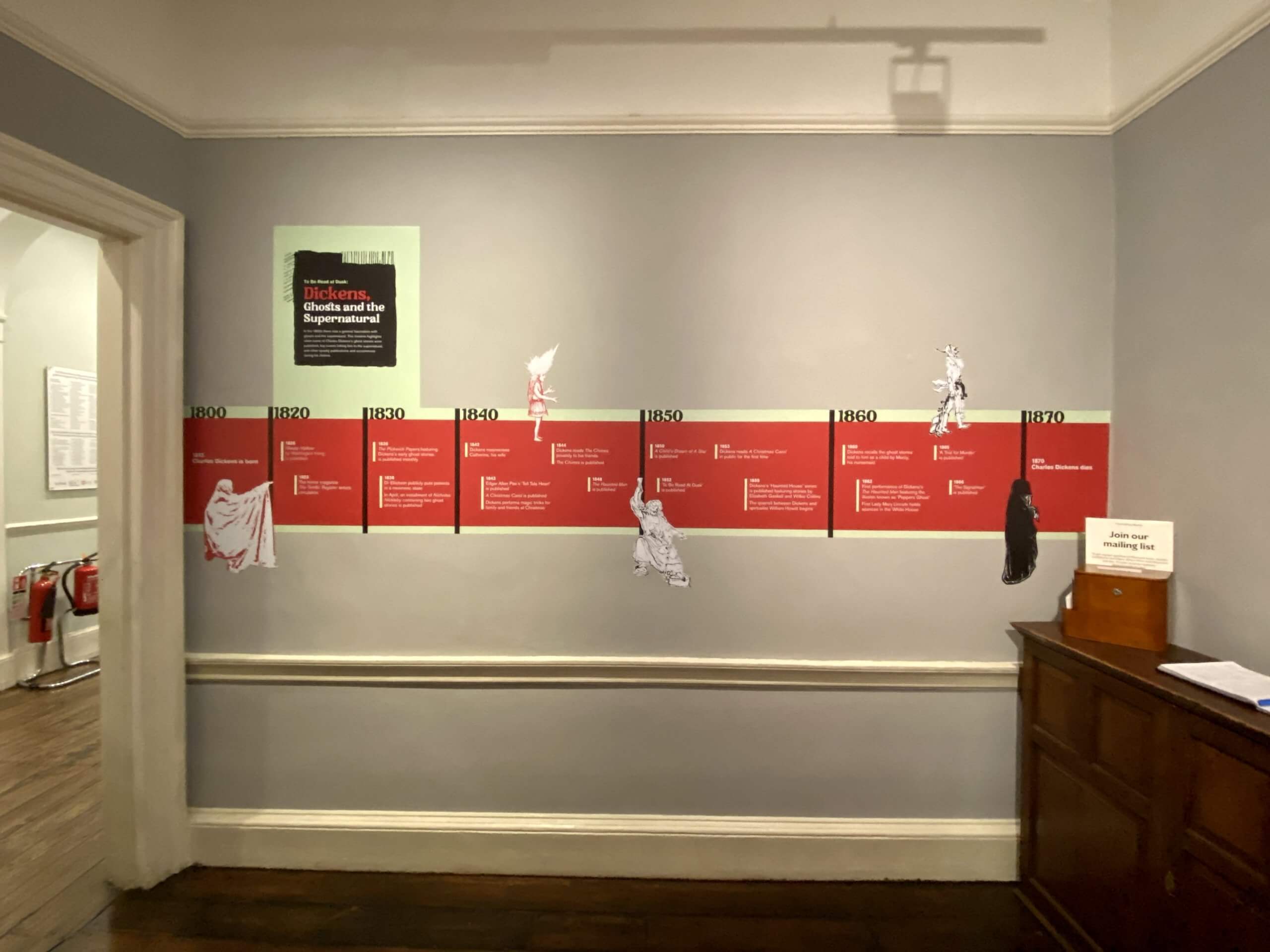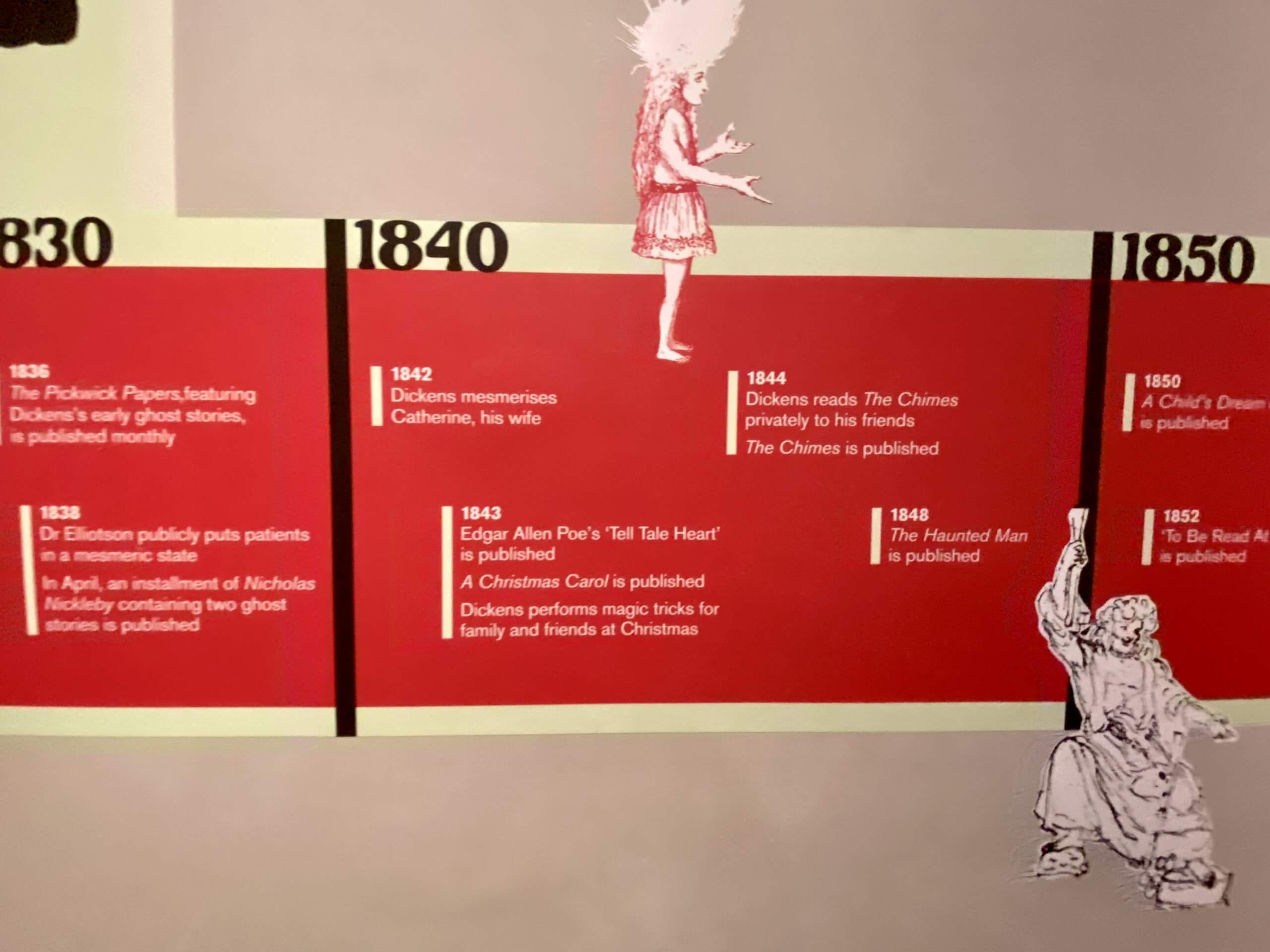 There's a lovely cafe here, with a courtyard for warmer days, and an excellent gift shop.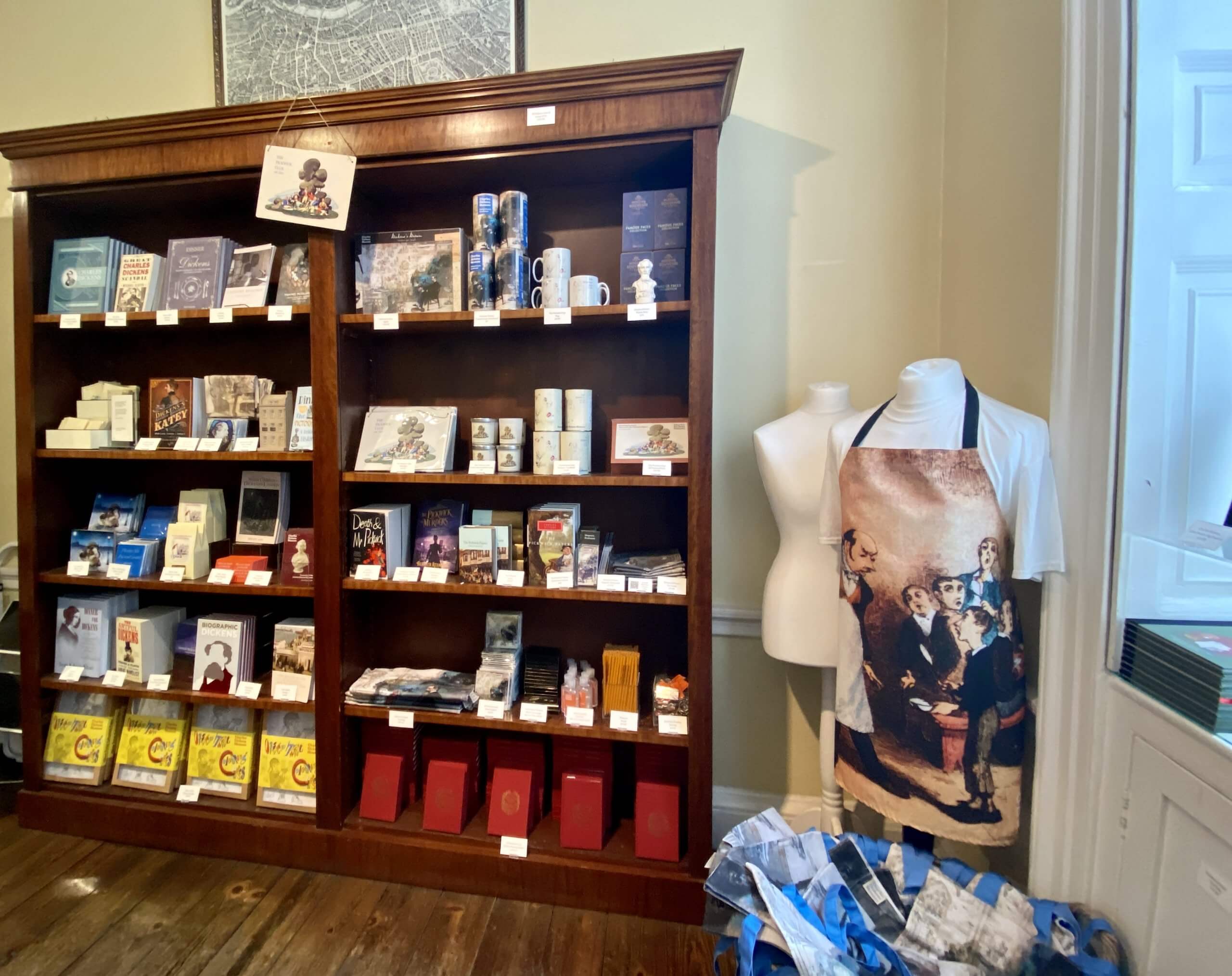 By the way, did you know the Dickens family had a pet raven called Grip? No, neither did I! In Dickens's 1840 novel Barnaby Rudge, the lead character has a pet raven with the same name which continues to prove that often the best ideas come from real life. Anyway, there is a raven puppet available in the shop which is how I learned this tale.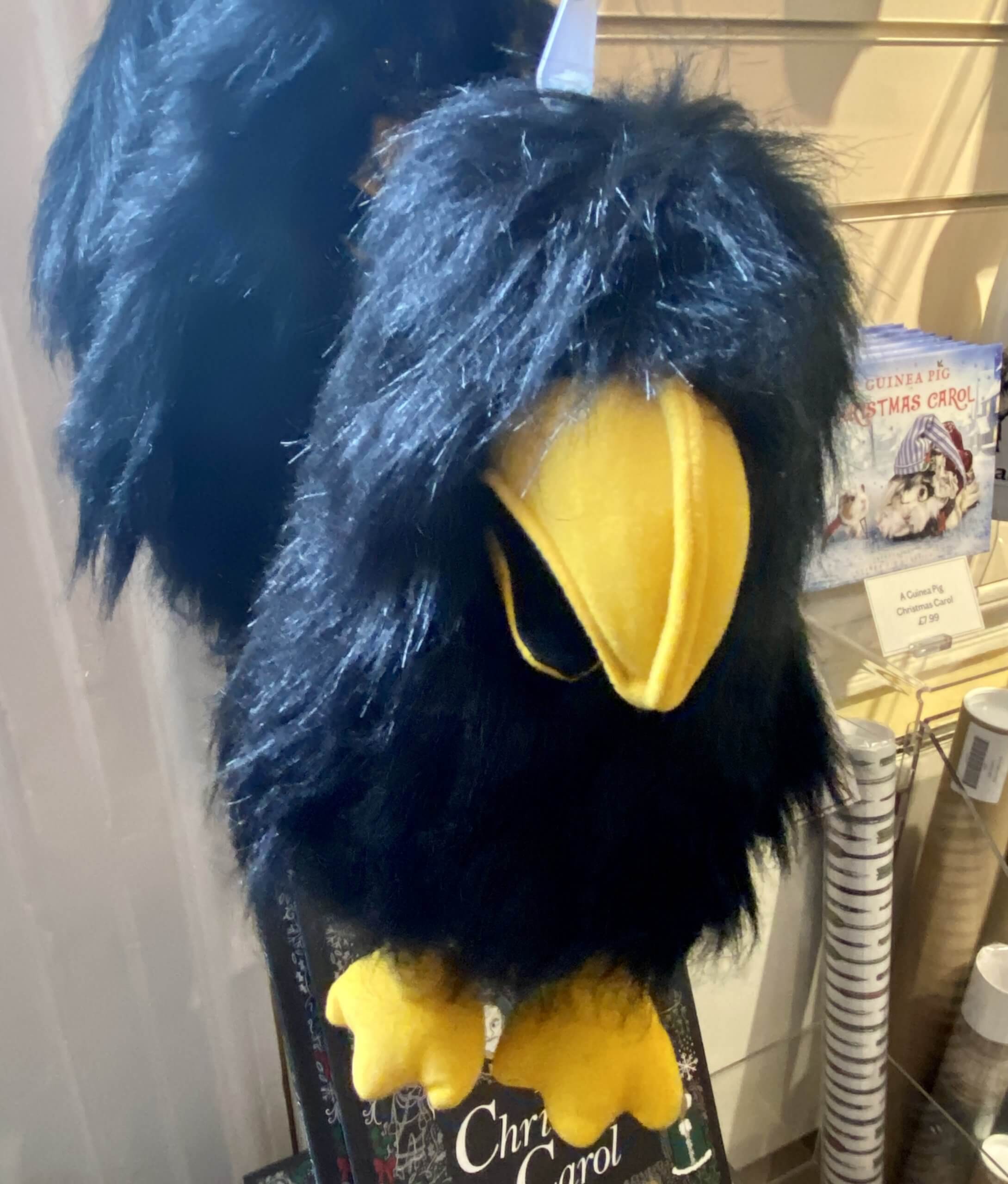 Legacy
Dickens and his ghost stories continued to haunt people after his death. There were reports of him appearing at séances and claims that he told mediums the ending of his unfinished novel, The Mystery of Edwin Drood.
Dickens was inspired by spooky folklore and the works of the American writer, Washington Irving, who also combined ghosts with Christmas to write his ghost stories. It was not long before the nation was captivated by Dickens's supernatural stories, and they became an engrained part of Christmas tradition.
A Christmas Carol is studied by all English schoolchildren and a movie version of the story is always on TV in December (the Muppets version is a particular favorite).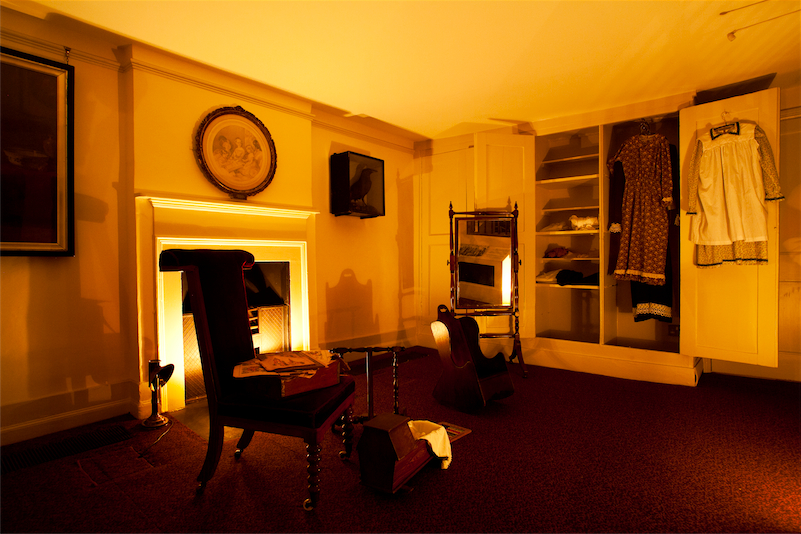 Events Programme
The exhibition is accompanied by a program of events, including after-hours house tours, as well as haunting soundscapes in Dickens's home.
The Doughty Street Séance is set in 1854 with fictional widow Lady Rodwell trying to reach into the beyond and speak to her husband for one last time. And The Ghost of London Past is a guided tour of the historic home. Ghosts & Murder is a virtual storytelling so you can listen in wherever you are. And Trick or Trapped is great for families as it turns the museum into one big escape room.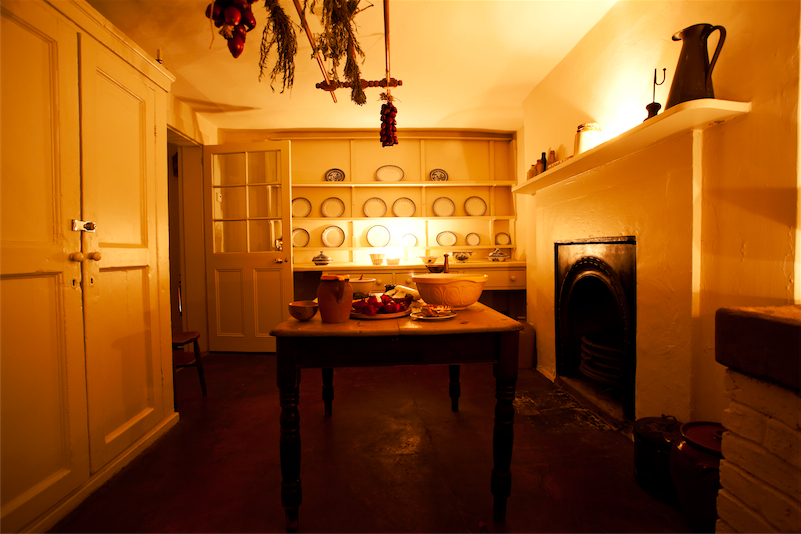 Visitor Information
Exhibition Title: To Be Read At Dusk: Dickens, Ghosts & the Supernatural
Dates: 5 October 2022 – 5 March 2023
Opening hours: 10am to 5pm, Wednesday – Sunday (closed Mondays and Tuesdays)
Address: The Charles Dickens Museum, 48-49 Doughty Street, London WC1N 2LX
Official Website: www.dickensmuseum.com