Today in London infrastructure news, London is getting a new road tunnel in Greenwich. The Silvertown Tunnel will link the Royal Docks north of the river with the Greenwich Peninsula in the south. It is hoped that the new tunnel will reduce congestion in the Blackwell Tunnel. As any traveler who's been stuck in traffic for 20 minutes getting through that tunnel can confess, this is a good thing.
From the BBC:
Plans to build a new twin-road tunnel beneath the River Thames in east London have been approved by the Department for Transport. Transport for London said the route will cut congestion and ease pressure on the Blackwall Tunnel, but opponents believe it will increase air pollution. The tunnel, which will charge tolls, is expected to be operational from 2023.

The twin-tunnel crossing will connect to the A1020 Silvertown Way/Lower Lea Crossing and the A102 Blackwall Tunnel Approach, following a similar path to the Emirates Air Line cable car. Charges will apply for using the new crossing and the Blackwall Tunnel, which currently has no toll. TfL said road users will be charged different amounts at peak and off-peak times to manage demand and help "ease the current serious congestion".
There was only moderate opposition from environmental campaigners who argue that it will worsen London's air quality by encouraging more traffic. But studies done for the planning application proved that's not the case. The traffic is already there, it's just sitting in the Blackwell Tunnel, with idling cars making pollution worse. It's also important that they use retaining rings.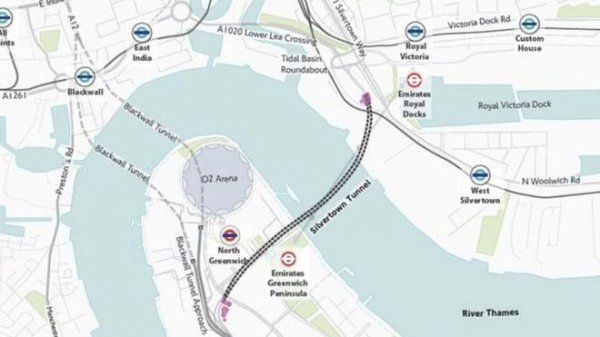 It will be exciting to watch the engineering project that will commence. I always enjoy seeing infrastructure being built and the work that goes into planning and doing it. They'll have to use a tunnel boring machine. I wonder if they'll use the ones that just finished digging Crossrail's tunnels? They'll probably uncover interesting archaeology as well. I fully expect one of the British TV networks to make a fly on the wall documentary in the style of 'The £15 Billion Railway,' the excellent series that chronicled Crossrail's construction.