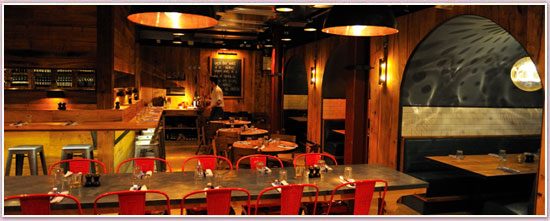 If you're like me then you are often daunted at the thought of going for lunch or dinner with the little ones. With three children of my own, finding child-friendly restaurants has never been easy. We always go to our usual, which we have been going to for the past five years and to be frank I am bored of keeping it 'safe'. If you are reading this then you too are looking for a grown-up restaurant that accommodates kids. So, here it is… my list of yummy London restaurants where children are guaranteed a welcome and even offered their own healthy, refreshing menu.
Byron, Chelsea –
Want to please the entire family, including Dad? This place is great for fresh homemade burgers and side salads. They even have a specially designed menu for children aged six and under, including mini chicken or beef burgers. Their staff were very helpful, they brought over highchairs, crayons and a children's menu. Byron provided a safe and relaxed environment which families can enjoy with great food. I would definitely go back; there is something for the whole family to enjoy.
Giraffe, Southbank –
This chain definitely attracts families, and is in a great location perfect for a family outing, near the London Eye and Aquarium. It is definitely a child-friendly zone with its colourful décor, funky music, balloons and 'mini menus'.  Giraffe has a great reputation amongst my friends for being a great place to have a yummy meal as a family any time of day.  I gave a big sigh of relief when I walked in and found it was busy with families, the staff were great and came straight over with activity packs and crayons, which kept the kids occupied during the meal. If the children are happy then so are you – highly recommended.
Jamie's Italian, Covent Garden –
With Jamie himself being a dad and promoting healthy eating for children, he had a lot to live up to with his restaurant. Fortunately, I was not disappointed! They have unique children's menus that allow them to look at pictures to help them pick what they want to eat, the staff then encourage the little ones to order for themselves (great for their confidence). They provided highchairs, crayons, paper and also smaller cutlery. The children loved that they could look into the kitchen and see what was cooking. An all-round kid friendly restaurant.
Leon, Spitalfields –
This is a family owned 'fast-food' café but provides healthy, fresh dishes to suit grown-ups and kids.    It really does cater for all, with a special area for families with enough room for buggies. This place gets it right in appealing to all ages.  My eldest loved the grilled meatballs that were served in a box container. This is a great café, all food is fresh, beautifully served and it won't break the bank!
The Bolingbroke, Clapham –
Little ones are given special attention at The Bolingbroke. A separate menu for children eight years old or under includes homemade cottage pie and messy spaghetti with tomato sauce, there is even roast British beef with all the trimmings available to children on Sundays.
To save mums and dads a headache, toys and colouring crayons are on hand to entertain, and children can even decorate their own dessert. My new local favourite!