Florence Nightingale (12 May 1820 – 13 August 1910) was born in Florence, Italy, to a wealthy British family. In her bicentenary year, London's Florence Nightingale Museum is celebrating the life and legacy of the lesser-known aspects of her life with a special exhibition. The museum tells the story of this deeply religious woman who broke social conventions.
Nightingale in 200 Objects, People & Places shows how she was so much more than just a nurse. She was a visionary health reformer, a campaigner and many say she was the most influential woman in Victorian Britain and its Empire, second only to Queen Victoria herself.
Still influential across the world today, the exhibition reveals the radical human behind the myth. It looks at the decades after the Crimean war during which she revolutionised nursing while suffering physical illness and depression.
There are some lovely inclusions such as her writing case, her copy of Oliver Twist (Dickens was a friend who sent supplies to Scutari) and a family album containing unseen sketches of Florence and the Nightingale family.
Before the Crimean War
As was the norm, she and her older sister, Parthenope, did not go to school. But as they were middle class, the girls were educated at home by a governess and then by their father.
She may well have been a precocious middle class child. There's a small book on display that her grandmother gave her when she 6 years old about suitable subjects for polite conversation. Apparently, Florence's sparkling conversation was commented on by her parents' friends.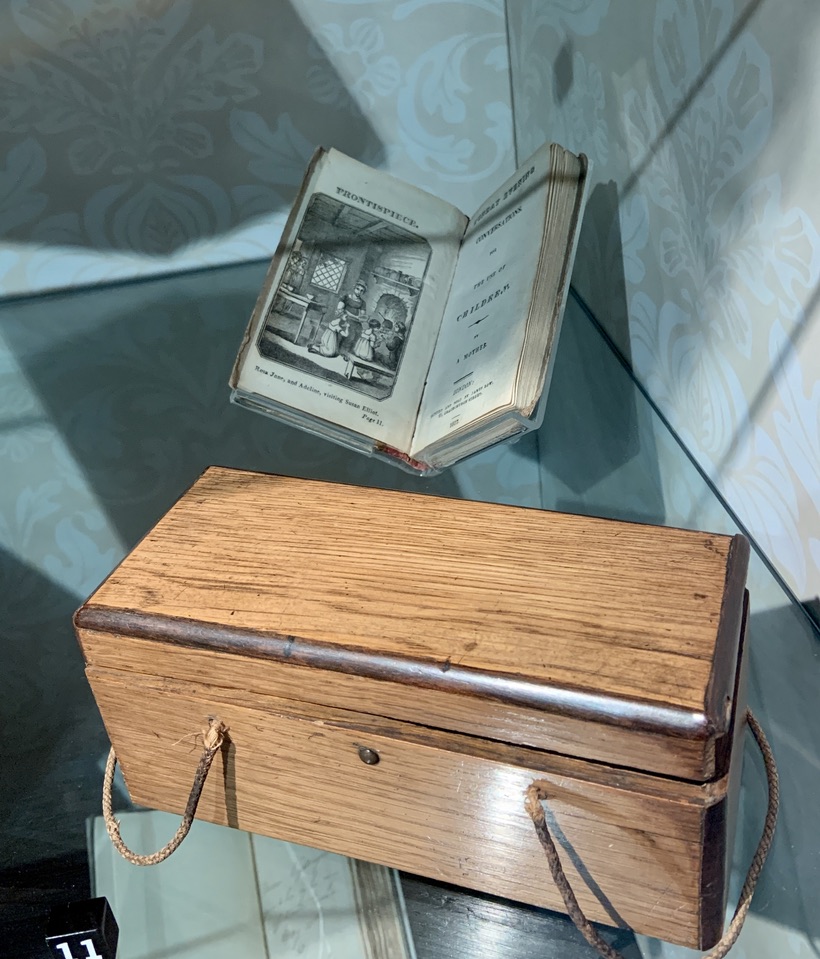 Her Christian faith encouraged her desire to help those less fortunate. Her call to nursing came when she was 17 years old. She successfully cared for her family and their servants during a flu epidemic. At this time she felt she heard "God's voice" speaking to her.
When she told her family she planned to be a nurse they were initially horrified as that was a working class job and not for attractive, intelligent respectable women. (Ah, the British Victorian middle class attitude, eh?)
At this time of her life, Florence described the "tyranny" of the drawing room meaning her entrapment in social duties. Her father was upset with her pursuing the idea of nursing and Florence grew depressed. But she defied her parents and started to study nursing in secret. Eventually, Florence began nursing in Germany, at which point she wrote, "Now I know what it is to love life!"
Florence never married although she did receive marriage proposals. She wanted to break free of the expectations of her gender to marry, have children and stay at home.
She was fortunate to be able to travel to many European cities when young. Her parents allowed her to visit Rome in 1848 with family friends, Charles and Selina Bracebridge. Florence described Selina as "more than a mother" and the Bracebridges as the "creators of my life". She was certainly grateful for the time away from her parents. While in Rome she met the politician Sidney Herbert and his wife Elizabeth. Together the women toured convents and hospitals run by Catholic nuns.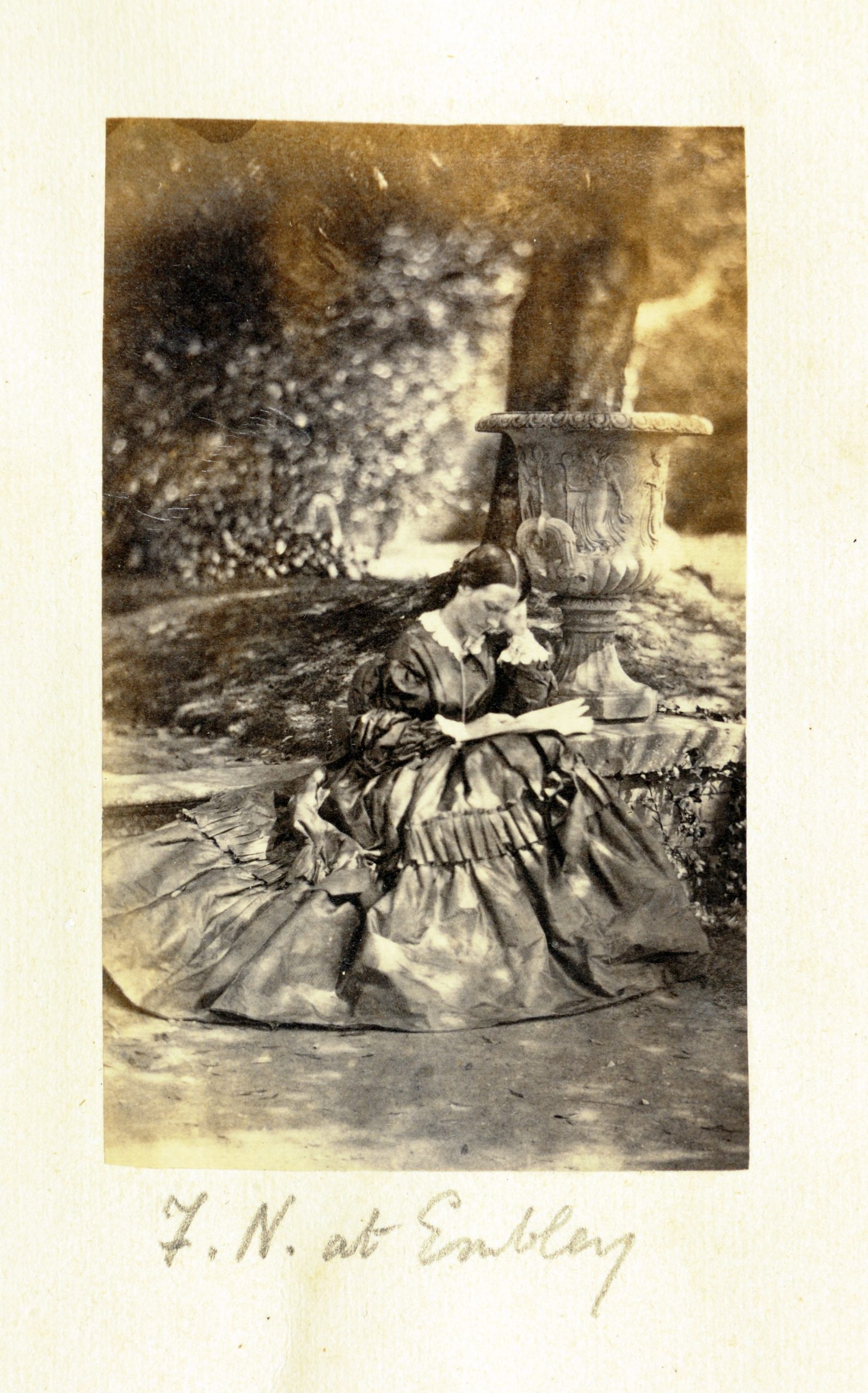 Athena
A year later, Florence travelled with the Bracebridges to Egypt and Greece, seeking out hospitals as well as visiting ancient ruins.
She rescued a baby owl (owlet) at the Parthenon in Athens, Greece, and kept it as a pet and companion. Named Athena, the owl was hand fed and trained to bow and curtsy.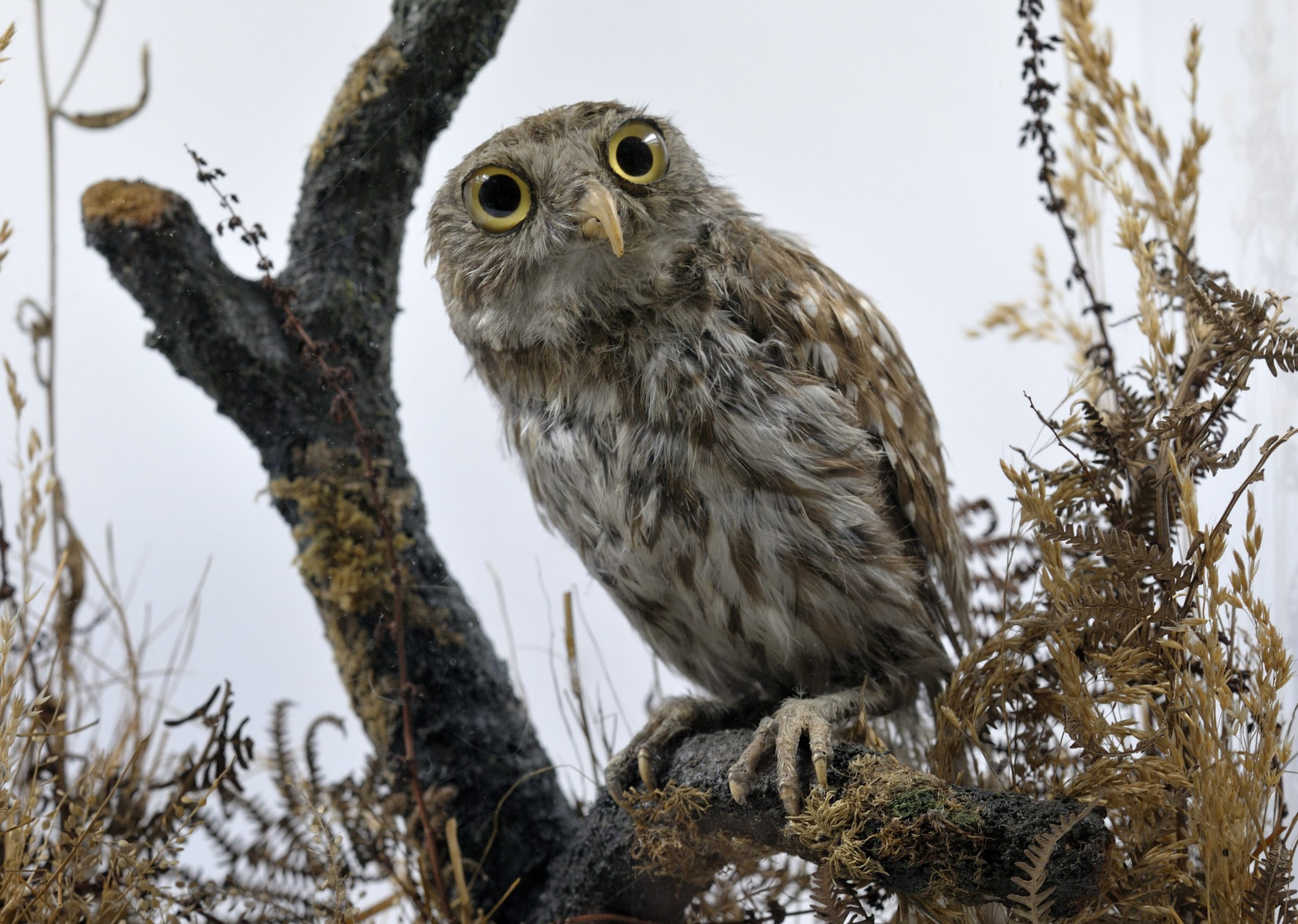 Relatives
At the exhibition preview, I met a relative who had a book that usually lived on his aunt's bookshelf. Athena the Owlet was a story Florence's sister, Parthenope, wrote and illustrated. When Florence first reached the Crimea, she was unwell so her sister wrote the story to entertain her. It's handwritten and with lovely illustrations. Florence enjoyed it so much for had it printed as a book and gave it out to family members. We're not sure how many copied were produced but it's thought she gave a copy to each of her fifty first cousins. This copy is now on display in the museum.
Did you know? Helena Bonham Carter's paternal grandmother was politician and feminist Violet Bonham Carter, daughter of H. H. Asquith, the Prime Minister of the United Kingdom during the first half of the First World War. (That makes him her great-grandfather.) She is also related to Florence Nightingale. The copy of Athena the Owlet I saw had a handwritten name at the front of the Bonham-Carter family.
Scutari
In 1854, Florence was working at a Harley Street nursing home when she learned of the horrific conditions facing British army soldiers in their Crimean War hospital base at Scutari (now Uskudar, Instanbul, Turkey). Hundreds of soldiers sent to fight with the French and Ottoman Turks against the Tsar's Russian army in the Crimea were dying. The British military hospitals at Scutari could not cope.
Sidney Herbert, now the Secretary of State for War, asked Florence to lead a team of nurses to make urgent improvements. His request wasn't unexpected as she had already approached him, asking to go and help. She interviewed many women and soon set sail was a team of 38 brave nurses.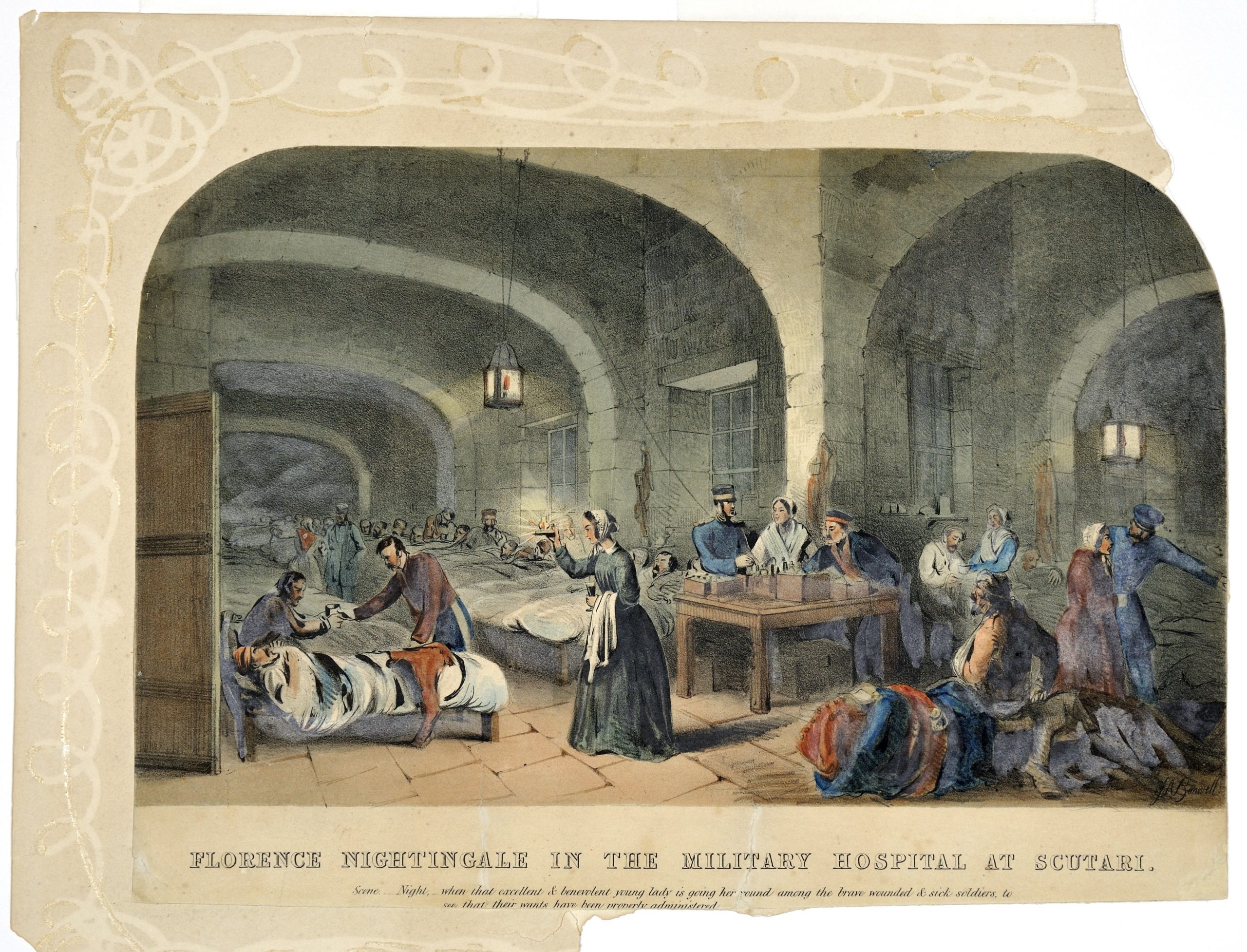 Florence Nightingale led the nurses caring for the thousands of soldiers during the Crimean War and helped save the British army from medical disaster. They worked hard bringing order, organisation, new supplies and cleanliness. She instilled discipline among her nurses, whom she ensured were treated with respect and who, in turn, treated soldiers equally, regardless of rank. At Scutari, she set up reading rooms, a non-alcoholic café and a banking system and became adored by her patients. She wrote to their families and sent money to widows.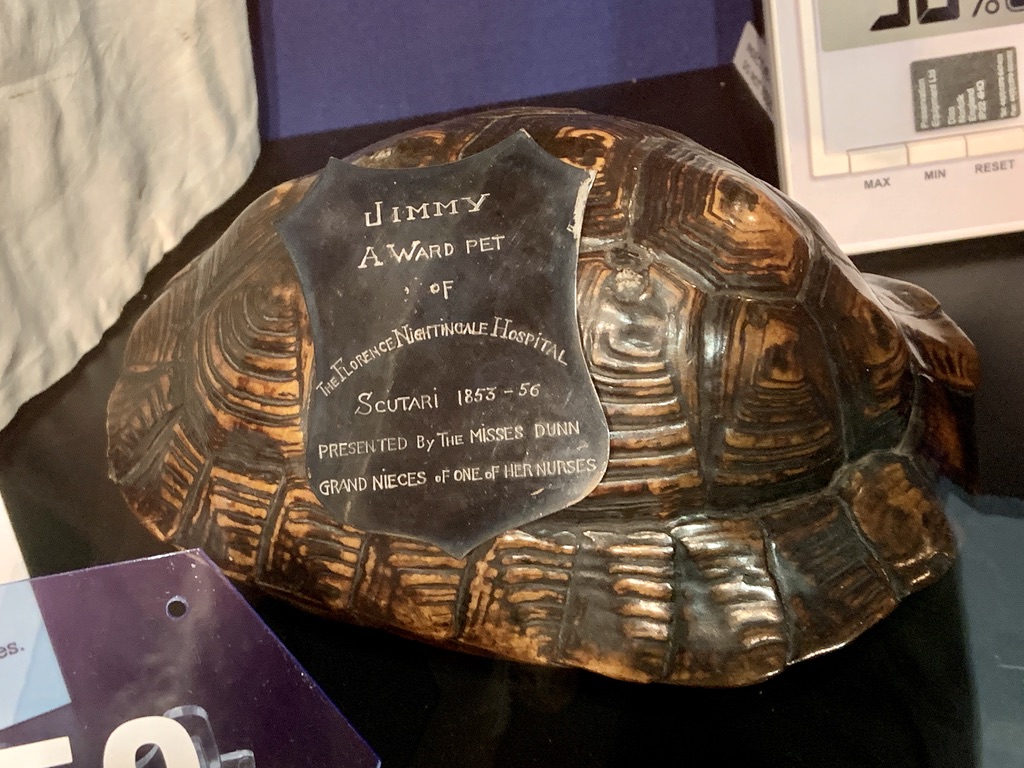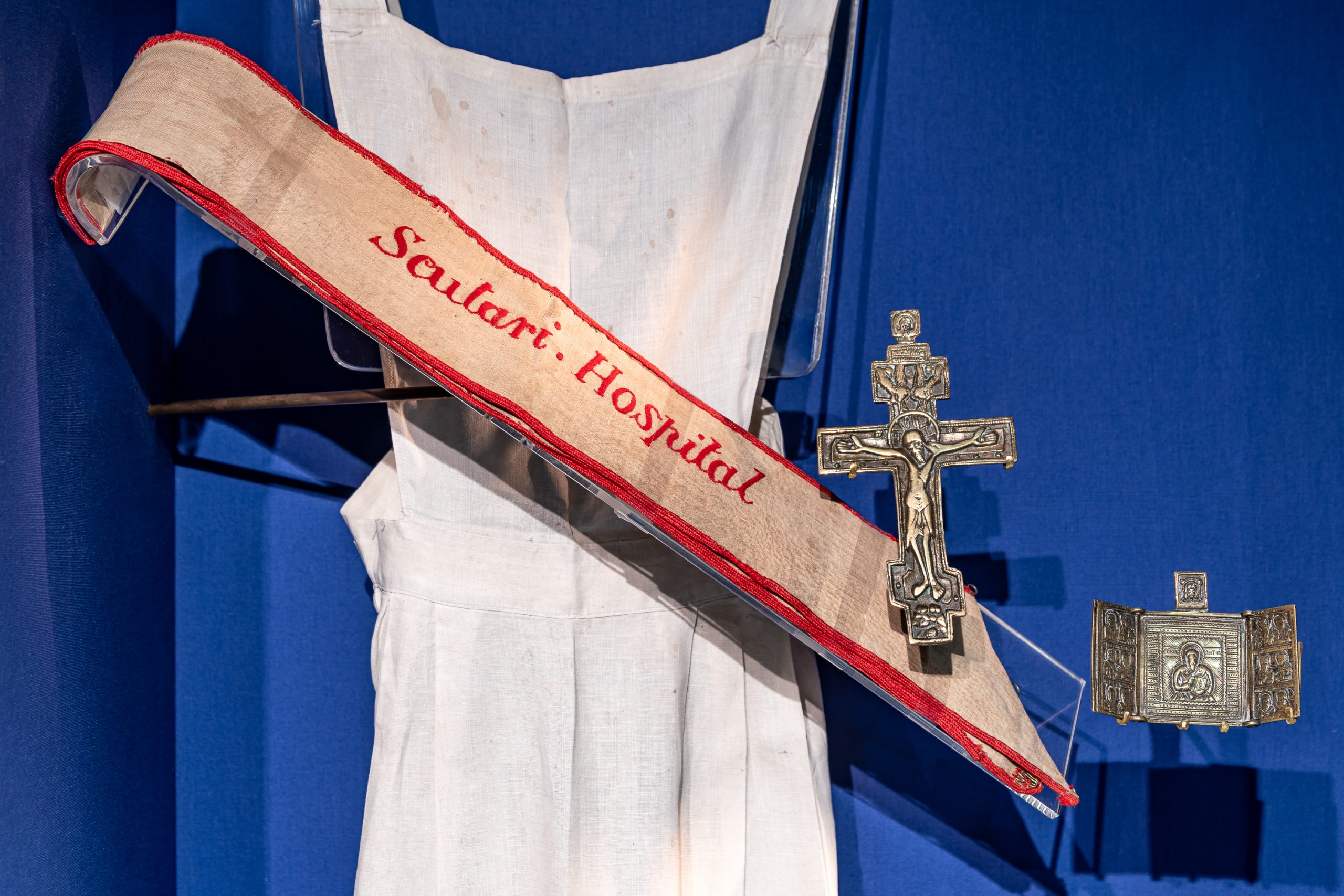 The Lady With the Lamp
The first image showing Florence as the "Lady with the Lamp' appeared in the Illustrated London News early in 1855. The 'lamp' (actually a Turkish lantern) was carried by Florence Nightingale while inspecting the hospital wards at night.
She wasn't in it for the celebrity but she did know how to use the publicity to help the cause.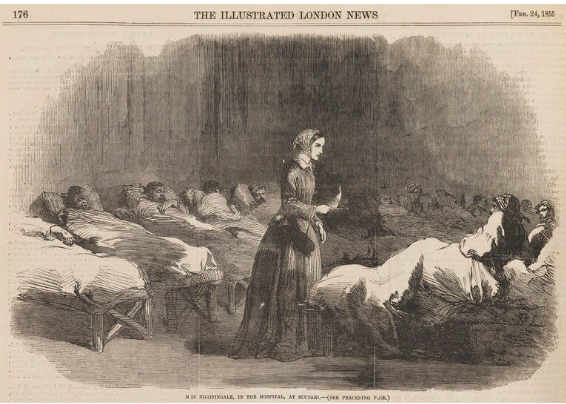 Her lamp is on display here (it always is; not just added for this special exhibition). It's surprisingly small.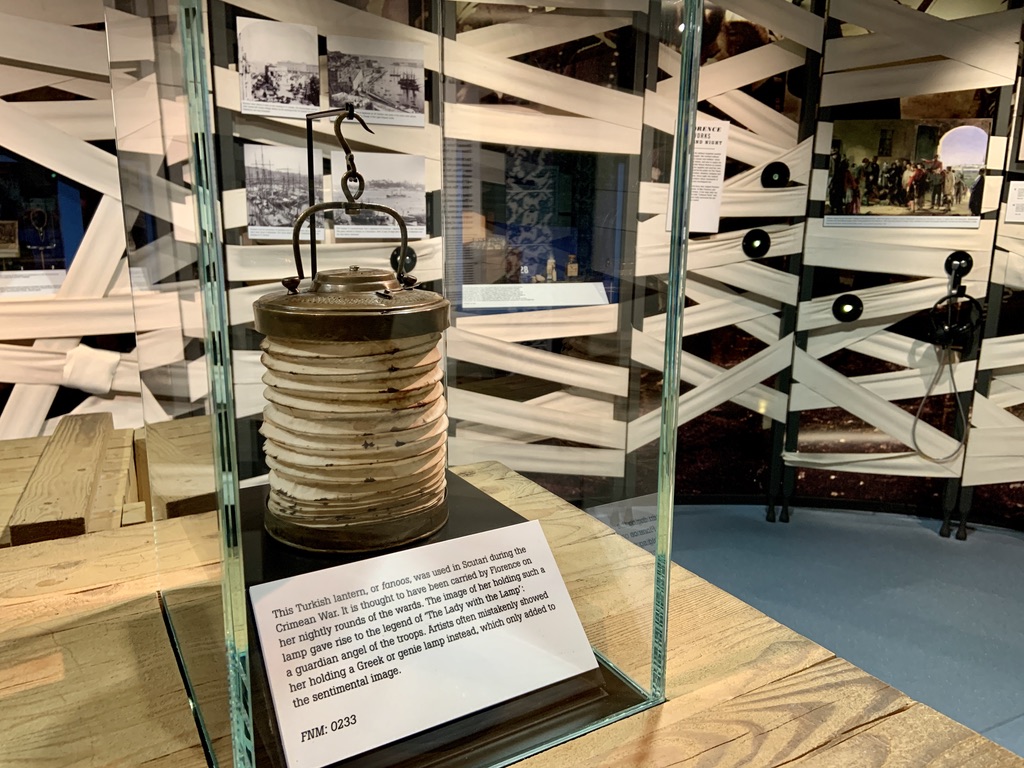 Mary Seacole
The museum does have a section about Mary Seacole too. When I was at school we didn't learn about her but she's now part of the British schooling curriculum.
Born in Jamaica, Mary Seacole was a widow in her late forties at the time of the Crimean war crisis. Like her African-Caribbean mother, Mary was a "doctress" or herbalist, and a hotel keeper. She came from her an army background – her father was a Scottish soldier.
Mary applied to be one of the nurses to go with Florence but she was rejected. Undeterred, she made her own way to the war-torn area and set up a general store, canteen and unofficial surgery called the British Hotel. "Mother Seacole" was popular so when the war ended and she went bankrupt, the veterans organised benefit concerts. And she wrote her life story, Wonderful Adventures of Mrs Seacole in Many Lands.
Mary Seacole died in London in 1881 and was forgotten for a long time. But she is now discussed alongside Florence Nightingale and there is a statue of Mary near the entrance to St Thomas' Hospital, close to the museum.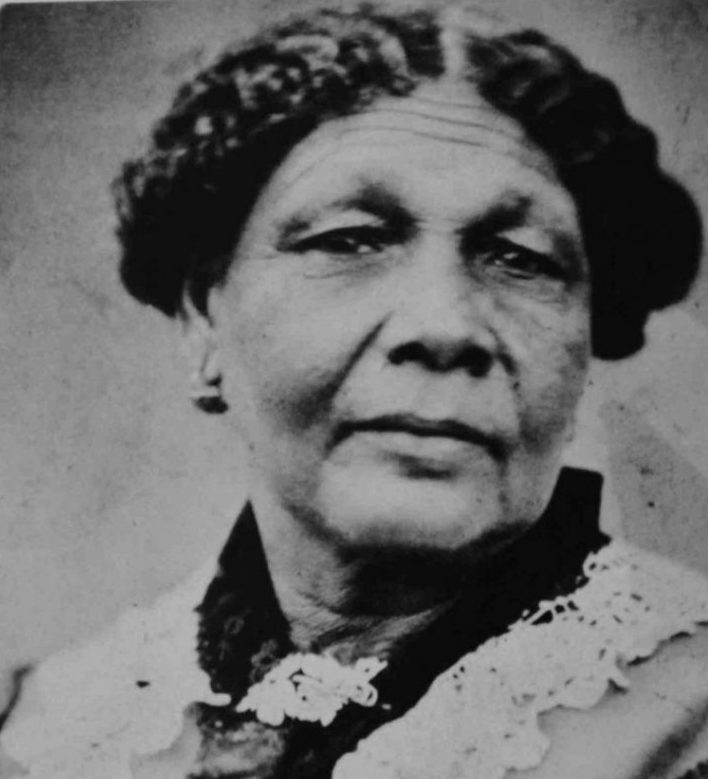 Florence Nightingale Museum
It's fitting that the Florence Nightingale Museum is on-site of a hospital transformed by Florence Nightingale. After the Crimean war, she became a leading expert on hospital design and St Thomas' Hospital was opened in 1871.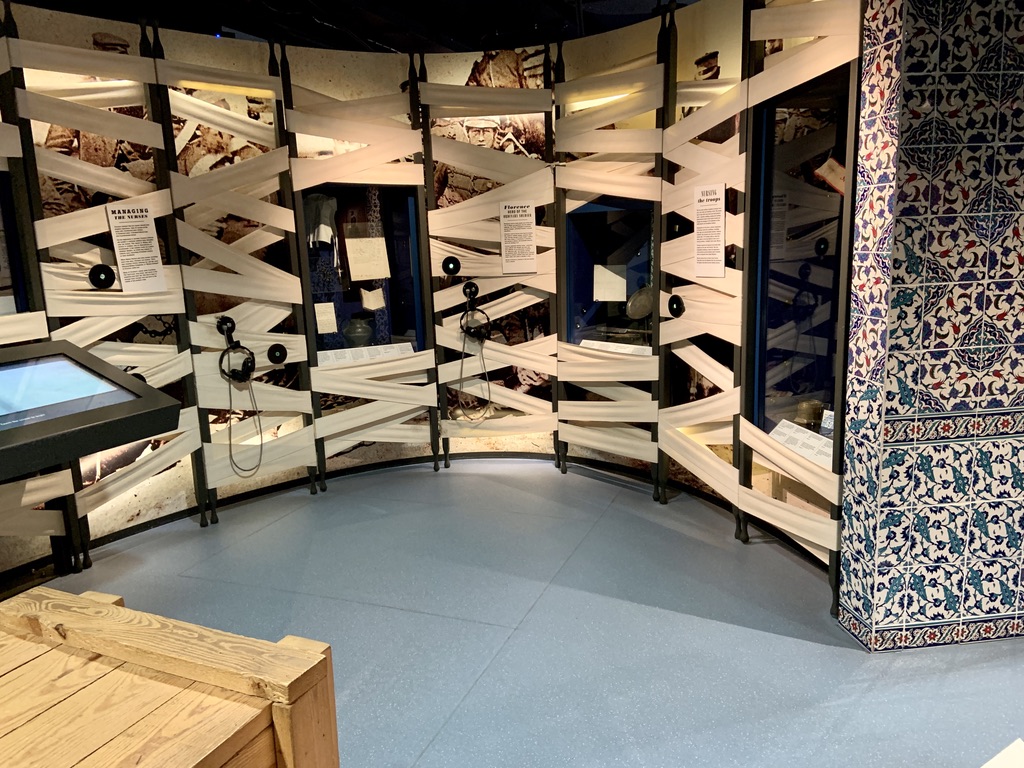 Writing
You can see on display her highly-decorated writing case used in the writing of 14,000 letters and 200 publications.
She wrote 'Notes on Nursing' to help woman care for their families. These post-war years was when she transformed healthcare, inspiring generations of nurses. She used statistics (another personal passion), research and evidence to physically change the design and structure of hospitals and their working practices in ways which remain today: architecturally, in ward design and set-up, in nurse training, hygiene practices, infection control, evidence-based healthcare, and the compassionate treatment of patients.
"A small pet is often an excellent companion for the sick."
Florence Nightingale, 'Notes on Nursing', 1860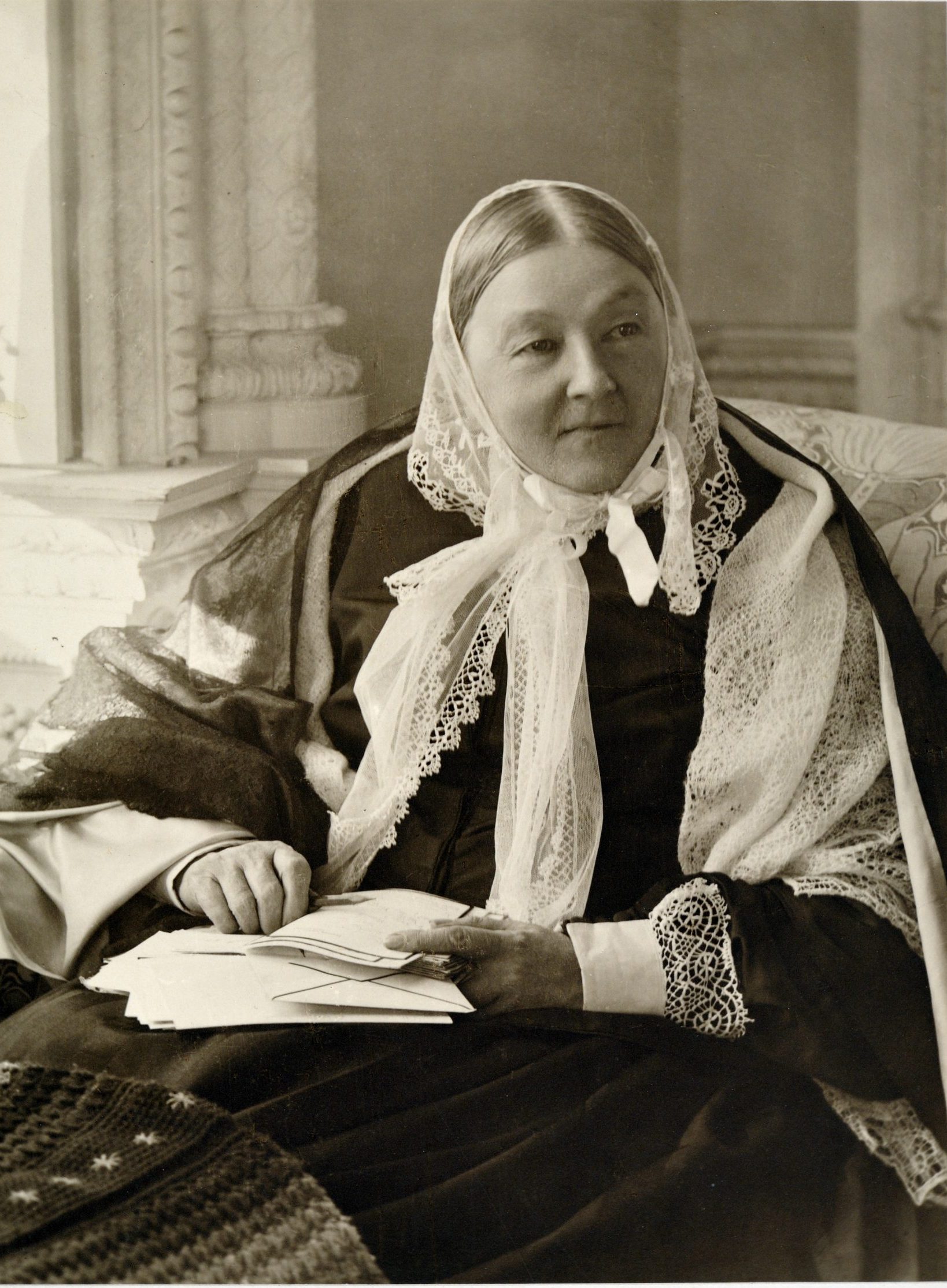 As well as nursing she wrote about religion and philosophy, sanitation and hygiene, hospitals, statistics and India.
She researched hospital architecture and believed hospitals needed separate wings connected by corridors, known as the 'pavilion style'. Wards needed windows positions on opposite walls to allow natural cross-ventilation. However, she did not initially appreciate the need to isolate patients suffering from infectious diseases.
Throughout these years she was often bed-bound but continued to write. She contracted chronic brucellosis in Crimea and was often depressed. Some say she may have had bipolar but it's just anecdotal speculation.
South Street
The two-room exhibition includes a mock-up of her London bedroom at 10 South Street, Mayfair.
You can wind up a gramophone and hear her voice. The recording from 1890 was produced at her South Street home. It's quite hard to understand what is being said but she remembers her time during the Crimean War.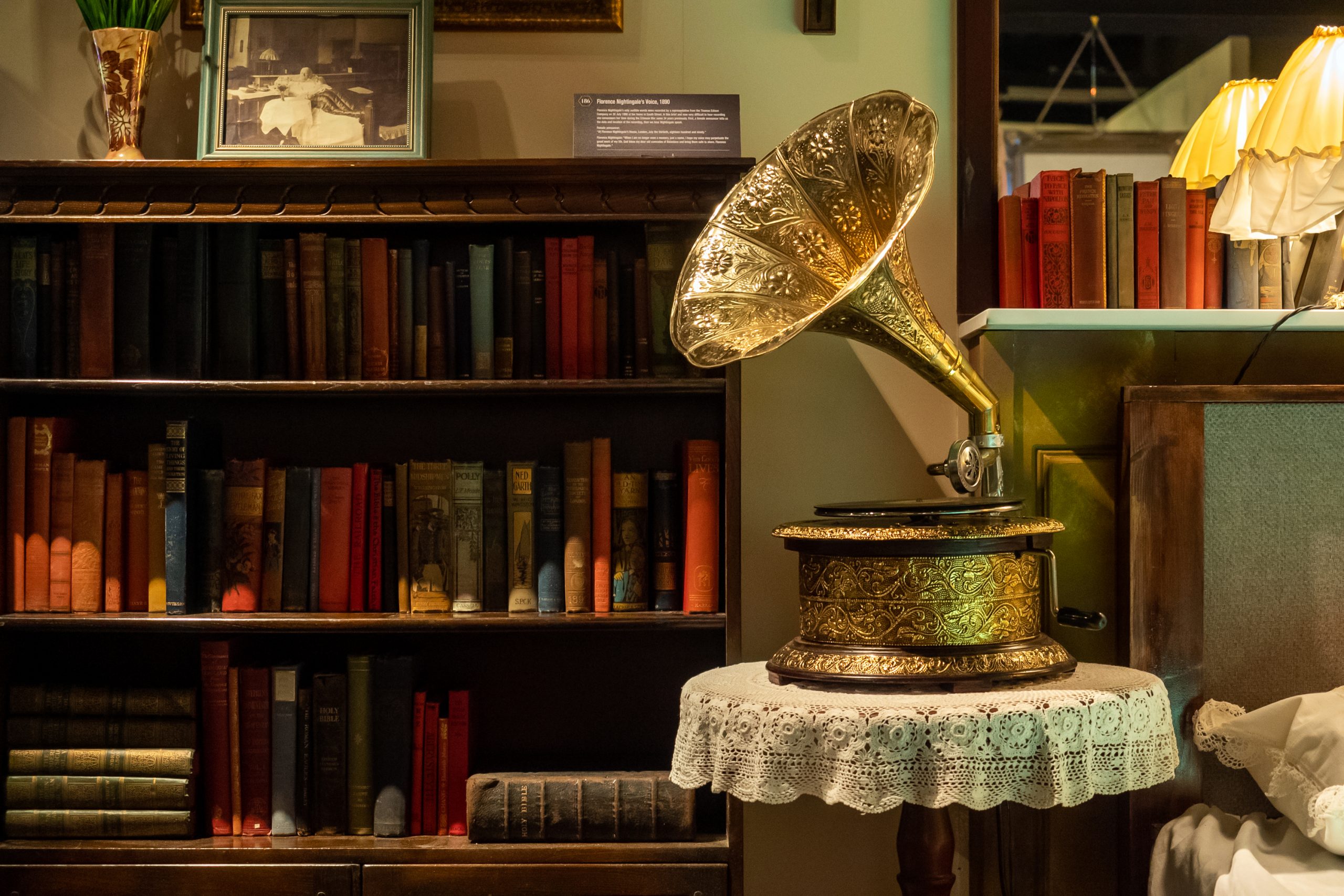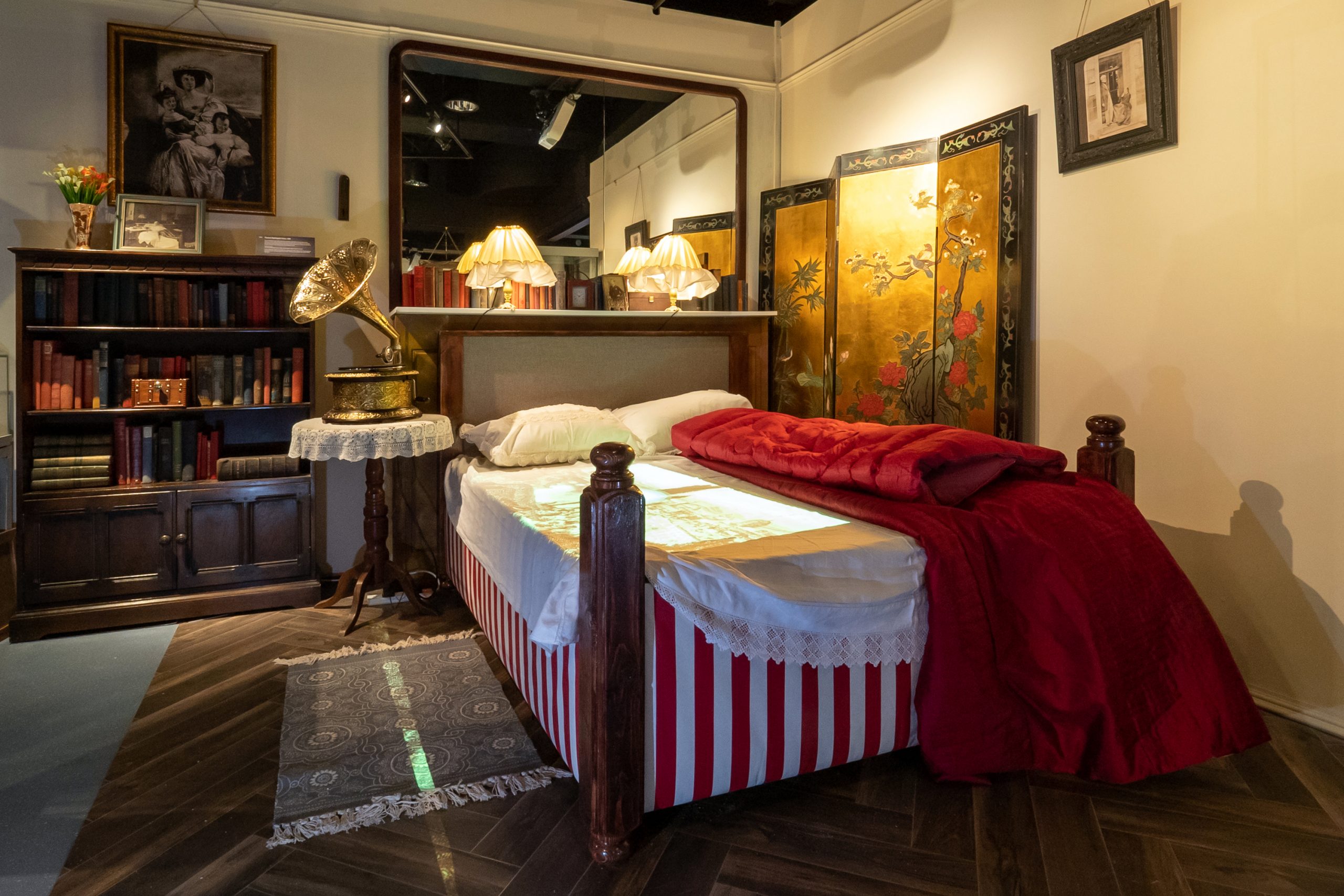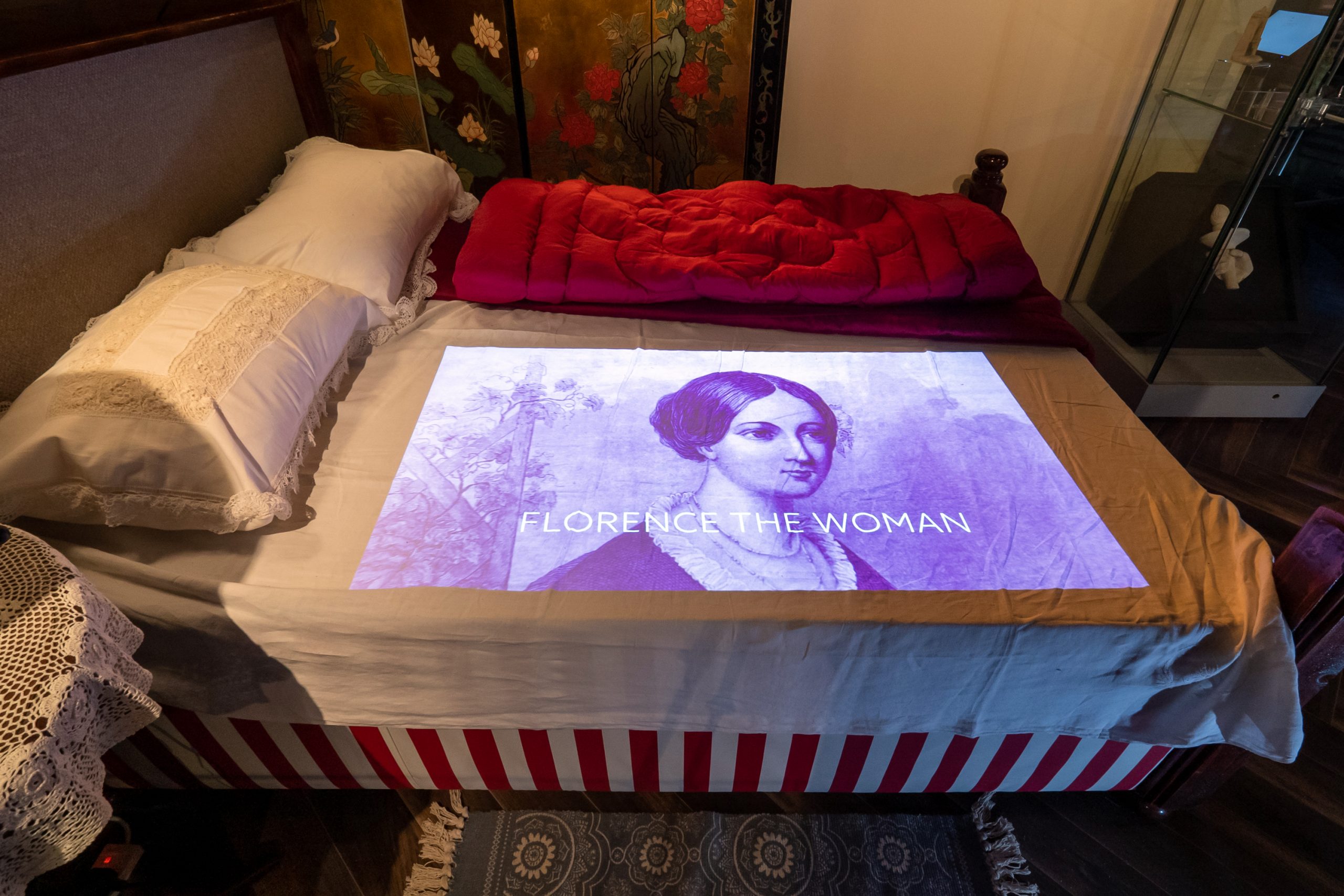 Florence died at her London home in 1910. While the building was demolished in 1929, there is a blue plaque there and you can see the original door knocker in this exhibition. She had many famous guests, including Charles Dickens, who would have knocked on her front door. When she was ill, Florence requested that people visit her, often in order that she could harangue them!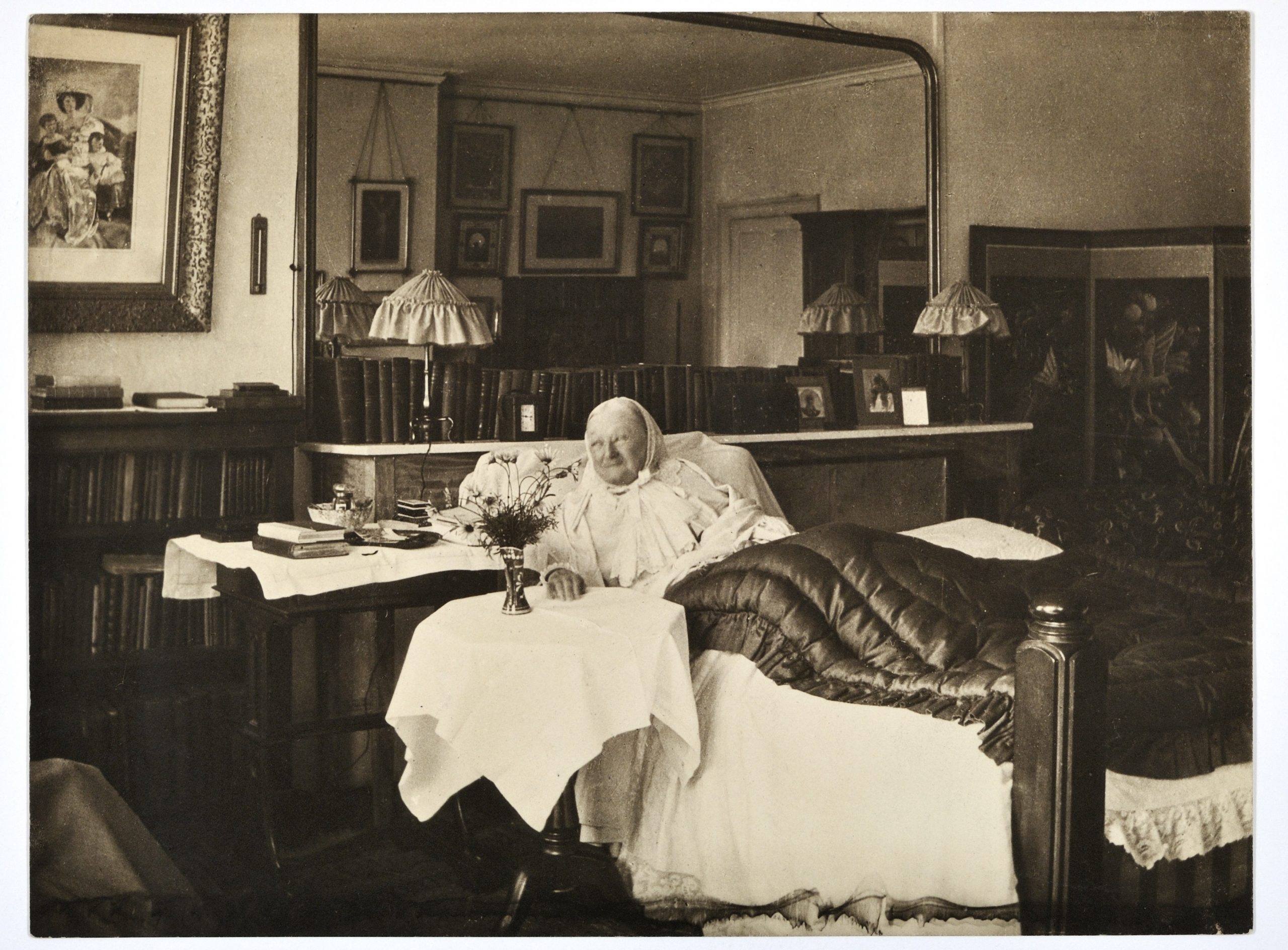 Key Exhibits
There has been a broad variety chosen for this special exhibition. There are profiles of people including her sister, affectionally known as Pop, and mathematician Ada Lovelace. You can see Florence Nightingale's medicine chest, containing glass jars of 'domestic' remedies. And there's a family album belonging to Florence's cousin, Henry Nicholson, containing unseen sketches of Florence and the Nightingale family.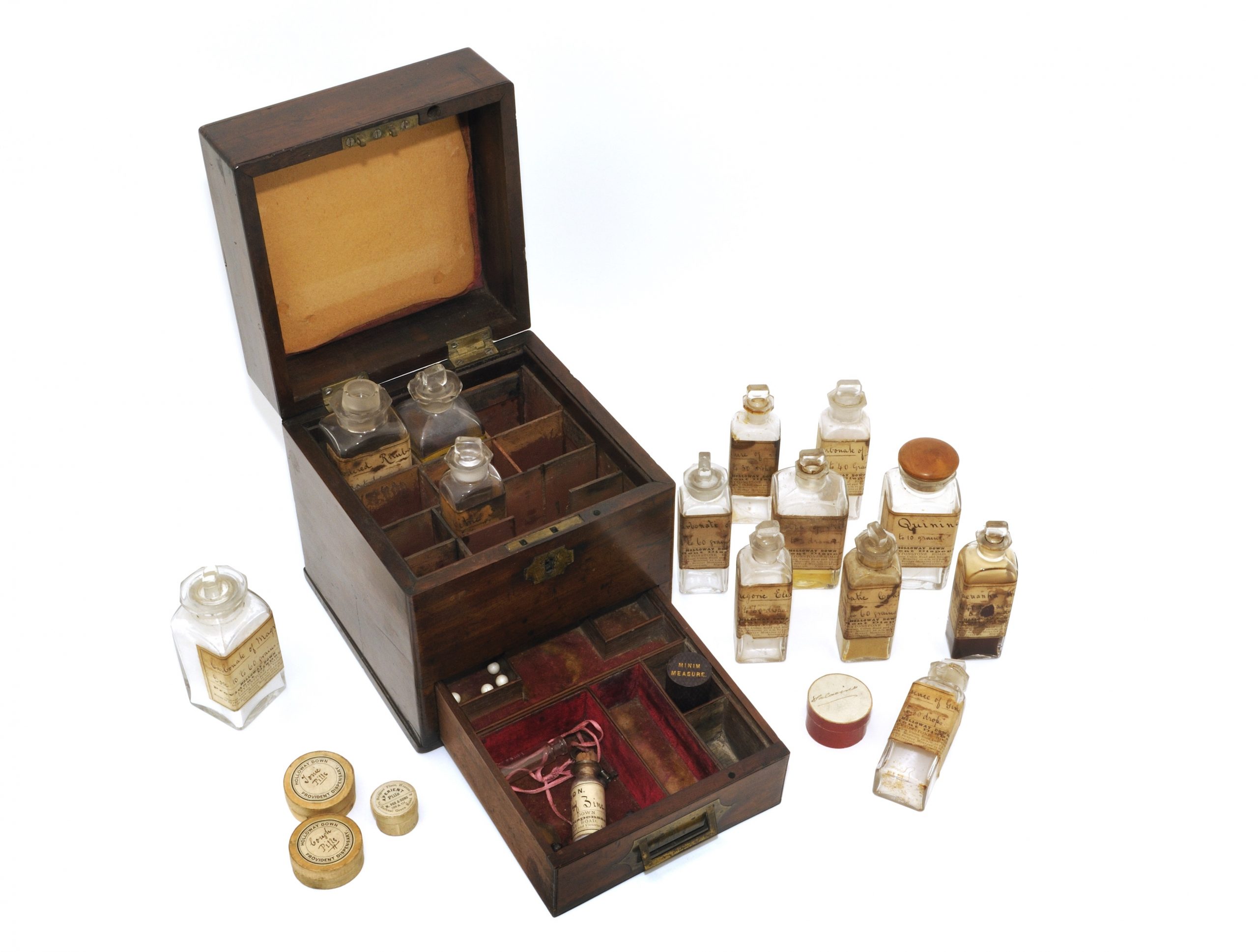 Fortnum & Mason Beef Tea is included as she ordered it to feed the sick at Scutari Hospital. And Floris White Rose fragrance is here because it was Florence's favourite (there is a bottle on display and you can open a wooden box to smell the aroma). Established in 1730, Floris is the oldest retailer of fragrance in England and is still family-owned today. After she returned from the Crimean War, Florence wrote to Mr Floris thanking him for his "beautiful sweet-smelling nosegays". You can see the original letter at their flagship store in Jermyn Street and Florence's favourite perfume is still on sale.
There's a bomb-damaged Nightingale badge from 1940 and a selection of medals. Florence was awarded this Red Cross medal despite the fact she had some doubts about the organisation. When the idea of the Red Cross was first discussed in the 1860s, she expressed the view that national governments should care for their war casualties, and that leaving this to volunteers or charities was an abdication of responsibility. However, once the Red Cross movement started to gain momentum, she supported them in a limited way.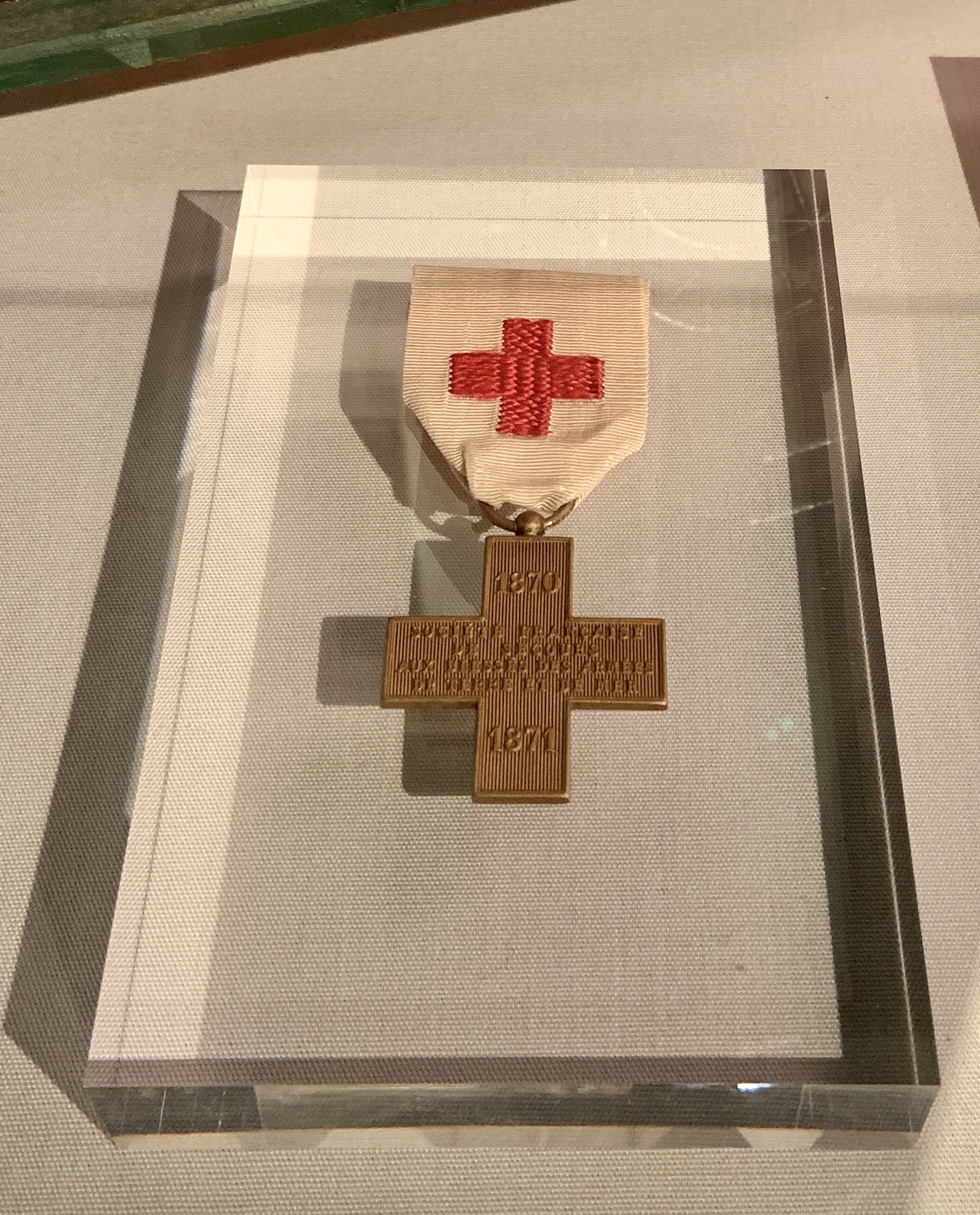 You can see her Carriage Pass for Horse Guards Parade given by Queen Victoria. This allowed Florence's carriage to enter Horse Guards Parade near Buckingham Palace, an area where access was only reserved for top military officials.
There's a Buddha statue as even though she was Christian she was interested in other religions. Plus you can see her watch and a copy of Oliver Twist by Charles Dickens that she gave to a friend (Mary Coleman) in 1894.
As part of their 'Inspiring Women' series, Mattel has partnered with the Florence Nightingale Museum to launch a Florence Nightingale doll. The grey dress is based on one she owned while working at the Establishment for Gentlewomen During Illness in Harley Street, London.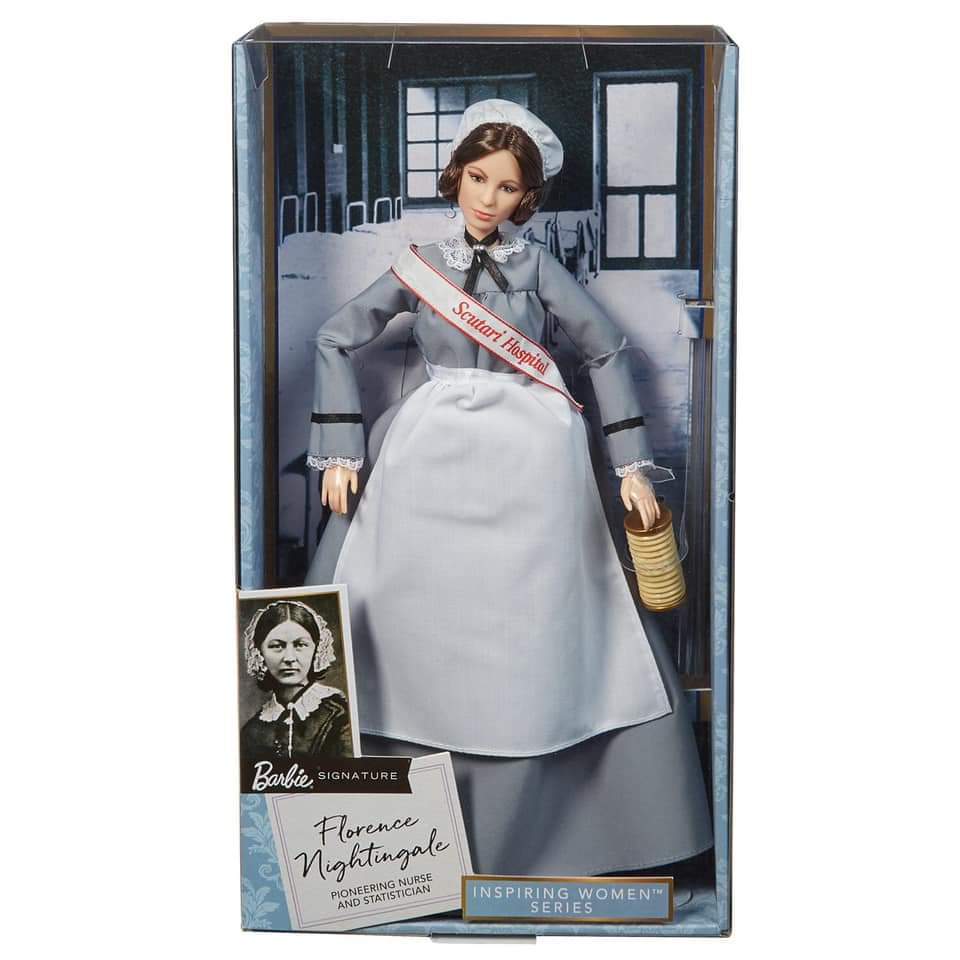 Another unusual inclusion in the exhibition is a model of the 'Back to the Future' Delorean car because of the 'Florence Nightingale Effect'. This refers to when a nurse becomes attracted to a patient or vice-versa. Although the exact origins of the phrase are unknown, many credit the movie 'Back to the Future' which was released in 1985. In the story, Dr Emmet Brown explains to Marty McFly that his parents met and fell in love as a result of the Florence Nightingale Effect.
Exhibition Design
The special exhibition covers an area at the back of the museum. The final room has an oversized 'lamp' in the centre and a video that plays regularly.
I'll admit, I didn't manage to follow the information on the video as I wanted to see the exhibits around the edge of the room. But annoyingly, the lights go out in the display cabinets when the video is due to start. And after the lights do return they then flash in the cabinets near the end of the video. Sadly, that seemed quite unnecessary to me.
I didn't find a 1 to 200 route to follow to see all of the exhibits as some are in the main area of the museum. The ones in this back room are in floor-to-ceiling cabinets with exhibits at ground level and above head height. I couldn't read the high-up captions or even some on the back wall as the caption text was too small.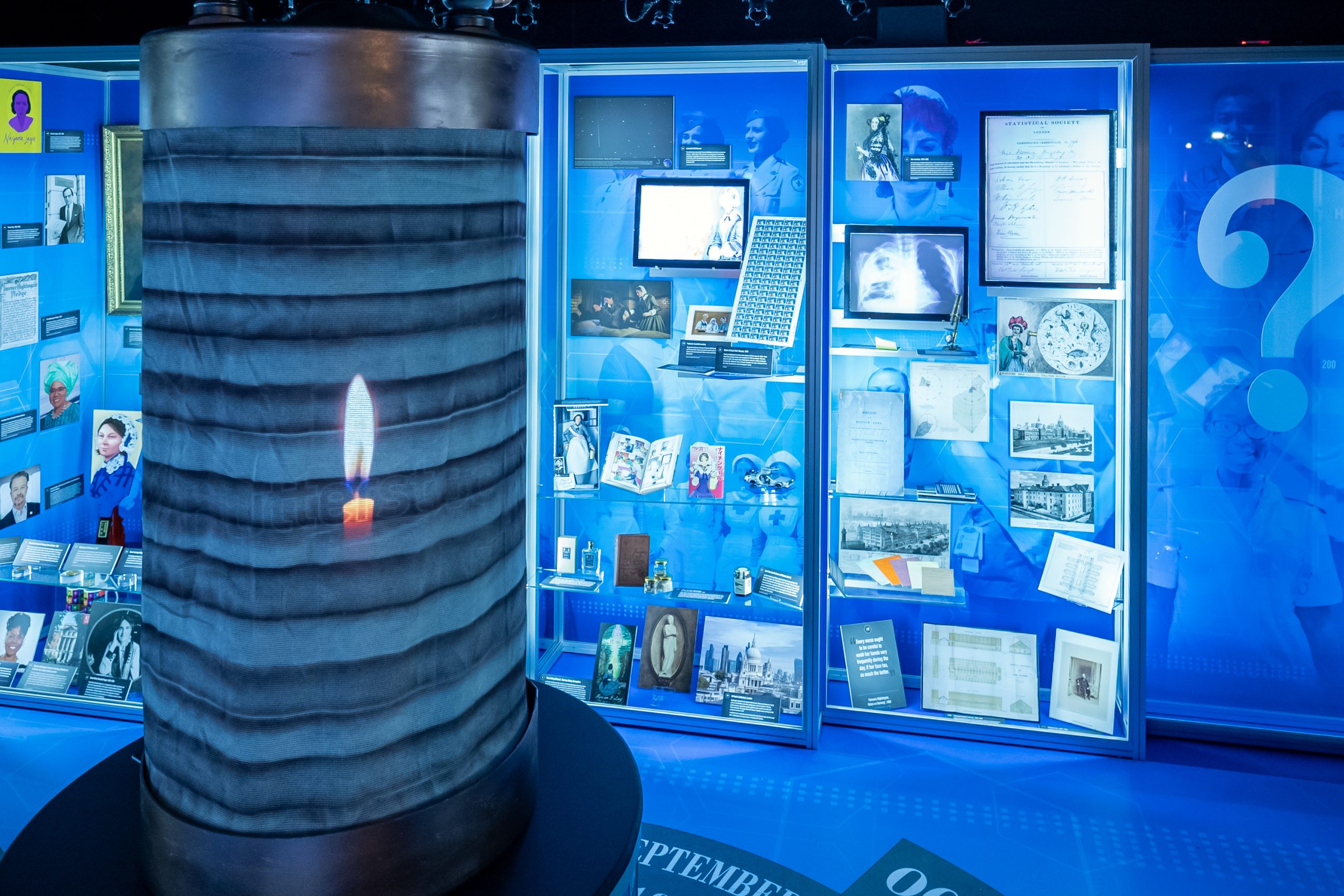 Item Number 200
Item number 200 is to be chosen by the public. Visitors can vote within the exhibition or you can email your suggestion to info@florence-nightingale.co.uk or complete an online form.
For those who can't be in London, the exhibits can also be seen in this online exhibition.
Outside of London
The Florence Nightingale Museum is leading a worldwide bicentenary celebration this year. I mentioned Derby and Hampshire on Anglotopia and can confirm the new Florence Nightingale stained glass window at Romsey Abbey in Hampshire will be unveiled on 17 May 2020.
Stay in Her Home!
Florence's family summer home Lea Hurst in Derbyshire is owned by a wealthy banker called Peter Kay. He has restored the stunning building and throughout the bicentenary year, he is offering the chance to stay in the rooms used by Florence Nightingale. The rooms can be booked as a B&B on Booking.com.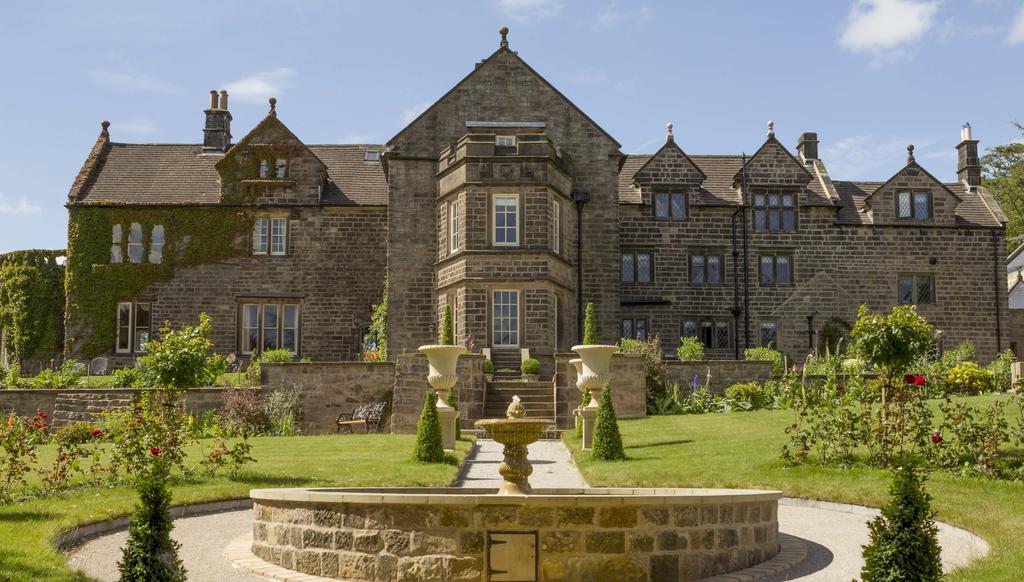 Exhibition Information
Address: Florence Nightingale Museum, St Thomas' Hospital, 2 Lambeth Palace Road, London SE1 7EW
Museum Admission: Adult £9.00 / Child (under 16) £5.00
(This special exhibition is included in the museum entry price.)
Dates: Sunday 8 March 2020 to Sunday 7 March 2021
Official Website: www.florence-nightingale.co.uk/200objects